Aluminum Clad Folding Glass Wall Redefined Generation 4 by NanaWall
By NanaWall Systems, September 29, 2021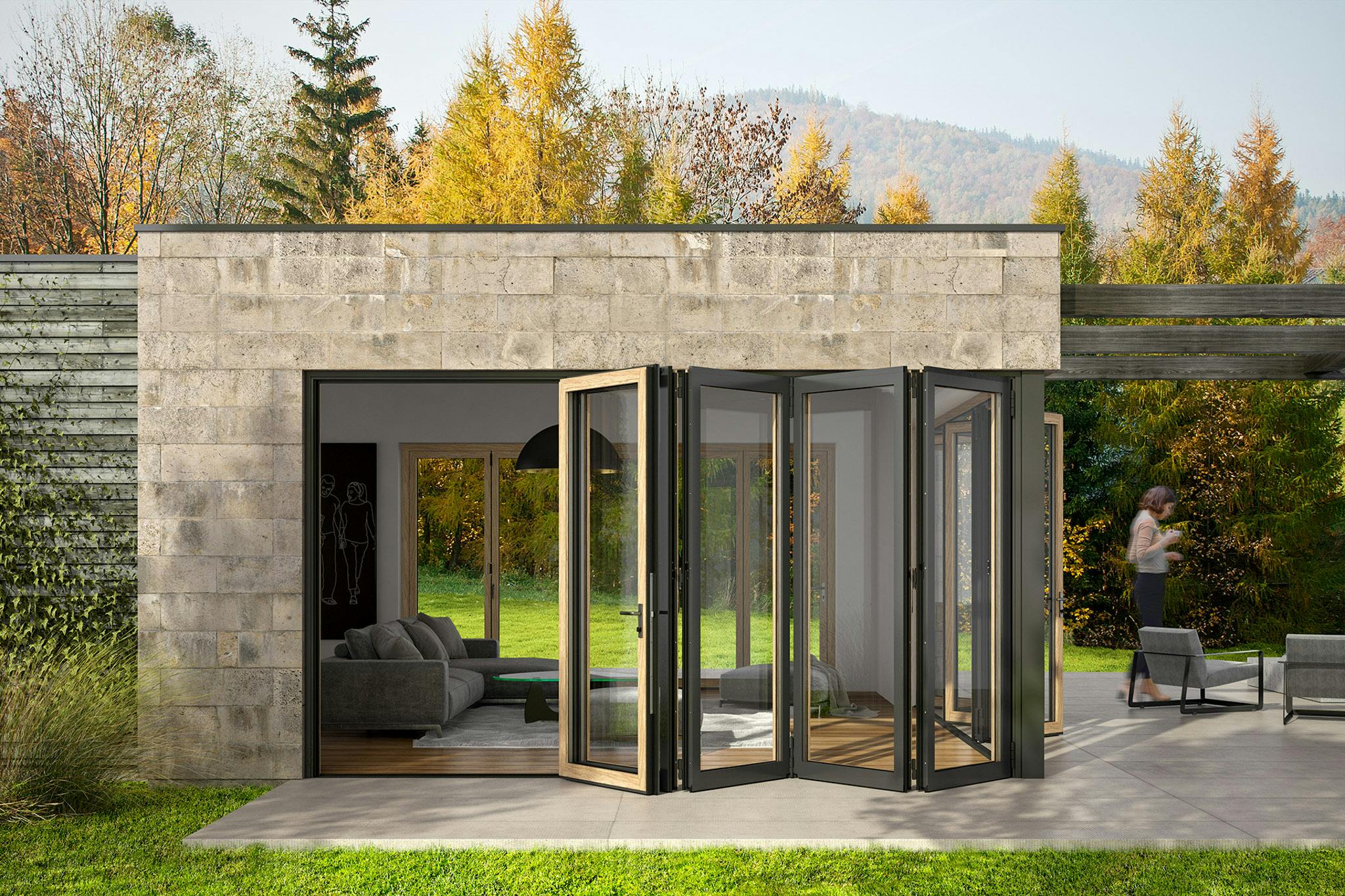 The best of wood and aluminum combine to create Generation 4 aluminum clad folding glass wall, NW Clad 740. When it comes to folding glass wall systems, having the best of both worlds has its advantages. The warmth of wood on the inside is enhanced by the durability and low maintenance of aluminum on the outside. Design trends, influenced by the indoor/outdoor experience, leverage these flexible design solutions to extend residential and commercial spaces to the outdoors without sacrificing visibility and ease of operation. NW Clad 740, an innovative system within the Generation 4 Folding Glass Walls by NanaWall product family, falls under that category. Let's explore what makes this aluminum clad folding glass wall different from others in the industry.
Wood in Folding Glass Wall Systems
Wood is a relatively strong material with naturally occurring insulative properties. Despite being notorious for complementing traditional and transitional aesthetics, contemporary designs are turning to this versatile material for softening stark, minimalist interiors and adding texture. The wooden frames of NanaWall systems are made from solid, sustainably harvested timber that meets PEFC standards. Unlike others in the market, NanaWall wood frames are built with sustainably harvested single-species wood that is not veneered over inferior wood. This allows for sanding and refinishing down the road as needed, ensuring longevity.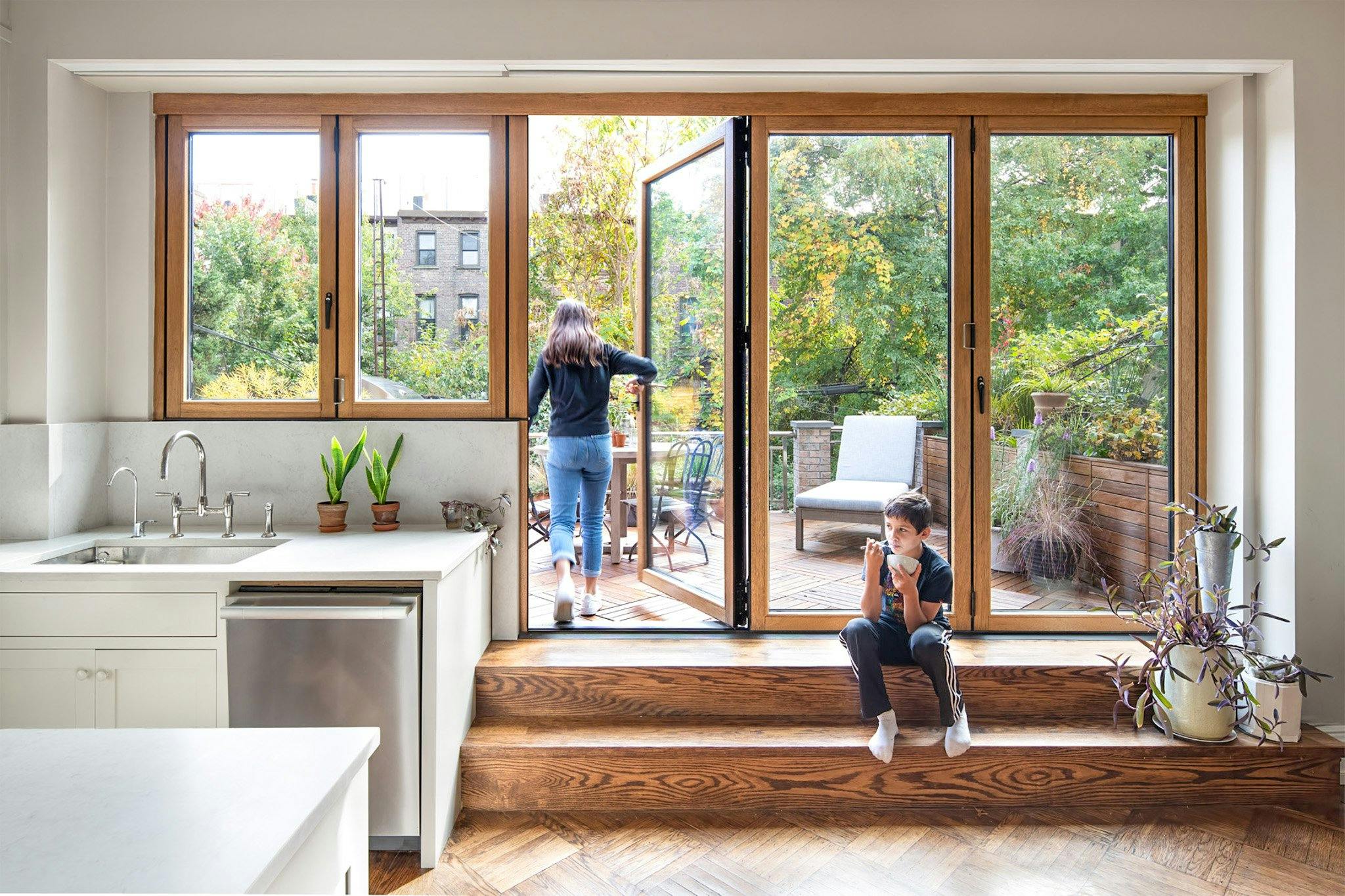 Aluminum in Folding Glass Wall Systems
Aluminum is a durable, low maintenance, corrosion-resistant material that offers a more streamlined aesthetic and exceptional weather performance—not to mention aluminum is a highly sustainable material. NanaWall aluminum framed opening glass walls are designed with thermal breaks to keep energy-efficient interiors protected and comfortable in all climates. Due to their minimal, sleek appearance, it may be easy to associate aluminum framed systems with contemporary designs, but these easily operable glass walls can also complement traditional and transitional homes.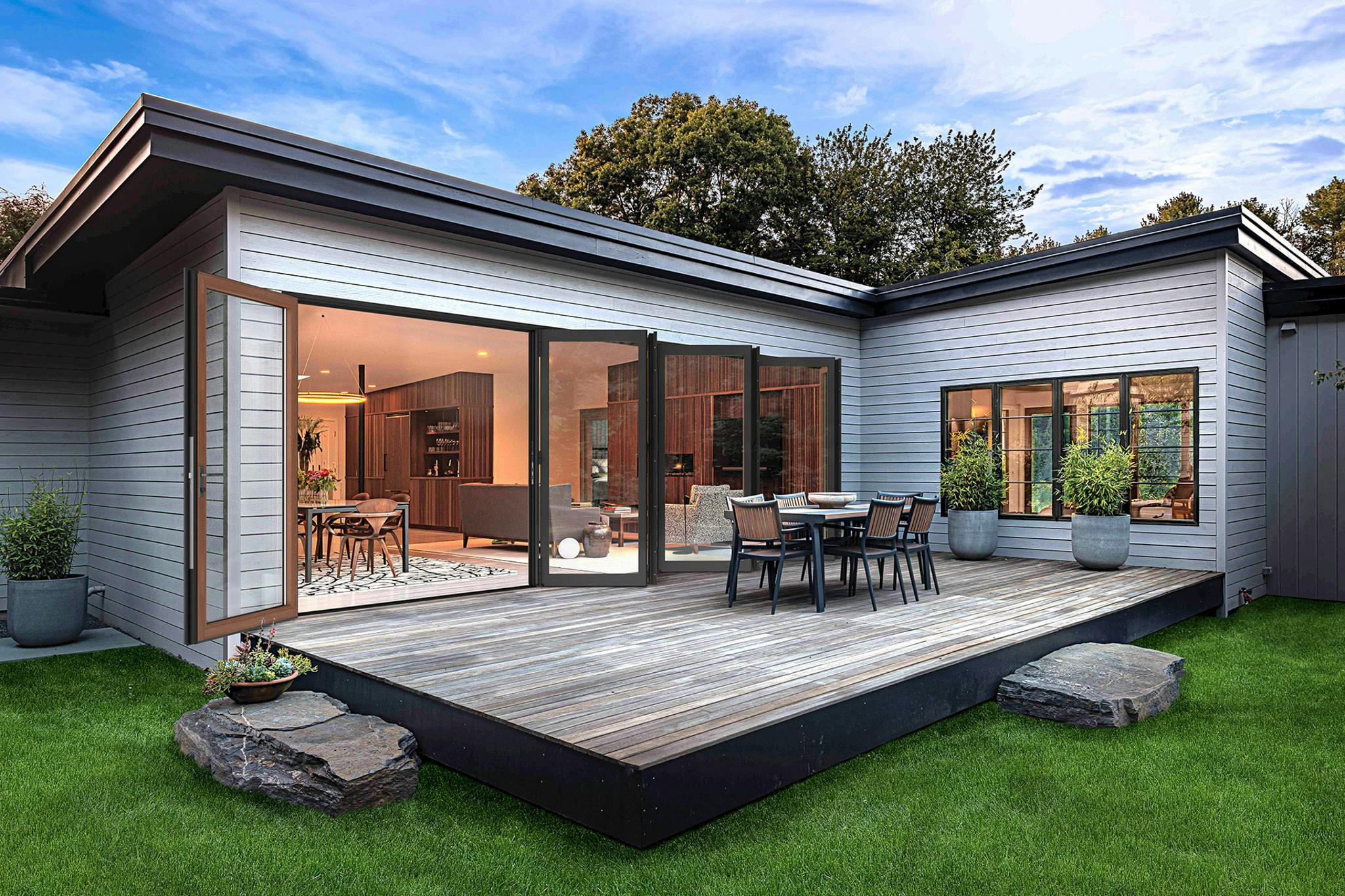 Generation 4 Aluminum Clad Folding Glass Wall
Generation 4 Folding Glass Walls by NanaWall take the best attributes of both wood and aluminum to create a new level of aesthetics. NW Clad 740 provides the slimmest aluminum clad frame in the folding door industry with an intersection of two folding panels at a mere 5 13/16" (148 mm). This floor supported system offers a streamlined appearance with minimal exposed hardware that complements all architectural design styles and is ideal for residential and commercial spaces alike. Let's take a look at the array of patented features and design elements that set this innovative clad system apart from others in the market.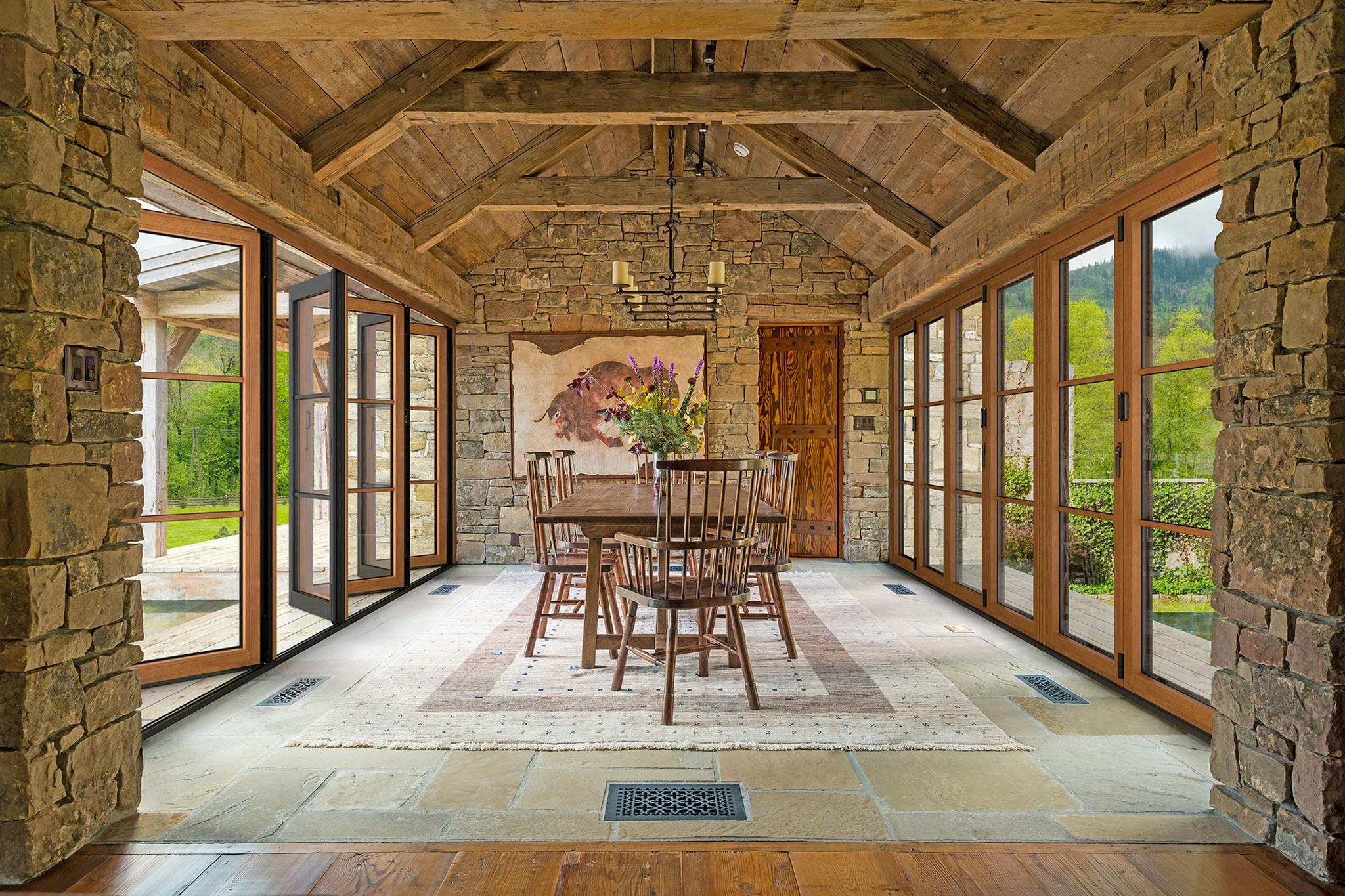 Quadruple Laminated Cross-Grained Wood
A quadruple laminated cross-grain wood frame creates structural integrity and ensures longevity. Durable aluminum extrusions over the solid wood frames provide cladding to create a protective screen on the exterior for enhanced weather resistance and low maintenance. Others in the market apply their cladding directly on top of the wood which prevents the material from breathing and can damage the wood over time. NanaWall Clip-on Cladding Technology with rear ventilation between the aluminum and wood allows the two different materials to expand and contract during temperature fluctuations. This permits moisture to dissipate, which is needed in environments where temperatures are extremely hot, humid, or cold. Take more time to enjoy the view and worry less about maintenance and performance.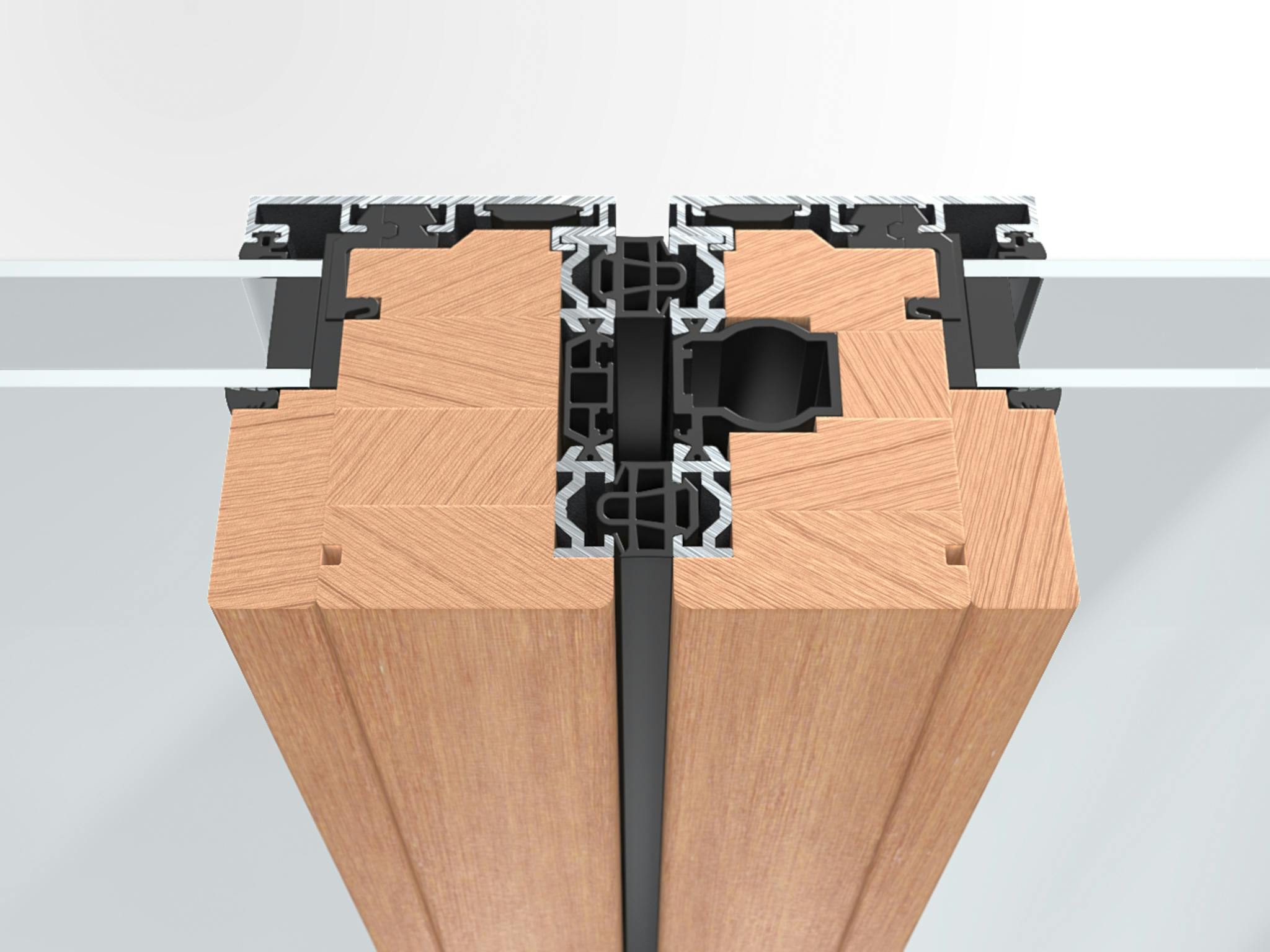 Advanced Weather Performance
Designed for energy efficiency and strong weather performance, NW Clad 740 provides exceptional protection from outside elements while offering comfort and security when closed. Depending on glass type selection, this aluminum clad folding glass wall meets exceptional thermal performance values as low as a .21 U-Factor and features continuous weather seals for ultimate protection. The exterior aluminum cladding offers low maintenance and features thermal breaks for advanced energy efficiency. As a NanaWall product, the NW Clad 740 has been independently tested for air, water, structural, operation, and forced entry with excellent results.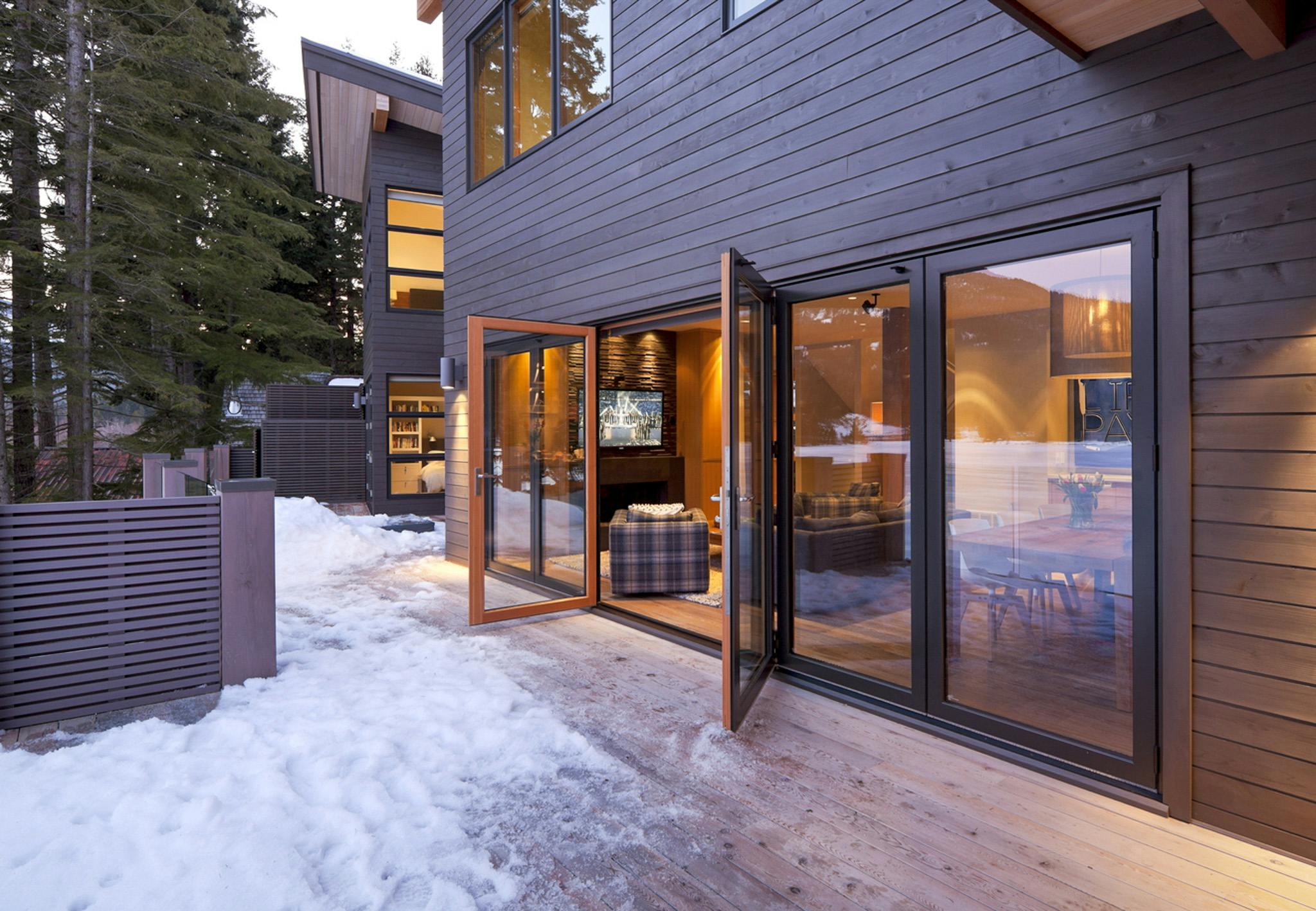 FourFold/SixFold Panel Sets
Along with the NanaWall Generation 4 product family, NW Clad 740 is the only floor supported, thermally broken, aluminum clad folding glass wall available that integrates FourFold or SixFold Panel Sets. These panel sets allow for larger opening sizes and flexible space management and can stack either to the right, left, or center within the same track allowing the panels to be stacked in the most convenient location. To accommodate traffic flow and facilitate transitions when the system is closed, swing panels can be specified either to the end of a chain of panels or hinged to the side jamb, depending on unit height and configuration.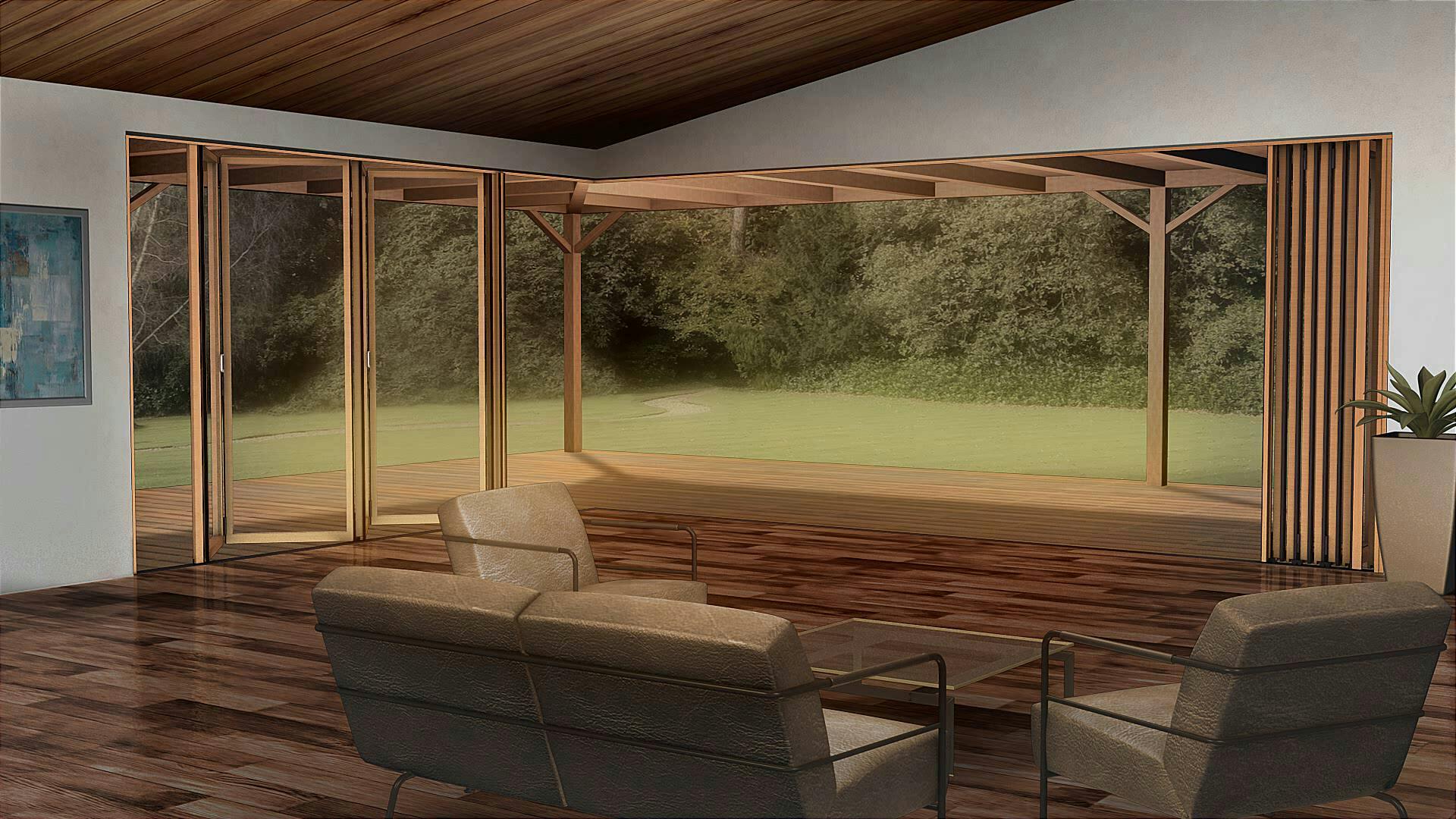 Highly Customizable Aluminum Clad Folding Glass Wall
The NW Clad 740 is customizable to meet the needs and aesthetics of every residential and commercial project. Choose from the standard wood options of Sapeli Mahogany, Pine, Meranti, and Western Hemlock—or other specialty woods. Market availability of quadruple laminated cross-grained wood may differ by wood species. For the exterior aluminum frames, there are over 200 powder coating options to best fit your desired look. NW Clad 740 has four floor track selections with removable aluminum high heel resistant and barefoot-friendly sill inserts as a standard. To accommodate traffic flow and facilitate transitions when the system is closed, swing panels can be specified depending on unit height and configuration.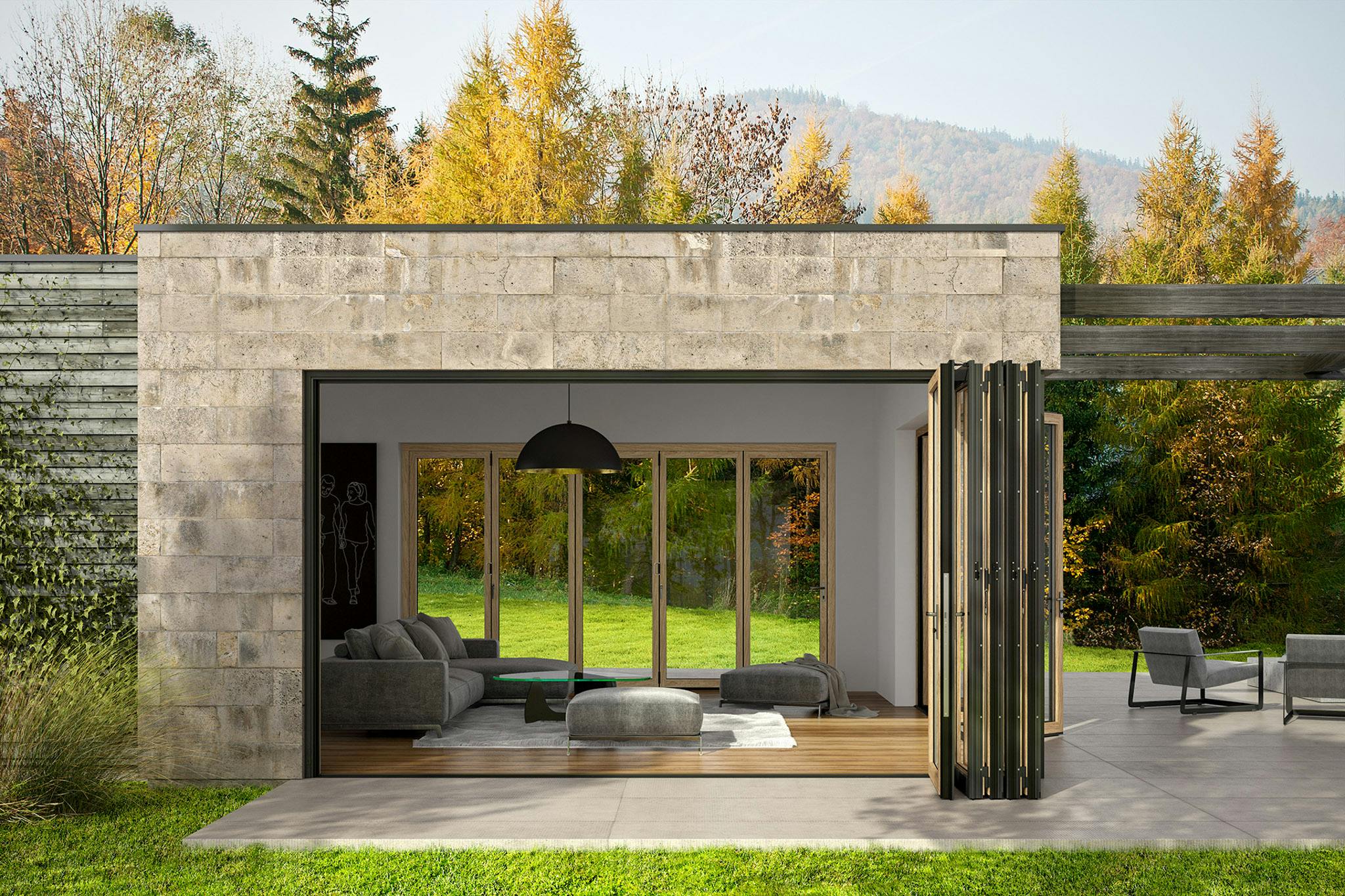 Final Thoughts
Whether you're upgrading your business or thinking about renovating your home, NanaWall folding glass wall systems can significantly improve the overall functionality of both commercial and residential spaces. NW Clad 740, the slimmest clad frame available, is a testament to the nearly four decades of NanaWall Systems innovations. This easily operable and highly customizable glass wall combines the best of wood and aluminum to create a flexible design solution with advanced weather performance and long-lasting durability. So, where will you be installing your NW Clad 740?
Learn more about NW Clad 740 and the entire Generation 4 folding glass wall product family at NanaWall.com/glass-walls!