Floor Supported Systems: The Best Choice for Remodels
By NanaWall Systems, February 26, 2020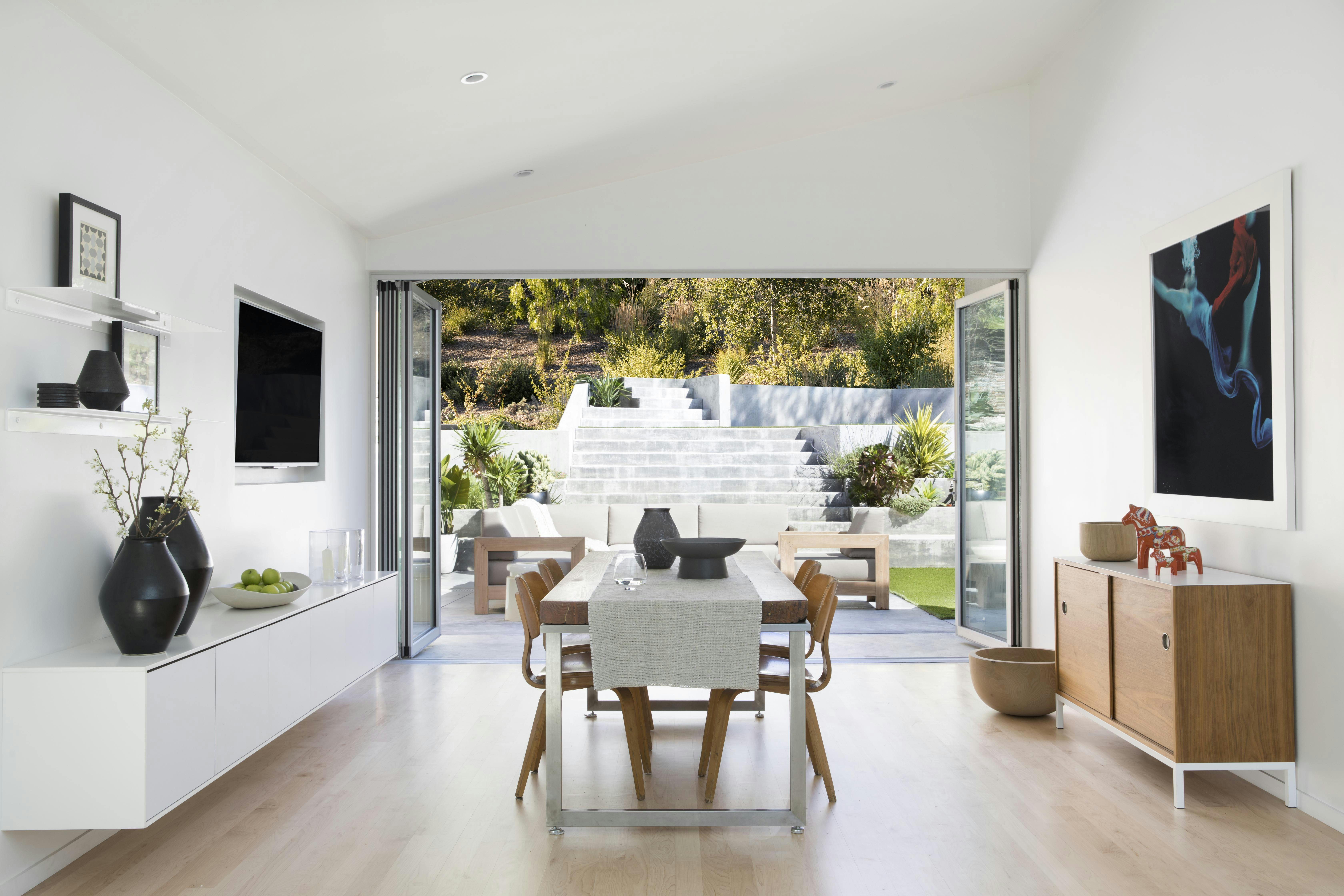 It's happening. You have come to the realization that your house is in need of a renovation. Perhaps it's the squeaky old French doors or perhaps it's your desire to recreate the open concept living space you saw in your favorite interior design magazine. Perhaps it's simply because your living needs have changed. Whatever the reason may be, a renovation is a well-thought-out investment expected to last and give your home the upgrade it so desperately needs. Consider remodeling with floor supported systems.
The benefits of welcoming the outdoors into the home have greatly influenced recent renovations—a concept most achieved with an opening glass wall. However, there are several things to consider when choosing the right glass wall for your wall opening including size, materials, folding or sliding panels, and the critical decision of where the weight of the system will be supported. The advantages of having folding glass walls being floor supported are expansive, especially when the load-bearing capability of the header is concerned. With the deflection criteria of the header being less than a 1/4" at full dead and live load, with floor supported systems, the weight of the panels is not required in the equation. Floor supported systems have become more popular in renovation projects due to their durability and adjustable features.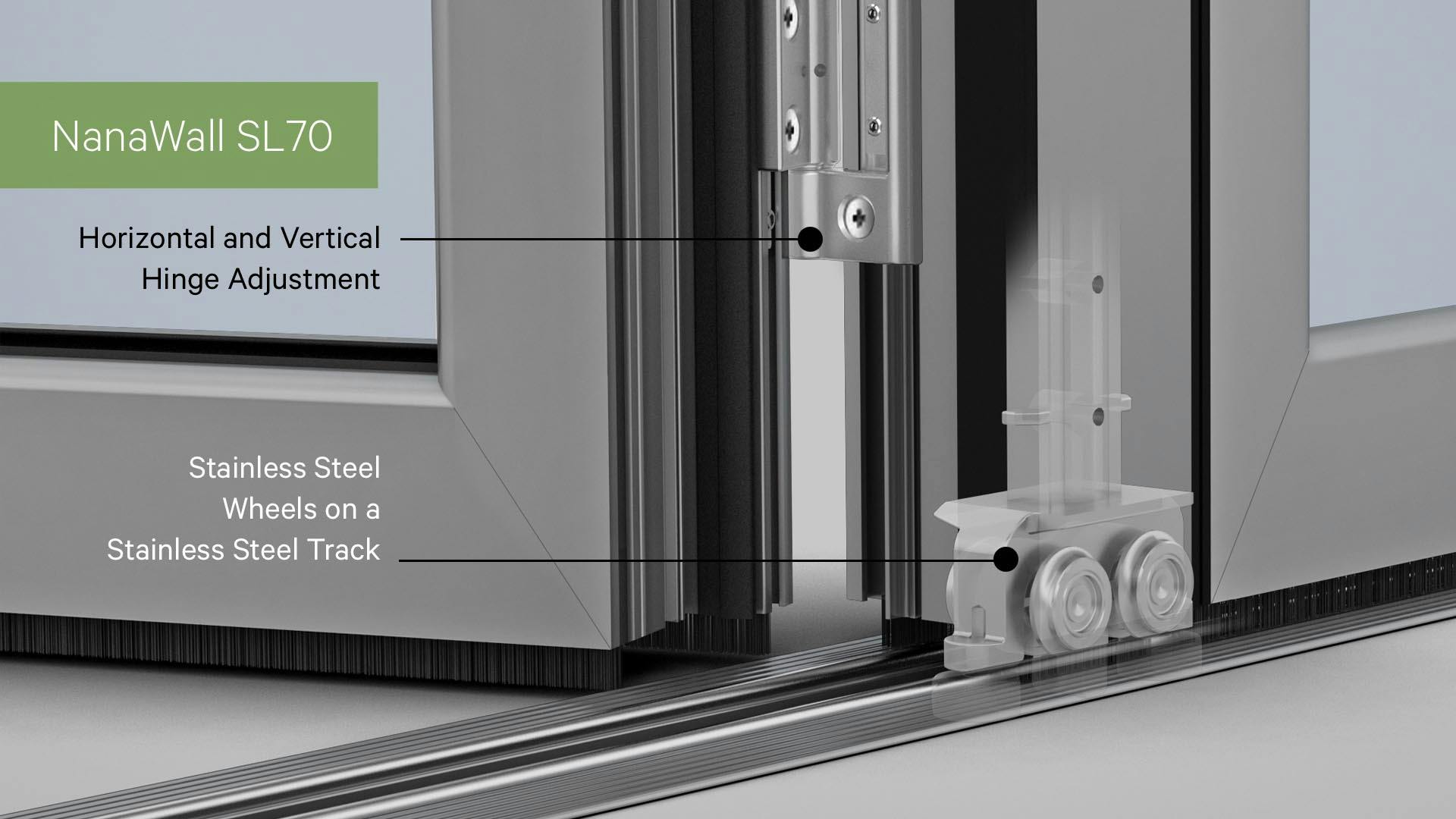 Benefits of Floor Supported Folding Systems
Before we even begin to discuss the benefits, what exactly is a floor supported system? It all comes down to design and technology. In these types of systems, the weight of the unit is carried by stainless steel wheels that glide on a stainless steel floor track. The top track is only used as a guide. This improves the likelihood of keeping the existing header as well as durability and smoother operation.
NanaWall floor supported systems also offer easier height adjustability due to the built-in clearance and adjustment points within. This is beneficial in the occurrence of building movement, a common issue in heavy snow areas where headers tend to sag. As a top choice for remodels, these systems also reduce construction costs and structural requirements such as header pre-cambering. As an advantage, the smaller head-track required allows for larger panel sizes and more glass, resulting in increased views and a cleaner look.
NanaWall Systems offers a range of floor supported systems such as the SL73, NW Aluminum 840, and SL70. Also offered is SL60 as both top-hung and floor supported option. Although each of these systems excels in performance, the SL60 and SL70 systems have remained top contenders for remodels due to their durability and weather resistance.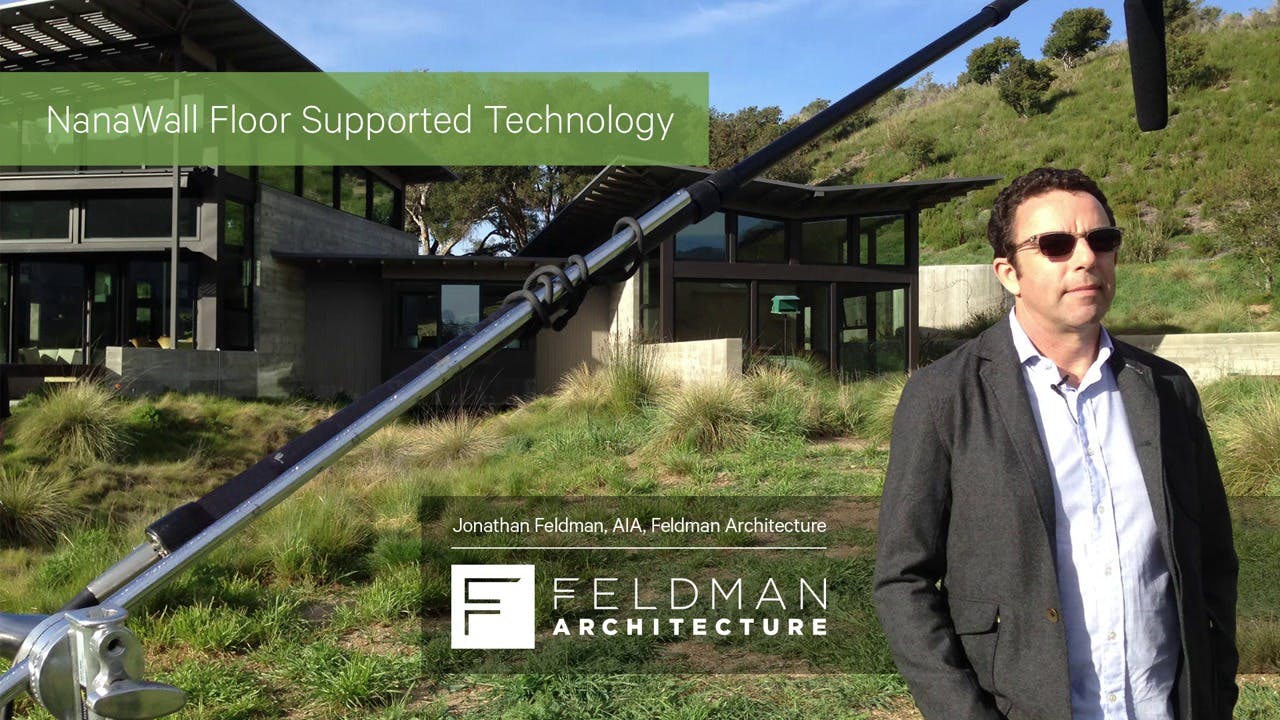 NanaWall Floor Supported Systems in Remodels
NanaWall has been involved in countless successful renovations in which floor supported systems were applied. The Big Shrink, a remodel project in North Carolina, is one such example.
The homeowners were originally looking to downsize—leading to the purchase of a 1,215-square-feet ranch house. This smaller space, however, was in need of a few renovations and despite its small size, it did not limit the homeowners to seek a simple solution to expand their sense of space.
They knocked down a wall separating the kitchen and the dining room to enlarge the interior area, but what dramatically changed the space was the installation of a NanaWall SL70 system. The SL70 is a top choice for remodels as it is specifically engineered for larger openings, extreme environments, and provides structural strength due to the incorporation of a post between each door panel. The folding glass wall installed in this project opened the living room to a 15-by-45-foot deck, adding more living space to the small abode
Another project that opted for a floor supported system was this Mill Valley Remodel featuring a NanaWall SL60. By choosing this system, the homeowners can expect energy efficiency, strong weather performance, and minimal sightlines along with other features. The addition of a folding glass wall immediately modernized the 1940's Mediterranean home. This four-panel opening may be Not So Wide® but the effects are quite large—instantly brightening up the home and expanding the space to the outdoors.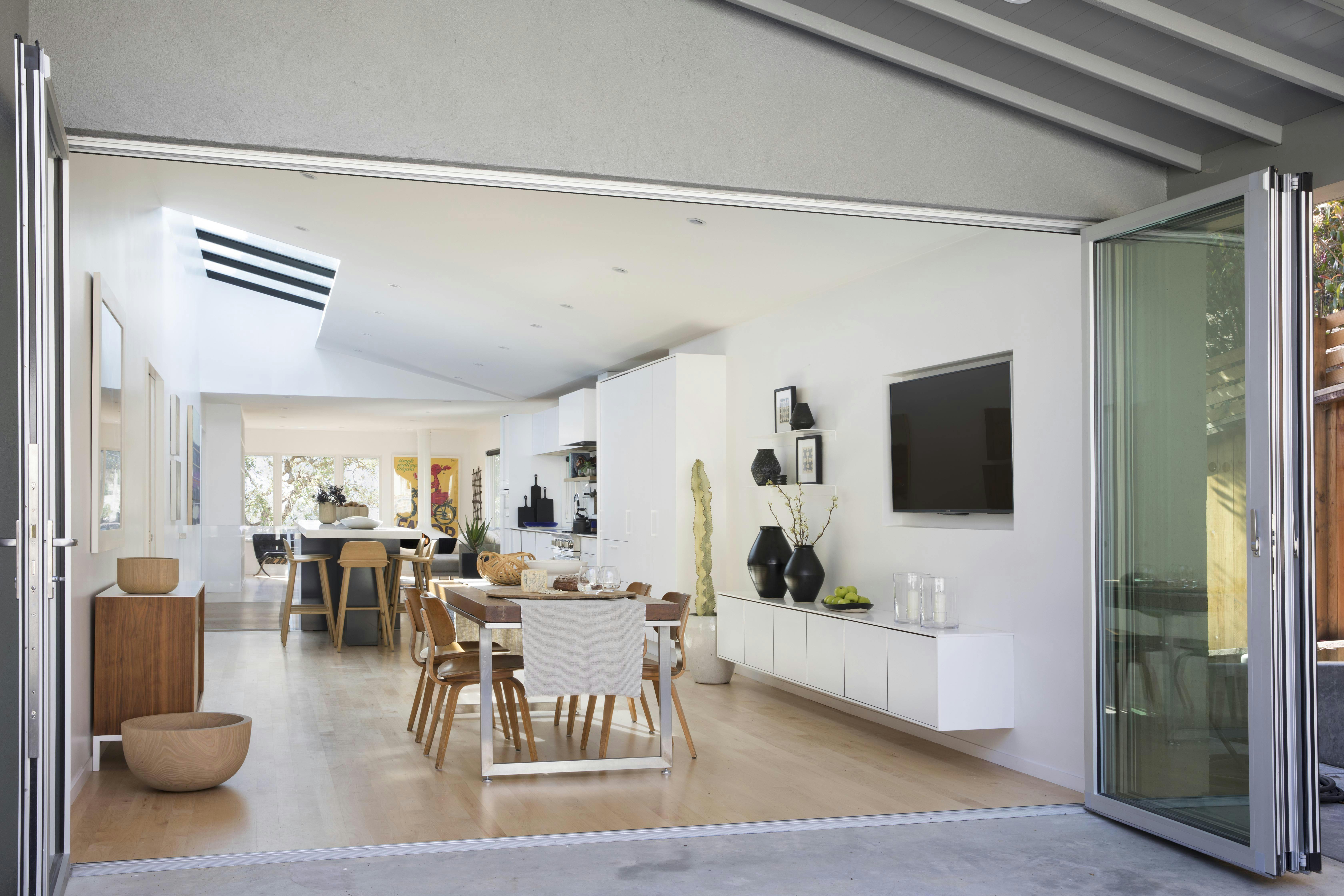 Similarly, this Silicon Valley Eichler Remodel dramatically opened up a living space with an eighteen-foot SL60. The roof of the Eichler home carries much weight and is dependent on posts and beams to support its weight—a top hung opening wall system would not have worked. Despite having a header designed by a structural engineer, a floor supported system was crucial to the project's success.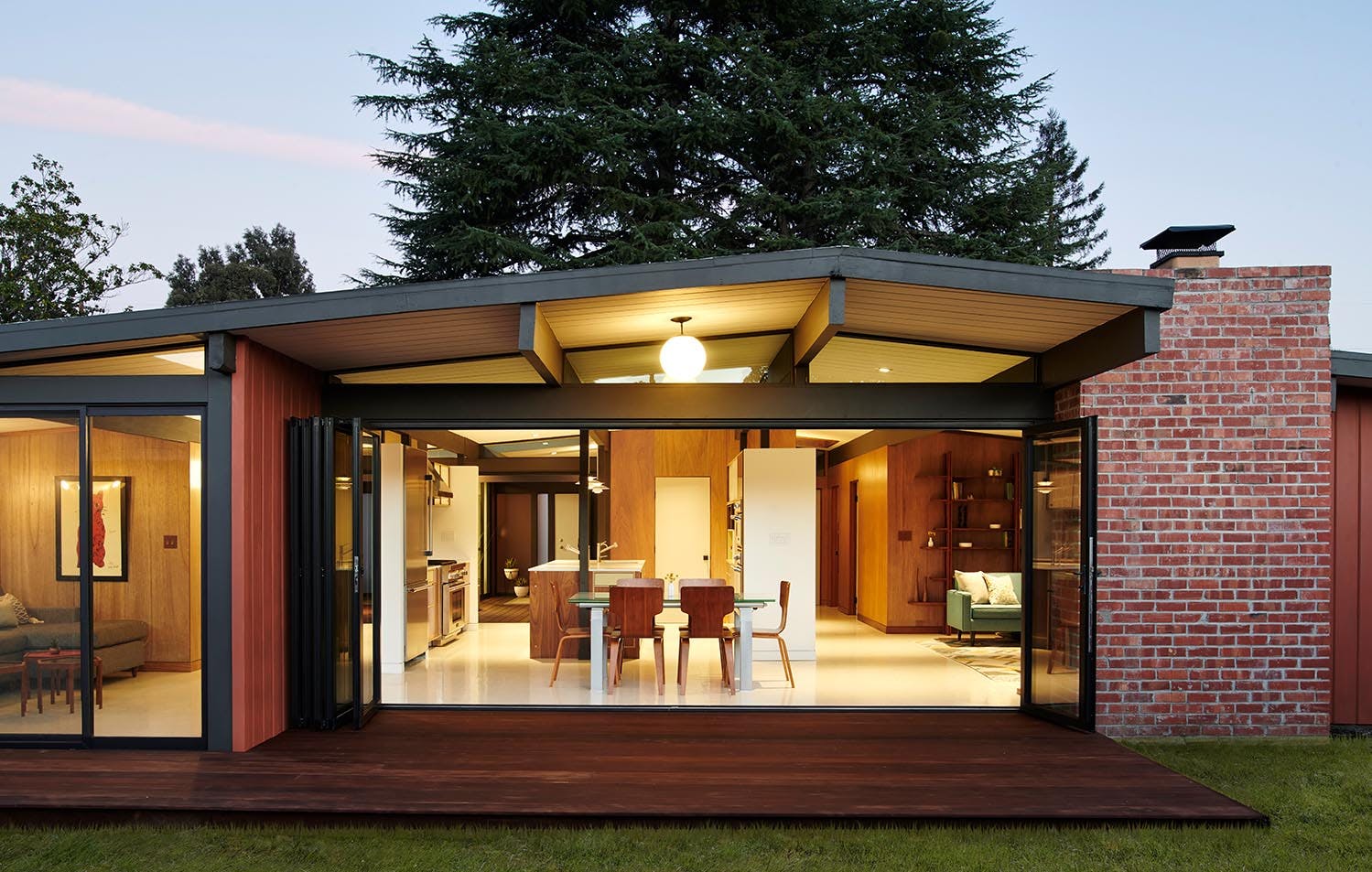 Final Thoughts
Renovation projects that require the installation of a folding glass wall will better benefit from floor supported systems—especially those requiring several panels for wider openings. A remodel is often an investment asking for long lasting solutions that will weather the passing of time and will not require immediate repairs or replacements.
Even though both floor and top-hung glass walls offer the same weather protection, performance, and testing, those relying on a floor track are ideal for projects where load-bearing capability of the header is concerned.
To learn more about NanaWall's floor supported systems visit our Floor Supported Folding Doors page!