Bifold Glass Walls Unfold New Guest Experience at Historic Hotel
By NanaWall Systems, March 8, 2023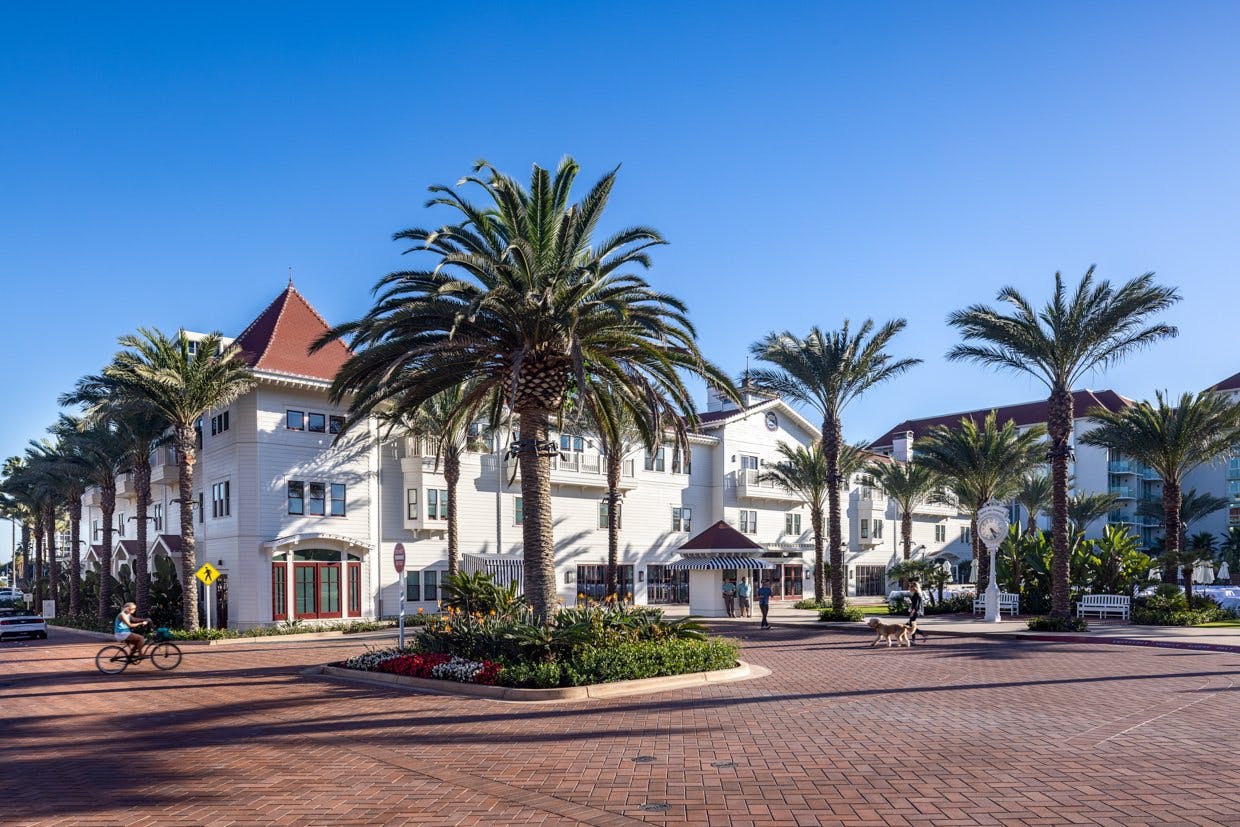 Not every hotel can claim over 130 years of world-famous hospitality like Hotel del Coronado. The hotel is a must-see landmark on its own with its iconic Victorian architecture, perfectly manicured landscape, and oceanside location. Considered the largest resort in the world upon its grand opening in 1888, Hotel del Coronado has hosted renowned guests like Marilyn Monroe, Katherine Hepburn, Steven Spielberg, and Oprah, to name a few. Since the golden age of cinema, the historic hotel became a popular backdrop for several Hollywood films and social events. Today, "The Del" remains a popular destination in sunny San Diego, attracting patrons with its notable relevance, historic design, and a plethora of amenities that are easily accessible via bifold glass walls.
Designing a Hospitality Haven with Bifold Glass Walls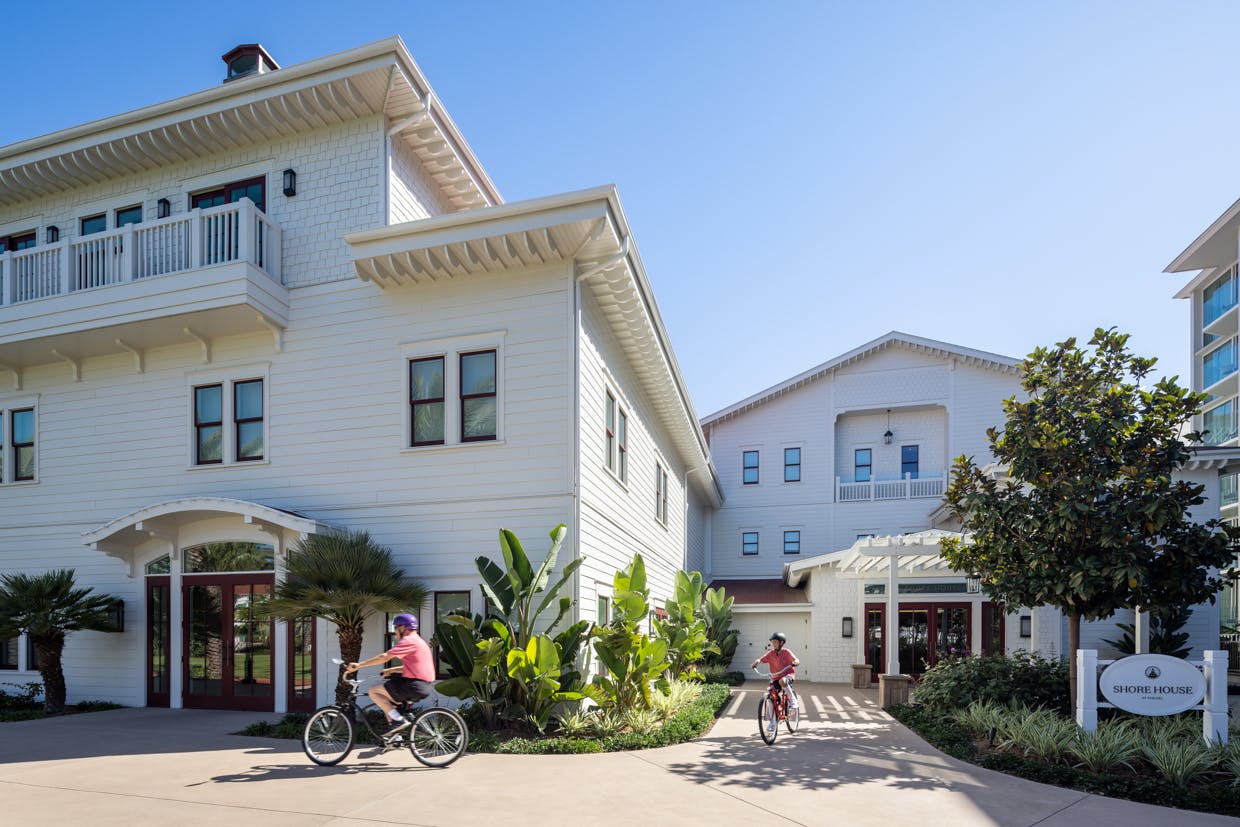 Welcoming Guests with Style
Upon arrival, Hotel del Coronado immediately immerses guests in a beachside environment with endless palm trees, striking views, fresh ocean breeze, and the iconic red turrets that stand out against an all-white facade. Its traditional Victorian architecture greets visitors with the welcoming aura associated with the conventional charm of traditional homes. With over 600 rooms to choose from and a private enclave of residential-style cottages, each unit offers a unique experience and landscape. Perfectly blending old and new, The Del seamlessly caters to every generation. However, one thing that remains constant is its endless array of amenities and its immersive experience with the coastal environment through design-forward solutions like NanaWall bifold glass walls.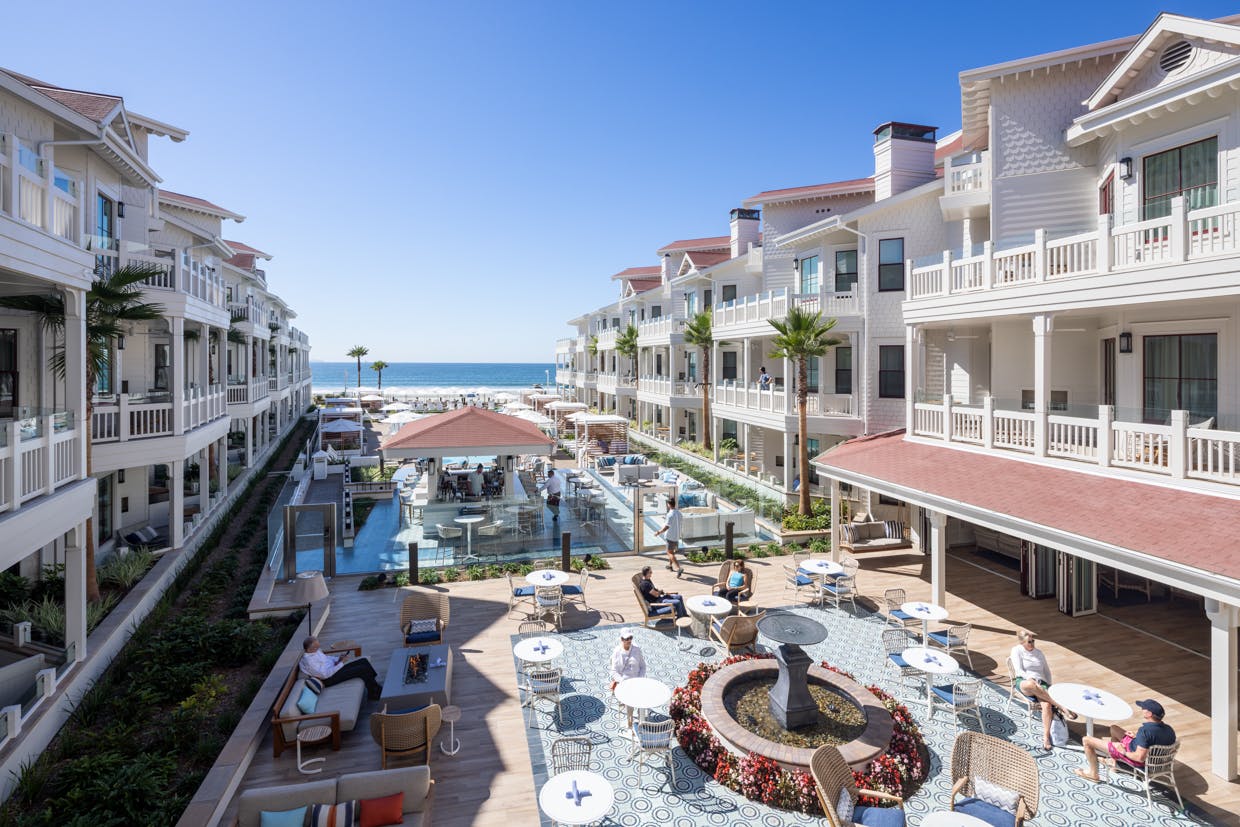 Creating an Authentic Indoor/Outdoor Experience
Whereas most hotels restrict patrons to their rooms with little to no outdoor access or amenities, Hotel del Coronado completely reinvents the lodging experience. Multiple outdoor lounge areas are scattered throughout the resort with plenty of options to keep guests entertained. Almost every interior has access to the outdoors, whether it be in the form of balconies or opening glass wall systems in the main public areas. Even indoors, one can still enjoy the warm touch of sunlight, the refreshing breeze, and the soothing sounds of the ocean. These wide, flexible openings create seamless transitions between indoor and outdoor spaces while maximizing square footage and capitalizing on the immersive SoCal experience.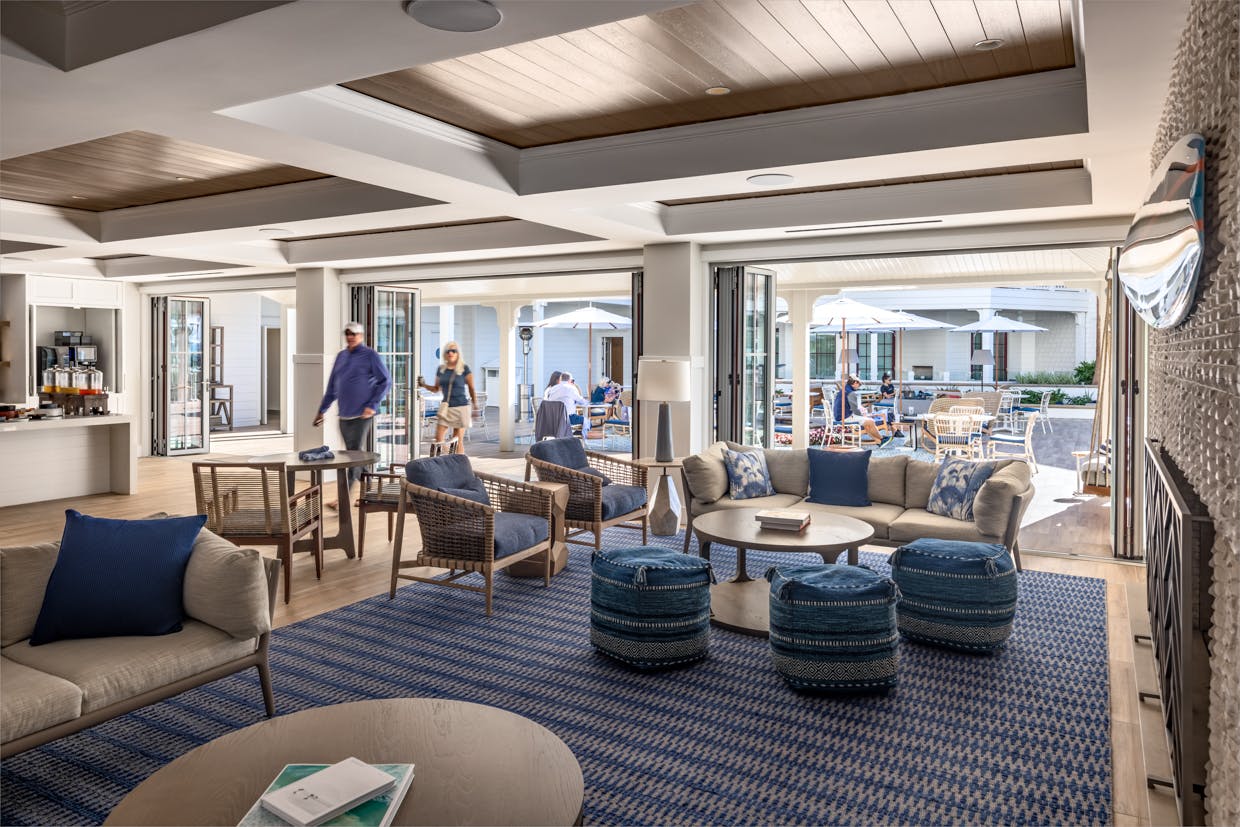 Amenities to Augment the Resort-Like Experience
Aside from its historic importance, Hotel de Coronado continues to lure guests from around the world with a plethora of appealing amenities. From on-site retail stores and fitness centers to spas and Olympic-sized swimming pools, there is an activity for every member of the family. With 11 restaurants featuring a variety of cuisines and ocean vistas, guests are treated to a luxurious dining experience after a full day of recreation. At night, the hotel comes alive with lively music, bonfire gatherings by the beach, and even a spooky Haunted Happenings Tour. All are easily accessible via the large bifold glass walls that connect one amenity space to the other.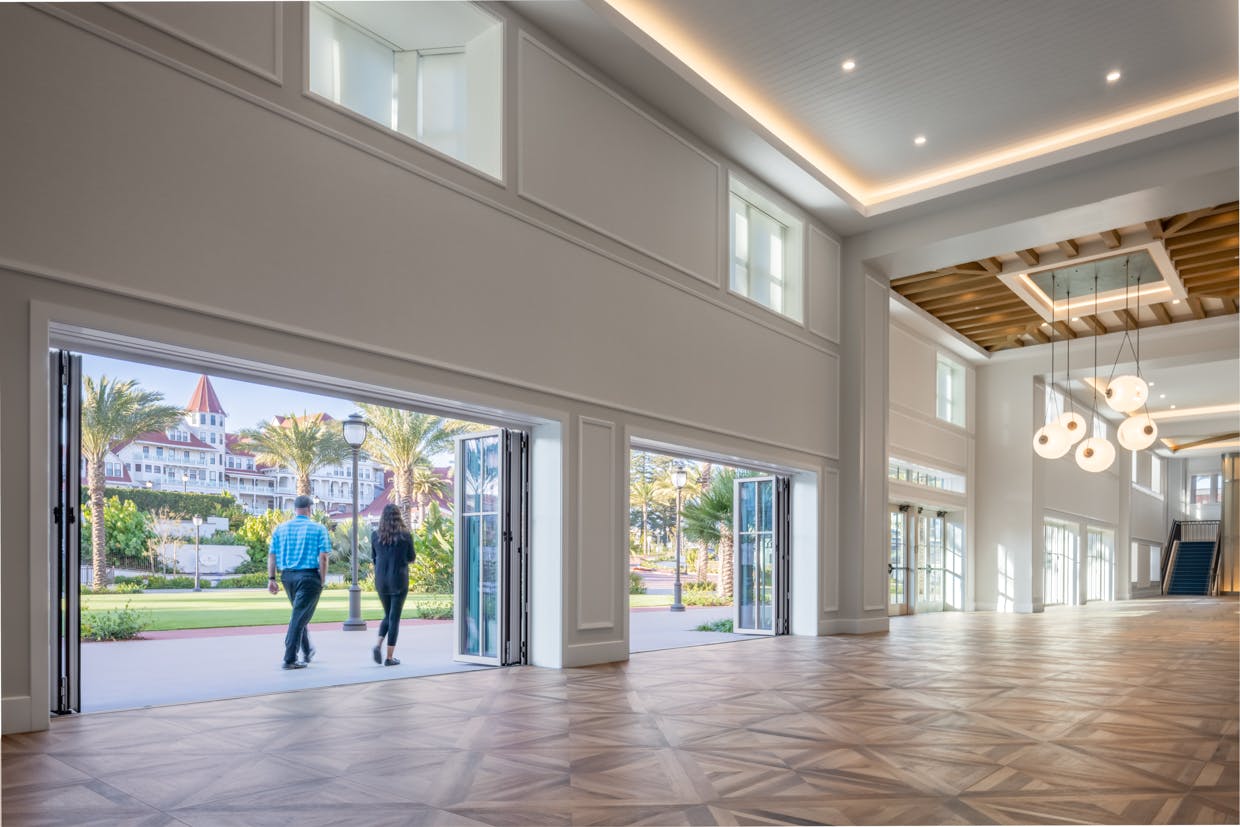 Multifunctional Areas Maximize ROI and Space Optimization
The Del is a multifaceted resort that has catered to the needs of its clients since its debut in the 1880s. The Southpointe Event Center within the hotel grounds offers a large, multifunctional room for events like conventions, ceremonies, and wedding receptions. The space is lined by opening glass wall systems facing the resort and a picturesque courtyard. When opened, these systems create multiple wide portals that immediately immerse interiors with the outdoors, facilitating fresh air ventilation and space maximization when needed. Even when closed, the bifold glass walls offer striking views of the hotel for a truly captivating experience for guests while maximizing the hotel's ROI. It's no surprise why Hotel del Coronado remains a popular wedding destination and go-to event location.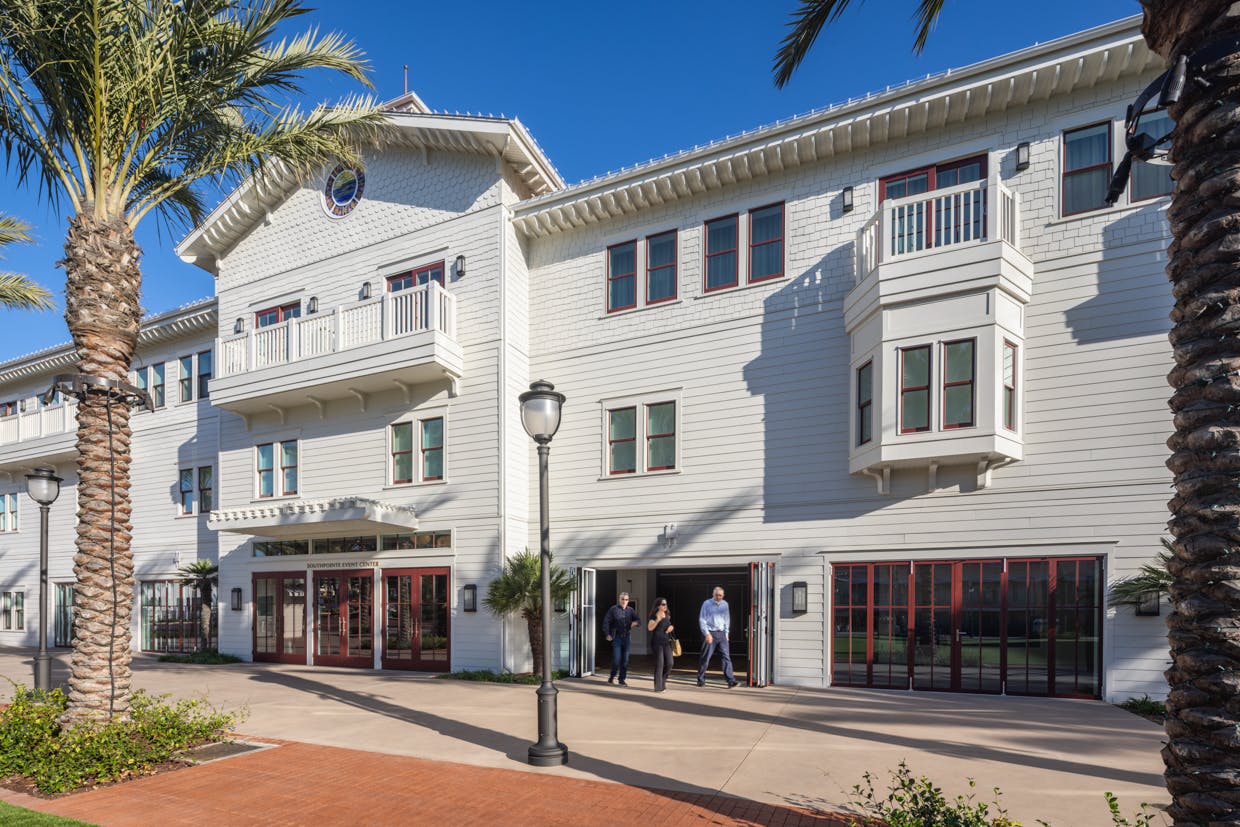 Elevating Recognizable Red and White Hues
NanaWall opening glass wall systems are tailored to the needs of every commercial project. At The Del, each system was customized with two different powder coats to complement the building's existing aesthetics. A Brick Red coating on the outside reflects the hotel's iconic red color and existing window frames while a Bone White interior blends in with the white walls inside. When opened, the bifold glass walls appear as if they have always been part of the architecture, working in tandem to maximize functionality while preserving the hotel's historic architecture and design.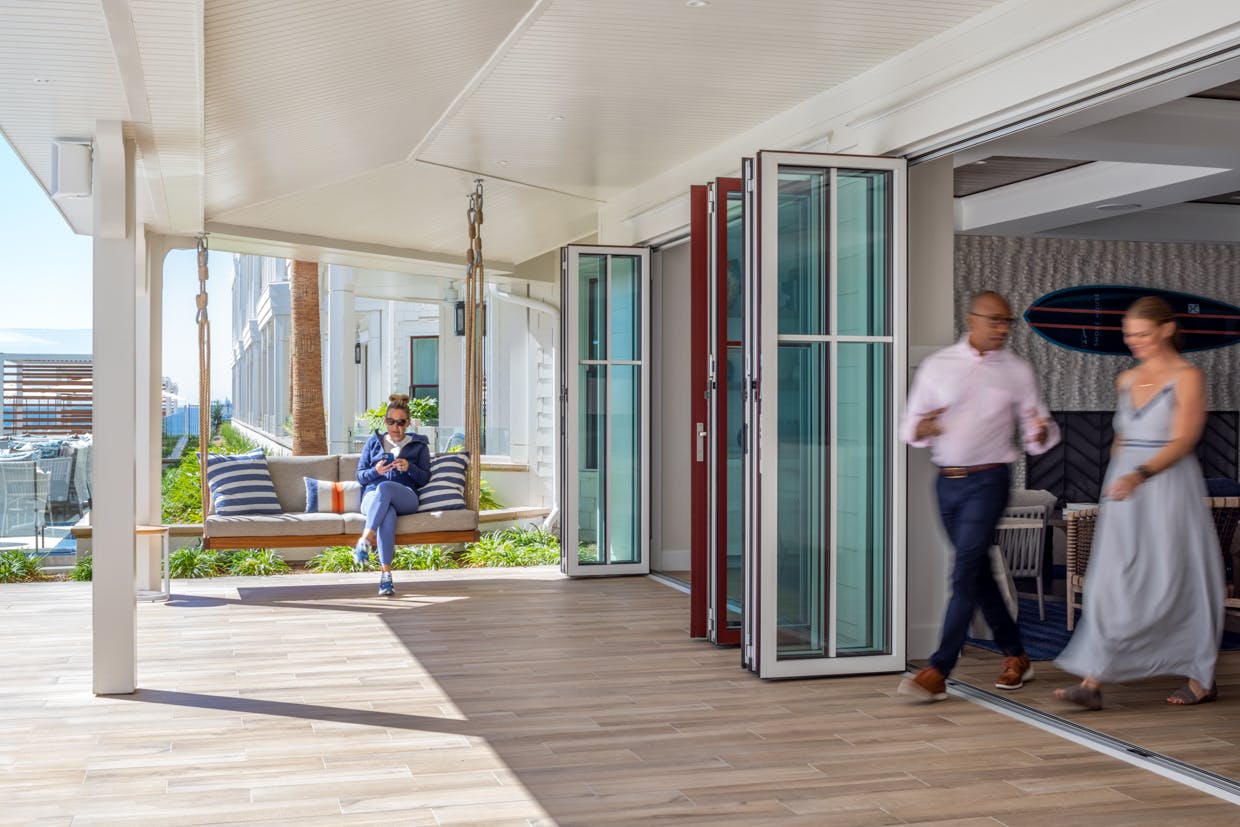 Preserving Historic Aesthetics with Design-Forward Elements
In addition, the panels have been specified to open like traditional French doors to enhance the building's Victorian architecture and historic charm. To create functional openings the panels in NanaWall opening glass wall systems can be specified as swing doors to facilitate transitions and regulate traffic. To further elevate the hotel's traditional design and existing fenestration, simulated divided lites were also specified for every panel. A barely-there Low Profile Saddle Sill offers water-rated ADA compliant thresholds without sacrificing smooth operation. Offering optimal configuration flexibility, these panels can be customized to fold out like French doors or stack anywhere in the opening with FourFold and SixFold panel sets.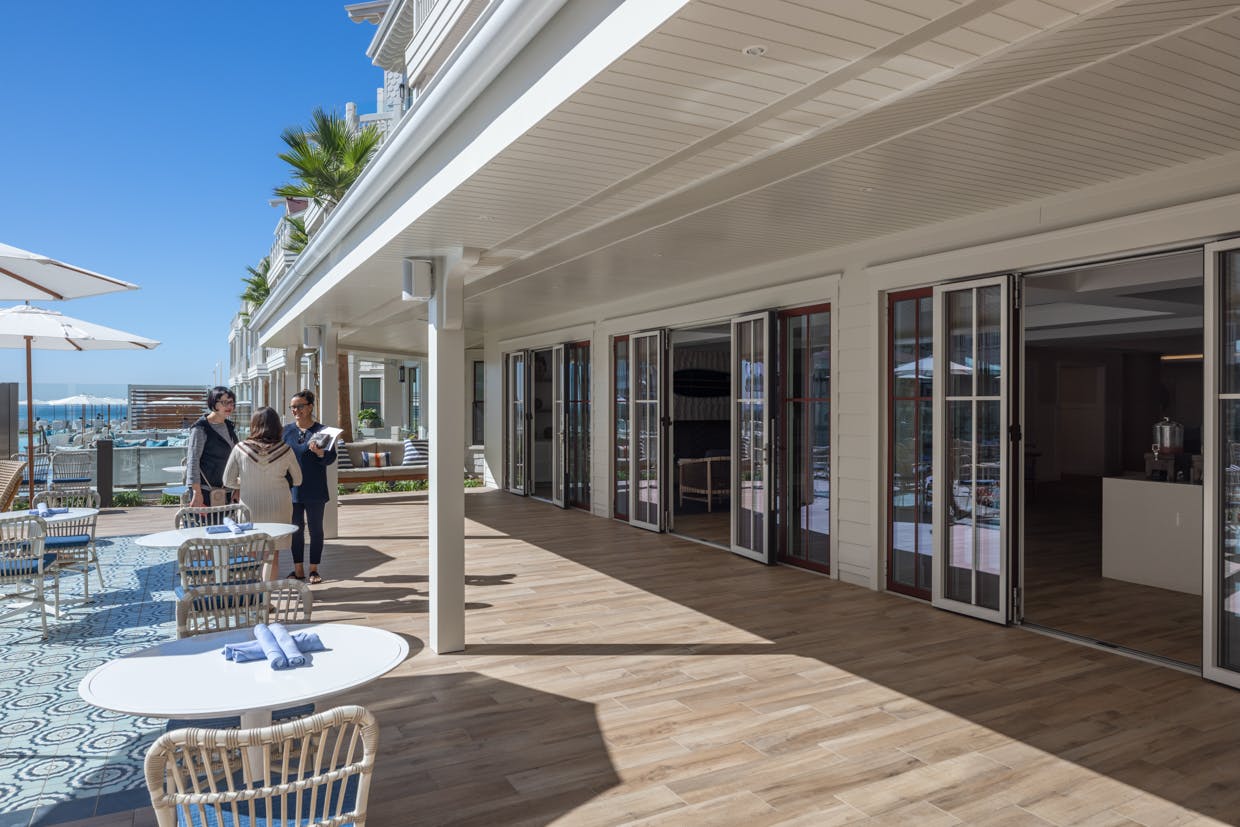 A Year-Round Folding Glass Wall Solution
NanaWall bifold glass walls were the only operable systems that could meet the standards and withstand the grind of a highly visited hotel. As a Generation 4 folding glass wall, NanaWall NW Aluminum 840 offers the thinnest frames and smoothest operation available. Being close to the ocean called for durable, weather-performing opening glass wall systems that could withstand harsh climates but without sacrificing sleek profiles. Because NanaWall systems have been tested for air, water, structural, and forced entry with excellent results, they were the ideal moveable glass wall systems for Hotel del Coronado.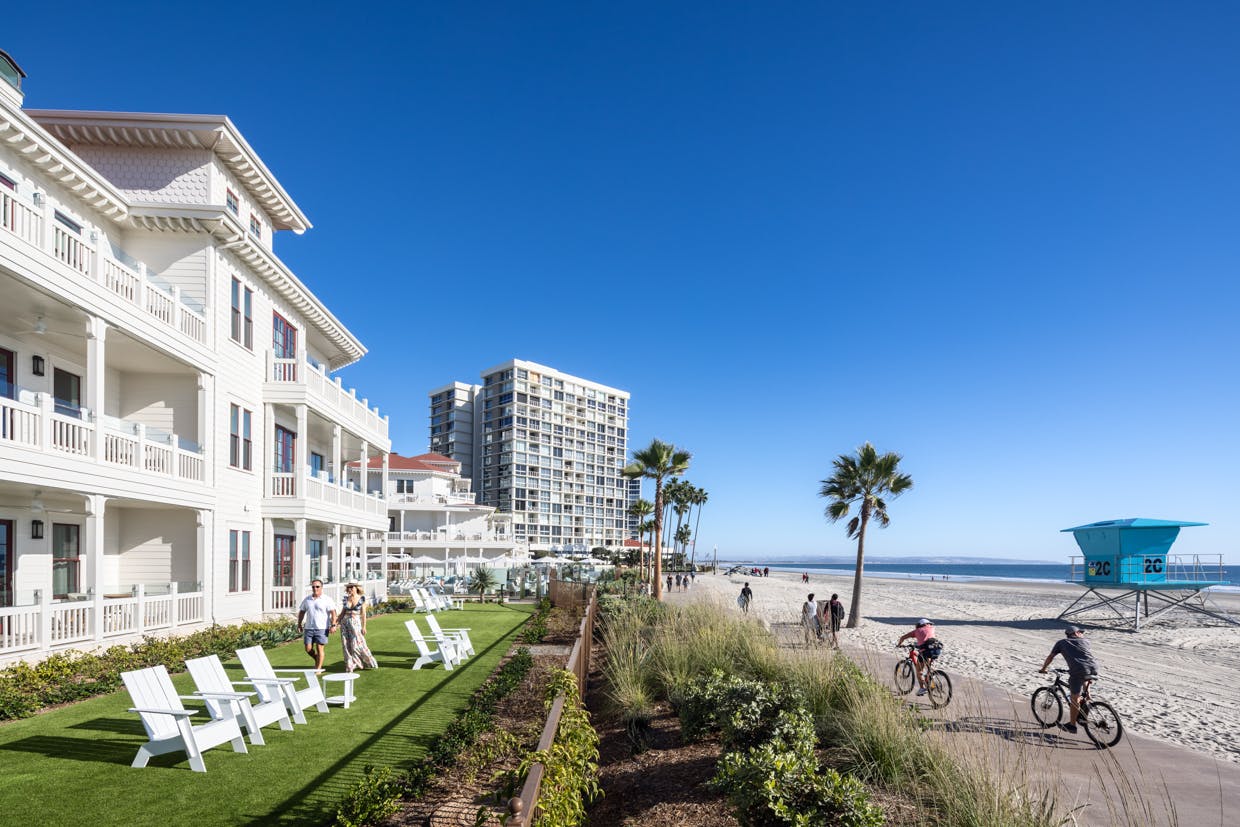 Final Thoughts
If you're looking for a truly remarkable resort experience in Southern California, consider booking a room at Hotel del Coronado. Making the most of its ideal seaside location, the resort takes advantage of indoor/outdoor spaces that interconnect amenities to offer recreational opportunities at every corner. The implementation of NanaWall bifold glass walls in primary large gathering spaces offers continuous immersion in the coastal environment while facilitating traffic and maximizing space. An iconic product for an iconic destination. It's no surprise why the timeless resort continues to draw visitors from around the world and will continue to do so for generations to come.
Discover how other hotels in the country leverage NanaWall bifold glass walls to create iconic, immersive experiences in our extensive photo inspiration gallery!