Create Family Friendly Flexible Spaces for Work and Play with Folding Glass Doors
By NanaWall Systems, June 7, 2023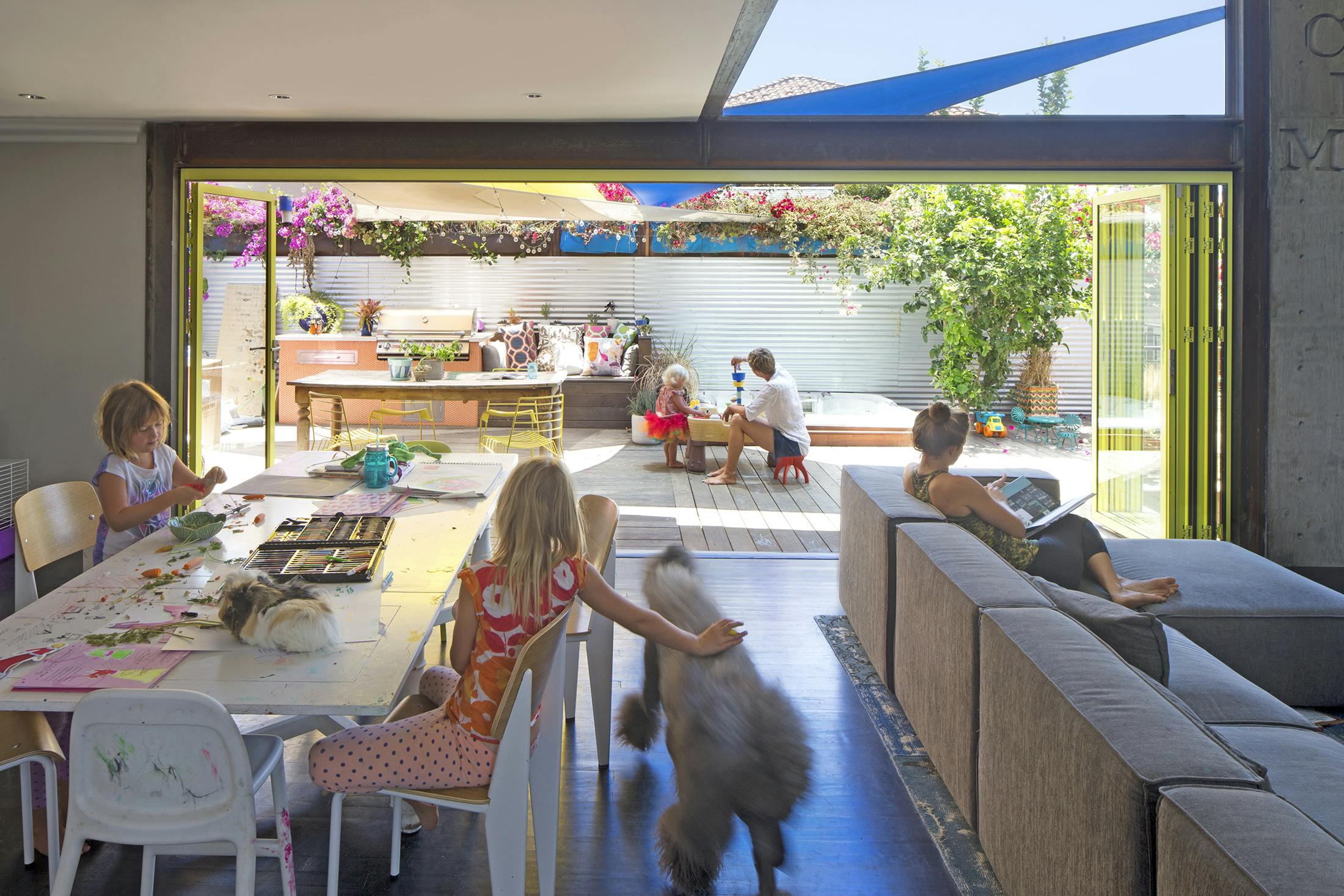 Summer is here, and it's time to unlock the endless possibilities of your space with folding glass doors. Whether you are a homeowner, builder, or designer, the right glass wall system can help you create flexible spaces that seamlessly blend work and play. Folding glass doors can help you create flexible spaces for the entire family, both indoors and out.
How Operable Glass Systems Help Create Flexible Family Spaces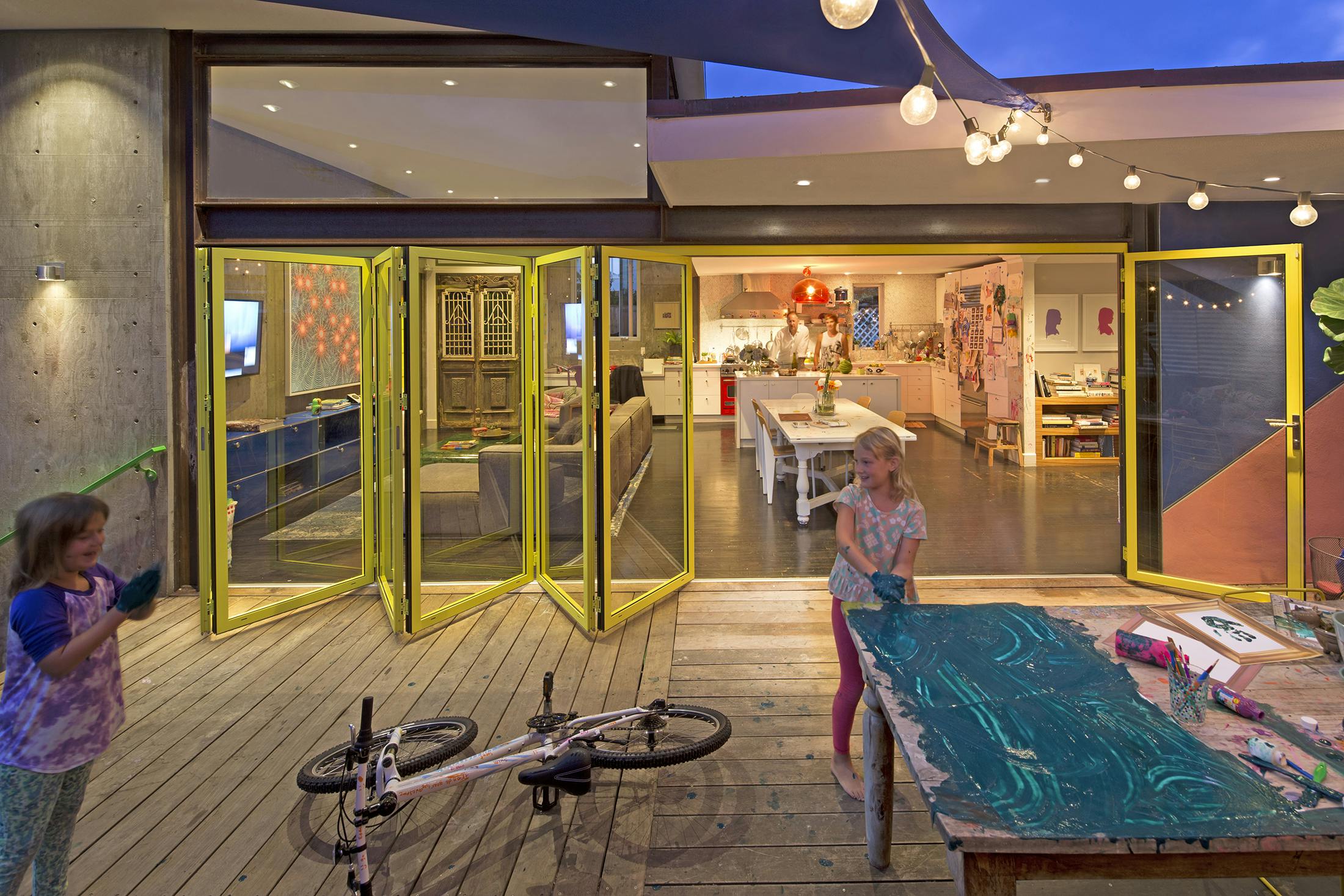 Reimagine the potential of your spaces. From indoor playrooms and private libraries to open-air workspaces and vibrant pool houses, folding glass doors provide the versatility and style to create multifunctional areas that flawlessly combine work, leisure, and family time. Let us delve into the many applications of these glass wall solutions, showcasing how they can revolutionize living areas, enhance summer experiences, and provide seamless transitions from indoor to outdoor comfort for homeowners and their families.
Maximize Family Spaces: Versatile Solutions for Work and Play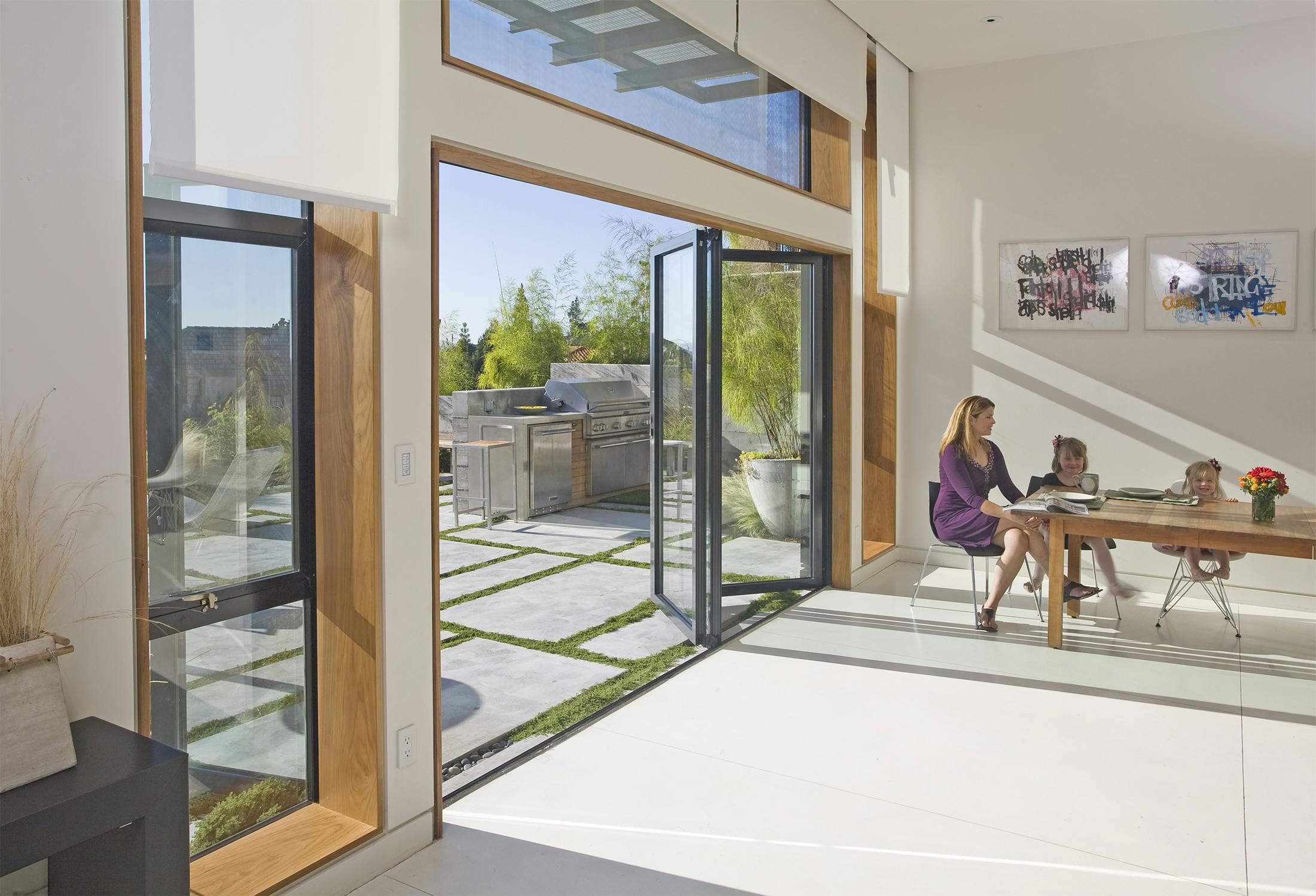 Folding glass doors are the epitome of flexible design, perfectly bridging indoor and outdoor flexible spaces for work and play. Their all-season capabilities offer a hassle-free solution to tailor multi-purpose spaces for you and your family. These elegant systems dismantle conventional limitations, exchanging solid walls for clear panoramas, and inviting the captivating charm of nature indoors without sacrificing year-round comfort.
Whether you're embarking on a new architectural journey or renovating your current home, the true charm of folding glass doors shines in their adaptability to any lifestyle and aesthetic vision. Envision a breezy open-air living room for mild summer nights, a pool enclosure radiating endless summertime vibes, or a home gym energized by sweeping outdoor views to invigorate your daily workout - all achievable, all year round.
Revitalize Your Home: Create Immersive and Biophilic Family Spaces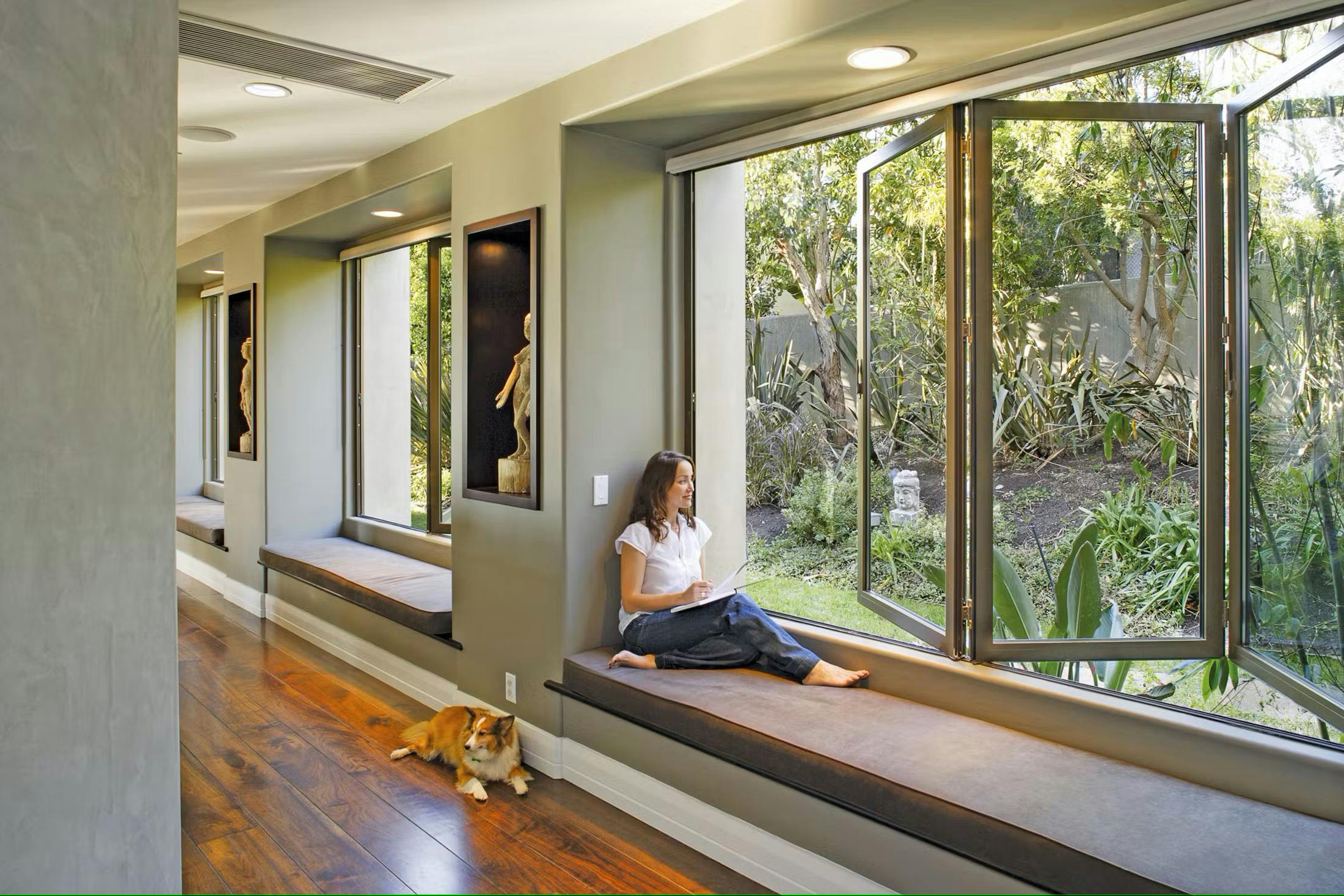 Transform your living space into an oasis of functionality and serenity. Folding glass doors create a seamless blend of indoor and outdoor living, transforming your home into a tranquil, multifunctional space with a touch of nature - a concept known as Biophilia.
As the innate desire to connect with nature in modern living increases, homeowners and architects are incorporating folding glass doors into their homes to promote biophilic benefits. In our busy lives, these glass walls provide an elegant solution for homeowners to infuse natural elements into their homes. They create versatile garden spaces for family enjoyment, offering unobstructed views of nature, reducing stress, and boosting happiness and overall mental health. Opening glass walls bring an abundance of natural light and ventilation into your home, improving mood, productivity, air, and sleep quality. So, with glass walls, you're not just creating a brighter living space, you're enhancing your family's overall wellbeing.
Embrace Alfresco Dining: Create Flexible Indoor-Outdoor Eating Areas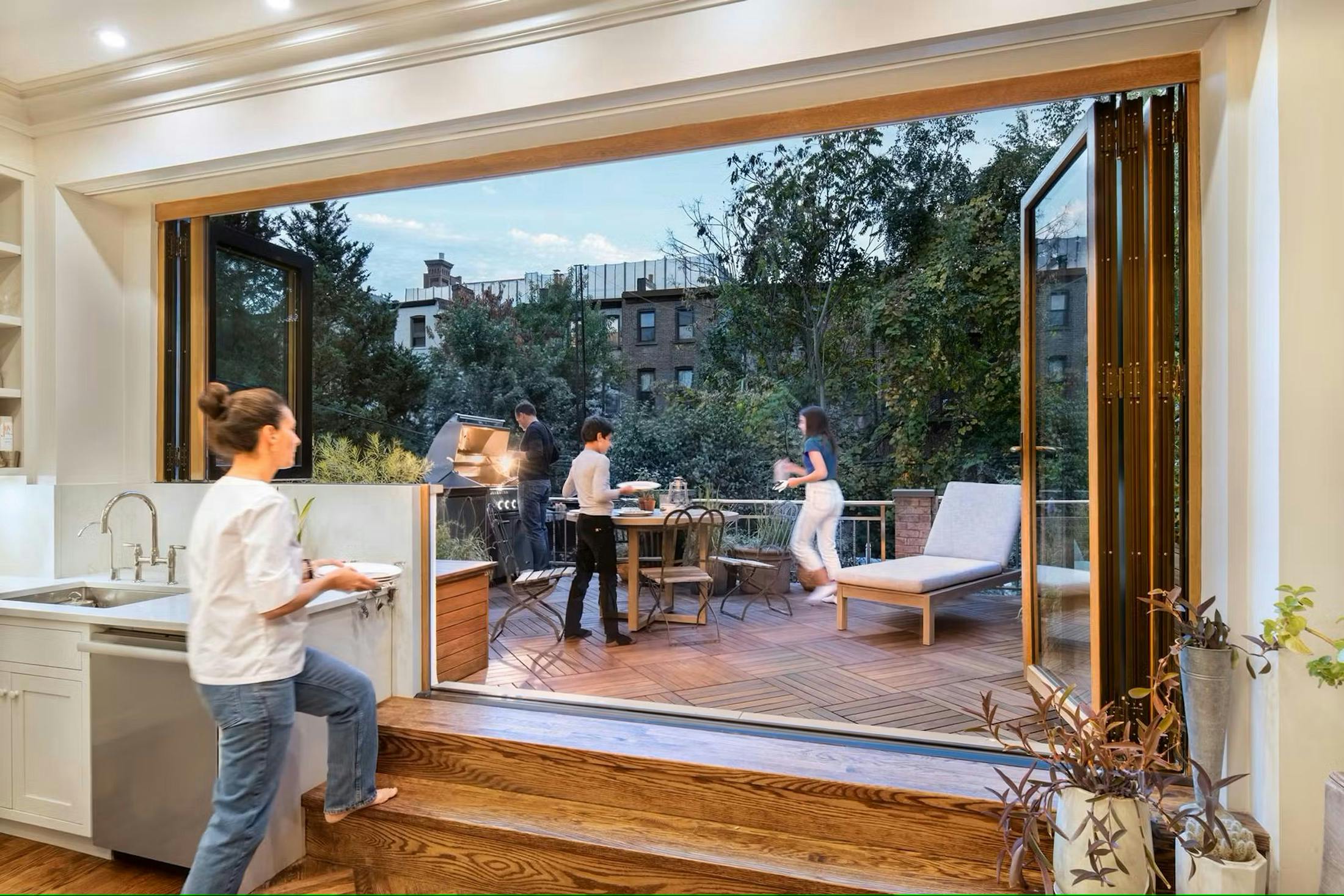 Summer invites families to savor the pleasure of outdoor entertainment, with alfresco dining being a cherished tradition for family get-togethers. Folding glass doors and systems help homeowners craft dynamic and flexible spaces that blur the lines between the interior and the exterior, setting the perfect stage for anything from grand celebrations to cozy dinner parties.
Customizable to any space and design preference, glass wall systems offer options that include sliding, folding, or even frameless walls. This versatility of this window door combination empowers you to design an alfresco dining area tailored to your family's needs – whether it's a quaint corner for intimate meals or a spacious open-plan area for hosting larger get-togethers. This custom-designed system, featuring an aluminum wood clad, expertly blends the interior's warm wood aesthetic with the exterior's durable, low-maintenance aluminum cladding, seamlessly marrying outdoor practicality with indoor elegance.
Reinvent Your Interiors: Create Functional Offices and Playrooms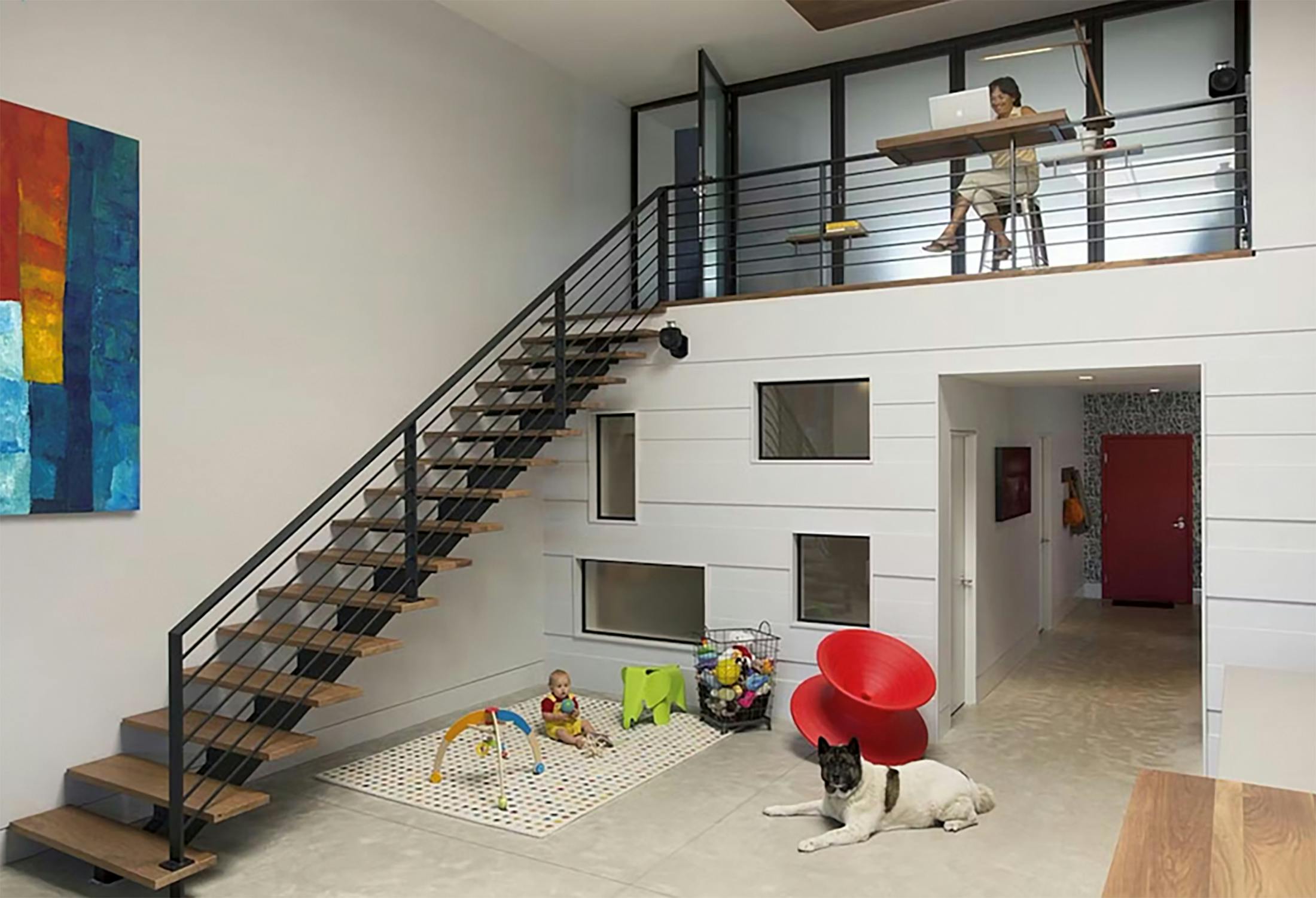 Folding glass doors and wall systems are revolutionizing interiors with their versatility and customization. For privacy-focused areas such as bedrooms or offices, opaque glass walls offer an ideal solution. They secure visual privacy while allowing light to permeate, maintaining a balance of seclusion and brightness. Homeowners can leverage these dynamic systems to craft flexible spaces such as flexible home offices, transformable playrooms that double as guest rooms, all-season indoor-outdoor activity spaces, or personalized home gyms.
Offering a multitude of design options – sliding, folding, or frameless – these systems can be tailored to fit any space or requirement. Their versatility allows you to design flexible spaces that mirror your lifestyle needs, from compact cozy corners to expansive multi-functional areas, ensuring your home remains as adaptable as you are.
Tailor-Made Elegance: Folding Glass Doors Customized to Any Space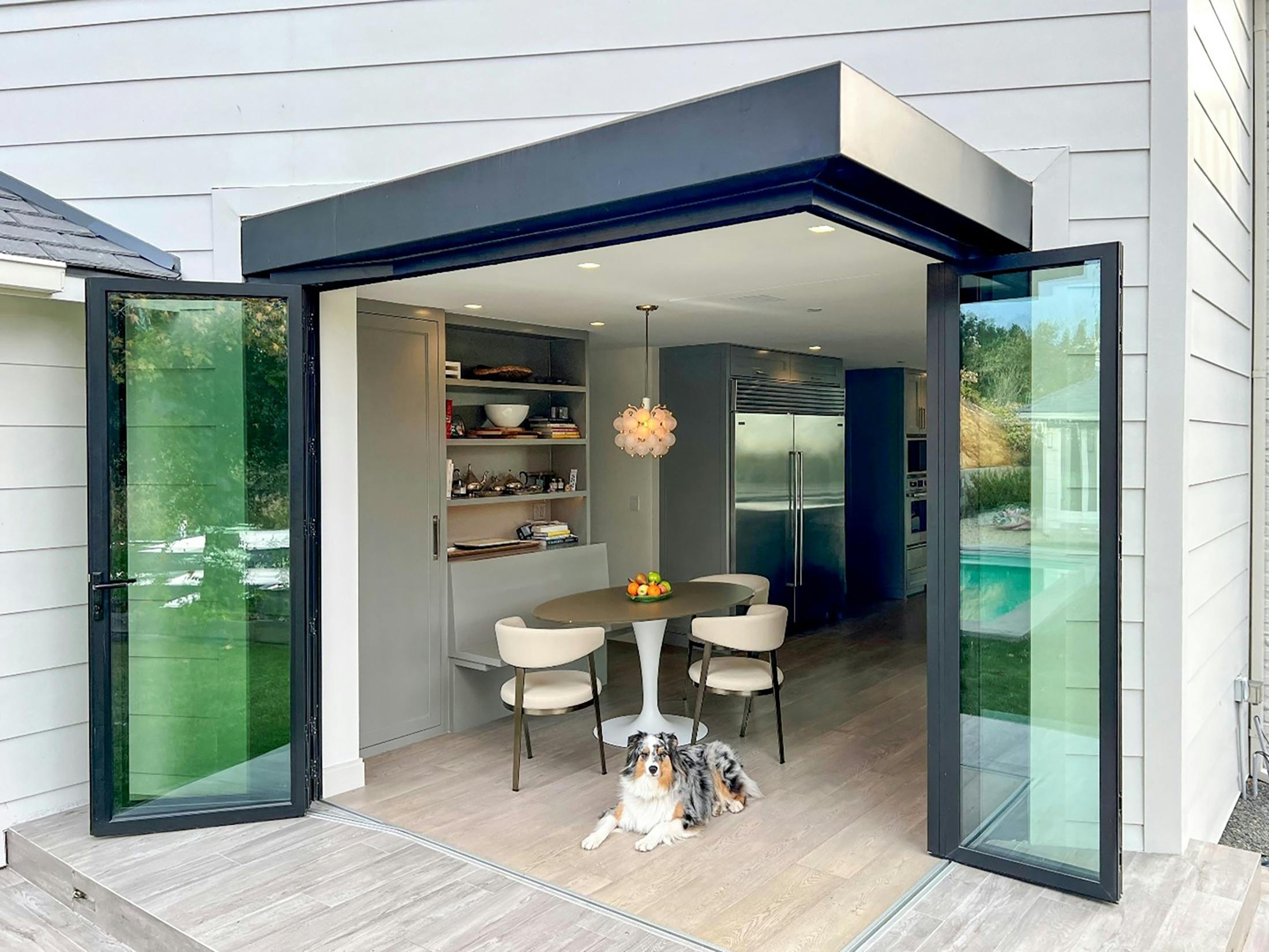 Glass wall systems offer an enticing blend of functionality, accessibility, and customization to meet your unique home design needs. They can transform your interiors, considering dynamic factors like limited space, sound control, privacy, style, and utility. This home renovation features a custom FoldFlat system design. FoldFlat systems transform spaces with their unique 180-degree stacking, providing maximum space utility. Available in aluminum or wood, it seamlessly integrates into home interiors. Performance all-season glass wall systems aren't just designed for creating flexible indoor-outdoor spaces, but they also bring versatility and functionality to your home, office, and playrooms.
With a spectrum of customization options, NanaWall glass walls can be specifically tailored to echo your family's personal taste and requirements. Whether you're seeking to extend space, create flexible living areas, heighten privacy, control sound, or have a distinctive style statement, these systems can be adapted to fulfill your unique vision. By seamlessly merging folding, sliding, and frameless glass walls, you have the power to craft flexible spaces that are as stunning to behold as they are functional to use.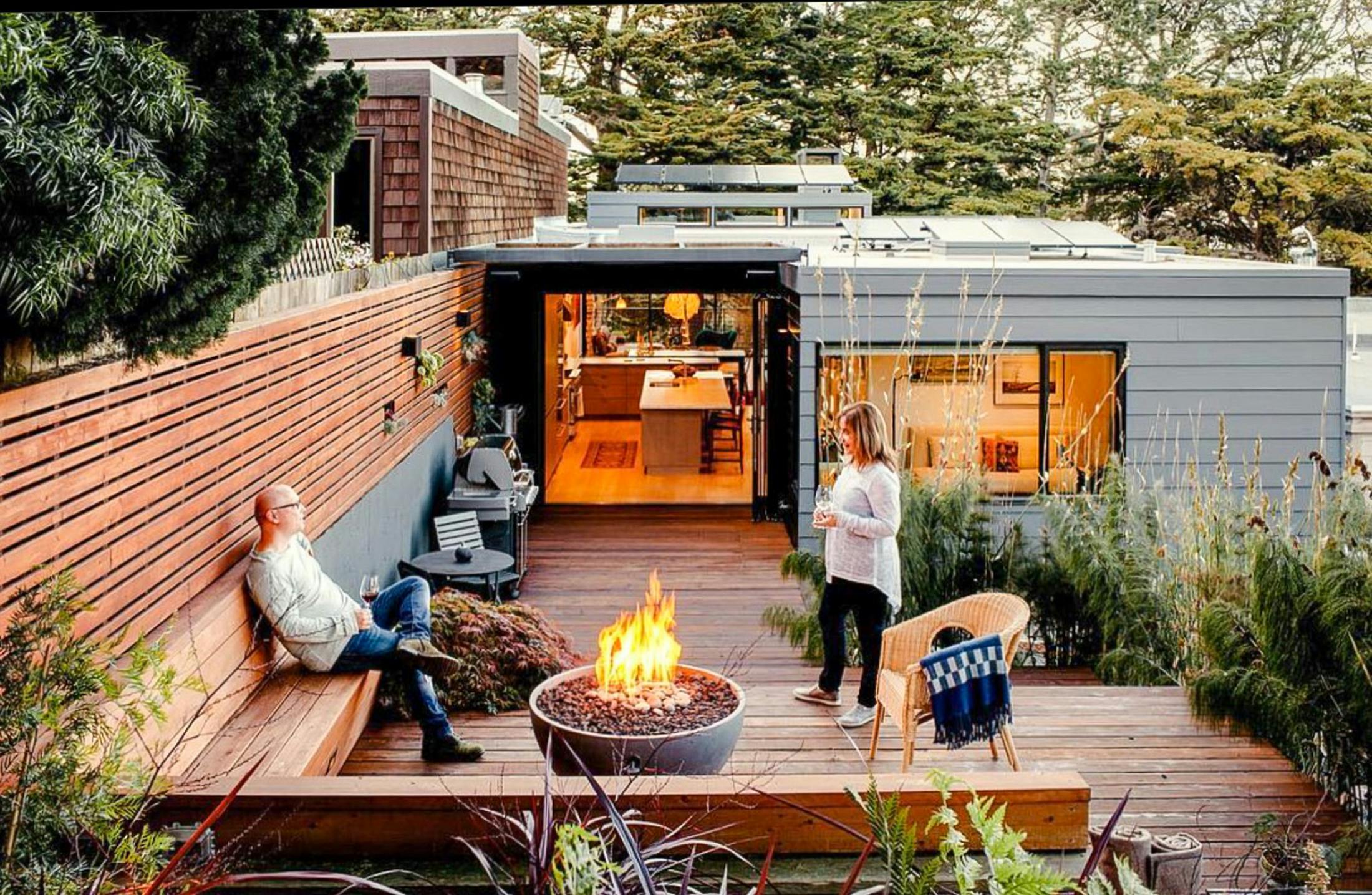 Final Thoughts
As we welcome summer, it's the ideal time to unlock the endless possibilities of your living spaces with folding glass doors. For homeowners, builders, and designers alike, these innovative systems offer the means to create multi-functional flexible spaces that elegantly blend work and leisure areas, indoors and outdoors.
Opening glass walls empower you to reimagine your home's potential. Be it transforming indoor playrooms and secluded libraries, crafting airy workspaces, or enlivening pool houses, folding glass doors bring a combination of flexibility and style. They enable you to create areas that effortlessly blend work, relaxation, and family time.
With NanaWall performance systems, you have a versatile solution to enhance your summer living experience, providing a seamless transition between indoor comfort and the beauty of the outdoors. Whether you aspire for a chic alfresco dining experience, an adaptable playroom, or a unique entrance, they offer the perfect fusion of aesthetics and functionality. So, prepare to revolutionize your living spaces and cater to your family's diverse needs with these transformative glass wall solutions.
Explore our extensive residential design inspiration gallery for more innovative glass products and design ideas.