David Rocco's Restaurant Sets a High Bar with Dynamic Bifold Glass Doors
By NanaWall Systems, July 13, 2023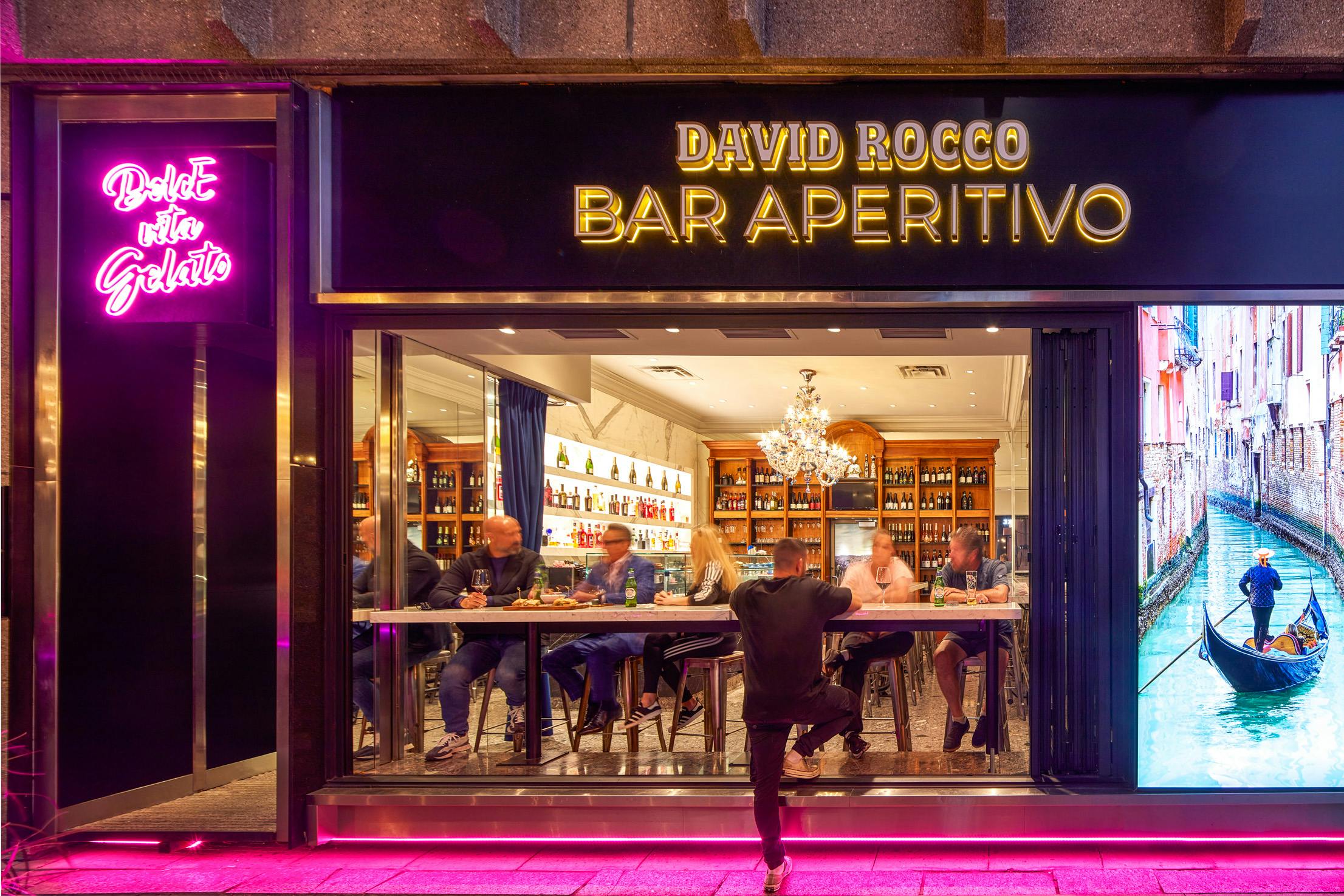 Take a stroll in downtown Toronto and you'll surely be lured by the vibrant atmosphere of Bar Aperitivo. Owned by celebrity chef and renowned cookbook author David Rocco, Bar Aperitivo opened in 2021 in the highly sought-after Yorkville neighborhood. Whether it be the upbeat music, the aroma of authentic Italian cuisine, or the glowing sign of the restaurant's famous gelato, the restaurant is a culinary beacon for locals, tourists, and fans alike. Perhaps most alluring is the large wall opening, made possible by floor-to-ceiling bifold glass doors, that gives way to the inviting indoor/outdoor bar—almost as if there was no wall at all. This new influential restaurant aims to set the bar for restaurants to come by combining design-forward elements with the timeless elegance of an Italian eatery.
Creating A Dynamic Restaurant with Bifold Glass Doors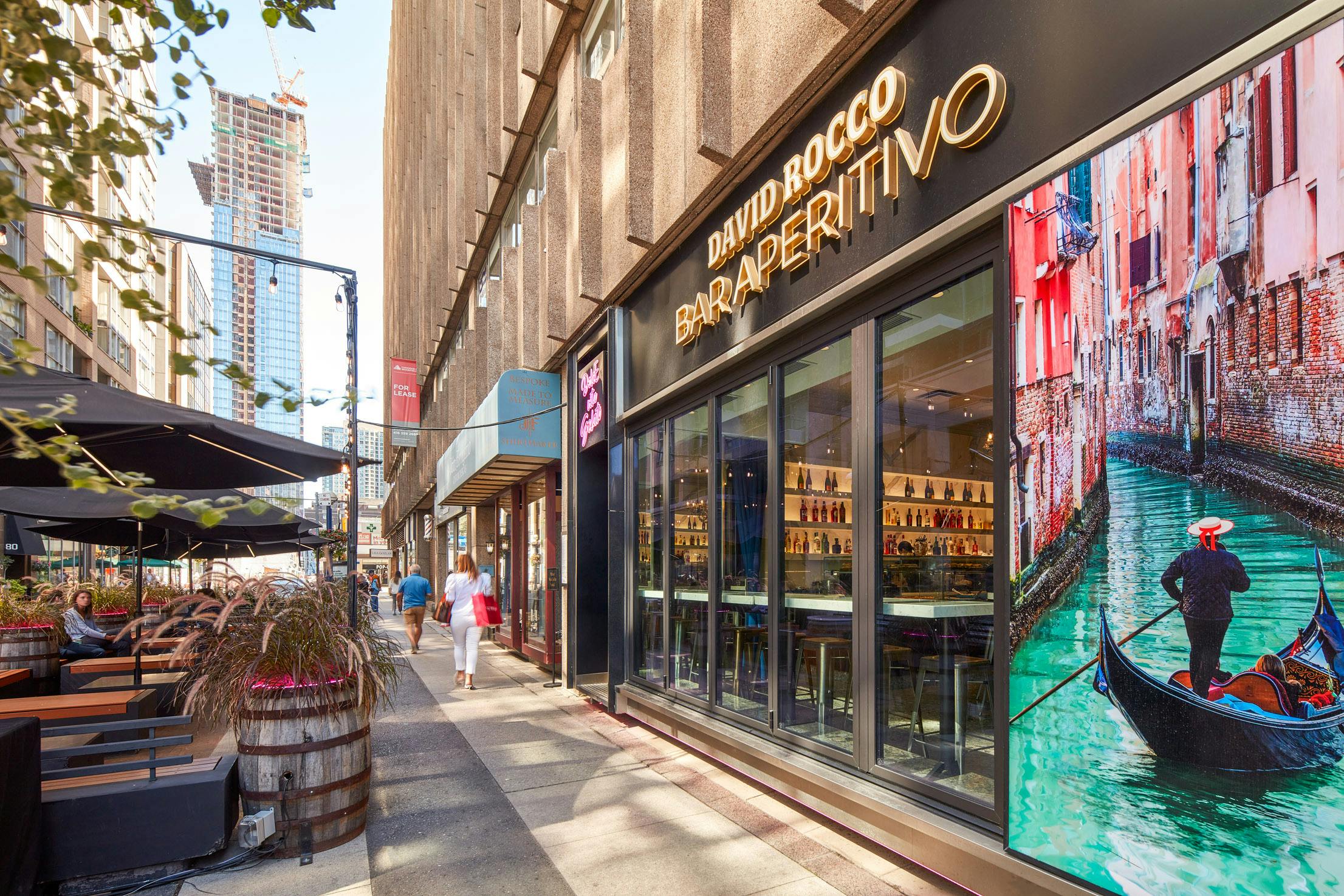 Unique Design Sets the Stage for Future Locations
Yorkville is an affluent destination known for its high-end boutiques, art galleries, fine dining, and well-manicured gardens—the ideal location for Bar Aperitivo's flagship restaurant. "It will be our first location bearing my name here in Canada," says David Rocco. "This template and style will set the stage for the brand and other locations to follow, which is why this process is so important to get right." The celebrated chef envisioned an intimate space inspired by the Italian attitude and lifestyle where patrons would come to enjoy traditional food, drinks, and the joys of life. Key to the design was implementing a flexible bifold glass wall system that could accommodate indoor/outdoor seating during the nice weather season and a comfortable indoor environment during Toronto's cold weather season.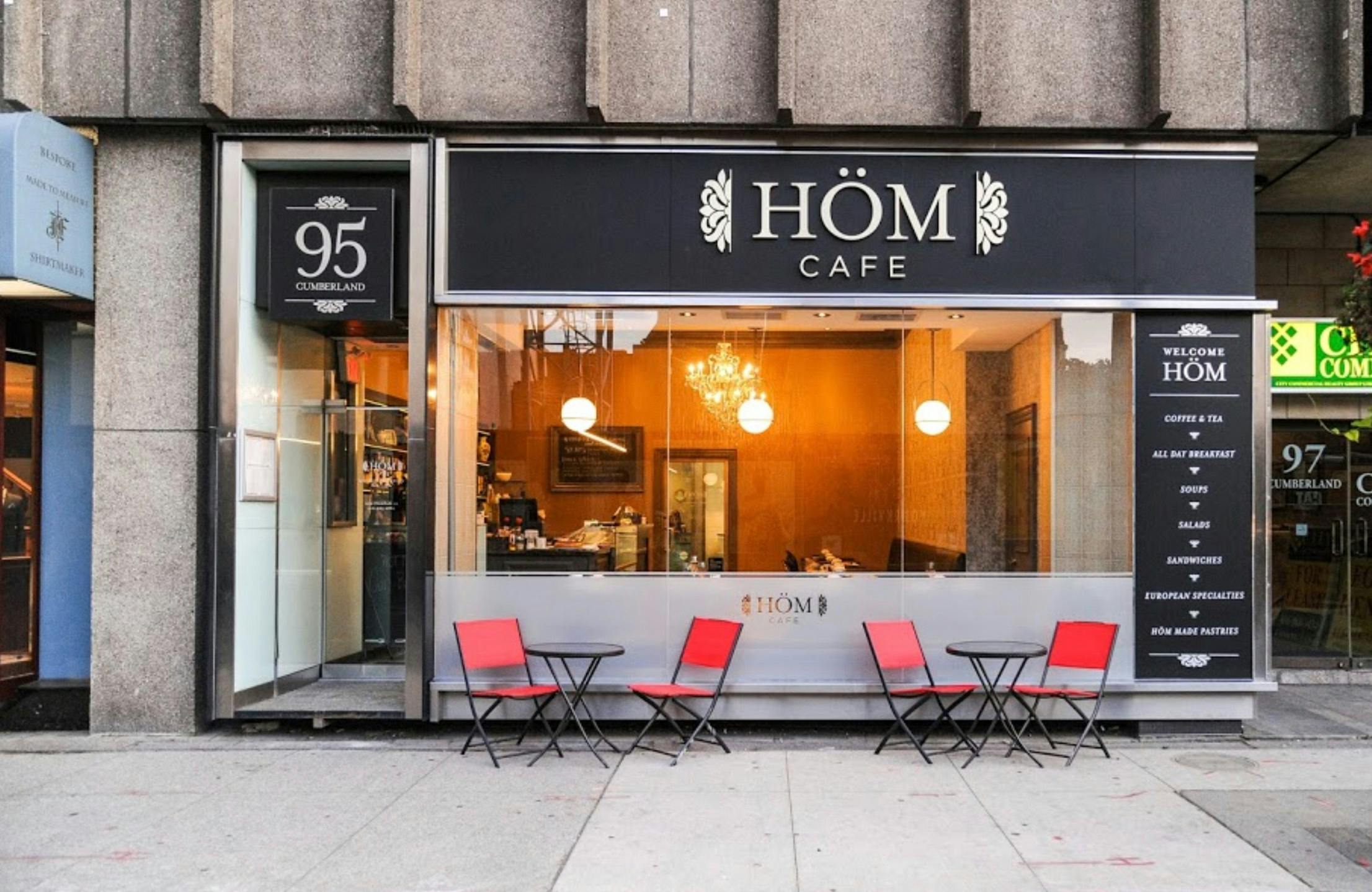 (Pre-renovation)
Meeting Renovation Challenges with Flexible Design Solutions
Although modest in size, the commercial space had the potential to transform into an authentic Italian eatery through strategically applied design solutions. Rather than working with the existing façade of minimal branding and fixed glass windows, the new establishment called for a dynamic storefront that featured engaging visuals and floor-to-ceiling NanaWall bifold glass doors. A flexible opening would also allow for a bar height, 12-inch-wide marble table to run the entire length of the opening to maximize the seating of this indoor/outdoor facade. "No other system provided us with a proper solution," says Rocco. "Where this table could remain fixed, and the window wall could open up on a single track and into the restaurant."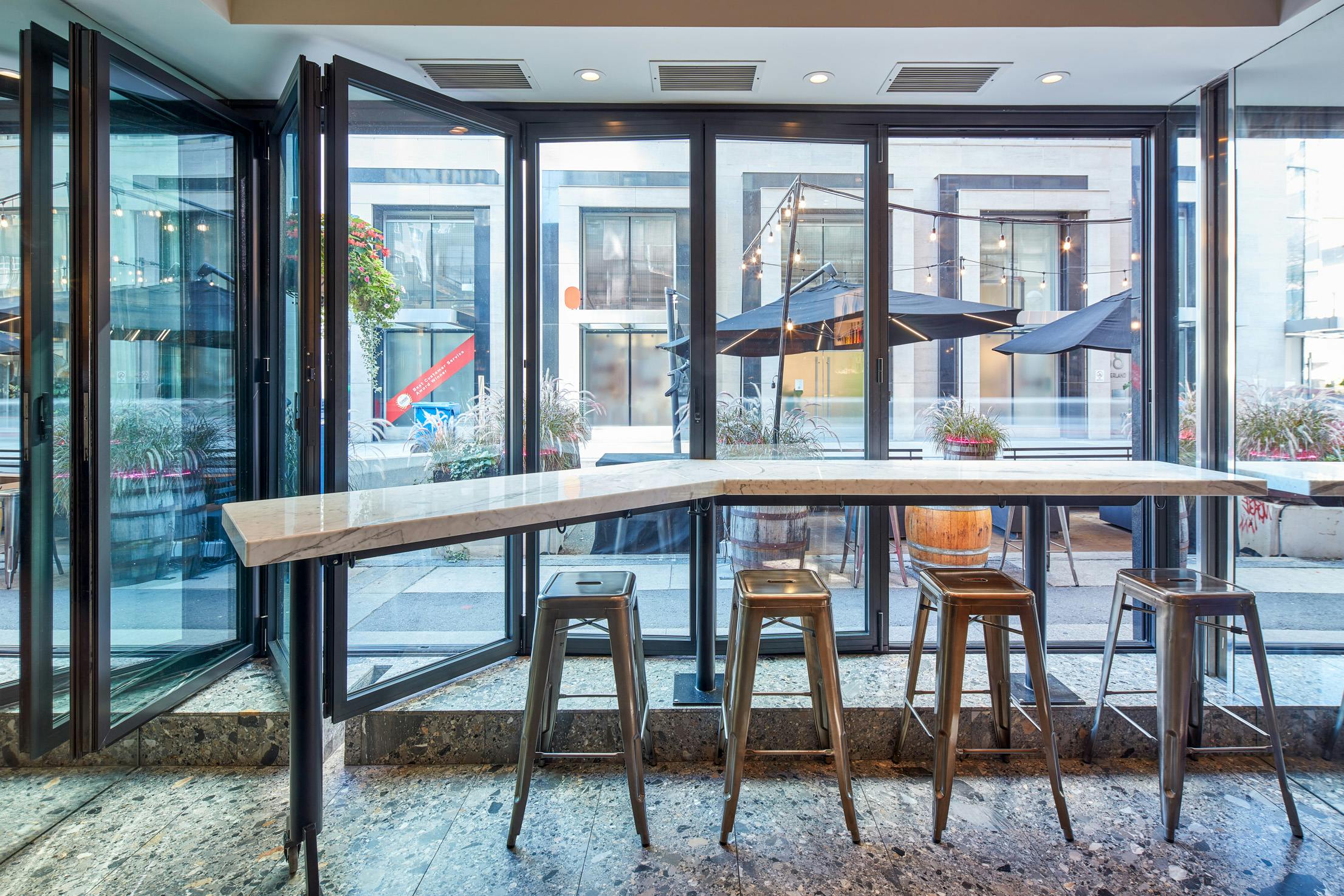 Maximum Space Flexibility with Generation 4 Folding Glass Walls
Whereas conventional sliding glass doors would have limited the full usability of the opening, space-optimizing bifold glass doors proved to be the only solution to open the entire storefront. The eight-foot-tall NW Aluminum 640, features design-forward innovations like the smoothest operation and slimmest profiles ideal for Bar Aperitivo. NanaWall's Generation 4 folding glass walls being the only products in the industry with the available solution, the architect specified the system with a FourFold panel set. This floating four-panel set allows the panels to slide and stack to the left of the opening and on top of the specified swing panel to facilitate indoor/outdoor transitions when the walls are kept closed—or multiple entry/exit points during busy hours. To work in conjunction with this swing panel design, the fixed marble bar was crafted to pivot at the end closest to the swing panel, making full use of the nearly 14-foot opening.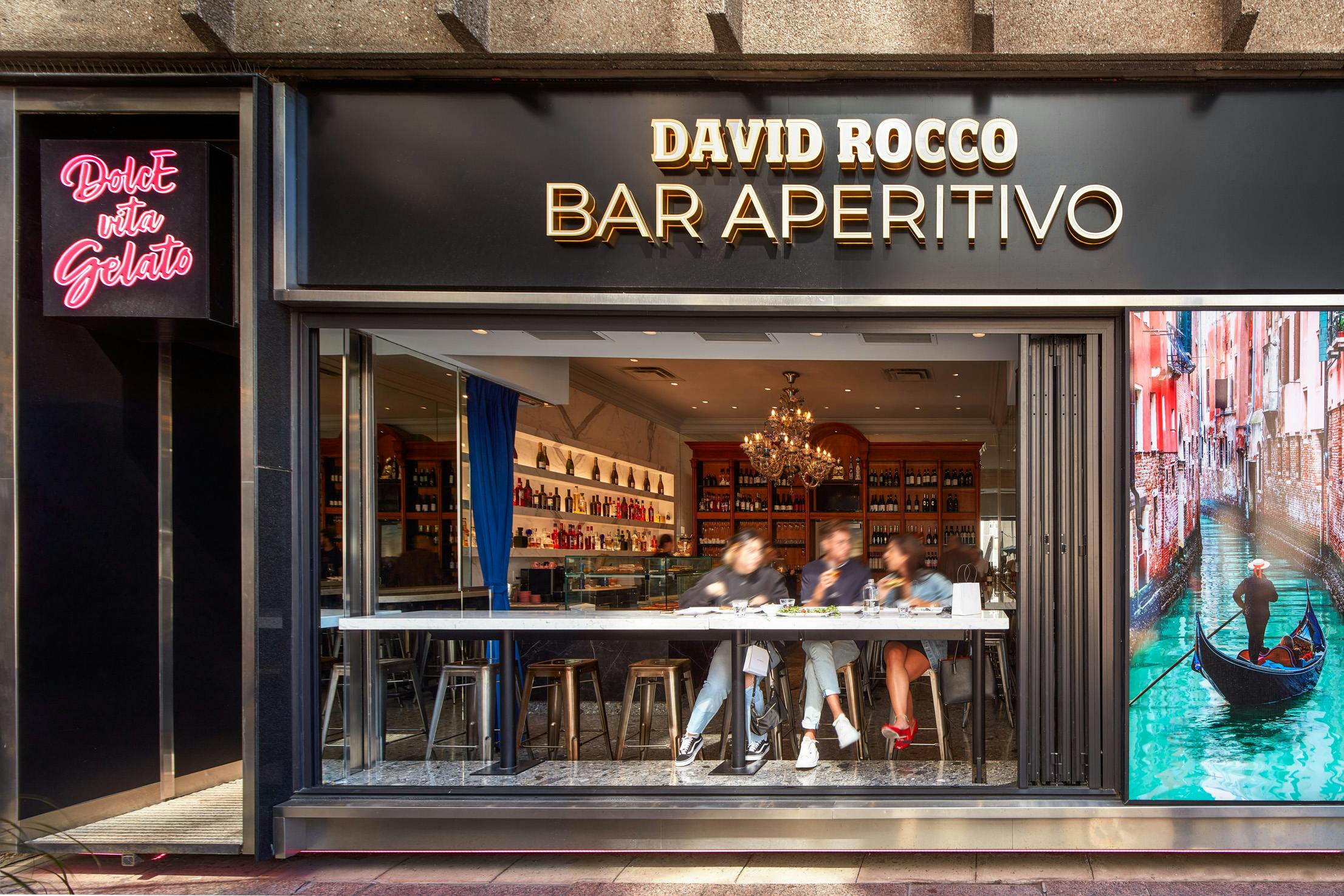 Outdoor Dining Made Possible by Bifold Glass Doors
"Here in Canada, not having a patio can be the difference between life or death for an establishment due to our short summers," says Rocco. "Everyone wants to be out or in an environment that opens up in those summer months." Urban settings have learned to adapt to these demands, especially after restrictions brought upon by the Covid-19 pandemic, by leveraging sidewalk space for additional seating. The large operable opening allows the restaurant to seamlessly flow into the outdoor seating area to accommodate larger crowds and outdoor dining requests. Guests seating indoors can also get a glimpse of the outdoor environment alongside fresh air and natural light seeping through the opening. Those sitting outdoors can fully enjoy the open air with 360-degree views of downtown—all while enjoying the endless menu of drinks and delicious cuisine offered by Bar Aperitivo.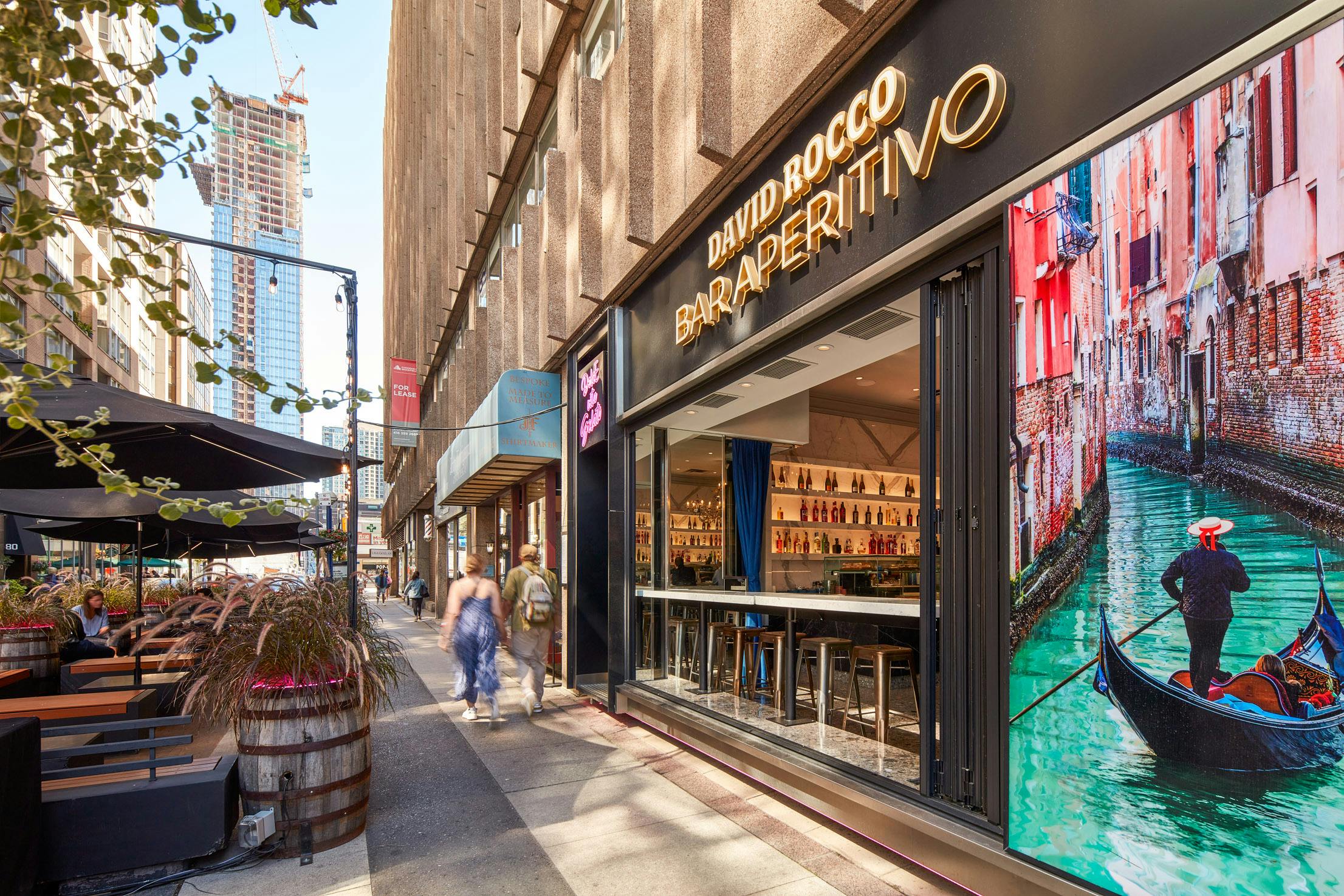 Weather Performance for Year-Round Seating
During Toronto's harsh winter months, outdoor dining is often put on hold as patrons seek the warmth of the indoors. Seeking the comfort of his customers, even in the coldest climate, David Rocco sought a bifold glass wall system with advanced weather performance and thermal efficiency. "With cold winters here in Canada, having an open glass wall system where patrons could enjoy a meal, and not feel a cold draft zone is a must," explains Rocco. "Being constantly told by other suppliers or contractors 'just add radiant heating below' just wasn't an option we wanted to entertain." NanaWall bifold glass doors offered the engineering and the glazing options to ensure ultimate comfort during winter, even when seating right up against the glass. In addition, the system was paired with a low profile saddle sill, the industry's only ADA-compliant water-rated sill, for advanced weather performance and thermal efficiency.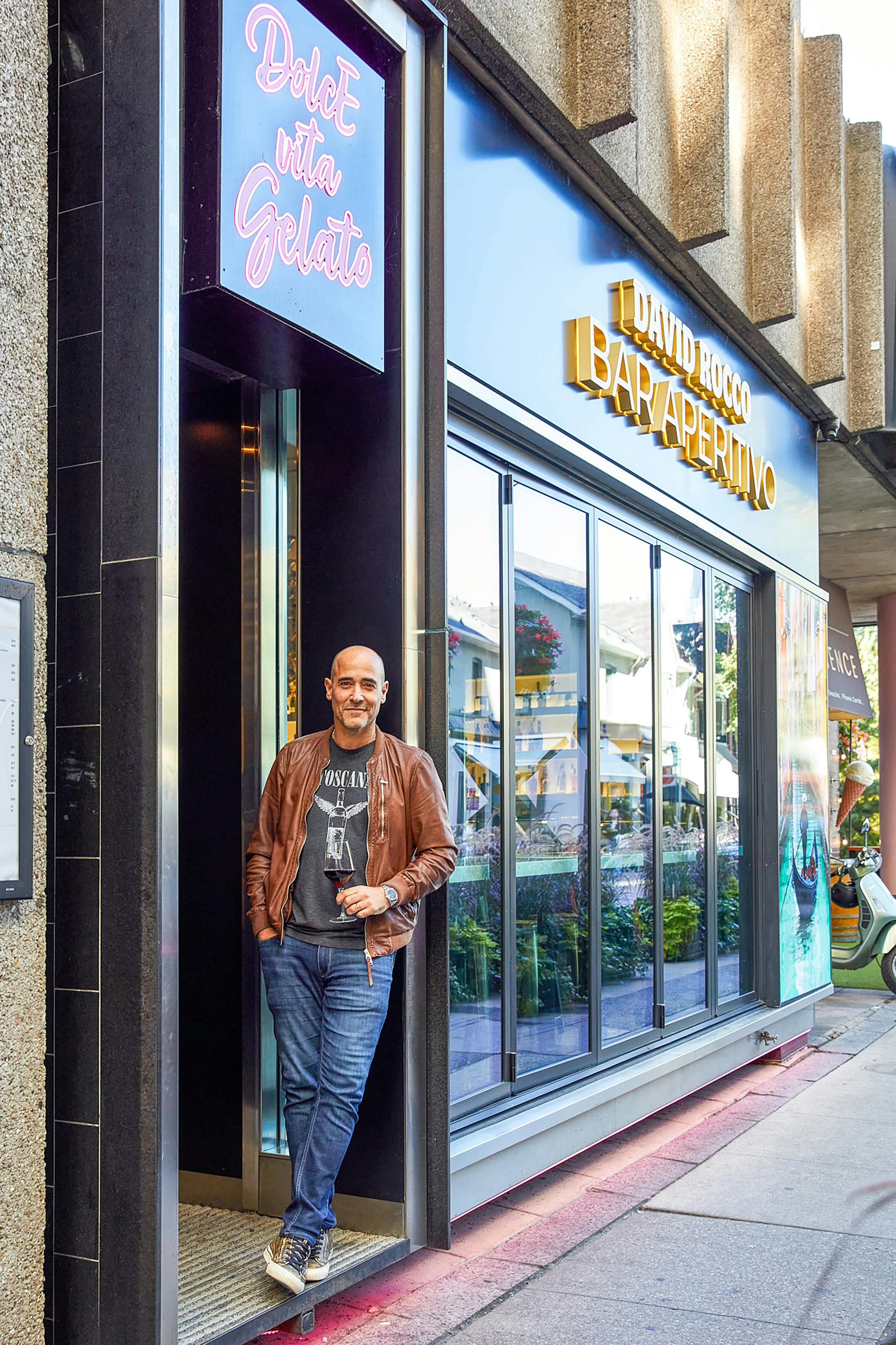 Setting the Bar for Restaurants to Come with Generation 4
David Rocco Bar Aperitivo is a must-see destination in downtown Toronto with a must-try menu of authentic Italian delicacies. Its eye-catching façade is hard to miss with visually appealing design elements, outdoor seating, and an enticing indoor/outdoor bar. The NanaWall bifold glass wall system proved to be a game-changer in the new establishment's design, allowing for a fully operable opening that maximized the available space and overall appeal year-round. "We really believe the NanaWall is the best in technology, style, and look, and will complement our Bar Aperitivo on so many levels," says Rocco. "The NanaWall is so attractive, and it created the right look and feel for our brand!"
Discover how other restaurants create alluring glass fronts with NanaWall bifold glass doors in our extensive case study library!