Design-Forward Wood Framed Folding Glass Doors in Modern Homes
By NanaWall Systems, September 8, 2021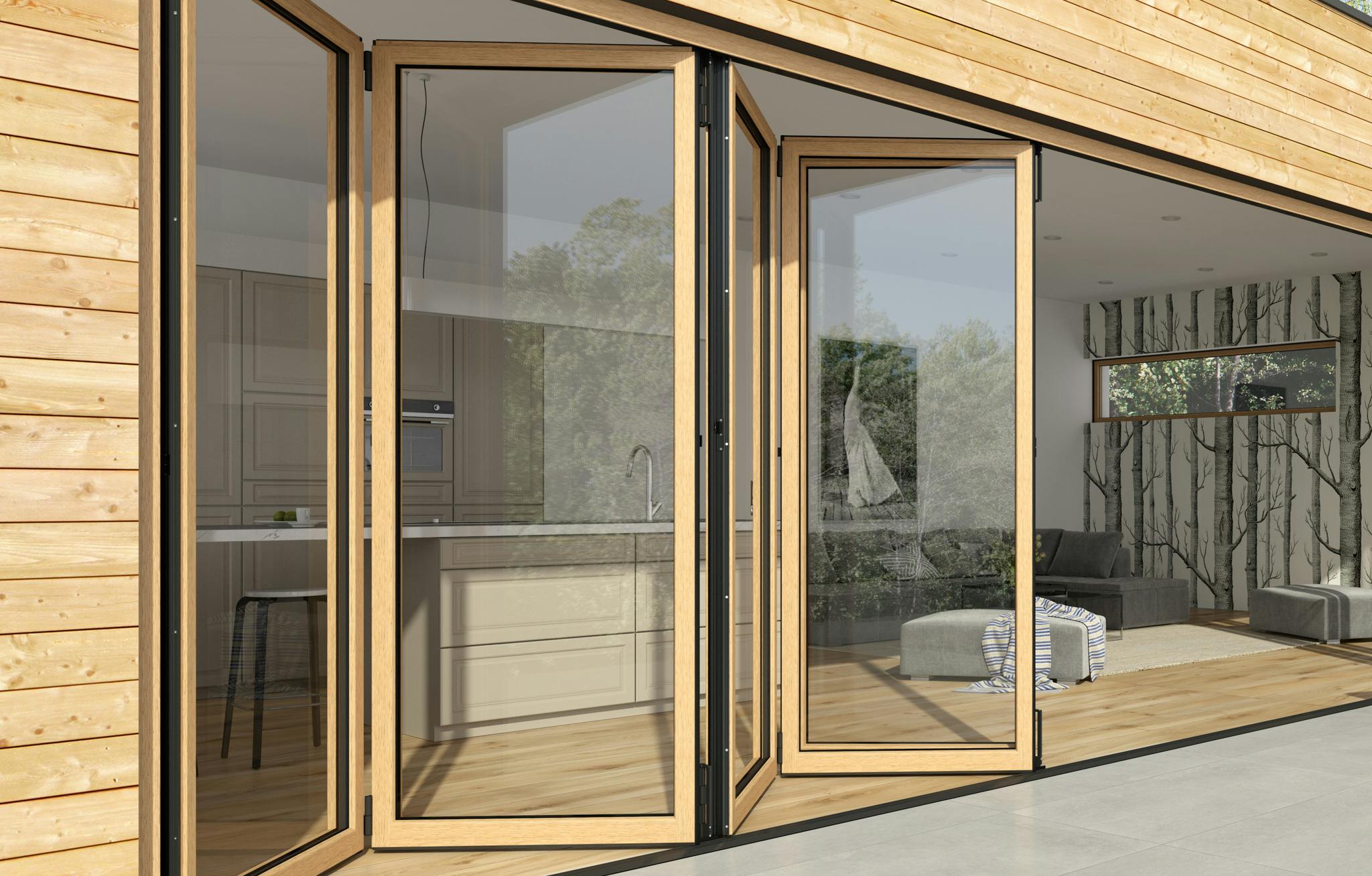 Wood is a timeless material that exudes elegance and conventional beauty. In wood framed folding glass doors, the organic yet modern frames offer a juxtaposing aesthetic of traditionalism and contemporary design. Despite wood being attributed to traditional home designs, contemporary dwellings have embraced this durable material to add a natural, softer element to an otherwise minimal black, white, and gray aesthetic. So, if your home falls under the contemporary design category, fret not, a wood framed folding glass wall will not misalign your home's aesthetic—in fact, it may even enhance it. The result is a perfect balance of charm and starkness that breaks from an otherwise stark, minimal interior. Let's take a look at how.
Wood Framed Folding Glass Doors in Modern Design
What Defines Contemporary and Modern Homes?
Contemporary homes, or modern homes, are defined by clean lines and striking minimalism. Simplicity emphasized by large open spaces is preferred over ornamental rooms and elaborate décor, with a few elements of texture and decorative accents to express individualism. A greater sense of the outdoors is embraced with large expanses of glass using floor-to-ceiling walls or opening glass wall systems in nearly every room of the house. This use of fenestration facilitates sleek, modern facades and the highly sought-after indoor/outdoor connection. Daylight and fresh air naturally flush residential interiors, diminishing dependence on artificial lighting and air conditioning systems.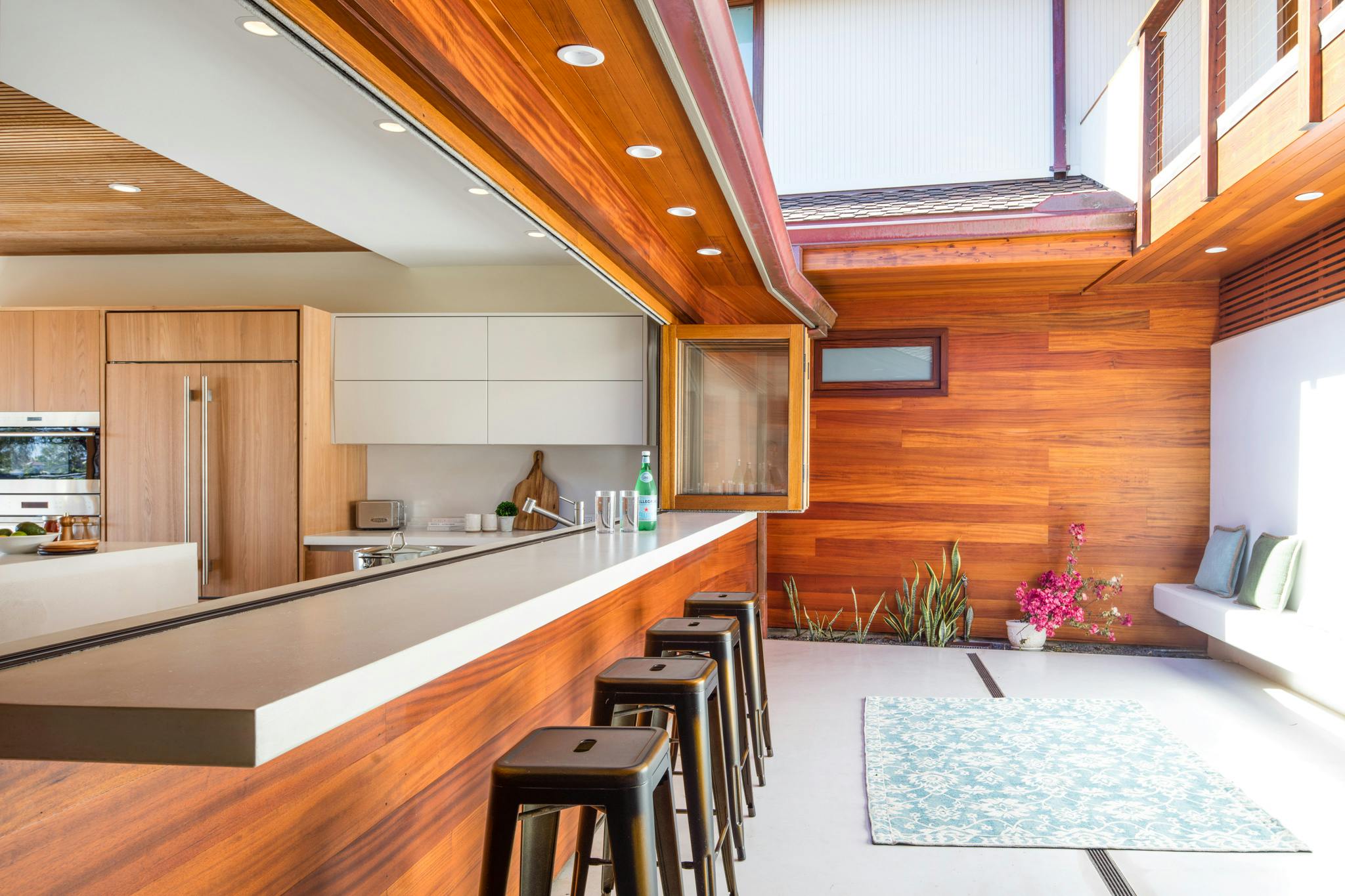 Wood Accents in Modern Homes
When it comes to wood accents in modern homes, they tend to be subtle. From paneled ceilings and flooring to accent walls and wood framed folding glass doors, wood is an elegant material that adds texture and personality. But aside from mere aesthetics, wood is an excellent building material often sought for its versatility and strength. As contemporary home design strives to implement a more sustainable way of living, Generation 4 Folding Glass Walls by NanaWall are the ideal option as our wood is sustainably harvested and meets PEFC standards. As indoor/outdoor lifestyles influence design trends and how our dwellings are built, opening glass wall systems have taken center stage as flexible design solutions that create seamless transitions to the outdoors—and yes, wood framed systems are an option. The great outdoors becomes the art, framed by thin wooden frames.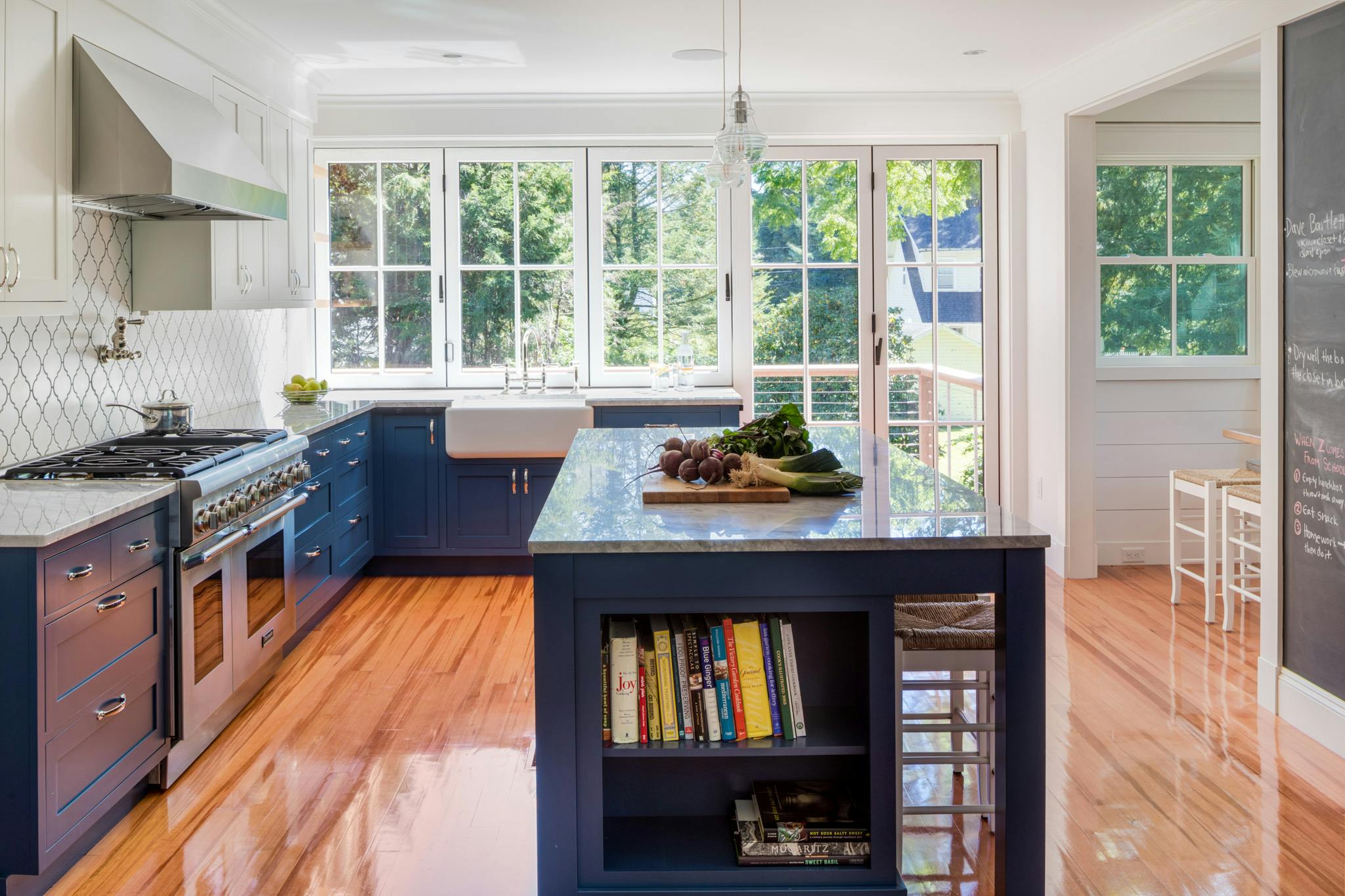 Debunking Myths of Wood Framed Opening Glass Wall Systems
Contrary to popular belief, wood framed folding glass doors are not only suitable for traditional and transitional homes. In modern-styled homes, these systems offer contemporary aesthetics enhanced by the elegance of wood. Because NanaWall opening glass wall systems offer slim wood frames compared to other bulkier ones in the market, they act as mere accents that perfectly blend with and complement existing aesthetics. Better yet, they can be customized with various wood choices depending on your preference or existing home aesthetics. Another myth is that wood frames don't perform too well against extreme weather. This is simply not true. Wood has natural insulative properties that allow low thermal conductivity. NanaWall wood framed folding glass doors are built with thermal breaks and compression gaskets for added efficiency and weather performance, making them ideal for harsh climates with snow and heavy rain without sacrificing ease of operation or low maintenance.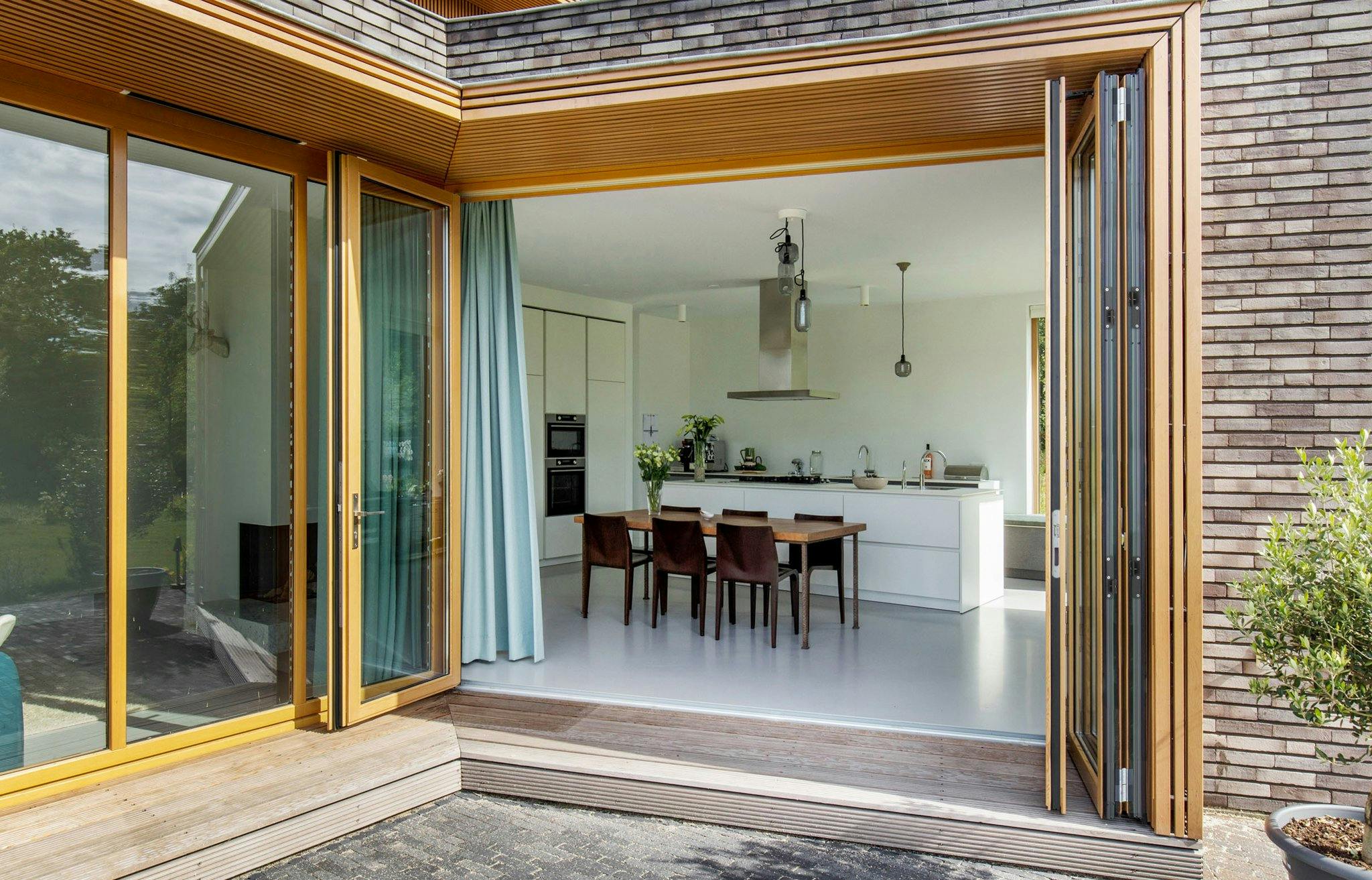 Generation 4 Wood Framed Folding Glass Doors
The Generation 4 wood framed folding glass wall NW Wood 540 provides the slimmest wood frame in the folding door industry, offering a streamlined appearance with minimal exposed hardware. Quadruple laminated cross-grained wood allows for larger panel sizes, creates structural integrity, and provides long-lasting durability. Unlike other systems on the market, NanaWall wood framed systems are built on solid single-species wood frames and are not veneered over inferior wood, allowing for sanding and refinishing down the road as needed. Designed for energy efficiency and strong weather performance, the floor supported NW Wood 540 has been independently tested for air, water, structural, operation, and forced entry with excellent results. Unique to Generation 4 Folding Glass Wall by NanaWall product family is the integration of FourFold or SixFold Panel Sets allowing for larger opening sizes and flexible space management.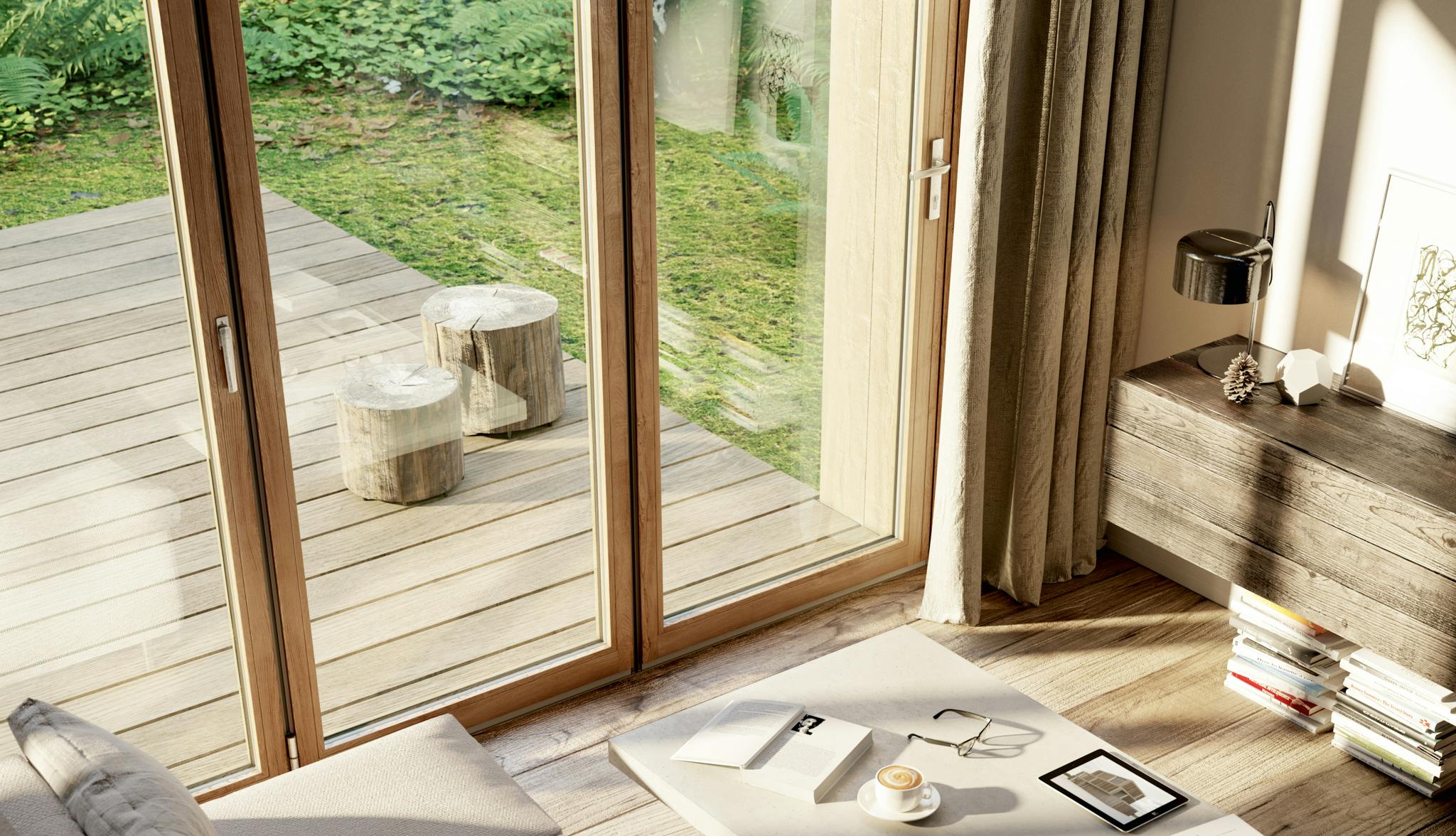 Final Thoughts
Whether you're building from the ground up or simply renovating an existing space, opening glass wall systems are a flexible design solution that improves interior spaces and lifestyles with the indoor/outdoor connection. Despite beliefs that wood frames lean more towards traditional or transitional home design, the elegance and warmth of this material can be easily implemented to soften an otherwise minimal interior. NanaWall wood framed folding glass doors are manufactured with sustainably harvested wood options that meet the international standards of PEFC. These customizable systems can meet any design aesthetic with standard wood selections of sapele mahogany, pine, meranti, and western hemlock, or other select specialty wood options. Which one will you choose?
Learn more about NanaWall wood framed systems and browse Generation 4 folding glass walls !