Design Inspiration: Top 10 Residential Projects with Folding Windows
By NanaWall Systems, August 4, 2022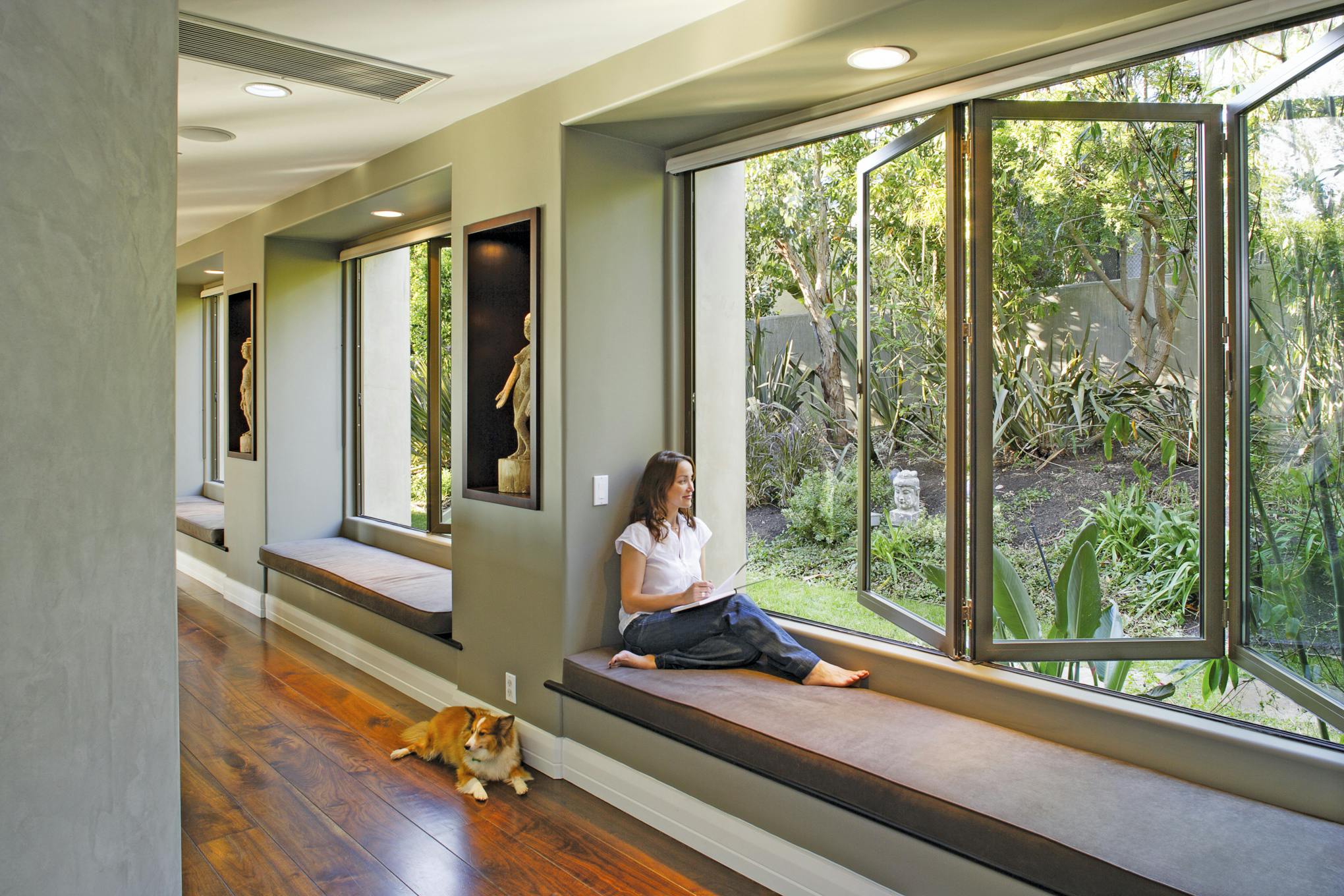 The benefits of folding windows extend much further than mere aesthetics. Even the smallest opening can significantly change the overall feel of interiors with fresh air and natural light. Aside from optimizing the highly coveted indoor/outdoor experience, these customizable moveable glass wall systems also maximize space by facilitating flexible bar areas for entertaining or simply enjoying a meal al fresco. As a NanaWall product, these systems offer advanced performance, durability, and ease of operation for every household and lifestyle. Let's take a look at how!
Top 10 Residential Projects with Folding Windows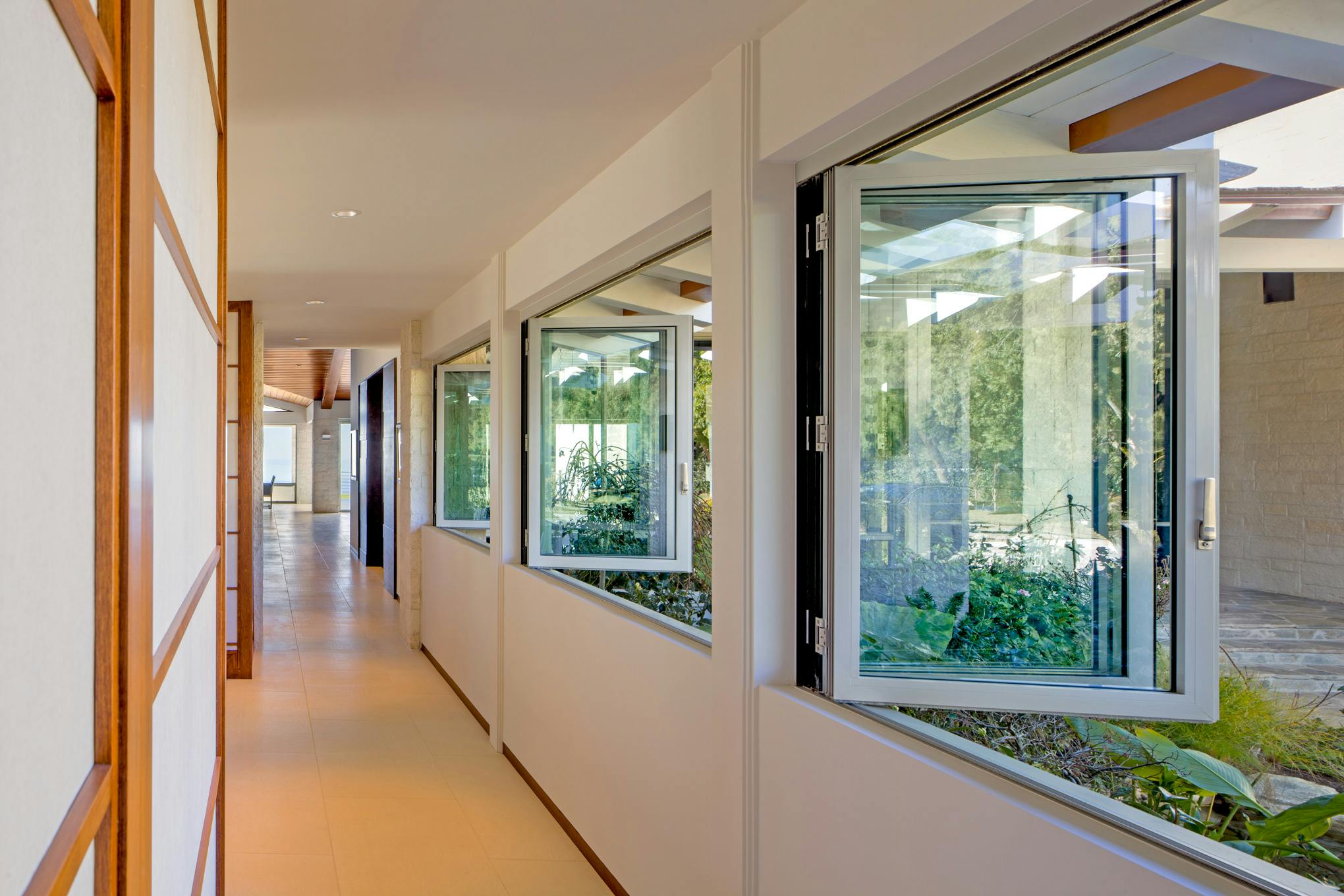 1. Open Views of the Garden
At this sprawling oceanside residence, folding windows and full-sized systems work in tandem to create an immersive outdoor experience at every turn. The white, powder-coated aluminum frames offer durability and weather performance when the weather turns cold and windy. When open, interiors get flushed with the essence of the ocean, allowing the fresh ocean breeze to cross ventilate interiors while optimizing natural light. Most importantly, these moveable glass wall systems optimize the landscape views with a picture-frame effect to ensure the homeowners never miss a sunset!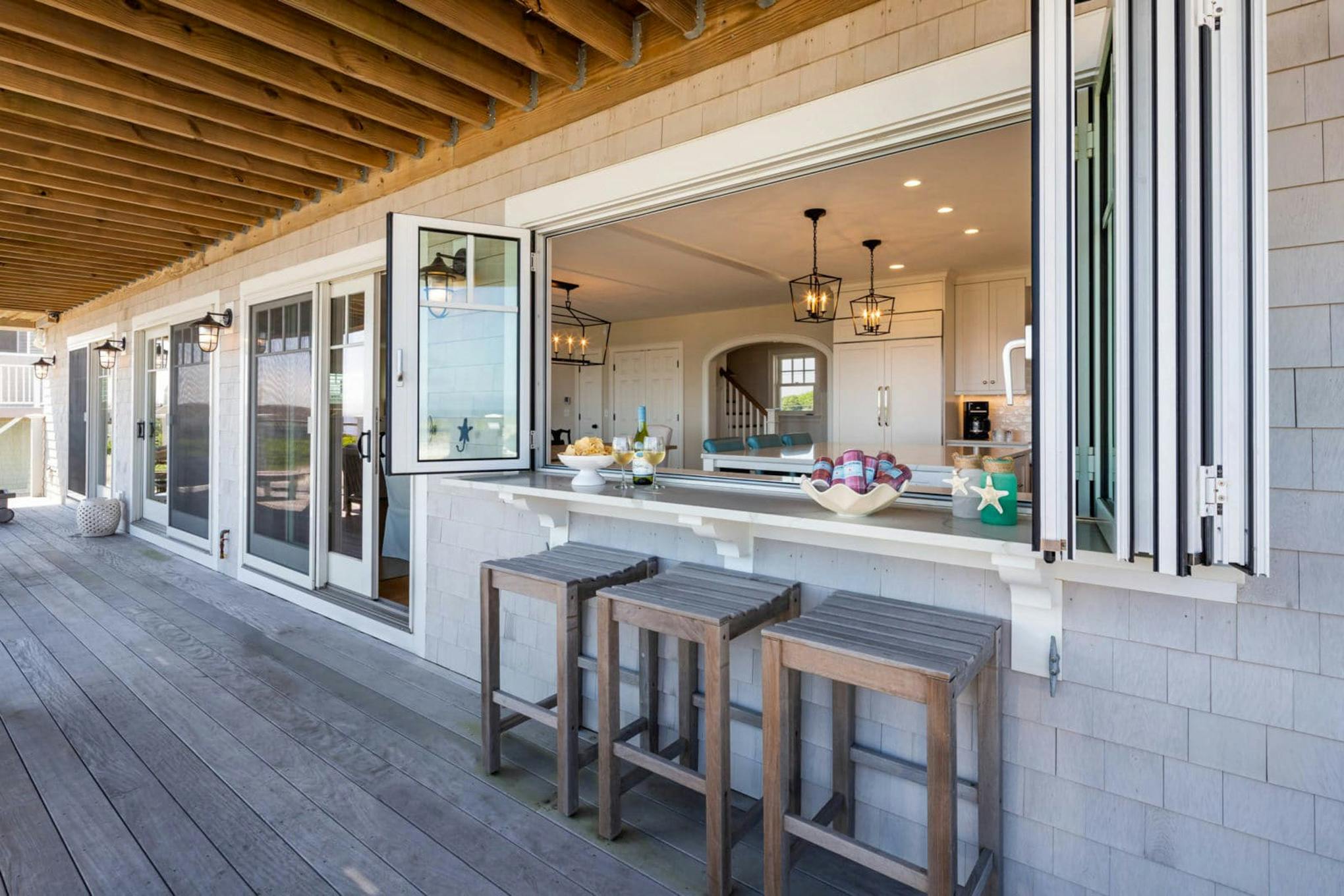 2. A Whole New Meaning to Alfresco
Experience a new approach to the ordinary breakfast bar at home and take it outdoors! There's no better start to the day than enjoying some fresh air and sunlight, just like we are sure these homeowners do at their indoor/outdoor kitchen bar area. The folding windows were the perfect addition for converting an ordinary solid wall into a flexible, operable pass-through window. The panels easily glide into a primary stack to the right, optimizing the bar space to fit the entire family when needed.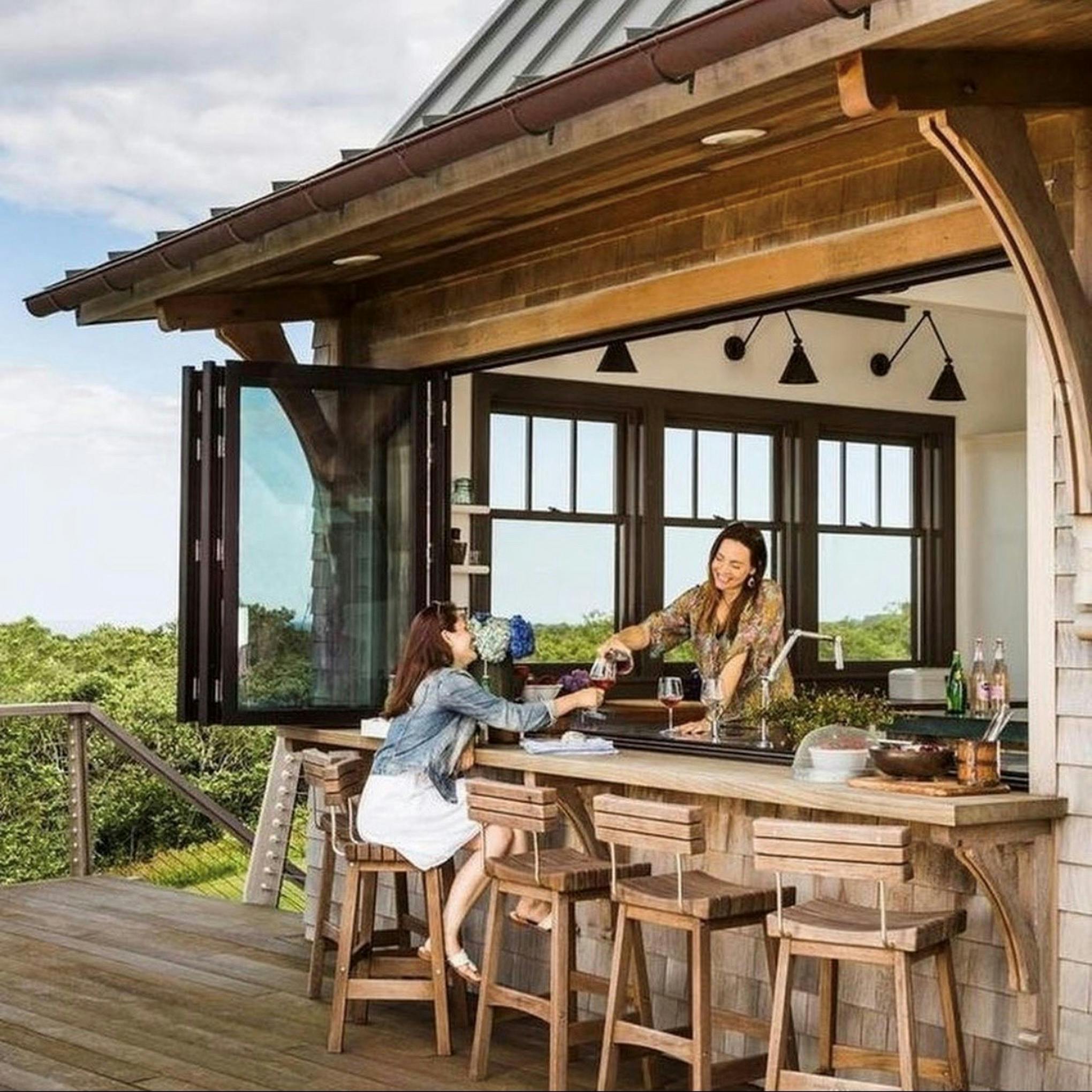 3. Taking Entertaining to the Next Level
Meeting a friend for drinks? There's no need to leave the comfort of your home with your very own kitchen bar. No need to get dressed up or opt for a noisy bar when you have you can have a more laid-back experience at home. This gorgeous kitchen bar space capitalizes on the beauty of wood and the sleek aluminum frames to create an industrial-modern-like effect that's both welcoming and eye-catching. We can only imagine the fun nights of entertaining at this residence!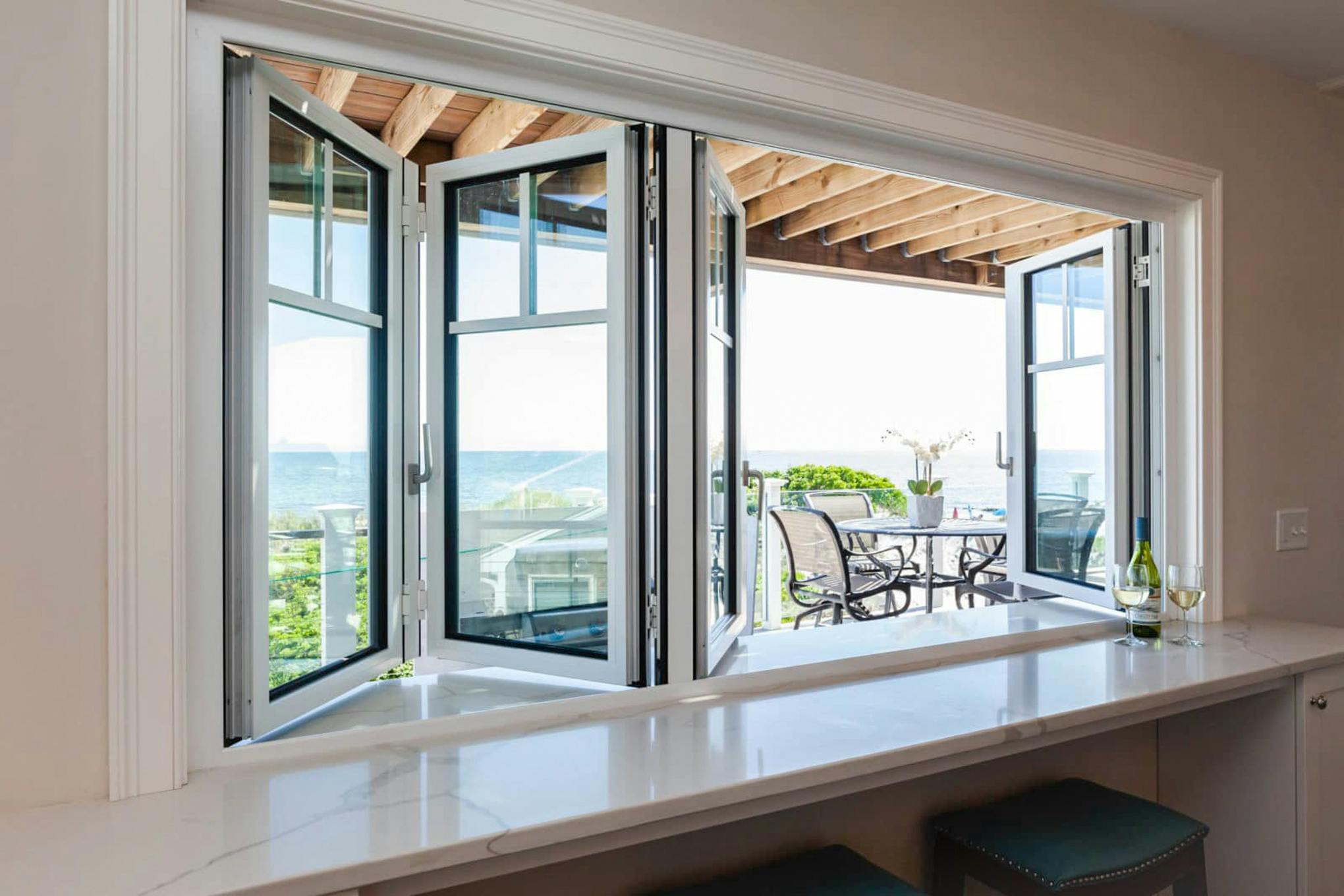 4. A Literal Window to the Ocean
Check out that incredible view! Another captivating home that prioritizes the view with window-sized moveable glass wall systems. The customizable simulated divided lites add a bit of personality to an otherwise simple glass panel and pair perfectly with the home's conventional seaside aesthetic. Connecting to a raised deck outside, the opening serves as a handy pass-through window for serving drinks and appetizers while lounging on the comfy outdoor furniture or sunbathing to the sound of waves. It gives off a resort-like experience but without leaving the comfort of your home.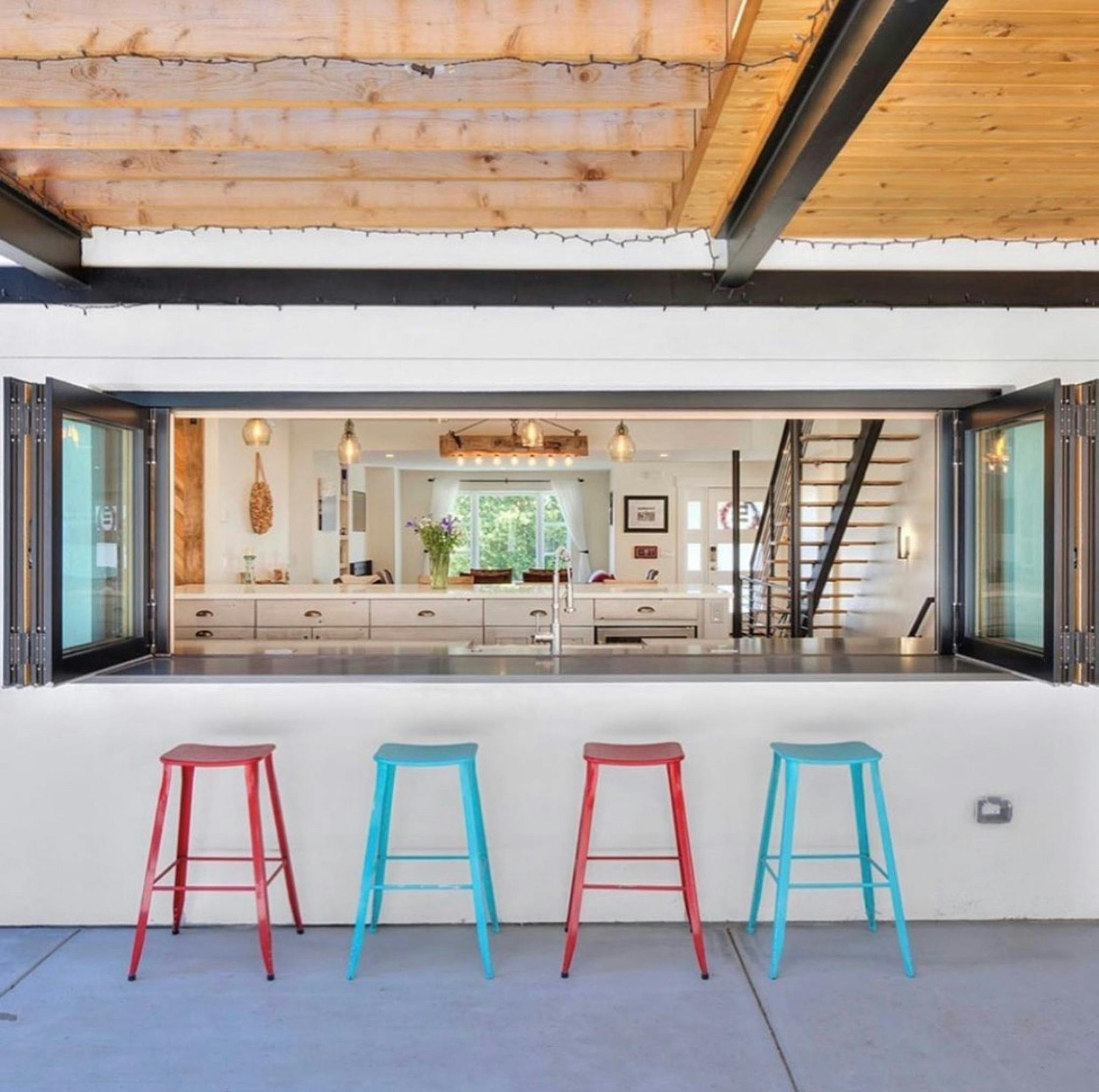 5. A Customizable Space for Any Aesthetic
We love the eye-catching, colorful bar stools at this contemporary residence. This, paired with the fun lights hung above, gives the indoor/outdoor bar a whimsical yet inviting feel for enjoying an evening drink or meal. If you look closely, you'll notice the window-sized opening glass wall features wood framing on the inside and aluminum framing on the outside for optimal aesthetics inside and out. In addition, these aluminum clad moveable glass walls offer advanced weather performance and low maintenance while the wood frame adds warmth and charm to interiors. It truly is the best of both worlds!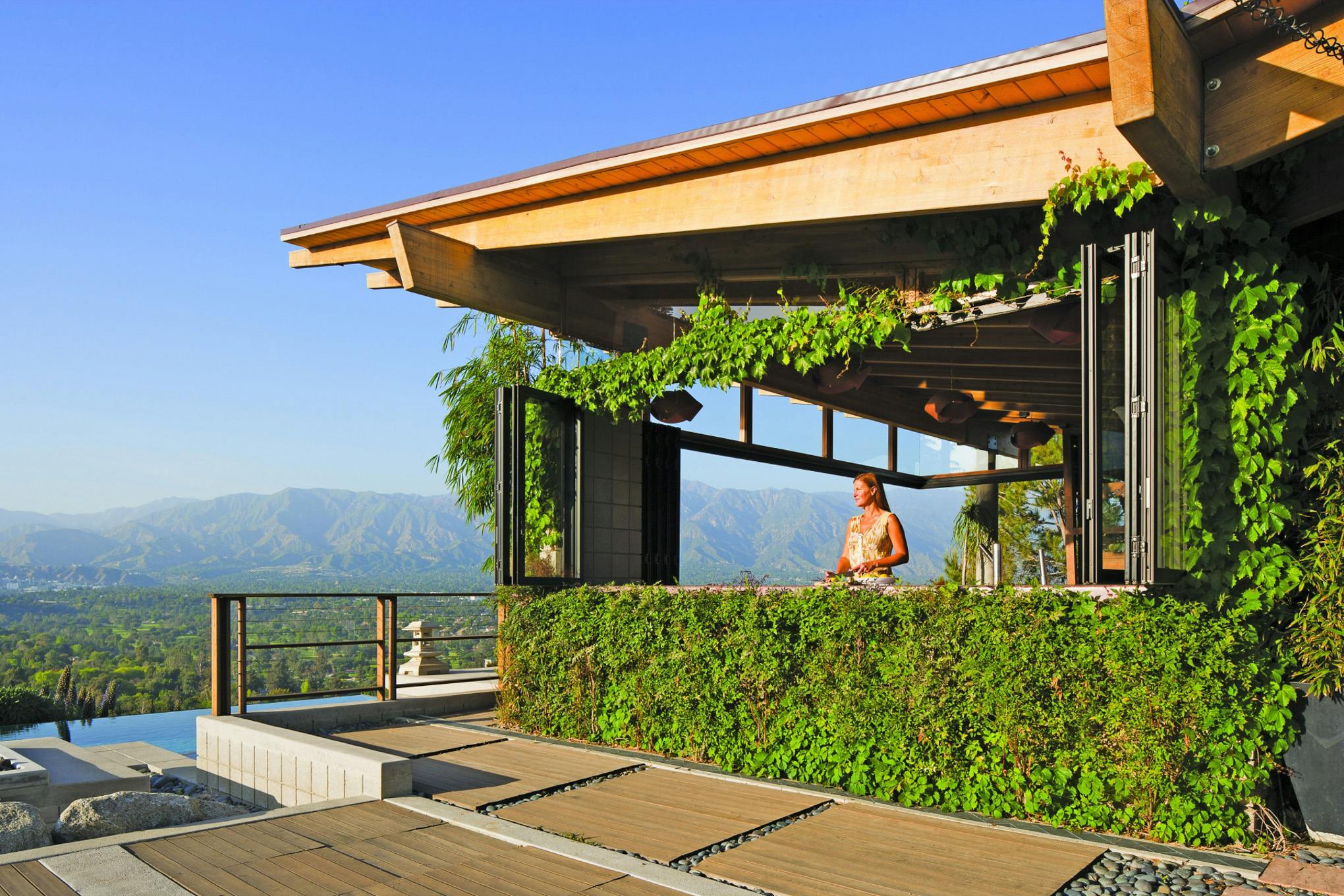 6. A New Look at Pool Parties
Take your Summer pool party to the next level with easily accessible pass-through windows! Two folding windows completely open this pool house to the pool and adjacent backyard space. The windows instantly become a self-serving drink and food bar when entertaining guests and family, giving the homeowners a break and allowing them to join in on the fun. In addition, the moveable glass wall systems transform the ordinary pool house into an open cabana for lounging poolside in the shade. It's a win-win!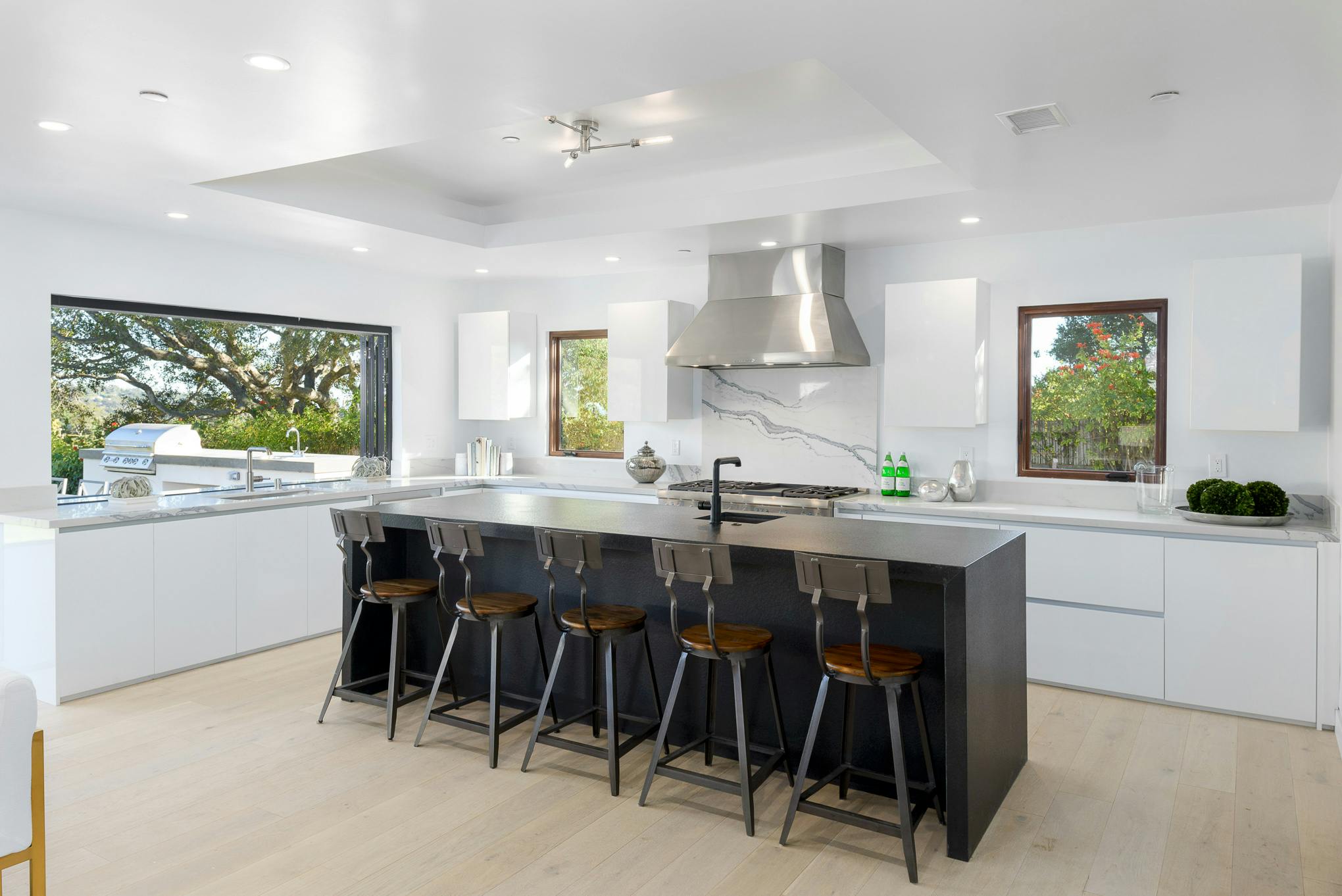 7. Bright, Airy, and Welcoming
Who wouldn't want to cook up a storm in this bright and airy kitchen space? The folding windows open the kitchen to a sprawling backyard overlooking the Santa Barbara mountains. With such an incredible view, it was only natural to opt for a system with FoldFlat technology that allows the panels to fold and stack all the way back and completely out of the opening. Not only are the views framed but the opening continuously flushes the kitchen with natural light and fresh air. Goodbye unwanted cooking scents, hello pass-through window!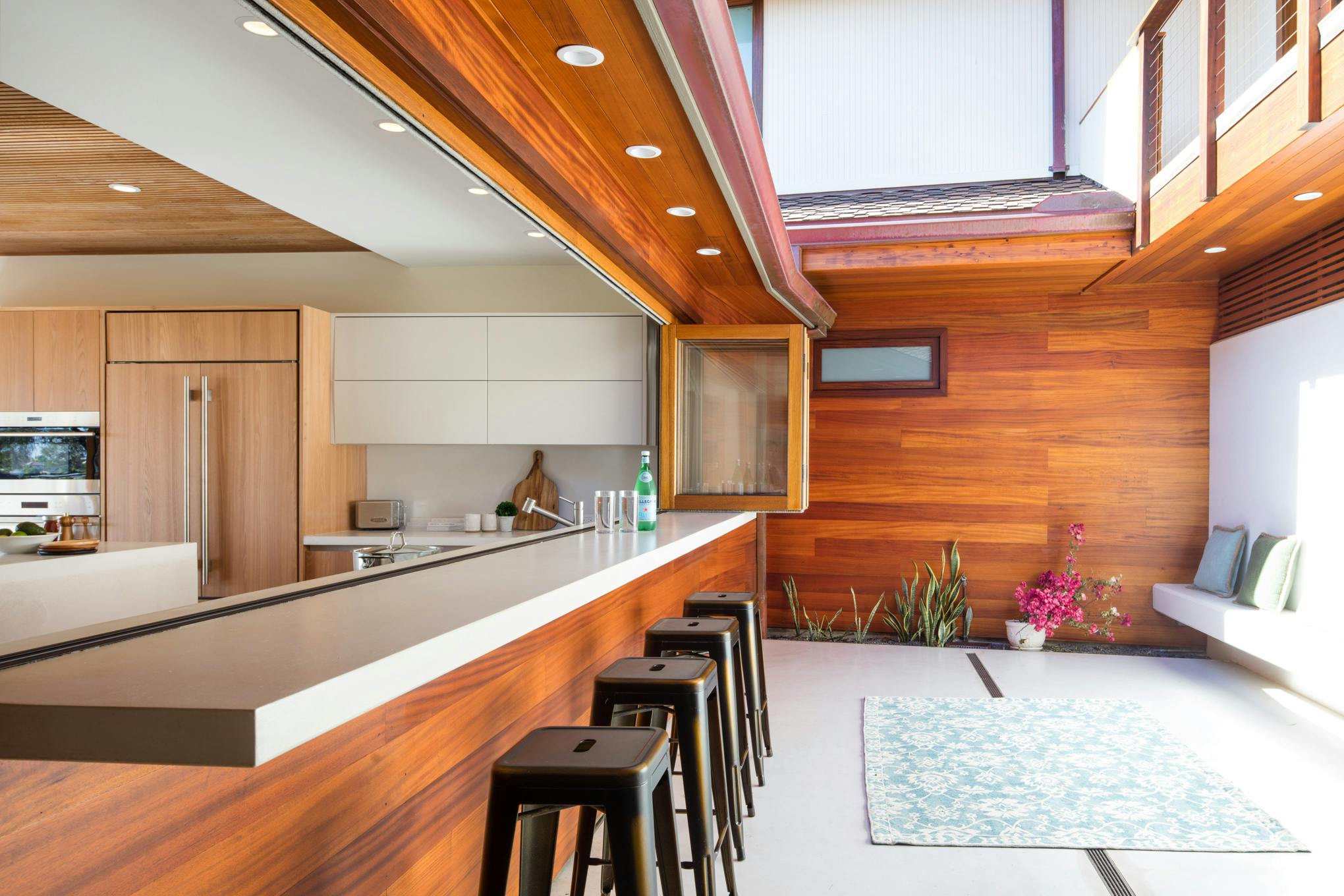 8. Wood Framed Windows Add a Touch of Warmth
Did you know you have the option of customizing your NanaWall moveable glass wall systems with wood frames? In this Hawaii home, the natural wood aesthetics extend from the interior furniture and cabinetry to the exterior façade, to the frames of the window-sized system. The flushed sill of the system perfectly blends in with the countertop for a smooth effect throughout. The small yet statement-making patio transforms into the ideal spot for enjoying a relaxing evening with drinks, food, and guests.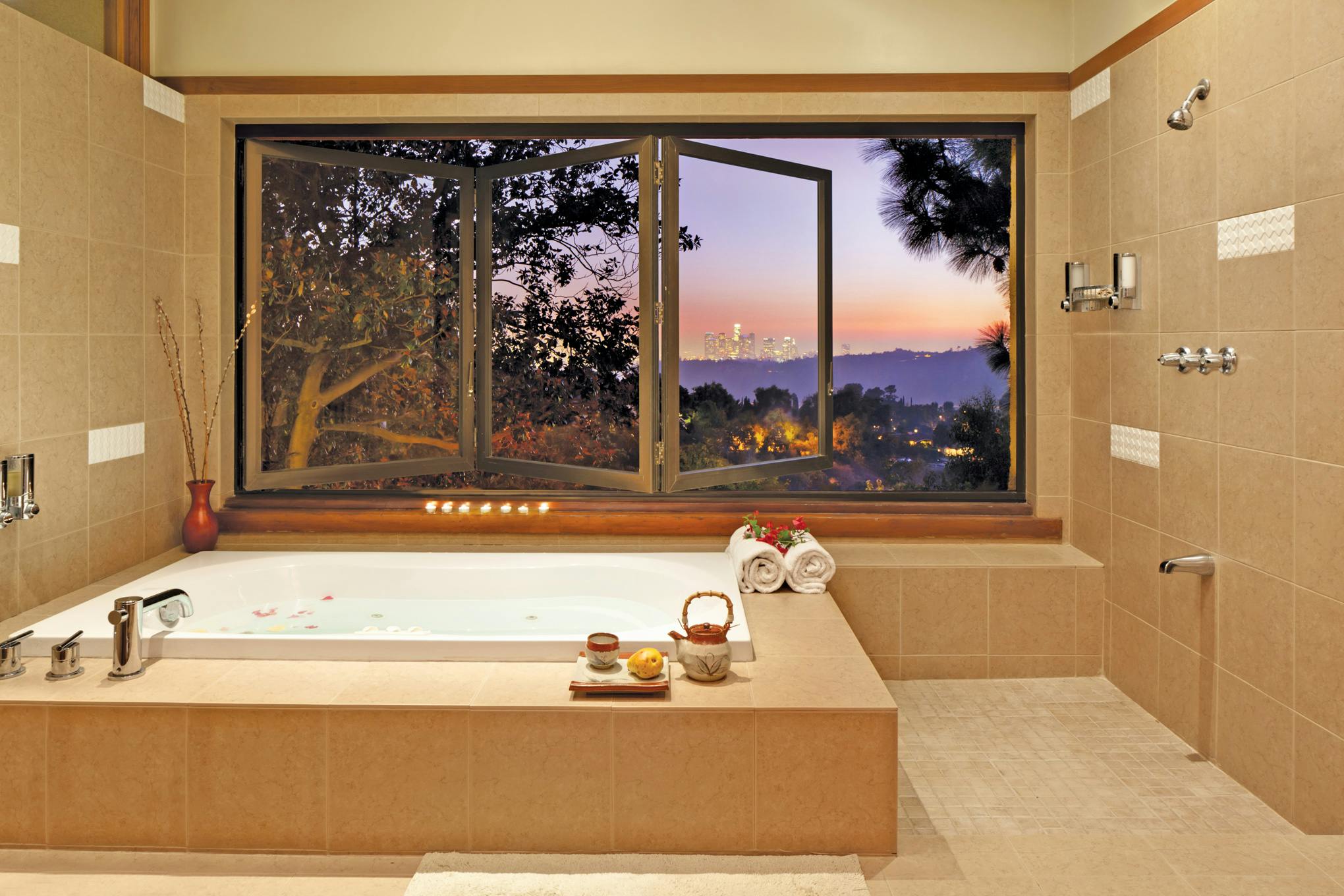 9. A Relaxing, Spa-Like Bathroom Experience
Imagine taking a bath to the calming sounds of birds and a clear view of the starry night sky. The master bathroom at this Los Angeles residence transforms into a spa-like room complete with an extra-large bathtub to indulge in ultimate relaxation after a long day of work. The operable windows take up nearly the entire wall, giving a feel of bathing outdoors when opened. There's no better setup than a few lit candles and a cup of hot tea!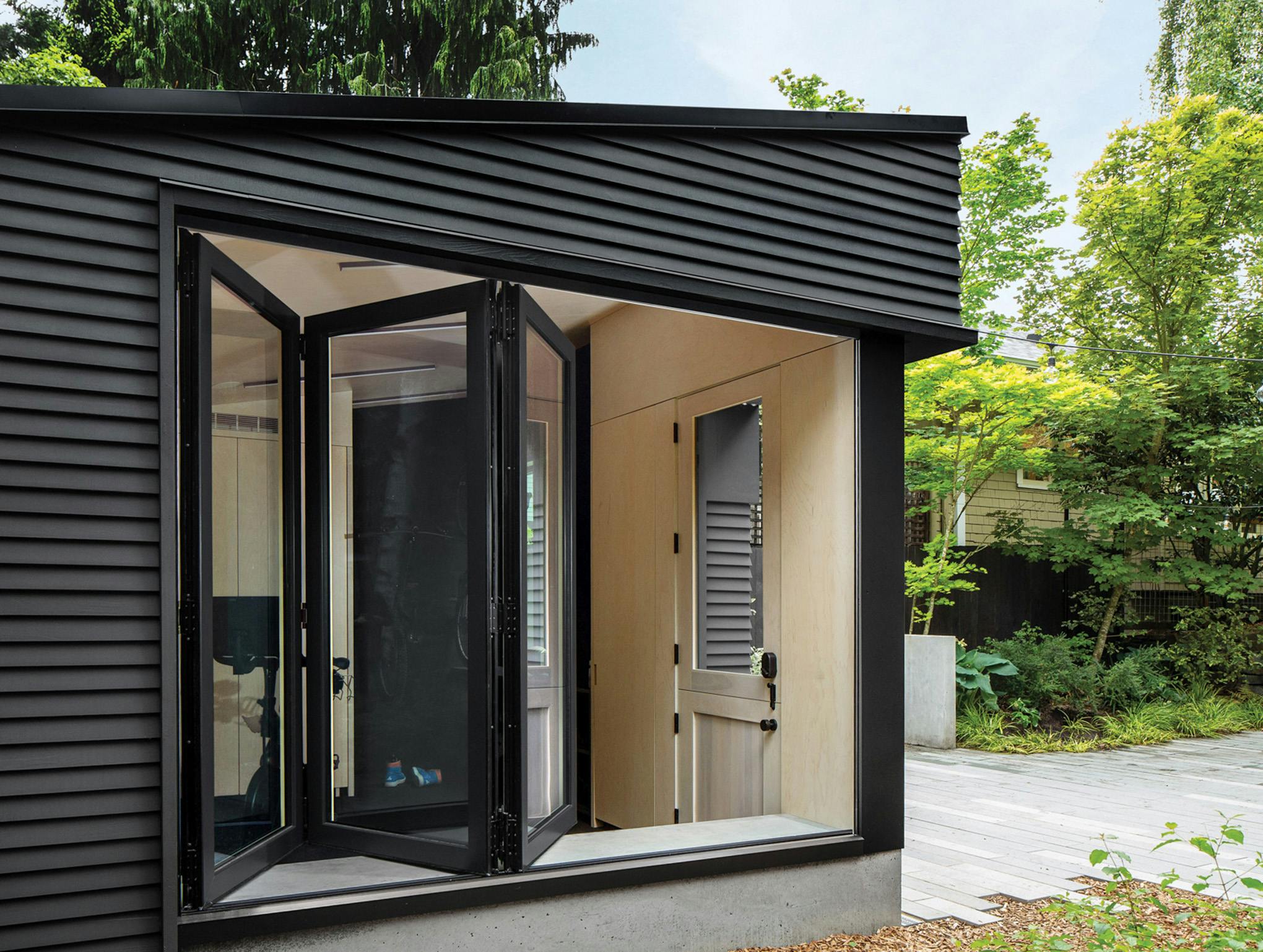 10. The Perfect Folding Windows for ADUs
Are you looking to optimize your accessory dwelling unit? We got the perfect solution. Take it from this contemporary ADU that doubles as an at-home gym, storage space, and home office. A simple three-panel window system can immediately enhance a small space by opening it up to the outdoors. Compared to having a small, enclosed space, this ADU offers a bright, airy, and open interior for working or exercising—not to mention views of the perfectly manicured garden.
Final Thoughts
If you're looking to upgrade your kitchen or living space without the need for an extensive renovation, then folding windows might be the ideal solution. Customizable to the needs of every project, these moveable glass wall systems are ideal for optimizing the indoor/outdoor experience, especially as bar areas for al fresco dining. In addition, NanaWall systems have been independently tested for air, water, structural, thermal, and forced entry with excellent results, ensuring protection from the elements and performance when needed most.
Learn how other homeowners are leveraging NanaWall folding windows in their homes in our extensive project gallery!