Elementary School Designed Around Collaborative Learning Hubs
By NanaWall Systems, January 13, 2021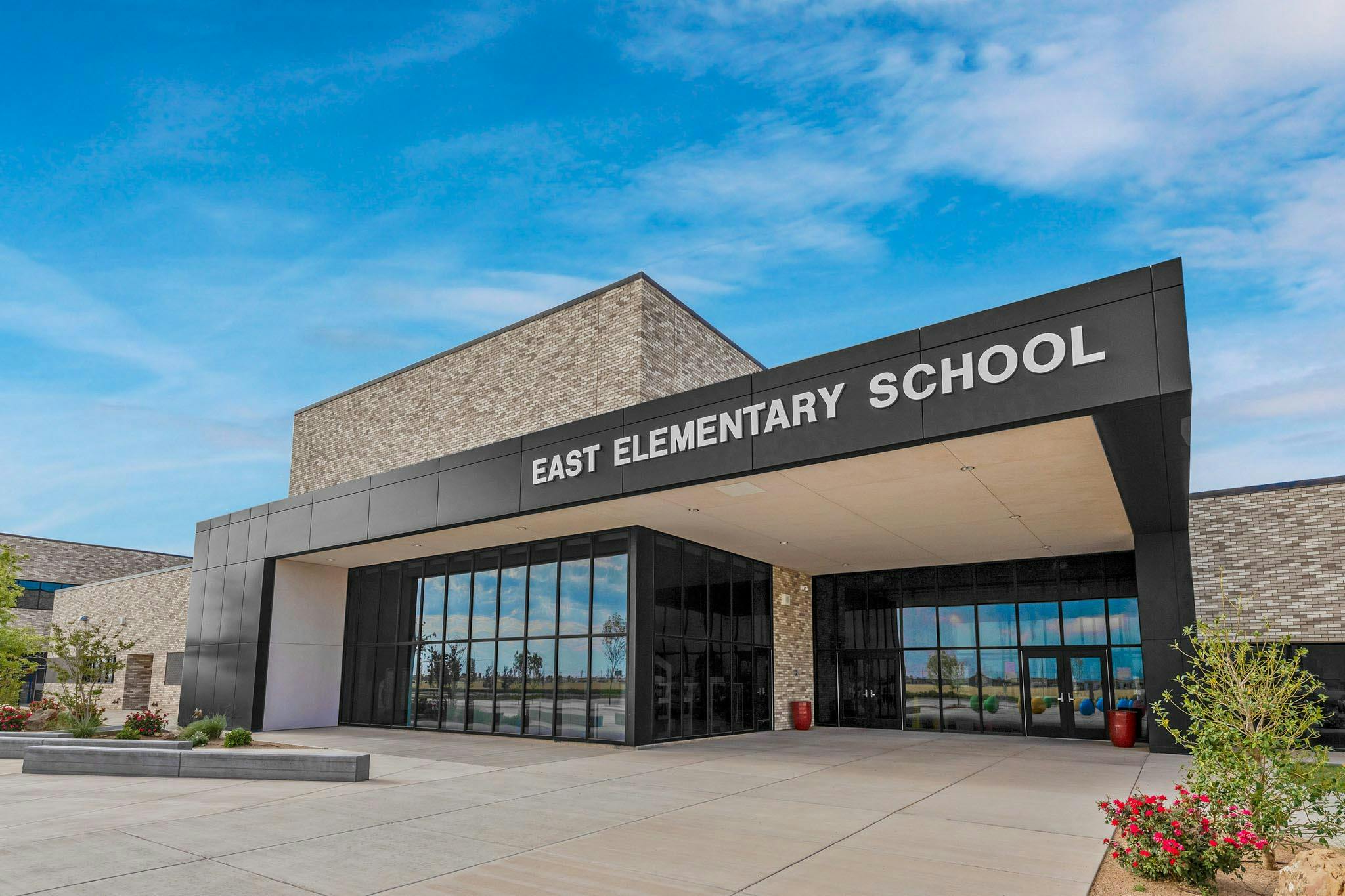 Through their educational journey, students undergo significant changes as their cognitive abilities magnify at each grade level. Learning spaces change and develop, much as the brain does. This idea accommodates the academic development of children and improves the understandings of cognition. As young learners move through elementary grades the classrooms become more structured, from shared rolling tables to individual desks. To implement progressive 21st Century learning, forward-thinking schools are working alongside architects to develop innovative design methods that enable collaboration and flexibility of space. Such efforts have found a solution in "learning hubs," a grouping of classrooms around a centralized area, where kids work together, and teachers join in an exchange of resources. Lubbock Cooper Independent School District (LCISD) in Texas implements these findings throughout their K-12 campuses with one common goal: the success of all students.
The Need for Collaborative Learning Hubs
Setting kids up for career success after high school requires an ideal marriage of curriculum and classroom design that begins at the very start of their academic journey. Embracing this ideology, LCISD aimed to build schools for its growing student body around the central idea of collaboration, a key element in 21st Century learning. Practicing teamwork to resolve problems and complete assignments prepares students for success in the modern-day workforce where being able to work in a team is a required skill for many employees. To apply this methodology, LCISD has worked alongside Texas-based architecture firm Parkhill, Smith and Cooper (PSC) on several campus designs. At Lubbock Cooper East Elementary, their design strategy aimed to provide a sense of community by implementing "neighborhoods," or learning hubs, within the school environment.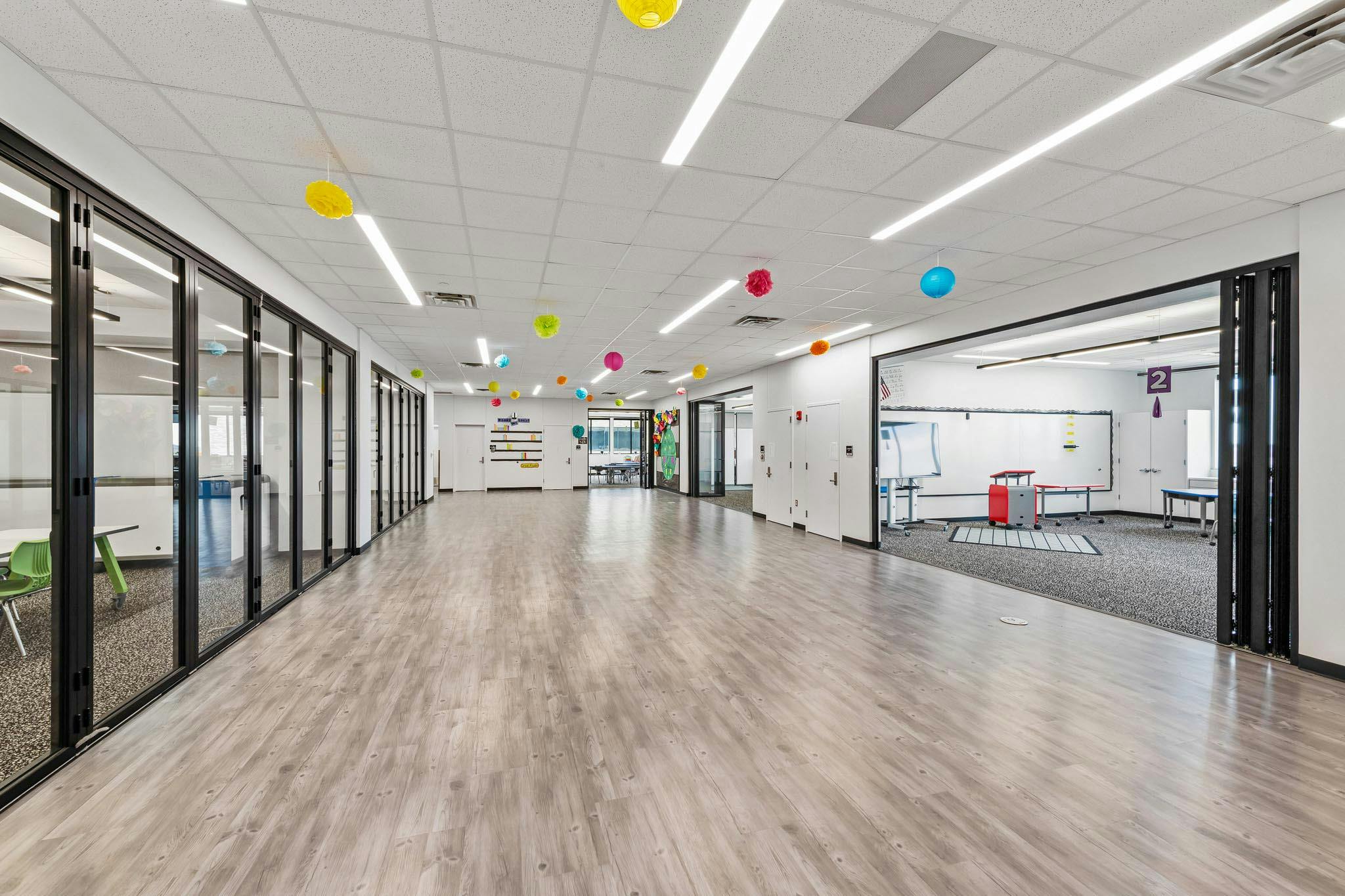 Designing Forward-Thinking "Neighborhoods"
"We call them neighborhoods," says PSC project architect Michael Strain, "because we want them to feel like family units." Each grade level is thus organized into six classrooms that open and share the common area. This allows educators to enlarge their teaching space and create lesson plans that expand beyond a traditional school setting. When opened, students come together in the centralized learning hubs and dive into collaboration based hands-on assignments. For teachers, this pod-like space allows for a sharing of resources and unifying curriculums. The flexibility of multi-paneled NanaWall opening glass walls gives way to a variety of configurations with two, three, or more classes connecting at once.
"The ability for teachers to enlarge square footage by having walls that open and can expand the learning out beyond their regular classroom setting was a key part of the design," says LCISD Superintendent Keith Bryant.
Learning that Extends Beyond the Classroom
According to the architect, the strategic design of East Elementary acknowledges the idea that every surface of the school poses a teaching opportunity or an element for inspiring students' thoughts. This strategic design also maximizes the use of space by immediately turning hallways into instructional spaces. In his book Blueprint for Tomorrow: Redesigning Schools for Student-Centered Learning, author and architect Prakash Nair dismisses hallways as single-purpose areas. He then reimagines them as areas utilized for teaching and learning throughout the day. This forward-thinking design adds nearly 20 to 30 percent more usable square footage to the average school. Nair further supports that eliminating solid wall barriers between teaching spaces positively impacts instruction and learning. Educators are given the opportunity to work collaboratively, facilitating a multitude of educational opportunities for students.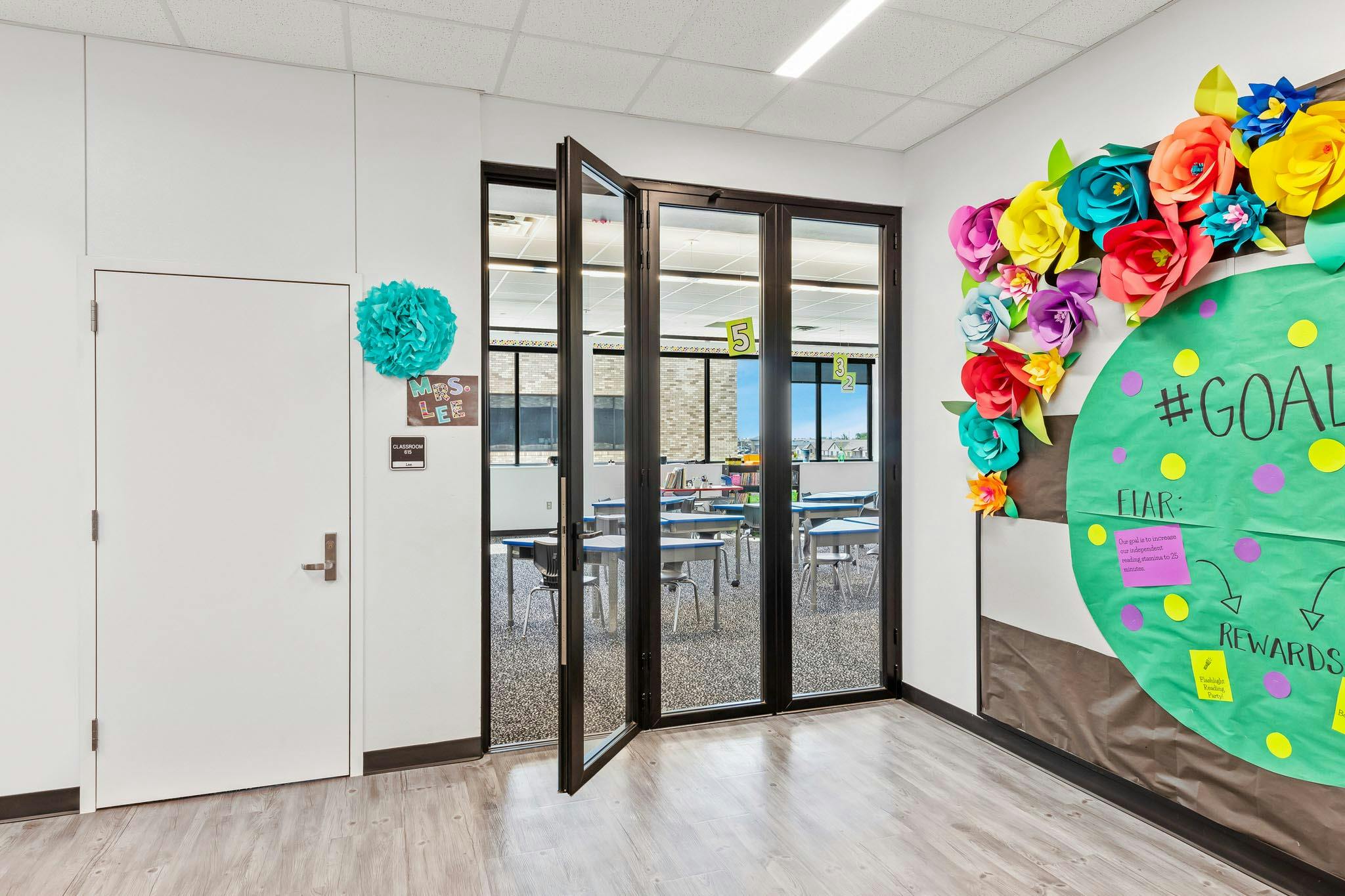 Opening Glass Walls Adapt to Academic Environment
Several multi-panel NanaWall SL70 folding glass walls were employed throughout the project design to ensure the adaptability of space. All systems vary in panel quantities and width sizes ranging between 7 ½ to 14 feet. The NanaWall SL70 incorporates a post between each door panel, adding structural strength and allowing the system to perform in larger sizes. These floor supported systems were paired with surface mounted flush sills to ensure ADA compliance and seamless transitions between classrooms into the learning hubs. The 9-foot-tall NanaWall SL70 systems are easily operable as they glide on stainless steel rollers—practical enough for teachers and students alike.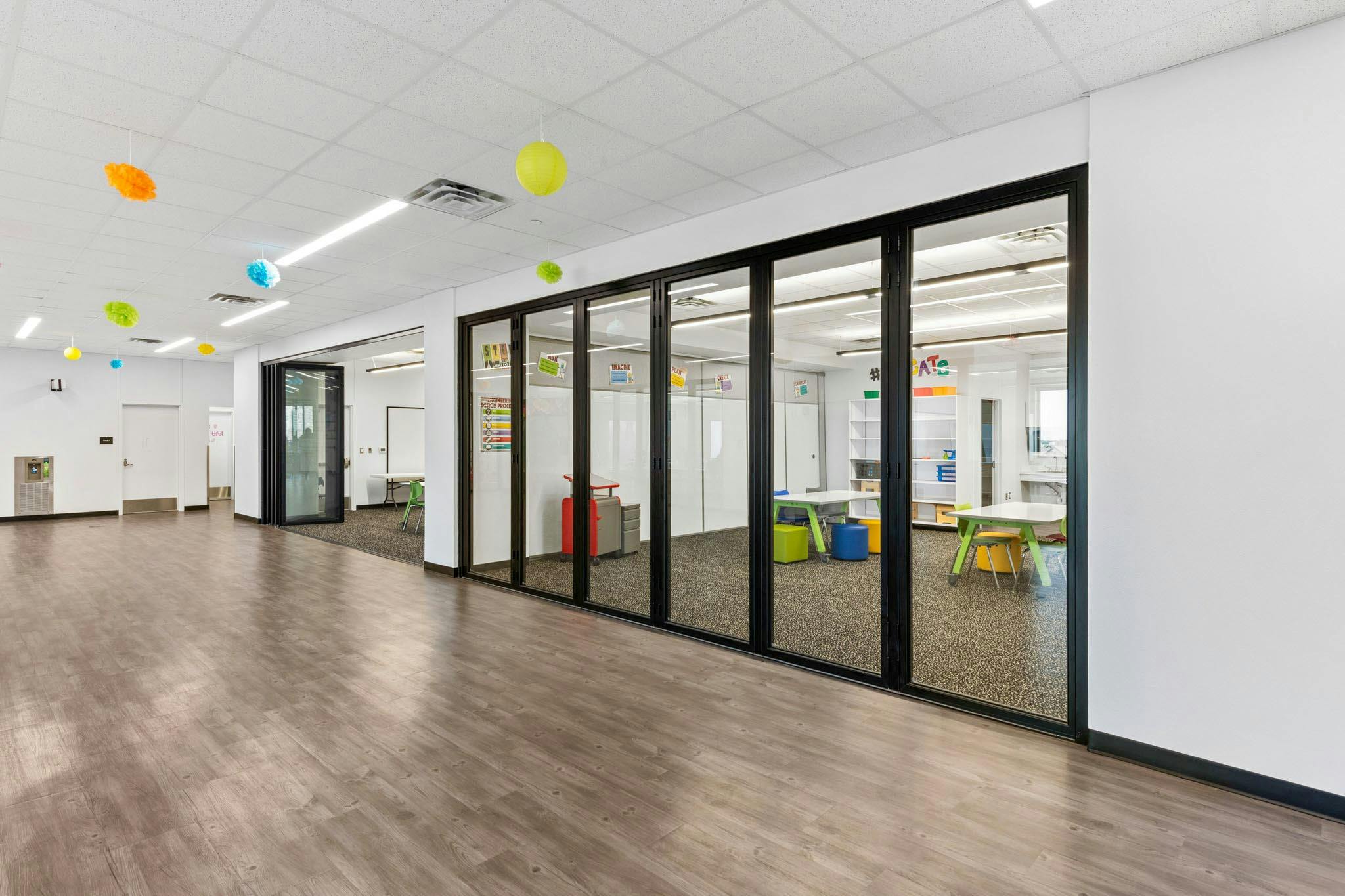 Single-Handed Ease of Operation
Despite their size, the folding glass wall systems can be opened and closed in mere seconds requiring minimal effort. A heavy-duty roller design on stainless steel rails places the weight on the floor and ensured smooth single-handed operation. Even a pencil in the floor track will not cause the system to bind. Each system has been configured with incorporated swing panels, independently tested for 500,000 openings, to facilitate ingress and egress when the systems are closed. "We have some teachers who never close it," says Bryant about the opening glass walls. "We have teachers who open and close it depending on circumstances such as when they are testing."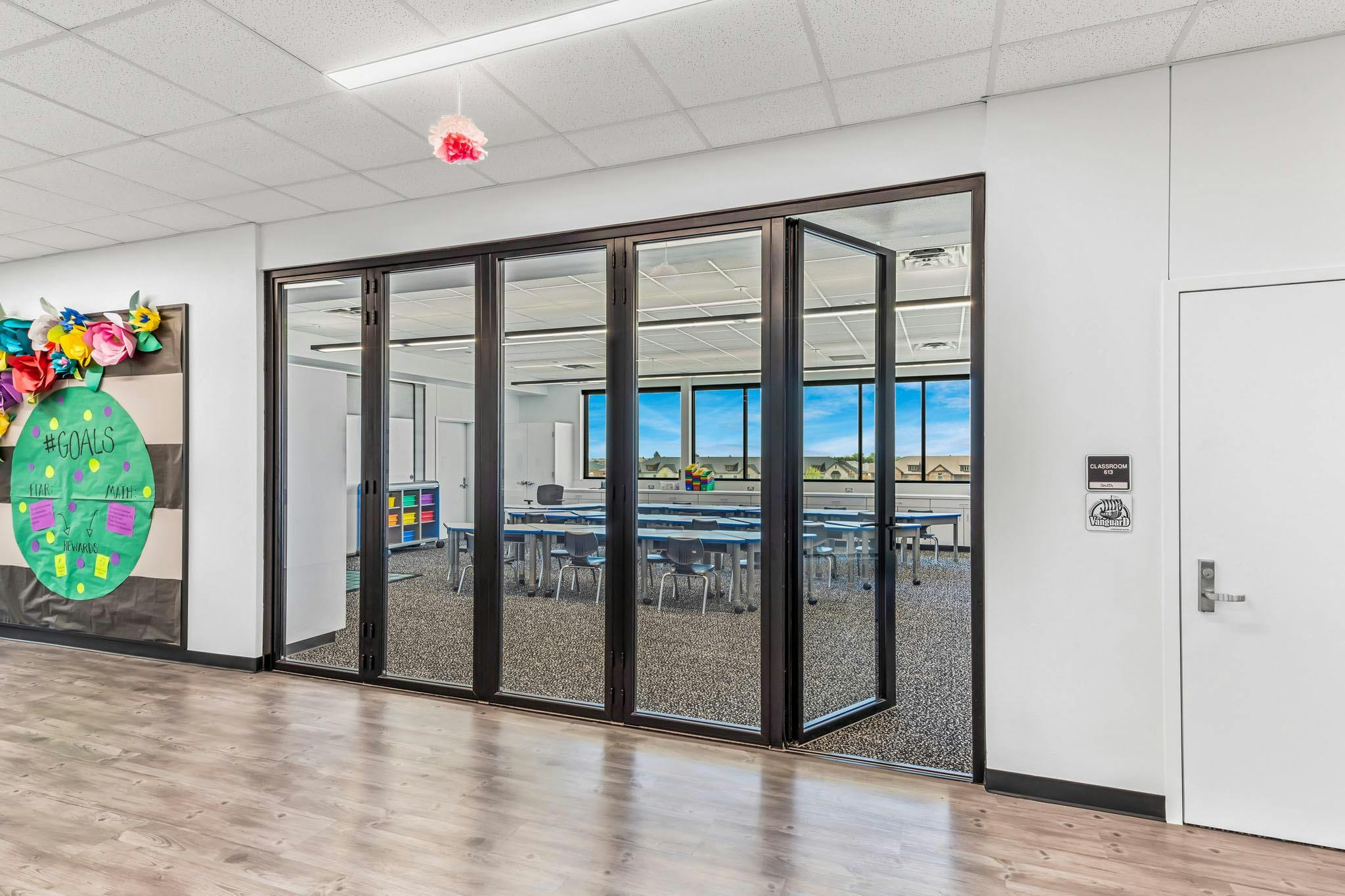 Achieving Transparency with Acoustic Glass Walls
With a sound control rating of up to STC 43, NanaWall SL70 ensures distraction-free environments and addresses teachers' concerns of acoustic transmissions between adjacent teaching spaces. When it comes to STC, the higher the rating the greater the sound attenuation capabilities of the glass wall system. Additionally, the transparent panels allow light to diffuse throughout interior areas. In 1999, Hesching Mahone Group conducted a study on daylight in elementary schools with groundbreaking results. They found that classrooms with the most daylight learn 20 to 26 percent faster than those exposed to lesser amounts of daylight. The acoustic performance of opening glass walls, combined with their ability to maximize daylight, ensures a productive, distraction-free environment where students effectively attain and retain information.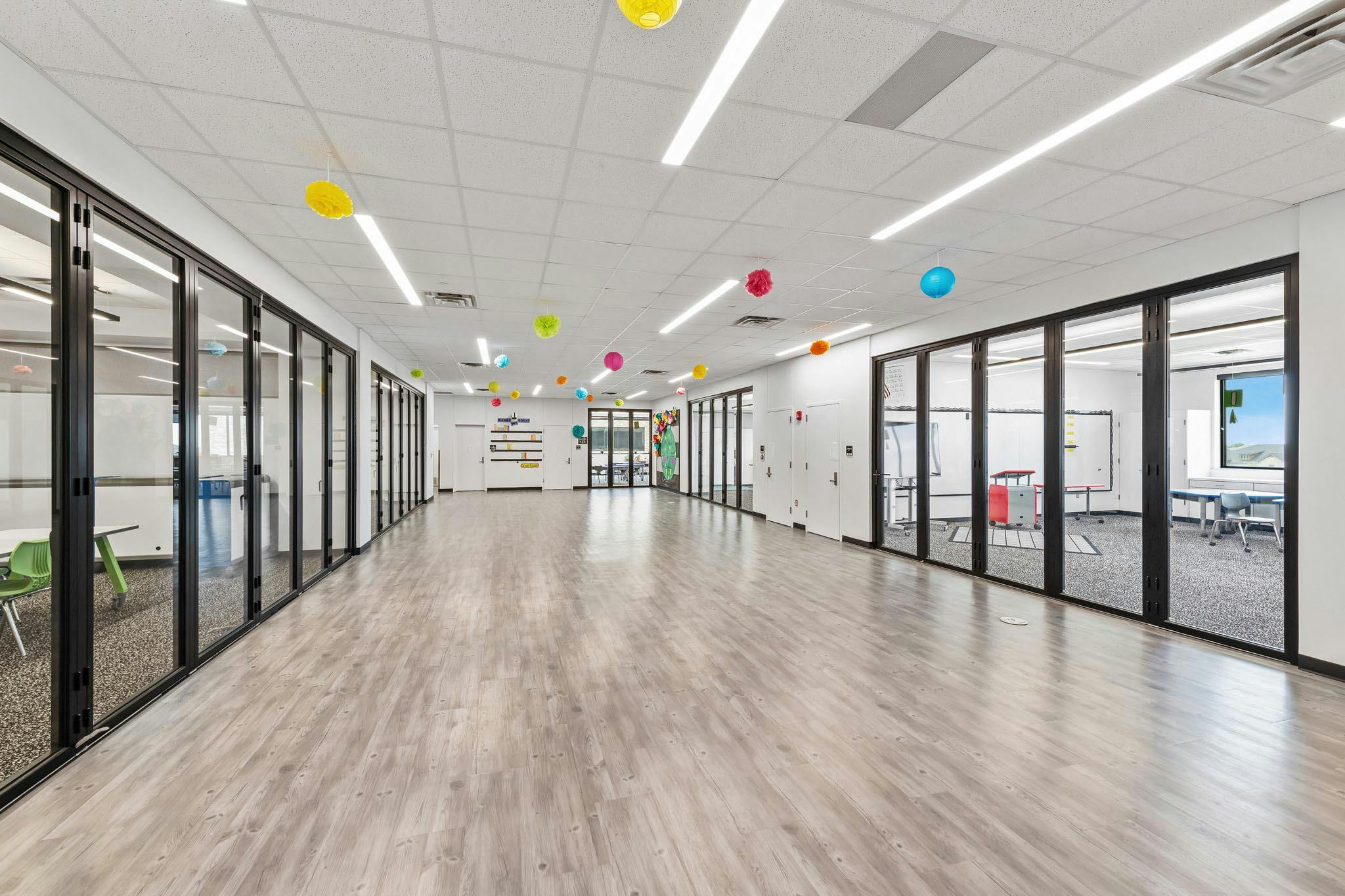 Final Thoughts
Lubbock Cooper East Elementary has successfully created collaborative academic spaces that support 21st Century learning. A communal area where both students and teachers succeed in a collaborative exchange of ideas and resources. Flexibility is achieved with the multiple NanaWall systems that open individual classrooms into central unifying learning hubs. Students are able to work alongside one another, exchange ideas, and solve problems in a collaborative approach. The benefit of incorporating hallway space into learning hubs significantly maximizes the usable footprint of each neighborhood and encourages multiple instructional opportunities for both instructors and students. As a long-lasting and easily operable solution, an outstanding 69 NanaWall systems support the revolutionary educational design of East Elementary—by replacing solid wall barriers and providing new scholastic opportunities for its attendees.
Explore more success stories about how 21st Century schools leverage NanaWall solutions in our Education Applications page!