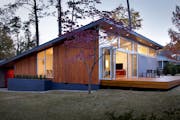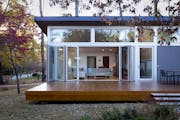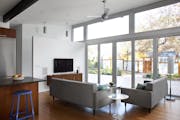 Architect
Richard Hall Designs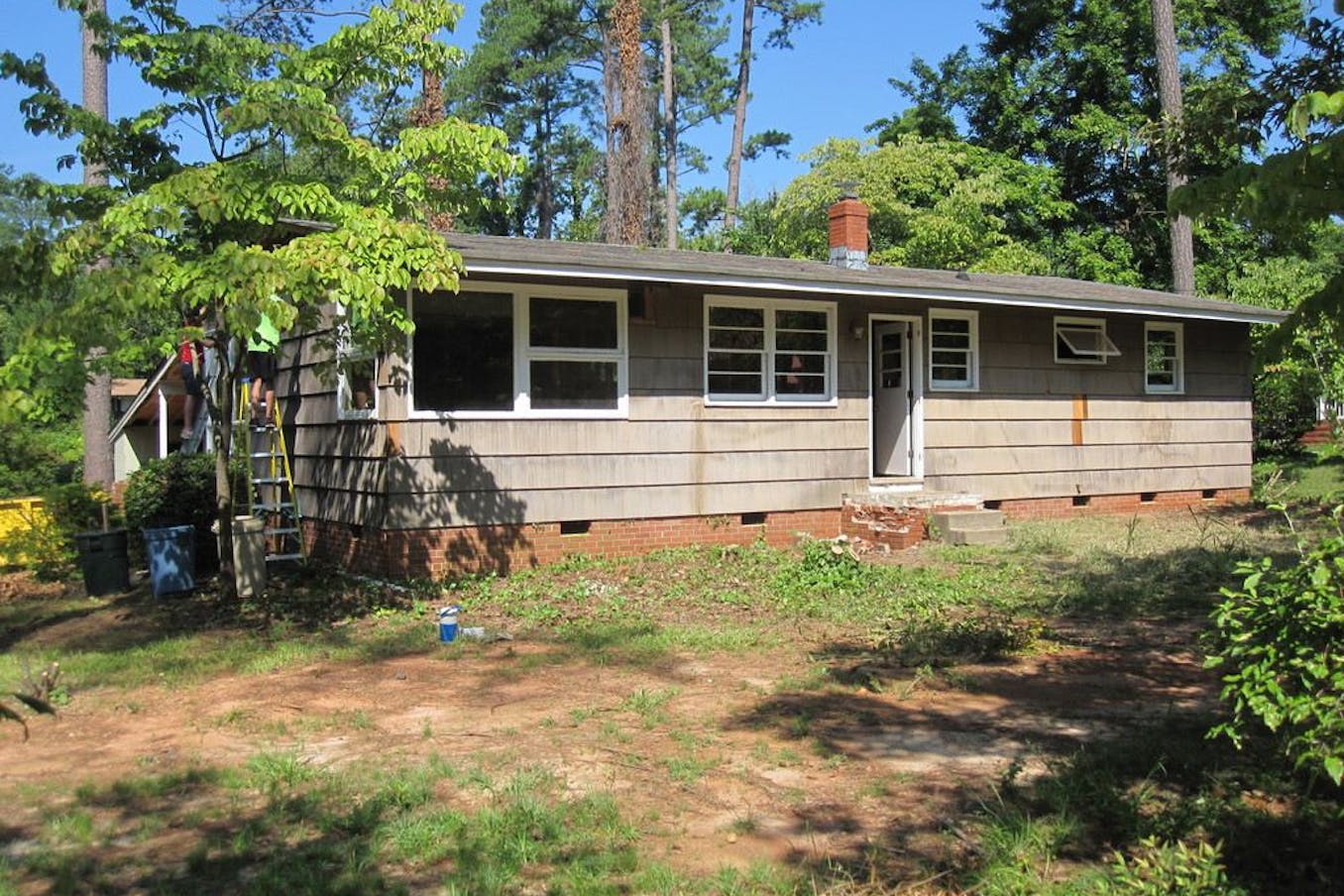 The urge to downsize is not limited to empty nesters and retirees. It can hit anyone at any time. And sometimes it's the family dog that helps you realize you have more space than you need.
This is how it was for Greg Kelly, a 50-year-old business appraiser in Raleigh, N.C., and his wife, Laura Herring, a 45-year-old pediatrician, who have two teenage sons, Troy and John. Earlier this year, they downsized from a house with more than 3,000 square feet to one that is half that size, cutting their property taxes in half and their aggravation even more.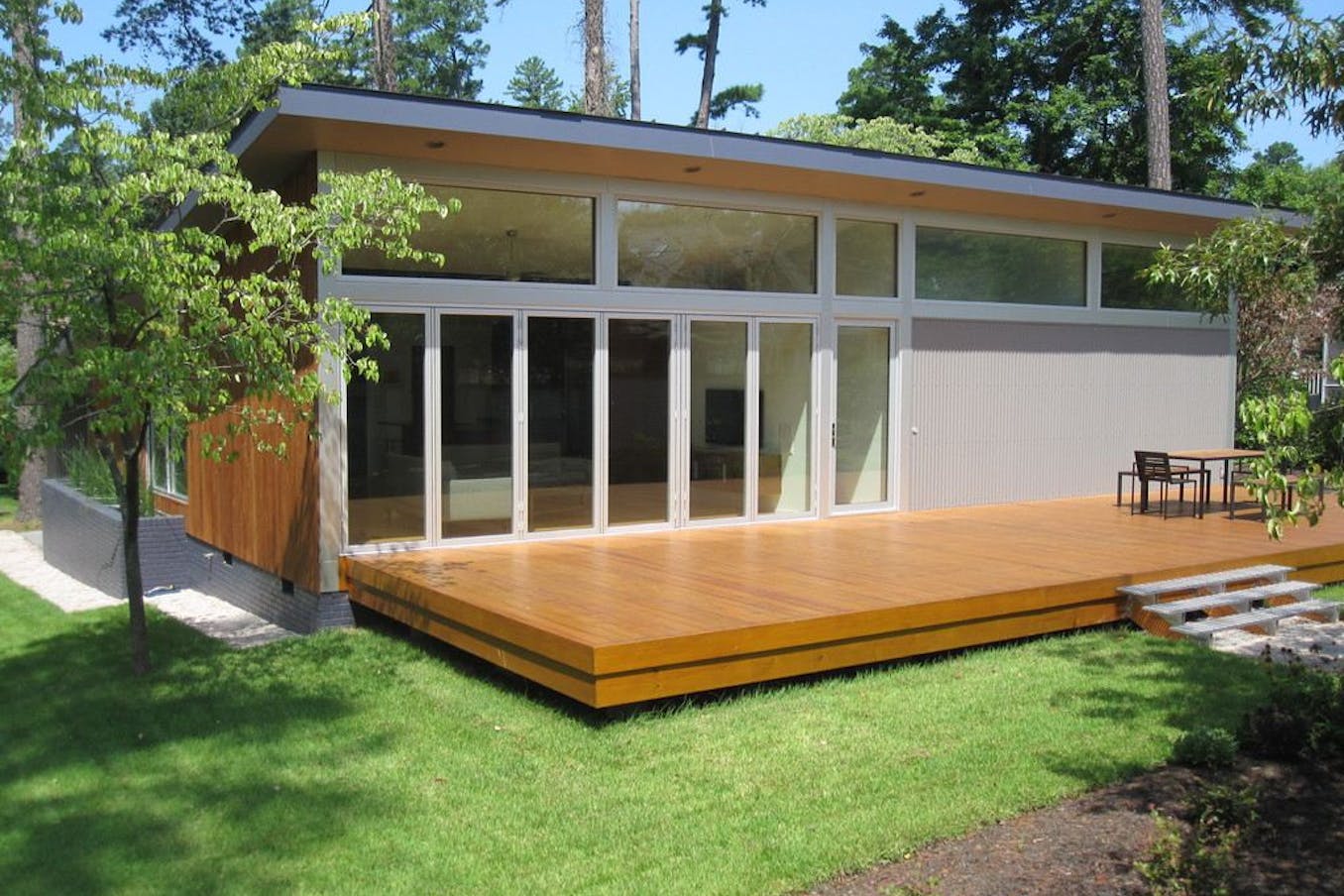 Looking back on the unused space they once had, Mr. Kelly laughs. "It was a five-bedroom house, one bedroom used for a playroom, one for an office, with a separate dining room and a bathroom upstairs that literally we only used to wash the dog," he says. "We had a dining room and a formal living room — that was where the dog lay on the couch, that was his room."
So if the dog, a collie named Toby, was in the living room, where did the family hang out?
"The eat-in kitchen and the family room in the back of the house," Mr. Kelly says. "If we looked at where we lived as a family, it was the back of the house. When I thought about it, I realized we never spent any time in the bedrooms, except to sleep. The boys did their homework in the kitchen. The house was a waste. My wife and I don't pay to have houses cleaned, we're just not wired that way, and it was killer to vacuum and clean a 3,200-square-foot house. It's a breeze now. We were heating and cooling this huge house, it took a lot of physical and emotional energy to maintain it, and we were not living in that space."
The couple began by figuring out how much space they actually used — about 1,300 square feet.
Then they started looking around. They wanted to stay in the same neighborhood, so Troy, who is now 17, and John, now 13, would not have to change schools. Last year, they found what they were looking for: a 1954 ranch house, just around the corner, that was 1,215 square feet, with three small bedrooms, a dining room that was partly open to the living room, a separate kitchen, a small screened-in porch and a classic peaked roof. The Kellys sold their old home for $675,000 and paid $245,000 for the new one.
The renovation cost a little more than $300,000. Working with Richard Hall Designs, a local firm, the Kellys kept the house's original footprint and left the bedrooms where they were. But they knocked down the walls separating the kitchen and the dining and living rooms, and extended the roofline from the carport, creating a great room with ceilings that rise to 13 feet. And at one end of the house, they installed a wall of glass, with NanaWall glass doors that open onto a 15-by-45-foot deck.
"They downsized from a house with more than 3,000 square feet to one that is half that size, cutting their property taxes in half and their aggravation even more."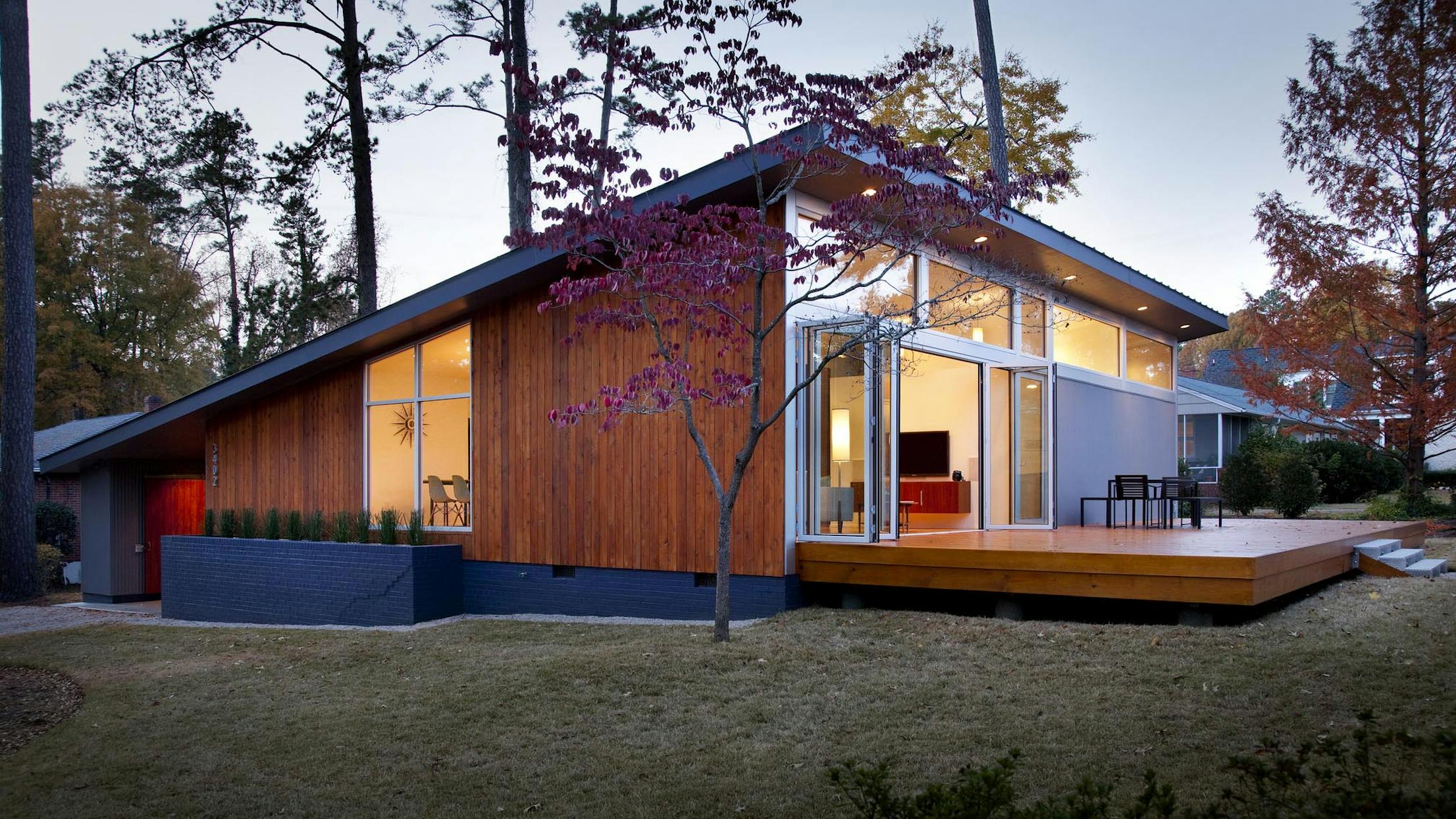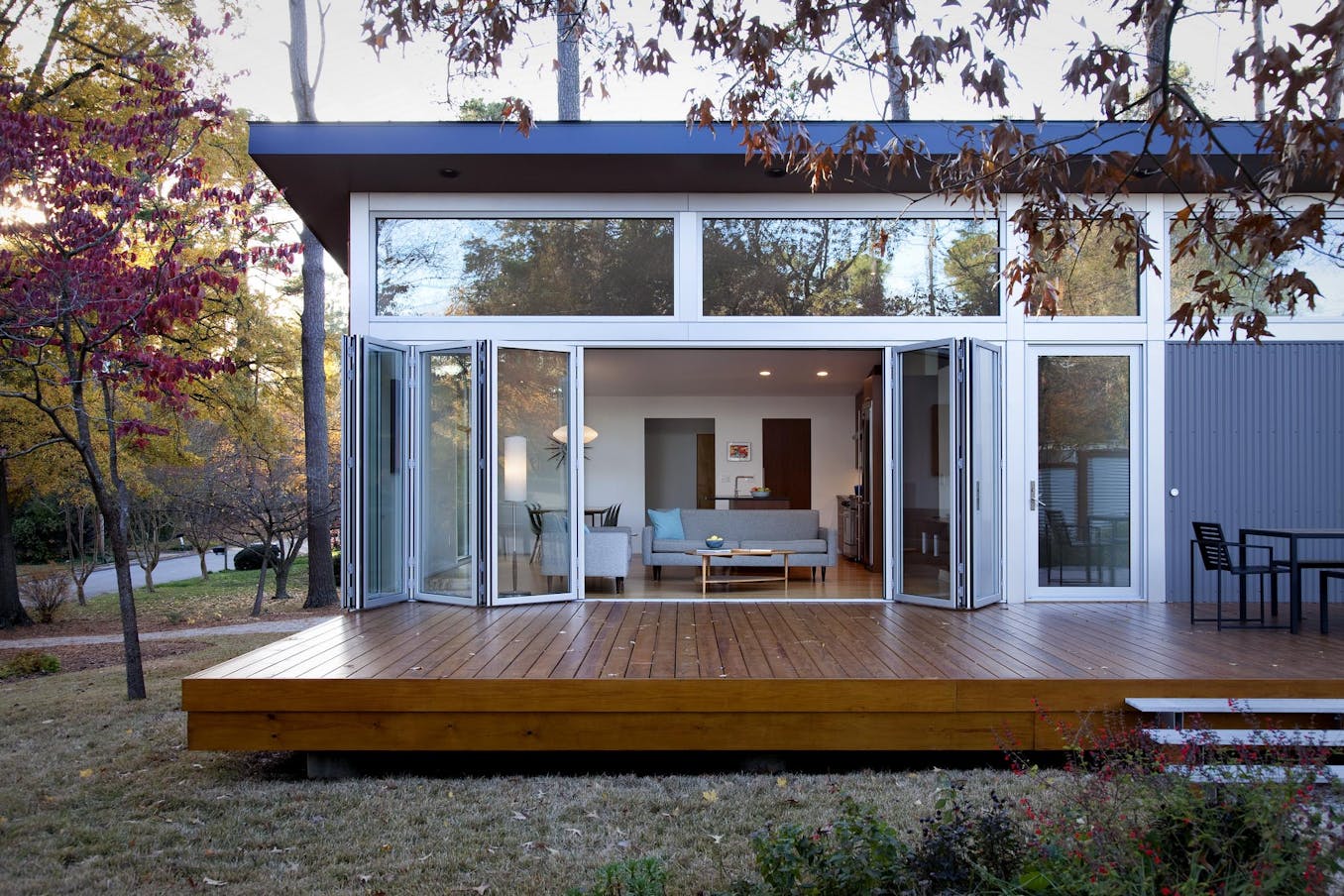 That glass wall, the deck and a privacy fence represented a big part of the renovation costs, about $35,000. But to Mr. Kelly, it was worth it.
"It's a big deck, but it's a lot cheaper to have that," he says, than an enclosed room you have to heat and cool. And "the doors open up 20 feet wide with no obstructions. It looks visually big with them closed, but with them open, it's amazing."
Another big-ticket item was the built-in storage. Made by Bo Taylor Custom Woodworking, a local company, it cost the Kellys $52,000. But it includes an entrance closet where the boys can drop their book bags, and cabinetry throughout the house. It's so extensive, in fact, that none of the bedrooms have a dresser.
"Our bedroom in our old house was probably as big as all three bedrooms in our new house, but we never used the space," Mr. Kelly says. "There was a chair in the corner, but all that we ever put there was my wife's clothes. We never sat in it. Our bedroom now has no furniture, just a floating bed, so it feels really large."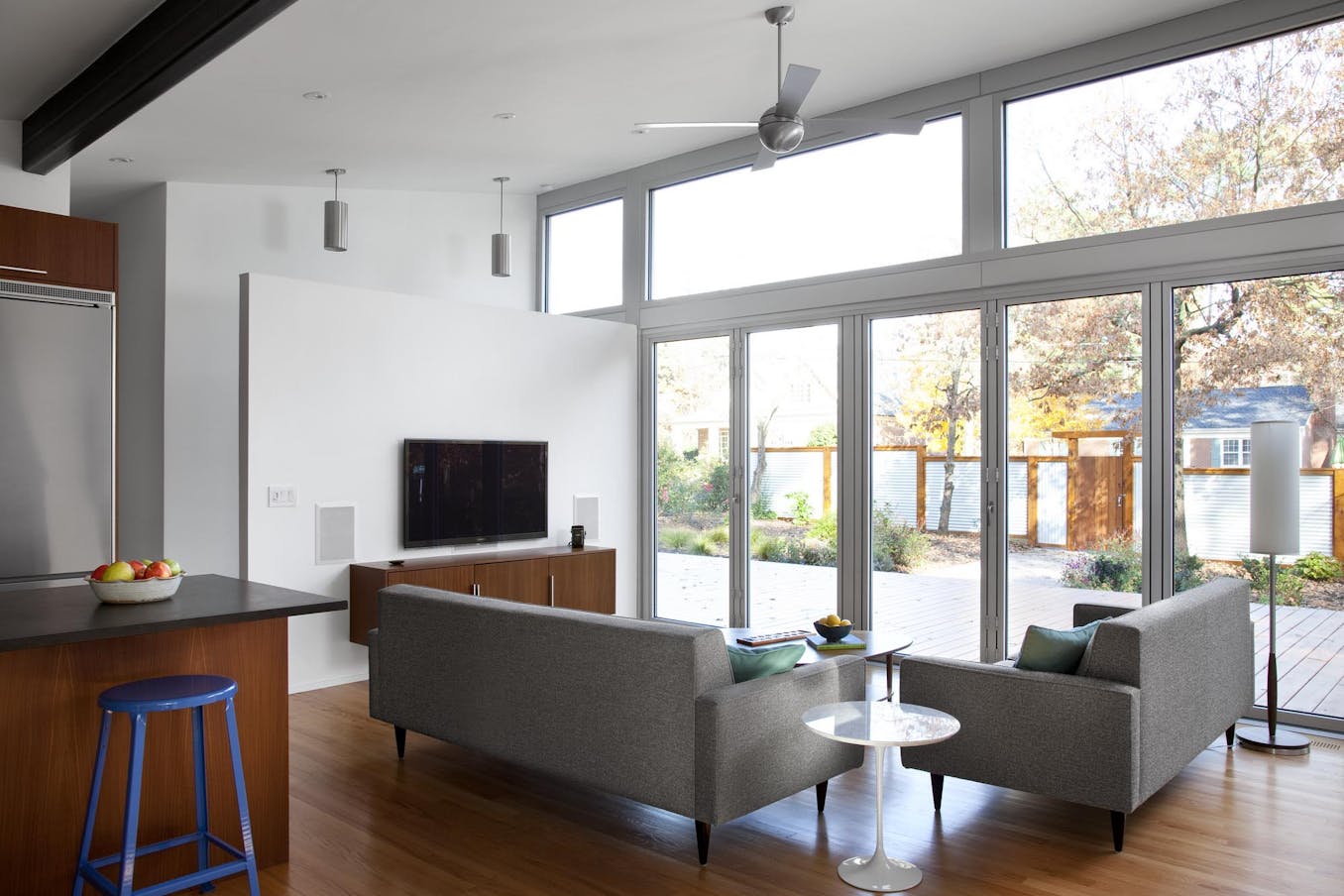 This new awareness of space has made the family more selective about what they keep and where they keep it. In their old home, boxes of the boys' old drawings and schoolwork were stored in the 900-square-foot attic. In the new house, Mr. Kelly says, each member of the family has one box for keepsakes. A few prized photos are displayed in the entry hall; other photos and papers are scanned and kept as electronic files.
Mr. Kelly is just as ruthless about his home office, where he scans much of his work, then disposes of the paper using a shredder installed in a cabinet — a strategy that has enabled him to get rid of three large file cabinets, he says.
The family's gas and electric bills have dropped from $300 a month to $100, and their annual property taxes from $7,262 to $3,672, saving nearly $6,000 a year. And although the new house is half the size of the old one, it feels larger, Mr. Kelly says, because they have less furniture and so much outdoor living space.
There has been one sad downside to the downsizing, though. The new house, the Kellys realized, was too small for a dog the size of Toby. So he has gone to live with a family that has a bigger house, as well as another collie to keep him company.
What our Customers Have to Say