Folding Glass Walls in Contemporary Homes
By NanaWall Systems, May 6, 2020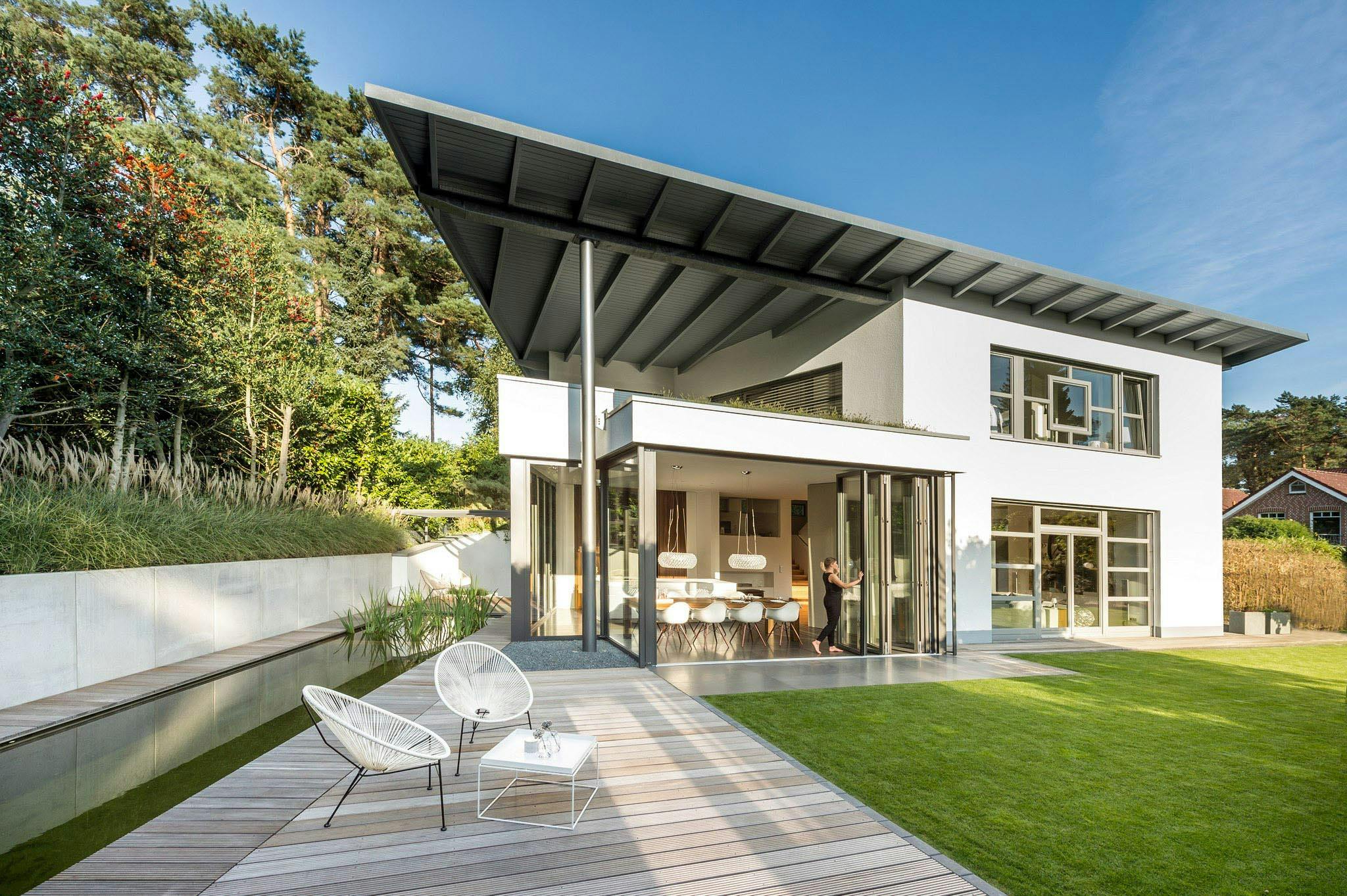 Contemporary homes are heavily influenced by ever-changing modern trends except for a few features that remain ever-present like their appeal towards minimalism, unconventional rooflines, and oversized windows. Folding glass walls are becoming a popular staple within modern homes—fitting right into contemporary design with complementing features. Not only that, but these vanishing glass walls facilitate the highly sought-after indoor/outdoor lifestyle that contemporary homes tend to prefer. This and other key features are what make contemporary homes one of the most desired dwellings of today.
Influences from Modern Design
Modernism is mirrored in contemporary homes with muted colors and minimalistic interiors but at the same time allowing touches of creativity. Large windows, or glass walls, are almost always present accompanied by sleek lines and a lack of ornamentation. Furniture tends to focus on functionality rather than decorative purpose while technology is interlaced throughout replacing the need for additional bulky electronics and appliances. These homes feel lighter and causal enough to where nothing is too precious of clean, thus providing to a more relaxed living experience.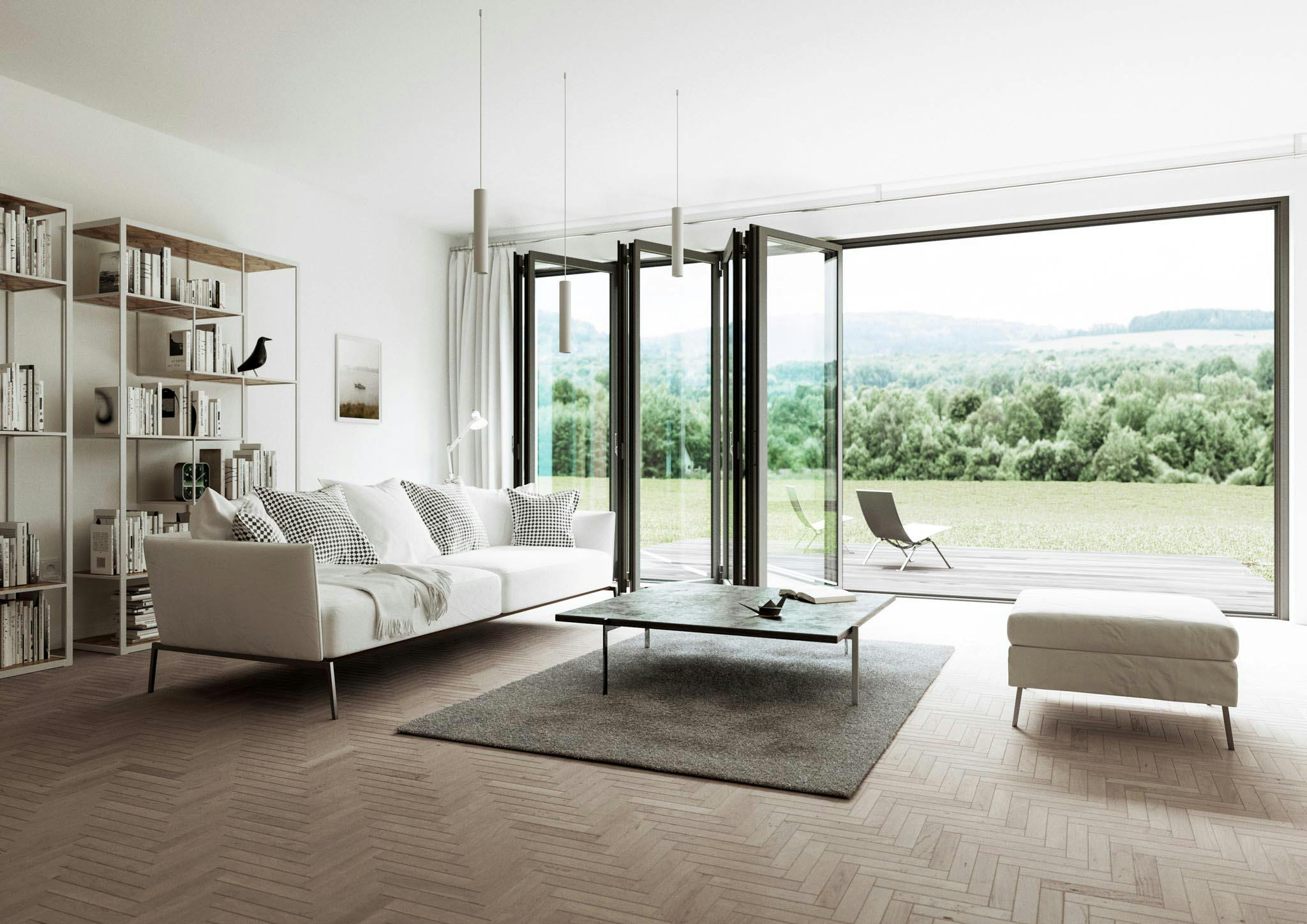 Biophilic Design Principles in Contemporary Homes
Sustainability tends to accompany a certain affinity towards biophilia, a tendency to seek connections with nature, and contemporary homes thrive on this principle. With their large windows and glass openings, contemporary homes benefit from the natural light filtering through when they are closed and fresh air when opened—conserving energy and improving health. These translucent barriers allow views to lush gardens, green mountains, or calming waters when present.
Learn more about the biophilic benefits of folding glass walls here.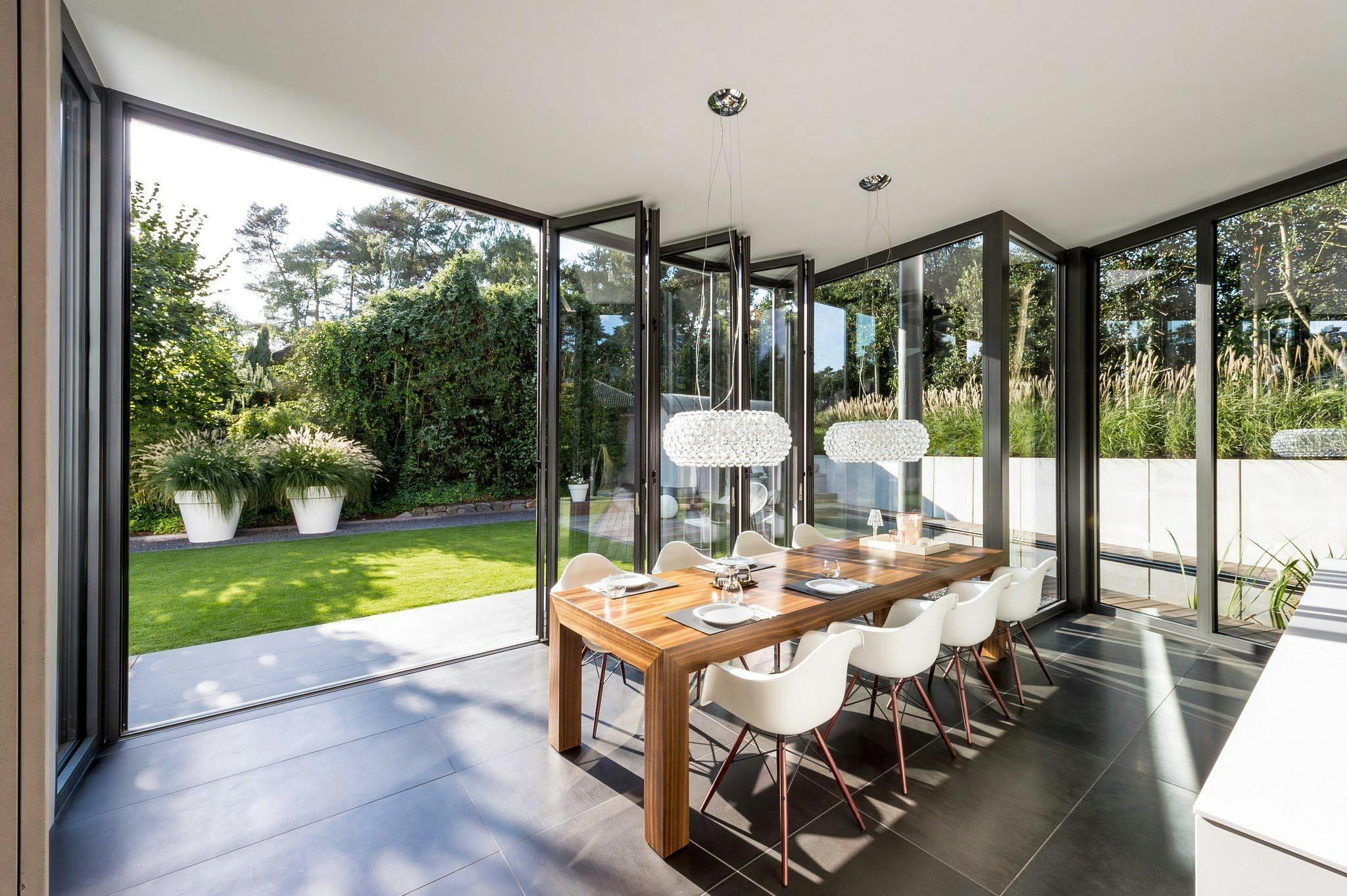 Open Concept Living and Folding Glass Walls
Perhaps one of the most notorious characteristics of contemporary homes is an open concept approach. Dividing walls are eliminated to allow the kitchen, living room and dining room to become one unified open room that maximizes the use of light and space. These grand rooms are often accompanied by sliding or folding glass walls that open up the area to the outdoors, enlarging the space even further while enjoying the benefits of biophilia. This flexible layout easily adapts to changes in family needs and is perfect for entertaining by making the kitchen its center point.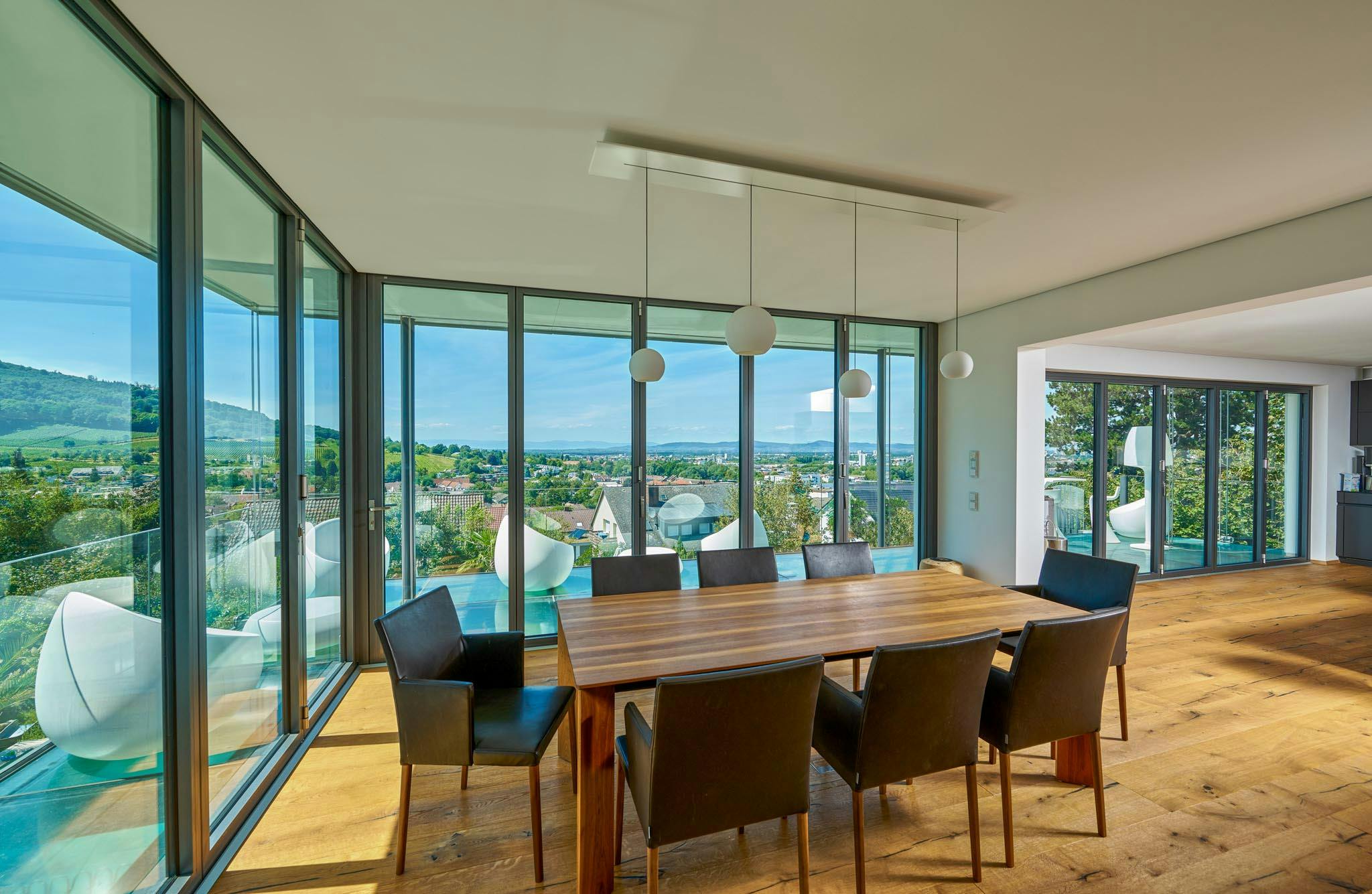 The Next Generation Folding Glass Wall
Modern contemporary homes love glass. This distinguishable feature is highly embraced in a contemporary home through large windows and glass walls. NanaWall Systems boasts an ever-improving family of folding glass walls with over 30 years of innovations. NanaWall's NW Aluminum 840 folding glass wall represents the next generation of innovative design with thinner frames and minimal sightlines, fitting right into homes seeking the contemporary vibe.
NW Aluminum 840 features the most thermally efficient and slimmest aluminum frame available. This floor supported product can reach heights up to 11 feet 6 inches and offers the possibility of even wider openings with L/R FourFold and SixFold panel sets. Its patented TwinX mechanism aligns panels of over 7 feet in height by adding a hidden spring-loaded structural reinforcement feature without the need for an additional exposed hinge.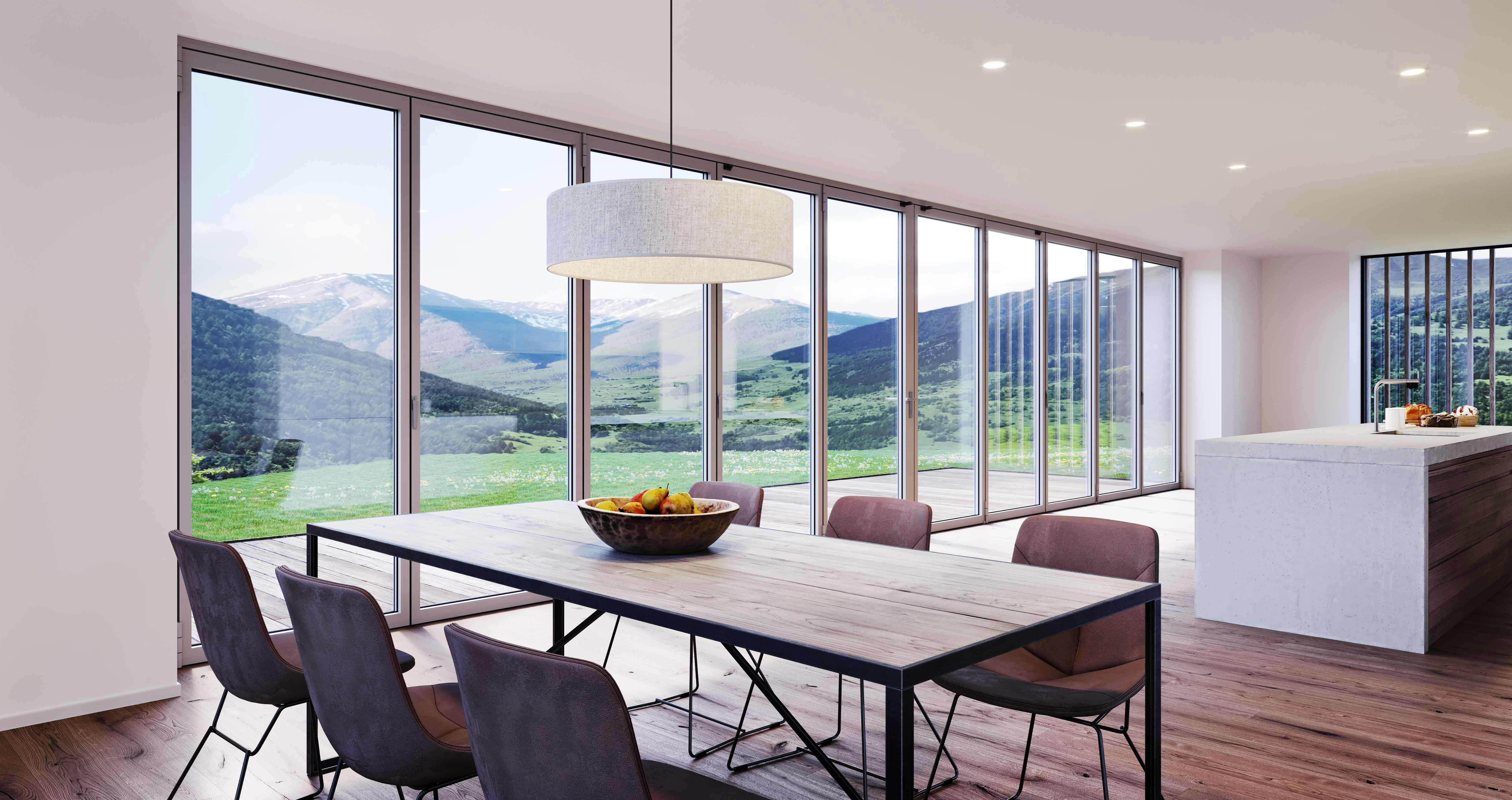 Final Thoughts
Despite being a contemporary design staple, large windows and glass walls are not limited to any one specific home style. These transparent openings provide energy efficiency, health benefits and the flexibility to adapt any space according to changing family needs. Advancements in fenestration, like the next generation folding glass wall, NW Aluminum 840, seek to improve design and performance for the ultimate home experience possible.
Learn more about NW Aluminum 840 and its many innovative features in The Next Generation Folding Glass Wall!