Hayden West Loop: Leveling Up Outdoor Living with Folding Glass Wall Systems
By NanaWall Systems, April 12, 2023
Once home to part of Oprah's Harpo Studios television production campus, now sits a nine-story luxury condominium in Chicago's booming West Loop. Designed by architectural firm Booth Hanson, the brick-clad multifamily mid-rise sets itself apart with abundant indoor/outdoor living spaces onto balconies and terraces through performance-driven folding glass wall systems. This new construction building was inspired by the surrounding history of factories and warehouses within the West Loop district. The Hayden West Loop seamlessly blends industrial design with comfort, privacy, and outdoor connection to create an unrivaled luxury home experience.
Enhanced Multifamily Living with Folding Glass Wall Systems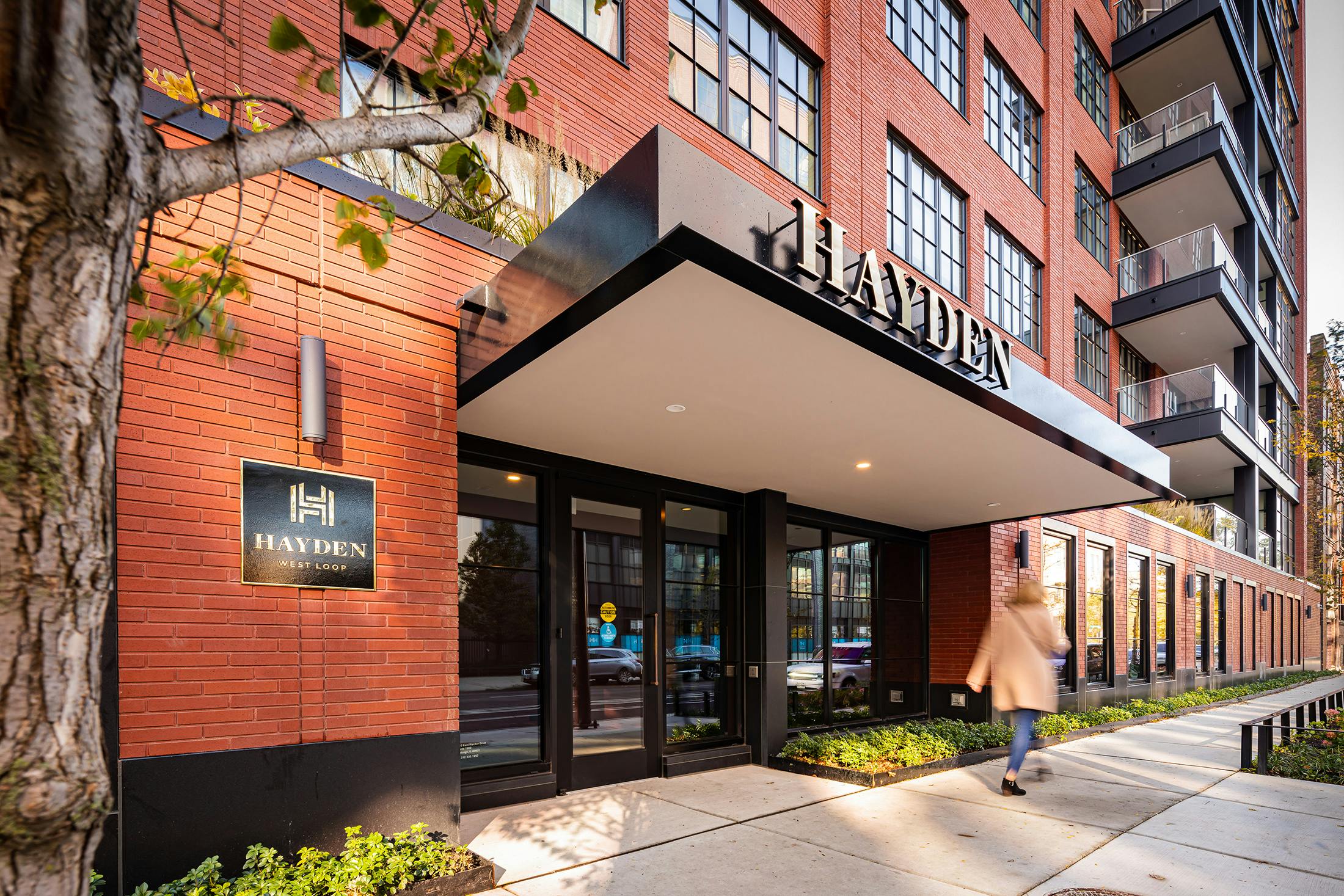 Completed in 2019, the 28-unit residential building boasts expansive floor plans ranging from 3,200-5,000 square feet with soaring 10-foot-tall ceilings and expansive floor-to-ceiling glass to showcase city views. The units offer three- and four-bedroom floor plans with just 4 individual residences per floor, all accessed through private elevator access—a feature that further enhances the appeal and exclusivity from a privacy standpoint. The building, by Chicago residential development firm Sulo Development, was strategically designed to provide an unparalleled living experience that rivals that of a single-family residence. One key differentiator and competitive advantage is the fact that each unit in the building offers private terraces that ranges anywhere from 250-850 square feet of incomparable outdoor living accessed through NanaWall folding glass wall systems.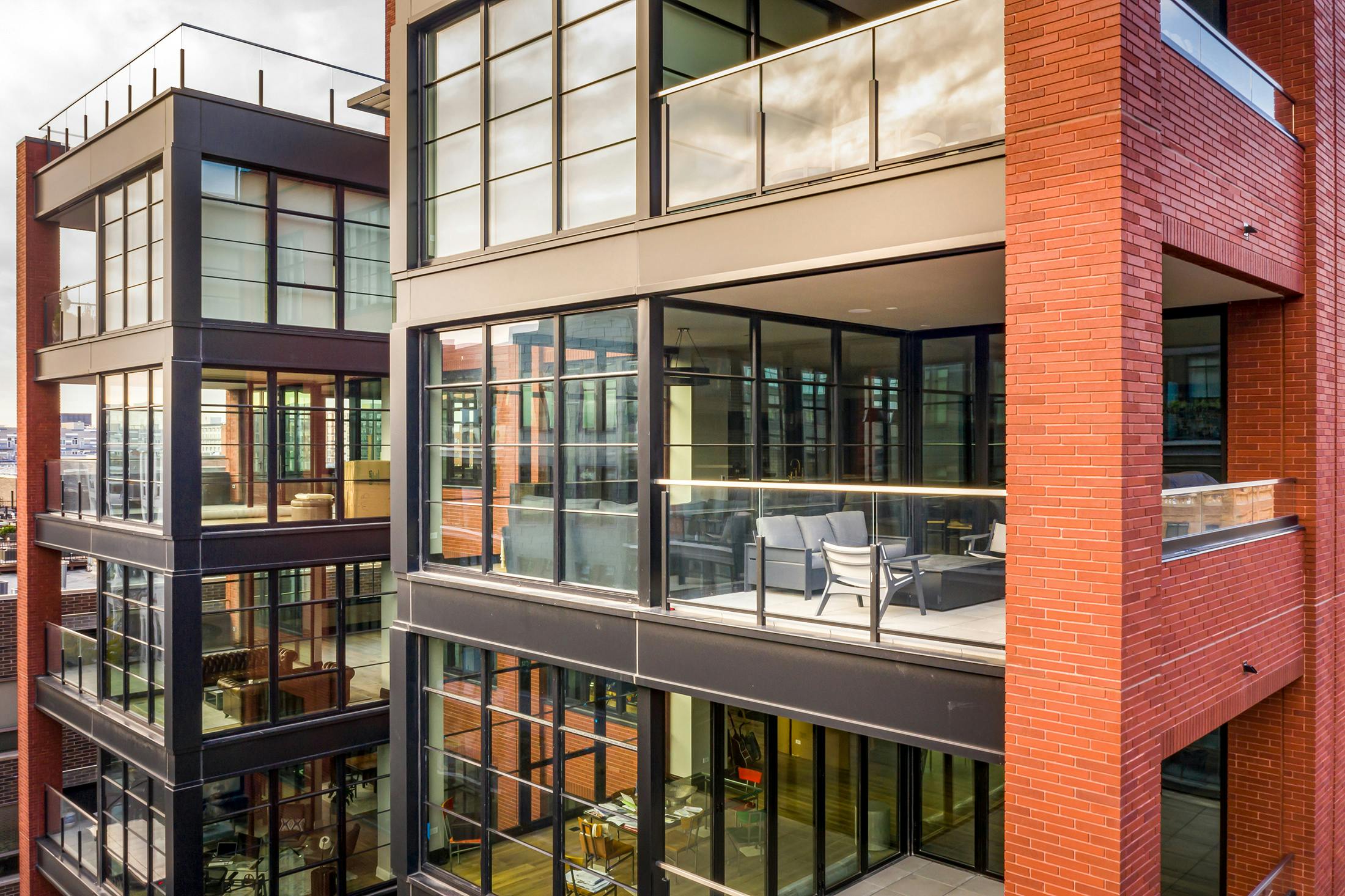 Maximizing Views, Fresh Air, and Outdoor Living
Early in the building's design phase, Booth Hansen and Sulo Development decided on the advantage of outdoor living spaces to boost the appeal of their development. A key differentiator of the building is the fact that each unit would be designed with private terraces, which presented a design challenge in terms of fenestration. The team weighed their options when determining the fenestration product for these spaces. Traditional slider products were unable to reach the desired 10-foot ceiling height so additional glass transoms were required above the sliders, which was both complicated and cost-prohibitive. NanaWall folding glass wall systems are able to rise to meet these design challenges, reaching heights up to 10 feet tall and beyond, thus eliminating the need for additional glass products.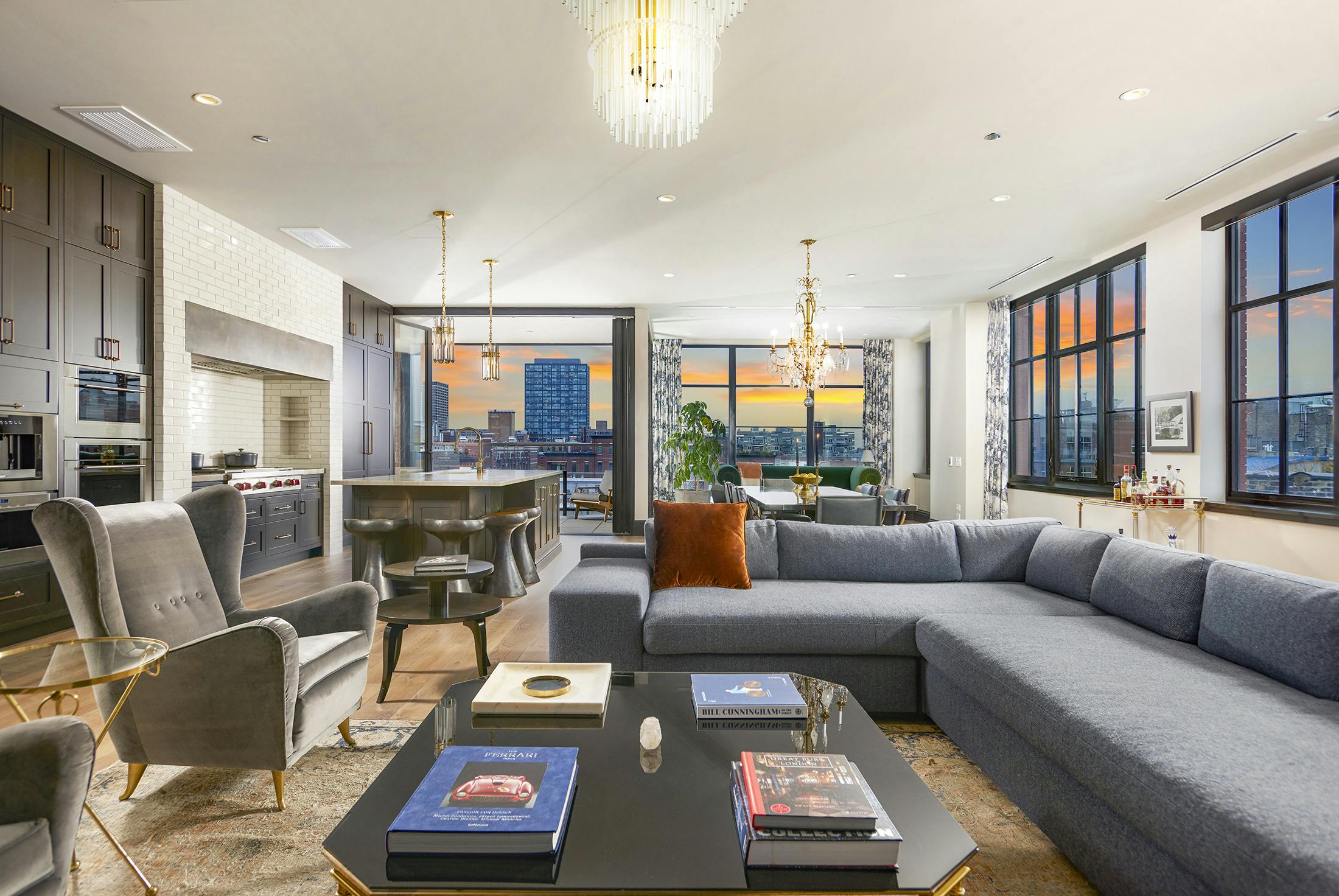 Wide Openings Optimize Flexible Living Areas
Consultation with a NanaWall Architectural Sales Representative quickly identified the design solution. With a slider, not only would there be a need for an additional transom but also, the opening size would be restricted to only 50% usability due to one panel being fixed. With folding glass wall systems, these challenges were erased. Capable of reaching taller heights, NanaWall floor-to-ceiling folding glass wall systems eliminated the need for additional glass products. Additionally, the bifold doors fully optimize the space by opening wide to upwards of 90% of the opening size. Folding glass wall systems hit the mark for the desired design direction of The Hayden.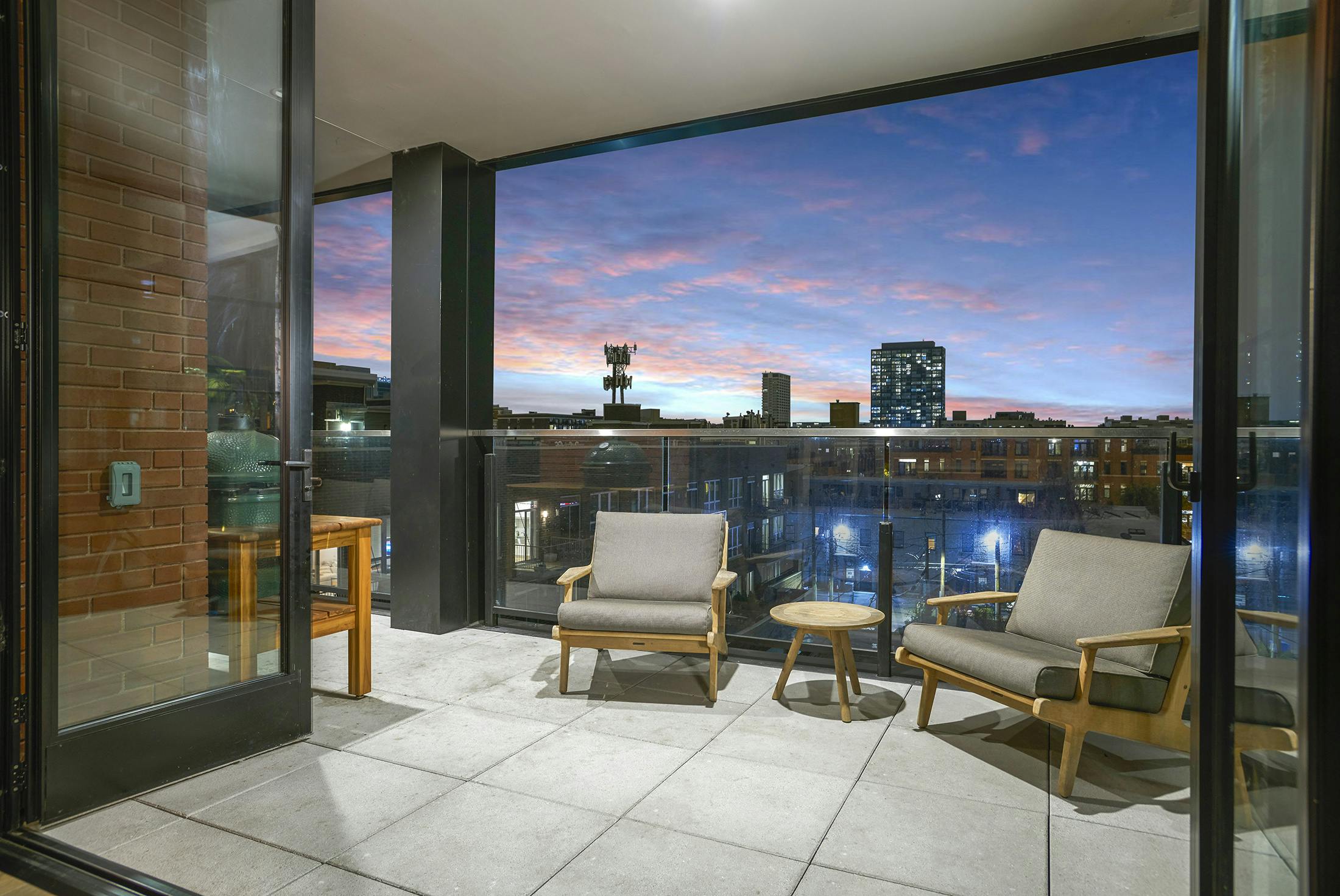 High-Performance Bifold Doors for Mid-Rise and High-Rise Environments
With all fenestration products, especially within mid-rise and high-rise applications, product performance is of the utmost concern. Booth Hanson confidentially specified NanaWall SL70 folding glass wall systems throughout the building to maximize space, and natural light, and to facilitate easy transitions inside and out to the coveted outdoor spaces. NFRC-certified SL70 bifold doors have been independently tested at accredited labs for air, water, structural, thermal, operation, and forced entry with outstanding results. This is especially important in this mid-rise Chicago building where harsh weather is common and an advanced-performing system is a requisite. The folding glass wall system provides plenty of protection from strong wind loads, rain, and even snow, maintaining comfortable interiors year-round. Floor supported SL70 bifold doors incorporate a unique post design between each door panel, adding structural strength and ensuring performance in larger system sizes. In addition, thermal breaks within the frames and customizable insulated glass keep the chill out during cold winter months, providing comfort even when sitting right up against the wall.
With the most recent addition of the Generation 4 product family, NanaWall has developed design-forward engineering to improve the durability and functionality of its systems alongside a plethora of innovations and patents. With Generation 4, not only are the panel frames the slimmest in the industry, but there is also an added benefit of floating FourFold and SixFold panel sets that allow for larger opening sizes and for the panels to stack on the same side as the swing panel—a great advantage for space planning and for maximizing views.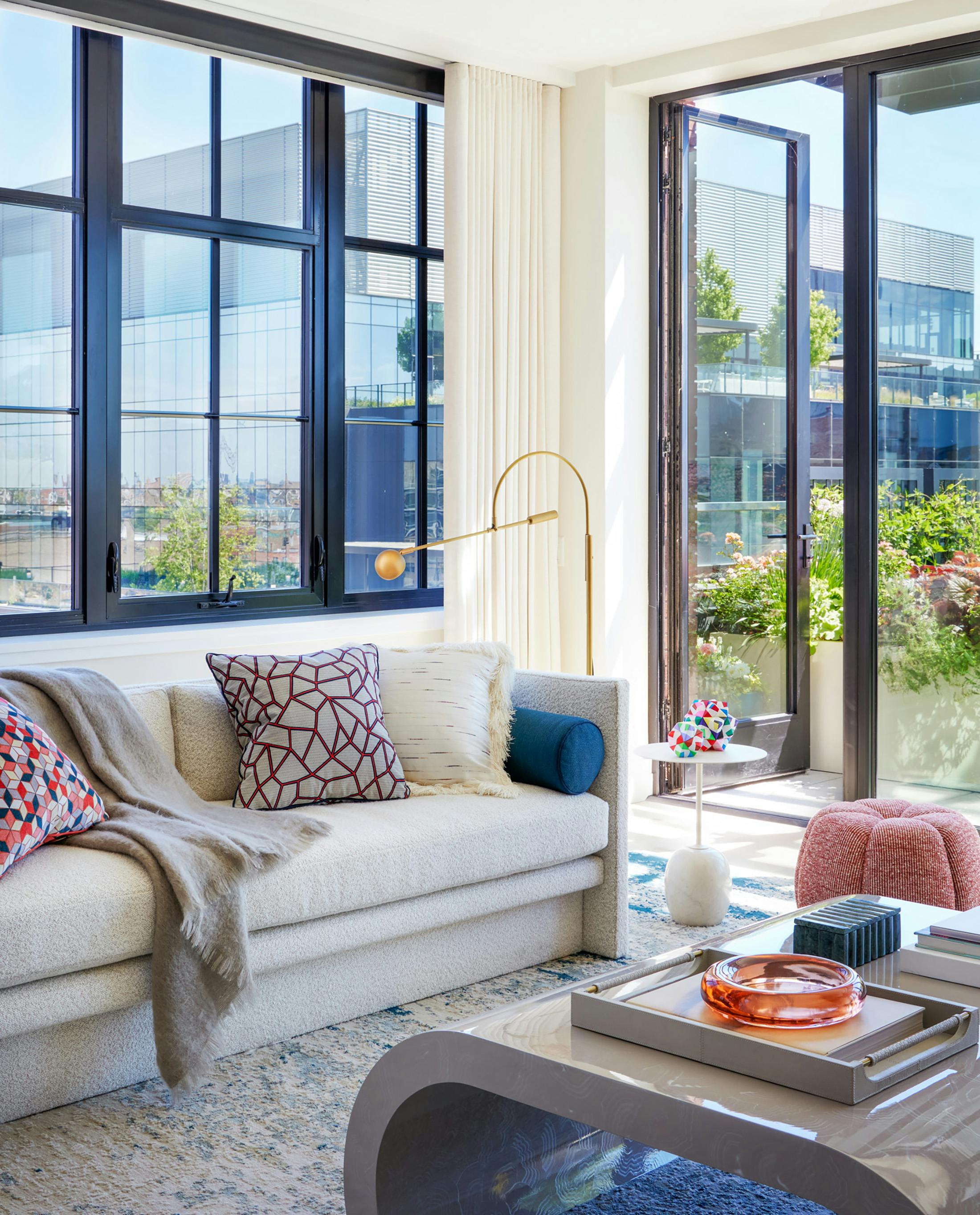 ADA-Compliant, Water-Rated Sill for Effortless Transitions
The Hayden was built with a condition that 25% of the units meet ADA compliance which meant one unit per floor would need to meet ADA requirements. To keep a consistent design throughout the building, the customizable folding glass wall systems were specified with the low profile saddle sill. Not only is the sill ADA-compliant, but it is also the only water-rated ADA-compliant sill available in the industry. This sill creates a barefoot-friendly transition while protecting from the elements, almost as if there was no threshold at all. Additionally, for easy everyday access to the terraces when the system is closed, each set of bifold doors is customized with a swing panel that has passed 500,000 opening/closing testing cycles at the side jamb. The swing panel is also outfitted with an additional higher kickplate feature.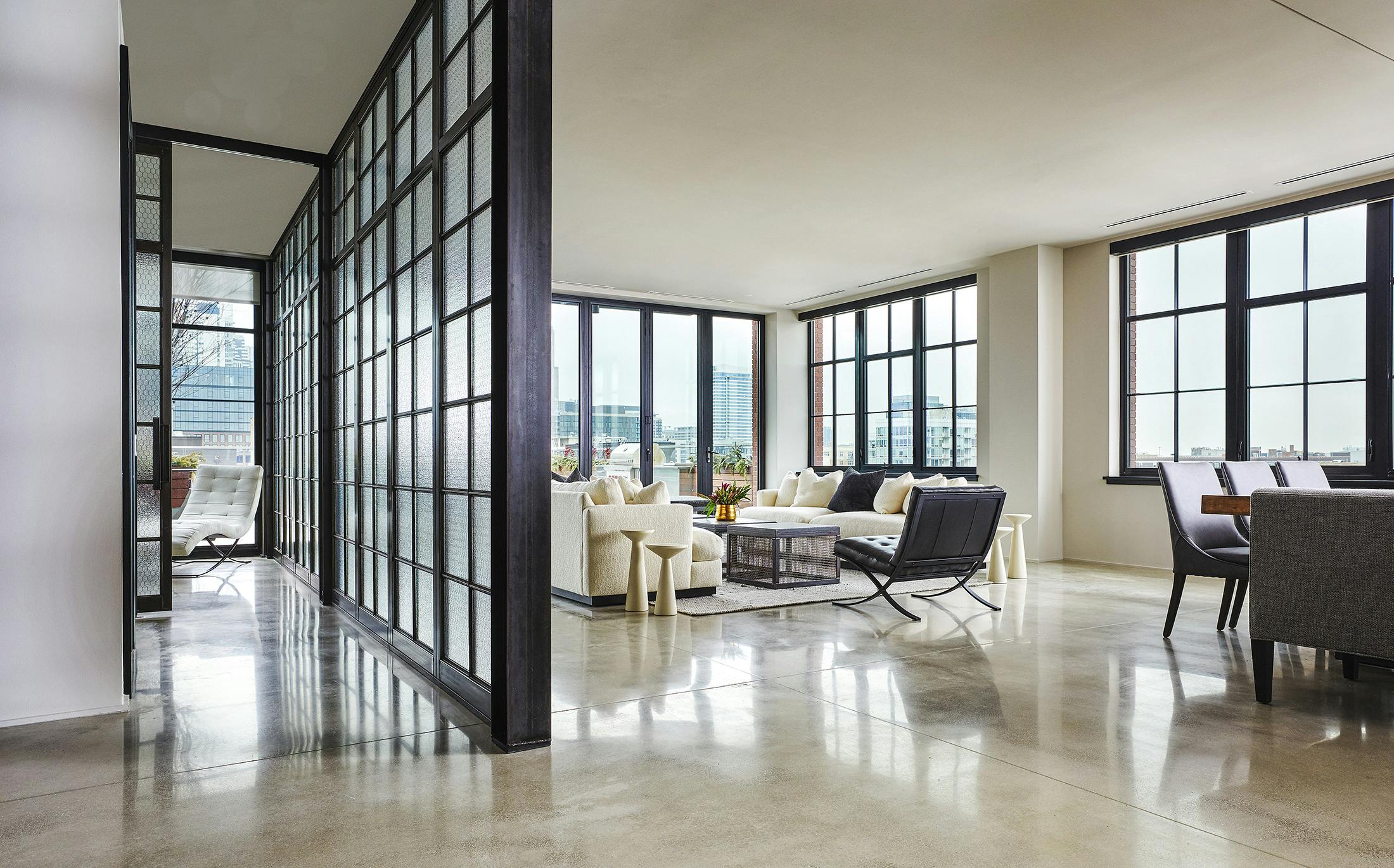 Customizable Glass Wall Systems for Industrial Design Aesthetic
Jet Black aluminum framed systems perfectly blend in with the rest of the façade's fenestration and complement the overall industrial design aesthetic of the building. The city's skyline becomes part of the art, framed by the large glass panels and thin aluminum profiles with a total of 30 folding glass wall systems installed throughout the building. The result is a handsome building with an elevated blend of brick, metal, stone, and glass. The top 4 penthouse residences have the extra benefit of truly expansive outdoor living with large flat rooftop terraces ideal for entertaining and enjoying an al fresco meal all while greatly infusing the interiors with abundant fresh air and natural light.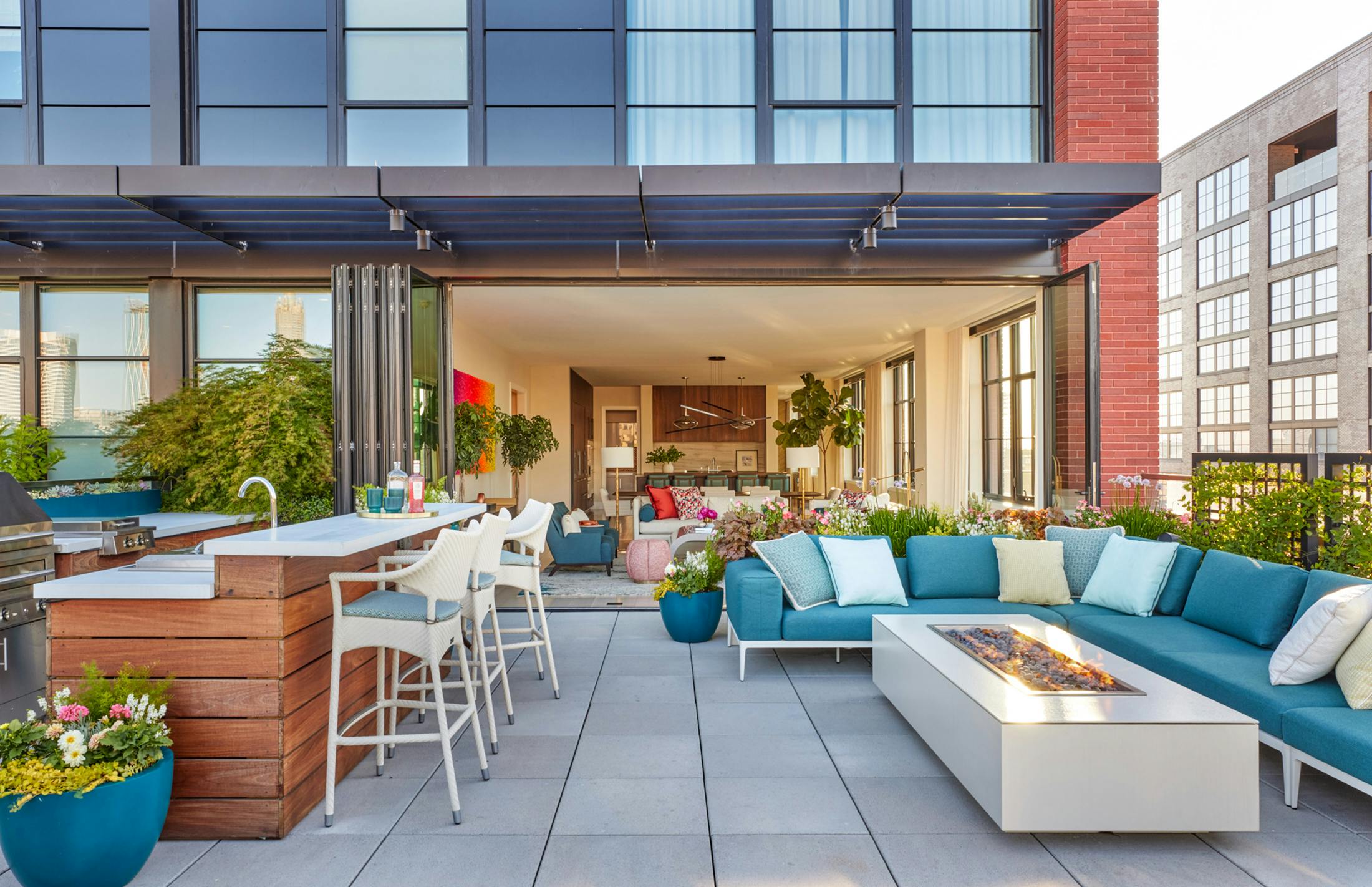 Sold-Out Success for an Amazing ROI
With outdoor living being a rare convenience in most suburban dwellings, the terrace and balcony design throughout the building has made Hayden West Loop a highly sought-after residential building. Coupled with high-performance folding glass wall systems, the available square footage is immediately extended to the outdoor living areas for maximum space optimization, which is a plus in multifamily units. As with all business and development ventures, there is always a need to analyze the ROI. As for this luxury multifamily building by Sulo Development, the answer was returned quickly. The result was one that every developer seeks—a fully sold-out building before construction was even completed.
To enjoy sky-high views and learn more about bifold doors in the multifamily segment, explore our numerous successful multifamily projects.