How to Transform the Heart of Your Home with Folding Glass Walls
By NanaWall Systems, June 28, 2023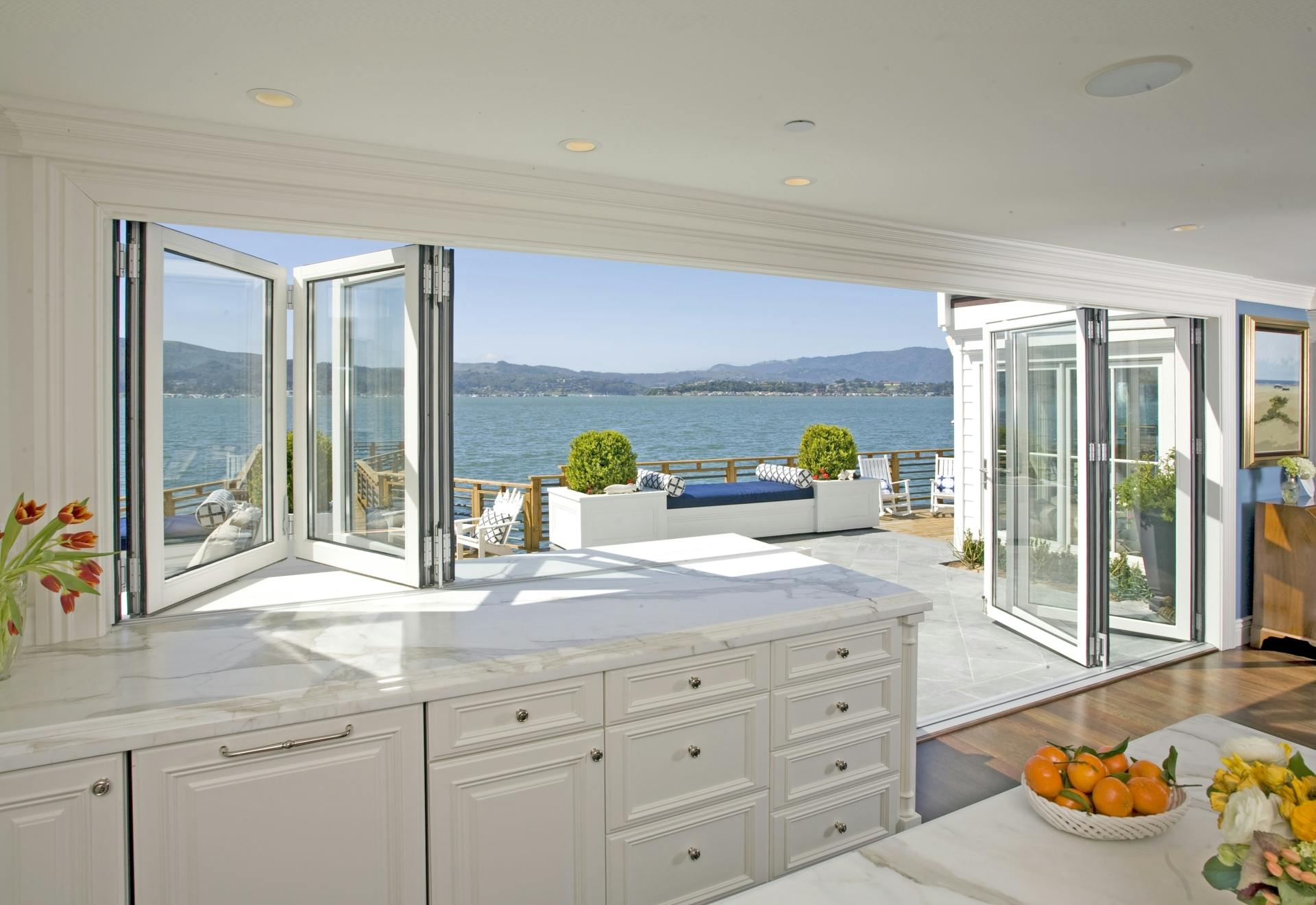 The heart of any home often centers around spaces of gathering and connection, like the kitchen and living room. Whether you're looking to renovate, update, build a new home, or sell one, design choices and functionality are crucial in these spaces. However, one aspect often overlooked in this design journey is the potential transformation folding glass walls, folding windows, and bifold doors can bring.
Create Your Dream Design with Folding Glass Walls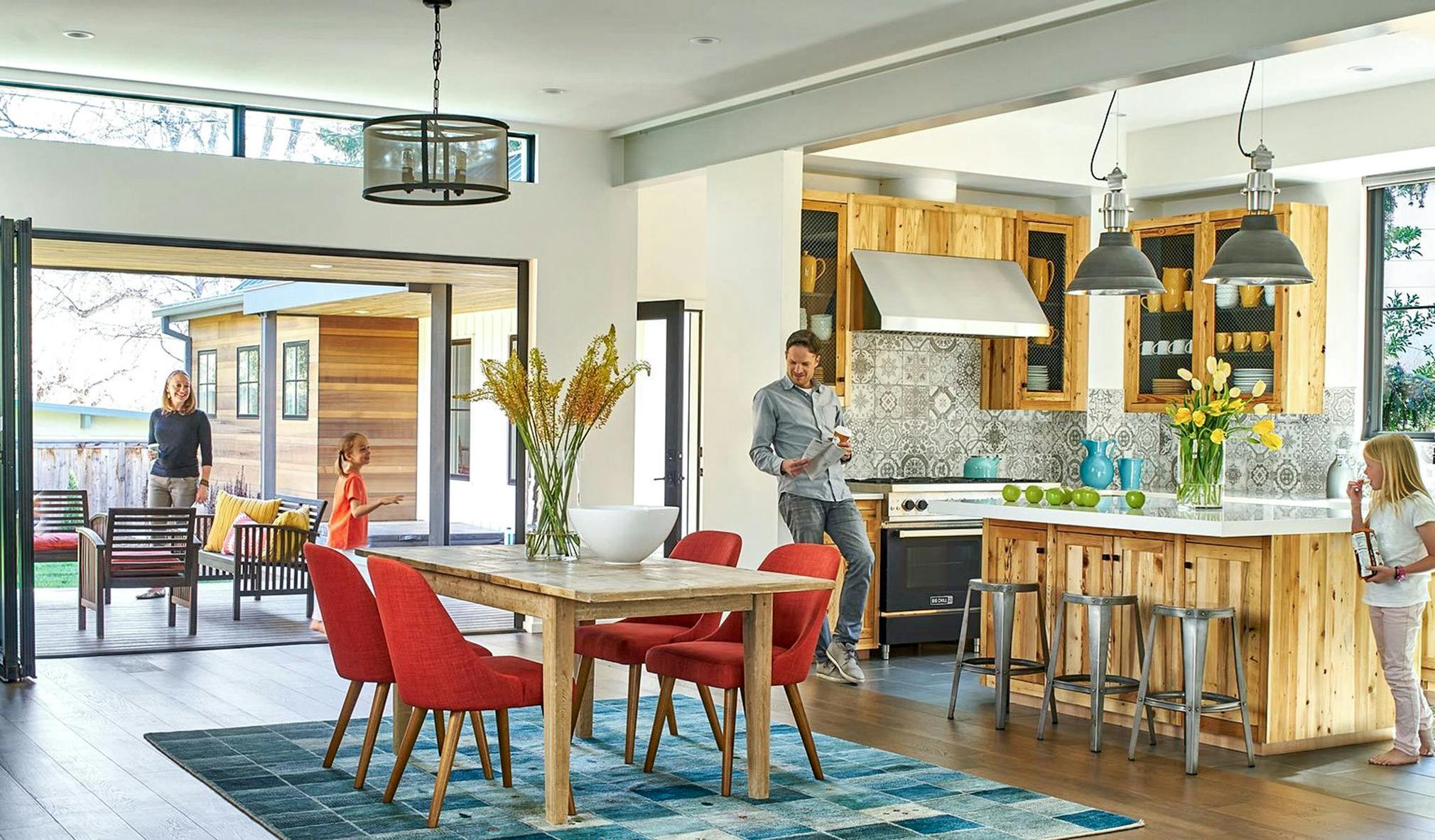 Dramatically Elevate Any Home Design
Imagine taking your kitchen design or living area to an entirely new level with the use of folding glass walls or a combination of window-door systems. Opening glass walls not only extend your space to entertain, but they also introduce an impressive design element that significantly enhances your home's aesthetic and appeal. Venture into the world of customization for your home. Explore limitless possibilities with custom shapes and large spans, an array of finishes and glazes, custom wood and aluminum design options, and enjoy the everyday convenience of easy-access swing doors. Homeowners are raving about the impact of incorporating a folding glass wall into their homes and kitchens. Discover how it adds immense value, transforms your home's space, and revolutionizes just about any gathering experience.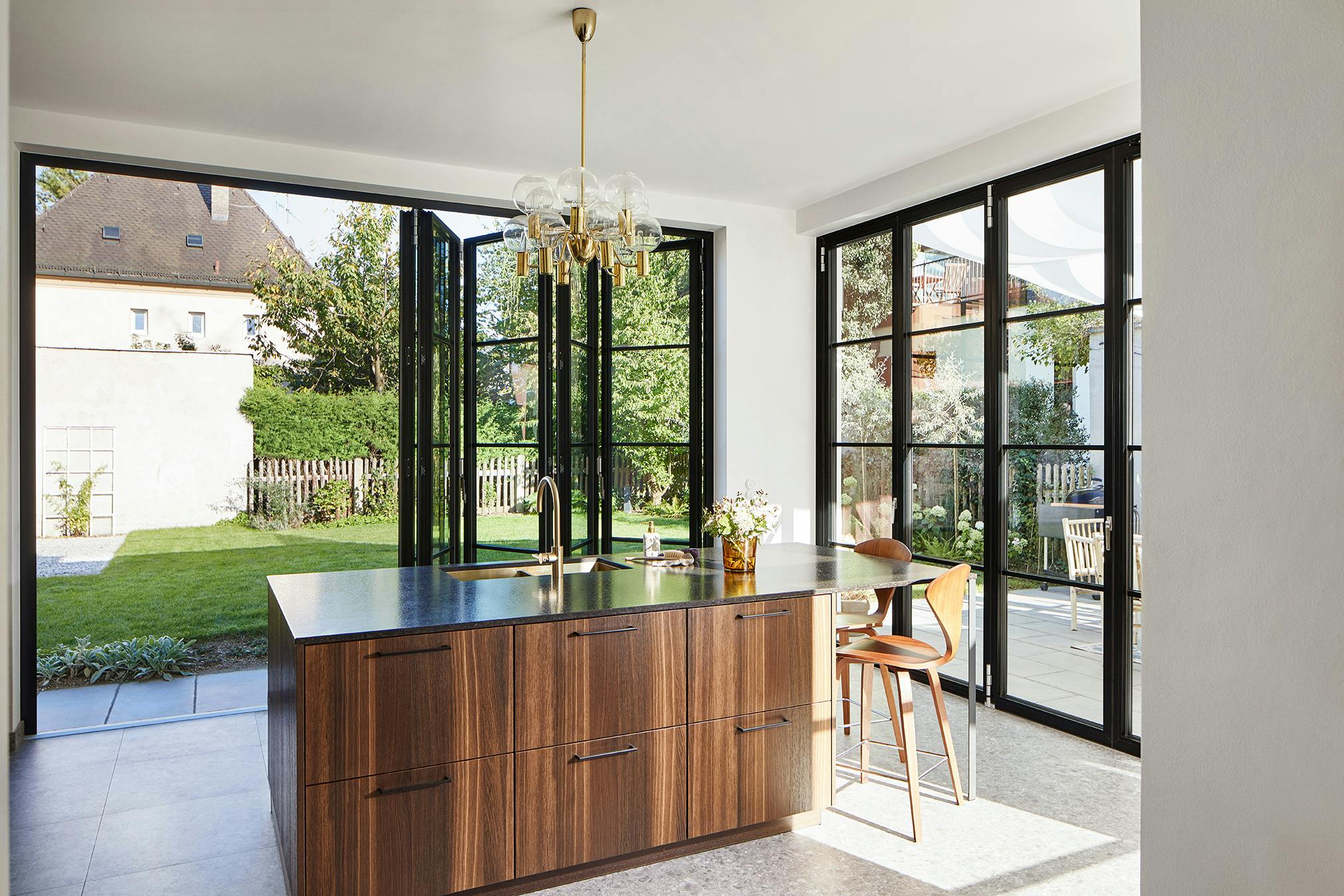 Transform the Heart of Any Home
The kitchen is often referred to as the heart of the home. It's where meals are prepared, family gatherings occur, and the most heartfelt of memories are made. But what if you could extend this beloved space, blending the comforts of your indoor kitchen design with the beauty and space of the outdoors? Enter folding glass walls, an innovative design solution that helps homeowners and architects create fluid, comfortable living areas that can be customized to meet any lifestyle, and entertainment style. These slim framed Generation 4 NW Aluminum 840 folding patio doors pictured in this kitchen design are energy efficient, thermally broken, and can even be used for taller heights. The panels are customized with Jet Black powder coat and simulated divided lites for a true slimline steel effect.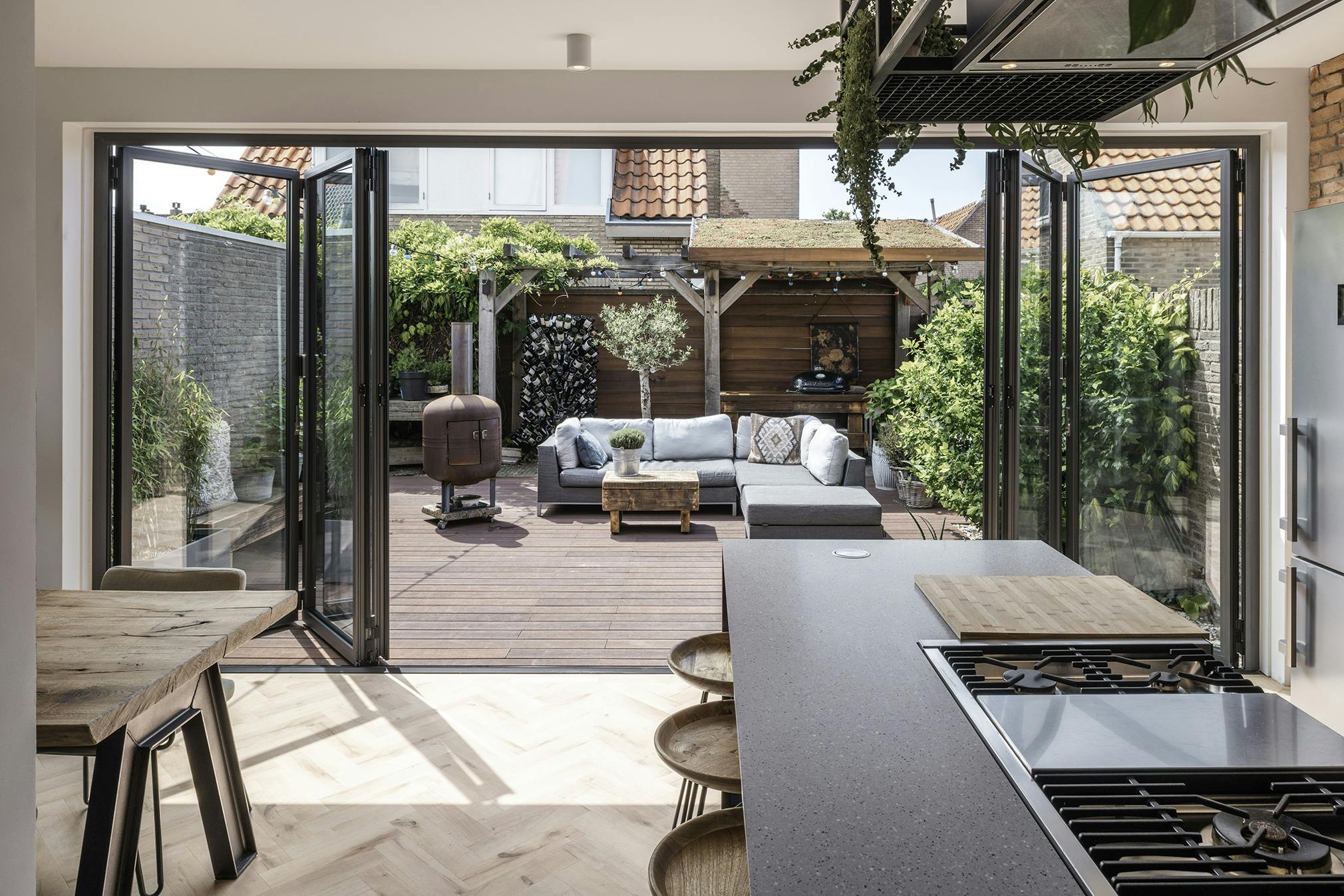 Re-imagining Kitchens by Opening Glass Walls
Homeowners and architects are designing for the comfort of indoor living with a focus on the allure of the outdoors. The unlimited design possibilities afforded by folding glass walls is revolutionizing home design, enabling seamless integration between interior and exterior spaces. The kitchen takes center stage and serves as a grand central station in many homes. It should be a space where functionality meets creativity. A growing trend in kitchen design is the integration of indoor and outdoor living spaces, using opening glass walls. This innovative approach not only extends your entertainment area but also introduces a striking design element that enhances the overall aesthetic and value of any home. Get a fresh perspective on your kitchen design by creating a smooth and visually appealing connection between inside and outside areas.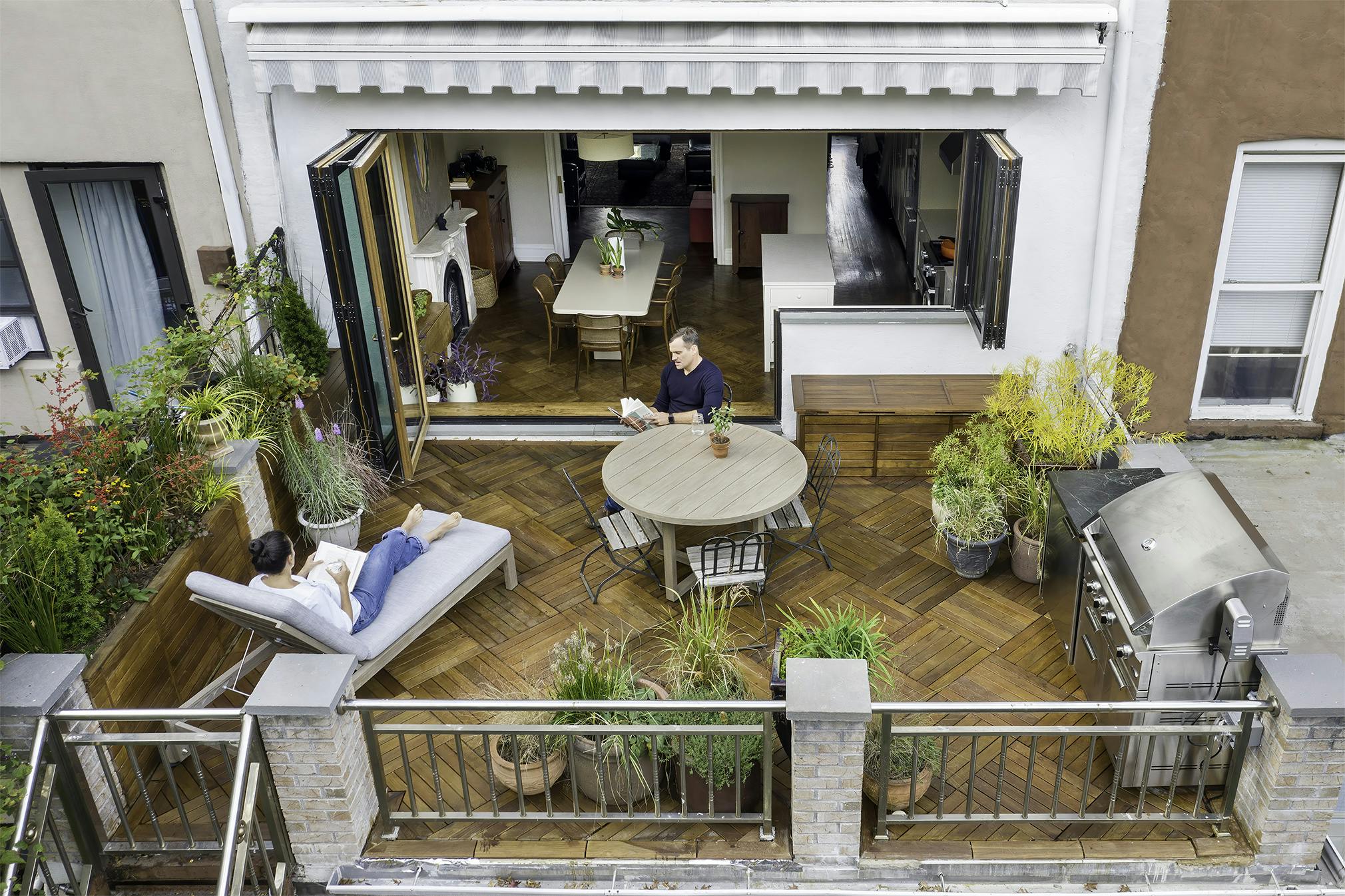 The Magic of Combining Folding Glass Windows & Doors
Blend folding glass doors and window systems to create what feels like magic with a seamless, visually appealing extension of your living and kitchen space. This innovative design transcends typical layouts, welcoming stunning views, natural light, and fresh air into any home. Why choose between folding or sliding glass walls for your indoor-outdoor kitchen design? Combine both for the ultimate flexibility. Replace traditional windows over a kitchen countertop, and floor-to-ceiling folding glass walls, can replace a fixed wall or a typical sliding-glass door. The two meet seamlessly, creating a functional high-style look, enhancing, and expanding living space. The panels are easy to operate and, when opened, systems either stack to the side of the opening or can slide into a hidden pocket where they disappear completely. Whether it's the kitchen or living room, each system is customizable, so you can maintain consistent aesthetics.
The recent Brooklyn remodel featured was transformed with an NW Clad 740 system into a versatile, airy living and dining space. The seamless transition from the kitchen to the outdoors not only enhanced natural light but also expanded valuable floor space, a much-needed commodity in urban living. The custom wood frames and brass hardware flawlessly blended with the home's traditional elements, while the durability of aluminum faces the exterior. With the combination of folding glass windows and doors, elegance, and function can go hand in hand.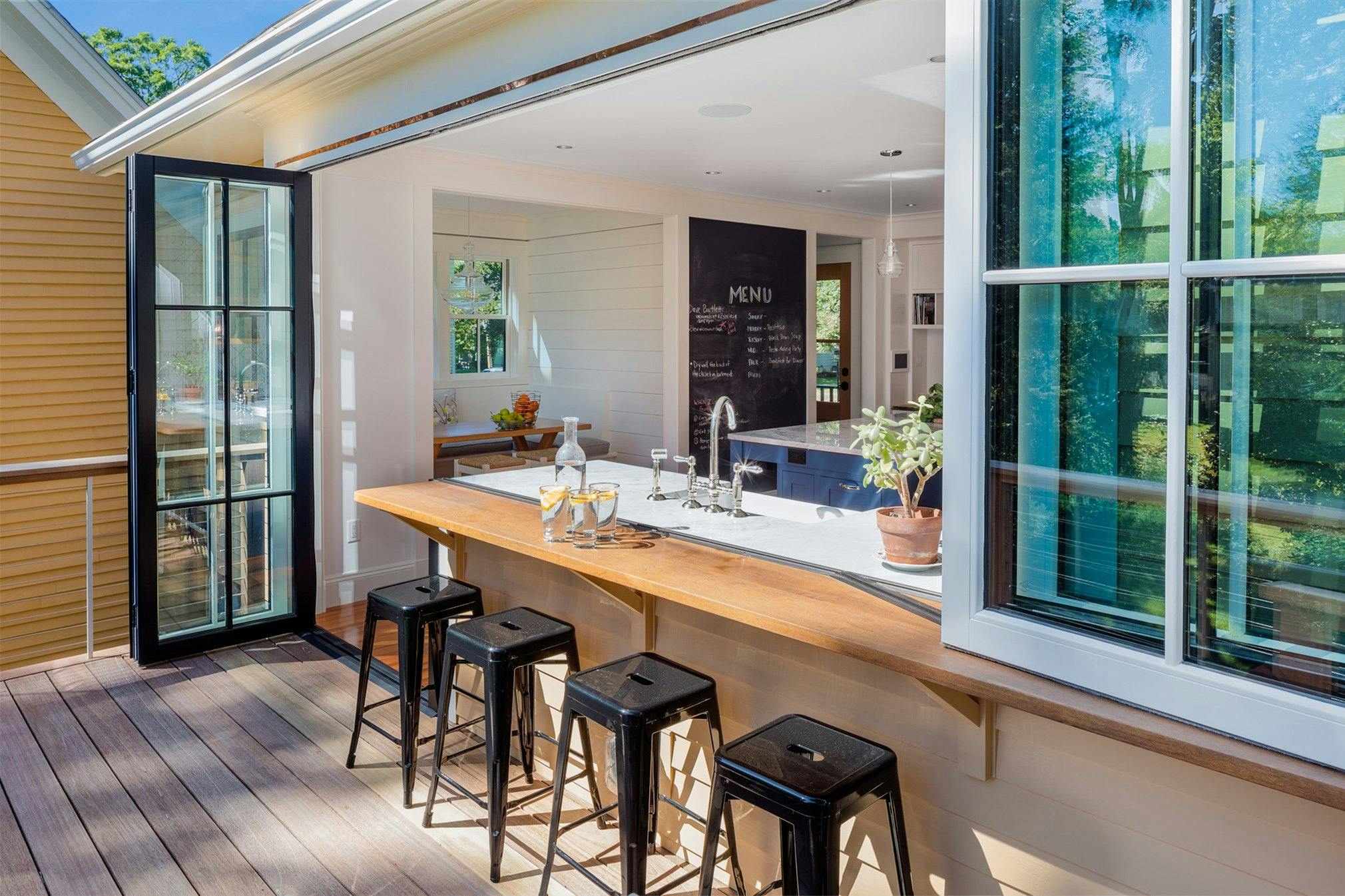 Seamless Indoor-Outdoor Spaces & Bar Experiences
With versatile glass solutions, homeowners can create an indoor-outdoor bar and kitchen design that opens to their deck, allowing them to enjoy easy access, beautiful views, natural daylight, and fresh air. Others have made the bar, kitchen, and backyard one big space, providing ample room for entertaining and ensuring that everyone can easily congregate around the food and enjoy the outdoor space without feeling cramped.
Creating a seamless indoor-outdoor bar experience is made effortless with folding, sliding, and stacking glass wall systems. Combine the functionality of a window and a door into one opening, offering a unique blend of style and convenience. Create an easy transition between indoor and outdoor spaces, perfect for entertaining guests or enjoying a relaxing evening. With the option to open just the window section, the wall section, or both, it provides flexibility to suit all space needs. Seamless opening glass wall designs will enhance your home's aesthetic, value, and functionality.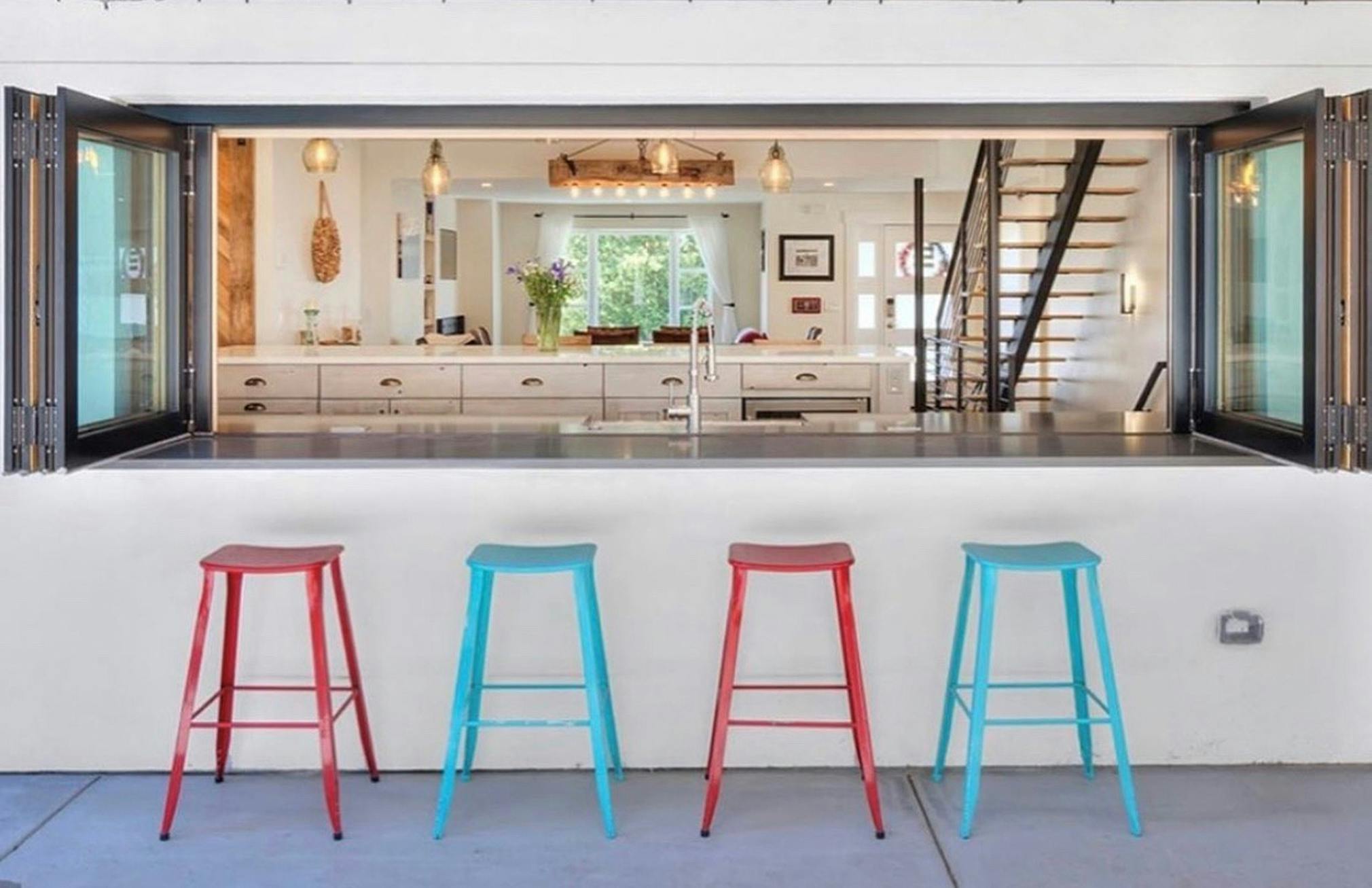 Revitalizing Spaces with Folding Windows
Inject vibrancy into your home with folding windows. If you're looking to upgrade your living space or kitchen without the need for extensive renovation, then folding windows might be the ideal solution. Customizable to the needs of every project, these systems are ideal for optimizing the indoor/outdoor experience, especially as bar areas and for al fresco dining.
Tilt turn window systems provide a dual function of energy efficiency and increased airflow throughout the home. The dual design of this wood and aluminum custom window system adds charm while maintaining robustness. Choose from custom system options like operable tilt turns, folding windows, or single track sliding windows. Combine both a NanaWall sliding folding window and folding door in the same opening without a post, for a seamless transition, unlike any other traditional window and door.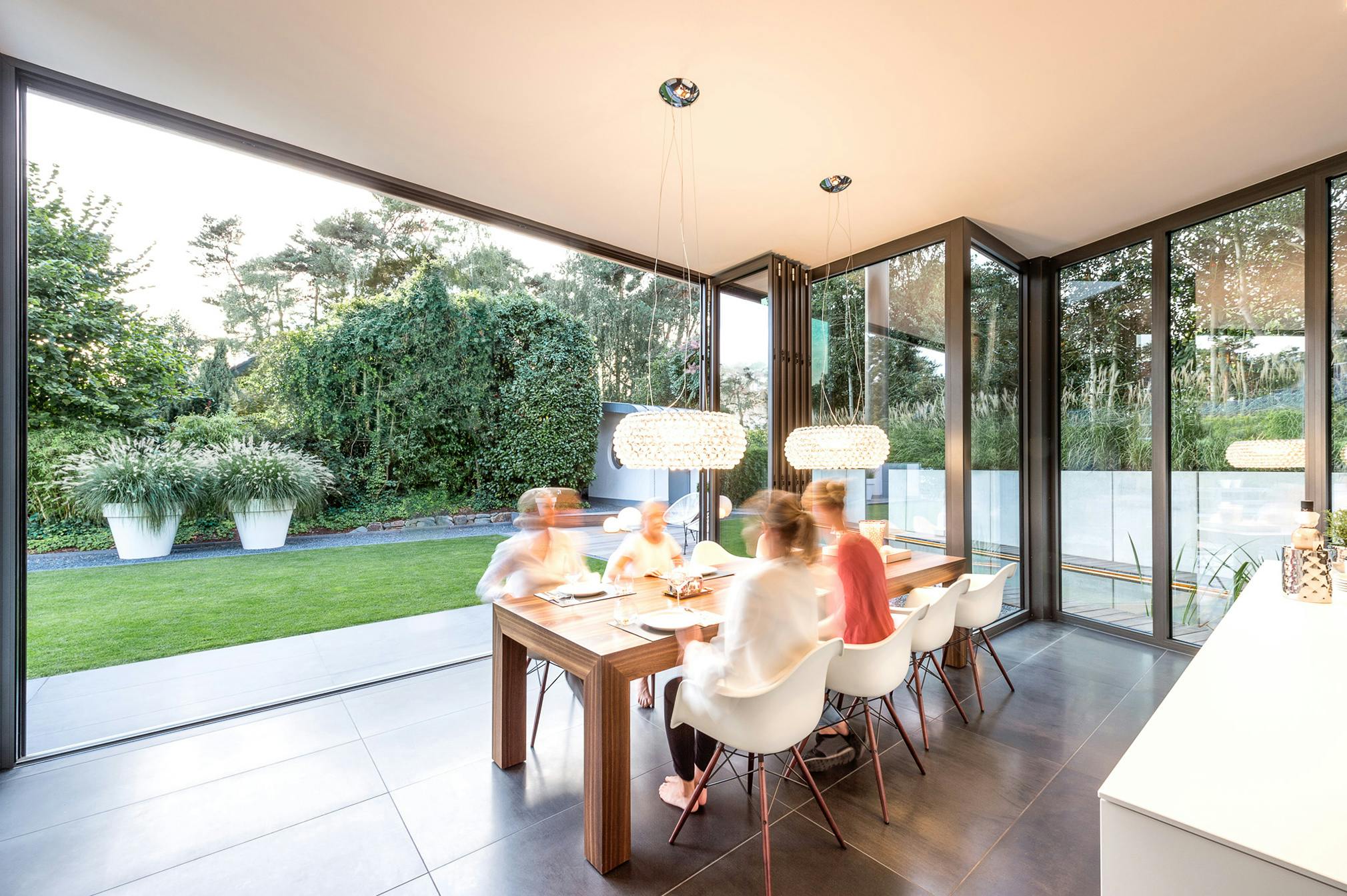 Beyond The Kitchen, Reimagine Gathering Spaces
The versatility of opening glass walls stretches far beyond just kitchen design, enhancing your entire home. These systems can transform the heart of any house, and the way you gather entirely. Seamlessly integrate your living room with an outdoor patio, creating a combined space perfect for entertaining and enjoying a relaxing evening. In dining areas, the ability to open an entire wall can enhance any dining experience, merging the indoors with the outdoors for an all-year alfresco feel.
Performance-rated and tested systems will redefine your home, inviting natural light and fresh air for improved quality of life and an increase in home value. They offer flexibility to design multi-purpose rooms like an office, sunroom, or yoga studio that could transition into a home cinema. Create an open-balcony bedroom design or introduce an element of luxury to smaller spaces. Essentially, opening glass walls and windows can remodel any space in your home, boosting functionality, entertainment value, and overall home worth. Homeowners get excited to merge indoor spaces' coziness with the outdoors' charm.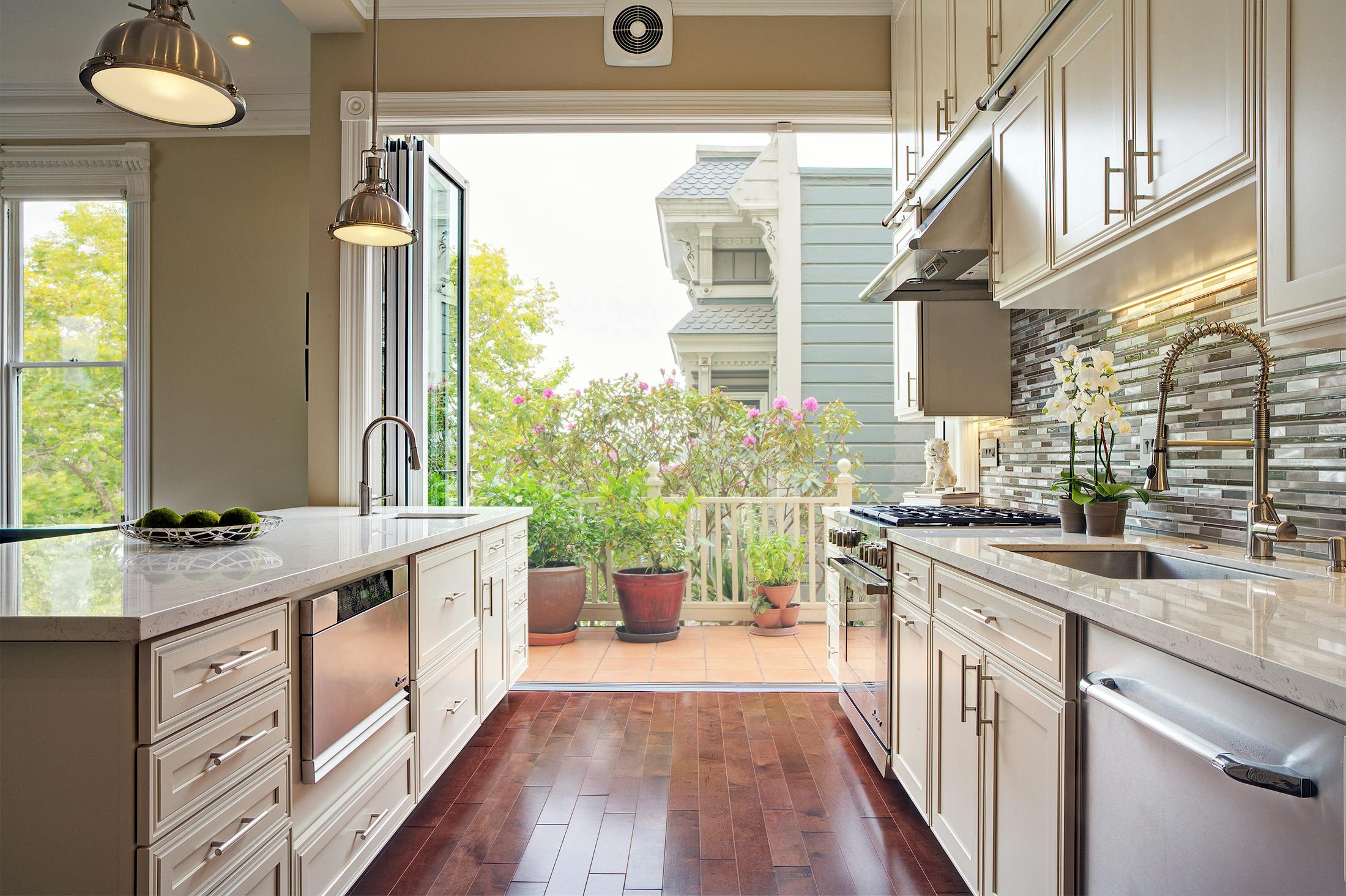 Flexible Home Renovations with Folding Systems
All-season folding systems are not just for grand kitchens or new builds. They are a versatile solution for renovations of all scales, transforming both small kitchens and larger spaces into vibrant, multifunctional areas. Consider a compact kitchen; folding glass doors and windows can open up the space, enhancing natural light and ventilation, and boosting the overall ambiance, irrespective of budget or size constraints. For an older building, they can modernize a traditional dining room or a dated office, adding functionality. With design solutions like these, renovations are not restricted by room layout or size. Folding glass walls like this SL60 System used can adapt to any setting, offering a new dimension to your indoor and outdoor experience, and making every renovation worthwhile, regardless of the project's scale.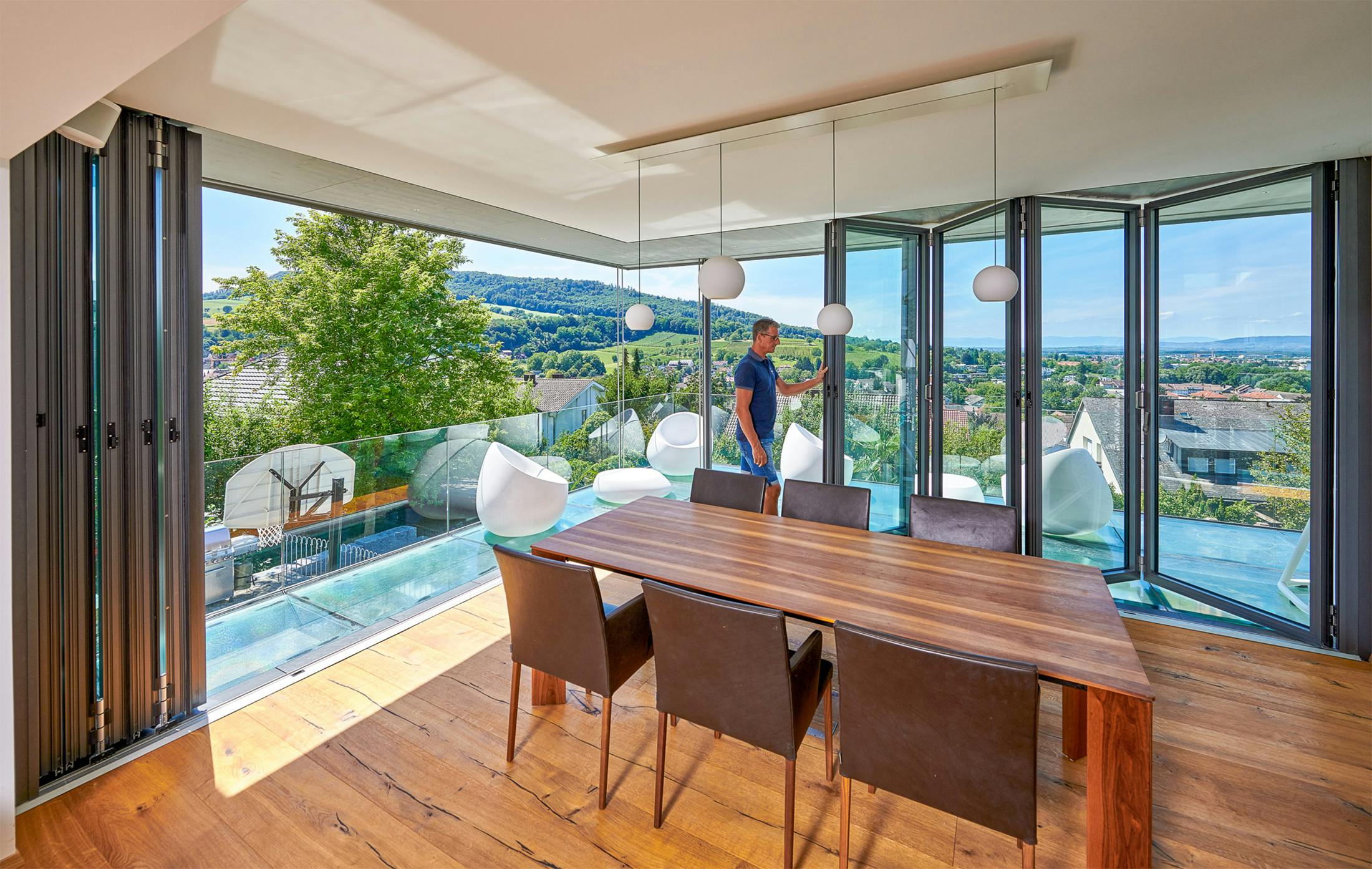 A Key Element in New Home Builds
Perfect for new home builds and construction, folding glass walls, windows, and door systems provide architects and homeowners the unique opportunity to create spaces with seamless indoor-outdoor integration from the start. These all-season performance systems enable the design of living rooms that can extend into outdoor patios, or bedrooms that offer stunning views and direct balcony access. In open-concept floor plans, all-season systems facilitate adaptable spaces that can transition from intimate rooms to unified areas and create privacy, fitting any aesthetic from minimalist to rustic. Incorporating folding glass systems into new constructions can redefine spatial design, blending aesthetics and functionality. New homes can embody the essence of indoor-outdoor living right from inception.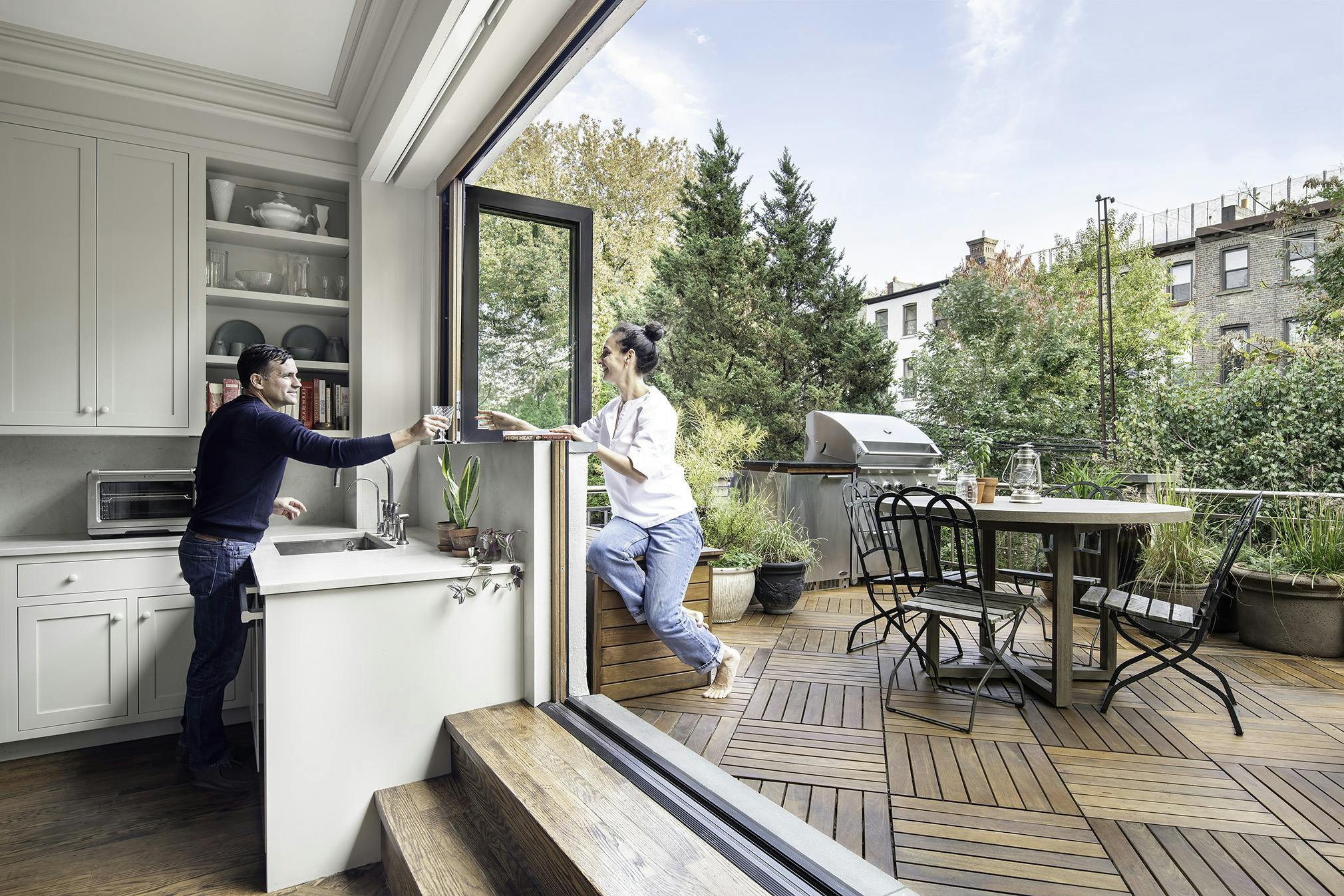 Final Thoughts: Elevate Your Kitchen & Create Flexible Space
Performance folding glass walls and window systems effortlessly combine functionality with aesthetics, enabling you to personalize your home and kitchen's connectivity to outdoor spaces. Built to weather diverse climates and with a spectrum of design options, including wood and aluminum, these systems can match any home style, enhancing your overall experience.
Folding glass walls allow for limitless opportunities to create stunning, versatile indoor-outdoor living spaces. Whether your preference leans towards a contemporary, rustic, or modern design, seamlessly integrate your spaces with opening glass systems to establish a unique and functional environment.
Discover how other home designs leverage folding, sliding, and stacking glass walls in our extensive photo inspiration gallery!