Inspired Learning Environments with Interior Glass Wall Systems
By NanaWall Systems, November 1, 2023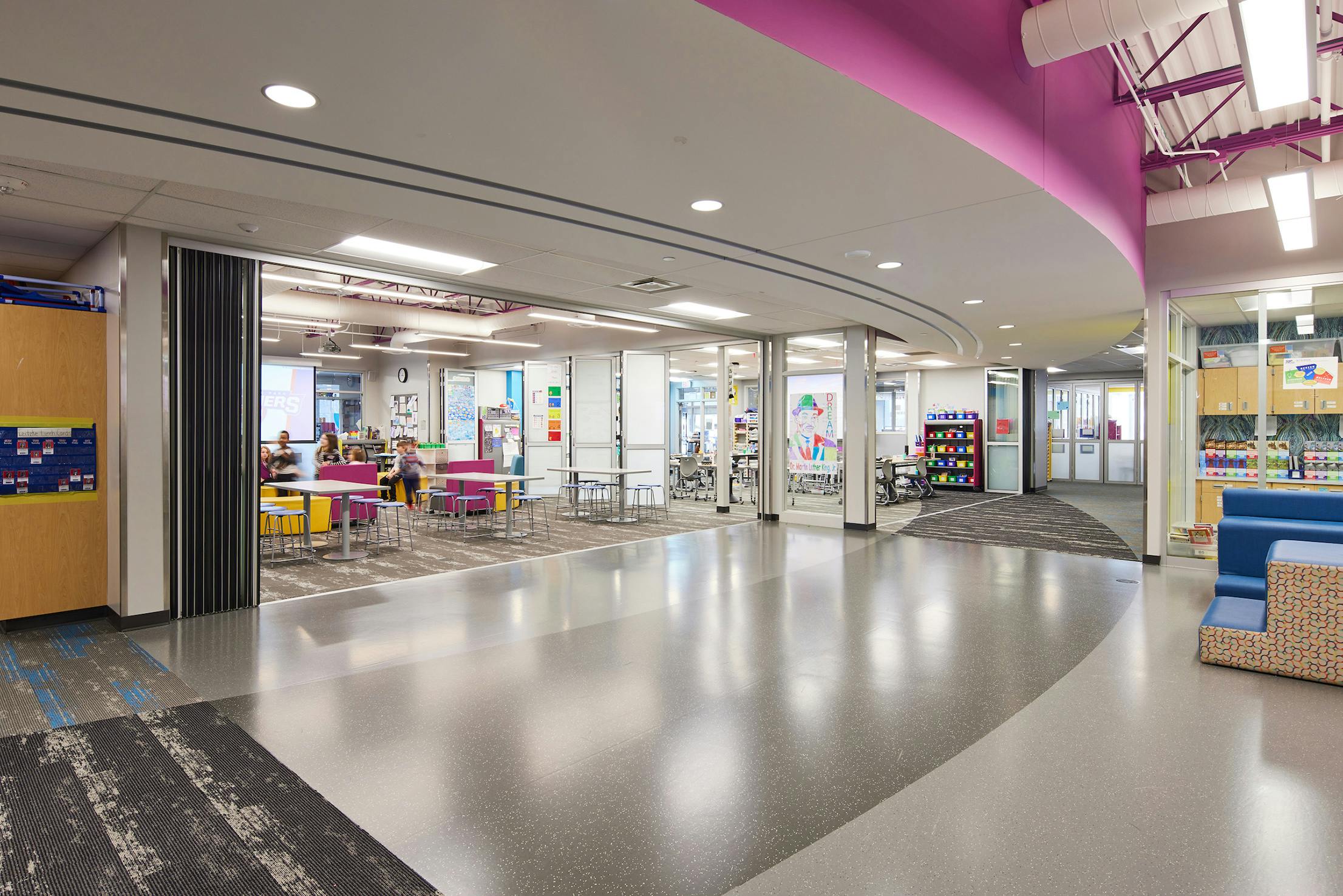 In a rapidly changing world, educational facilities are facing the challenge of moving past their traditional designs and evolving to meet the dynamic needs of 21st Century learning. At the forefront of this evolution are educational pioneers including Centerview Elementary School, using NanaWall interior glass wall systems and innovative architectural solutions to foster enriched learning environments.
After opening its doors, Centerview represents a monumental example of educational architecture and advancement, deeply integrated with top-performing solutions like NanaWall systems. Nestled in the heart of Blaine, Minnesota, this avant-garde institution has embarked on a journey to redefine the traditional educational environment, creating a space that not only fosters learning but also adapts and evolves to meet the multifaceted needs of learners and educators alike. The school goes beyond the traditional "chalk and talk" model to provide dynamic, flexible spaces that empower teachers and learners alike. Performance interior glass wall systems help redefine the very fabric of learning environments.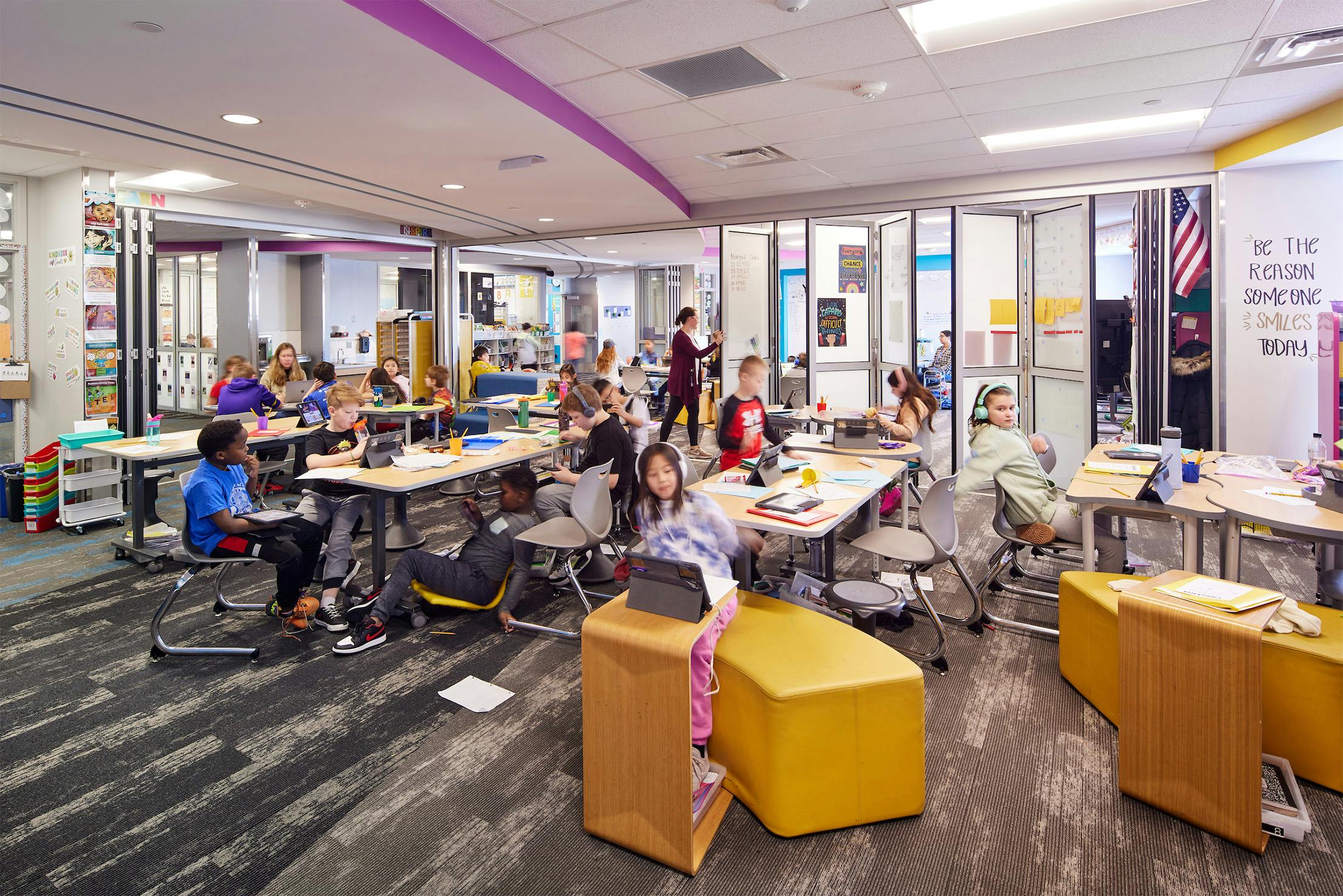 A Design Forward for Education with Interior Glass Wall Systems
Centerview Elementary is the epitome of a visionary project that doesn't just aim to build a structure but to foster a thriving community of learners. The acclaimed Wold Architects & Engineers incorporated performance interior glass wall systems to craft spaces that adapt in real-time, creating a holistic educational experience. Gone are the days of a one-size-fits-all traditional classroom model. This Spring Lake Park Schools District campus now transcends the conventional classroom and corridor designs of the past, giving rise to dynamic, fluid, and interactive learning spaces. Interior glass wall systems help breathe life into an ecosystem where learners and educators coexist and thrive, fostering a community rich in interaction and learning.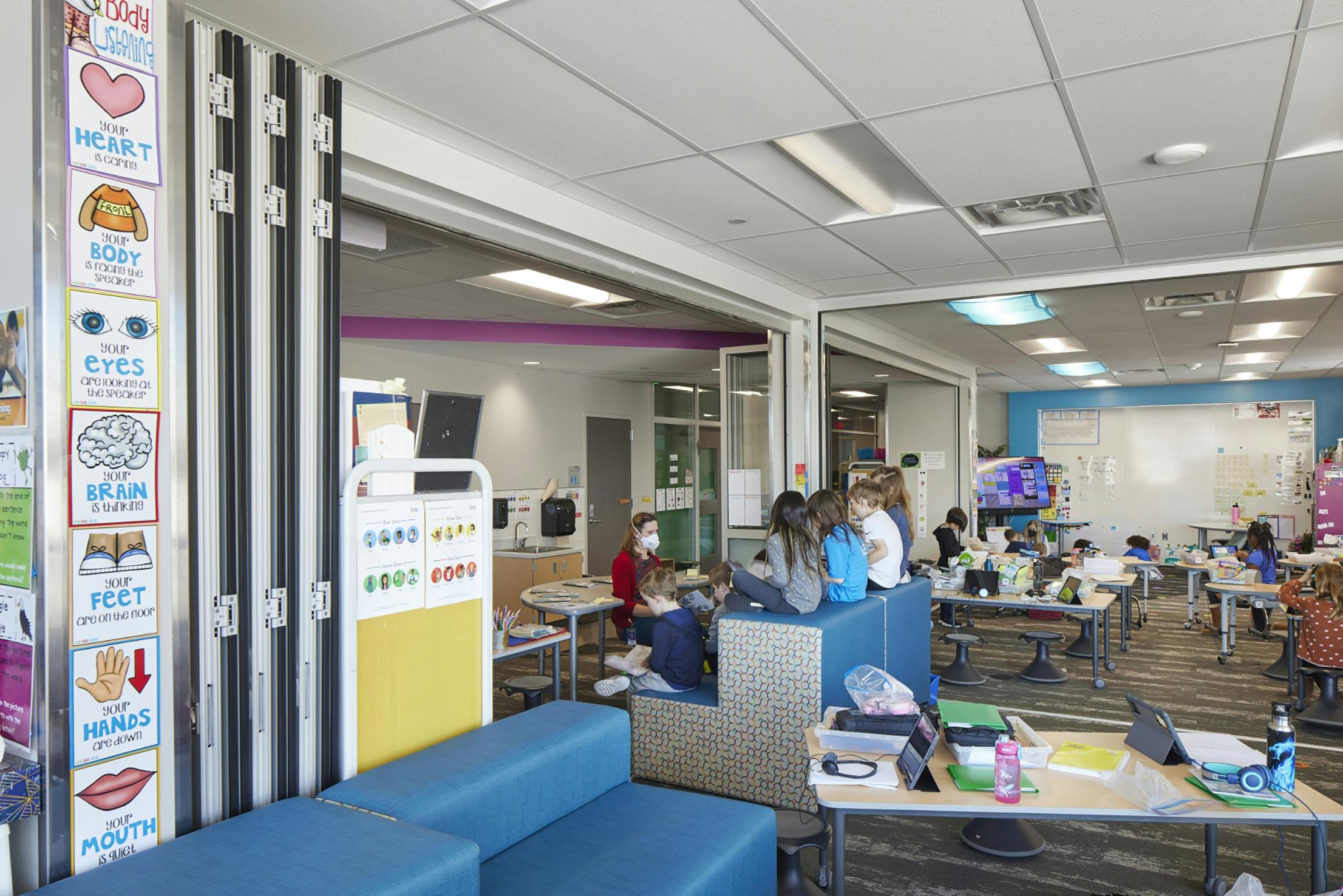 From Flexibility to Functionality: The NanaWall Advantage
Traditional educational models have often been critiqued for their rigid and one-dimensional approach. Centerview, with the incorporation of moveable glass walls, disrupts this norm. The walls, characterized by their limitless versatility, can be reconfigured in real time, ensuring that learning spaces morph and adapt to various activities and learning styles. Teachers and learners now enjoy spaces that can be effortlessly adjusted to suit various learning styles and activities, offering an education as diverse and dynamic as the world around us.
Interior glass wall systems are meticulously designed to offer unparalleled flexibility. They can be configured for both #inswing and #outswing, allowing real-time adaptation of classroom layouts. These reconfigurations cater to different learning styles, group sizes, and activities. Whether it is a one-on-one session or a large group discussion, flexible space planning ensures that teachers and learners can effortlessly shift gears. Each system is commercially rated and engineered for superior sound control to ensure optimal learning environments that are versatile and secure.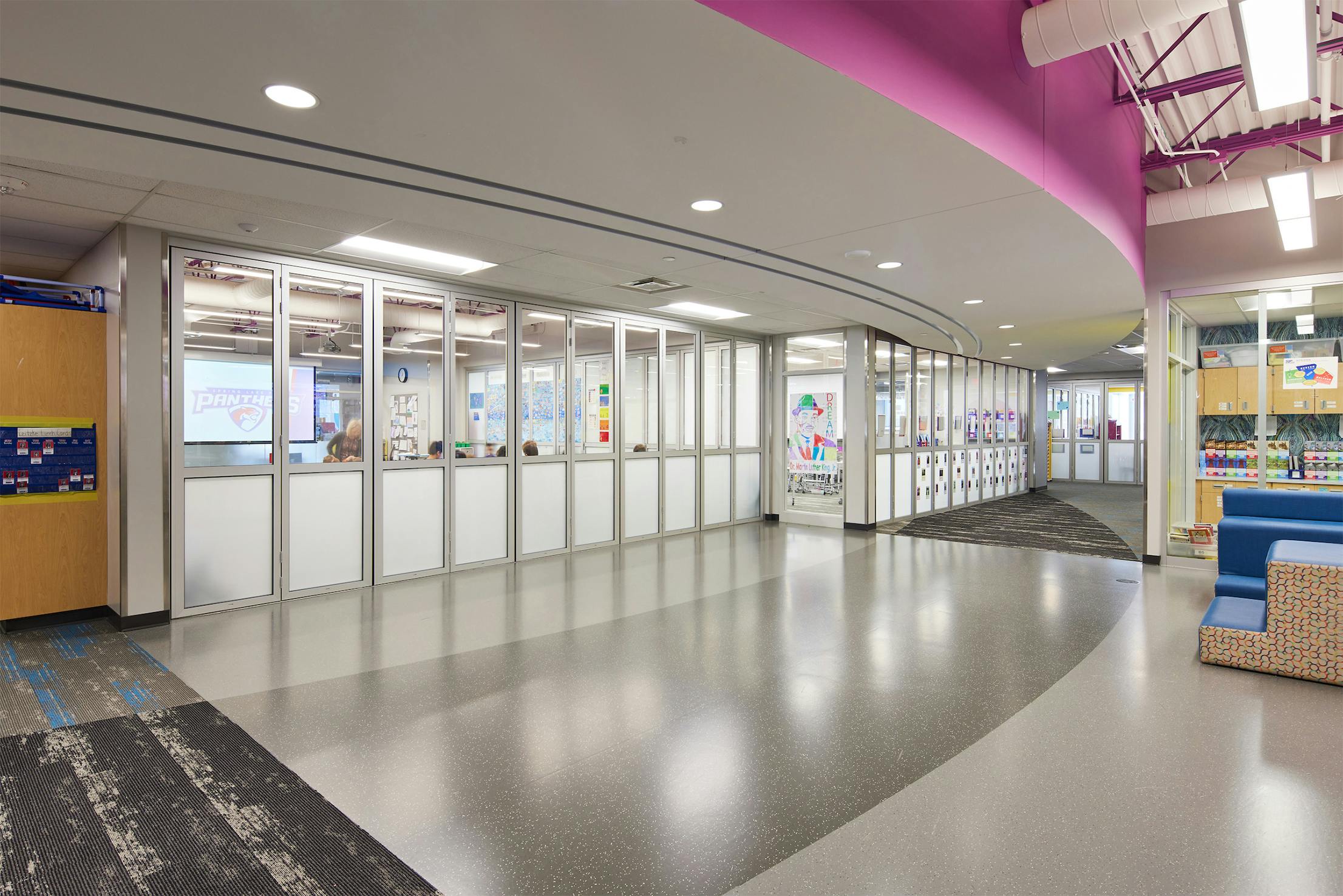 Acoustic Excellence: Elevating Learning & Distraction-Free Spaces
Acoustic quality holds a paramount place in the heart of Centerview's architectural design. The SL45 NanaWall folding system produces an acoustic separation with a unit STC 34, ensuring an environment conducive to cognitive absorption. It is not merely about constructing walls, it's about creating an atmosphere that amplifies learning experiences. Poor sound quality can impede understanding and cause distraction. These interior glass wall systems provide an atmosphere that enhances concentration and learning. Here, learning is seen, heard, felt, and experienced.
The distraction-free design of Centerview's interior glass wall systems was specified with a translucent matte 'Arctic Snow' interlayer to shield learners from potential distractions but also double as teaching whiteboards. Beyond this multifunctionality, the 1/4" laminated glass speaks volumes about durability and unwavering commitment to safety. These systems also help to allow daylight to infiltrate the learning environments dramatically. Natural light has been shown to improve learners' concentration and overall well-being. Classrooms do not just end at the four walls; they easily extend into larger spaces and hallways.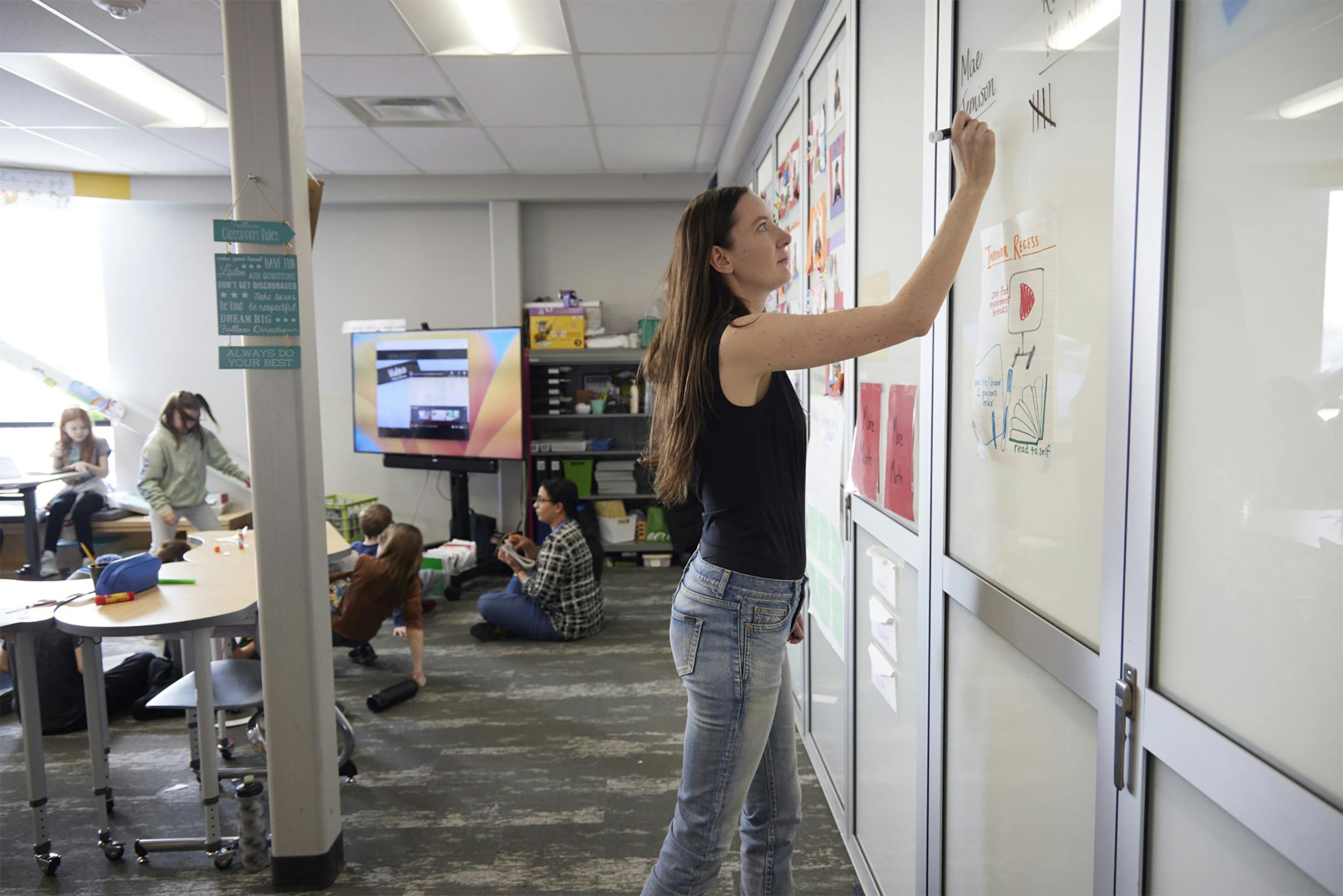 Fostering Community and Collaboration: Pillars of Centerview Elementary
The foundation of Centerview Elementary School was a collaborative effort of the greater community converging to design the future of learning. This school embodies the collective aspirations of parents, educators, learners, and community members, all dedicated to sculpting a space that champions innovation and collaboration.
Centerview's core design principles resonate through its halls:
1) Encourage collaboration and innovation in learning and teaching
2) Be flexible to meet various needs and learning styles
3) Create an inviting learning atmosphere for all
4) Foster community partnerships.
Bridging this vision into a tangible reality are the 45 units of SL45 interior glass wall systems, enveloping 940 lineal feet of moveable glass panels. These systems, emblematic of architectural advancement, are more than simple design marvels. They empower educators with unparalleled ease of operation, enabling them to swiftly reshape learning spaces to meet the dynamic needs of their learners. Not only does the school stand out as an educational institution but as a pulsating community hub.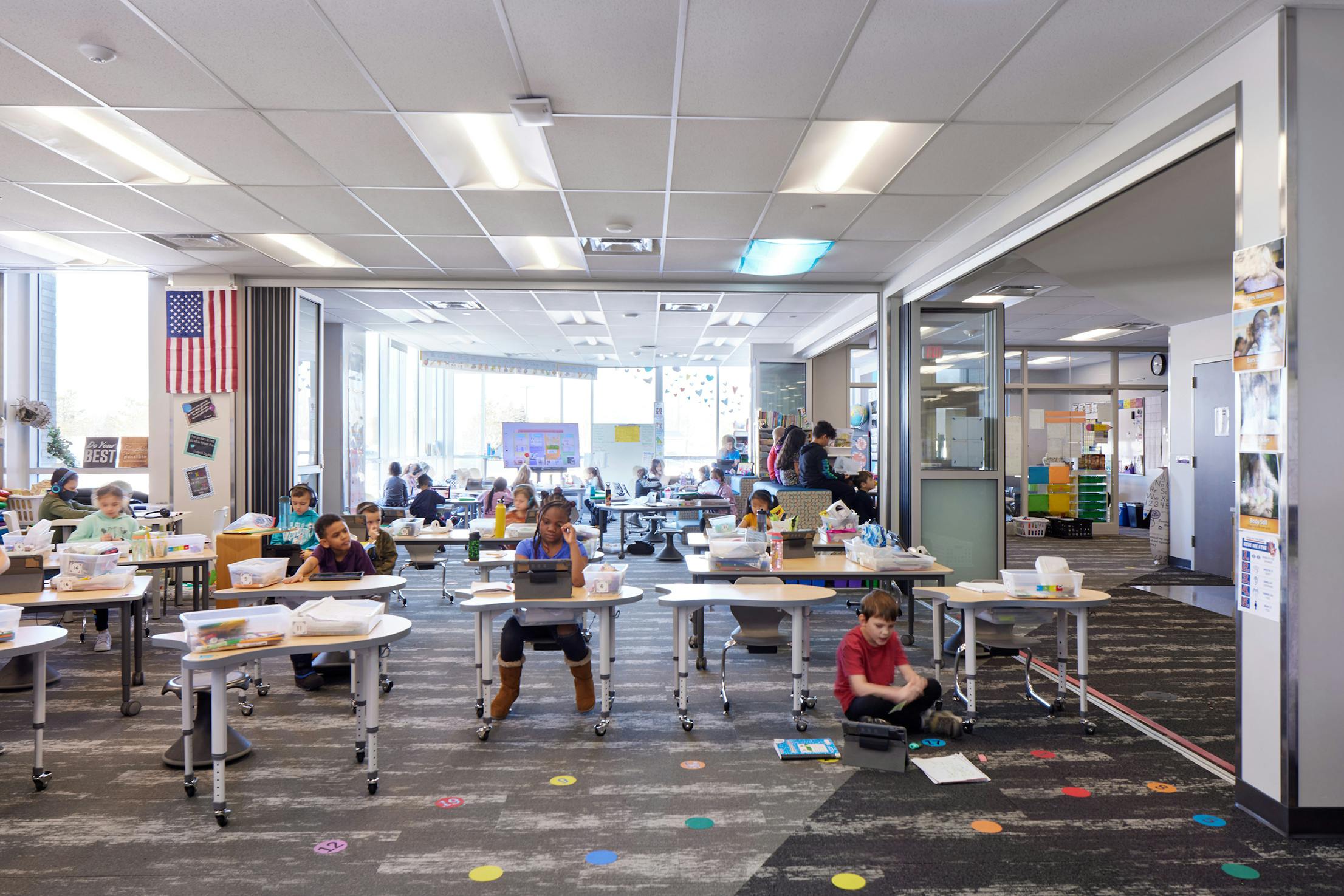 Design Secure and Safe Learning Spaces
Safety and functionality stand at the forefront of educational architecture. The interior glass wall systems at Centerview are an unwavering commitment to safety. Safety, however, does not compromise ease. With commercially rated glass walls that are effortlessly operable, transitions in and out of classrooms become a smooth experience. These systems are engineered for resilience, are fully customizable, and can accommodate panic hardware, higher kick plates, ADA-compliant sills, and swing door configurations. NanaWall systems are extremely easy to operate for teachers and administrators alike. At Centerview, the architects specified systems configured as paired panels to allow for easy reconfiguration and even partial openings.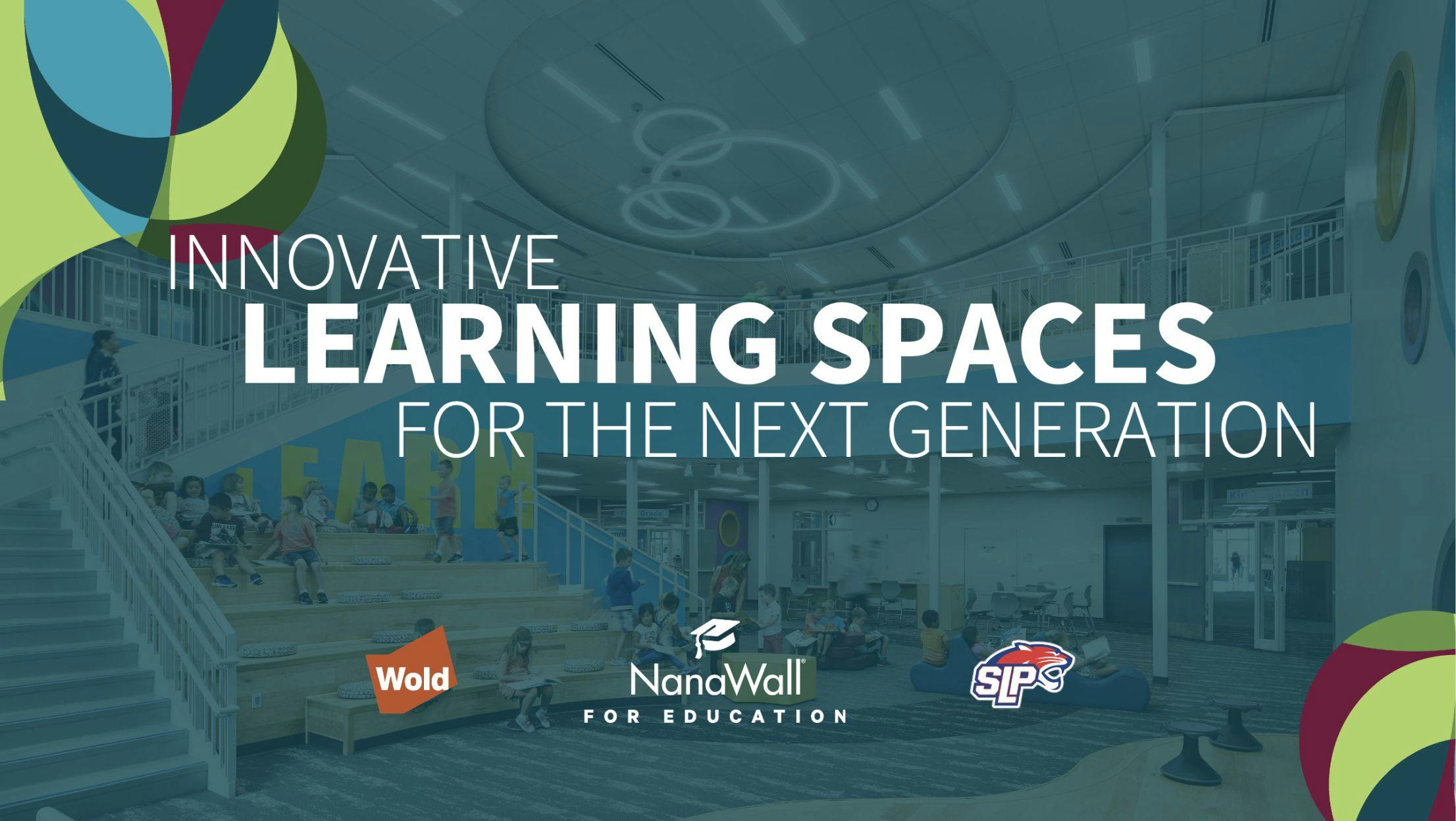 Click this image to watch an extremely informative webinar from the Team that brought Centerview to fruition!
Final Thoughts
Centerview Elementary sets the bar high for future-oriented learning environments, employing NanaWall Systems' cutting-edge interior glass wall systems to make education more flexible, interactive, and enlightening. As architects, educators, and communities look to redefine learning spaces, Centerview stands as a model that merges the best of technology, design, and educational practice. Within its walls, one doesn't merely see classrooms but also expansive realms of limitless potential. "Ultimately, personalized learning is how we use space, time, people, and fiscal resources flexibly to meet the needs of learners," said Jeff Ronnberg District Superintendent, Spring Lake Park Schools.
Learn more about how Wold Architects, Spring Lake Park Schools, and Centerview Elementary leveraged NanaWall interior glass wall systems to achieve Innovative and Personalized Learning Environments in this webinar replay!