Centerview Elementary School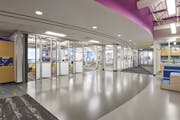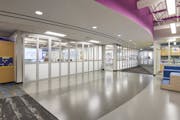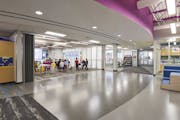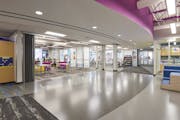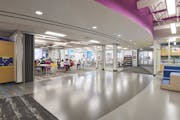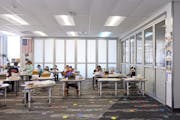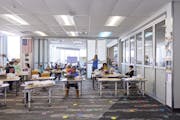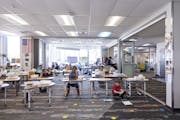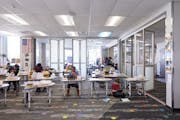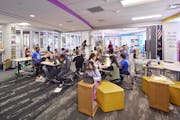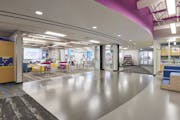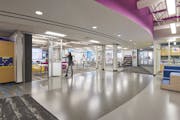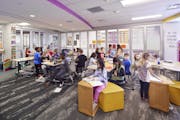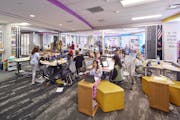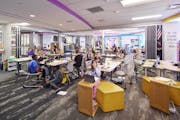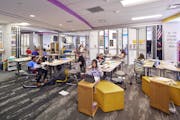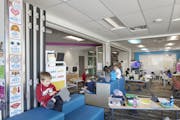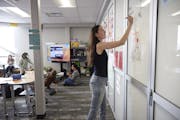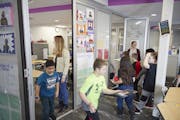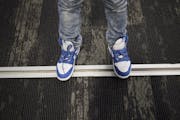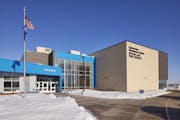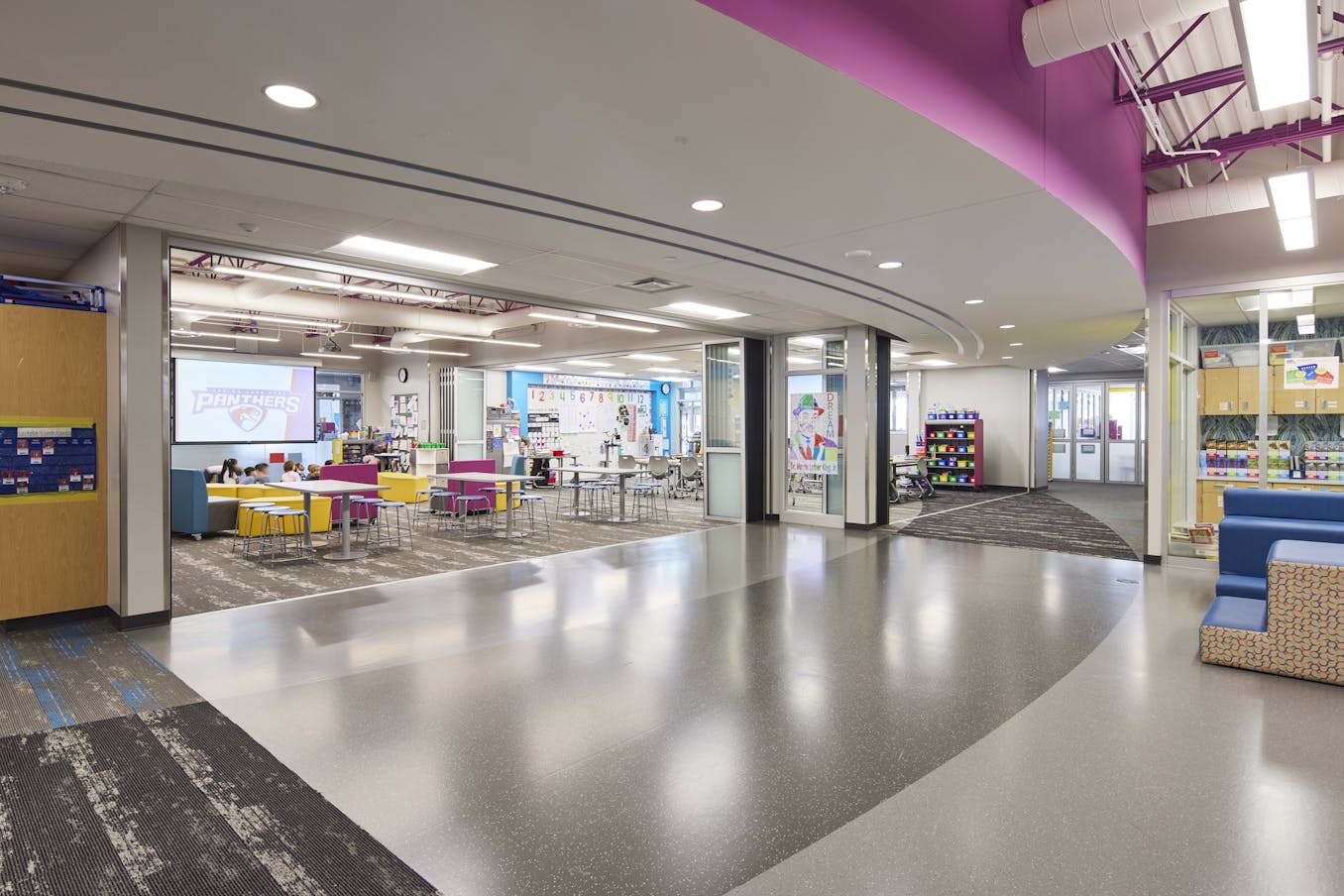 Innovative Learning Spaces for the Next Generation—Centerview Elementary
Centerview Elementary School is a unique learning environment. The school was designed and built specifically to enable personalized learning, to free students and teachers from a 19th Century educational model and equip students for the 21st Century. It is composed of flexible spaces that can be reconfigured fluidly on the fly, with NanaWall moveable glass walls that allow students to be grouped and regrouped to meet their individual needs and preferences. Teachers move between different learning experiences and teach to the different learning styles.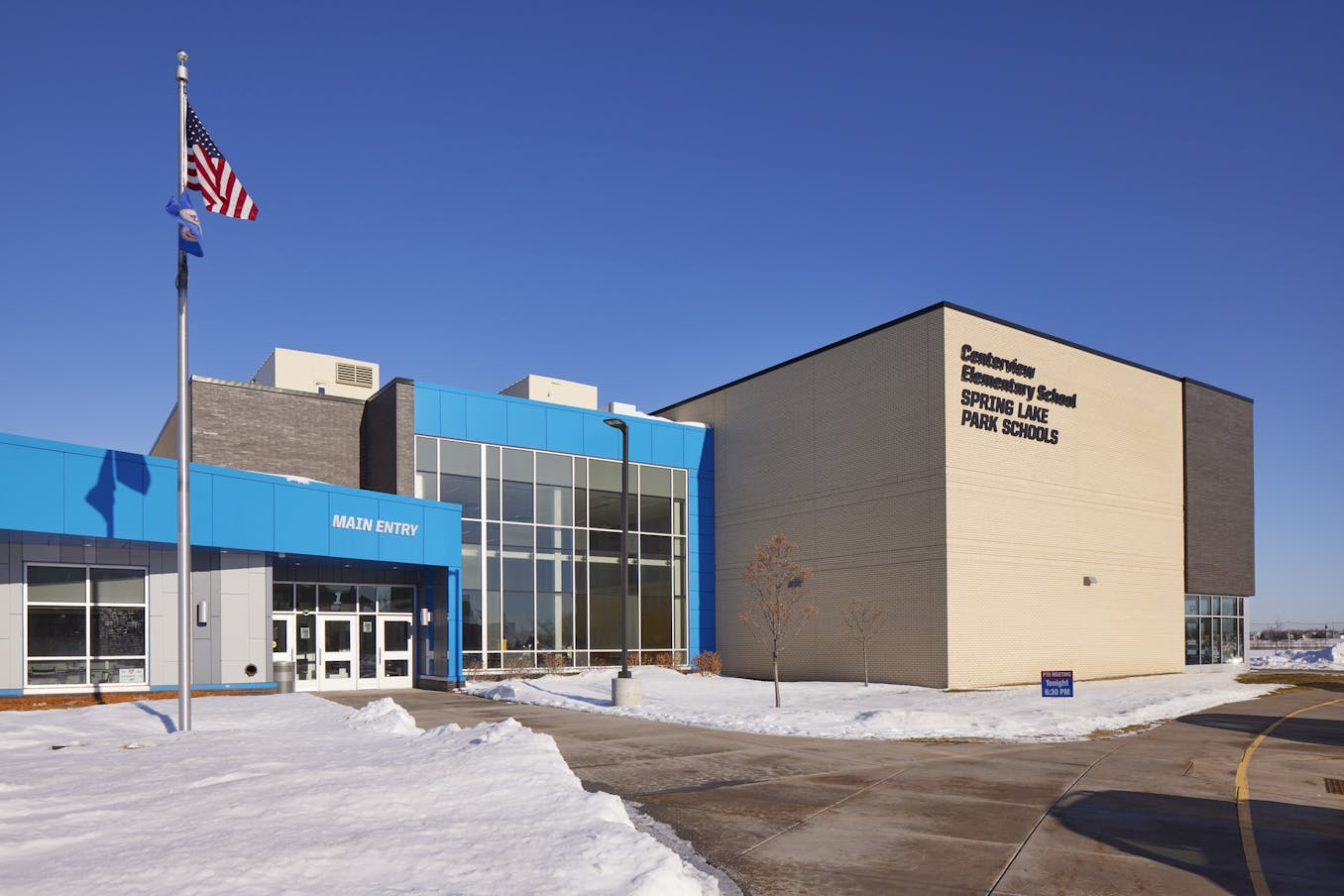 Building for Future Learners
Centerview is the newest school in the Spring Lake Park Schools district, which serves students from Blaine, Fridley and Spring Lake Park, MN just north of Minneapolis. The two-story building opened in 2018 and is intended for 700 grade K-4 students. The school was designed by Wold Architects, one of the leading US firms in education design, in close collaboration with teachers, administrators, and community members of the district. Design was the last step of a multi-year process of reimagining the educational needs and possibilities of the future, defining educational principles to describe that potential, and then developing design principles for the learning environments that would enable it.
The Goal of Innovative and Personalized Learning
At the heart of the process was a long-term commitment by Spring Lake Park Schools to Innovative and Personalized Learning. District superintendent Jeff Ronneberg, who took a leading role in the district's planning, describes personalized learning as a commitment "to know each child by name, strength, interest, and need."
"When kids walk into this building, they are enthused, they are excited. The space is modern, it is awesome, and it allows for a whole new idea of how they do school." Mike Callahan Principal, Centerview Elementary School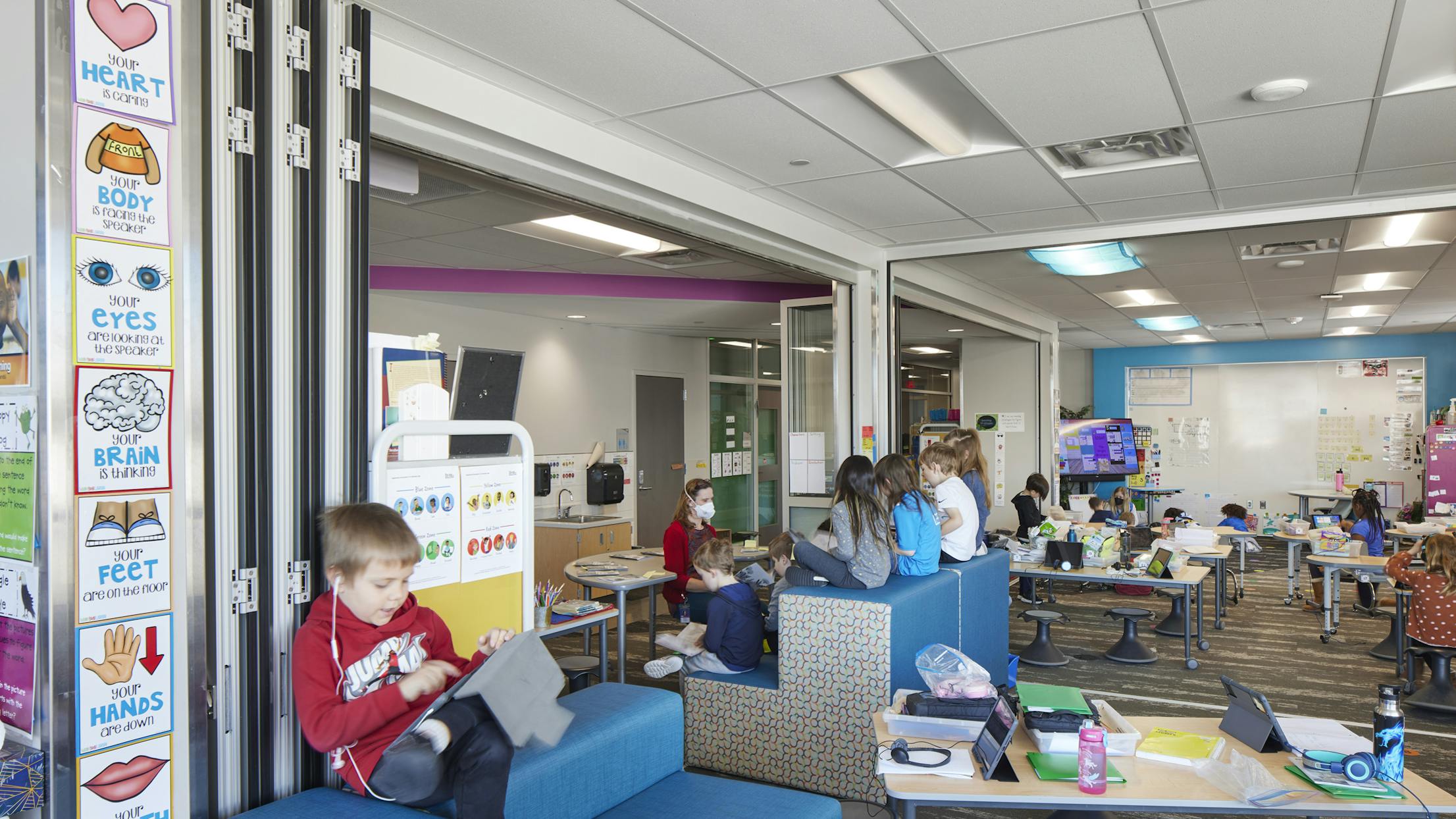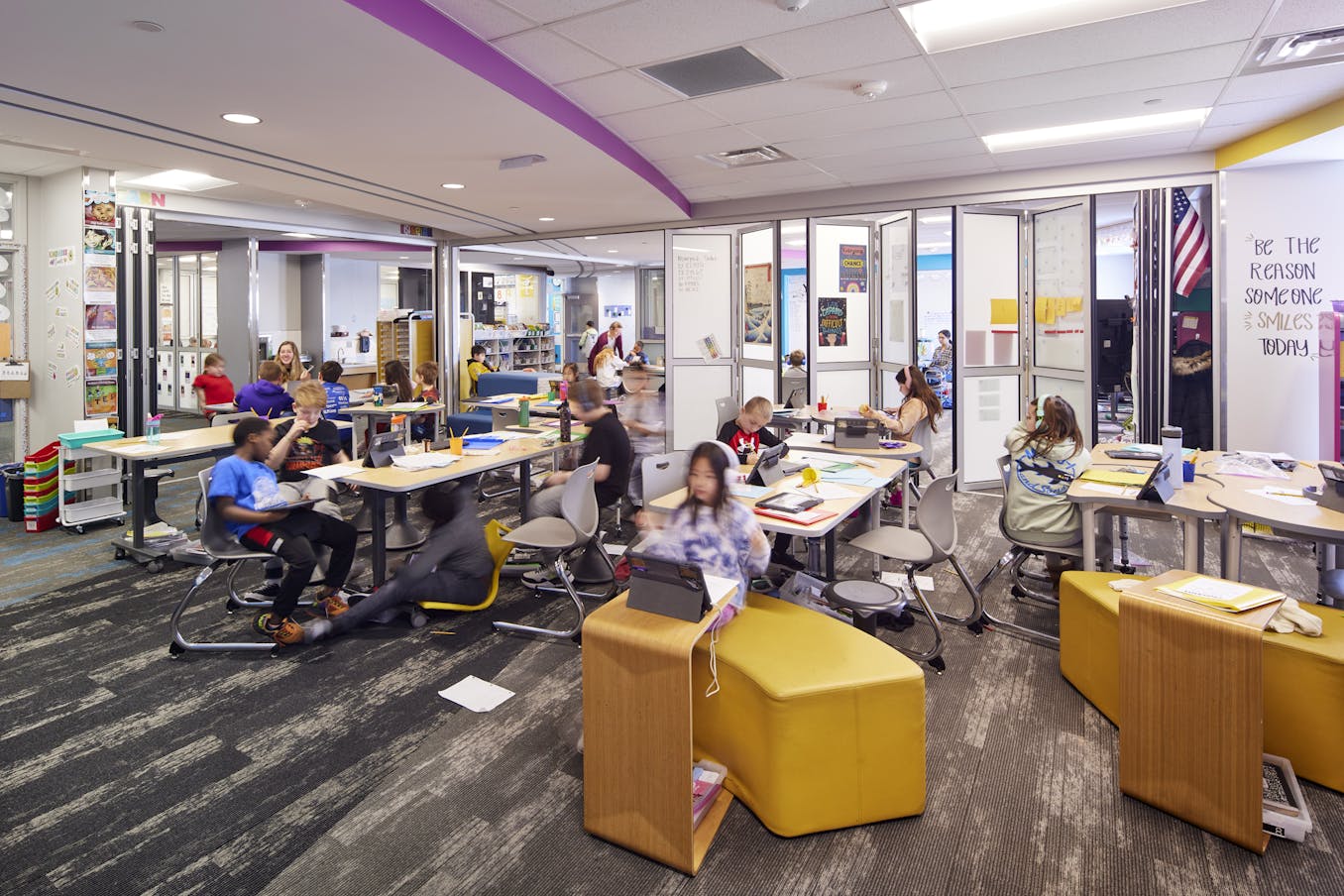 A Community Collaboration
District Executive Director of Learning and Innovation Hope Rahn emphasizes that the process was not about designing a school, but rather, about envisioning a mode of education committed to personalized learning and the ways it could evolve. Figuring out the physical facility that would realize this novel approach was the end-stage of that process.
Starting in 2014, a series of task forces that included parents, community members, business leaders, students, and teachers began working to imagine learning in the future. They developed four high-level design principles and commitments to: 1) encourage collaboration and innovation in learning and teaching, 2) be flexible to meet various needs and learning styles, 3) create an inviting learning atmosphere for all, and 4) foster community partnerships.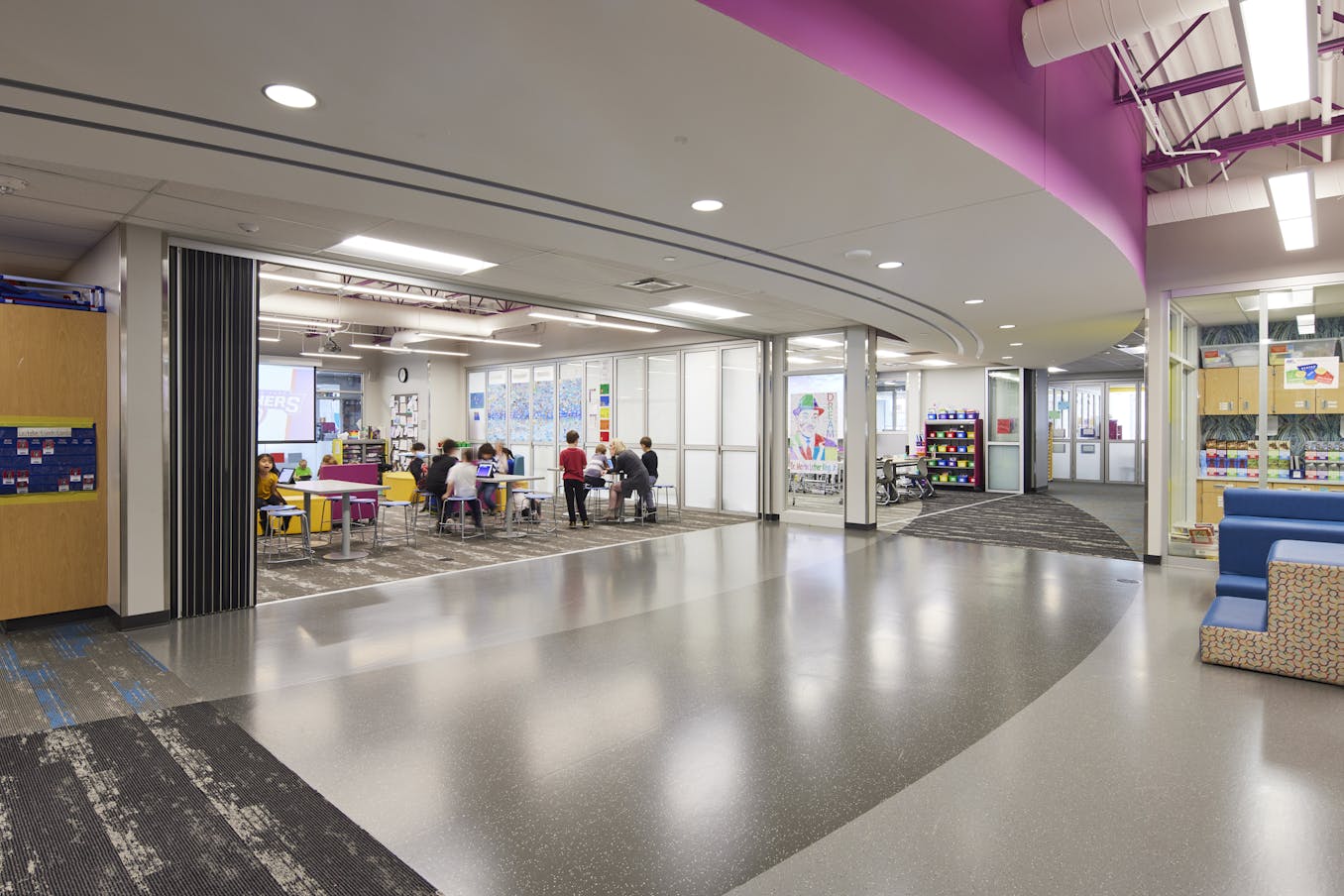 Learning on Display Objective
They wanted to enable teachers to work in teams, and students to be able to learn in both large and small groups as well as individual study. Learning on Display became the significant objective. They recognized the need for environments suited to diverse types of learning experiences – traditional classroom lecture, team project work, learning through movement, and more.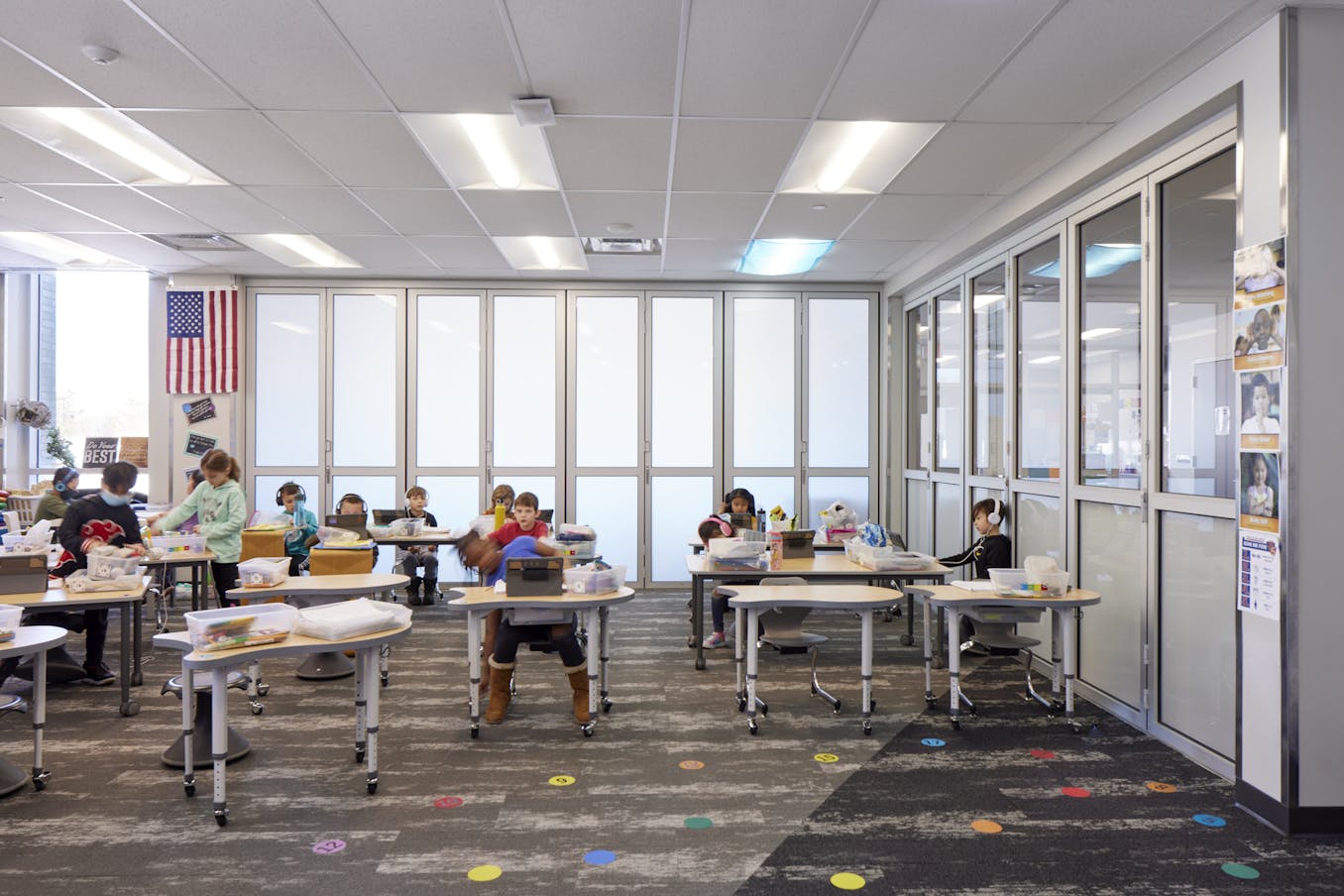 Flexibility and Collaboration on Display
With these objectives in mind, a group of teachers and administrators began to collaborate with the architects at Wold. "There were a few parameters and high-level goals that were handed to the group," recalls Paul Aplikowski, AIA, LEED AP, Partner, Wold, "but really it was a collaborative process. When we started, nobody would have foreseen what we ended up with." Wold project architect Artemis Ettsen describes the resulting building as "a tool for the teachers and the way that they want to teach."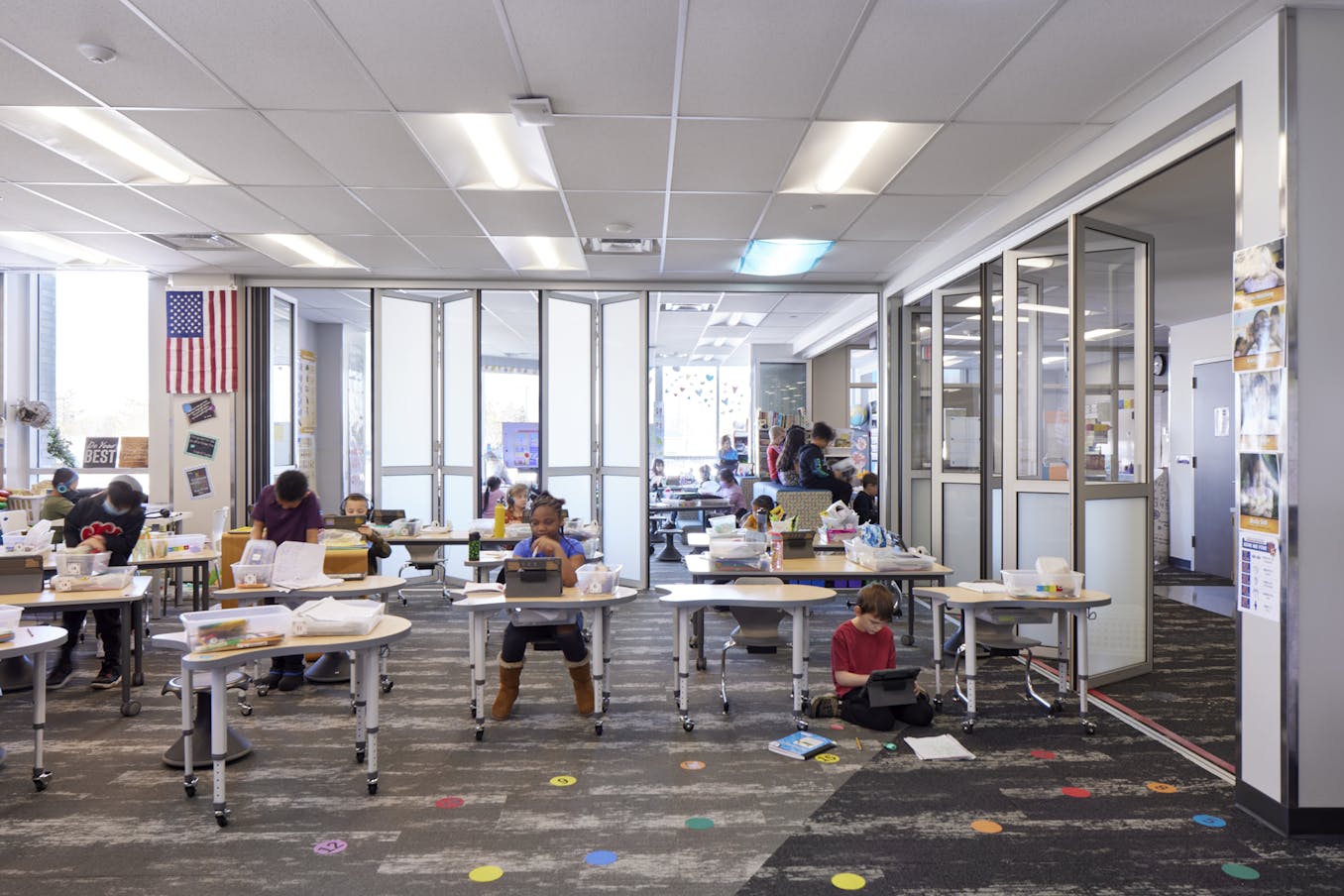 The Learning Studio Design Plan
What evolved was the idea of learning studios. On each floor of the building, the central core is an open media center known as The Commons, which acts as a primary gathering space. Clustered around it are learning studios consisting of three pairs of rooms grouped around a central learning space. The paired rooms are partitioned by moveable glass walls between them. Another moveable glass wall opens onto the commons, so all six rooms can be joined. The main area can also be opened onto the commons by another set of movable walls. Numerous configurations are possible to accommodate diverse sizes of groups and activities.
The folding glass walls are crucial to the school's flexible approach. "The NanaWalls allowed us to really meet all of the design principles and desired results," Hope Rahn explains. "It's a product that encourages collaboration and communications. It puts learning on display. It is flexible to meet the varying learning needs and learning experiences. The product is definitely adaptable to emerging influences and changing conditions in the future."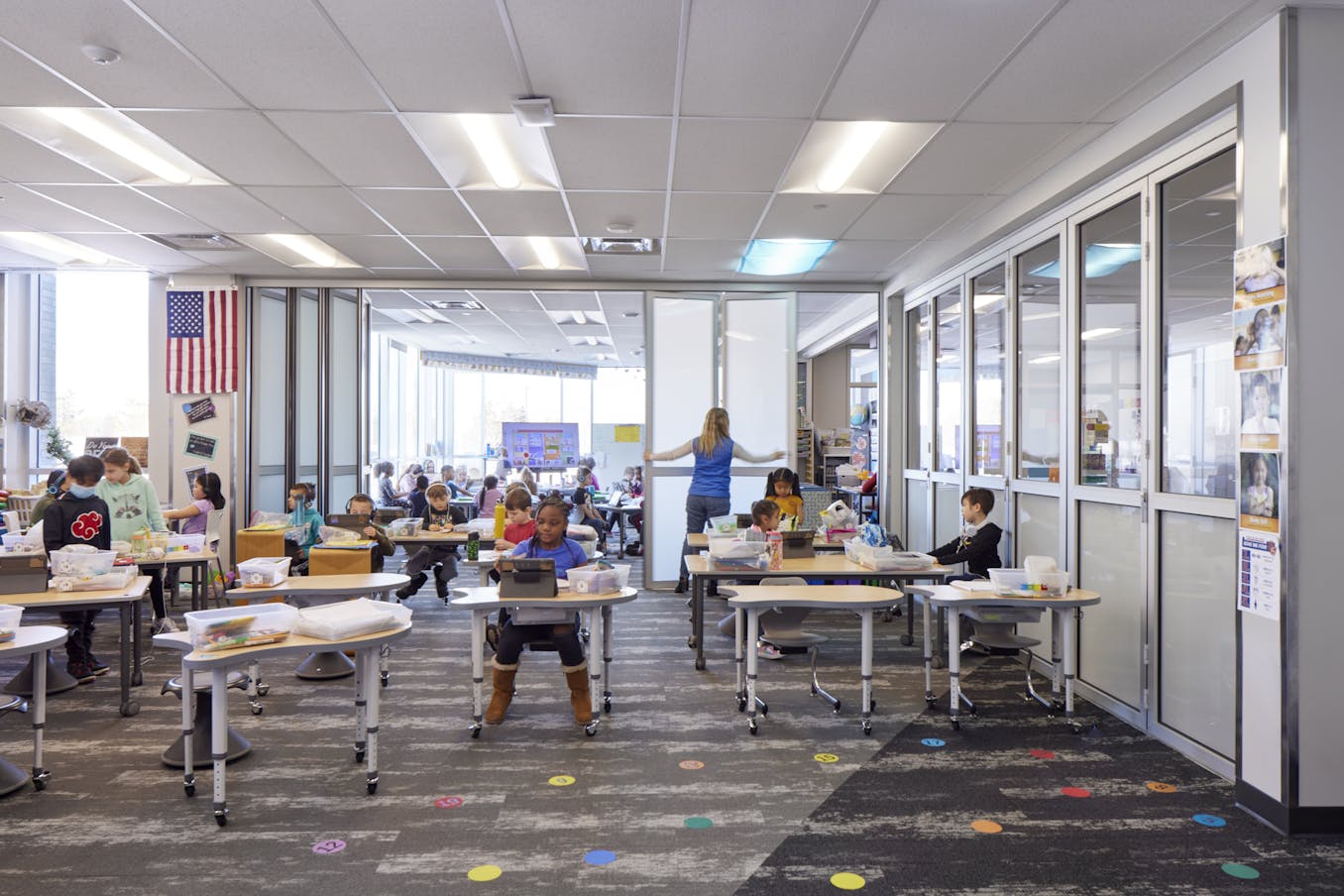 The Importance of Ease of Operation
Ease of operation was a key performance criterion, as teachers wanted to be able to change the space on the fly, while teaching. A crank-operated system was tried but determined to be too cumbersome. Wold suggested NanaWall folding glass walls. Hope Rahn and Jeff Ronneberg went to a local commercial installation to confirm the ease of use and product performance by doing a mock teaching session while opening and closing the wall—they were sold.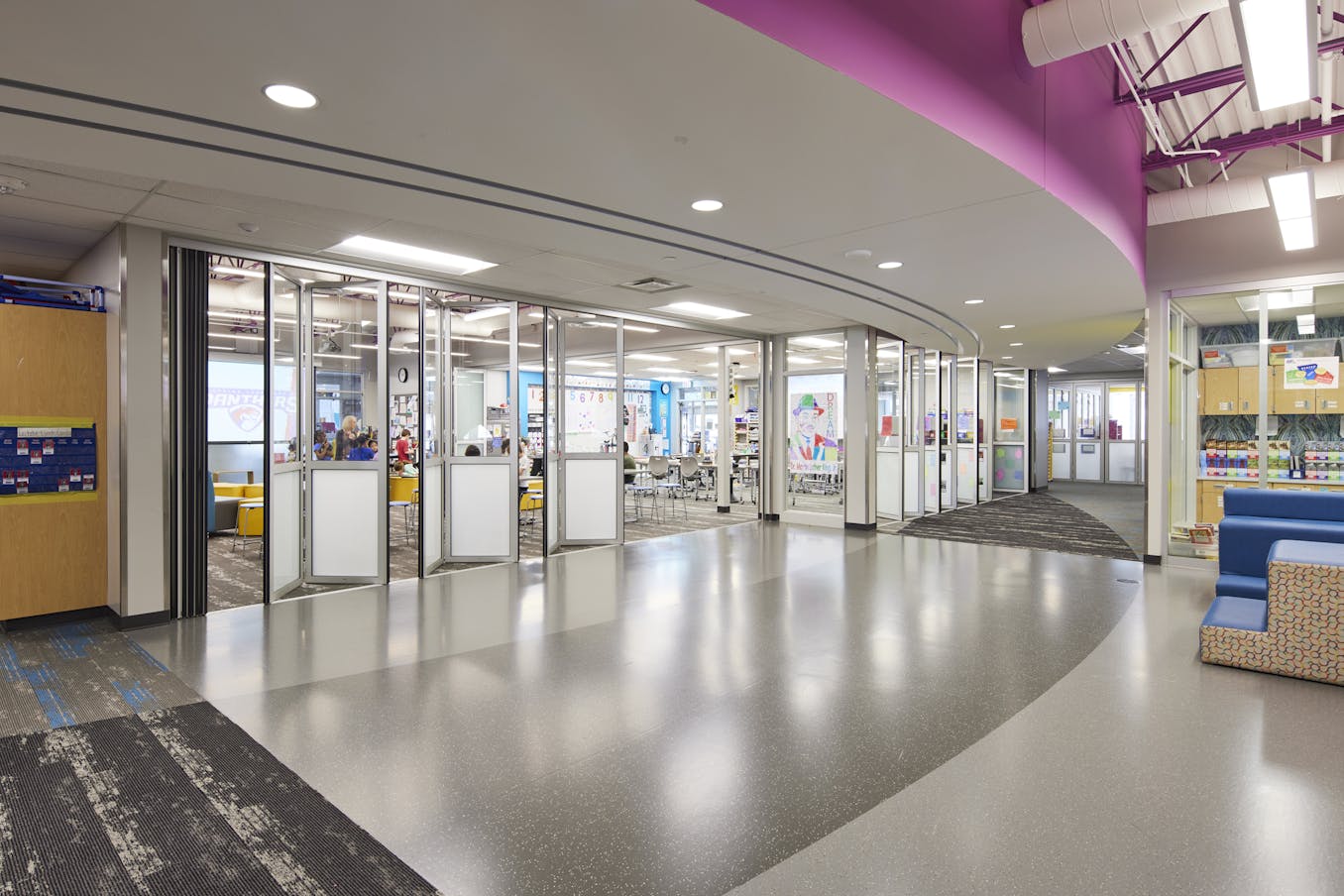 The Folding Glass Wall Solution
Wold's design utilized 45 units of NanaWall SL45 folding glass wall system, 940 lineal feet of moveable glass panels. The aluminum framed panels fold and stack to one side, or the other since the systems are composed of paired panels to allow the wall to be fully or partially opened. The systems were specified with ADA-compliant flush sills, making the floor safer to walk over, and more comfortable to sit on when the wall is open. They provide acoustic control, too, with the system producing unit STC 34.
The moveable glass walls play a crucial role in enabling flexible learning spaces. Teachers can reconfigure the space as needed throughout the day for planned activities of different group-sizes, and they can change plans in response to students' needs.
"NanaWalls put learning on display," says Hope Rahn. "There's no hiding. It allows for collaboration, and authentic professional learning."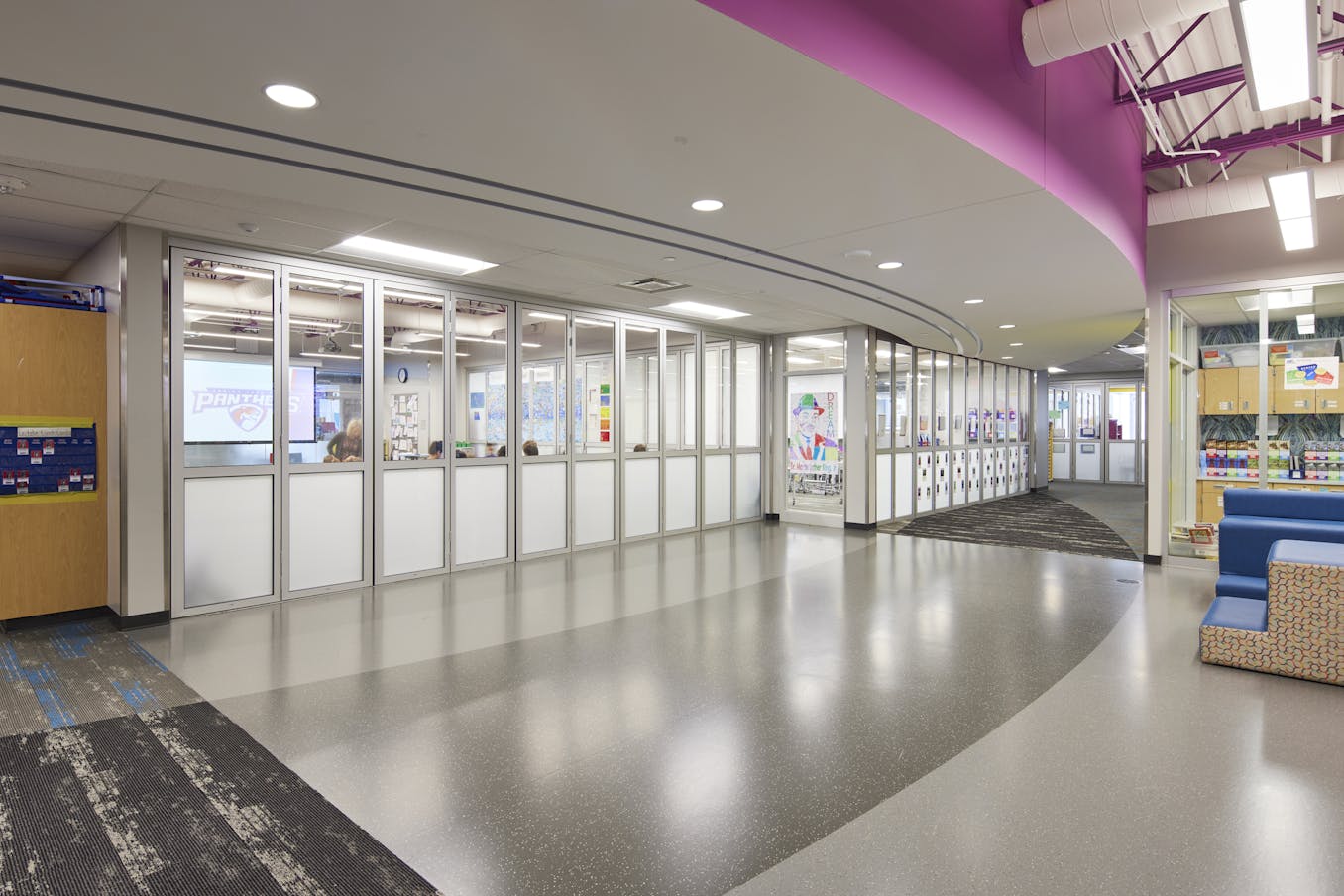 Distraction Free Learning
To eliminate distraction through the glass when the wall between paired rooms is closed, a translucent matte privacy interlayer, Artic Snow, was layered into the glass full height. Teachers can use these opaquer glass walls as an additional whiteboard for teaching. Glass opening into central common learning spaces have mullions at 3-foot height, with clear translucent acoustically rated glass on top and privacy-enhanced glass below, allowing passersby to see in (Learning on Display) but shielding seated students from getting too distracted.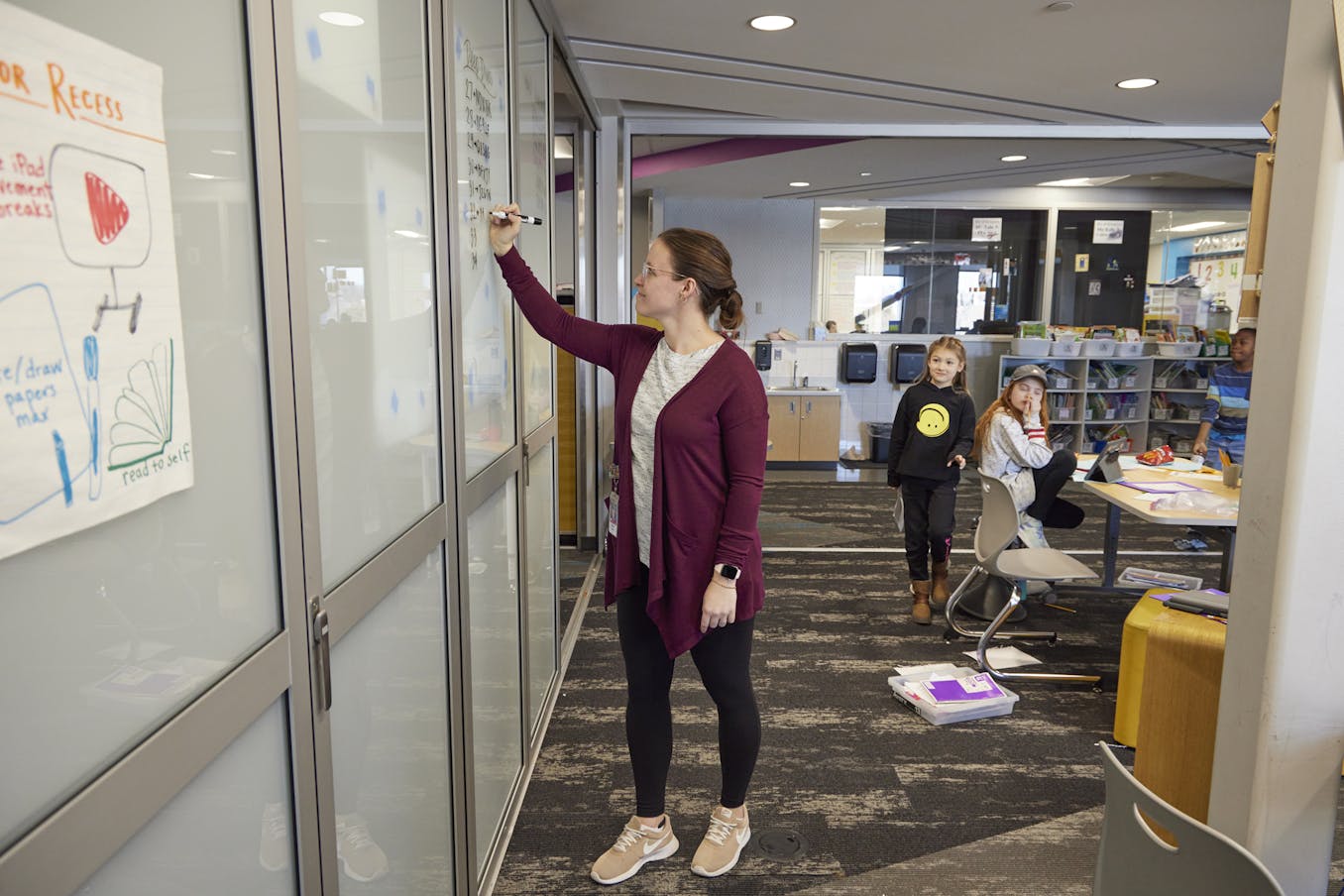 A parent concern was safety in the presence of such an expanse of glass. The walls are made with 1/4" laminated glass and are exceptionally durable. Principal Mike Callahan has been known to demonstrate their durability with a hammer. "We have space that's durable, that's flexible, and that's adaptable," declares Callahan.
Building Centerview was concurrent with major renovation of the high school, adding moveable walls in classrooms and science labs. Modifications of the other elementary schools and the middle school also moved in the direction of the personalized learning design, but none represent as big a break with tradition as Centerview.
"Centerview is the only one of its kind so far," believes Aplikowski. "I would say it's the only one in the world that's quite like that."
What our Customers Have to Say