Lincoln Park Zoo's Latest Attraction
By NanaWall Systems, April 1, 2020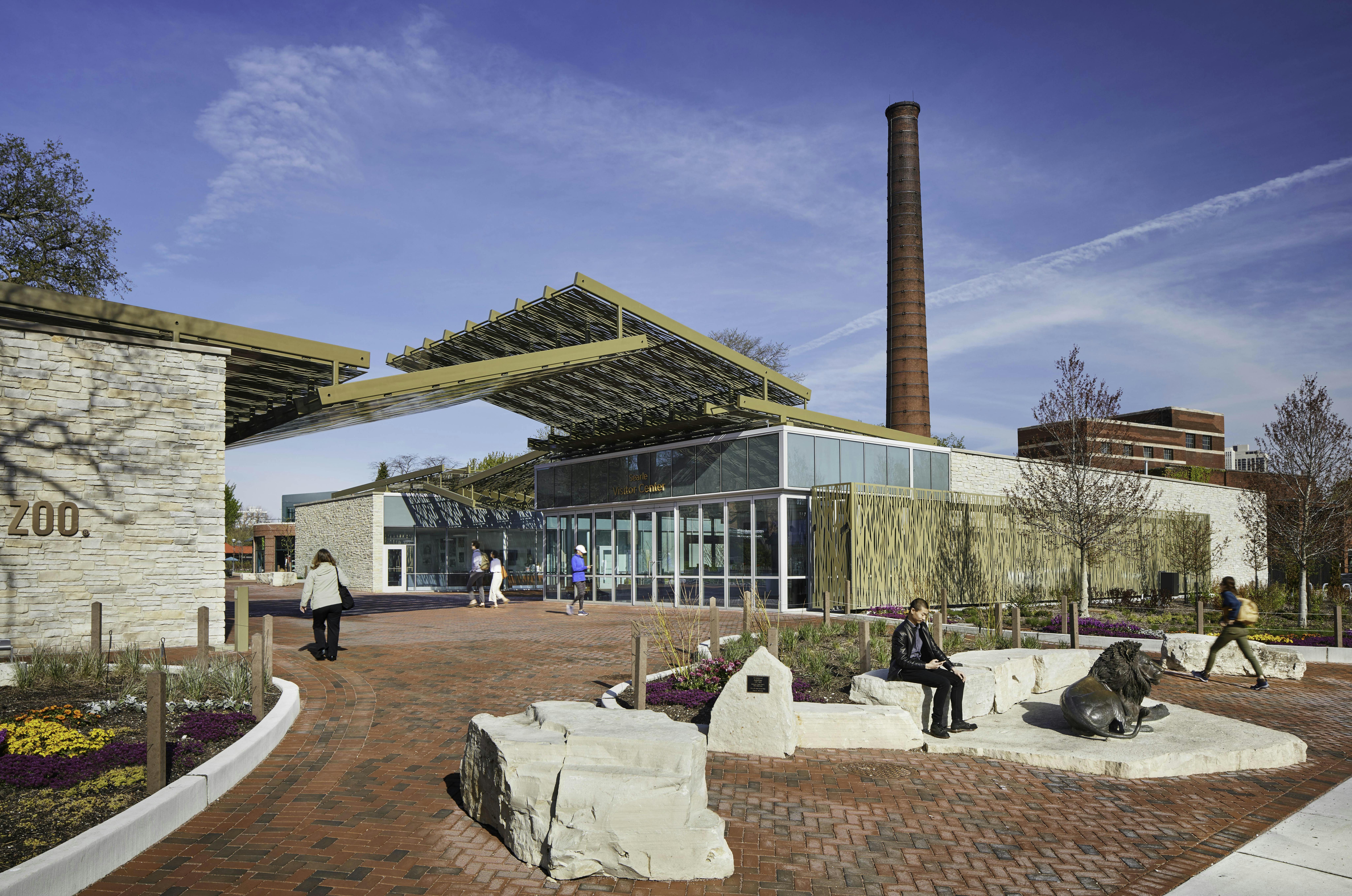 The Visitor Center at Lincoln Park Zoo is most likely to be the first stop of your wild exploration, not only because it provides several resources to guests but because it is an architectural attraction of its own. The building rests on the east entrance of the zoo surrounded by exquisitely designed landscapes and a courtyard where guests can pose alongside the iconic Adelor lion sculpture. Let's explore the latest attraction.
The brand new addition to the zoo features spectacular design by Ross Barney Architects, a Chicago, Illinois based architecture studio. Built with the visitor experience in mind, the center is the best place to get information, maps, program times and to rent a stroller or wheelchair. The building also houses member services and a member lounge.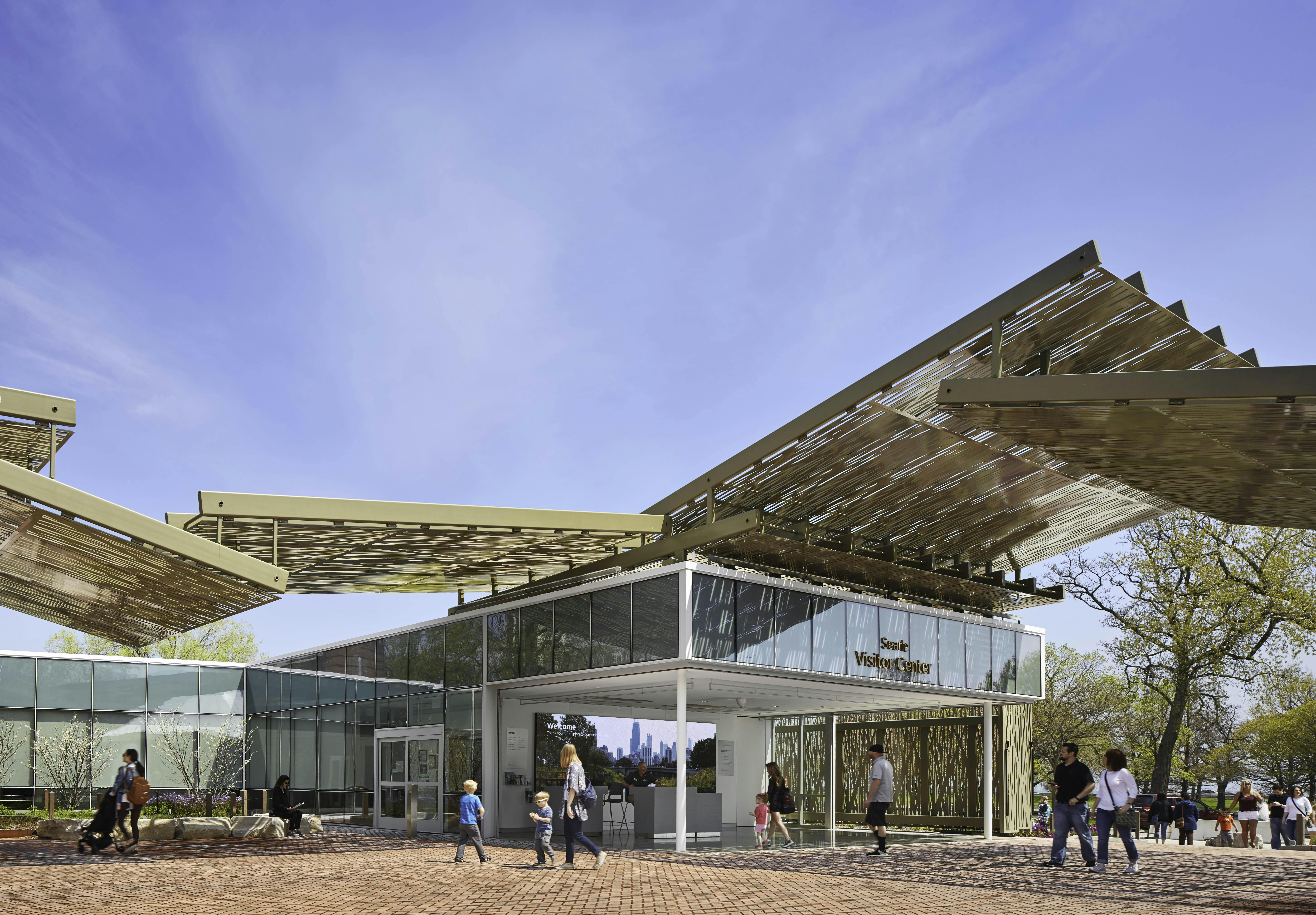 "For Wildlife. For All."
Aside from providing accommodating dwellings for their animals, the zoo strives to provide equally welcoming places for its not-so-permanent guests—Lincoln Park Zoo's daily visitors. With the help of Ross Barney Architects, the zoo embarked on a mission to re-work its visitor experiences with the addition of a dynamic east pavilion. This 9,500 square feet project comprises of an entry gate, visitor's center, administrative offices, membership lounge, and public restrooms.
The structure welcomes visitors with a shower of light patterns provided by the innovative structural canopy. Immaculately detailed in a pattern resembling layered branches, of what the architects could only describe as "if peering through the branches of a tree." These several frames seemingly stacked upon one another cantilever above a "J" shaped pair of buildings—one of them being the Searle Visitor Center.
Overall, the building appears to take advantage of all the light available with and expansive use of windows and glass panels overrunning the envelope of the building as a whole. Camouflaged amidst the walls of glass lies a sliding glass wall system encompassing the three-sided frontal façade of the visitor center and creating retractable transparent walls.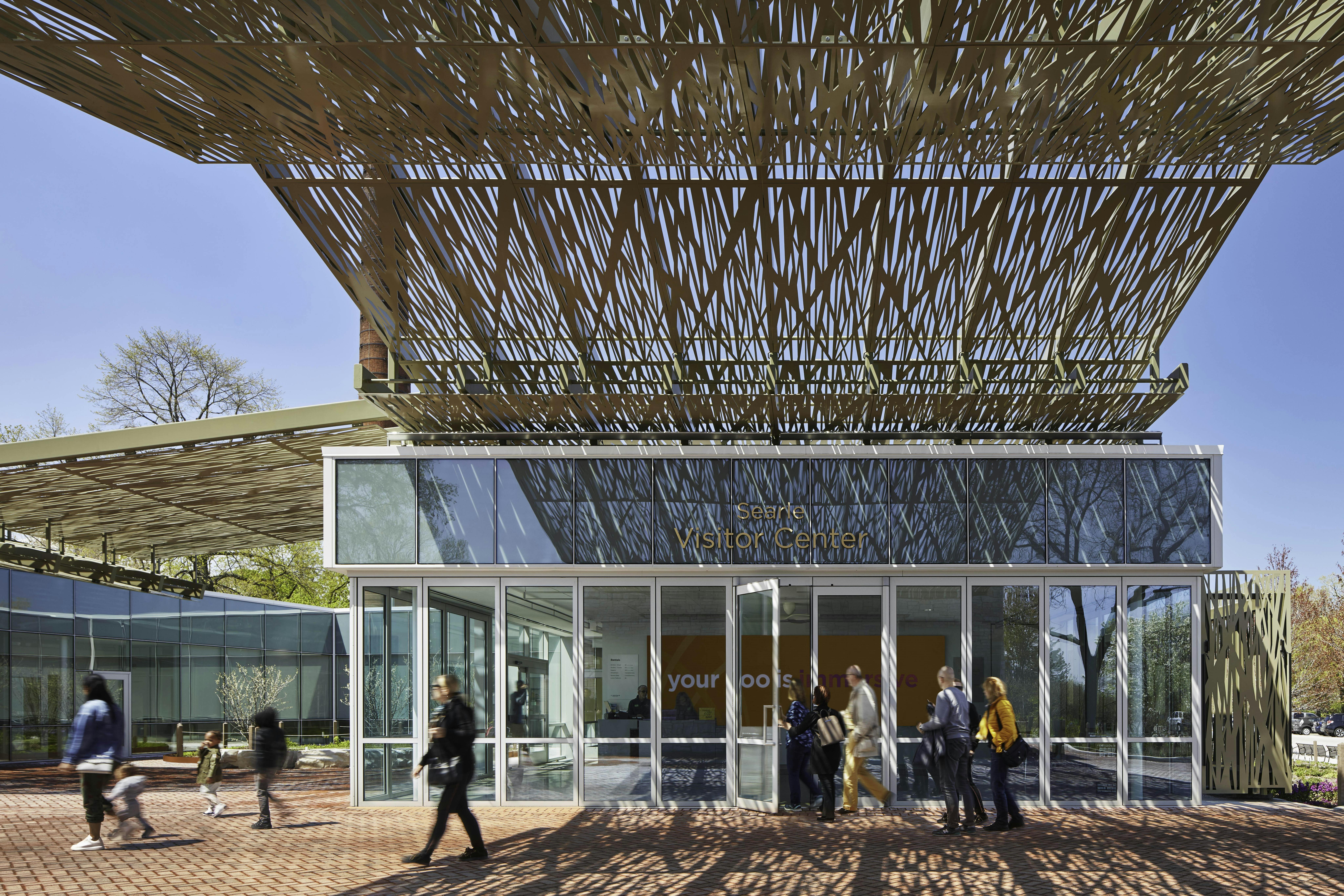 Building Adapts with the Use of a Sliding Glass Wall System
The constant inflow of visitors to the center required an adaptable, flexible solution that could accommodate larger crowds on busy weekends but could also easily convert back to an enclosed shelter with incoming harsh weather. NanaWall HSW systems are able to span to unlimited widths and create almost any desirable shape along with a host of other customizable features. With this in mind, the architects opted for a NanaWall HWS60 single track sliding glass wall.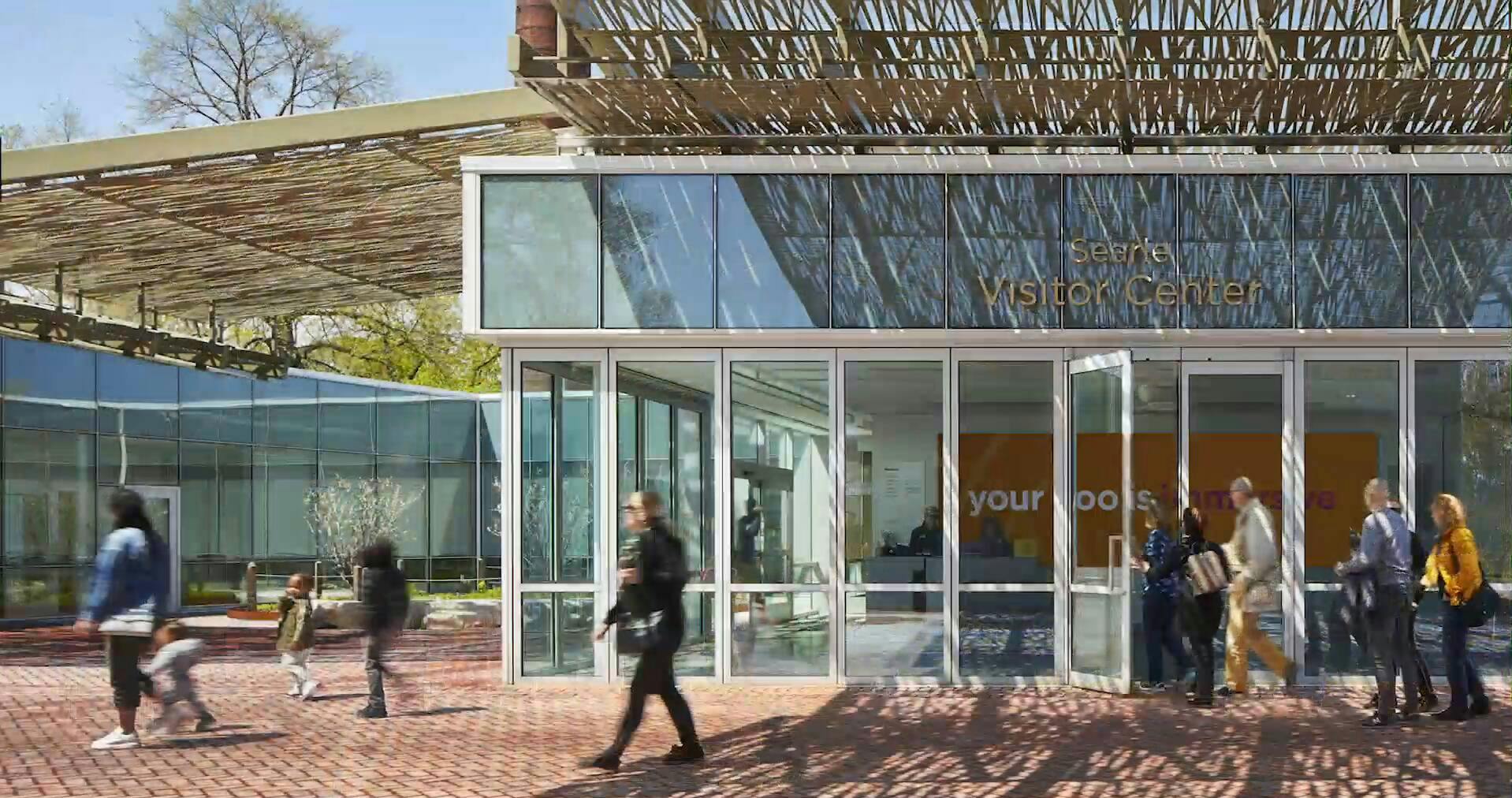 As a top-hung system, HSW60 features an enhanced horizontal roller and guide head track design that allows each individual panel to move effortlessly around corners and posts. Standing at roughly 10 feet 2 inches, the visitor center's three-sided system was custom-built to have two open corners. One such feature that also provides resistance against wind driven rain and cold winter days.
The twenty-one glass panels smoothly slide away towards a covert docking bay hidden in the wall behind the customer service desk. Completely maximizing the space through a 68 1/2-foot-wide opening, you would never know the building had any walls at all.
This HSW60 system was paired with an ADA-compliant low profile sill to accommodate the high-traffic area requiring accessibility to a variety of guests. When closed, the building can be accessed through two outswing integrated swing doors—a customizable feature to NanaWall HSW60 sliding glass wall systems. The swing doors can convert back to sliding panels and are easily stored away just the same.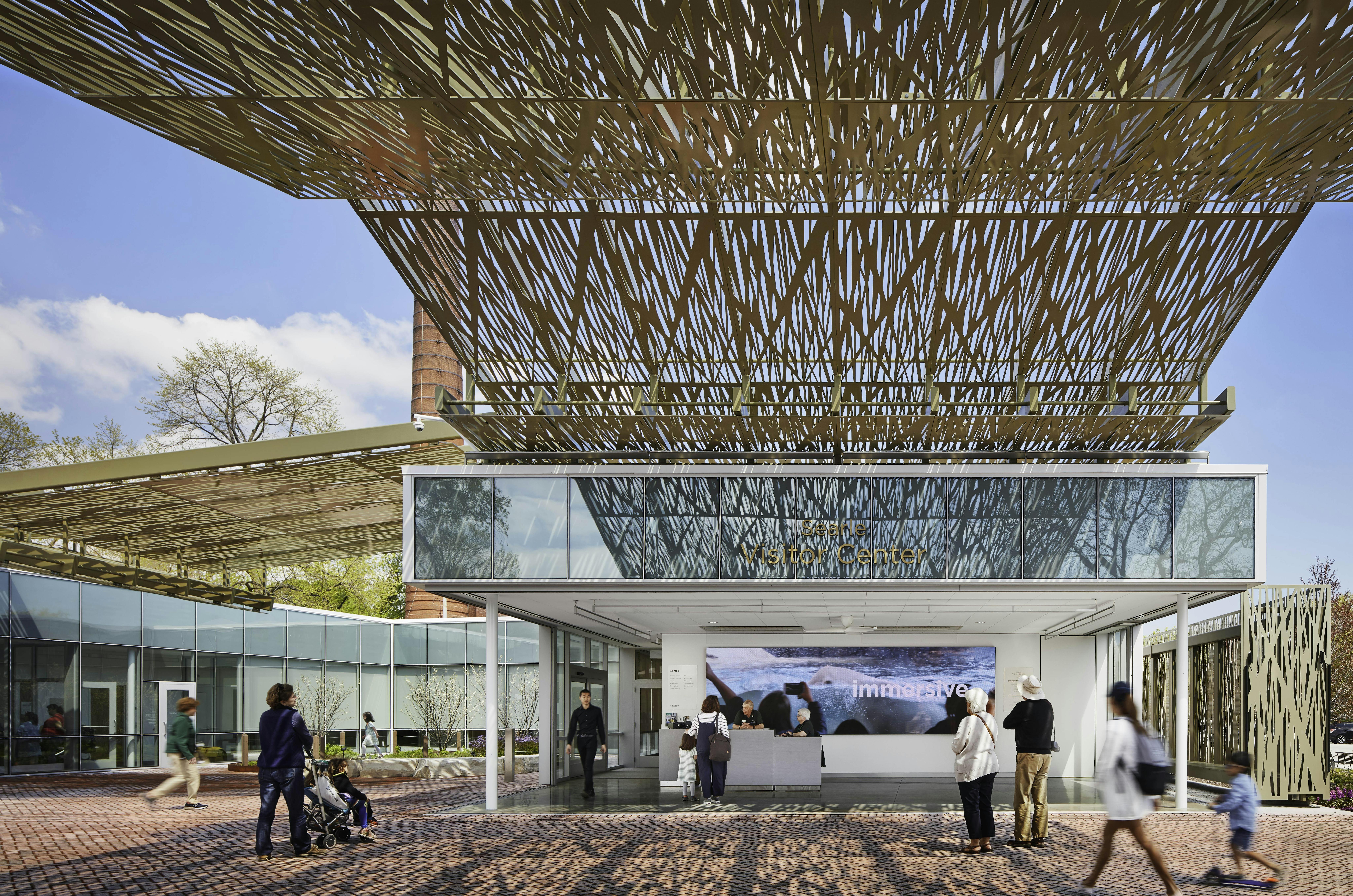 Final Thoughts
As a first necessary stop there is no doubt that the Searle Visitor Center is the first memorable point of attraction due to its immaculate design. The architect's decision to use a NanaWall sliding glass wall allowed for the flexibility of the building to accommodate larger crowds and to adapt to the changes of the seasons.
Zoo administrators ultimately met their goal of not only creating suitable places for their animals but also for the people that walk through those gates on a day to day basis.
To learn more about the HSW60 and similar systems visit NanaWall's Sliding Glass Walls page!