Optimizing Outdoor Living Spaces in Winter with Retractable Glass Walls
By NanaWall Systems, October 19, 2022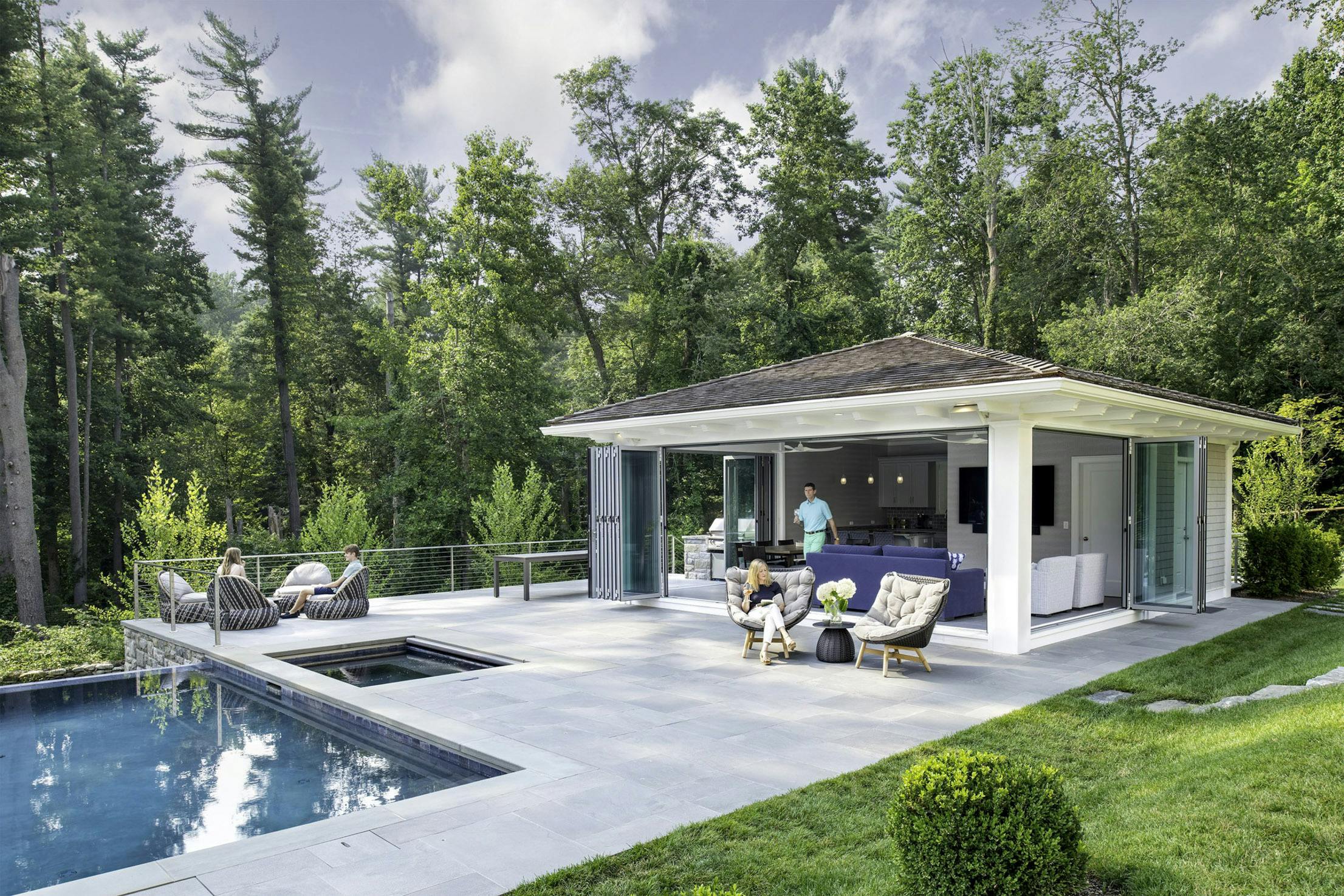 Wouldn't it be amazing to be able to enjoy your beloved outdoor living space year-round? With winter just around the corner, there is no better time to prepare these coveted indoor/outdoor real estate additions for the cold weather ahead. From multifunctional pool houses to bright and airy sunrooms, expanding the functionality of these spaces allows homeowners to utilize every square foot of their property to the fullest, even in the heart of Winter. Upgrading your indoor/outdoor living spaces with weather-performing and thermally efficient retractable glass walls will create a four-season outdoor living space to enjoy year-round. After all, the best room of the house is the outdoors!

Winterproofing Your Outdoor Living Spaces with Retractable Glass Walls
What's the benefit of winterproofing your outdoor living spaces? Most conventional windows and patio sliders are not as energy efficient as one may think. Over time, these outdated designs can become drafty and leak in water. Because of this, outdoor living spaces may not be as comfortable to lounge in during the cold weather season, leading to empty, wasted space for nearly half of the year. Implementing weather-performing, durable, and flexible solutions like retractable glass walls will transform a single-purpose outdoor living space into a comfortable, multifunctional four-season room. Let's take a look at how!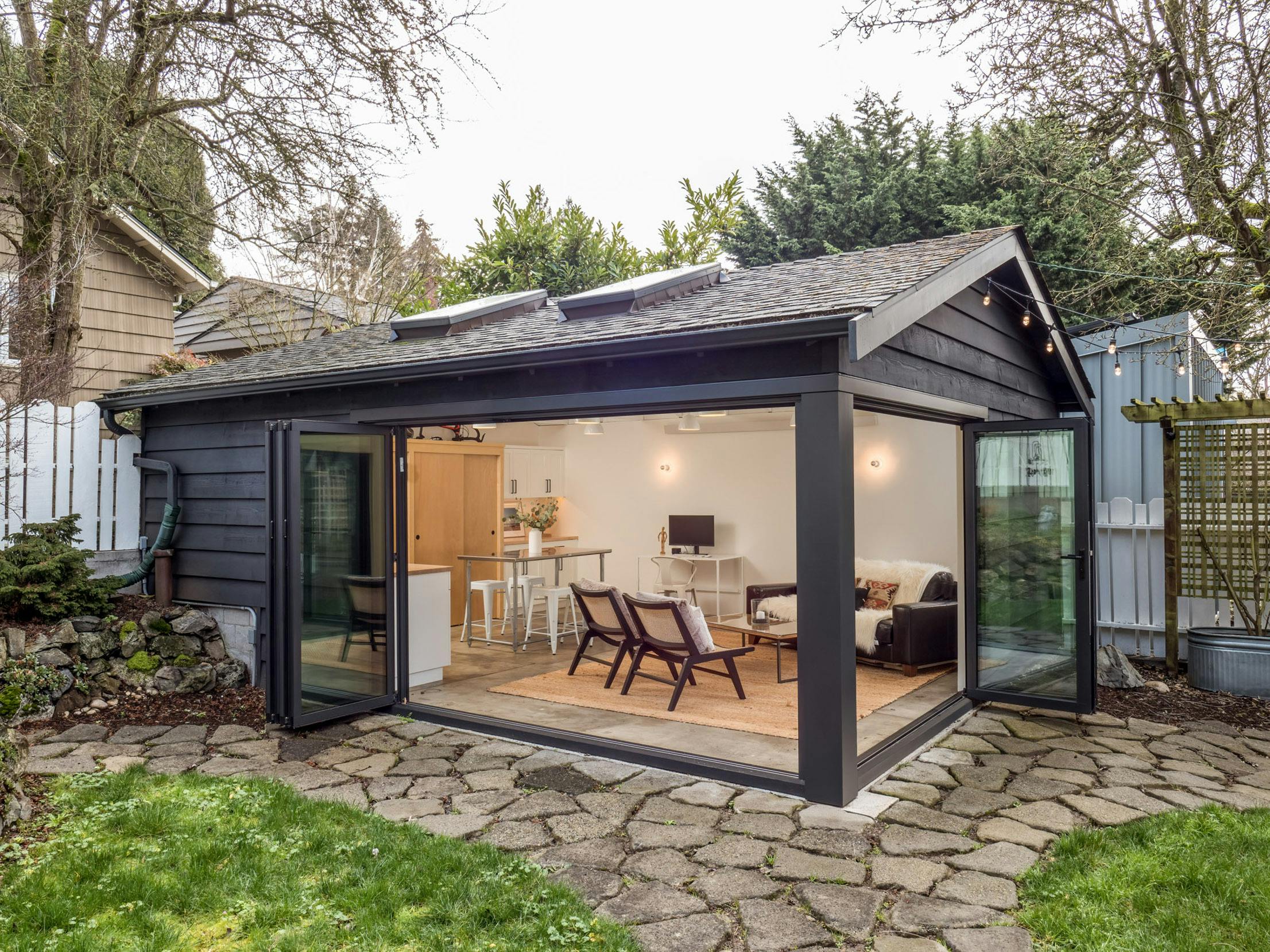 Replace Old Windows with Energy Efficient Options
Energy-efficient retractable glass walls will help decrease your monthly energy bills and save you money in the long run. More than just being friendly to your wallet, these systems also ensure your home interiors remain comfortable regardless of weather, decreasing your reliance on air conditioners and heaters to regulate your home's temperature. NanaWall Systems offers single, double, and triple glazed glass options depending on the thermal needs of the project and its local climate. In addition, weather-performing systems are designed with thermal breaks in between frame profiles like the NW Aluminum 840's Bionic Turtle patented design. These thermal breaks are hidden within the frames to ensure minimal sightlines and sleek profiles.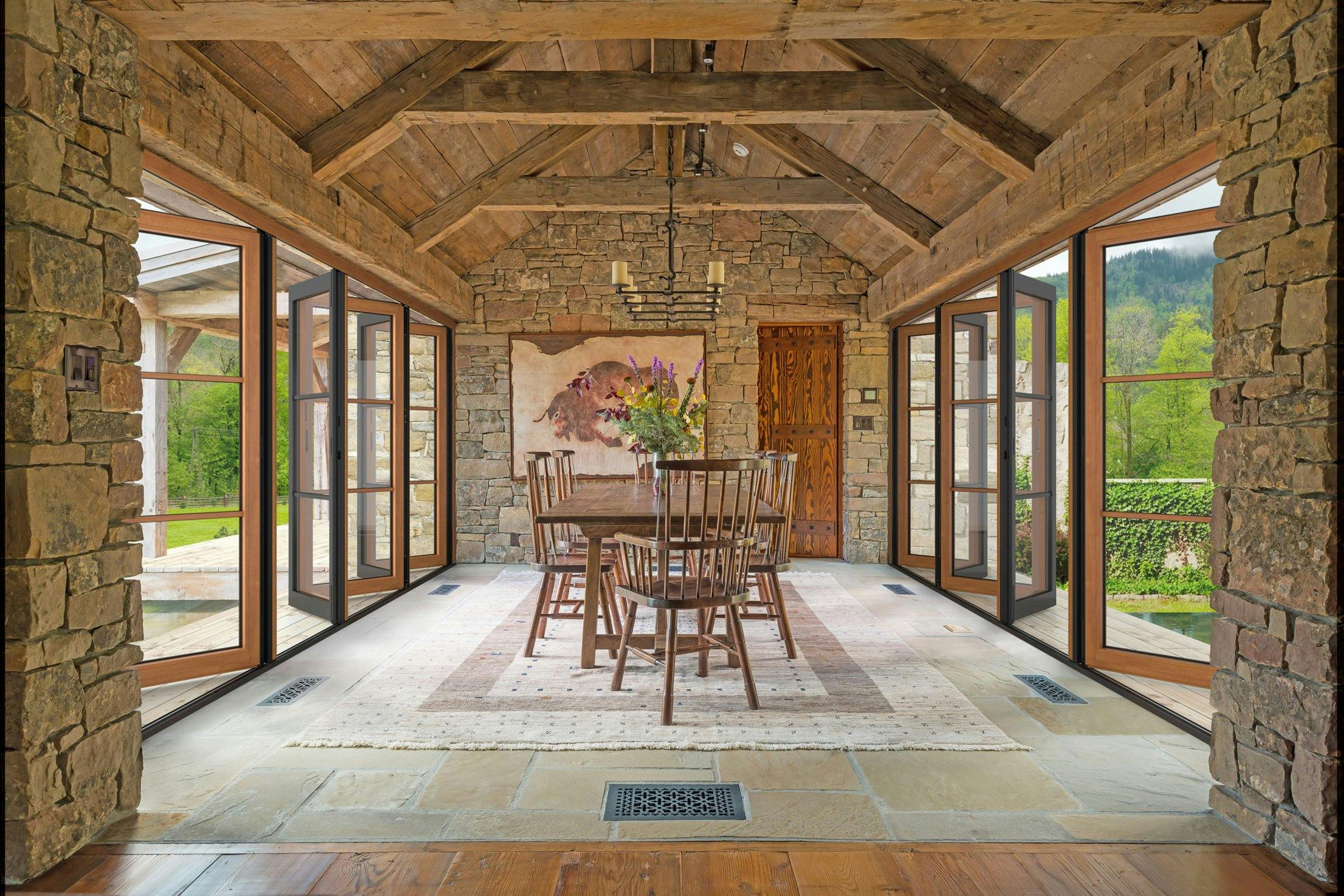 Keep Water Out with Weather Performing Sills and Low Maintenance
In addition to thermal breaks within the frame and multi-glazed glass panels, NanaWall retractable glass walls can be specified with advanced weather-performing sills. All this without sacrificing ease of operation and low maintenance. Whereas most conventional sliders are paired with monstrous floor tracks that obstruct the opening and collect debris over time, NanaWall sills are engineered to be unobtrusive, low-maintenance, and thermally broken to ensure you spend more time lounging and less time on repairs. In addition, ADA-compliant sills can be specified for any project where safety is of concern, or in high-trafficked areas like the patio or pool house.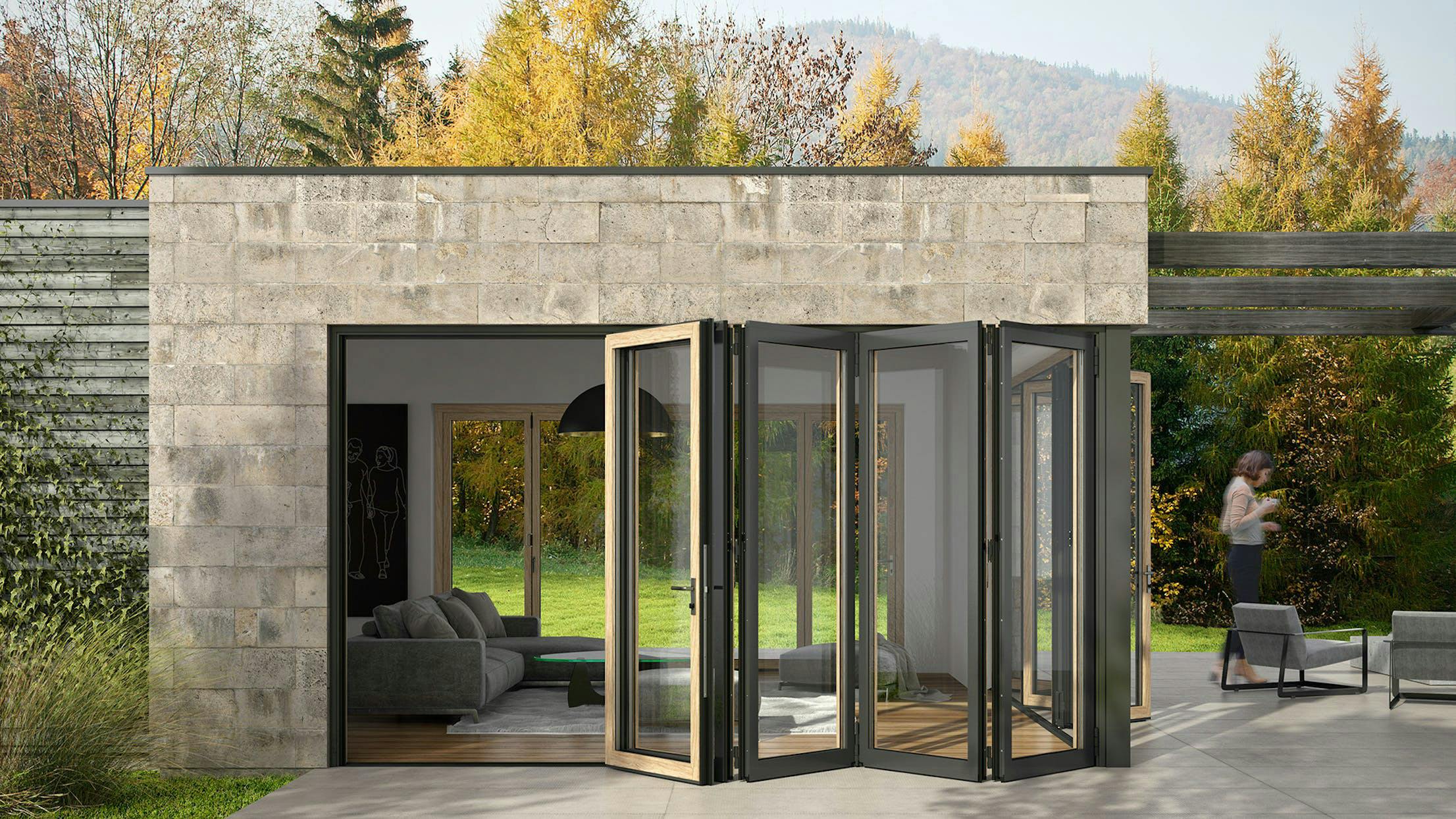 Experience the Best of Both Worlds with Clad Systems
Did you know you can enjoy the timeless elegance of wood and the durability of aluminum in a single system? Aluminum clad opening glass walls feature a frame of quadruple laminated wood, for extra strength, on the inside with a protective aluminum frame on the outside. Innovative clip-on added technology allows the wood to breathe during periods of expansion during temperature fluctuations. Part of the Generation 4 Folding Glass Wall product family, the NW Clad 740 offers a plethora of features that capitalize on weather performance, durability, and ease of operation—not to mention the slimmest clad frames on the market. Just like all other NanaWall products, clad systems have been independently tested for air, water, structural, and forced entry with excellent results.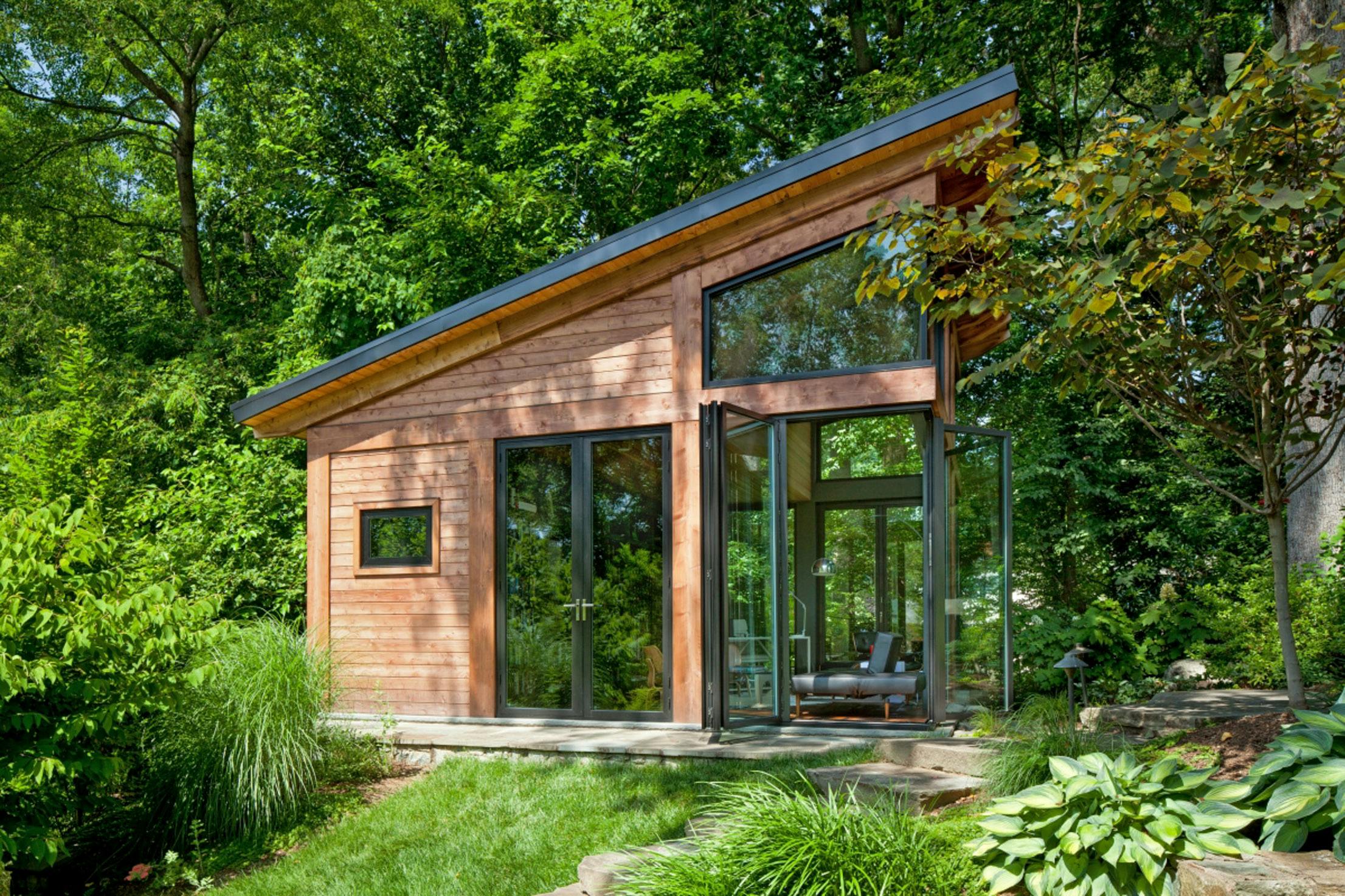 Add Clerestory Windows to Maximize Daylight
Winter months call for shorter days and minimal natural light exposure. Optimizing as much sunlight as possible helps to diminish reliance on artificial lighting while embracing the many benefits of sunlight. In fact, natural daylight is known to diminish the "Winter blues" that may arise from decreased exposure to beneficial sunlight during the cloudy Winter season. Expansive fenestration like moveable floor-to-ceiling opening glass walls can significantly improve the overall mood of interiors and even your mental health. For example, the indoor/outdoor living space above doubles as the homeowner's office and writer's studio and maximizes natural light with retractable glass walls and matching clerestory windows above. Who wouldn't want to work from an indoor/outdoor space like that?!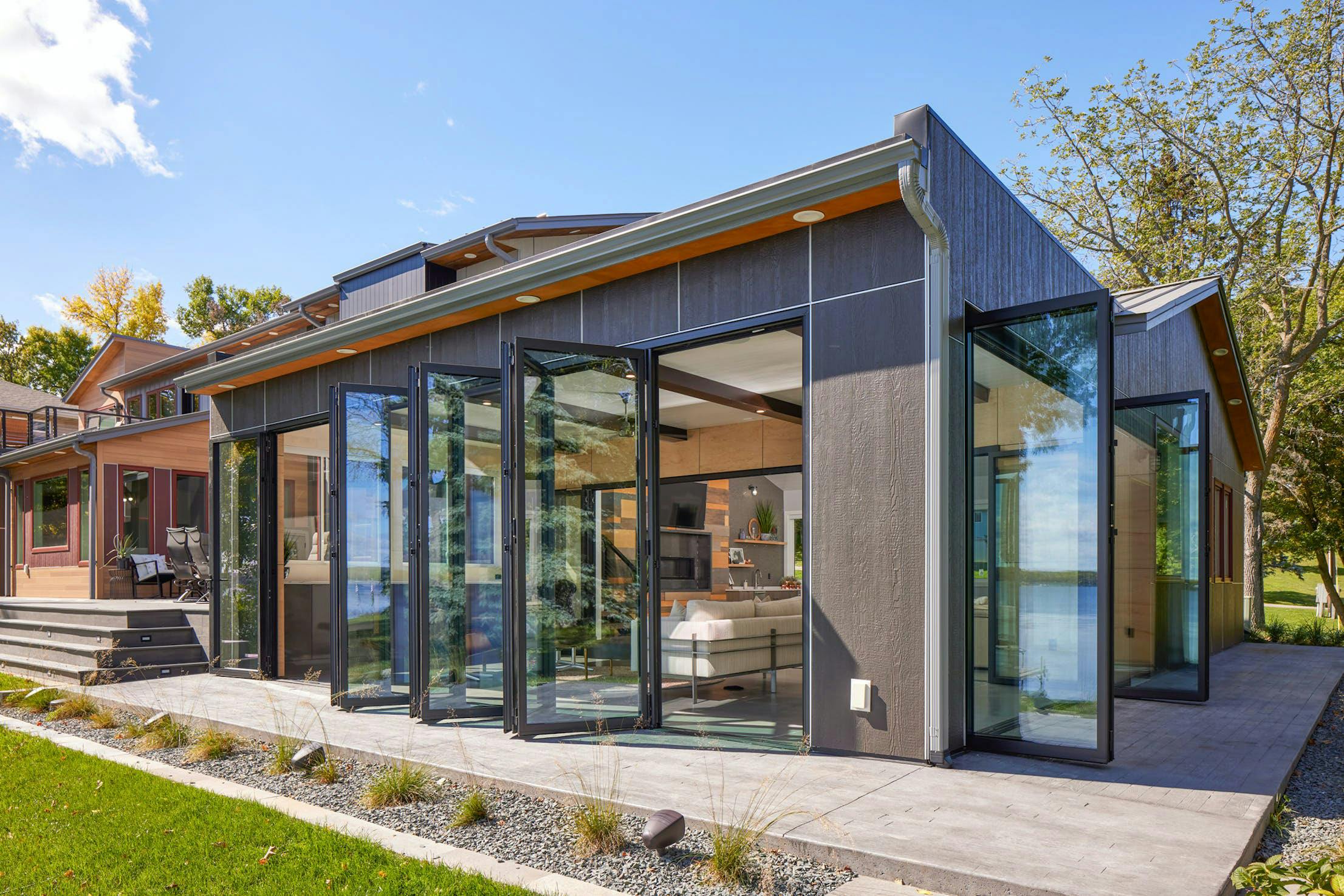 Achieve 360-Degree Views with Multiple Opening Glass Walls
Indoor/outdoor living takes a whole new meaning at this Detroit Lakes residence. Multiple bifold opening glass walls create seamless transitions to the lake outdoors and abundant recreational opportunities. The weather-performing and thermally efficient systems protect interiors year-round without sacrificing views or comfort. From the hottest Summer day to the snowiest Winter, the attached outdoor living space maintains a comfortable temperature even when sitting right up against the wall. Another innovative feature of this NW Aluminum 840 system is the SixFold panel set that can be stacked to the left, right, or center of the opening—a feature unique to Generation 4 Folding Glass Walls by NanaWall. Flexibility at its best!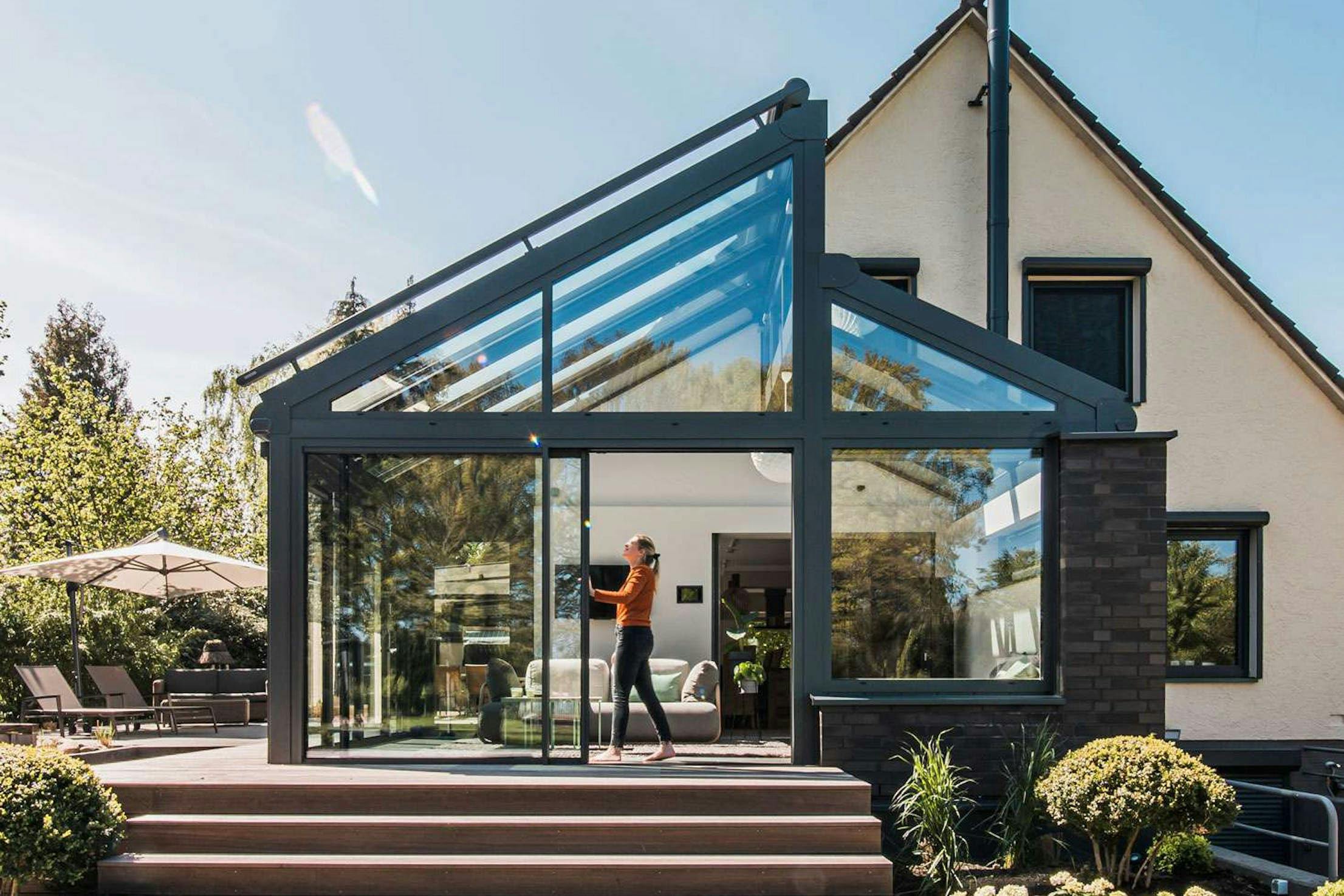 Create a Glass Box Effect with Folding and Minimal Sliding Glass Walls
If you seek a truly immersive indoor/outdoor experience, then look no further than an all-glass outdoor living space. The glass box effect, similar to the sunroom above, creates a one-of-a-kind feel that takes full advantage of natural light and landscape views. Implementing retractable glass walls to the design can significantly improve the functionality of space with operable panels that open interiors to fresh air and natural sounds—or additional space for entertaining. Thermally efficient fenestration can maintain interiors comfortable through the Winter even when lounging right up against the wall. Want to truly take it to the next level? Implement both folding and minimal sliding glass walls for the ultimate flexibility and space optimization.
Final Thoughts
How will you be upgrading your outdoor living space this season? Drafty windows and leaky doors can be quite costly in the long run, from constant repairs and excessive energy bills. Weather-performing and thermally efficient solutions like durable and long-lasting opening glass walls can transform outdoor living spaces into functional four-season rooms with the simple push of a hand. There is a customizable system for every climate, even the most extreme, that keeps the elements out for comfortable interiors where you can enjoy the changing landscape throughout the year. So, which system will you choose?

Explore other design inspiration ideas with NanaWall opening glass walls at our extensive project inspiration gallery!