Redefining the 21st Century Classroom
By , May 22, 2014
While working with architects, NanaWall redefines the 21st Century classroom with the concept of FlexSpace.
Achieved with operable glass walls, FlexSpace evolves the classroom into a learning environment that encourages group work, social engagement, collaborative learning and classroom participation while utilizing all square footage.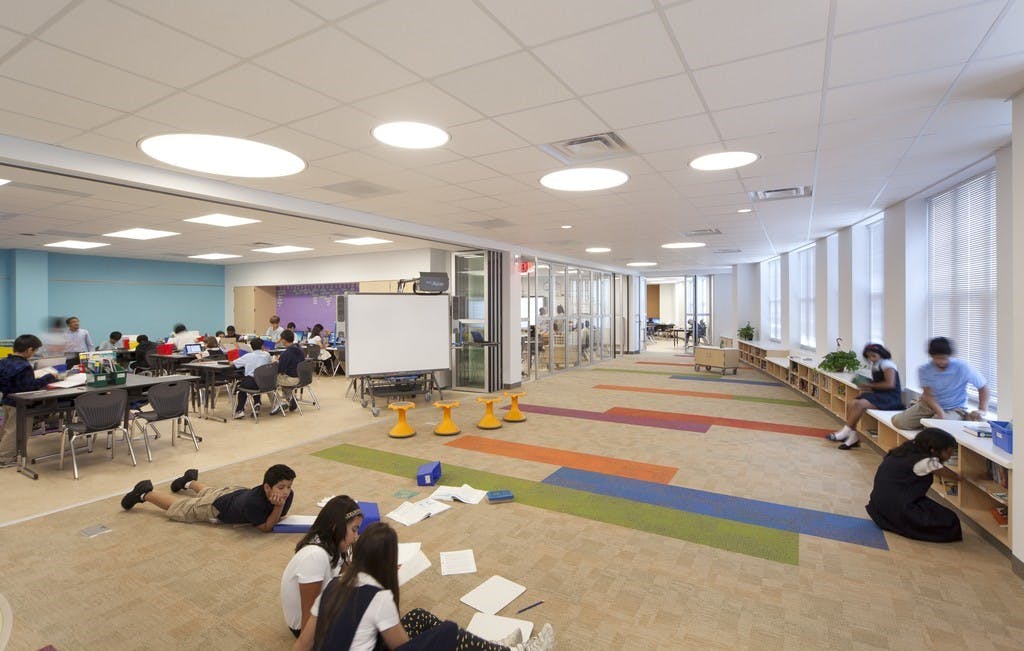 The classroom layout at Booker T Washington STEM Academy, above, promotes both group work and independent learning. Students work on desks and review on the carpet in a comfortable and open environment.
With the use of multiple folding door systems that open up to a common indoor space, teachers can share resources and support each other—fostering a better managed classroom environment. At Burleson Elementary School, above, two classes meet in a common space for large team collaborations, presentations, review sessions, and group learning activities when the doors are open.
With a similar design layout at Kiski Area Upper Elementary School, teacher Susan Hepler says, "The Nana Wall is wonderful. We use it on a daily basis. It is used for individualized or small group instruction with special education, group projects, and collaboration between the various academic disciplines." She concludes, "When the wall is closed, it is great for noise control, and when it is opened, we can work with two classes at a time. I am so lucky to have a Nana Wall!"