Successful STEM Classroom Design for 21st Century Learning
By NanaWall Systems, November 11, 2020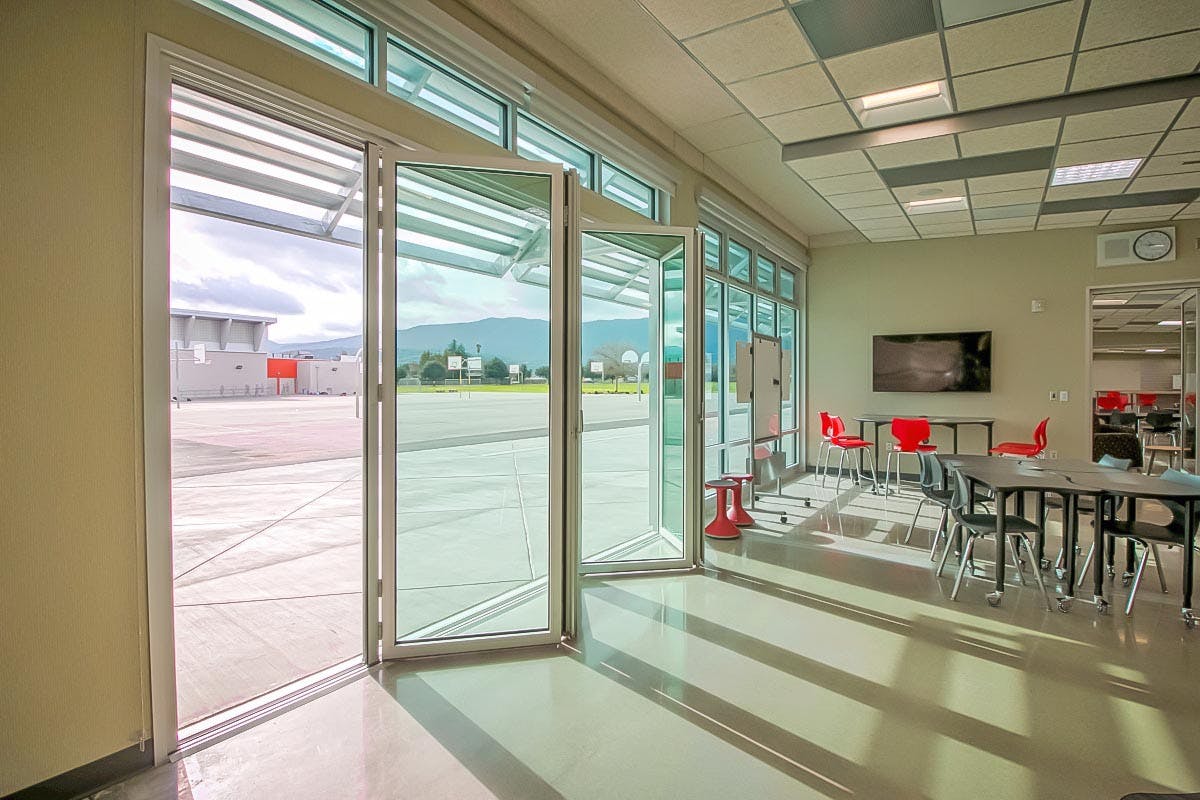 Facilitating spaces for hands-on learning, robotics equipment, and collaboration is at the root of STEM classroom design. The growing implementation of STEM curriculums in K-12 schools has given rise to the need of re-adapting traditional learning spaces to flexible classrooms that can easily transform based on the needs of the curriculum and the students. As more schools shift away from passive lecture-based education to immersive hands-on learning, classroom space is being redesigned to meet the new demands of the dynamic learning methods of STEM education.
The Need for Effective STEM Classroom Design
Project Lead the Way (PLTW) at California-based Dartmouth Middle School, offers rigorous STEM classes aiming to establish a foundation for higher education and careers in related fields. From engineering and robotics, to architecture and aeronautics, students are encouraged to be innovators by practicing critical thinking, exploring their creativity, and finding solutions individually or as a team. The need for a flexible learning space led to the school district to seek out an innovative, fast, and cost-effective building that met all the requirements of effective STEM classroom design.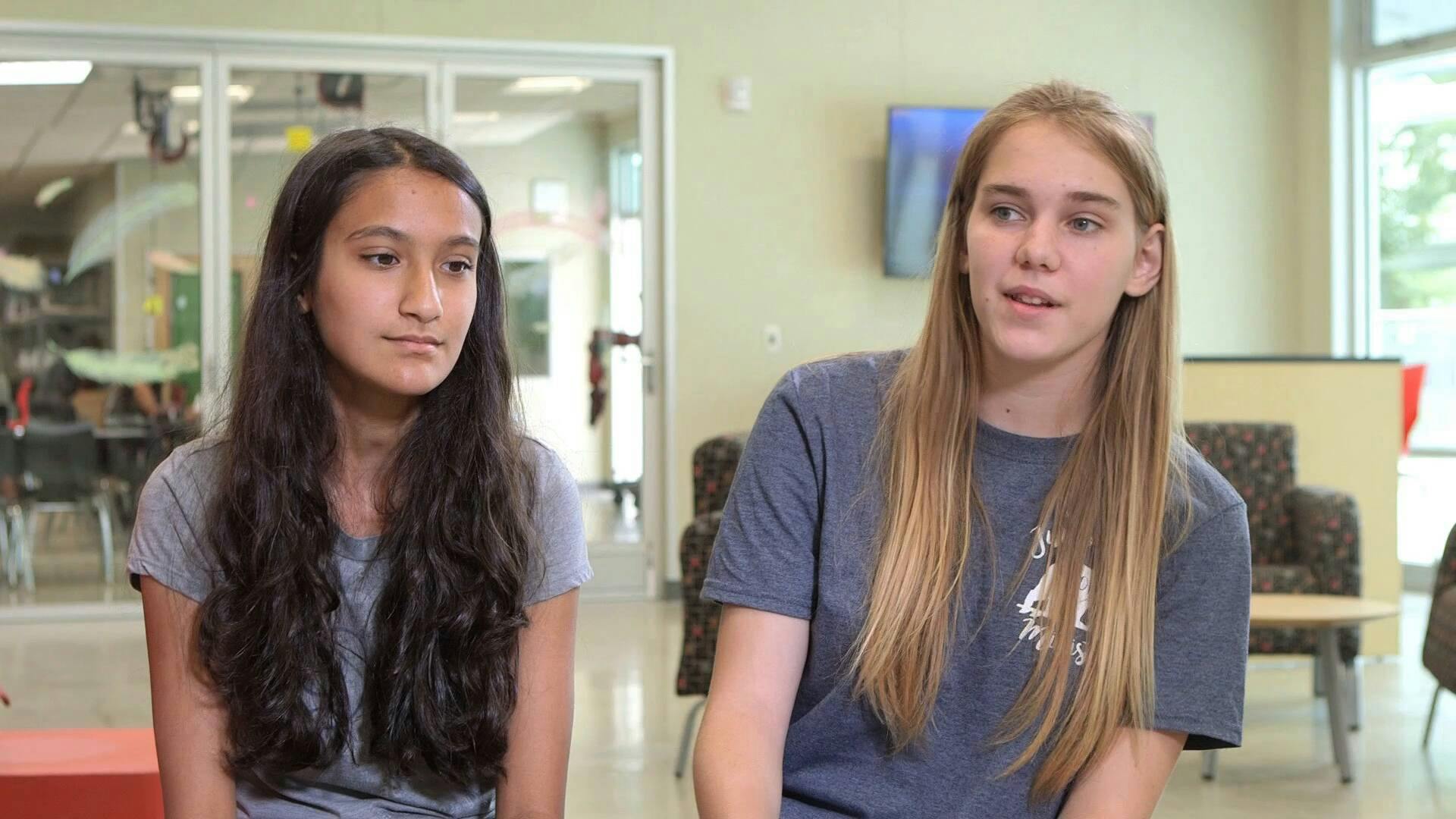 A Fast and Cost-Effective Solution
Dartmouth's Union District employed the fast and cost effective solutions provided by
American Modular Systems (AMS), a construction company that aims to redefine traditional learning spaces with innovative modular buildings. AMS modular schools are built 60 percent faster than traditional buildings, can cost up to 30 percent less, and are built with sustainable materials that support health-oriented design. For Dartmouth Middle School and the demands of its Project Lead the Way program, AMS implemented their STEM classroom design into a spacious free-flowing environment ideal for 21st Century learning. Interior Wall Partitions Facilitate Space Management NanaWall SL45 opening glass walls installed between each classroom space. The six panel top-hung systems take over 18 foot openings that can be easily opened or closed as they glide on stainless steel rollers on stainless steel tracks. Configured with surface mounted sills for interior applications, these folding glass walls offer seamless transitions between spaces and meet ADA compliance. Classrooms turn into adaptable multi-functional spaces and when closed, the SL45 provides sound control solutions with sound ratings that meet up to STC 35.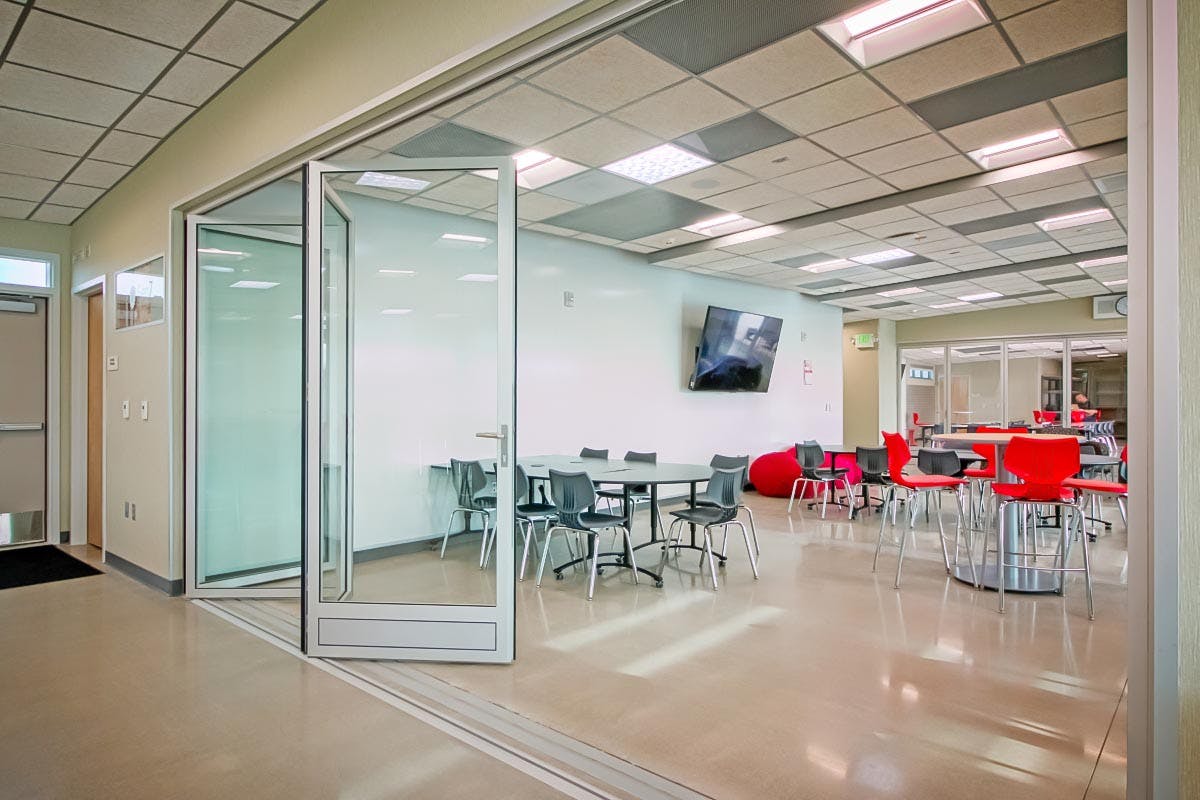 Weather Performing Exterior Opening Glass Walls
Encompassing the façade of Dartmouth's modular school building are six NanaWall SL70 folding glass wall systems. Standing at roughly 8 feet tall and 18 feet wide, these easily operable systems seamlessly transition classrooms into the outdoors while inviting abundant daylight and fresh air circulation. To achieve ADA compliance and ensure protection from inclement weather, the thermally broken NanaWall SL70 systems were specified with an ADA compliant low profile saddle sill.
"With the NanaWall systems, our robotics lab has the ability to flow out to the outdoors," says teacher Tracy Brown. "Instruction becomes more dynamic since my curriculum is not being restricted by an enclosed classroom."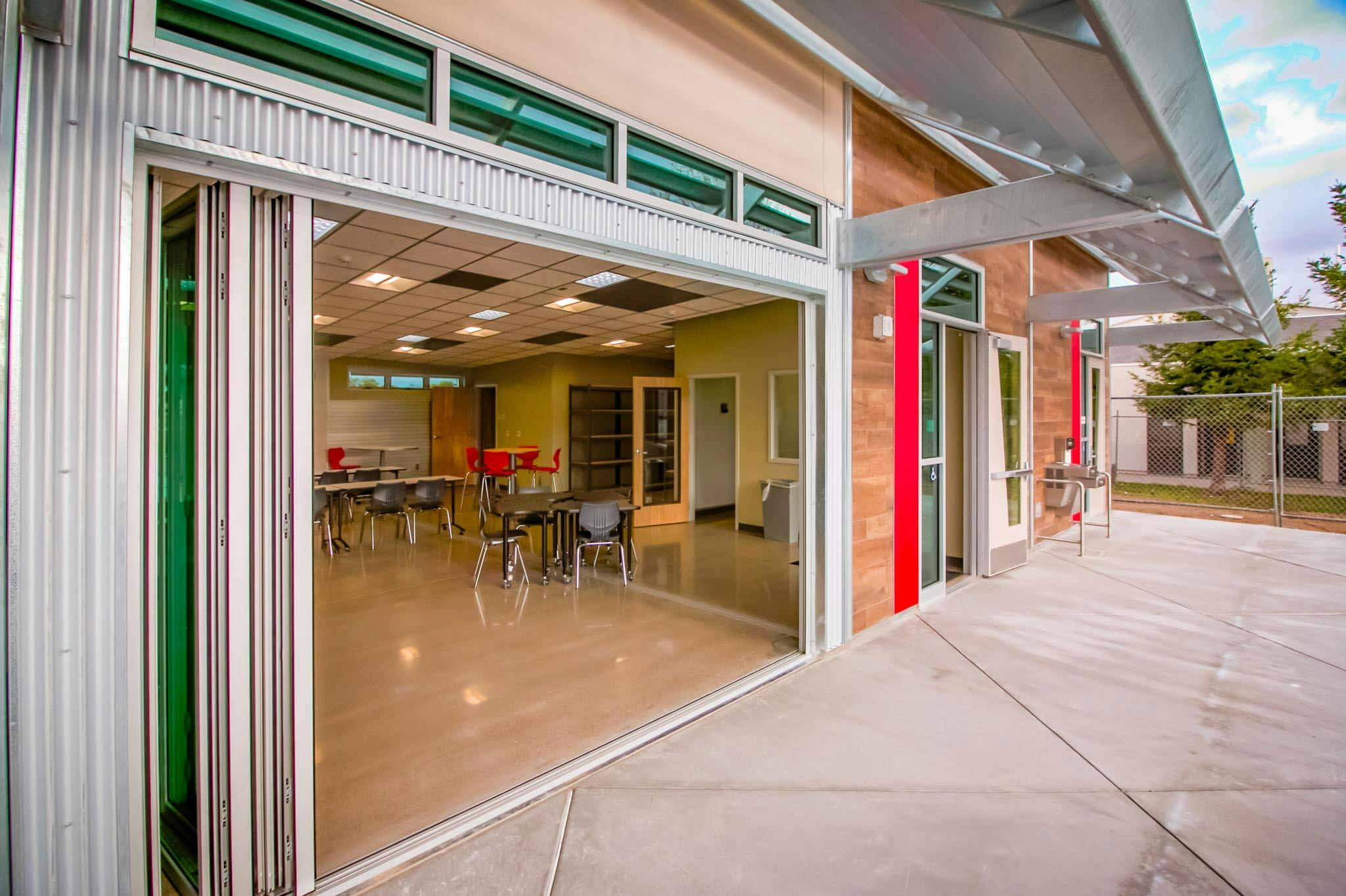 Final Thoughts
Effective STEM classroom design was essential in the success of Dartmouth Middle School's Project Lead the Way. By employing the customizable, fast, and cost-effective solutions of modular school buildings, the school was able to enhance the program with a building that successfully meets the demands of 21st Century learning—flexibility of space and collaboration. The implementation of interior and exterior NanaWall opening glass walls eliminates constricting solid wall barriers for a learning experience that extends beyond the traditional classroom.
Learn how other 21st Century school leverage NanaWall opening glass wall solutions in our Applications Gallery!