Workplace Design: The Rise of Amenities in Office Buildings
By NanaWall Systems, July 22, 2020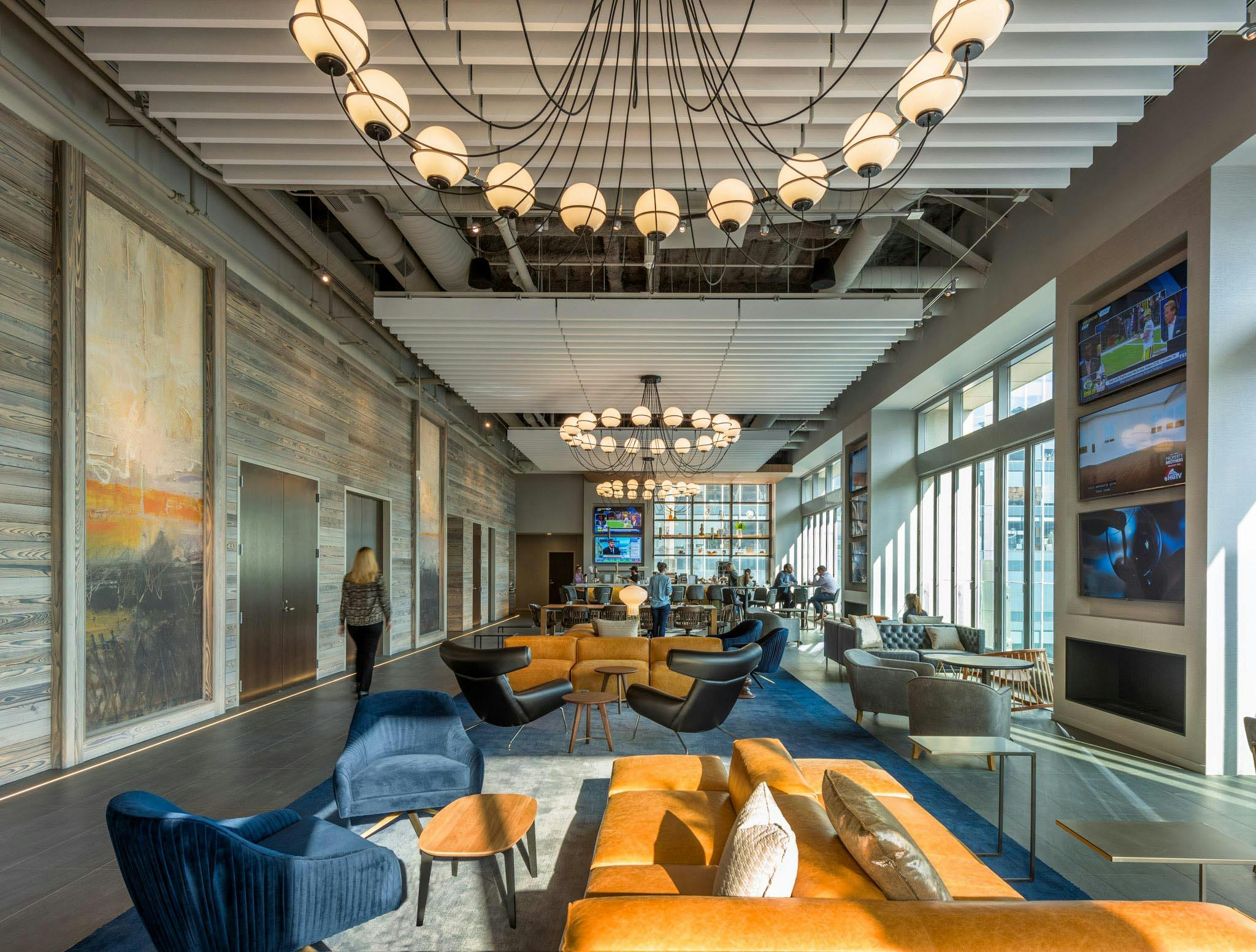 Workplace design has morphed and transformed to ensure that potential tenants house their companies for years to come and one particular offering seems to be on the rise: amenities in office buildings. Undeniably, the way we work has changed and accommodating what drives today's younger workforce has become a priority. Not only how we work but also the space used in which to do it. Gone are the days of executive offices and solid walls….in with the collaborative working style with employees no longer being tethered to a desk. People are interacting more. Meeting more. Collaborating more. With this comes a unique combination of workstations, breakout rooms, flexible conference rooms, and the increased use of glass to provide great connectivity and the healthy benefit of natural daylighting.
The Rise of Amenities in Office Buildings
Following along with these evolved workplace design requirements, the office buildings and the ownership groups that house these companies have seen the need to rethink what buildings offer its tenants. Turning to the successes found in hospitality design, owners are beginning to realize the benefit of investing in more experiential design features that keep the tenants and their employees happy and turn them into long-term lease holders.
Lobbies are offering more than a sterile route to the elevators. Services like grab-and-go cafes and fitness centers, even dry-cleaning services are being included. Water features and interior landscaping are being implemented into renovations to provides physical and mental health benefits to the occupants. But one key distinguishing addition is the standout—amenities in office buildings, a space reminiscent of what the hospitality industry offers its elite guests, the "club level". Let's face it, everyone needs a break, a place to unwind and reenergize for the balance of the workday. When buildings are in high-rise city centers, getting out is not always easily achieved. Moreover, stepping out onto a crowded sidewalk within the urban sprawl does not provide what employees seek.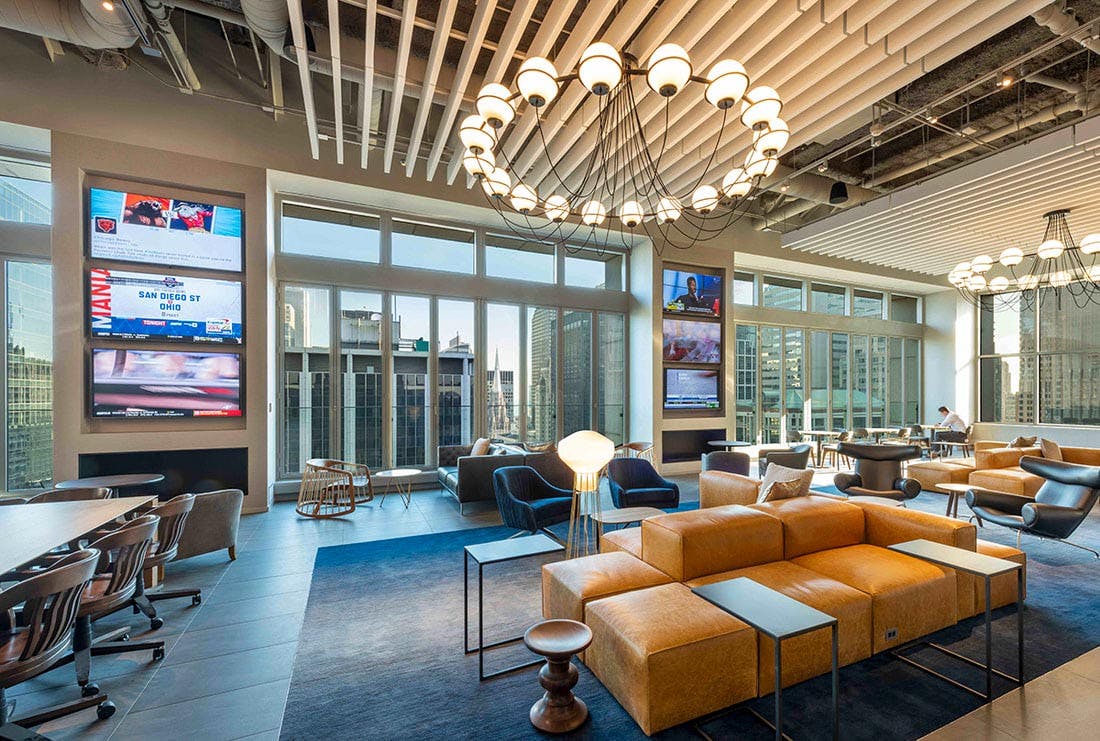 Workplace Design Amenities Floors that Incorporates Biophilic Principles
The buildings with the best amenities are typically leasing faster and getting higher rents. Two outstanding examples of successful high-rise renovations have the Chicago firm of Wright Heerema Architects at the helm. To create the competitive edge their clients were seeking, the firm draws on the biophilic design principles found to be so successful in hotel resorts. Increasingly dense urban environments, coupled with the fact that the average worker spends close to 90% of their time indoors, heightens the importance of workplace wellbeing and amenities in office buildings. To combat environmental stressors, this workplace design employs biophilic design incorporates nature into the built environment to create restorative spaces through direct experience by connecting with light, air, water, and views and through indirect experience through colors, textures, and form in design.
At both 123 N Wacker and 200 West Jackson in Chicago, Wright Heerema Architects reinforced the need of amenities in office buildings and designed amenities floors incorporating community gathering spaces, or modern tenant lounges, allowing employees to gather and socialize, boosting existing tenant satisfaction and attracting new ones alike. To maximize the lure of these spaces, the amenities floors have been placed on elevated levels at or near the top of the structures to incorporate as much natural daylight and views as possible into these much sought-after spaces.
123 N Wacker, Chicago
The property owners at 123 N Wacker wanted to create a space "to cater to the needs of today's office tenants seeking unique workplace experiences for their employees" says Wright Heerema. The recently completed room, located on the 30th floor features wood paneled walls, stone accents, fireplaces, a coffee bar and is infused with warm and rich colors and textures. The most spectacular focal point is the skyline view out of the walls of operable glass.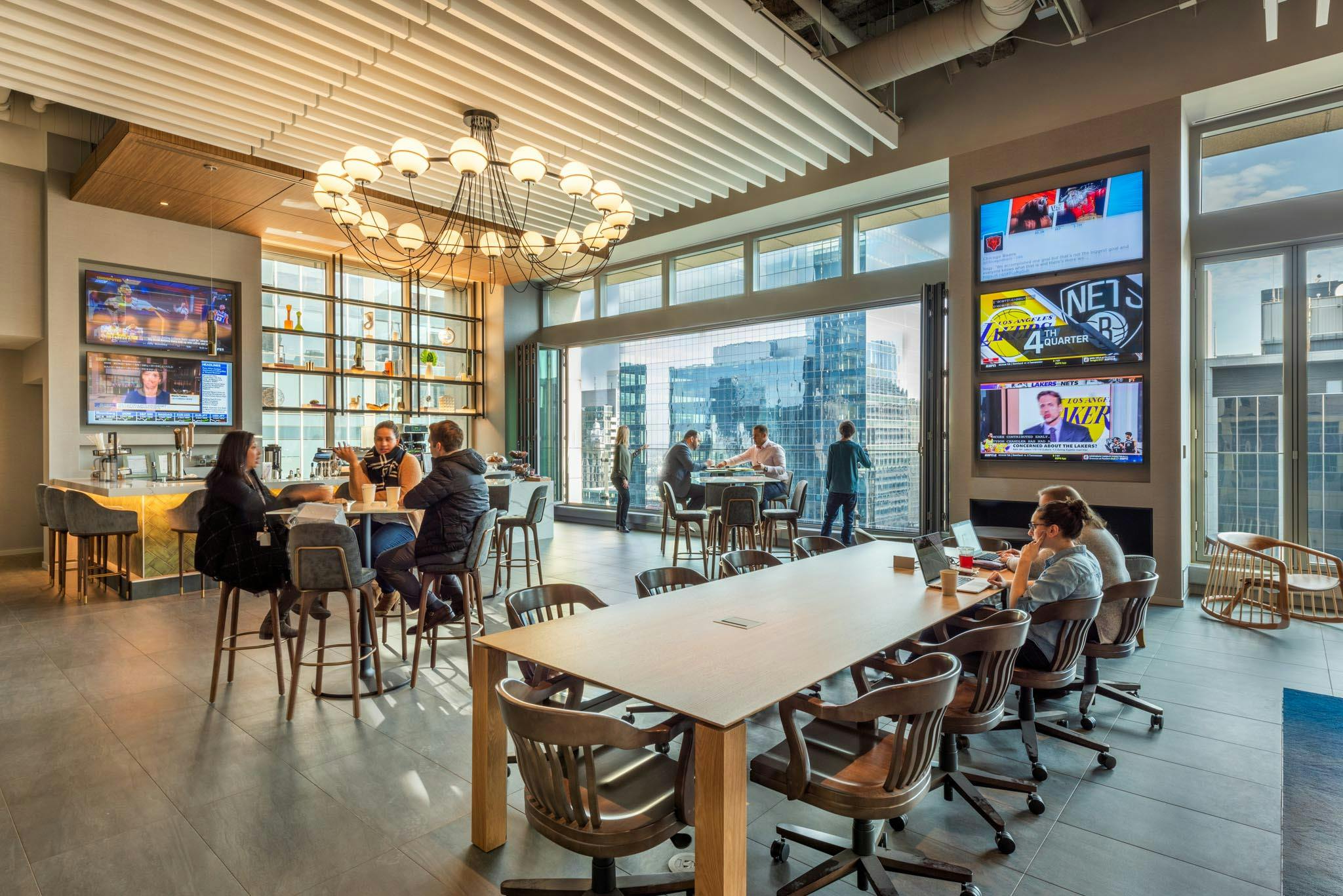 Fresh Air Ventilation for Health and Wellbeing in Workplace Design
The tenants relax and enjoy "open air" views with floor to ceiling glass walls that flood the interior with fresh air and daylight. Meant to be a four-season room, the architects specified three NanaWall SL70 folding glass wall systems that are each 10-feet tall and over 26-feet wide to fill the east facing side of the building. The thermally broken SL70 folding glass wall system is engineered for heavy duty performance in larger sizes for virtually all environments, such as this 30th floor in the "Windy City". The folding system incorporates a running post design that provide high structural performance and weather resistance, suitable for high-rise structures and buildings.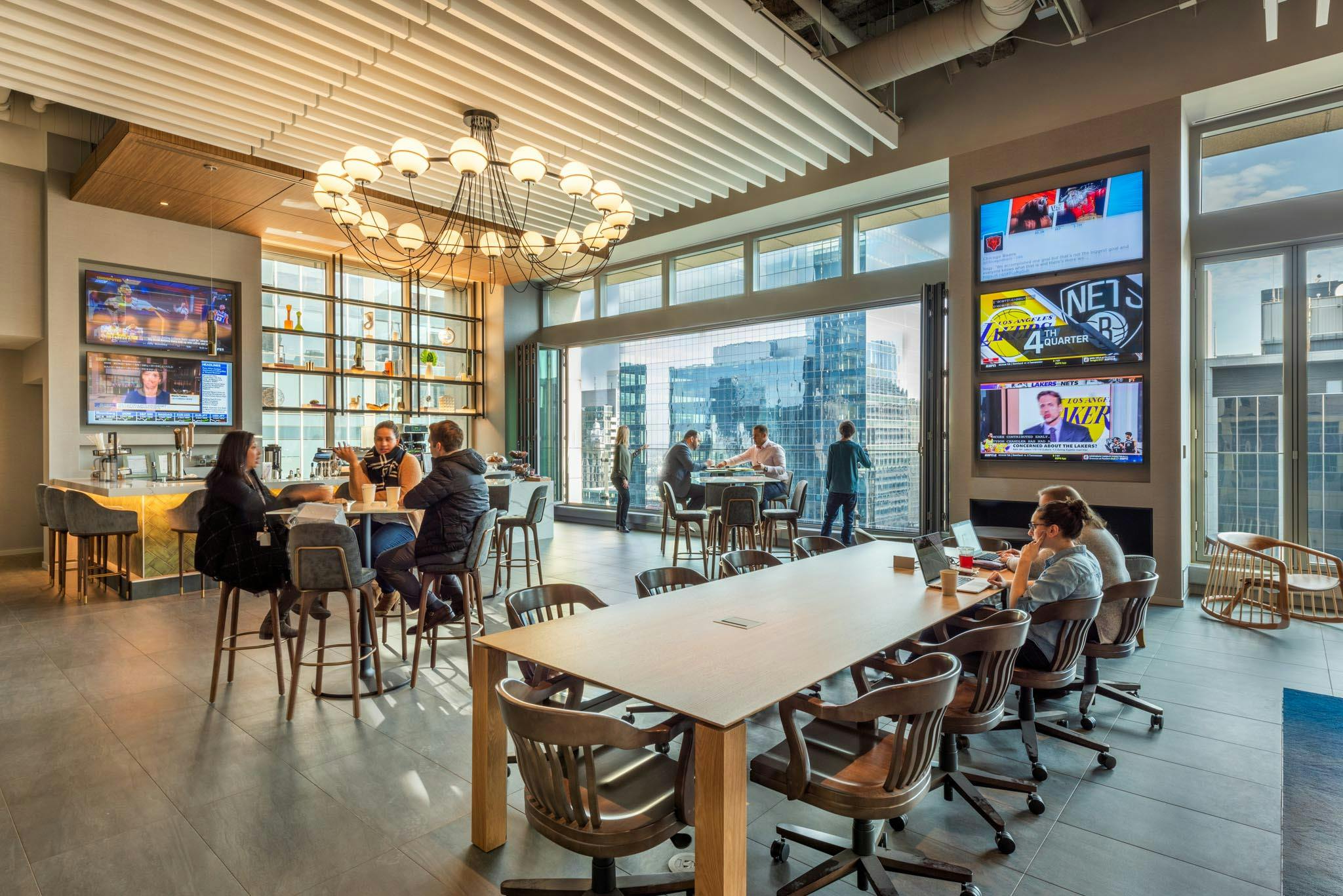 When the glass walls are open, tenants step right up to a glass railing effectively blurring the boundary between the building's edge and the view beyond. Smartly, the building owner also offers this exceptional space for private event rentals which adds additional value to this investment.
200 West Jackson, Chicago
At 200 West Jackson, the owners sought to provide the amenities that appealed to tenants that would be attracted to a space that fosters employee engagement. With the design concept from Wright Heerema Architects, the building now boasts The Notch on the 28th floor. This amenity space quite literally is a "notch above the rest".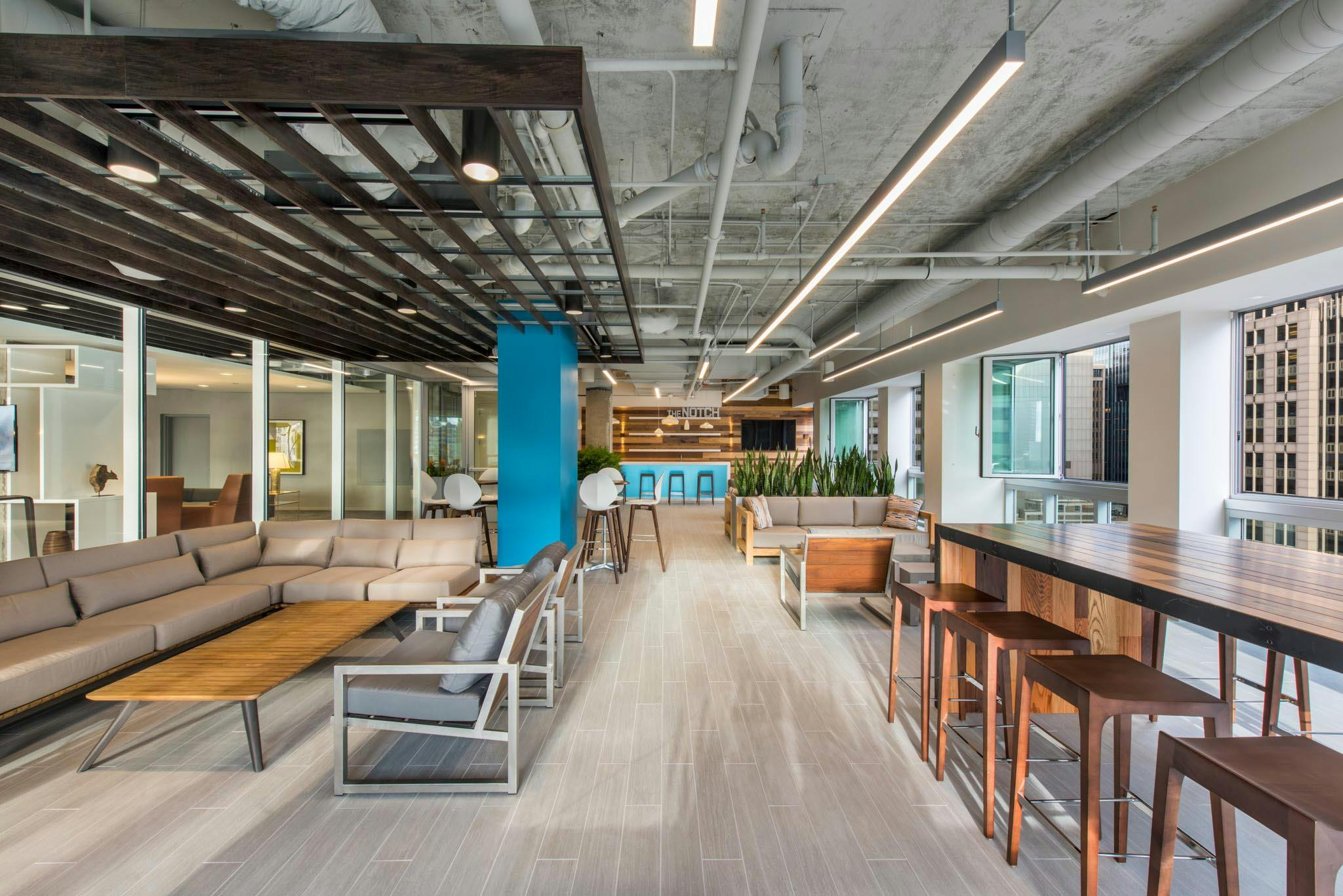 Four Season Amenities in Office Buildings
This floor is made up of an interior lounge and an outdoor terrace which is all about the view. The innovative workplace design pays homage to a hotel's indoor/outdoor lounge and transforms the floor into an outdoor retreat, even without access to a roof. Situated at the corner of the 28th floor, the architects created a terrace lounge with floor to ceiling windows that gives the tenants air, light, and a refreshing outdoor getaway. Operable folding glass windows open the space to the outside on two sides, providing panoramic views of downtown. In colder months, the space transforms into a breathtaking winter garden.
To achieve this, 8 three-panel NanaWall SL70 window systems at five-feet five-inches tall were specified. The NanaWall SL70 features an all aluminum design that incorporates a thermal barrier built-in. The thermal barrier provides increased strength, superior humidity control, improved acoustics, and energy savings. The folding glass wall system provides exceptional protection from exterior elements and delivers a comfortable and quiet indoor experience when closed.
Design elements draw on indoor/outdoor appeal with lots of wood elements and greenery, not to mention loads of fresh air and daylight. The space is also available for private parties.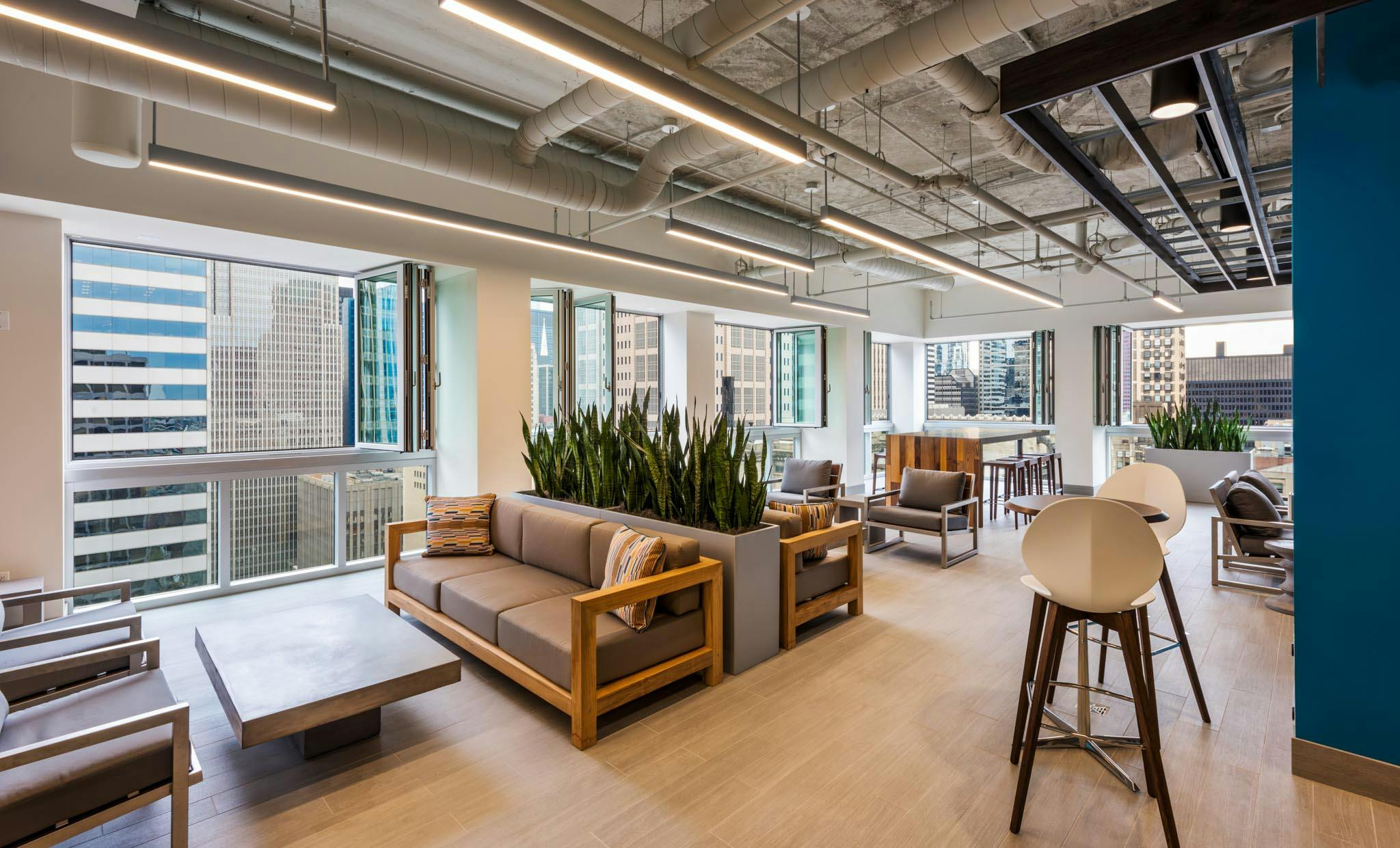 Final Thoughts
To stand out from the crowd, these office buildings are successfully utilizing workplace design with biophilic principles influenced by the achievements found in the hospitality segment. Amenities in office buildings foster connections between people and their environment, enhancing feelings of wellbeing and a sense of meaningful community. This in turn provides the differentiation, modernization, and upgrades needed to increase occupancy and retain satisfied loyal tenants.
Learn more about the transformative features of NanaWall SL70 and other office building applications at NanaWall.com!