Manhattan Motorcars Hamptons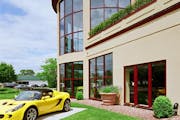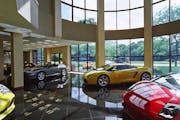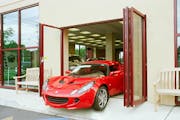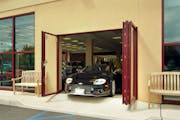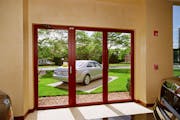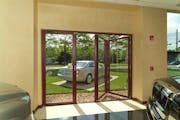 Architect
Shawn Leonard Architects
Photographer
Steve Amiaga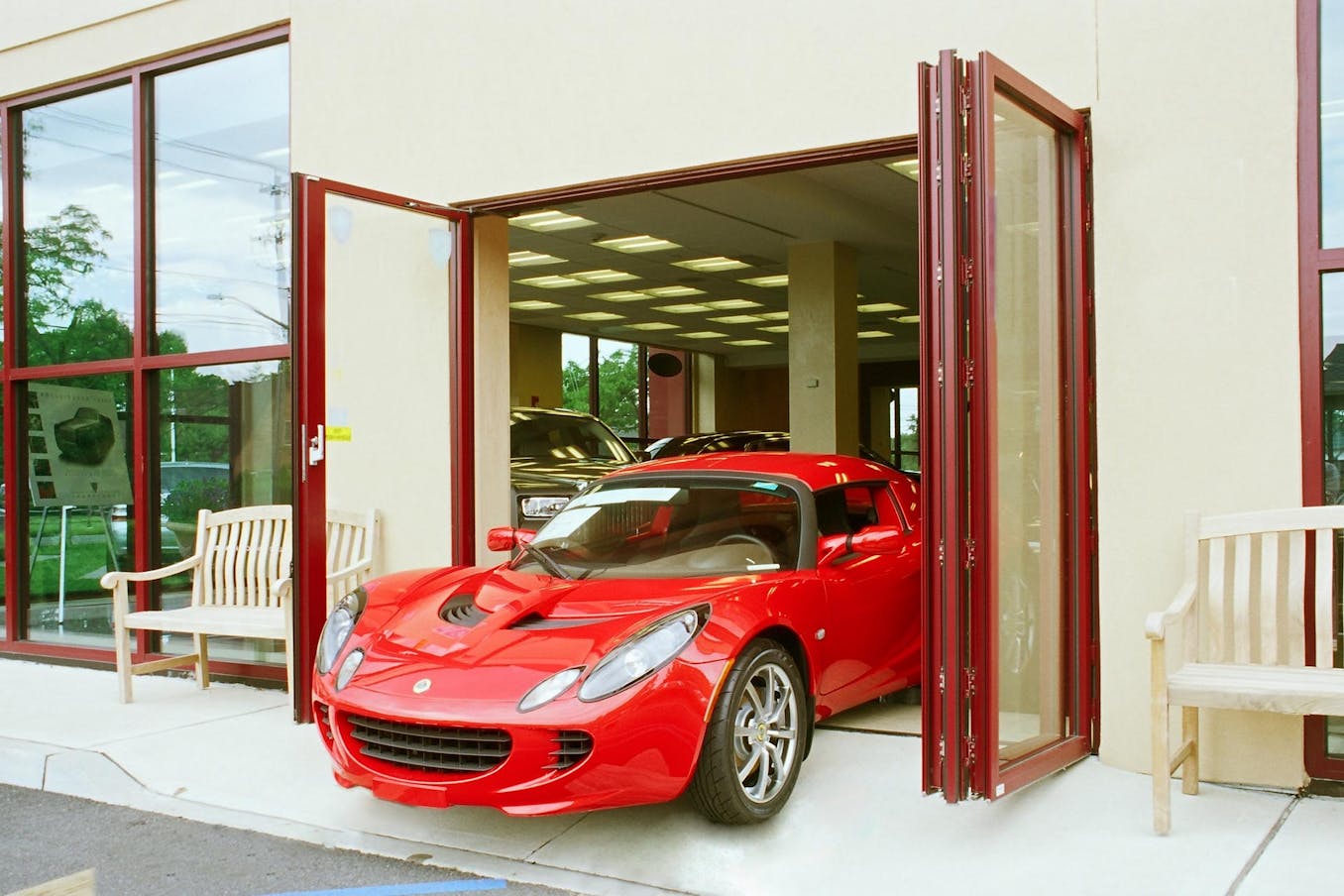 For a new and unusual building combining a luxury auto showroom and high-end restaurant in New York's toney Hamptons beach towns, the owner of the car dealership required a secure yet attractive solution for opening up its ground-floor walls.
Working with the architect Shawn F. Leonard Architect of Southampton, the father-son dealer team of Arthur and Brian Miller began to give form to the unique dining and auto-viewing environment. "The project's main focus was to design a dealership for high-end cars – Rolls-Royce, Porsche, Lamborghini and the like – but the concept evolved to include a restaurant on the second floor with a viewing platform open to the showroom below," says Leonard, adding that the owner saw a similar concept in Arizona.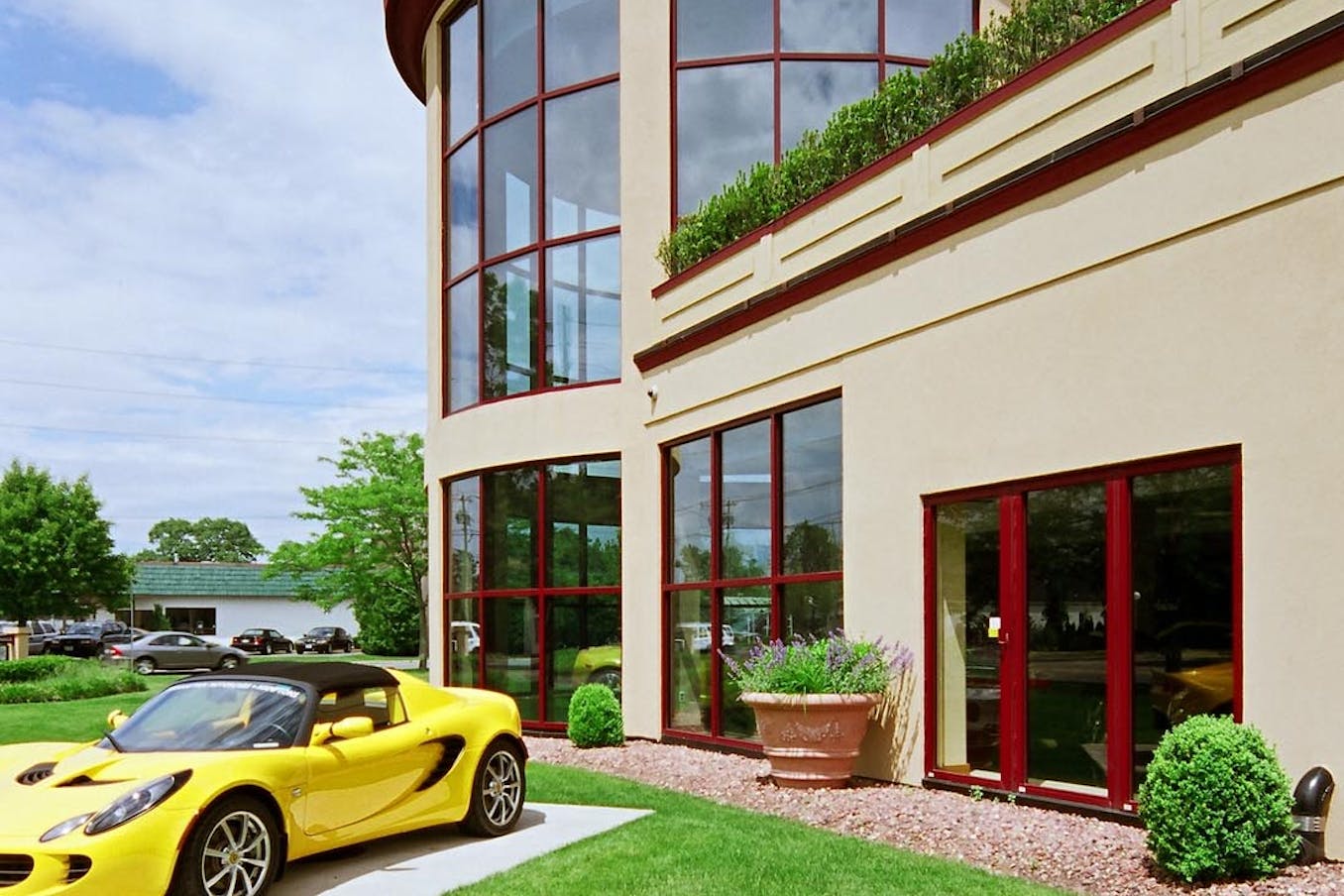 This one, however, was unmistakably original. Leonard's design borrows automotive symbols and patterns, such as the wheel shapes and bodies of exotic sports cars and luxury sedans. "The round rotunda suggests a sports car tire laid on its side, while a nearby wall riffs on the Rolls-Royce logo on the car's memorable front grille," says Leonard.
The new building also needed large glass openings to show off the automobiles in stock – and they had to be operable to let them in and out. "The showroom also has a car elevator, which brings cars to the basement," Leonard notes.
Ease of Inventory Rotation
Opting for the outswing NanaWall SL73, with one 2L1R along with two 1L2R glass walls, Leonard was able to offer operable glass doors for pedestrians as well as a glass façade opening big enough that cars could be driven in and out. "NanaWall doors became the perfect fit, and we used them on every façade," he explains. "And because we wanted the doors to lock securely and resist storm rains and winds, we couldn't use sliding doors, which aren't that great for security."
"The Opening Walls are Reliable, Durable, and Energy Efficient. In cold Weather, the Tight Seal Means No Heat Loss."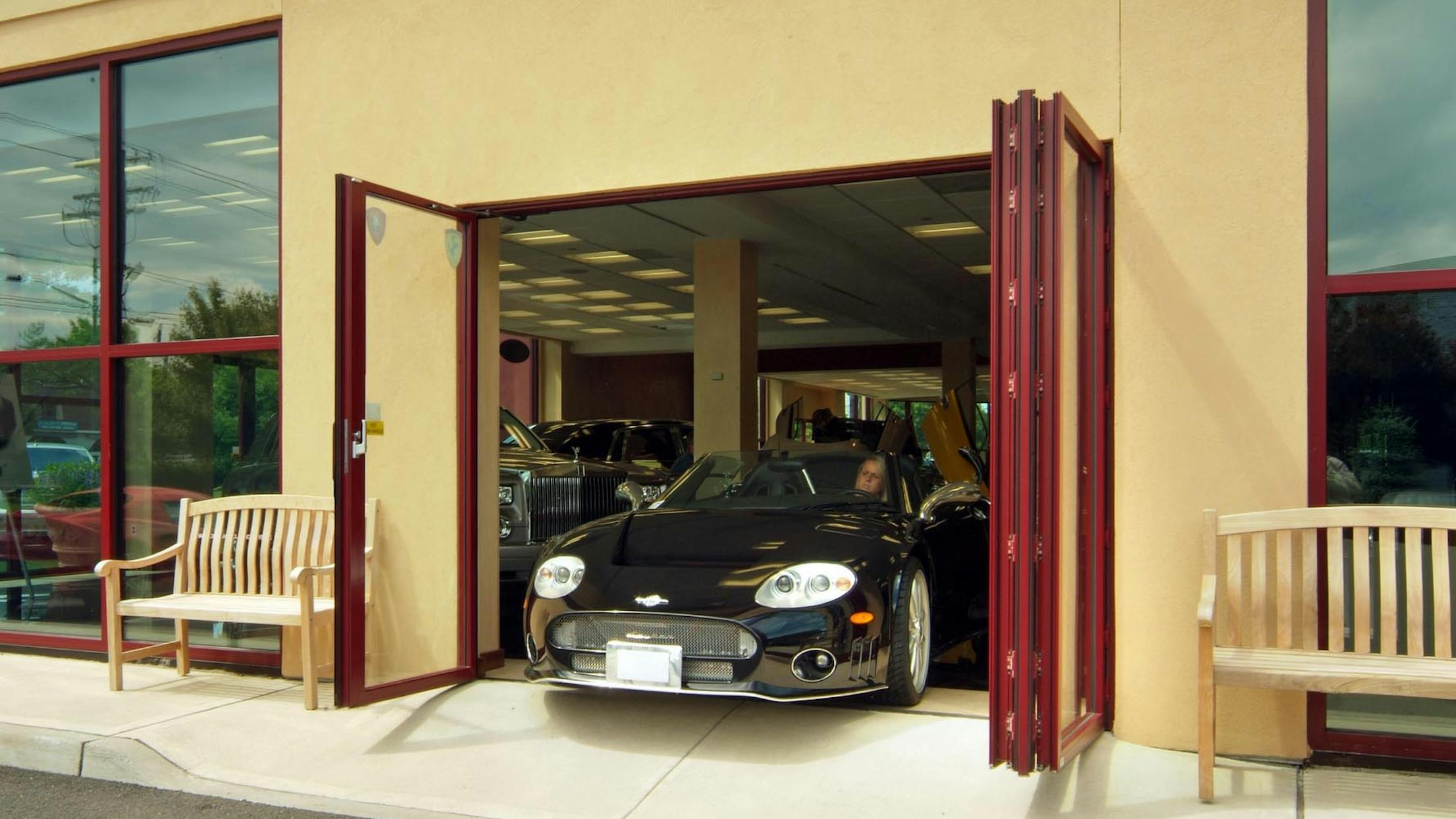 Leonard also liked the classic design and adaptability of the NanaWall operable walls, he explains. "To create a more proportional look to the glass, rather than typical sliding doors that would have a big panel and small panel, we used three panels," says Leonard, to match the three-by-three window panes on the building's cylindrical mass. "Two of the panels fold over, and the remaining panel functions as a normal pedestrian door."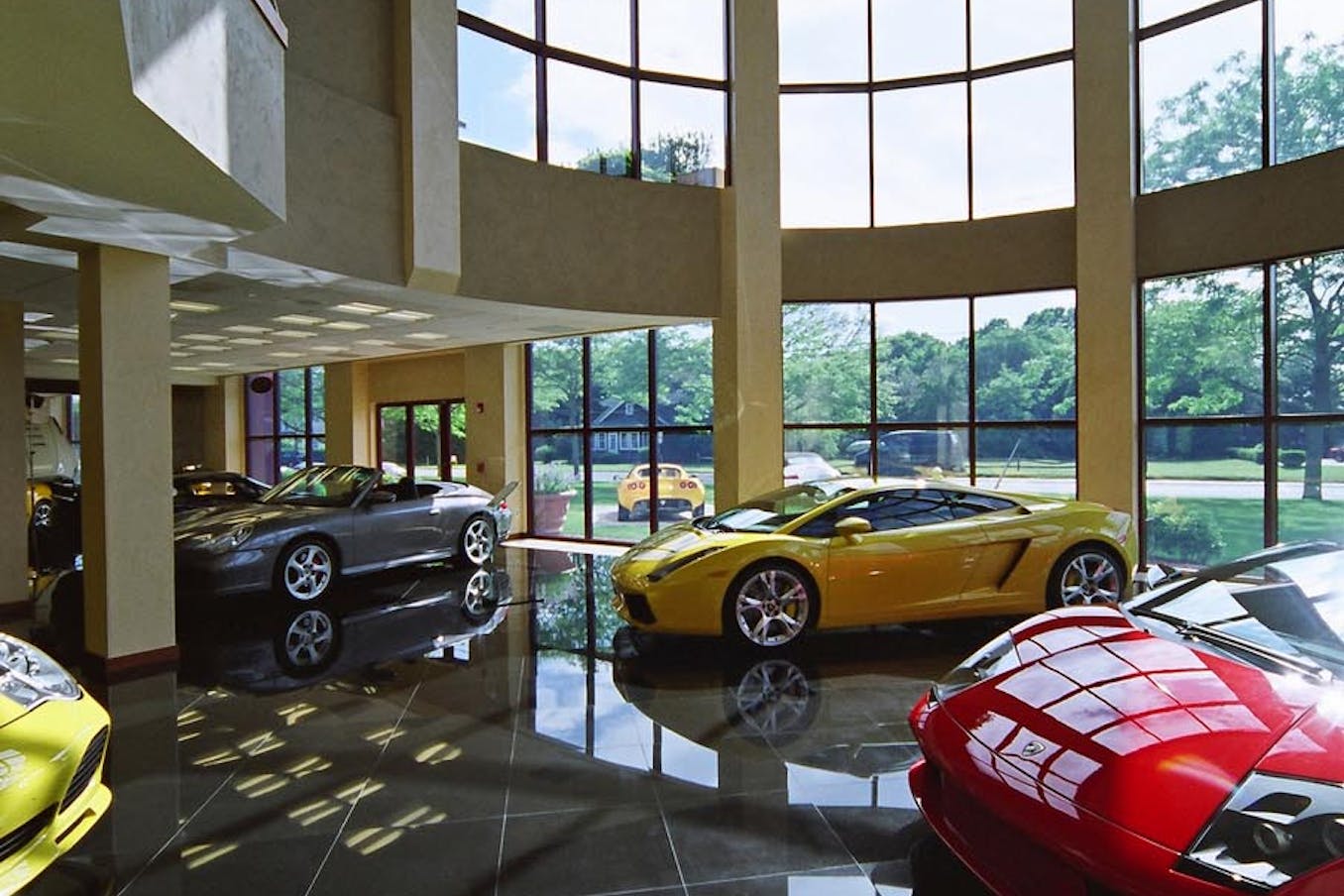 Hurricane Approved System
Due to the area's strict building codes to protect against storm damage from high winds, Manhattan Motorcars Hamptons required strong operable doors with tight, gasketed seals. "We also had to work with the Westhampton Beach area officials to meet requirements for a hurricane zone, and NanaWall was able to do so," says Leonard. "New York state codes require hurricane-proof fenestration also."
According to Ebrahim Nana, president of NanaWall Systems, the SL72 folding-glass-wall system is already Miami-Dade-rated to withstand hurricane-force wind, rain, and flying debris.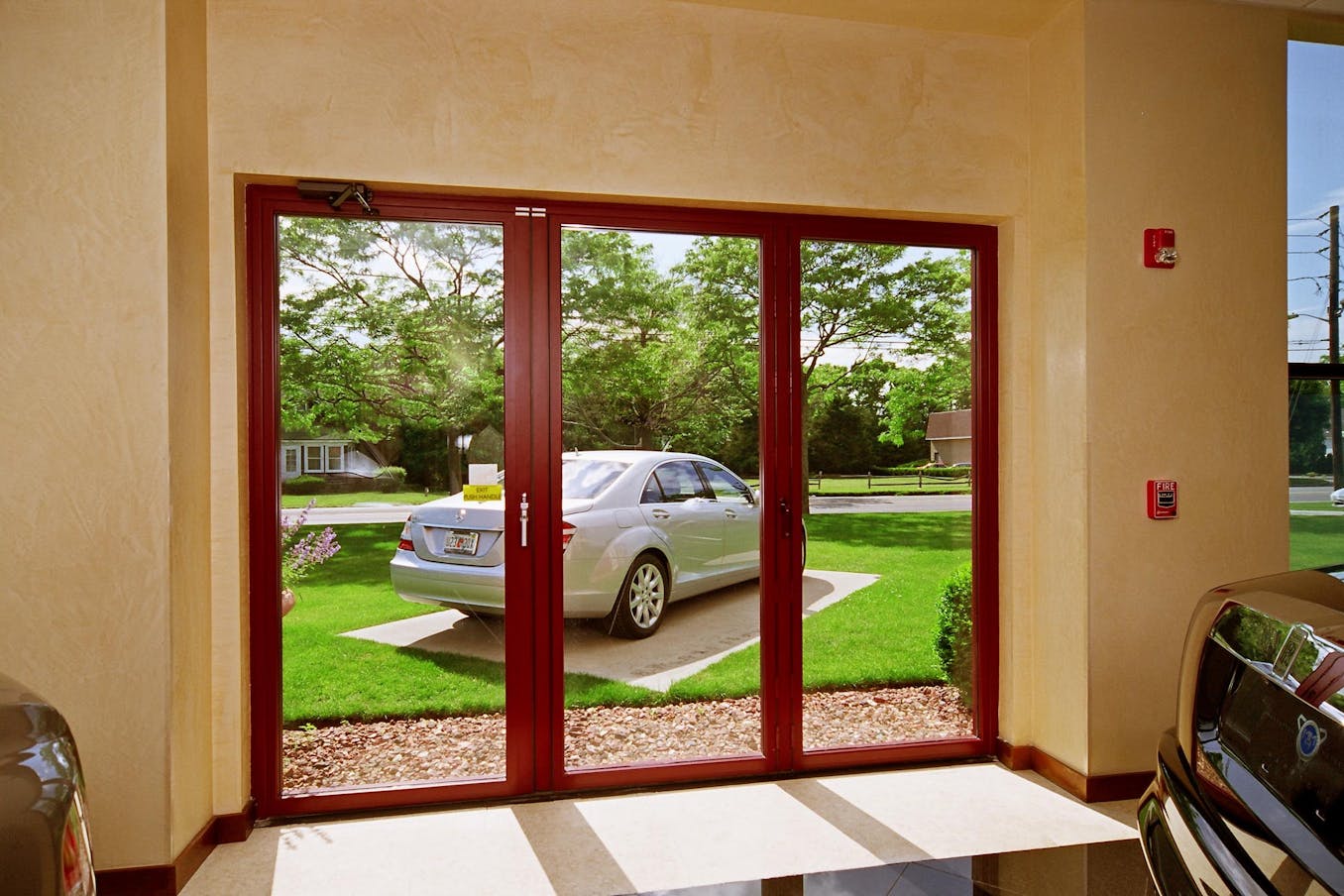 Typical daily wear-and-tear was also a concern, said Richard A. Rubio, who was the general manager of the business. "Manhattan Motorcars showroom is very active and we use the NanaWall systems on a daily basis for egress and ingress of cars," said Rubio. "The opening walls are reliable, durable, and energy efficient. In cold weather, the tight seal means no heat loss." "The NanaWalls are fantastic," Rubio said.
For the architect Leonard, the quality of NanaWall also stood up to the high-end finishes and fixtures used throughout the auto showroom and restaurant. From Venetian plasters and Black Absolute granite floors, the facility had to project a distinctive, upmarket feel.
What our Customers Have to Say