10 Tips for Outdoor Entertaining with Moveable Glass Walls
By NanaWall Systems, July 14, 2022
It's the entertaining season and there is no better time to open those moveable glass walls and host a fun night of entertaining! Whether you're merely hosting your neighbors or your entire extended family, operable walls facilitate seamless transitions to the backyard while maximizing the available space and bringing the outdoors in. These opening glass wall systems come in all shapes and sizes and can be customized to best fit your needs and the parameters of your home. Looking for some design inspiration? These ten residential projects offer plenty of design ideas that you can implement for your next home renovation.
10 Outdoor Entertaining Areas with Moveable Glass Walls
1. Tear Down Solid Walls for the Moveable Option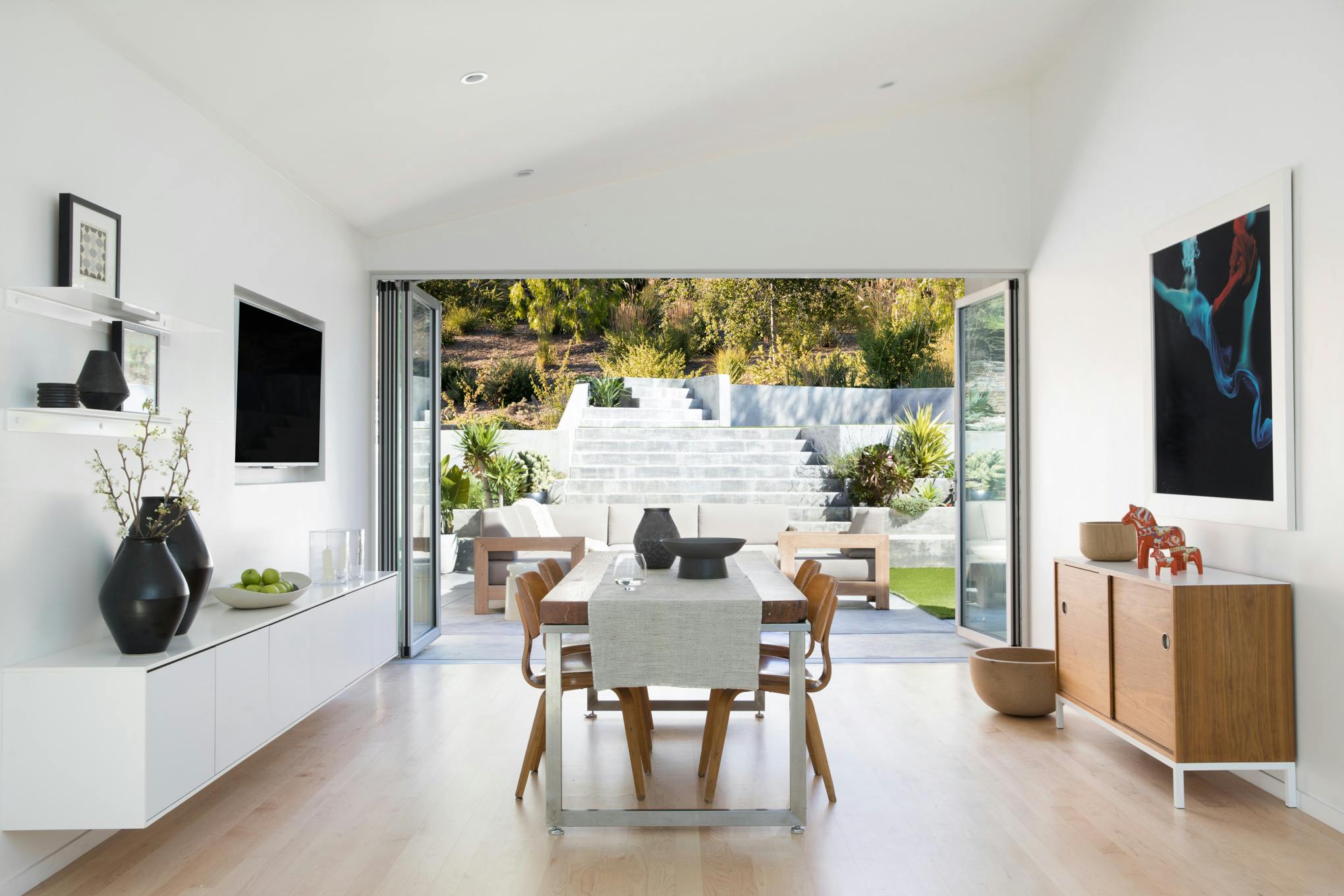 Can you believe a solid wall actually existed on this patio? Once a dark, restricted space, the homeowners tore down the back wall that connected their kitchen to the patio to extend the available space to the outdoors with moveable glass walls. When entertaining, the dining table can be easily moved to the entrance and transformed into a buffet surface or simply a sitting area for al fresco dining. The available lounge space is extended for additional seating and quick trips to the kitchen are simplified when serving food and drinks. Plus, what better way to showcase that beautifully manicured garden than with transparent walls!
2. Attain Maximum Flexibility with a Kitchen Transition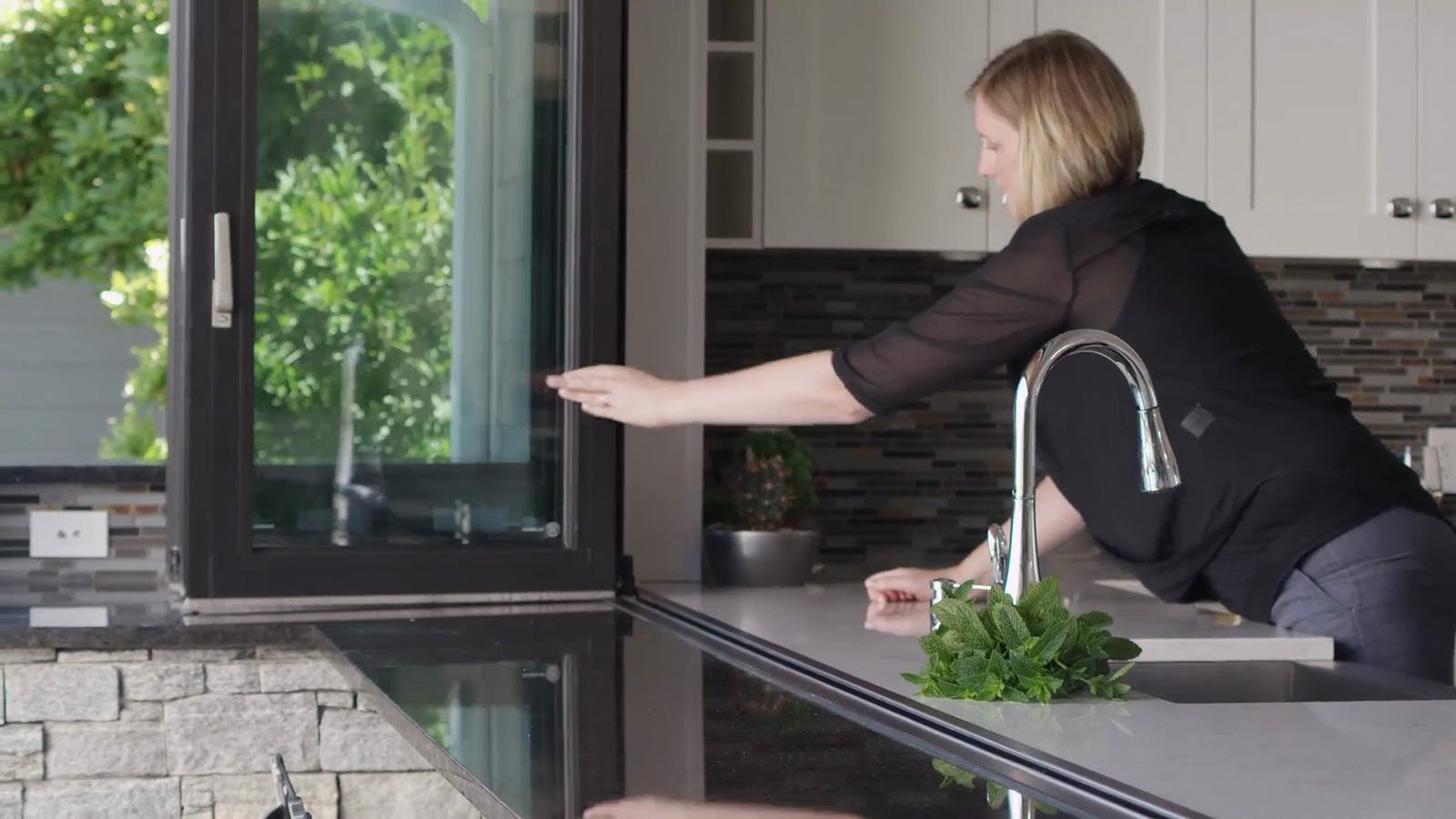 We certainly wouldn't mind hosting a few friends in this indoor/outdoor kitchen! A Window/Door combination, or Kitchen Transition (as we call it here at NanaWall), maximizes the functionality of the space by immediately transforming an ordinary kitchen counter into a bar area for serving drinks or quickly passing over food. This gives you complete control of the opening—open the window section, the wall section, a swing door, or the entire system. Don't miss out on the fun with restrictive walls and opt for the moveable option that will allow you to continuously mingle with your guests while in the kitchen.
3. Eliminate ALL Solid Wall Barriers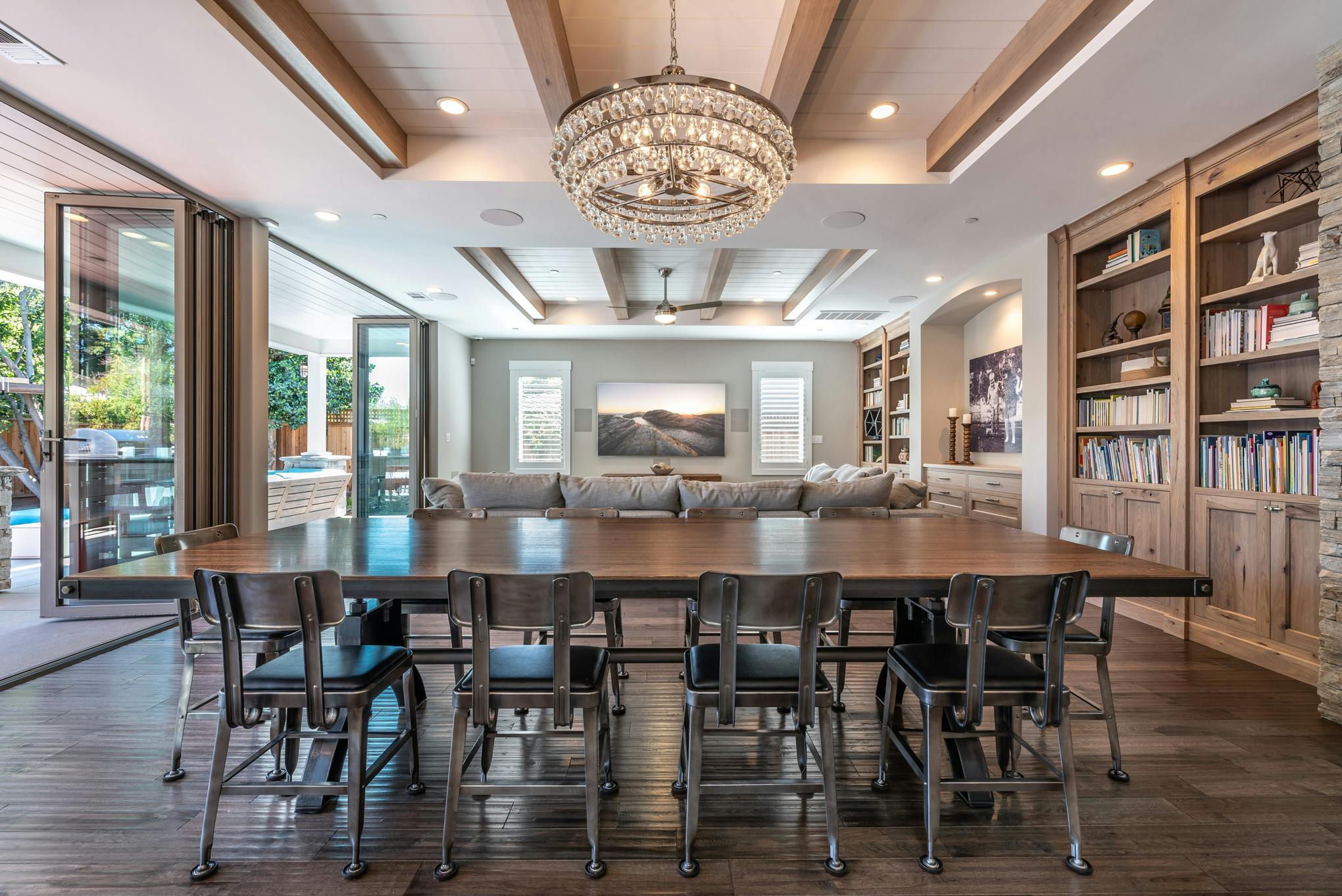 This impressive residence completely eliminates the indoor/outdoor threshold with opening glass wall systems covering the entire rear façade. From the living room to the dining room, to the kitchen, the extensive backyard becomes easily accessible through the aluminum framed moveable glass walls. Paired with minimal, barefoot-friendly sills, it's almost as if there were no walls at all. One can only imagine the parties hosted here! Guest can easily move in and out of the living areas, choosing to lounge in the comfort of the living room or mingling outside in the fresh air.
4. Repurpose the Garage for Outdoor Entertaining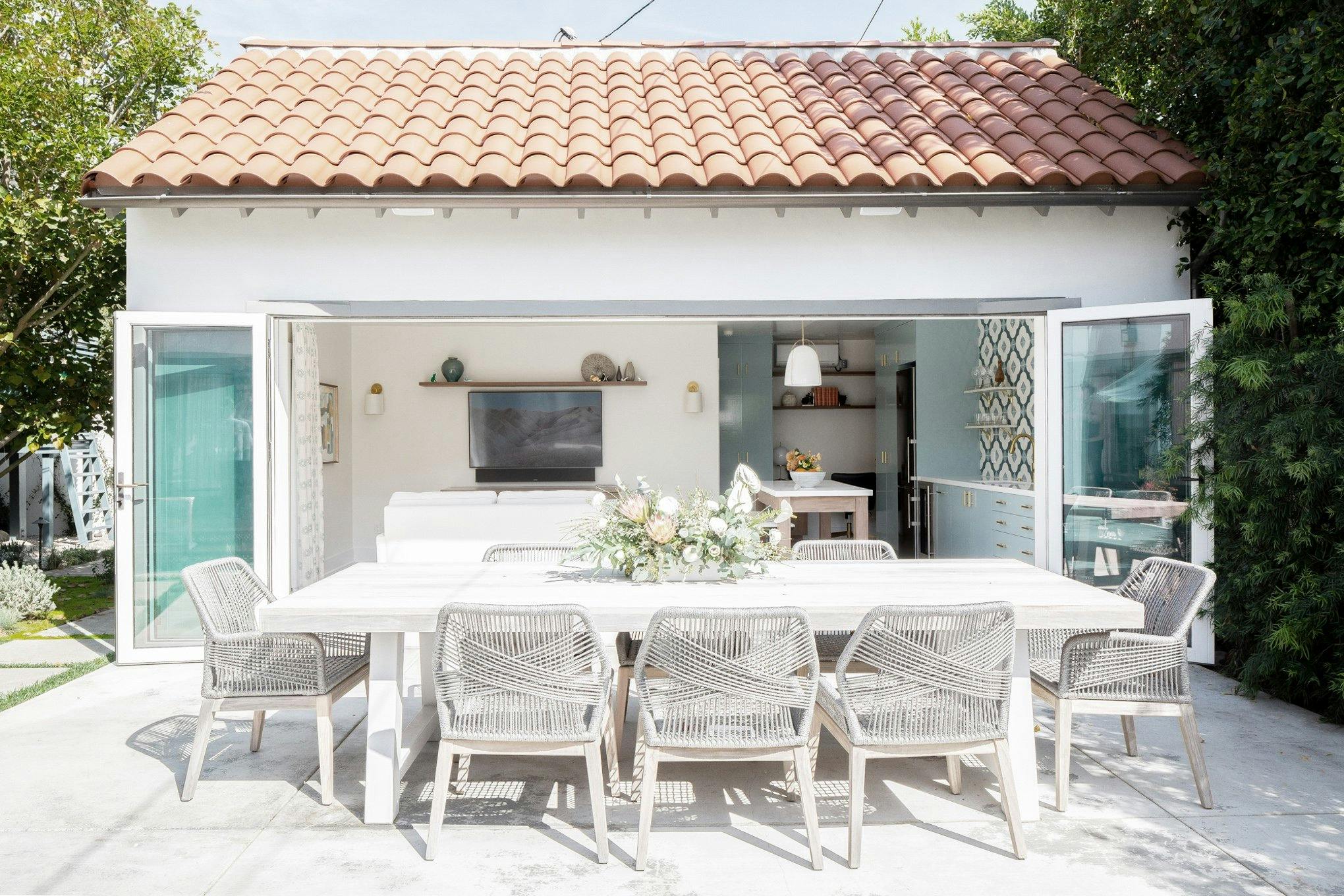 Give your underutilized garage a new purpose with a head-to-toe renovation with opening glass wall systems. The homeowners at this residence reimagined their garage into a multifunctional space that doubles as a guesthouse, home office, or whatever else they may need. It is also the ideal spot to entertain guests outdoors. Moveable glass walls with FoldFlat® technology open the small dwelling to a large dining table perfect for al fresco dining or sharing a meal with the family. FoldFlat allows the panels to fold back and stack at a 180-degree angle parallel to the opening.
5. Optimize the Functionality of Your Pool house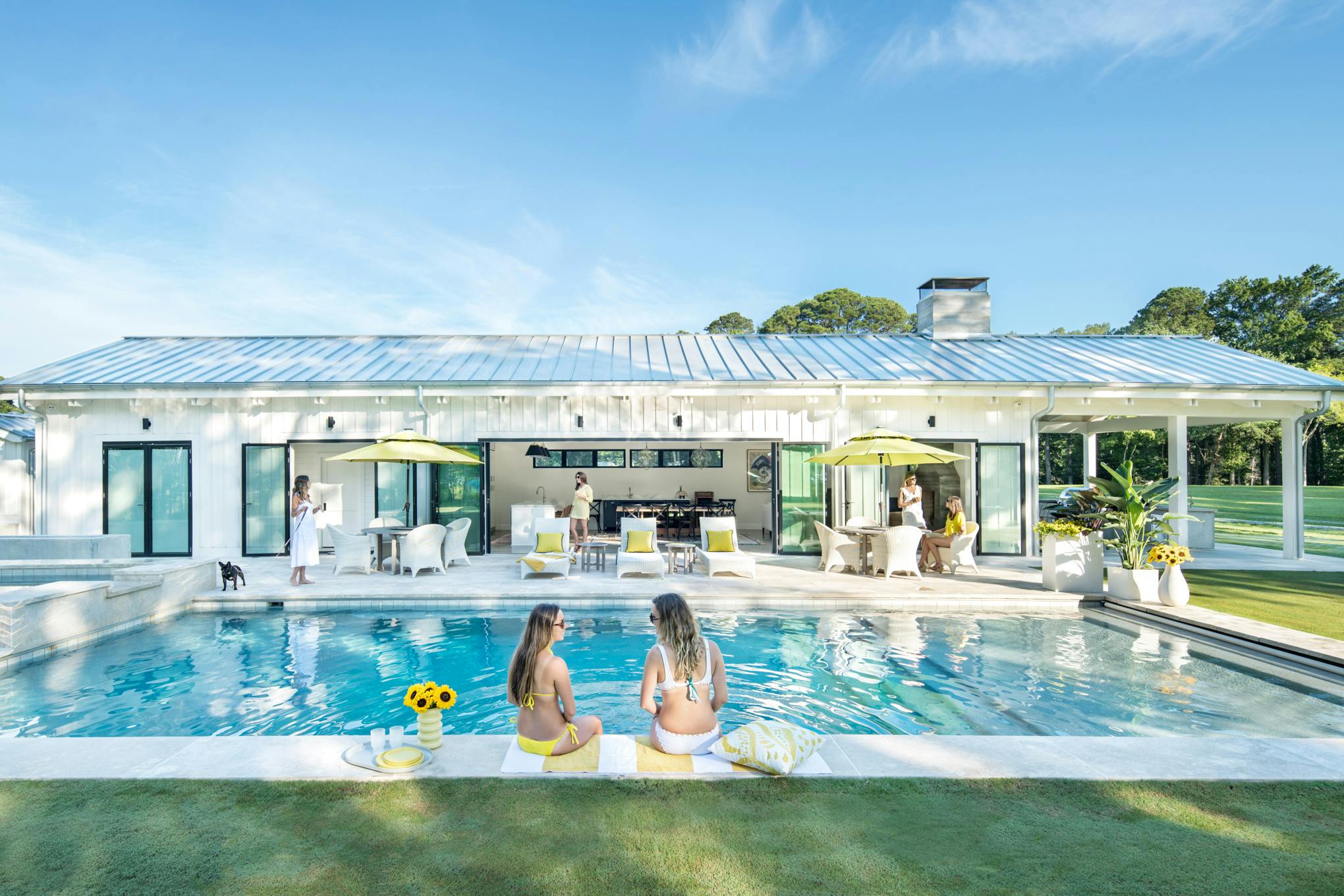 Talking about multifunctionality, this pool house is the perfect example of utilizing flexible design solutions to optimize the function of a space. A pool house provides the ideal space for lounging after a nice swim and the perfect spot for mingling with guests. A pool house, however, can have more than one purpose just like this impressive indoor/outdoor space. Outfitted with a full kitchen, dining room, living room, and restroom, this pool house doubles as a guest house or home office aside from hosting the most extravagant pool parties. The moveable glass walls create seamless, and safe, transitions while protecting the indoors from the elements when not in use.
6. Reimagine the Kitchen Counter into an Indoor/Outdoor Bar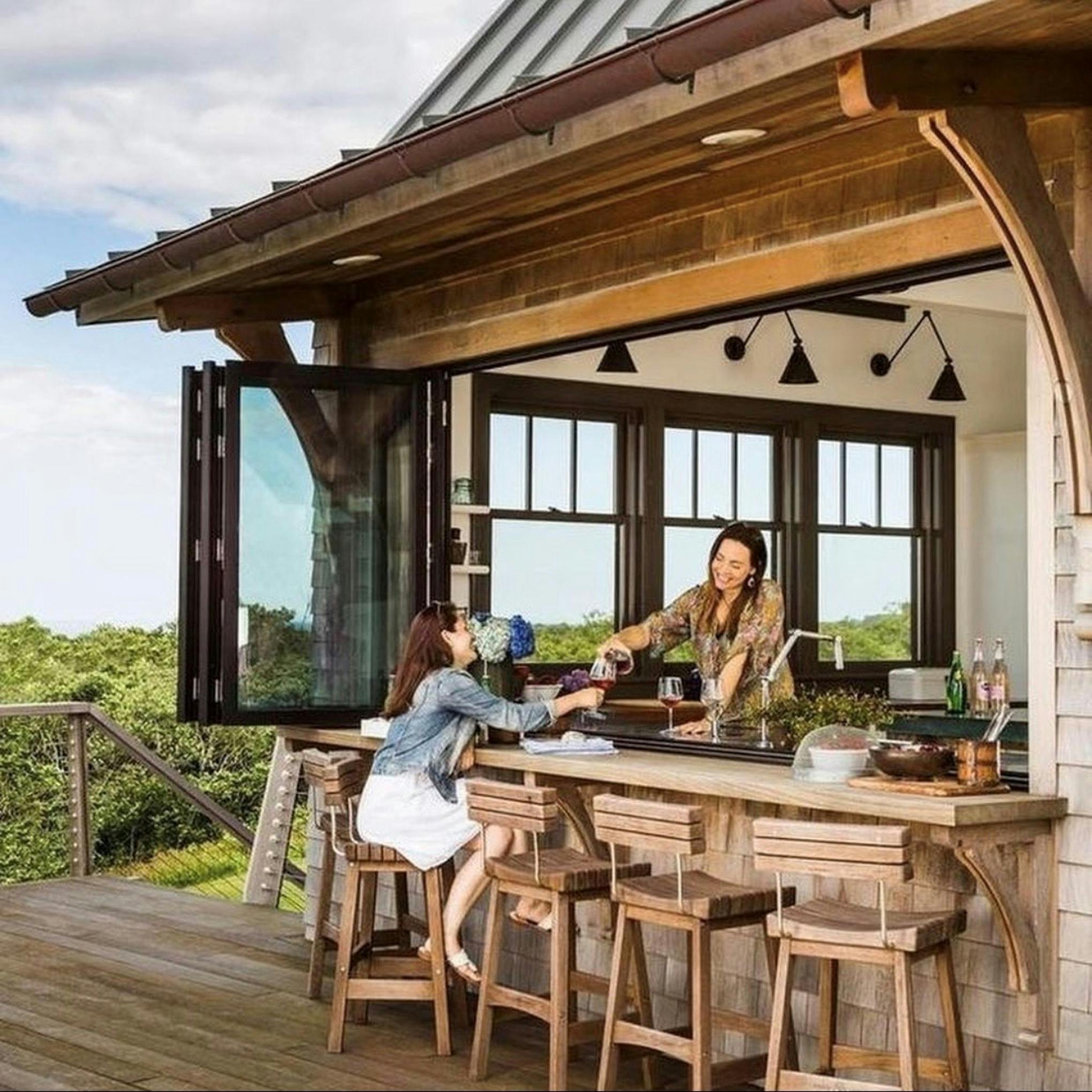 Hosting a more intimate gathering or looking to elevate the feel of your home? Indoor/outdoor bars are ideal for a quick al fresco meal or to facilitate serving when entertaining large crowds. Even the smallest window-sized opening glass wall can immediately transform an ordinary kitchen, and especially in smaller homes that may not accommodate dining rooms, an indoor/outdoor bar can offer the perfect spot for enjoying a meal in the open air or entertaining. Better yet, the frames can be easily customized to meet the aesthetic of the existing fenestration, including simulated divided lites.
7. Experiment with Window-Sized Moveable Glass Walls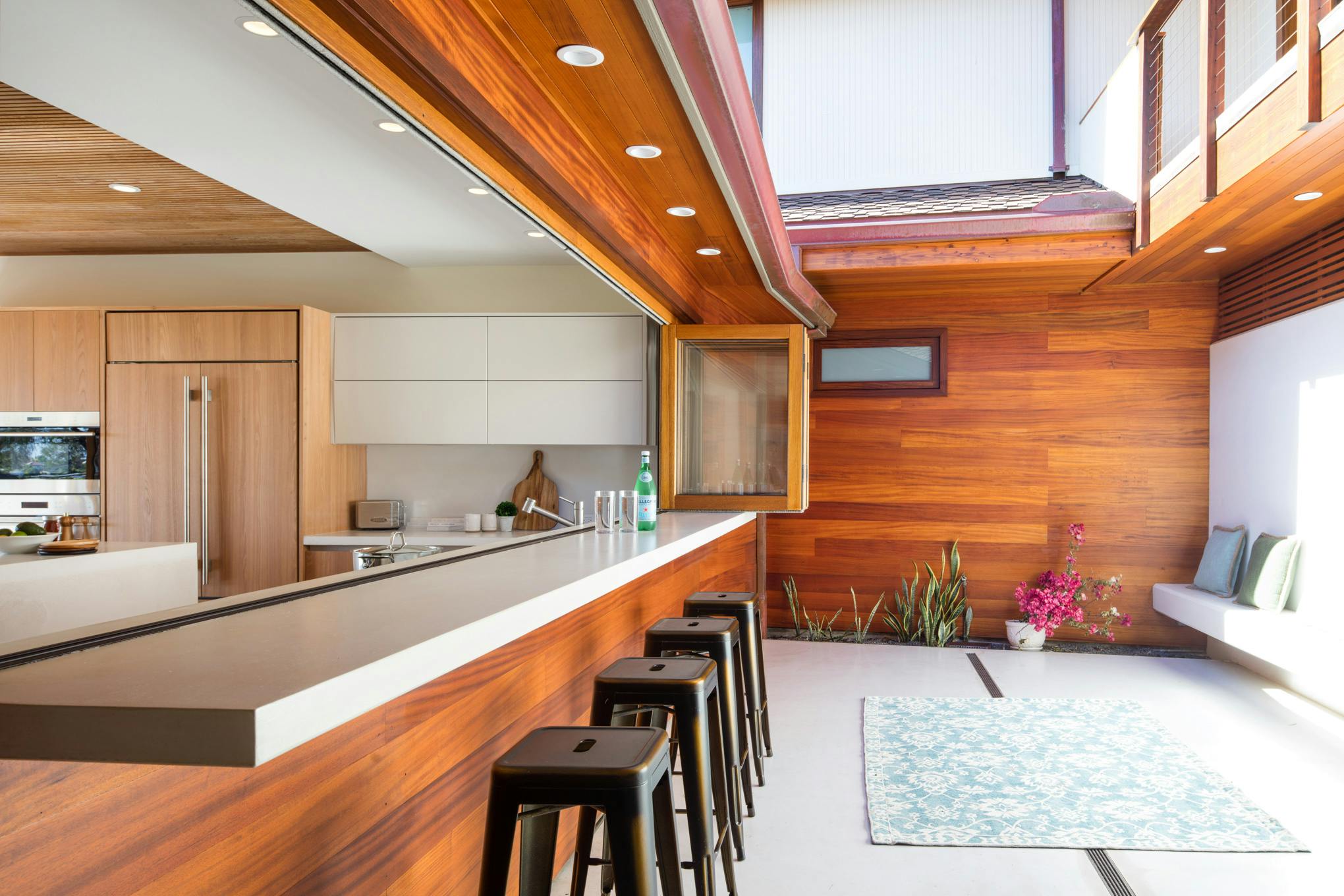 Window-sized opening glass wall systems are ideal for small spaces and construction restrictions that may prevent you from installing a full-sized system. Additionally, they make for great indoor/outdoor countertops for a more authentic entertaining experience. At this Hawaii home, the extra-long kitchen bar takes center stage. The wood framed operable windows perfectly match the home's aesthetic and neatly stack up against the wall for optimal space maximization. These smaller systems are as equally durable and offer the same advanced weather performance as their floor-to-ceiling counterparts.
8. Add A Touch of Coziness with Firepits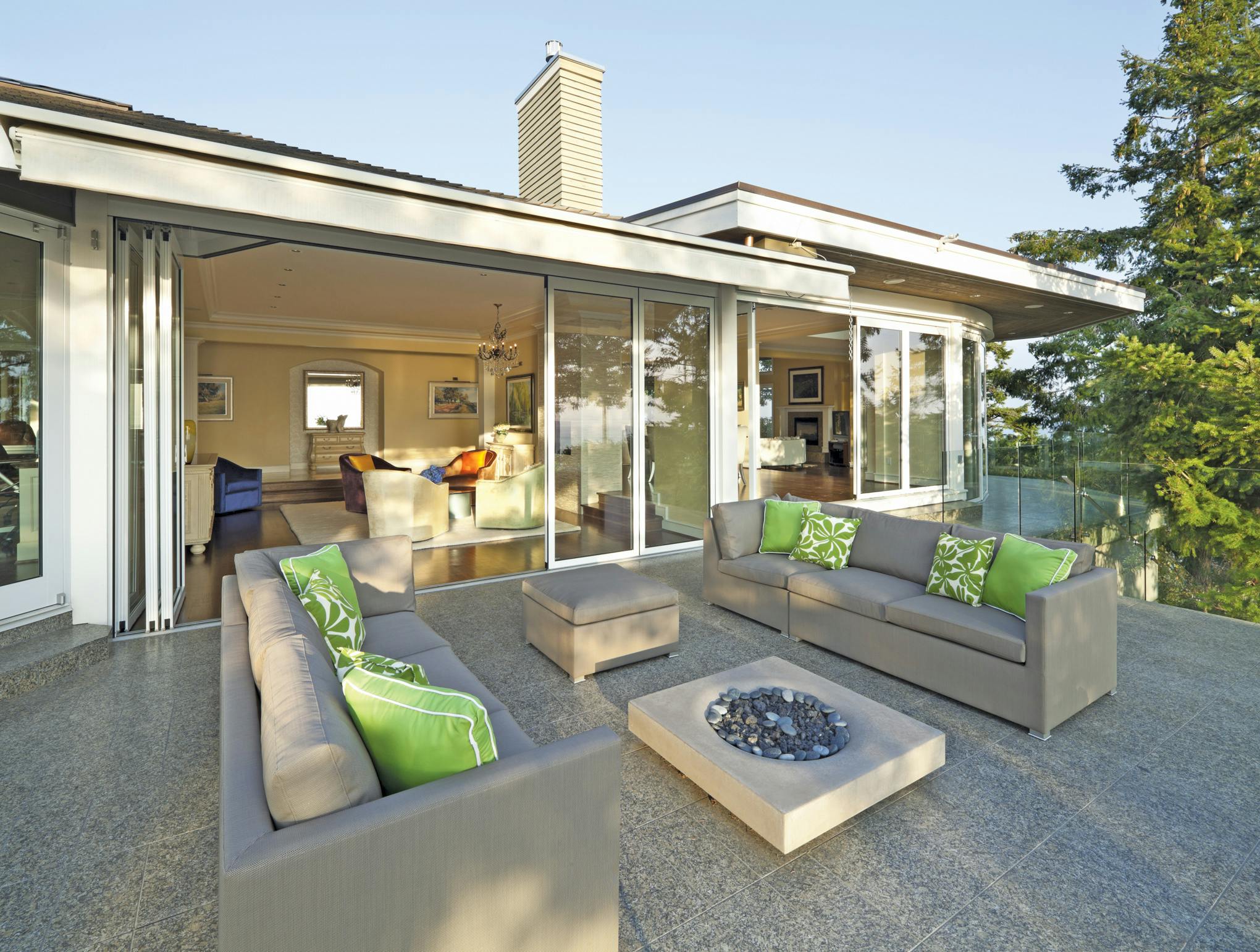 Bonfire and smores, anyone? Nothing makes a simple night of entertaining more enticing than seating by a cozy firepit roasting smores. It's like camping but without the fuzz. As mentioned before, opening glass wall systems come in all shapes and sizes, including individual sliding glass panels like at this waterside residence. Just like their folding counterparts, these single track sliding moveable glass walls can be customized to meet your needs including segmented curve tracks and open corner designs. Because the individual panels are operated one by one, homeowners have full control over how many to open depending on the needs of the day.
9. Entertaining in Multifamily Buildings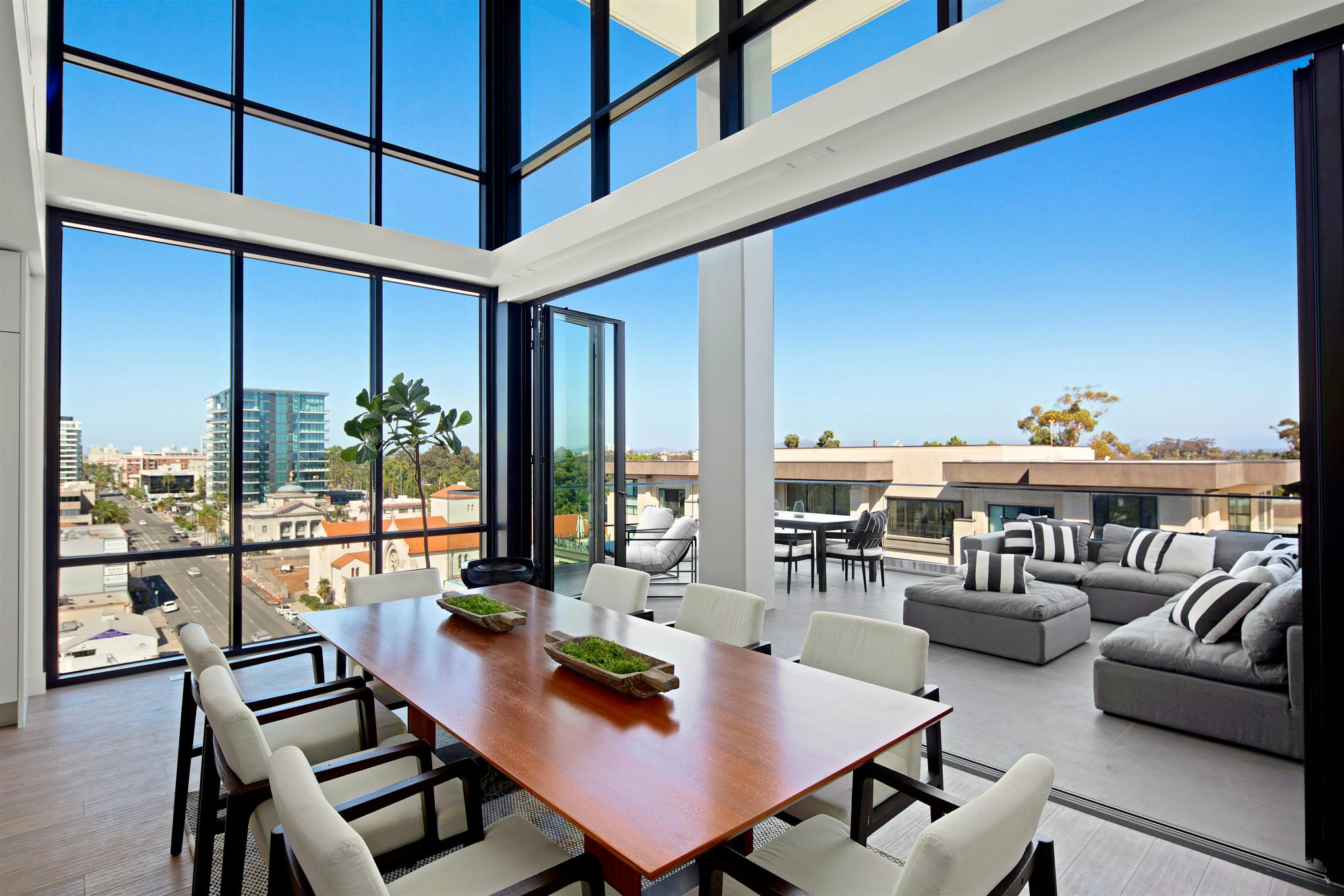 Whether it be a small condo or spacious penthouse, entertaining in multifamily dwellings might be challenging with regard to space availability. Fortunately, moveable glass walls can offer a solution. These easily operable systems extend the available space to decks and balconies for additional square footage, which comes in handy when hosting large groups. The durability of these tested and rated systems makes them ideal for midrise and high-rise applications, especially when it comes to weather performance and optimizing views. Who says you can't entertain in your small balcony space?
10. Indoor/Outdoor Living Rooms for the Win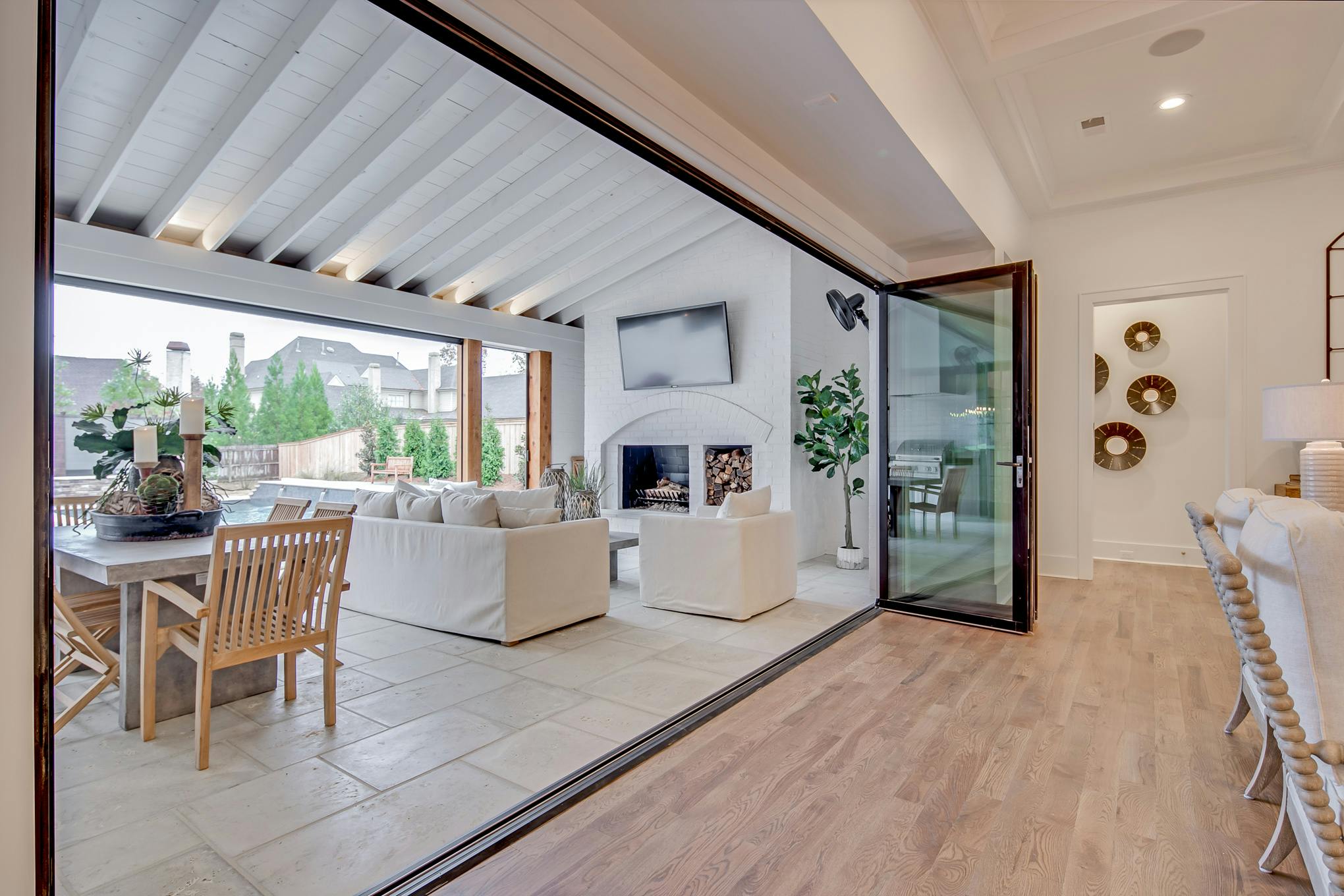 Hosting your neighbors for game night? Take it outside! This sprawling residence created the perfect gathering space with an opening glass wall system providing a flexible threshold for quick and easy transitions. The covered indoor/outdoor living room is spacious enough to host multiple guests and enjoy a fun evening of entertaining with the feel of being outdoors while being protected from the elements. The barely-there floor track allows for clean, unobstructed transitions into and out of the dining room, which can easily double as a buffet for self-serving. How convenient!
Final Thoughts
Ready to take entertaining to the next level? Moveable glass walls in residential spaces not only improve lifestyles with the indoor/outdoor experience but also a plethora of other space maximizing solutions. When it comes to entertaining, you want your guests to feel as comfortable as possible, and creating welcoming, open environments is key. These flexible systems transform ordinary kitchens and dining rooms into authentic open-air entertaining areas that will keep your guests coming back for more!
Discover how other homes leverage moveable glass walls when entertaining in our extensive residential applications gallery!