4 Ways Commercial Folding Glass Doors Can Add Space
By NanaWall Systems, August 19, 2019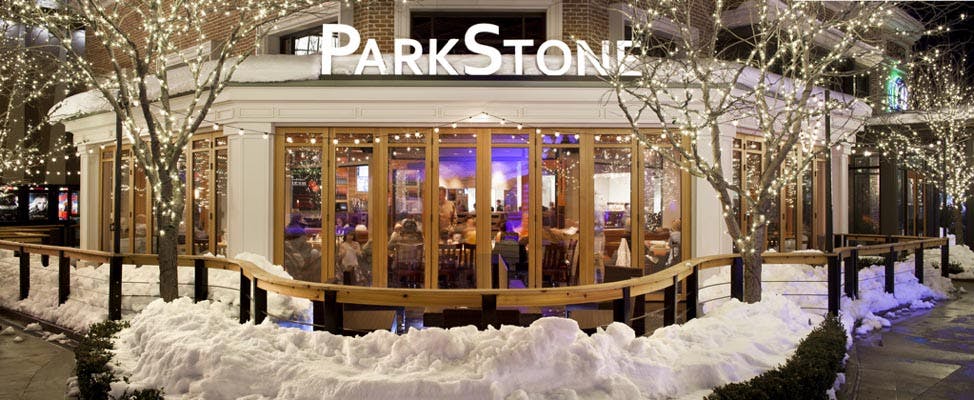 Commercial folding glass doors offer many benefits beyond providing unobstructed views. These versatile doors are a great way to bring in light, create a feeling of openness and ultimately, make a room feel larger. Not only that, operable glass walls make easy work of creating flex spaces by allowing a simple open and close process to separate areas.
Commercial folding doors make great solutions for both residential and commercial spaces. There are a variety of options, including folding glass doors, sliding glass doors, and frameless glass doors. Look at the top four ways NanaWall systems can add space to any room.
The Benefits of Using Commercial Folding Doors to Add Space to a Room
When faced with the challenge of maximizing space, architects have many options. However, commercial folding glass doors are an option that has many benefits over other methods. In traditional design, exterior walls limit access and visibility. Operable glass doors provide a high level of visibility. Thus, they are ideal for projects that need natural light or views of outdoor scenery.
Commercial folding doors are also ideal for creating multi-purpose spaces in a variety of environments. They offer one-handed operation to quickly convert a larger area into multiple smaller spaces or vice versa.
Not only are commercial glass doors practical and easy to open, but they are also energy-efficient. Some NanaWall systems are energy-efficient using the latest in thermal insulation techniques such as an optional triple-paned glass. When it comes to sound control, glass doors can effectively block outside noise without affecting the aesthetics of the room.
With that said, there are specific applications where a commercial folding door can add space to a commercial project.
1. Retail Storefront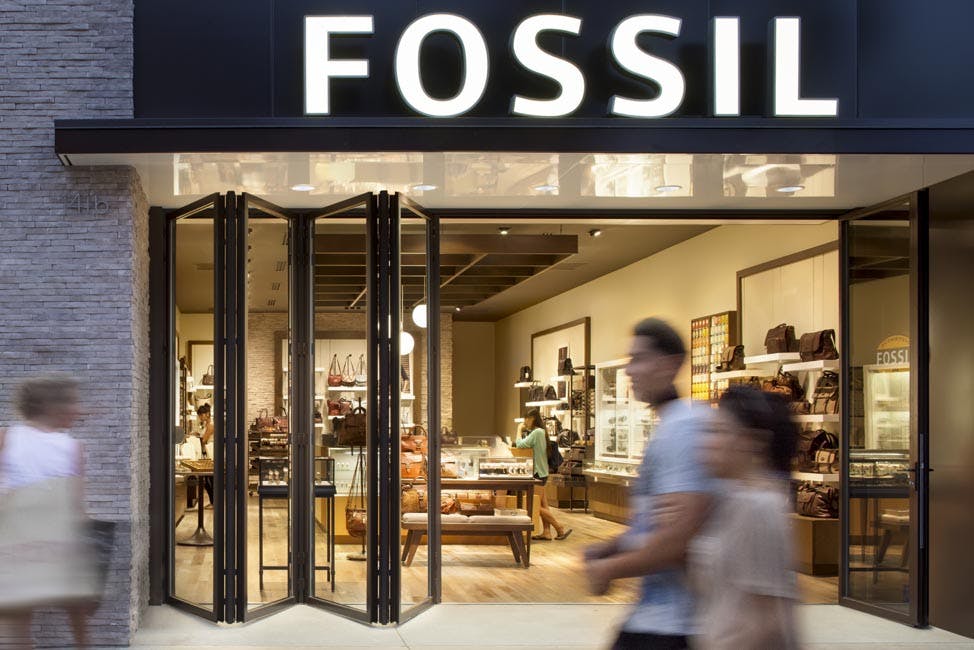 Retail storefronts are continually looking for new ways to attract customers. Often, the strategy involves changing the storefront display or showcasing an offer. However, architects for this Fossil® store used commercial folding glass doors to create a large and welcoming entryway that seems to pull customers through the door. The entryway defines the Fossil shopping area without making it feel cut off from the rest of the shopping area. This is a great alternative to sliding doors which also offers a host of benefits.
The SL70 system used for this project is a durable option commercially rated for high traffic areas. The running post on the SL70 allows for additional strength needed to perform in larger sized openings.
Securing a storefront while maintaining an aesthetically appealing look can be a challenge. The SL70 commercial folding door features a concealed and rattle-free locking rod system that is forced-entry rated. The result is that store owners get a beautiful entryway without compromising the security and safety of the store.
2. Commercial Glass Doors Expands Restaurant Seating to Outdoors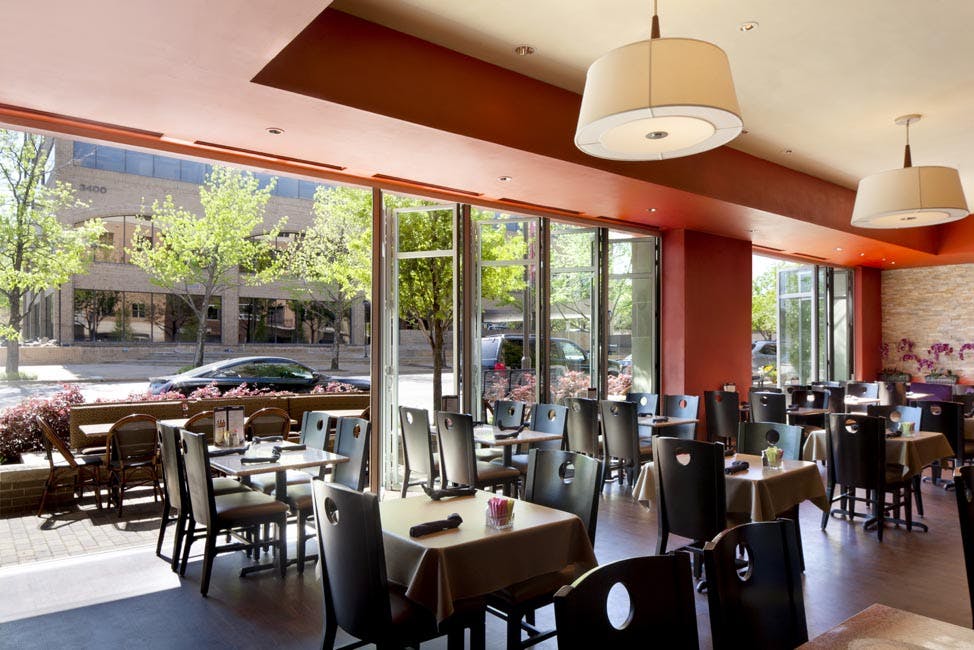 When it comes to expanding restaurant space, like in Gloria's Restaurant above, the SL70 fits the bill. The multiple folding commercial glass doors allow for a flex space where customers can have two different dining options. The doors can be opened quickly to create an outdoor dining experience in a matter of minutes.
Restaurant owners want to maximize their available square footage to provide the ultimate dining experience. Using a commercial glass door system, restaurants can not only maximize indoor space but can expand the dining area outdoors to provide additional seating which provides a great return on investment.
This is evident in the commercial glass door application for Settebello below. The use of an operable glass door has allowed for an interactive experience for customers of the restaurant.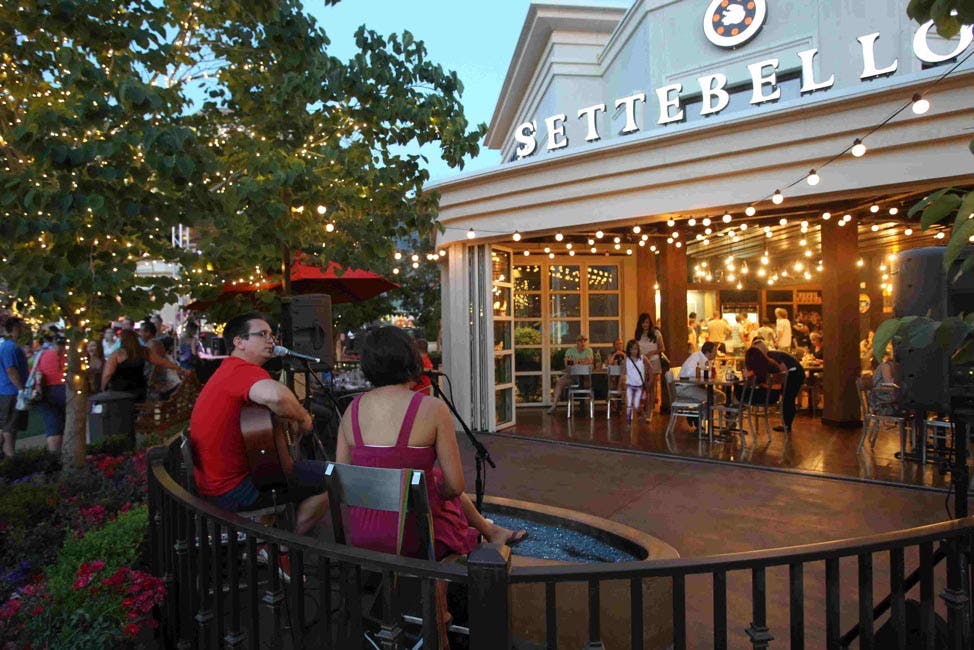 What's more, the SL70 can be used for projects that require larger openings such as the case with restaurants that want to integrate their indoor space with the outdoors seamlessly.
When closed, the commercial folding doors provide excellent comfort. The SL70 has achieved high NFRC ratings in both static and dynamic weather, making it ideal for cold climates and areas prone to wind-driven rain.
3. Using Commercial Folding Glass Doors to Create Classroom Flex Spaces
Schools are challenged with maximizing space for their students and teachers. Traditionally, schools have been limited to individual classrooms with little flexibility in configuration. As a result, teachers were forced to make use of a space that hindered their ability to provide a more creative environment for their students.
Commercial folding doors can be used to separate classrooms by simply folding and unfolding the doors. Using the SL45 system, the architects for a Texas school created a flex space for two classrooms to share a multi-purpose room. The doors provide high visibility between the rooms while still offering superior acoustical performance. As a result, teachers can create a larger space when needed by opening the doors. They can quickly close the doors to create separated rooms for privacy.
4. Office Spaces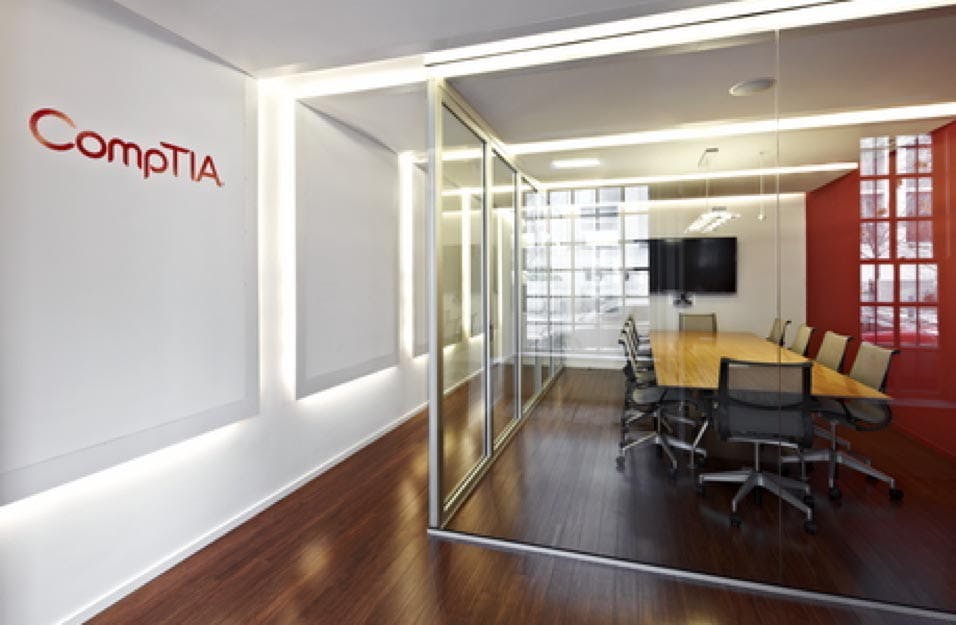 Managing the cost of office space is of top concern for companies. Thus, maximizing existing space is critical. Commercial folding doors can be used in office buildings to create flex space that can be used for many purposes. Folding glass wall systems can be used to create a conference room in an area that still requires open access to the space when not in use. NanaWall glass door systems offer superior acoustical performance so that privacy can be maintained during meetings.
Many companies are turning to commercial folding glass doors to create a feeling of openness in their offices. Traditional office spaces consist of cubicles that inhibit employee interaction. Folding glass doors can be used to define individual office space while encouraging interaction and collaboration amongst the team.
By using folding glass doors in the workplace, companies allow more natural light into the office, which creates a more welcoming and relaxing environment for the workers.
Final Thoughts
Operable glass walls are an ideal solution to making a space larger and creating a unique experience. They provide a smooth transition from indoor areas to the outdoors and can offer an excellent solution for creating a flex space in a variety of environments. Commercial folding glass doors can define a space and make your project memorable.
To discuss how NanaWall glass door systems can transform your commercial space, please contact your local representative.