5 Amazing Benefits of Indoor/Outdoor Living
By NanaWall Systems, November 18, 2019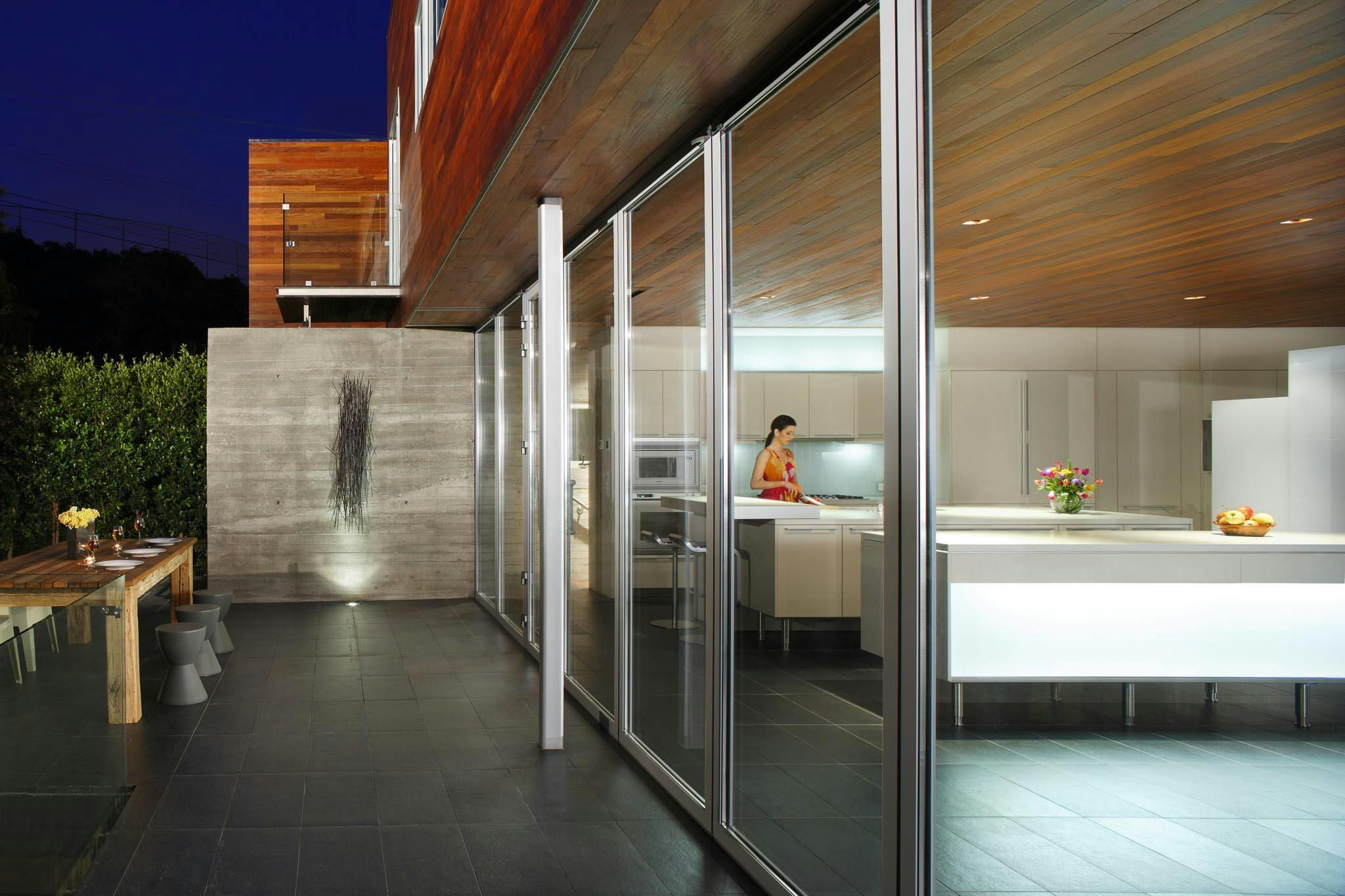 Indoor/Outdoor living is a trend that is gaining popularity for its many incredible benefits. Homeowners are finding that these living areas add space, function and beauty to their home without the need for an expensive remodel or addition.
So, what can you do with outdoor space? The options are nearly limitless. Many homeowners are creating beautiful outdoor kitchens. Some are creating lounge areas fully equipped with fireplaces. Others are using their areas for pools and spas. If you are considering how indoor/outdoor architecture can benefit you, we have some ideas.
1. Indoor/Outdoor Living Areas Expand Your Living Space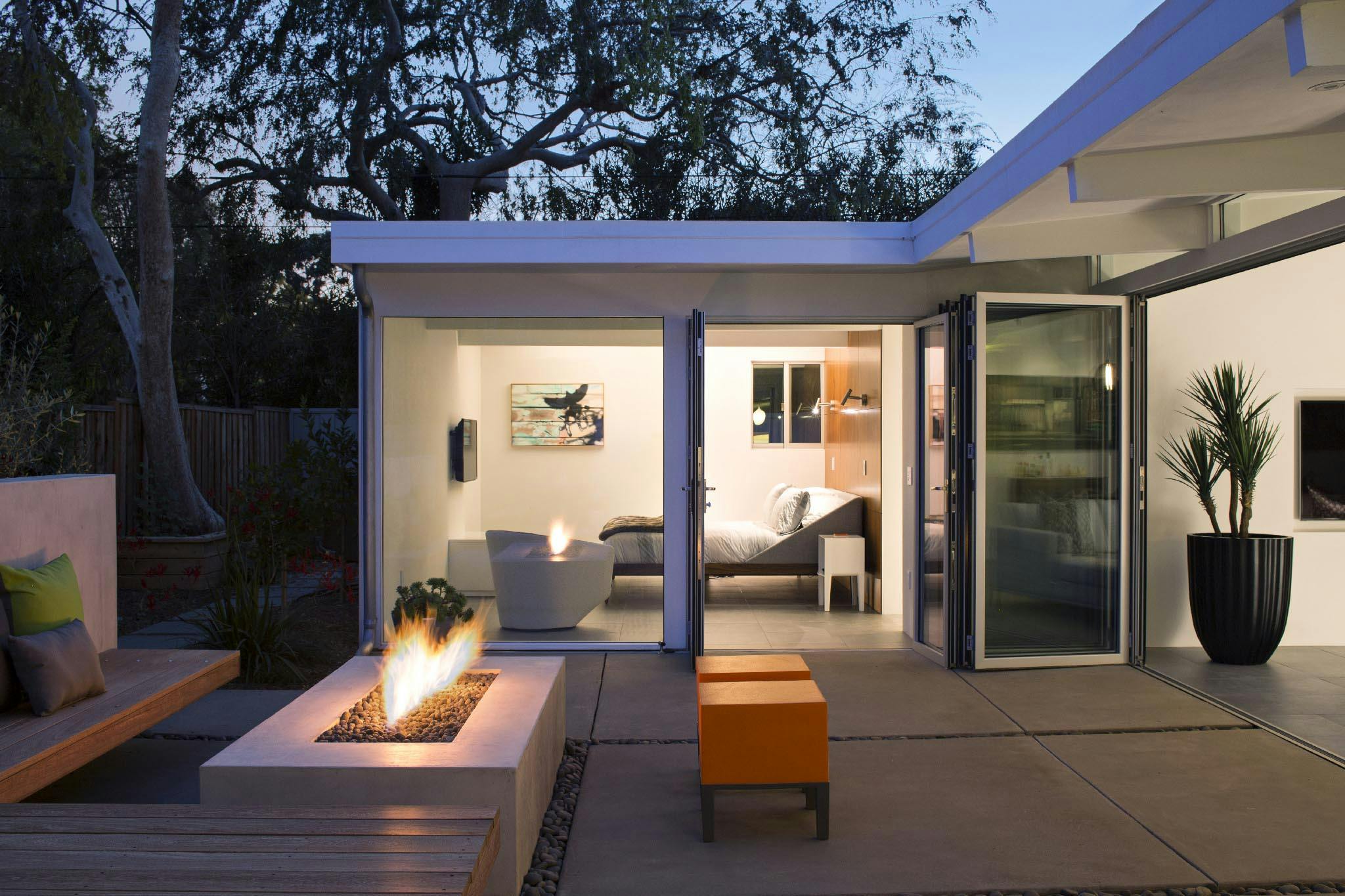 Are you pressed for square footage in your home or desiring more room to entertain? Indoor/Outdoor living areas are a great way to expand your living space without investing in an addition or expensive remodel. Thanks to their versatility as multi-use spaces, homeowners can easily entertain and enjoy the indoors and outdoors without feeling limited.
Gone are the days of the traditional patio or deck. Areas that once only housed a grill, patio table and a few lawn chairs have evolved into elaborate living spaces that rival their indoor counterparts. Now, homeowners are leaning towards more functional spaces. Indoor/outdoor kitchens, dining rooms and lounge areas are just a few ways homeowners are incorporating indoor/outdoor living into their homes.
Outdoor living areas can blend seamlessly with the home. By maintaining a consistent design theme between the two spaces, they appear to be one cohesive space. Also, outdoor living areas offer a seamless transition between the two. Using sliding glass walls, for example, allows you to separate the two areas with minimal visual and physical boundaries. The doors allow an unobstructed view outside. And, their easy operation allows access to both spaces when needed.
2. Indoor/Outdoor Living Spaces Are Good for Your Health
Being outdoors has several surprising health benefits. When you create an indoor/outdoor living space, you are investing in your overall wellbeing. Recent building trends are focusing more on making the natural world accessible, even in urban environments. This desire to be connected to nature is called biophilia and is known to be beneficial to humans.
Cognition and Memory
A recent study by the National Institute of Health (NIH) indicates that interacting with nature improves cognition and memory. The research suggests that interacting with environments that have fascinating stimuli invokes directed attention mechanisms in the brain.
Reduces Stress
Being outdoors can reduce stress. Another NIH study showed that incorporating indoor/outdoor living in your home can decrease the levels of cortisol (a stress hormone) in the body.
3. Increased Home Value
Investing in indoor/outdoor architecture is one of the easiest ways to increase your home's value. These rooms add beauty, function, and living space that makes the home desirable to potential buyers. They also encourage overall health and wellbeing by bringing nature indoors.
When selling a home, space is one of the biggest features that buyers want. Unfortunately, homeowners who can't create additional interior space may not compete with other homes on the market. Adding an outdoor space, however, is an affordable way to increase the home's living space.
Buyers want to be wowed when shopping for their dream home. Imagine their delight when they see a beautiful outdoor kitchen or lounge area. This one feature alone may be enough to make your home stand out amongst the competition.
4. Additional Entertaining Options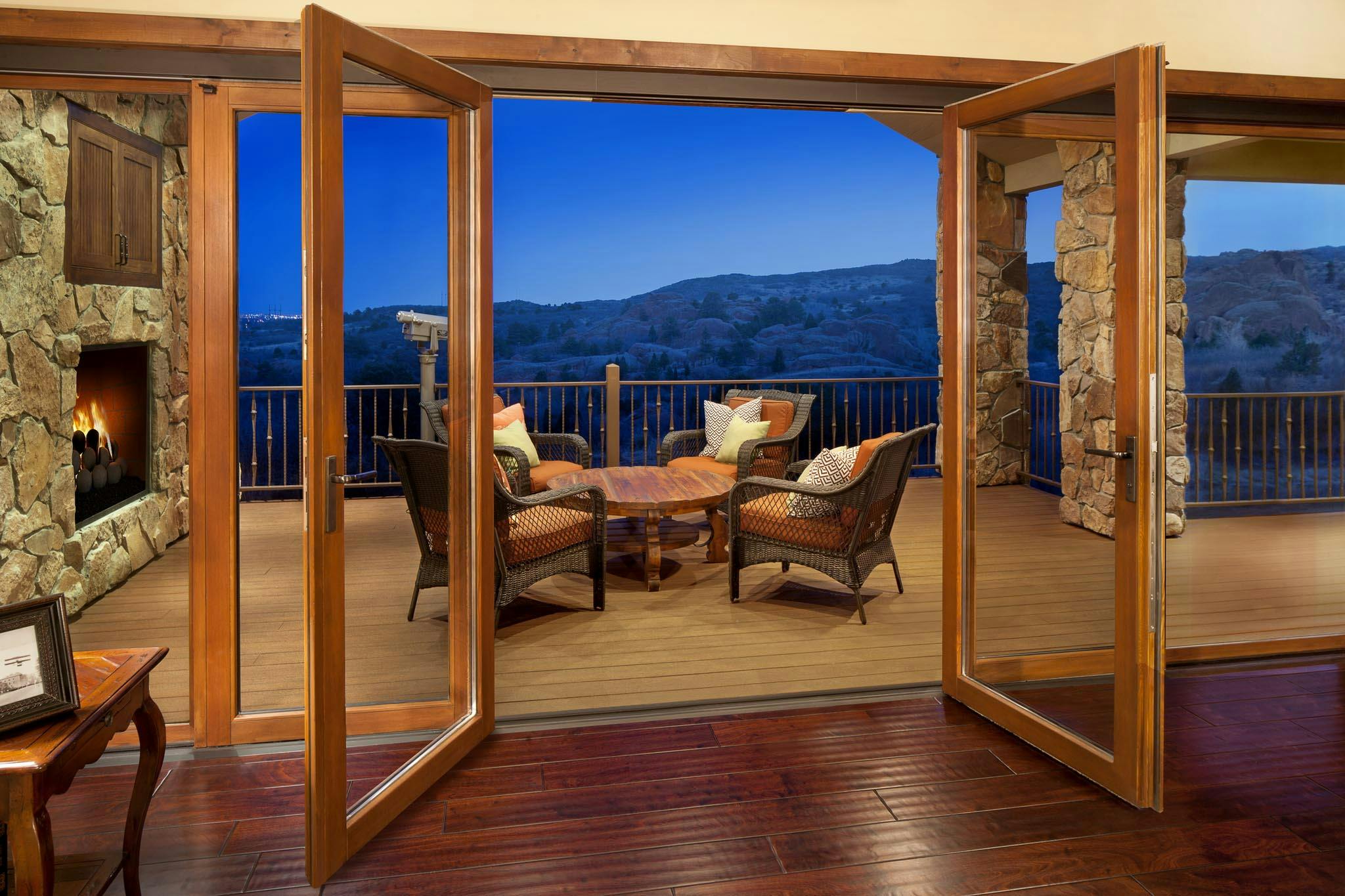 If you are someone who enjoys entertaining, adding an indoor/outdoor living area greatly expands your options for social gatherings. Outdoor living areas are a wonderful way to get everyone out of the house for some fresh air during the gathering. Not only that, there are many ways to utilize the space for maximum entertainment.
Accommodates More Guests
Indoor entertaining is limited on space. As such, you may need to limit the guestlist for your gathering. Indoor/Outdoor living areas give you the space you need to accommodate more guests. You can have an indoor/outdoor gathering where guests can mingle between the two spaces rather than being crammed into one area. Additionally, you use sliding glass doors to separate the areas and open the doors when needed for entertaining.
Outdoor Kitchens
Indoor/Outdoor kitchens are a popular trend that has evolved over the years. They are getting larger and far more elaborate in design and function. Homeowners are creating full kitchens that rival indoor kitchens. Many of these kitchens feature premium grills, countertops, sinks with full plumbing, and a dedicated gas line. Some people even incorporate pizza ovens into their kitchens.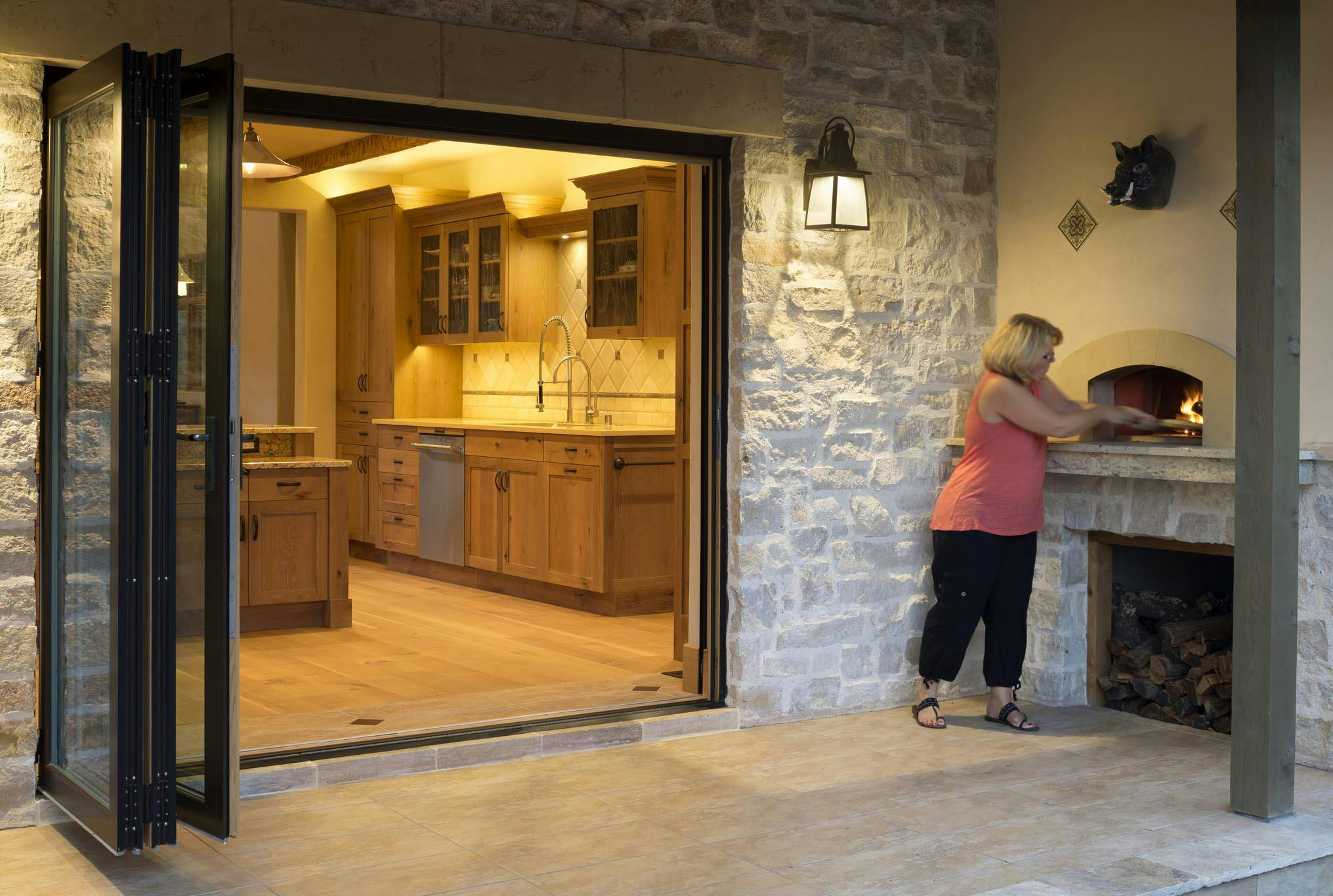 If an outdoor kitchen isn't desired, a sliding glass wall system is a great option for homeowners. They can easily extend their kitchen without having to remodel or add appliances to their outdoor space.
Fireplaces
Many homeowners are creating outdoor entertaining areas that feature a fireplace or firepit. These fire features are a great way to create an intimate seating area that is perfect for socializing.
TV Viewing Areas
Gameday becomes much more exciting when you can view it outdoors on your patio or deck. Installing a television outdoors is a great way to watch the game or other televised events with friends and family.
5. Indoor/Outdoor Living Spaces are Great Staycations
Who says you need to spend a ton of money to get away? Indoor/Outdoor living spaces can give you a personal retreat right in your backyard. Having such a luxury is a great feature when you don't have the time for a full vacation. Often, a quick getaway to your outdoor living area is all it takes to get refreshed. Aside from kitchens and family rooms, many other options can create the perfect retreat.
Pool
A pool is something the whole family can enjoy. When you extend your living space to include a pool, you won't need to leave your home to enjoy the water. Pools come in all shapes and sizes. So, if you are worried you won't have the room, a landscape architect may have options that are perfect for your yard.
Spa
Spas are a great way to relax your muscles at the end of a long day. Installing one in your yard allows you to experience the spa without ever leaving your home. Not only that, you can get the spa treatment without spending money for a day out at the spa.
Sunrooms
Sunrooms make for a great lounge area and are one of the easiest indoor/outdoor projects. A sunroom allows you to enjoy some fresh air without being exposed to the elements. Not only that, there are indoor/outdoor architecture options for all-season sunrooms for you to get year-round enjoyment out of the space.
The ideas for indoor/outdoor living areas are only limited by the imagination. With a little creativity, you can design a space that is perfect for entertaining and relaxing. NanaWall systems offer many custom sliding glass door options for your project. Be sure to visit our design gallery if you would like more ideas on creating the perfect outdoor space.