6 Reasons to Choose Large Windows
By Liz Snyder and Matt Thomas , December 3, 2015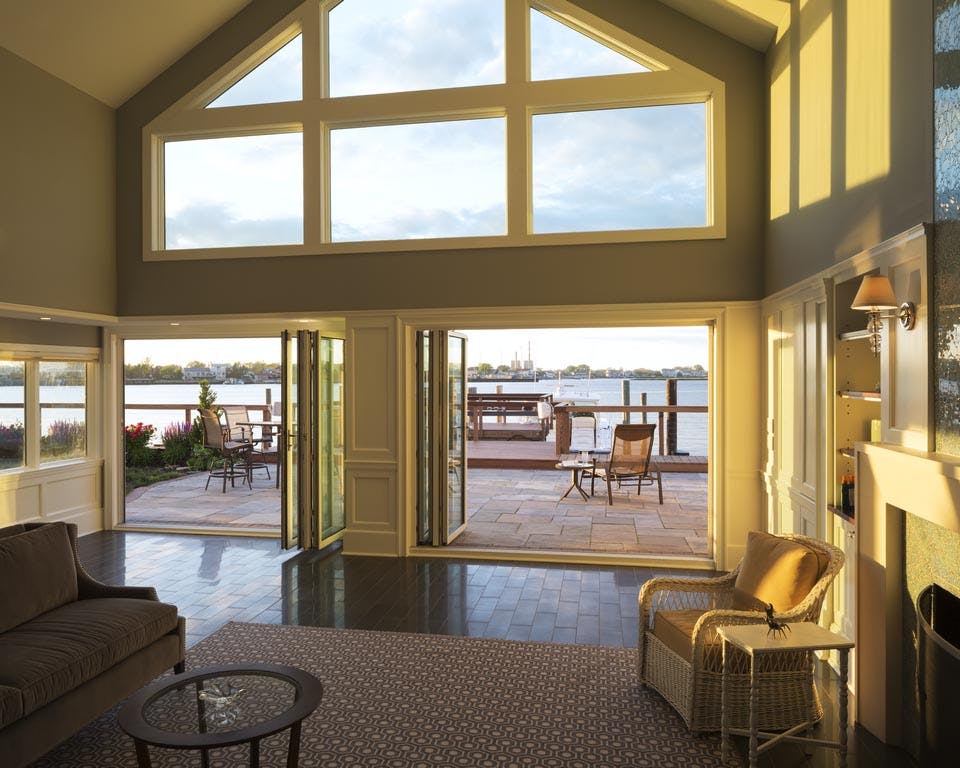 As you start the design process for your dream home, consider adding large windows to the plans. Windows are an essential part of the architecture, and there are numerous styles and sizes from which to choose.
However, glass walls offer a host of benefits not found with standard windows. Sliding glass walls are energy-efficient, they can make a small room feel larger, and they create indoor/outdoor living space. Not only that, they add beauty and charm to your unmatched home. Here are six of the top reasons to choose large glass windows for your home.
1. Large Windows Bring in Natural Light
Floor-to-ceiling windows bring in an abundance of natural daylight that makes a home seem more inviting. Studies have shown that people enjoy spending time in sunlight areas and actively seek areas where they can get the most exposure.
Bringing in natural light is especially important as we head into the darker days of winter. Studies show that natural daylight is proven to elevate energy and boost moods. There are many ways to add natural light to your home.
Natural light is also a great source of Vitamin D. This mineral is essential to helping the body regulate its immune system, controlling allergy symptoms, and maintaining healthy brain function.
With sunlight streaming into the rooms, you don't need to use lamps during the day. Floor-to-ceiling windows that open allow light to flood the interiors of the home, cutting back on energy consumption and electricity, and thereby reducing energy bills.
2. Large Glass Windows That Open Bring You Closer to Nature
The vast expanse of large glass windows brings nature indoors so you can have a deeper connection with your surroundings through biophilia. Floor-to-ceiling windows become the main focal point of a room, allowing you to capitalize on the views of the surrounding landscape.
NanaWall Systems has many folding glass walls that provide the most unobstructed view of the outdoor. That way, there doesn't seem to be a barrier between you and the outdoors. NanaWall Systems also offers bear-resistant windows that allow you to enjoy the beauty of nature without fear of large predators.
Being so close to nature is calming and restful. The large windows provide a beautiful landscape that you get to enjoy year-round.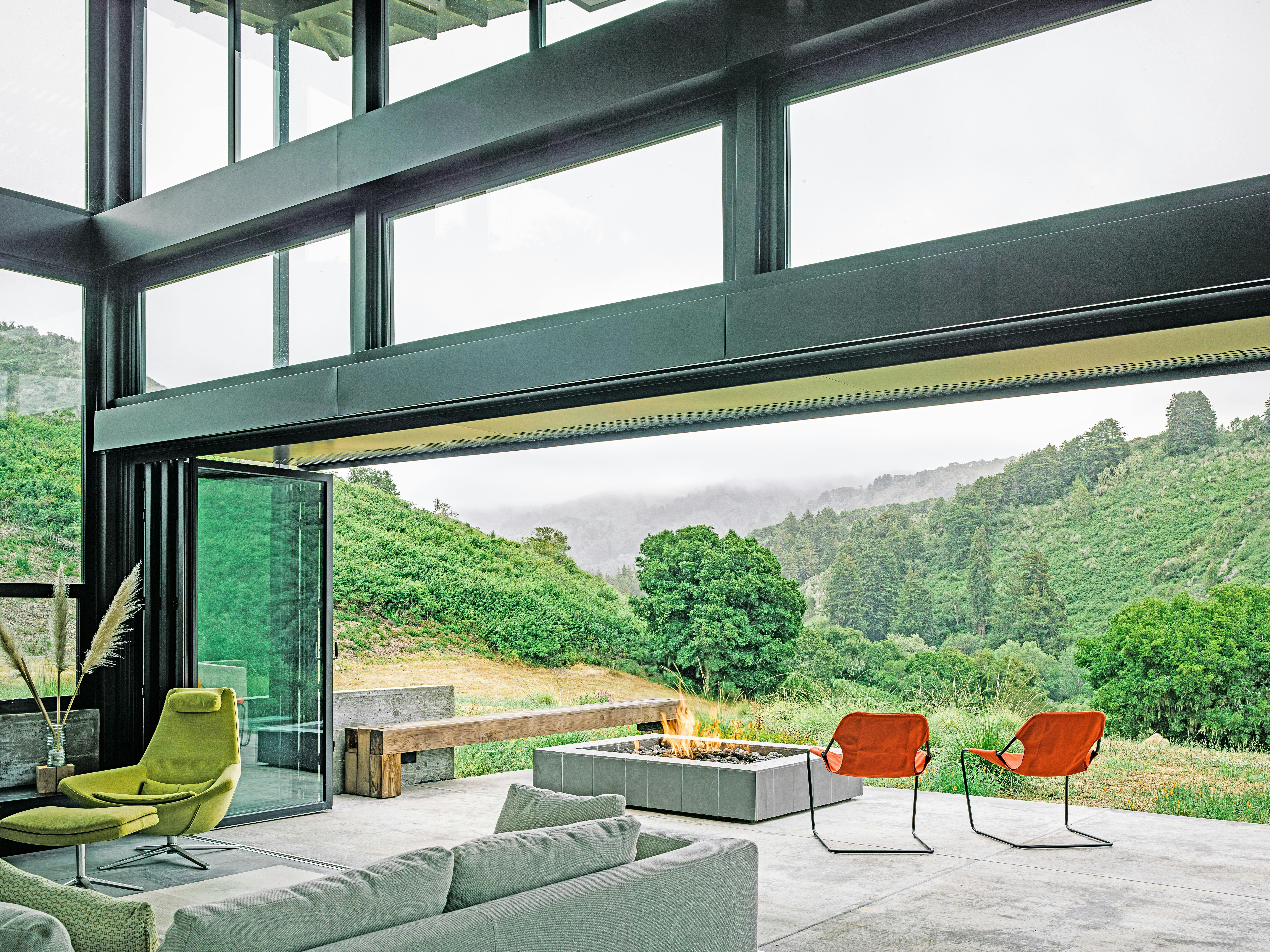 3. Large Windows Give You Indoor/Outdoor Living Space
With floor-to-ceiling windows that open, you have both an indoor and an outdoor living area. You can open the windows to provide a seamless transition from the house to the outdoor living area.
Installing these beautiful windows gives you more entertaining space. No longer will they feel cramped inside. Your guests will have more space to move about and mingle with the other guests. Large windows are great for decks, porches, and patios, or expanded entertainment space off the living room or kitchen area.
Indoor/Outdoor living also helps bring the family together to enjoy the outdoor living space.
Large glass windows also help create a relaxing space to enjoy some leisure time. In warmer weather, you can entertain friends and family, or simply relax with a book. The flexibility provided by large opening glass walls offers numerous choices for entertaining and day-to-day living.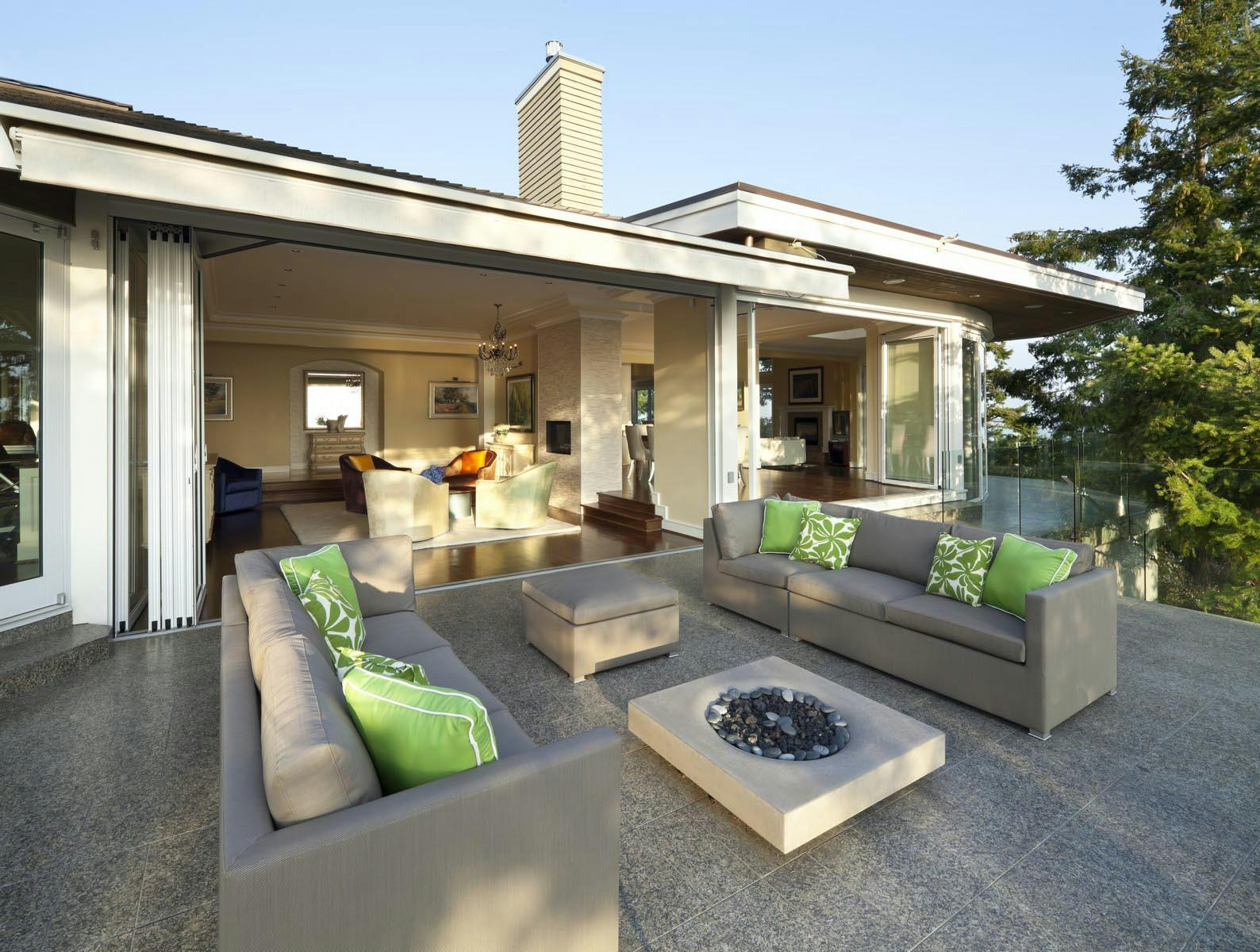 4. Large Windows Provide Passive Solar Heat
Well-positioned large windows and glass walls can contribute to passive solar heat. With passive solar heat, the windows capture heat from the sun and distribute it throughout the home. Passive solar heating provides outstanding user comfort as there is little temperature fluctuation. Utilizing passive design can help use your surroundings to your benefit when it comes to energy efficiency and output.
By using windows to heat your home, you are using a free, natural, and renewable energy source. By taking advantage of natural heat, you can reduce your dependence on other forms of heat such as gas or electricity. Ultimately installing large windows will save on your energy bills.
5. Large Glass Windows Give a Spacious Feel
If you have a small and cramped room in our house, a large glass window can give you the illusion of more space. Large windows provide an unobstructed view of the outdoors, which ultimately makes a room feel connected to the outside.
Not only that, installing floor-to-ceiling windows that open connects the room to the outdoors, giving the illusion that the two are one room.
Also, the bright light flowing through the window illuminates the dark corners that can make the room feel cramped.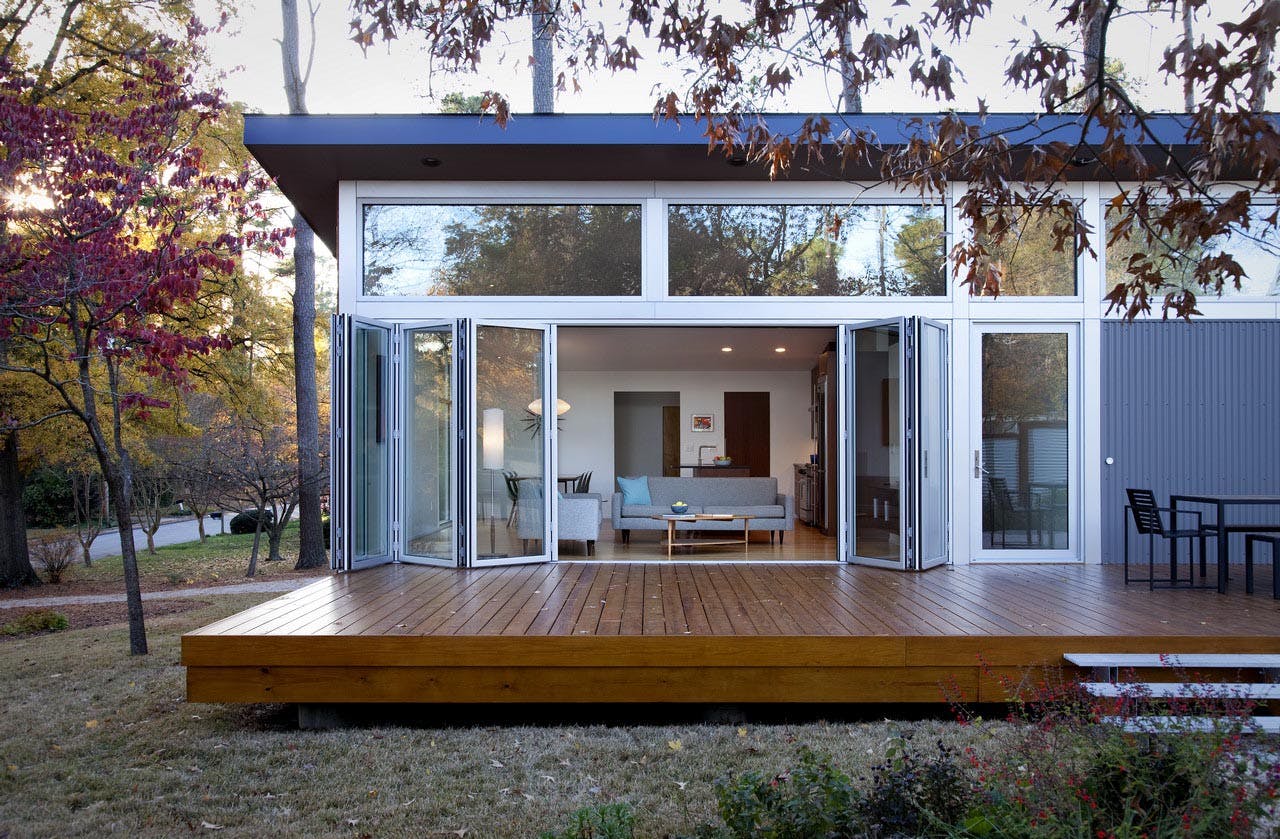 6. Large Windows Bring in Fresh Air
Floor-to-ceiling windows that open allow fresh air to enter and fill the space with the aroma of plants and flowers from your garden. The fresh air circulates throughout the house and ventilates all the rooms to improve indoor air quality with increased oxygen. Without oxygen, your body must work harder to get the amount required for a healthy heart. Having fresh air in the house will help improve your heart rate and helps improve your blood pressure
We spend almost 90% of our time indoors, yet we may not know that the air quality is often poor and unhealthy. Our homes often contain allergens and other contaminants that can cause health problems. For example, many homes contain pollen, dust, and mold, among other things that can cause a runny nose, sneezing, and itchy eyes. Letting in fresh air through floor-to-ceiling windows that open helps to flush the home of unhealthy particles in the air.
Final Thoughts
Choosing large windows for your new home is an excellent way to benefit from both your indoor and outdoor spaces. You get the scenic beauty of the surrounding landscape with protection from inclement weather. If you are a homeowner, builder, or architect, NanaWall systems provide aesthetics and performance for your residential design.
Contact us today to learn more about our German-engineered and American-made glass wall systems.