Del Dios Academy: Encouraging 21st Century Learning with Generation 4 Folding Glass Walls
By NanaWall Systems, October 12, 2022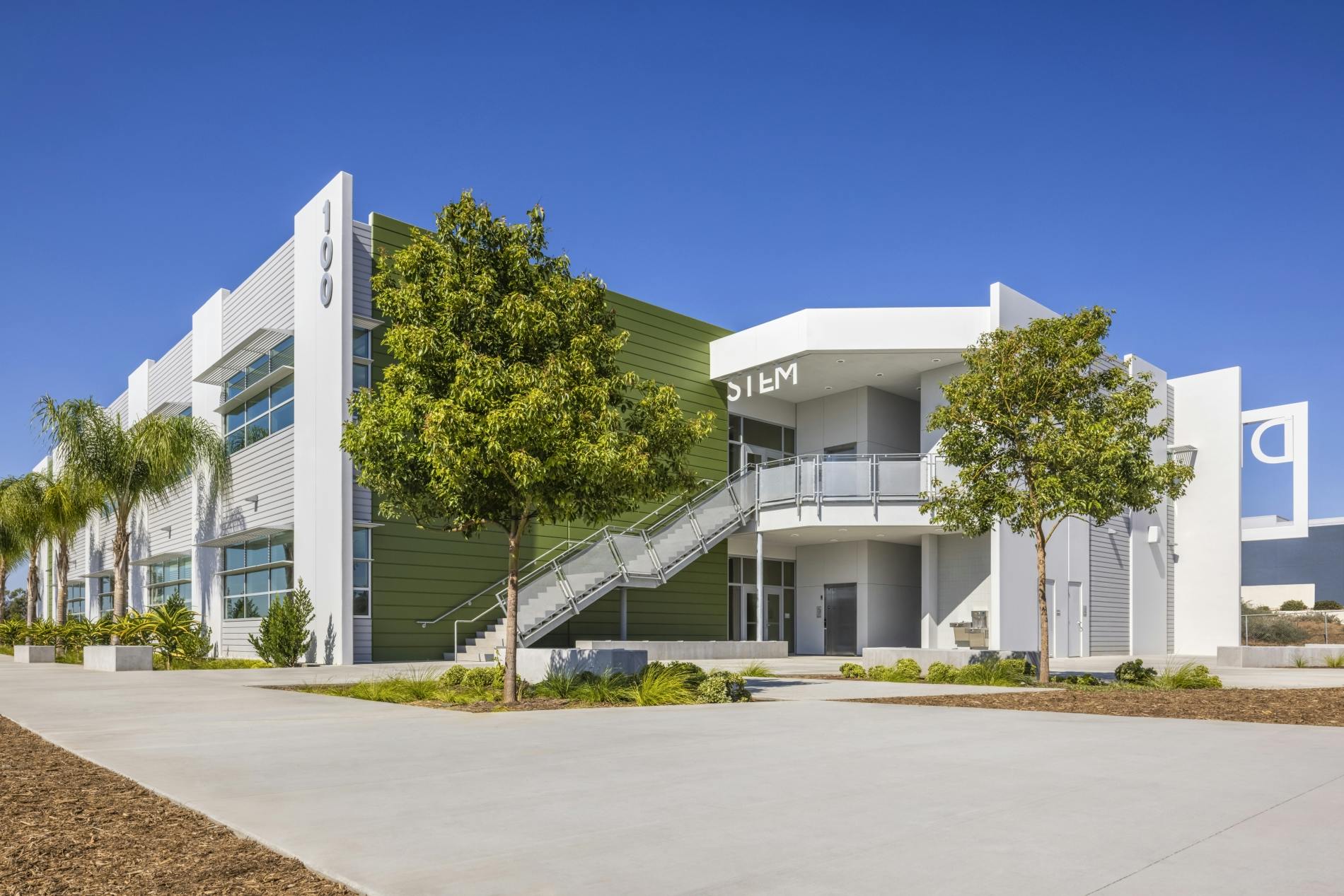 Del Dios Academy of Arts and Sciences has stepped into the world of 21st Century learning with its usage of NanaWall Generation 4 folding glass walls. Located in North County San Diego, Del Dios Academy is a specialty educational institution that allows students to focus on Science, Technology, Engineering, Math, and Visual and Performing Arts (STEM or VAPA) pathways. Dedicated to the education of their students and preparing them for 21st Century careers, Del Dios embarked on the creation of a brand-new building to promote STEM. education. Enlisting the help of HMC Architects, in partnership with Lusardi Construction, they identified the necessity of a flexible floor plan. Completed in February 2021, the new STEM facility enables enhanced collaborative engagement between students, increased retention of curriculum, and complete interior flexibility within common areas + classrooms to support a variety of learning and teaching styles.
Generation 4 Folding Glass Walls: Modern Solutions to Modern Problems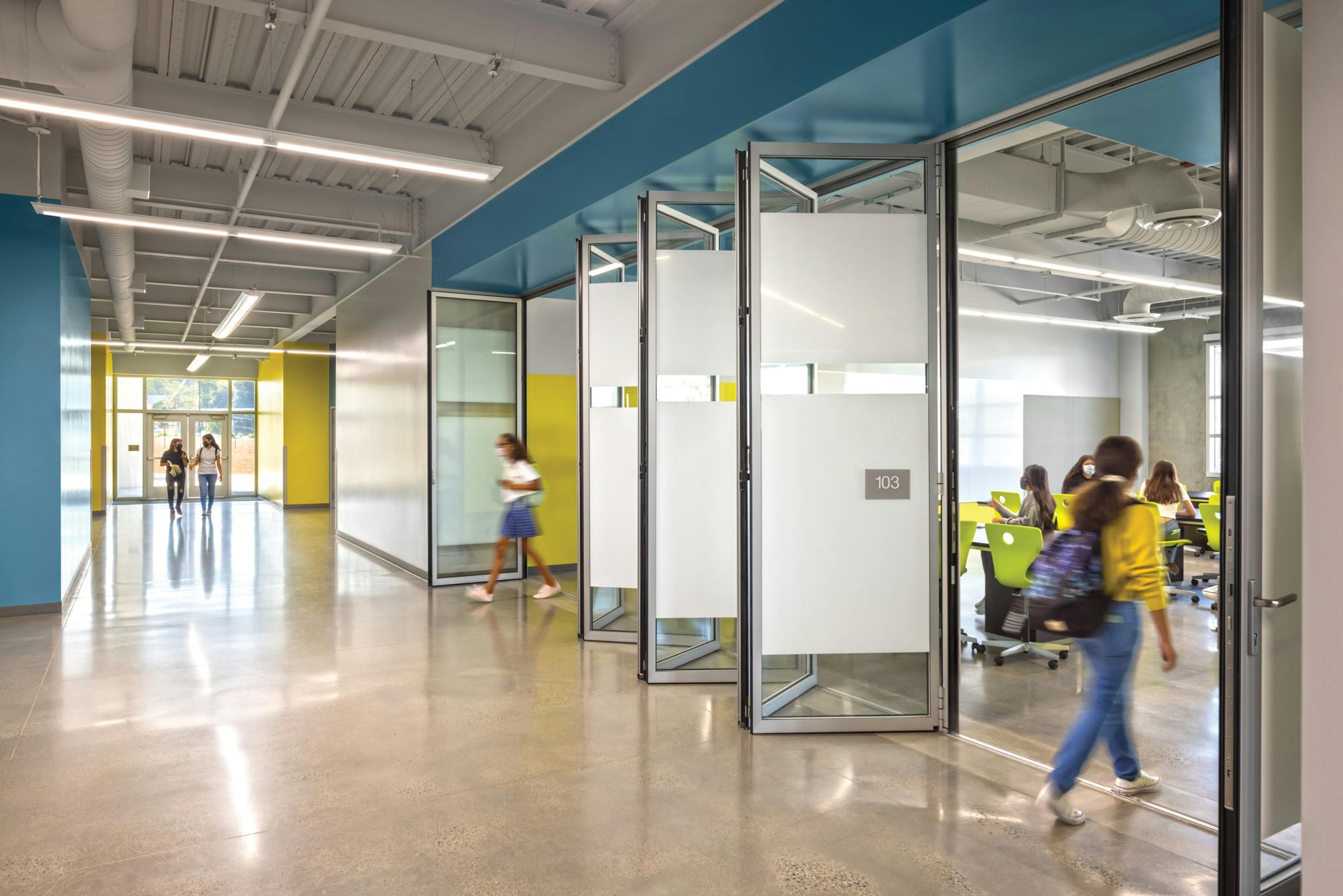 Advancements in 21st Century Learning
By retiring 29 portable classroom buildings, 21st Century innovations were incorporated to make this state-of-the-art, student-focused facility possible. The new 26,000-square-foot STEM building is two stories tall featuring 14 classrooms, 4 science labs, and multiple collaborative workspaces. The building "Contains a collaborative corridor that will extend down both floors of the building to promote cross-disciplinary interactions." Corridors incorporated the NanaWall NW Acoustical 645 acoustical folding system to eliminate closed-off and fixed walls, in turn creating a dynamic space that introduced collaboration and maximizes every square foot of the building.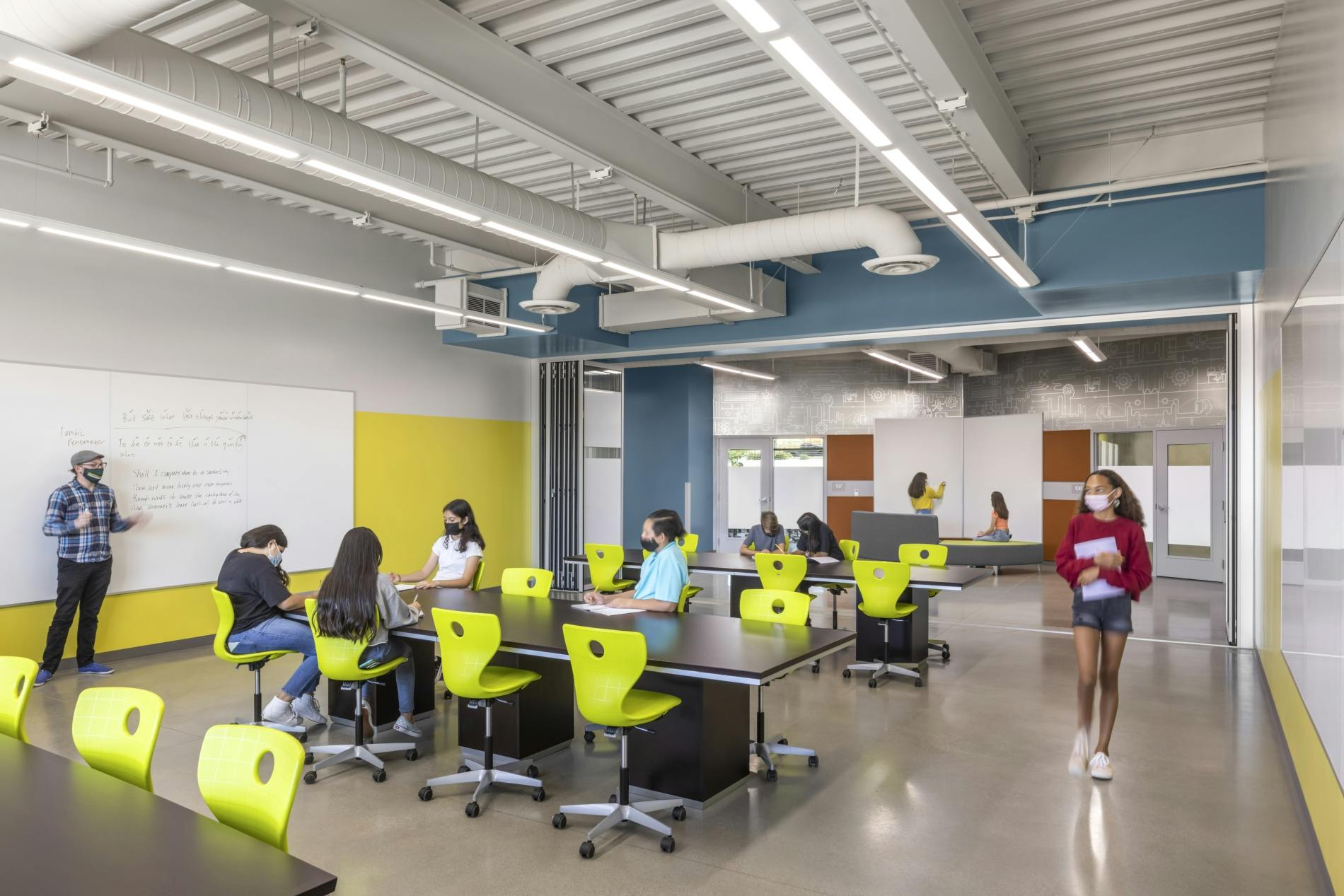 Dynamic Spaces Facilitate Higher Level Engagement
For students, one of the most important aspects of their education is not just the curriculum but the space in which they learn, and how learn to collaborate with others. The addition of Generation 4 folding glass walls optimizes interior space by allowing layouts to be rearranged near-instantaneously. This flexibility transforms a traditional closed-off stuffy classroom into a bright engaging environment, while additionally improving the teaching space. Studies have shown that when exposed to daylight and a dynamic rather than static space boosts students learning capabilities 20-26 percent faster. That in turn allows the curriculum being presented to be absorbed with greater retention. This shows that when students are allotted the proper environment, they can reach greater heights in their learning.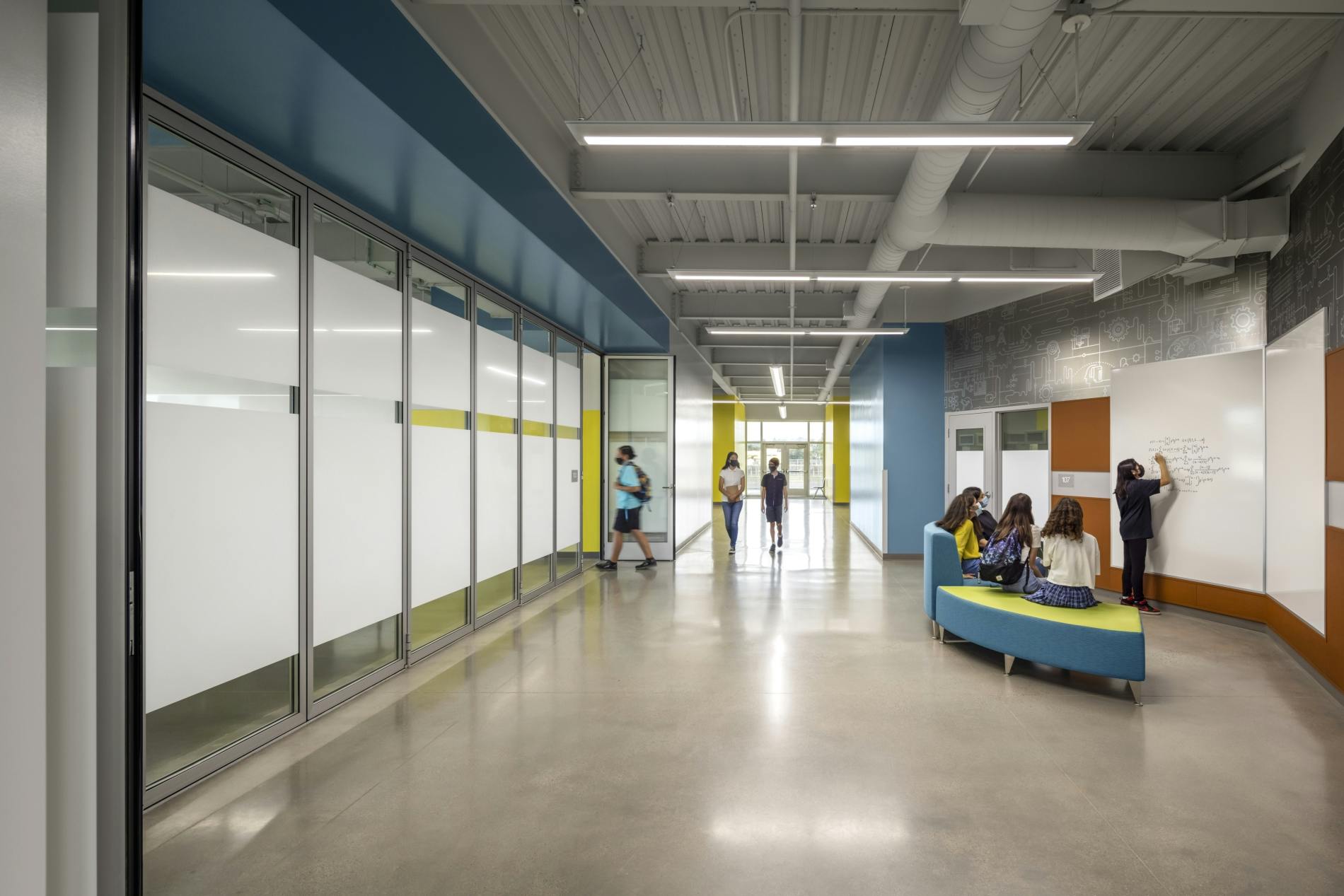 Featured Benefits of Generation 4 Folding Glass Walls
At Del Dios Academy, the layout and design serve a variety of functions such as facilitating a better learning environment, engaging students with interior stimuli, or allowing easy collaboration between peers. With nearly four decades of innovation, NanaWall combines it all into Generation 4 acoustic folding glass walls (NW Acoustical 645) taking the possibilities to new heights in 21st Century learning. Engineered with acoustically separated framing, specialized gaskets, and sound-enhanced glass, NanaWall provides a specialized product that diminishes sound exponentially through operable fenestration. Tested at an independent and accredited lab, NW Acoustical 645 is the only floor supported folding system that is capable of reaching unit STC 45. HMC Architects identified a minimum of unit STC 40 to properly achieve the goals of the project. Sound control is especially important in educational environments as it assists in allowing productive, distraction-free, and flexible interiors by blocking exterior + interior sound transmission.

Another Generation 4 benefit of this acoustical folding system is that it allows for unlimited opening sizes and space management with the integration of FourFold or SixFold panel sets. These panels can move and stack to the right, left, or center within the same track allowing panels to be stacked in the most convenient location. This allows for dual swing doors at each end of the configuration for easy entry and egress.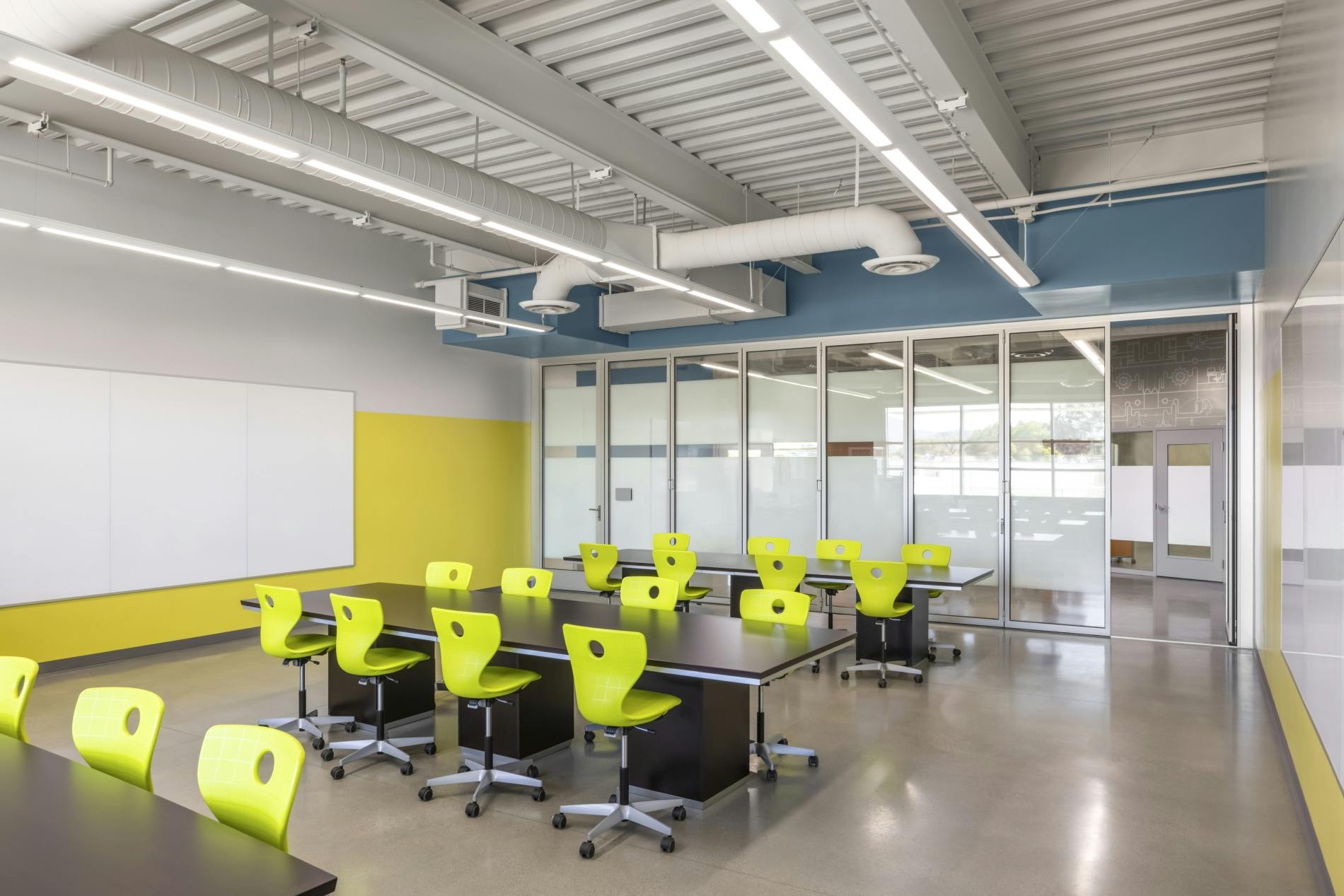 Easy Customization for Multi-faceted Usage
With various design options, the Generation 4 folding glass walls were fully customized at Del Dios Academy's STEM facility. In 21st Century education, inclusivity is greatly emphasized and fulfilled with the application of the sleek aluminum framed NW Acoustical 645 system. Specifically engineered with ADA compliance in mind, minimal floor tracks such as the Flush Sill are employed. These floor tracks are engineered to make every transition smooth and seamless with enhanced performance and ease of operation. Door operations continue to astound as easy movement is facilitated with a single hand allowing teachers to change the classroom configuration as needed. As shown in the image above, custom enhancements are overlaid on the eight-panel acoustical glass panes. Custom glazing that adjusts glass opacity can be utilized as an additional writing surface, such as a whiteboard for academic purposes. This allows students and teachers alike the additional wall surface to showcase their knowledge and lesson plans.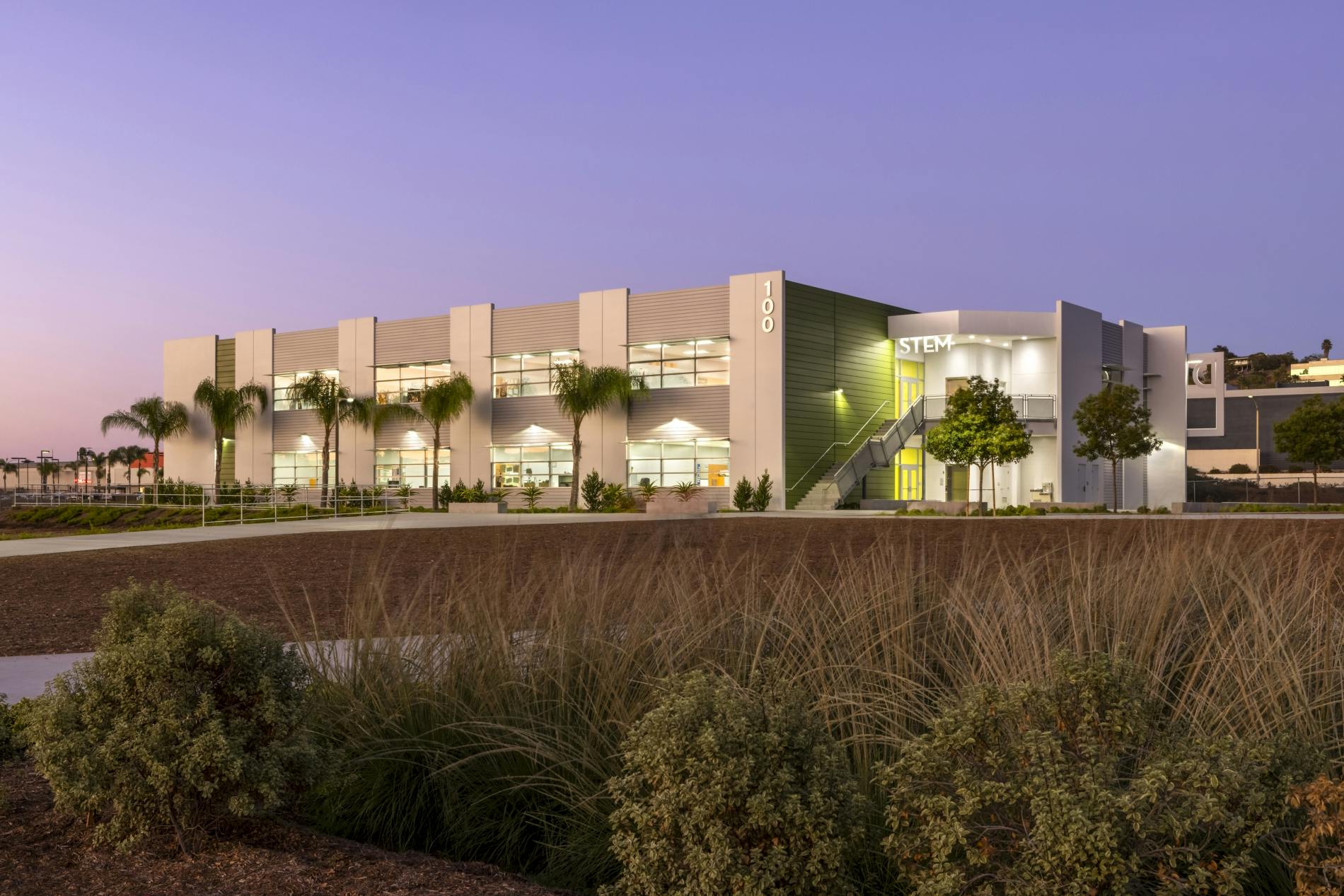 Final Thoughts
Del Dios Academy successfully enhanced the learning environment for its students and met the requirements of 21st Century learning by employing an open concept floor plan. Through the placement of NanaWall Generation 4 folding glass walls, HMC Architects created a layout that provides ultimate flexibility while supporting a variety of teaching + learning styles while also increasing productivity + engagement. From closed sound control to flexible collaborative spaces for an enhanced learning environment. With the astounding success of the STEM building, Escondido Unified School District further continues with the modernization of Del Dios Academy with the new construction of the Visual and Performing Arts (VAPA) building using NanaWall Generation 4 Folding Glass Walls.
Check out more successful applications of NanaWall folding glass walls in 21st Century schools!