Folding Glass Doors: 5 Trends Happening in 2019
By NanaWall Systems, May 17, 2019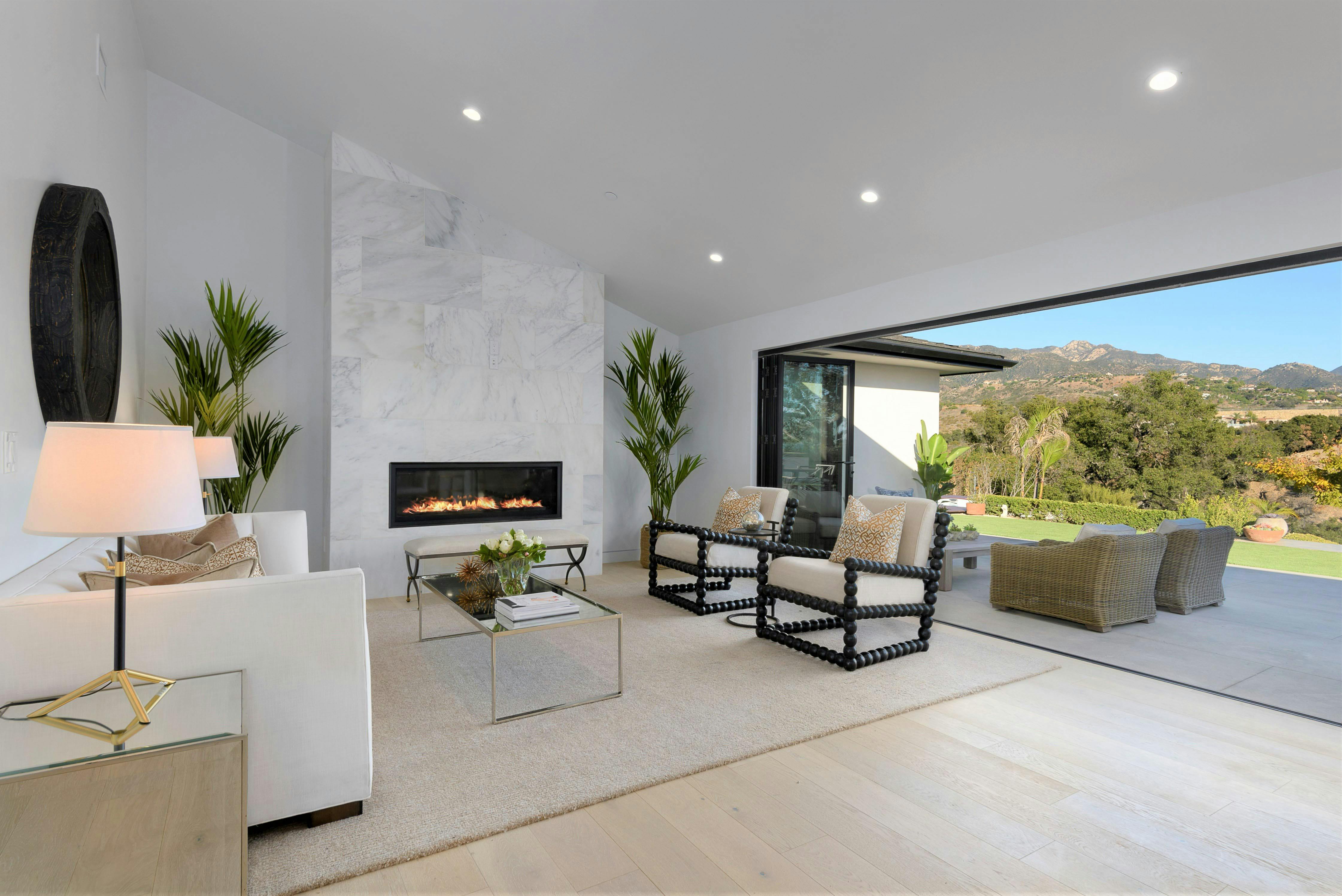 Folding glass doors are the ultimate renovation trend, no matter what year it is. They create wide-open spaces, natural lighting all-year-round, and put a modern edge on any space.
The best thing about updating doors and windows is that they become a timeless piece. If you choose the right trends, they work as a foundation for all other interior design projects you might have in the future. Who could regret increasing the amount of natural light and airflow in their life?
Although they will probably never go out of style, there are a few folding glass door trends and NanaWall products you should keep an eye out for in 2019.
The Folding Glass Door Trends You Shouldn't Ignore in 2019
1. Thinking BIG
Marie Kondo might be encouraging people to minimize and downsize, but door trends this year want you to think BIG. Think tall, think wide, think beautiful. This obviously includes your front door but also applies to patio doors and interior features.
This is the time to create whole walls as windows. Now is the time to let as much light into your living space as possible. Homes To Love reminds us that this doesn't just have to be in living areas. Glass features and folding doors also make great additions to bedrooms and bathrooms!
The best part about this trend is that it is no longer a luxury. Full glass walls such as the ones NanaWall designs show how easy it is to keep up with this trend. Many people don't know that opening glass walls are fully customizable and work in just about any home or business! That's why NanaWall has taken "thinking big" to the next level when it comes to folding glass doors. Whether you're creating a zoo, airport, or sports stadium – no matter if you're designing a traditional or modern home, your imagination should be the only limitation. NanaWall makes that possible. Big doors are here to make a statement.
2. Increasing Energy Efficiency
Aluminum frames are the most common style in energy-efficient designs. This year, you can expect to see more people opting for black and matte aluminum; an updated take on a classic style to surround their folding glass doors. On top of aluminum, sustainability isn't just a trend, but a huge movement and it is no different for building designs. Consumers are demanding ethically made products and searching for ways to save resources in a simple way.
That is why NanaWall has created the most sufficient insulation that ensures the cold is kept out, the heat is kept in, and provides you comfort all year round. NanaWall is committed to squashing the misconception that more glass means harder to heat. We know that there is nothing worse than living and paying for heat somewhere that isn't properly insulated in the colder months. Therefore, NanaWall is proud to be the creator of some of the most energy-efficient doors of its kind on the market and are rated, certified, and labeled National Fenestration Rating Council 100/200 and meet Energy Star standards. The NanaWall system also excels at air and water-resistance as well as superior sound insulation.
Need more evidence that glass bifold doors can make a difference in winter? Check out our cold weather climate applications. We've installed glass walls in some of the coldest places on earth!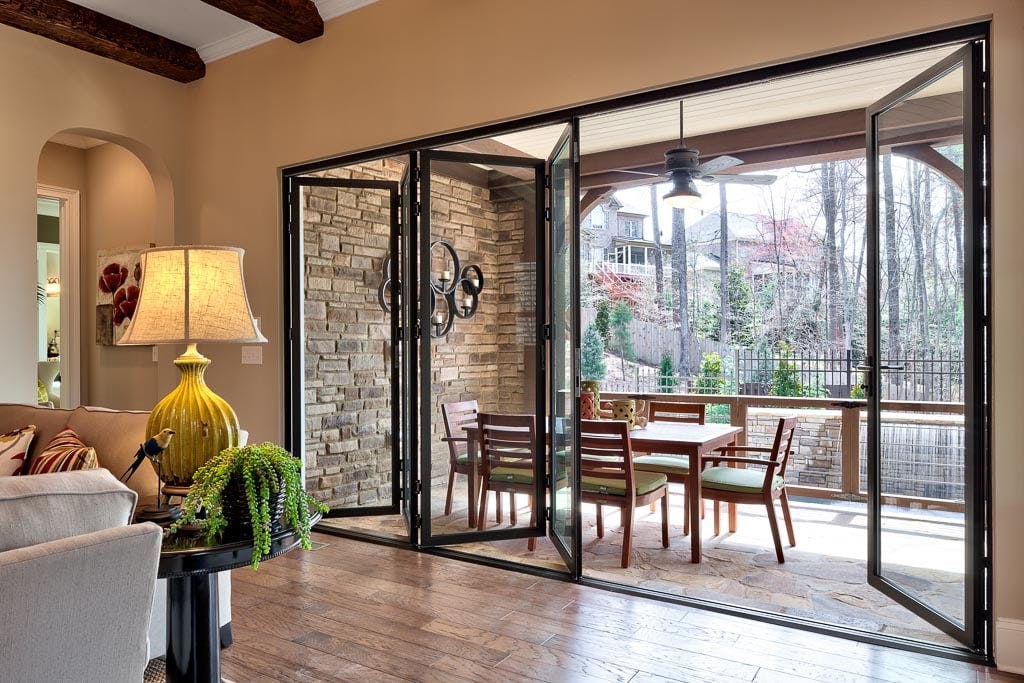 3. Interior Glass Features
Doors are not just a practicality anymore. Now, they can be a decor statement in themselves.
Folding glass doors are one of the latest interior design trends this year, and there is no limit to their design. Amongst the most popular trends are frosted or smoked glass, as well as interior sliding doors. Although many modern spaces utilize light tones, you will probably notice a lot darker and moody colors coming through, including matching doors to dark walls.
Another way to transform an interior space is with versatile folding glass doors. This is especially effective in modern office spaces. Designs like Nanawall's NW Acoustical 645 walls even ensure soundproofing, as well as seamless room changes. Large folding glass doors can create a new space in seconds, and the high glass walls give a heightened sense of luxury.
Using architectural features as decoration is perfect for anyone following minimalist design trends. The more you can use the structure of the house as a focal point, the less clutter you need to bring the room together.
4. Indoor-outdoor Flow
You are probably sick of hearing about the hallowed "indoor-outdoor" flow. But here's the inside scoop: bright, airy spaces will ALWAYS be in style.
Folding patio doors still dominate door trends in 2019. Even when they are closed, glass bifold doors offer floor-to-ceiling views and create a uniquely beautiful space by letting the outside in. Designers are especially fond of kitchens that open up onto patios this year. A kitchen that flows to an outdoor dining area screams home entertainment and gives you a good excuse to invite people around.
Letting more natural light in also means that you can buy into the moody 2019 color trends without the space becoming too dark. You can expect to see a lot more intense primary colors making a splash: rusty reds, navy blues, and mustard yellows.
One of the most satisfying parts about this trend is that it is an investment. Choosing an ultra-durable system like Nanawall's means you only have to invest once for a lifetime of outdoor living. Folding patio doors instantly increase the value of your property (although you probably won't want to leave once you install them!).
5. Creating More Space
Like sustainability, tiny houses are a growing trend in architecture and minimal design. Small urban spaces require people to get creative with the furniture, decoration and overall flow of the room. However, you can capitalize on space no matter what size your house is.
Flat folding glass doors are the ultimate space-saving feature. FoldFlat®—a NanaWall product and breakthrough in the folding door industry created the panels to fold and then pivot all the way back to stack out of and parallel to the opening, creating the most space.
Installing doors that stand flat when opened means that you are not limited when arranging furniture. Mounted barn doors are a similar space-saving trend that has made its way onto the scene this year.
Where technology defined spaces last year, natural, open spaces with plenty of earth tones and greenery will be dominating this year. The interior color of the year is "Nightwatch Green": a color that dark can't be matched with enclosed spaces! Folding doors complement these trends by saving space and minimizing the feeling of clutter.
Updating your doors might seem like a lot of work. However, glass bifold doors represent a timeless style that will ensure your space is always on-trend.
Ready to update your home or office space for 2019? Check out our folding glass door applications or get in touch with our team to talk design!