Generation 4 Slimline Steel Effect Folding Glass Walls—Redefining Homes
By NanaWall Systems, October 18, 2023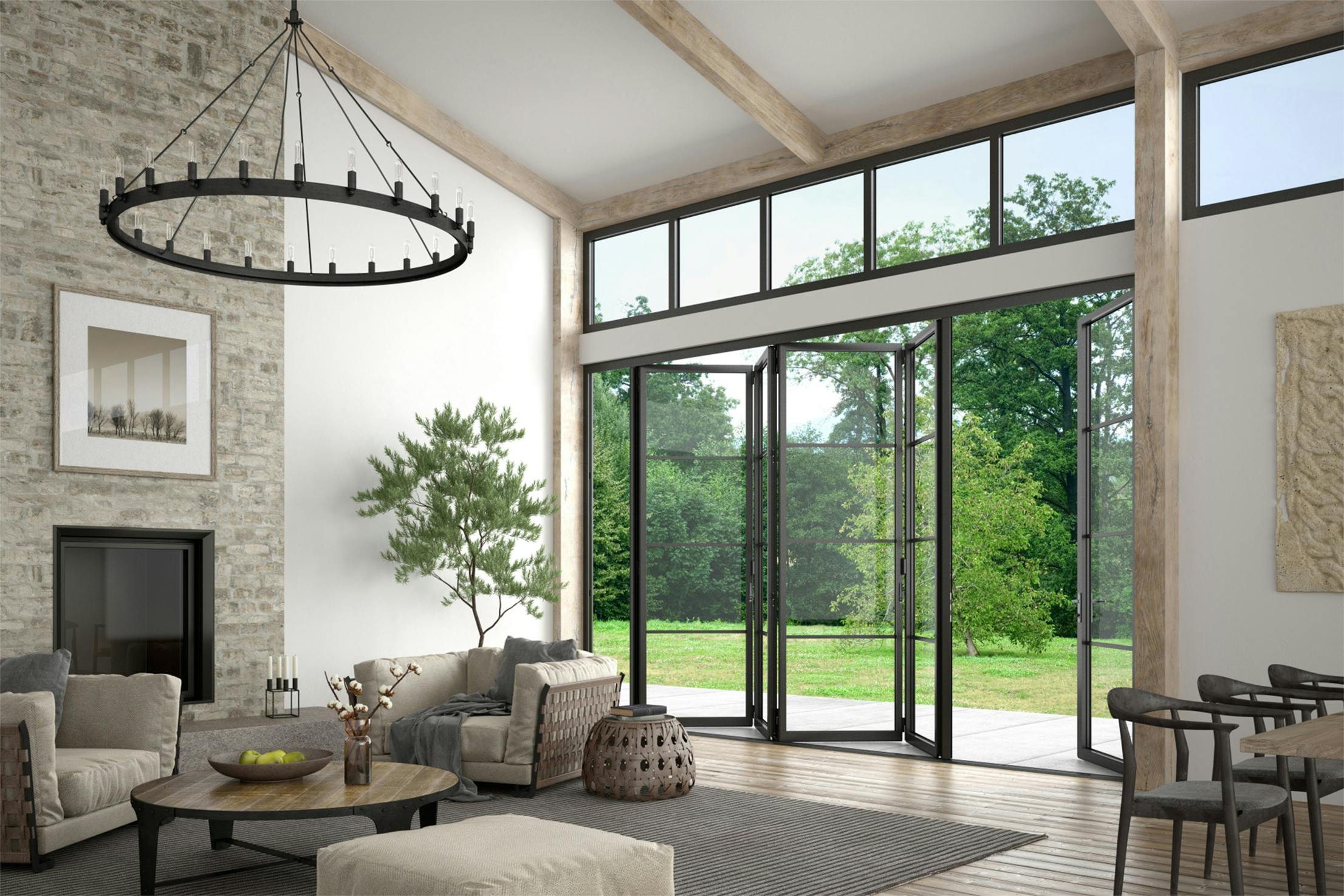 In a world that constantly evolves, architectural designs morph to embody both aesthetic appeal and functional efficiency. At the forefront of this evolution stand NanaWall Systems' innovative Generation 4 Slimline Steel Effect Folding Glass Walls. A pioneer in modern, performance-driven fenestration trends, Generation 4 systems bring forth a harmonious blend of nostalgic steel aesthetics and contemporary design ingenuity. Let's explore why the Slimline Steel Effect is a highly esteemed choice over traditional steel doors, and how these systems are not merely a style statement but a testament to architectural advancement.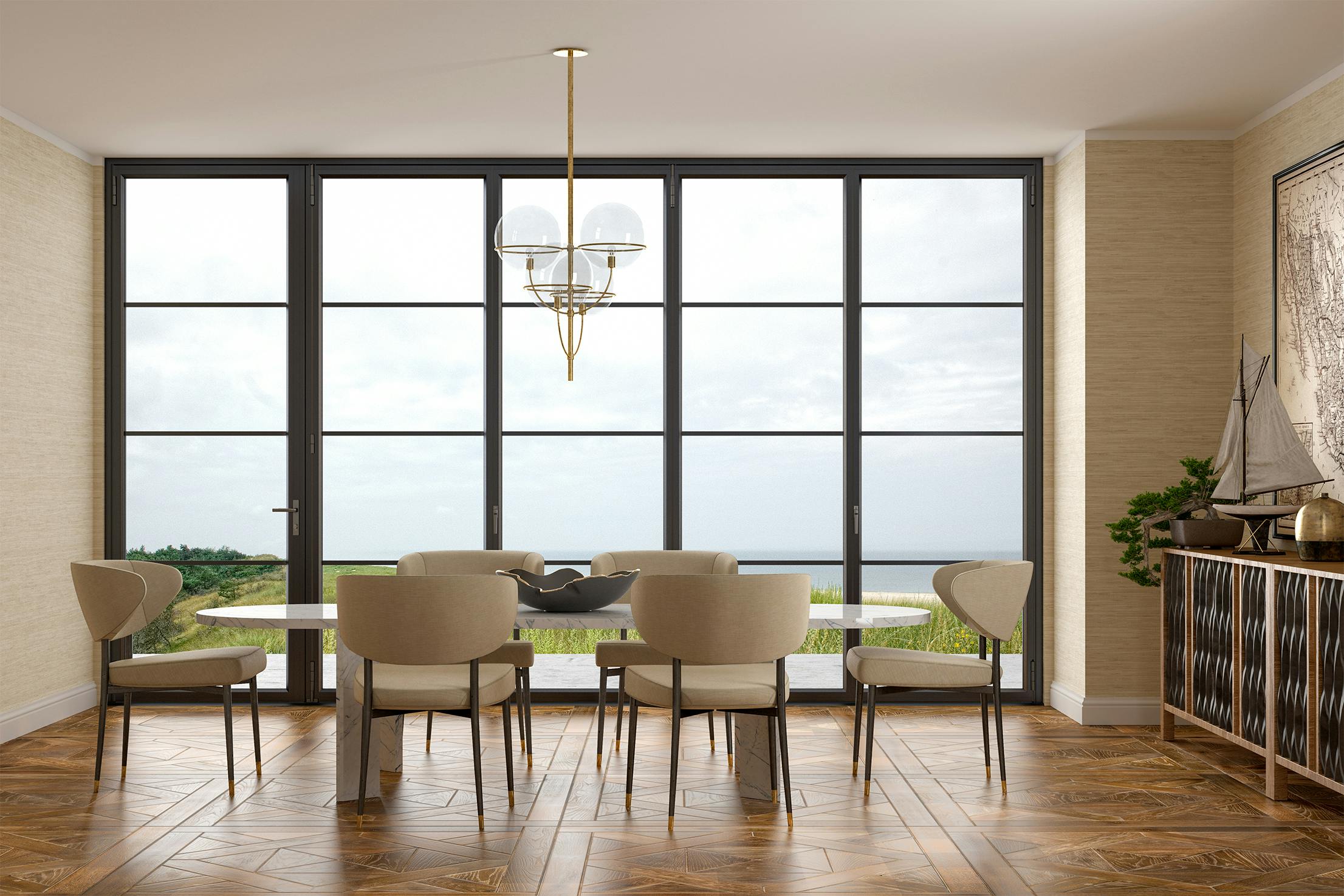 Embracing Steel Effect: A Nod to Timeless Elegance
A modern reimagining of 19th-century Art Deco aesthetics, Generation 4 systems transition the historical allure of steel-framed structures into the present, marking the resurgence of the trend. Yet distinctively, this steel effect product is highly energy-efficient compared to traditional steel and is now modernized with thermally broken aluminum profiles and double or triple insulated glass. With the industry's slimmest yet robust frame, this design holds the allure of dark framed fenestration, masterfully incorporated in aluminum framed folding systems, offering an enhanced, timeless aesthetic compatible with all architectural styles ranging from Contemporary and Industrial Urban Farmhouse to Modern Farmhouse, Georgian, and Art Deco.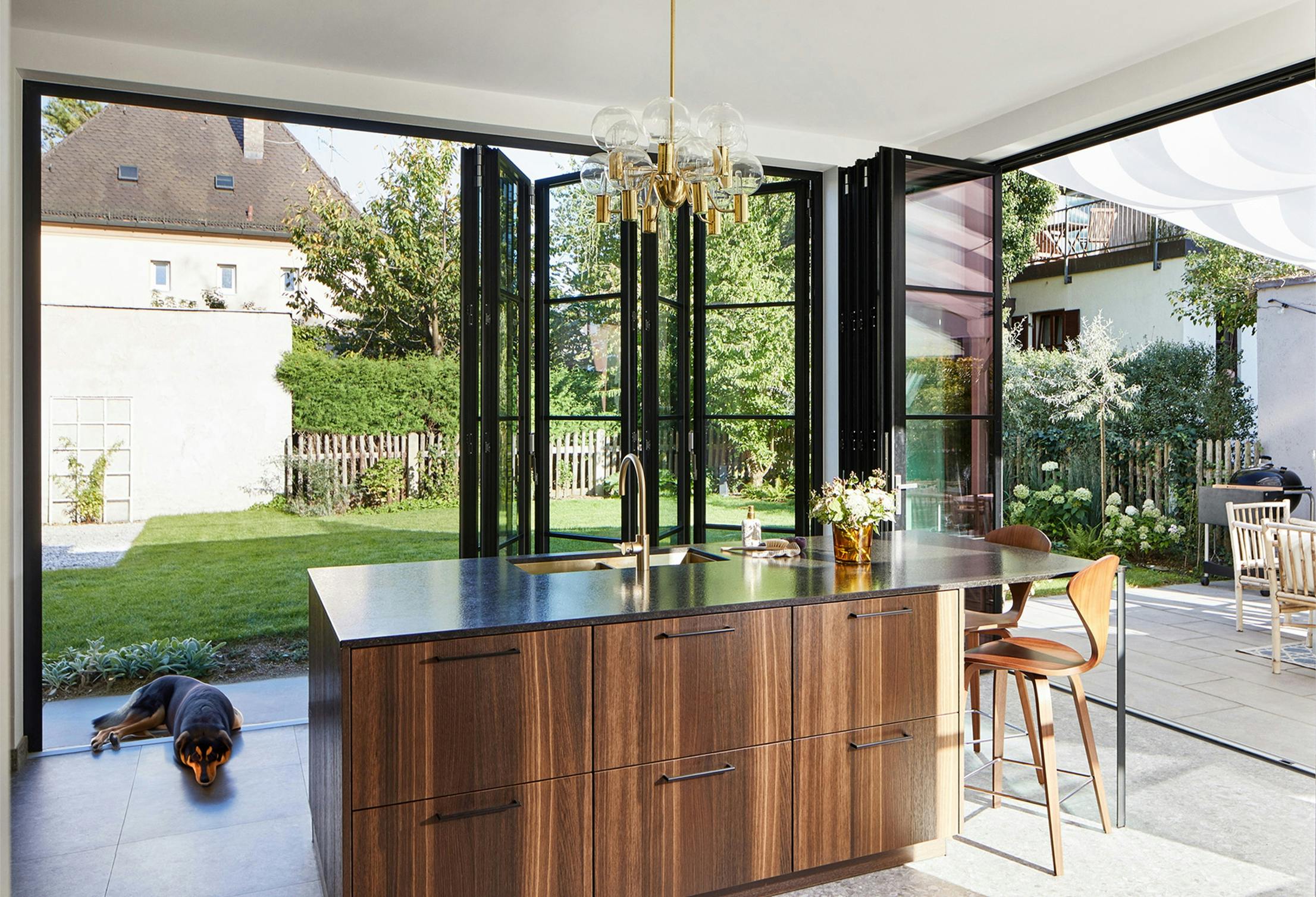 The Apex of Innovation: Generation 4 Slimline Steel Effect
Generation 4 systems transcend conventional design boundaries. With features like floating FourFold and SixFold panel sets that allow for unlimited widths, the industry's slimmest frames, inswing or outswing configurations, clean aesthetics with minimal exposed hardware, and smooth operation (Gothic arch roller), these systems epitomize architectural genius and pragmatic space solutions. Systems open up to 90% of usable space in any opening, offering maximum spatial efficiency and catering to the functional demands of modern life. With rigorous testing for resilience against extreme weather and superior thermal performance, they set new benchmarks in fenestration trends.
Generation 4 systems are each engineered for specific needs:
NW Aluminum 640: Boasting the slimmest aluminum framed folding glass wall, with minimal aesthetics and exceptional energy efficiency, this model stands as a testament to NanaWall Systems' commitment to aesthetic elegance and functional performance.
NW Aluminum 840: Designed for taller heights and superior thermal performance, this model offers the most energy-efficient thermally broken system, expanding the horizons of design possibilities.
Interior option with the same steel effect look:
NW Acoustical 645: This model is engineered for superior acoustical control, with a thermally broken system delivering exceptional acoustical performance up to unit STC 45.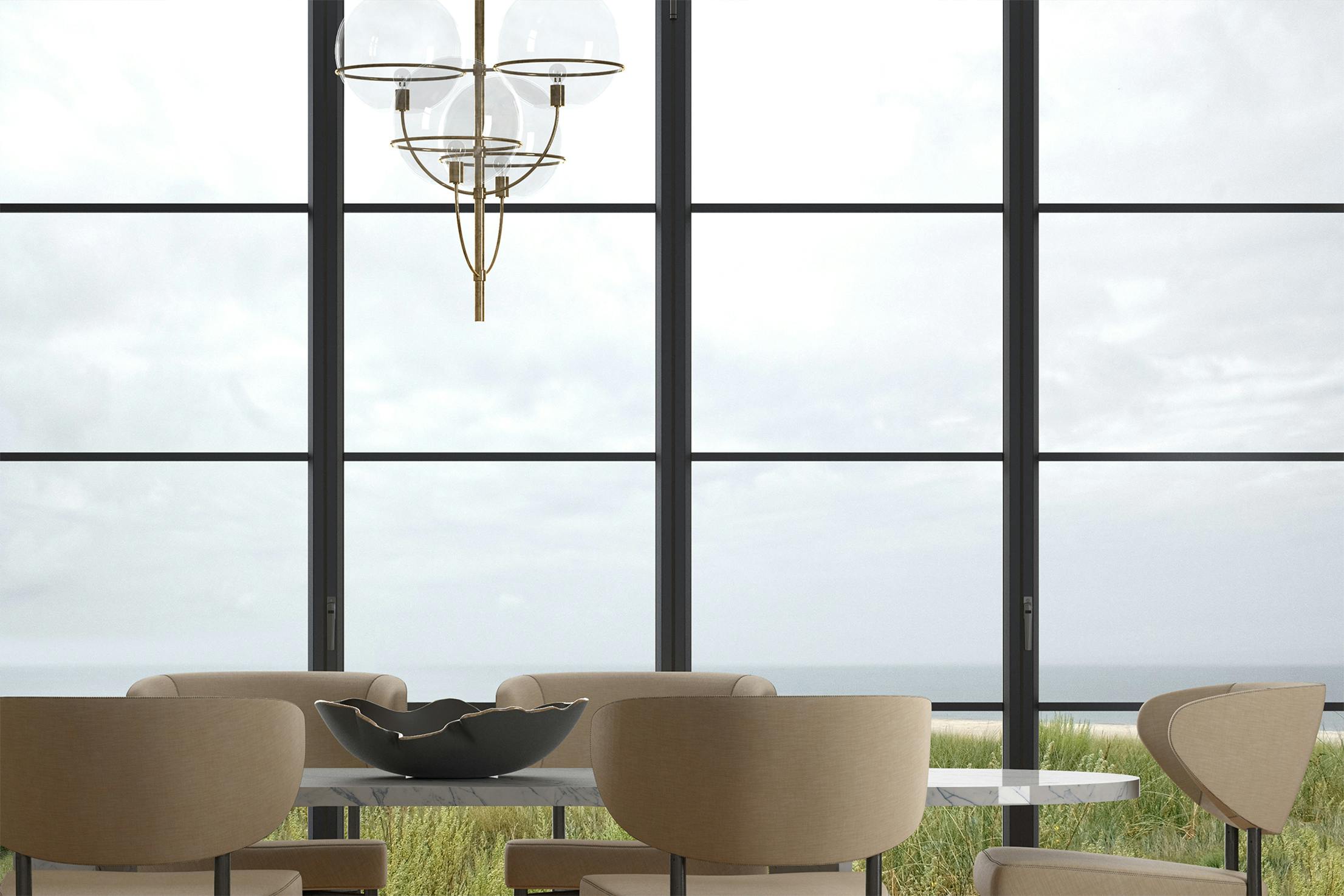 NanaWall Above Steel: Unparalleled Performance, Testing, & Operation
Traditional steel, while known for its minimal sightlines, often comes with the baggage of heavy doors. Generation 4 Slimline Steel Effect, on the other hand, emphasizes an ultra-thin and innovative approach. With the slimmest industry panel frame measuring a mere 1 3/4" (45 mm) with the intersection of two folding panels at 3 7/8″ (99 mm), the design ensures minimal sightlines without compromising the ease of operation or the structural integrity of the doors. These systems accentuate superior performance when juxtaposed against traditional steel. Meticulous independent testing ensures these systems perform with advanced operational ease and top-rated structural integrity. Unlike the cumbersome nature of steel doors, these advanced aluminum systems are a design innovation that leverages a slim yet robust framework, blending style, and functional efficacy.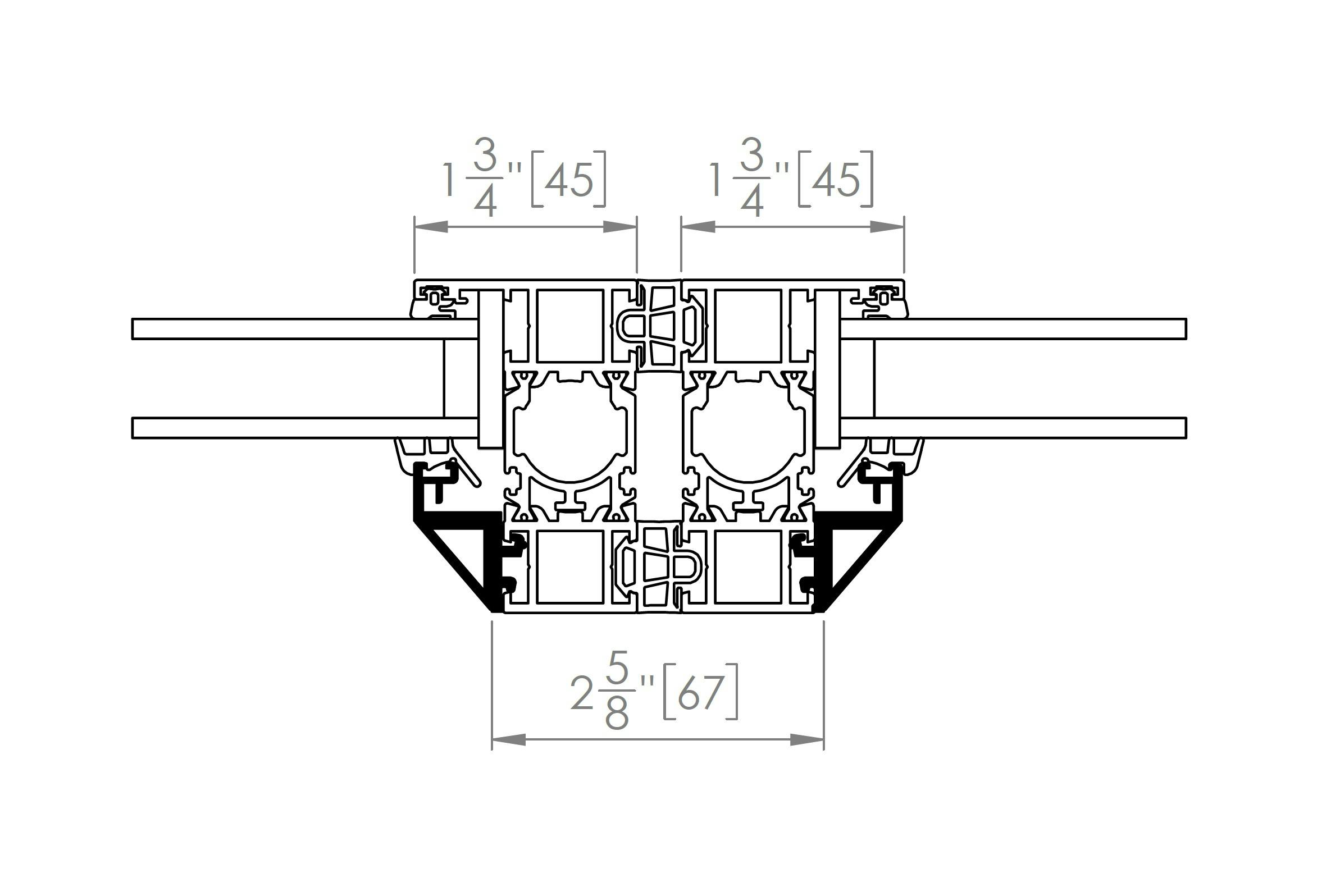 The Bionic Turtle®: The Cornerstone of Slim Design
A standout feature of the Generation 4 product line is the patented Bionic Turtle technology. This multipurpose innovation houses the system's locking rods, providing a unique thermal break, significantly enhancing the system's energy efficiency, and playing a pivotal role in affording the slim nature of the frame profiles. The Bionic Turtle is the foundation of why this line stands slim yet robust against others making it the slimmest folding glass wall product line on the market.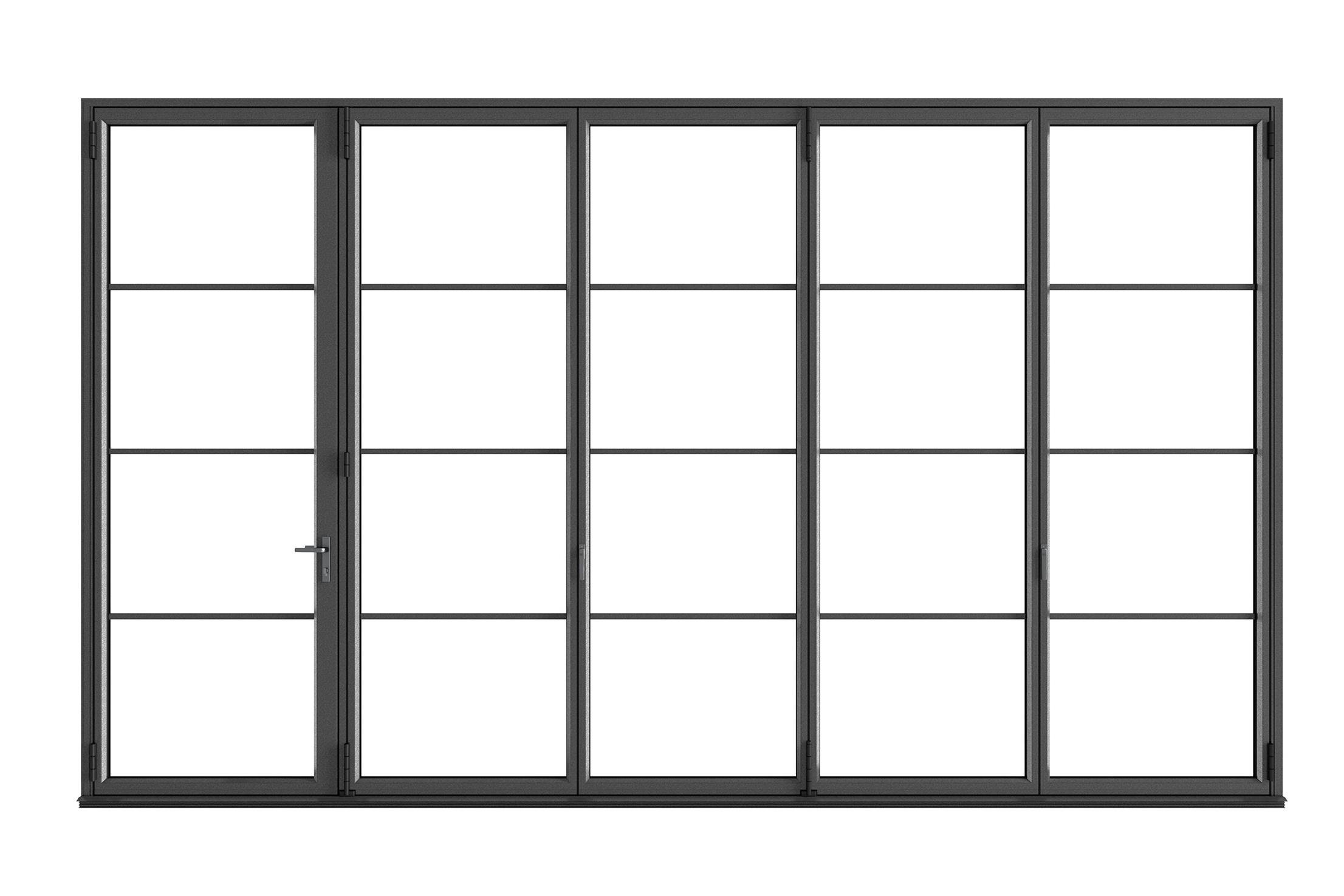 Unmatched Security & Thermal Performance — Generation 4 Slimline Steel Effect
Security is a paramount concern for homeowners, and Generation 4 systems take a giant leap in this arena to ensure superior security. The multi-point locking system transcends the security level of traditional steel doors. The locking boxes seen in traditional steel doors only lock the panels to each other. The patented NanaWall Bionic Turtle ensures a multi-point locking system on top and bottom, all housed within the same channel, making the frames as slim as possible. Unlike others, whose surface locking falls short in security, these advanced systems ensure superior security with locking throughout the entirety of the unit.
A fundamental benefit of Generation 4 folding glass walls is thermal and energy efficiency which makes these systems' engineering superior to steel. The NW Aluminum 640 offers thermal performance values as low as ".24". The system comes standard with continuous seals along the face of each panel frame. Furthermore, the standard for each system is two levels of insulating thermal breaks for optimal defense from heat and cold. These systems are easy to operate, cost-effective, and are proudly manufactured locally in Richmond, CA.

Customization: Tailoring Spaces to Resonate Individuality
The customization potential of Generation 4 Slimline Steel Effect systems is boundless. From designing patterns of simulated divided lites to selecting from a variety of color options, homeowners and architects have the liberty to tailor spaces that echo individual styles and functional demands. With Generation 4 products, they can be customized with popular DB colors or Jet Black for a truly classic steel look while benefiting from the superior performance of an aluminum folding glass wall. Choose from three DB color powder coat finish options for a classic steel appearance that includes mica pigments that offer reflective, pearlescent, metallic values with a fine matte texture. When it comes to next-level finishes beyond the standard realm, NanaWall offers custom color matching and simulated divided lite designs of your choice.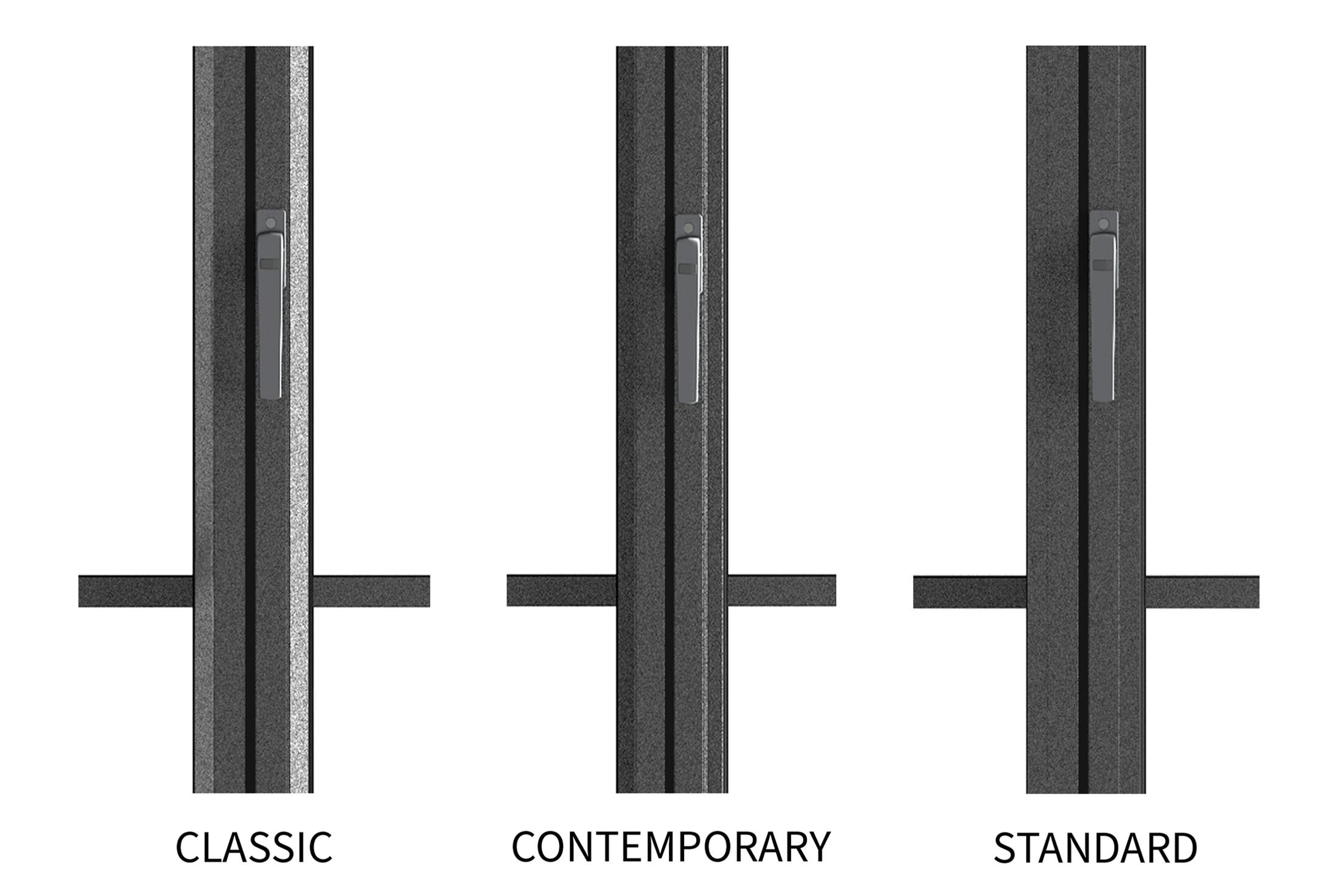 Glass Stop Options: Tailoring Vision to Perfection
Generation 4 Slimline Steel Effect folding glass walls offer three distinct glass stop options including Classic, Contemporary, and Standard for a further degree of customization. Unlike offerings by others, the "Classic" glass stop option shown is engineered with an angled design reminiscent of a look that would be seen on the interior of traditional steel windows. Beyond aesthetics, the Generation 4 installation process is streamlined to perfection. Unlike traditional steel setups where glazing is a task undertaken on-site post frame installation, these systems come with factory-installed glazing. This feature significantly accelerates the installation process, ensuring that your vision is realized in a time-efficient manner, without compromising on quality.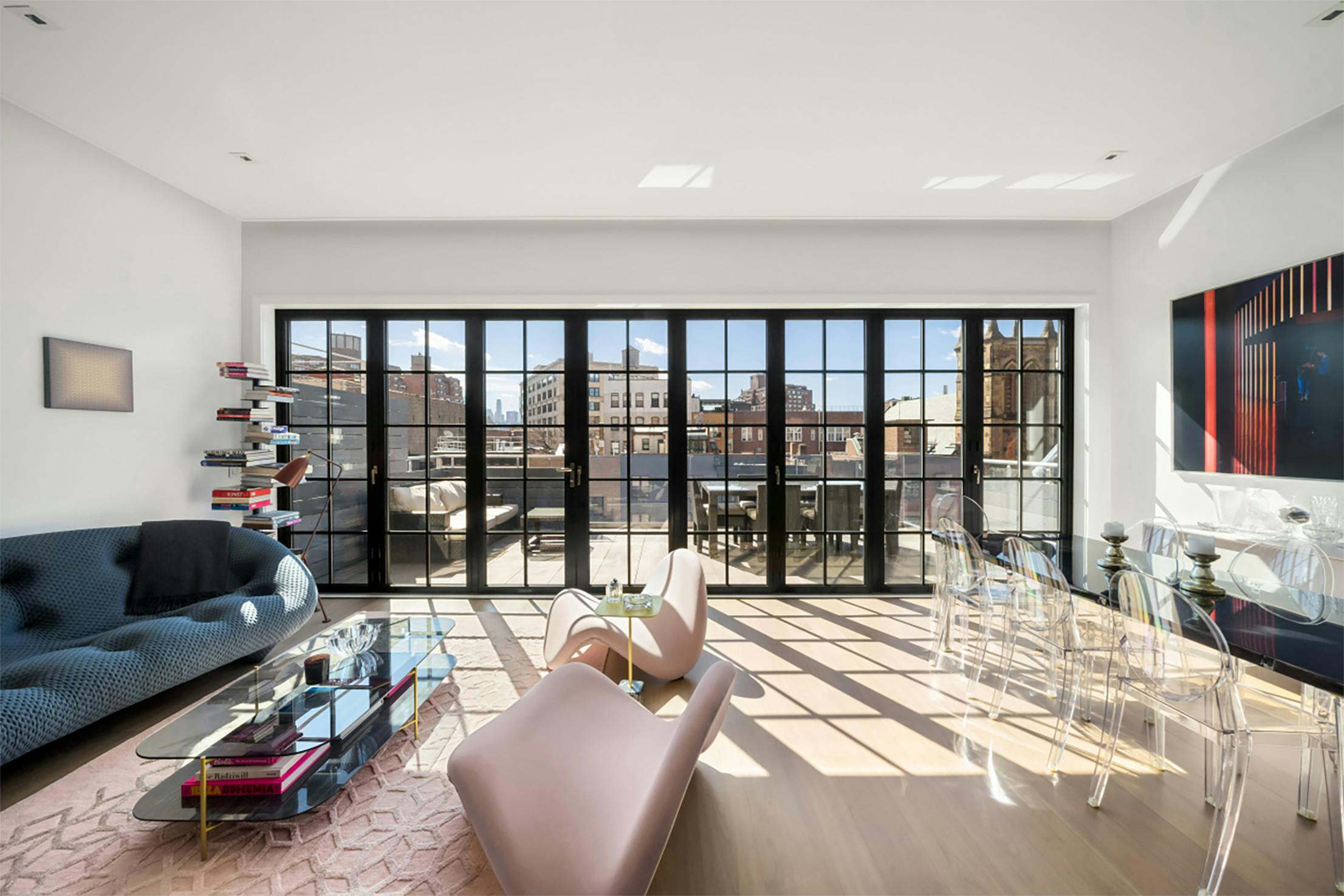 Elegance Meets Innovation: Spaces Transformed by Steel Effect
The marriage of steel effect design with the technological marvel of aluminum folding glass walls crafts homes that are a testament to beauty, efficiency, and innovation. Steel effect solutions emerge as the epitome of modern innovation melded with aesthetic allure. Explore examples of how these meticulously engineered creations transcend beyond homes to become pieces of architectural art.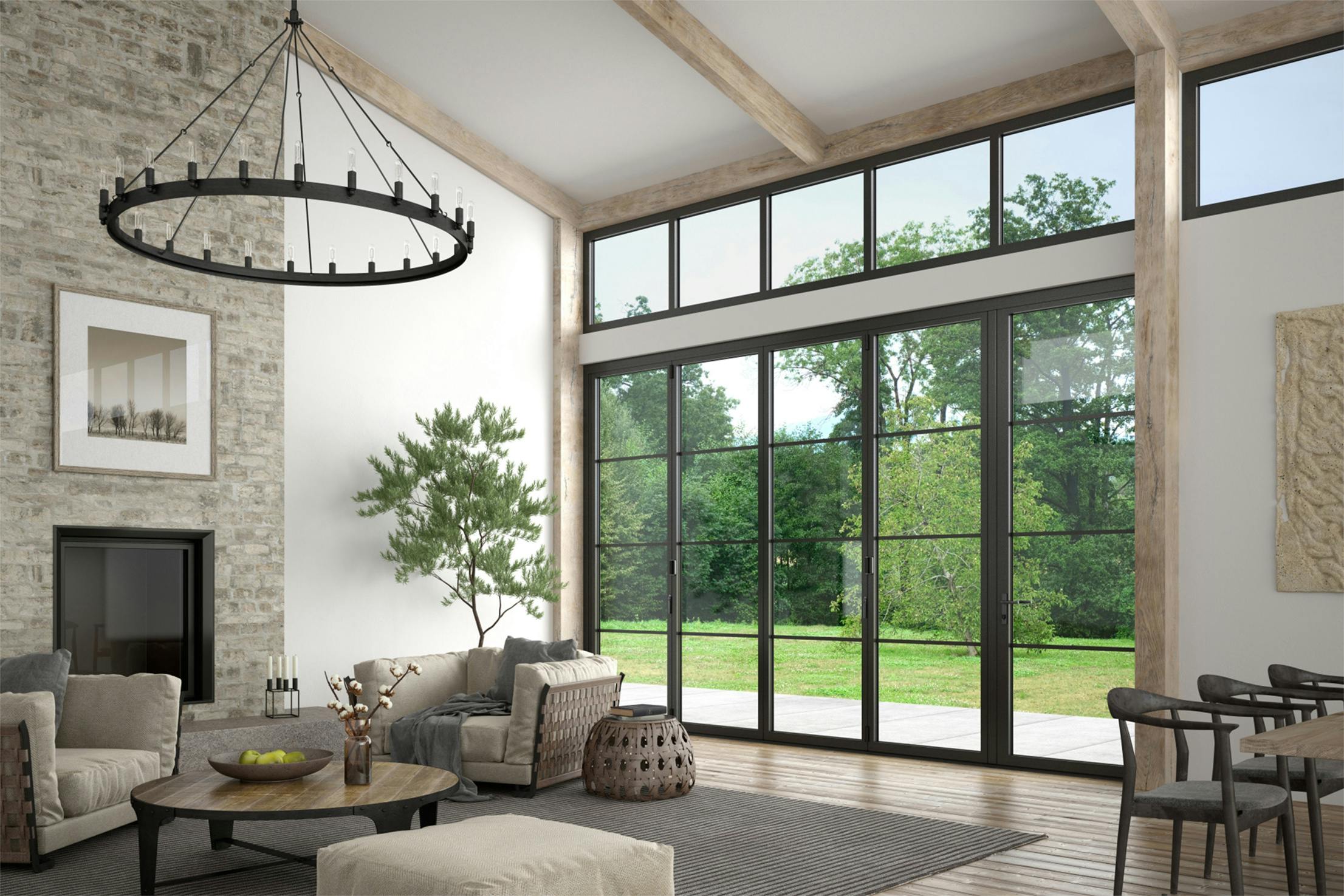 Contemporary Farmhouse
The rustic appeal of a Contemporary Farmhouse finds its voice with the Generation 4 Slimline Steel Effect, combining the warmth of traditional design with the sleek sophistication of modern innovation. The folding glass walls breathe light into each space, casting playful shadows that dance between the bygone eras and modernity. At its heart lies taller ceiling heights, rustic woods, exposed beams, and a connection to the land. However, it's the addition of the Slimline Steel Effect folding system that propels this design into the 21st century. These walls offer vast, uninterrupted views of the countryside, allowing sunlight to flood the interiors.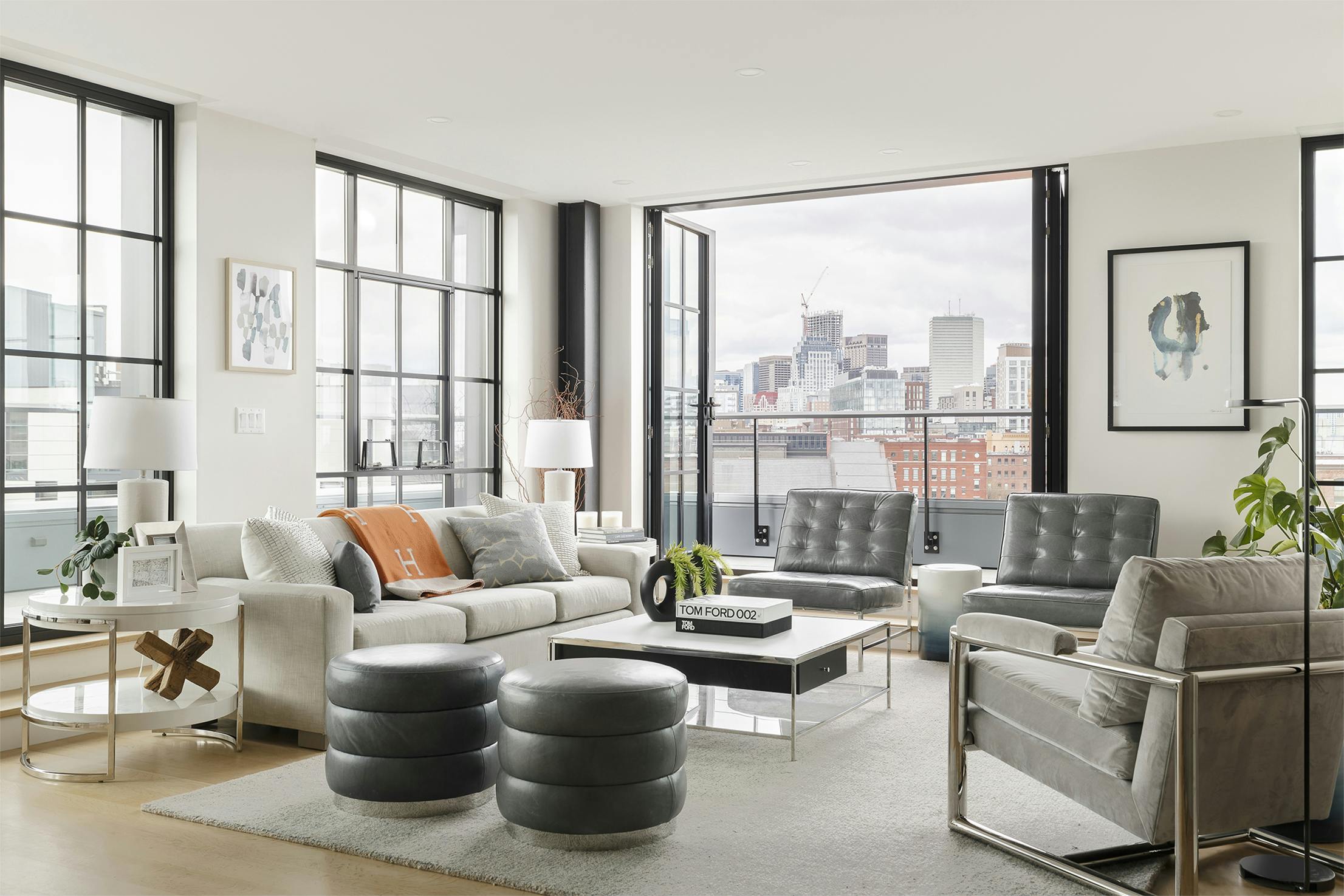 An Urban Oasis
In the heart of the bustling urban jungle, an Urban Oasis emerges as a testament to architectural prowess. Each room transforms into a sanctuary amidst the city's hustle. Generation 4 Slimline Steel Effect installations redefine spatial boundaries, promising sleek aesthetics with unparalleled functionality that complements the industrial nature of this penthouse. Security and elegance find common ground in these systems, each installation standing as a bulwark against the elements, crafting spaces where homeowners enjoy year-round serene views from the comfort of indoors. The steel effect was the perfect design choice to elevate this restored warehouse using a simulated divided lite pattern. This urban abode is a shining example of how these folding glass walls can be customized to match the historic feel of the original building.
The Modern Retreat
Nestled amidst the embrace of nature, the Modern Retreat unfolds as a sublime space where folding glass walls erase the boundaries between indoor tranquility and outdoor splendor. The expansive glass walls, designed with the finely crafted Generation 4 Slimline Steel Effect, offer a panoramic yet stylized view of the home's natural beauty, making this modern sanctuary a living canvas where nature sketches its ever-evolving portraits. The steel look lends a modern industrial touch, harmonizing with the softness of nature. Complemented by ambient lighting, minimalist interiors, and the strategic use of natural materials, the design culminates into a living space that echoes the tranquility of a timeless modern retreat.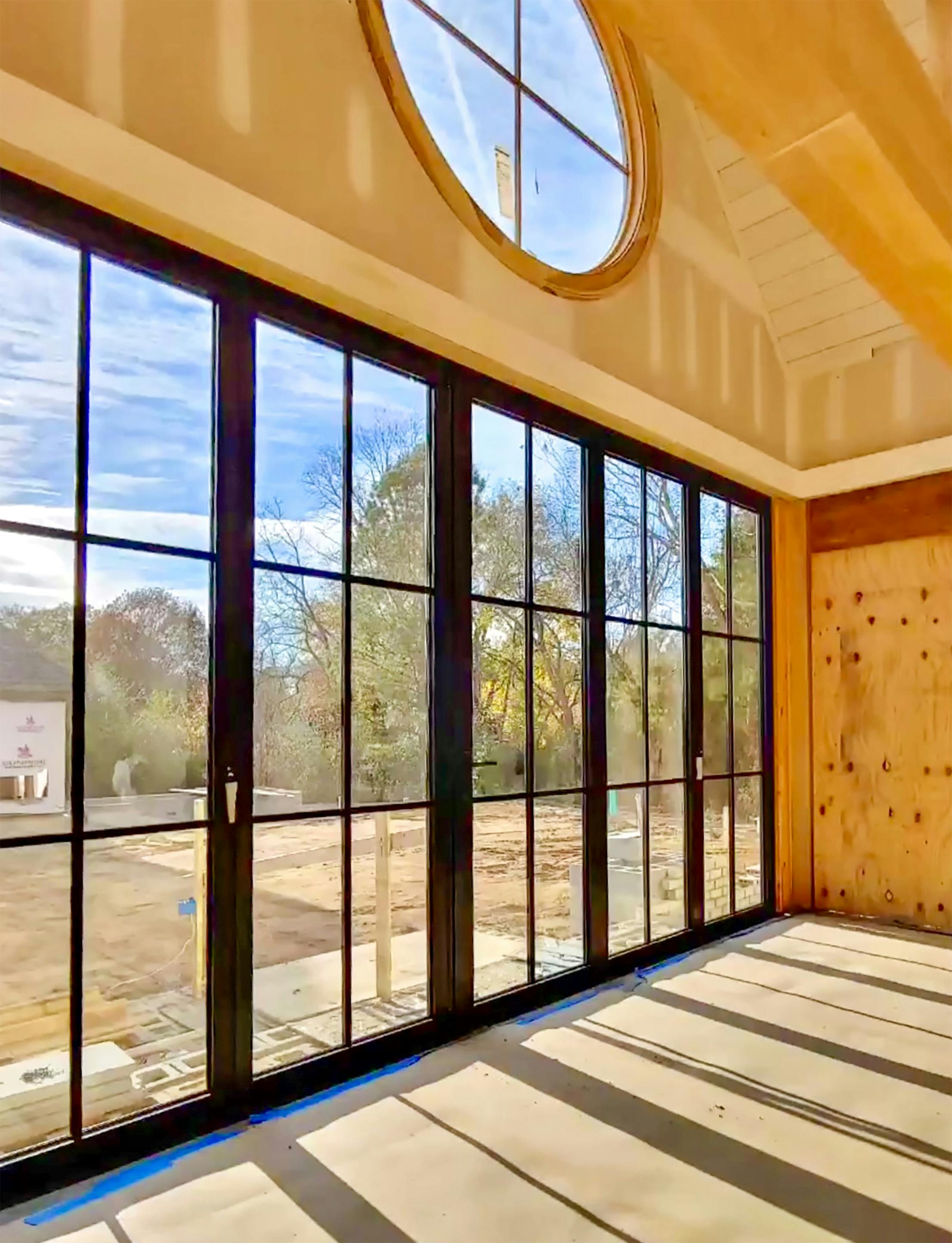 The Great Remodel Solution
When it comes to remodeling and reimagining spaces, advanced engineered systems help blend existing architectural ethos with modern aesthetics. Tailoring each space to resonate with the architectural style already present, it's a perfect match for remodels. Amidst the refined engineering, picture a moment where light filters through the steel effect window wall, casting intricate patterns of light and shadow, echoing the traditional steel designs within any modernized space. These all-season systems are the Swiss army knife of design solutions for renovations of every size. Generation 4 has the power to increase and expand the usable living space both inside and out. By removing an external wall and replacing it with folding glass walls, you'll create a seamless flow between your home and the outdoors.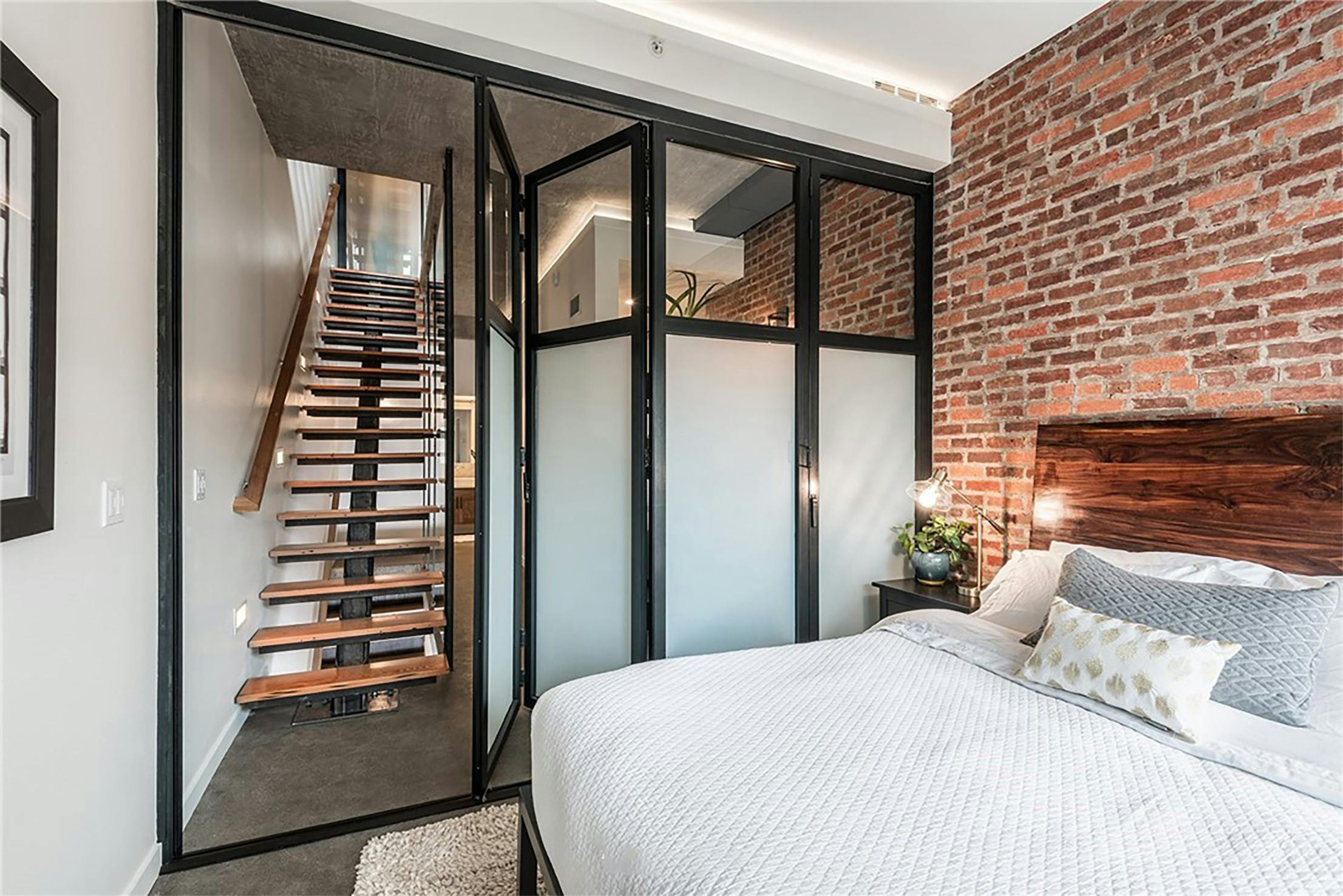 Perfect for Interiors
For interiors, the NW Acoustical 645 system underlines the versatility of NanaWall systems. Whether it's an elegant divider between a kitchen and a sunroom, or a sophisticated separation between your open space and home office, the steel effect finds its place with superior acoustical control and privacy options. This thermally broken interior system delivers exceptional acoustical performance up to unit STC 45. They also feature floor supported panels capable of heights up to 11′ 6″. The mix of glazing used in this interior system allows light to infiltrate the space while the white interlayer at the bottom of the panels elevates privacy of interior spaces to offer the ultimate options for customization. These systems are a testament to how the aesthetic and space-maximizing values of opening glass wall systems fold seamlessly into the narrative of interior design and functionality.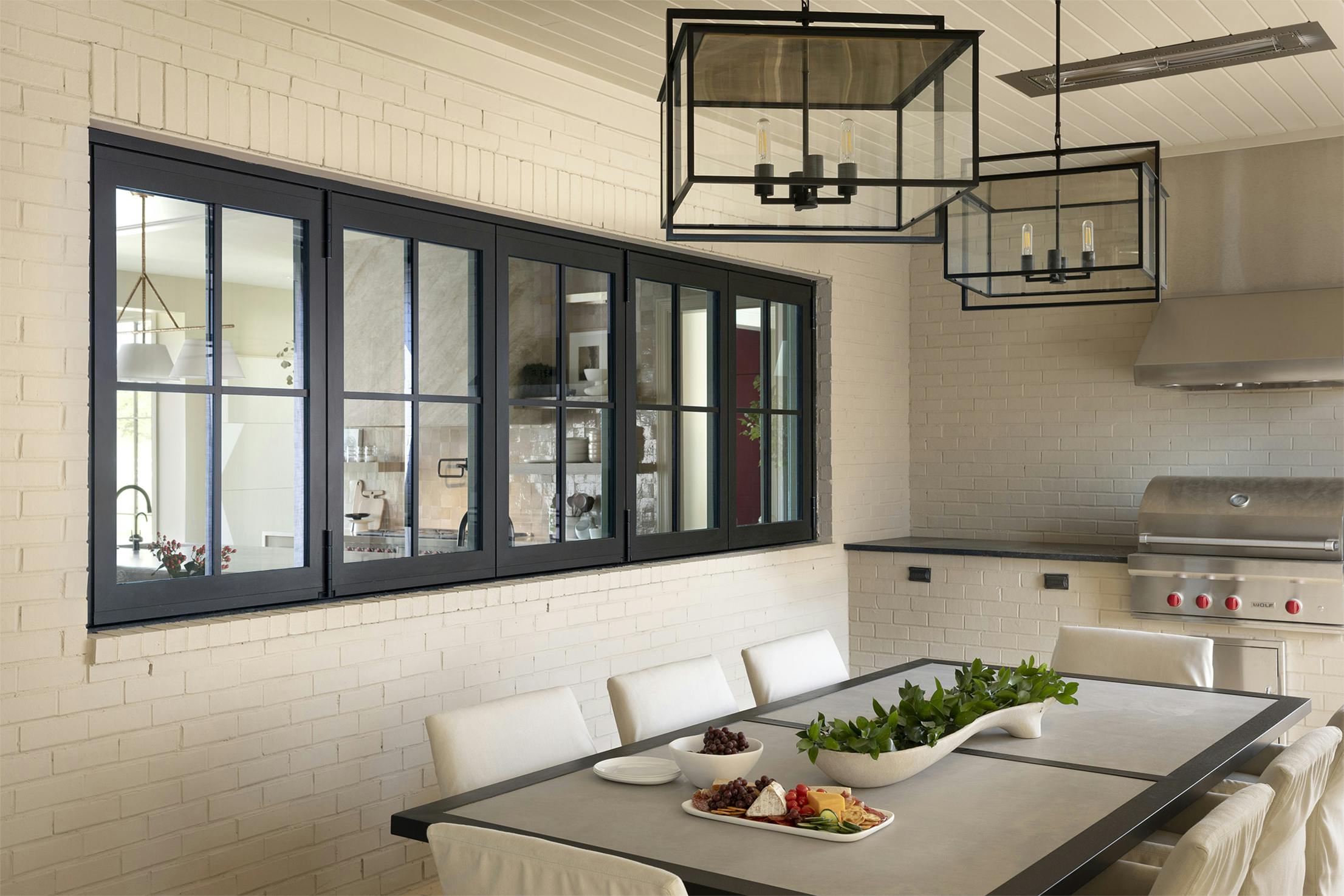 Final Thoughts
The versatility of Generation 4 Slimline Steel Effect folding glass walls is boundless like the folding windows above. These systems set new benchmarks in fenestration trends across architectural design. With superior thermal performance, advanced locking mechanisms, and a bouquet of customization options, these systems offer a promise of quality and excellence, and a chance to create living spaces where aesthetics, security, and function meet.
Whether you are an architect aiming to blend modern innovation with traditional design or a homeowner aspiring to transform your living space, systems with Generation 4 Slimline Steel Effect offer a canvas to paint your architectural dreams. Have questions or want design advice? Speak with experts to get a tailored solution today! Visit our inspiration gallery for more design ideas.