How Collapsible Glass Walls Can Instantly Upgrade Your Office
By NanaWall Systems, September 16, 2019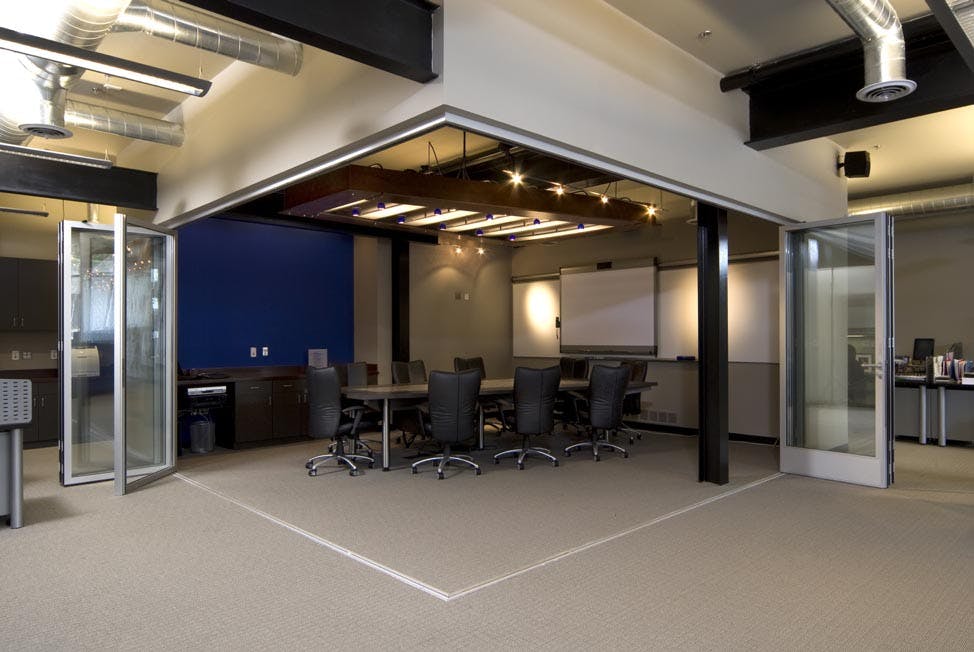 Collapsible walls are a great solution to instantly upgrade an office. They are a high-performance durable option to replace walls and entryways. They are also ideal for creating flex space as the panels can be opened and closed to transform a room immediately.
When it comes to lighting, collapsible walls bring in natural light and can make a small office feel more open. Additionally, these glass walls can be used to replace cubicle walls which will foster interaction and collaboration amongst employees. These walls also offer the same security and durability as traditional walls without sacrificing aesthetics as they come in many colors and finishing options. Collapsible and folding glass walls can be custom made to any size. For example, the NanaWall System SL70 even accommodates curved walls. Given so many options, folding glass walls seamlessly integrate into an office space. Here are several ways that collapsible glass walls can instantly upgrade an office. Use this information as you compare benefits and the cost of a moving glass wall system.
What are Collapsible Glass Walls?
Sometimes known as bi-fold doors, accordion doors and folding glass doors, collapsible glass walls are used as room dividers. They are made of several glass panes connected along a single track. The panels fold back to provide an opening between separate areas.
They are an attractive non load-bearing option for dividing spaces while providing clear sightlines throughout the space. Additionally, collapsible walls allow full use of a room without sacrificing floor space.
Collapsible walls can be made of aluminum, wood, or a combination of both that make the doors lightweight and easy to operate without sacrificing the security, durability and function as traditional walls. Architects and designers will find many benefits to using these versatile folding glass walls:
Glass walls are easy to operate and reconfigure space
They allow natural light into a space
They create a feeling of connectivity to adjoining spaces
Size is of little concern when using glass walls. Some of the NanaWall products can accommodate openings of up to12 ' high and 39' wide. Additionally, there are options to accommodate curved walls and open corner designs.
How Collapsible Glass Walls Stack Up Against Traditional Walls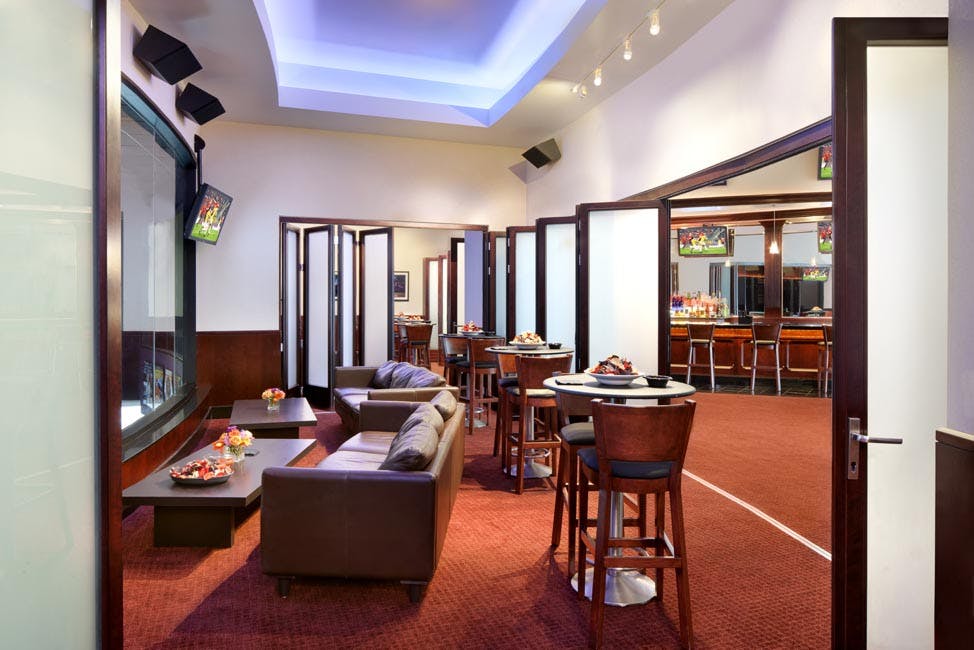 Collapsible walls are a versatile option for entryways and for creating flex space. Each of the NanaWall systems features one-handed operation, which makes for smooth opening and closing. Both the top-hung and floor supported hinged options provide a smooth and effortless movement.
Security is of top priority when designing any entryway. While traditional door panels have long been the staple of securing entryways, collapsible glass walls provide just as much security. The concealed locking mechanism features a locking rod that engages in two places. As such, these glass walls protect against forced entry.
The term privacy may seem counterintuitive when thinking of glass walls. However, NanaWall products come in frosted, tinted or art glass options which strike the perfect balance between minimizing visibility and visual privacy.
Enlarge Small Offices
Traditional solid walls make a room feel small and cut off from the rest of the office. The problem is made worse due to the lack of natural lighting in most buildings. When space is limited, collapsible glass walls allow a space to be expanded into adjoining rooms to create a larger work area. In this manner, smaller rooms can be combined into one single large room.
Collapsible walls are equipped with roller assemblies that make them feel lightweight and easy to move with a single hand. As a result, reconfiguring an office in this manner takes a matter of minutes. Additionally, due to the number of options for finishes and hardware, glass walls can match the design of any office. Thus, one can install a glass wall that integrates seamlessly into the surrounding office space without detracting from the aesthetics of the office. The SL45 product used in this project shows how a small room appears larger by replacing two walls with glass.
Collapsible Walls Remove Barriers Between Employees
Collapsible walls remove physical and visual barriers between employees. Cubicles have long been the staple of traditional office spaces. The problem with this design is that it isolates employees which inhibits communication and collaboration. Additionally, cubicles create a maze-like structure in an office that further instills the impression of separation.
Installing collapsible glass walls all but eliminates these problems. NanaWall products remove the visual barrier between cubicles. With glass, employees can see their colleagues which helps foster teamwork. Folding glass walls in offices also makes it easy for employees to navigate corridors to find each other. Eliminating visual barriers between employees encourages team members to collaborate and leads to increased productivity.
Brighten Dark Spaces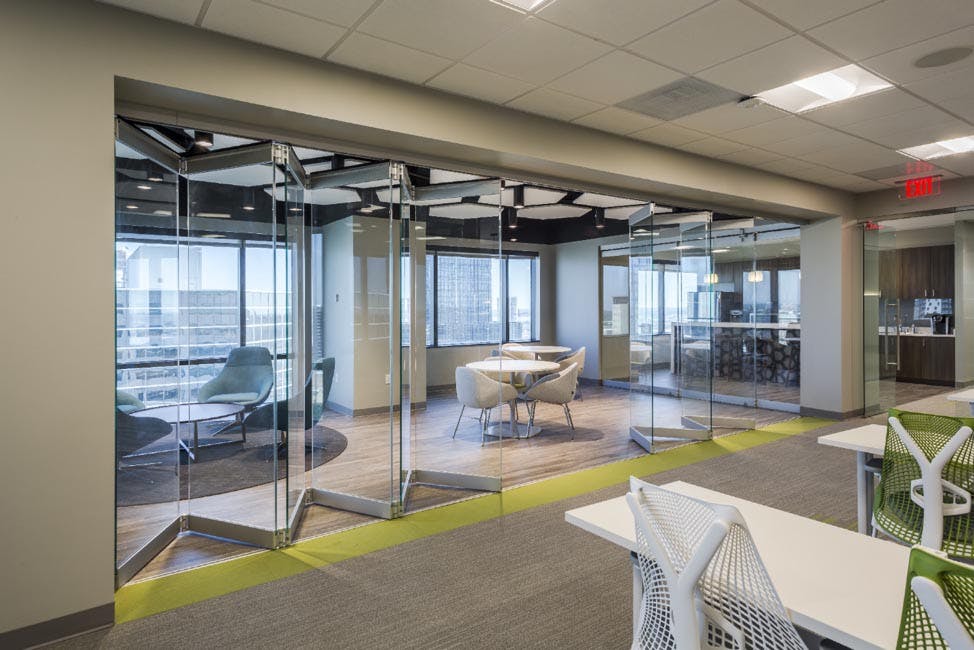 Lighting is a challenge in many office buildings. It is hard to get natural light into a space made of interior of walled off offices and corridors. Often, the only solution is to install artificial lighting. There are several problems with this approach. First, regardless of the size of the building, a large number of lighting fixtures are required to provide adequate lighting. As a result, energy costs to operate those lights becomes a concern.
Installing collapsible walls, like a frameless glass wall, brings natural light into an office which has been proven to elevate mood and increase productivity.
The architect in this office project used collapsible glass walls to take advantage of the natural light on the far wall of the building. Another example of brightening a space is the SL70 collapsible glass wall used here to take advantage of the view from the far wall.
Use Collapsible Glass Walls to Create Instant Conference Rooms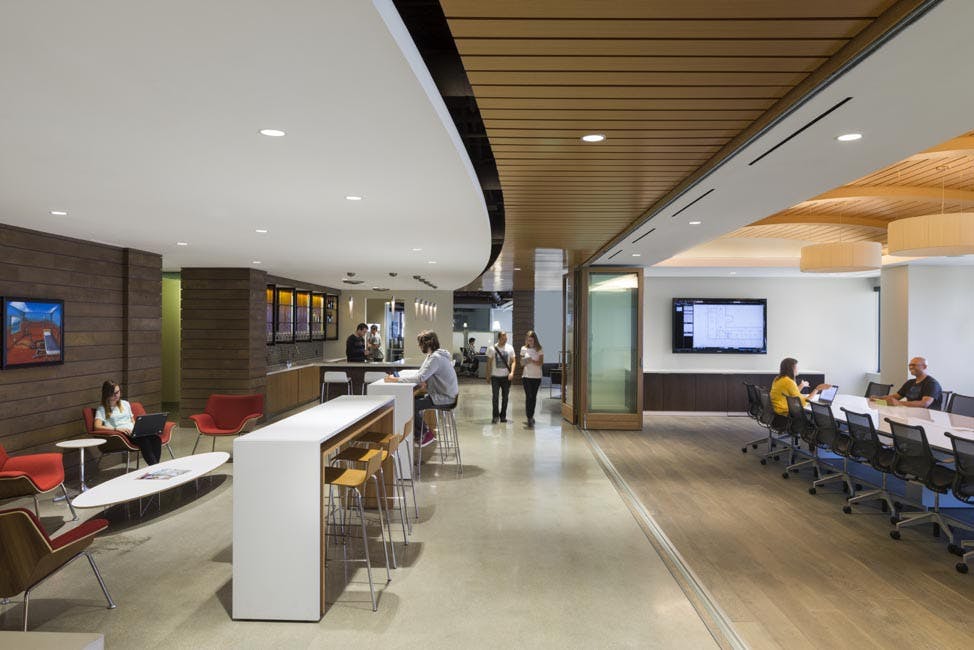 Many buildings have wasted space that could be put to better use. Using collapsible walls can allow these dead spaces to be used more efficiently. By creating movable partitions in common areas, companies can configure conference rooms as needed by simply opening and closing the walls.
Additionally, traditional conference rooms are often wasted space. Outside of meetings, these rooms serve little purpose. Collapsible walls allow conference rooms to be opened and closed as needed to create flex space. That way, the rooms aren't limited to meeting space but can be reconfigured for a multitude of purposes. The WD65 system shown in this project allows the doors to be closed for meeting space, yet can be opened to integrate into the larger office space.
Privacy with glass is less of a challenge than expected. The NanaWall systems are acoustically rated to provide the privacy needed to conduct meetings. Additionally, many of the walls have the option for "frosting" which makes the wall opaque without sacrificing light.
Collapsible glass walls or commercial glass walls are an upgrade that can transform office space. They can make small rooms feel more substantial, remove barriers between employees and allow companies to create multi-purpose rooms from existing areas.
To discuss how NanaWall products can transform your office space or to learn more about NanaWall sliding glass wall systems, please contact your local representative.