By A. N. Mira, December 17, 2011
What if I told you that movable walls have been in existence for centuries? That they've been a design element in traditional Japanese architecture dating back to before the 13th century. This became apparent to me in a recent conversation with the account director at our public relations firm, Linda Stephens at IWPR. I began to see an astonishing parallel between the flexible walls used in historic Japanese structures and the high performance operable glass walls engineered by NanaWall.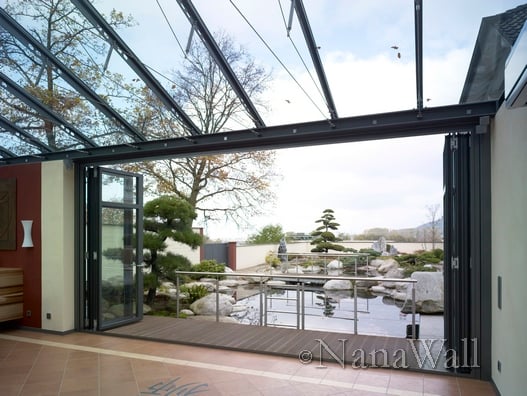 Japanese Style House Opening onto Tea Garden
Linda told me, "I started working with NanaWall about six years ago – in 2006. When I first saw photos of the NanaWall and the concept of opening up a wall to the outside, I loved it. It reminded me of the flexible architecture of Japan and a historic home I lived in near Kyoto that had sliding walls that opened to the courtyard garden."
Despite the multiplicity of forms and styles within traditional Japanese architecture, there is a common set of principles underlying Japanese design. One of these common features is flexible walls.
The architectural form of buildings in early Japan was pure structure. Generally, the structure consisted of posts and beams that supported a large and gently curved roof, while the walls were "decorative dividers" that could be easily pushed aside or removed altogether, even along the exterior of the structure. Many traditional Japanese structures were merely roofed pavilions, open to cool breezes during the summer.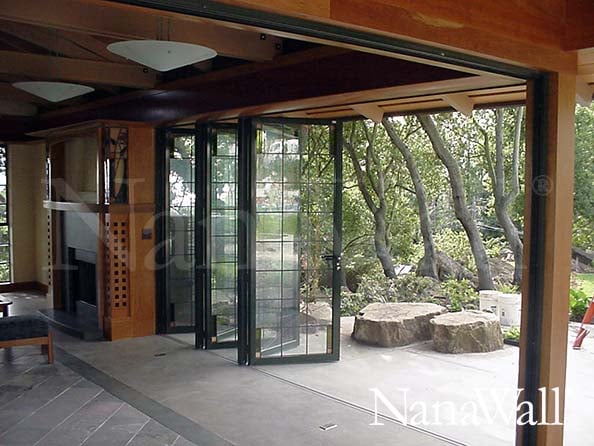 "The principle of traditional Japanese residential architecture, Inside Outside, is successfully incorporated in this design that combines the exterior environment with the interior space so that the two become unified. Our use of the NanaWall enables us to achieve this aesthetic." - Hiroshi Morimoto AIA
Japanese palaces were often designed in complexes, with multiple structures incorporated within the gardens and landscape. Many of the structural barriers between inside and outside were removed, allowing the structures to flow into the gardens, and opening them up to the outdoors as much as possible. An important principle to Japanese aesthetics is overcoming dichotomies, between cognition and emotion, body and emotion, and when it comes to architecture, between art and nature, indoor and outdoor. The structures were closed up with wooden shutters or lowered wooden screens (amado) at night, or during inclement weather. But during the day, sliding panels with wooden lattice-work and translucent paper (shoji) allowed in soft daylighting and natural ventilation. Even interior spaces could be easily restructured with similar wooden sliding panels covered in heavy opaque paper (fusuma). In essence, NanaWalls are a modern-day adaptation from traditional Japanese architecture. They embody the same concepts of flexibility and openness, with the added benefits of high performance, weather-resistance, and superior engineering.