Modern Cabin Designs for 2020
By NanaWall Systems, January 20, 2020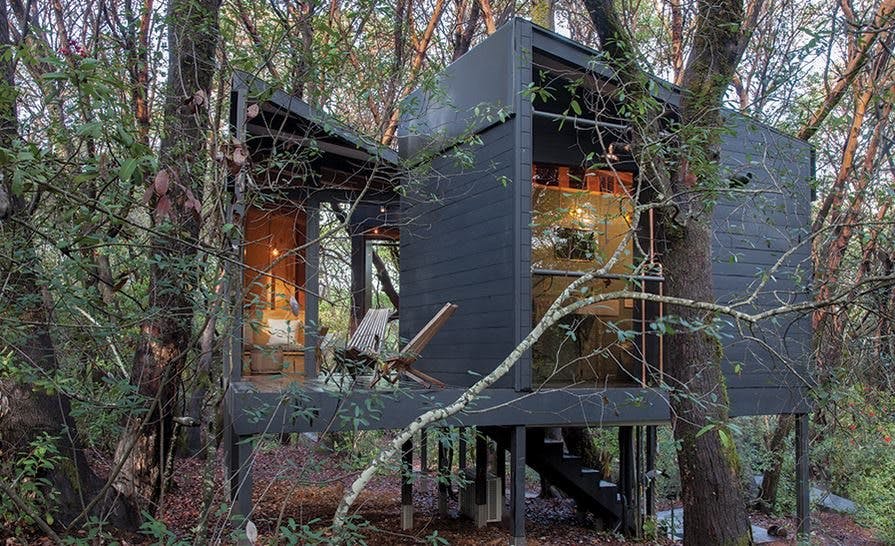 Traditional cabins often have a warm nostalgia associated with memories of family and friends gathering together, but the cabin you grew up visiting may look quite different than the modern cabins being built today.
These days, cabins are being built to maximize and open up the space, feature clean lines, and create a seamless boundary between the interior and exterior. Architects are reimagining the iconic log cabin to be a functional space that reflects a modern aesthetic.
Curious about what an innovative cabin can offer? Check out these five cabins that make the most of their space, surroundings, and materials to create the perfect getaway.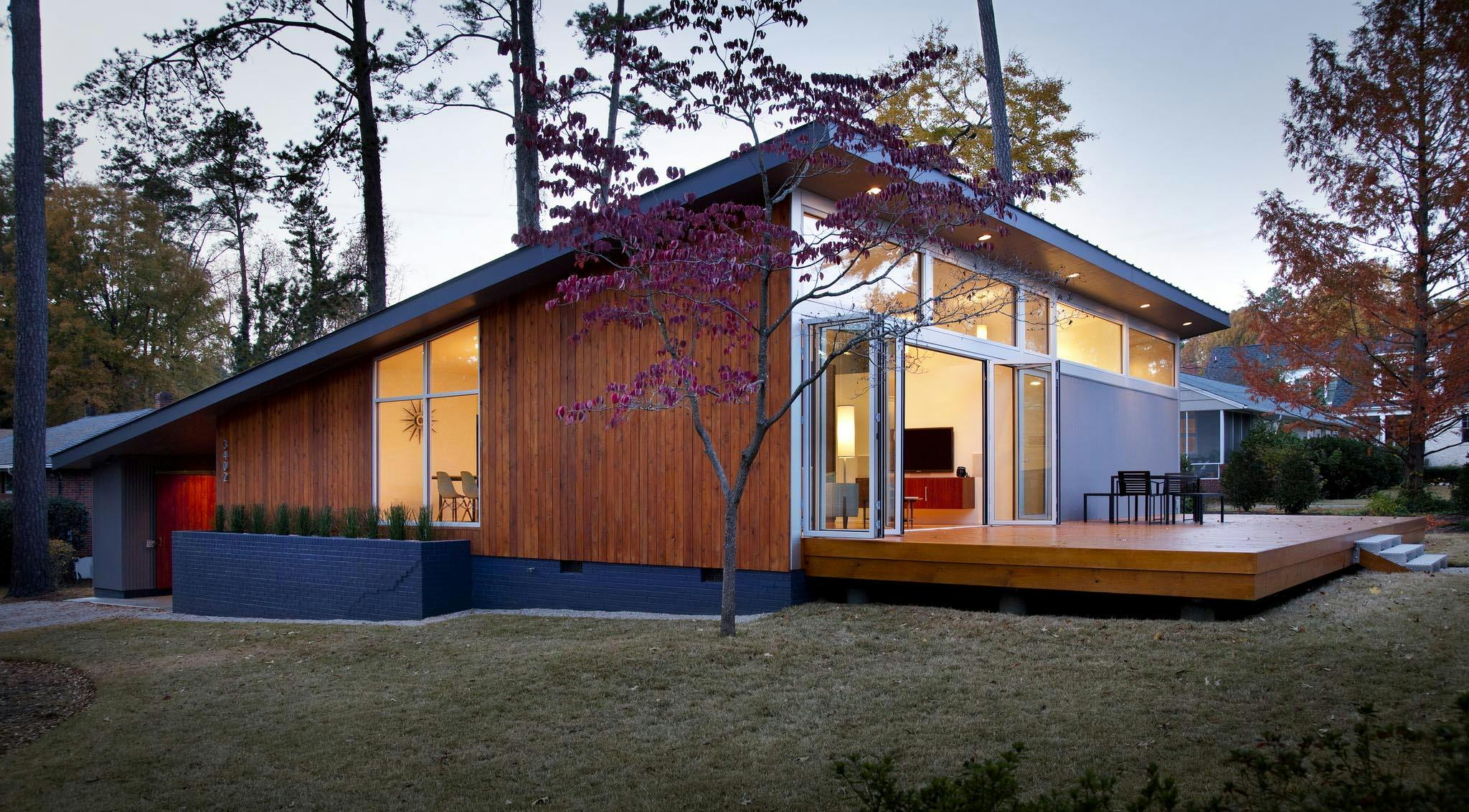 1. Modern Cabins Let the Light Flow In
Cabins have not always been known as light-filled spaces, but today's modern cabin designs are trending towards opening up the walls in unique ways so that the light can pour in.
With more light, small spaces feel larger and more integrated with the outdoors. Adding more windows and glass wall systems is a great way to enhance any room.
The Big Shrink house in North Carolina did just that using the NanaWall SL70 system. Since this woodsy home was a full-time residence, the homeowners wanted to bring in the light and expand their outdoor living space by installing folding glass walls that can open up to 20 feet without obstructions.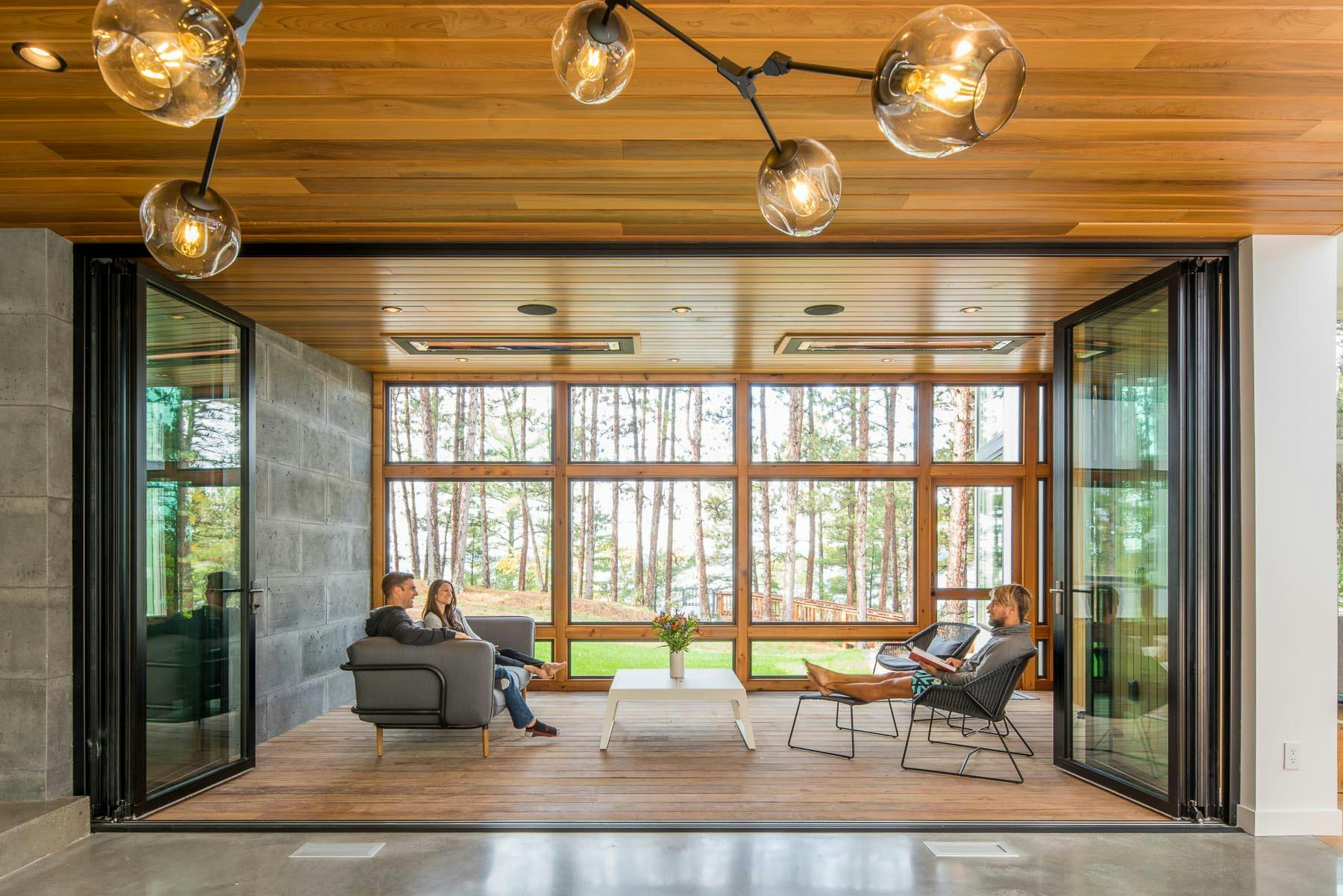 2. Embrace the Weather Without Sacrificing Aesthetics
If you're building a modern cabin, you want to be sure that you can enjoy it year-round, just like this Minnesota Lake House with a 3-season porch.
Using folding glass walls like NanaWall SL60 system allows you to open up indoor space to the outdoors during temperate weather, and insulate indoors during cold. As a thermally broken product, the SL60 is tough enough to withstand the harshest winters with minimal sightlines to enjoy the view outdoors.
When the summer months come, folding glass walls offer various configurations so you can include swing doors and stacking options that best serve your space. You may even opt to include a wood sliding glass wall, like the HSW66, perfect for opening to patios and balconies.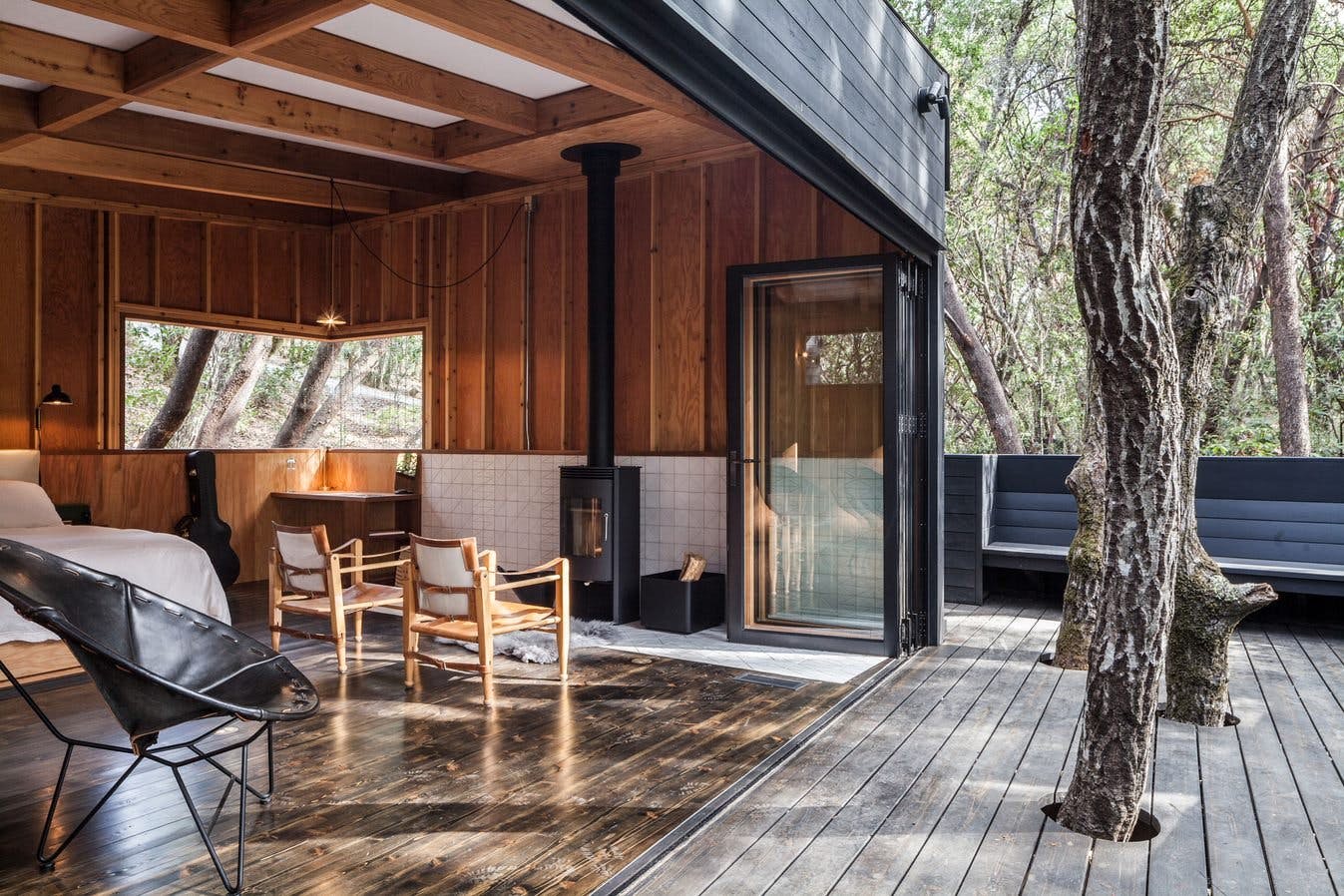 3. Modern Cabins Bring the Outside In
Some of the most stunning contemporary cabins are those that highlight the wilderness they're built in. Whether it's integrating plants and landscape into the architecture or creating expansive views that make you feel like you're outside, bringing the outside in is definitely a trend in modern cabin design.
The Forest House located in Mendocino County, CA, is a perfect example of seamless interior and exterior integration. Awarded for its innovative design, The Forest House consists of several smaller cabins connected by wooden walkways. Each cabin serves a different function and was built to enhance the natural beauty surrounding it.
To effectively bring the outside in, architects used the WD66 wood framed folding glass wall because of its superior insulation and weather protection, and its flexibility as an operable wall. The WD66 glass walls can glide into a corner for easy storage, allowing the room to expand into the adjoining deck and natural surroundings.
While bringing the outside in has its benefits, it's important to know your modern cabin is secure from the elements and wildlife. For cabins sharing space with bears and other types of wildlife, NanaWall developed BEARicade folding glass walls that include bear-resistant handles, impact-rated laminated glass, and multi-point, tamper-resistant locks.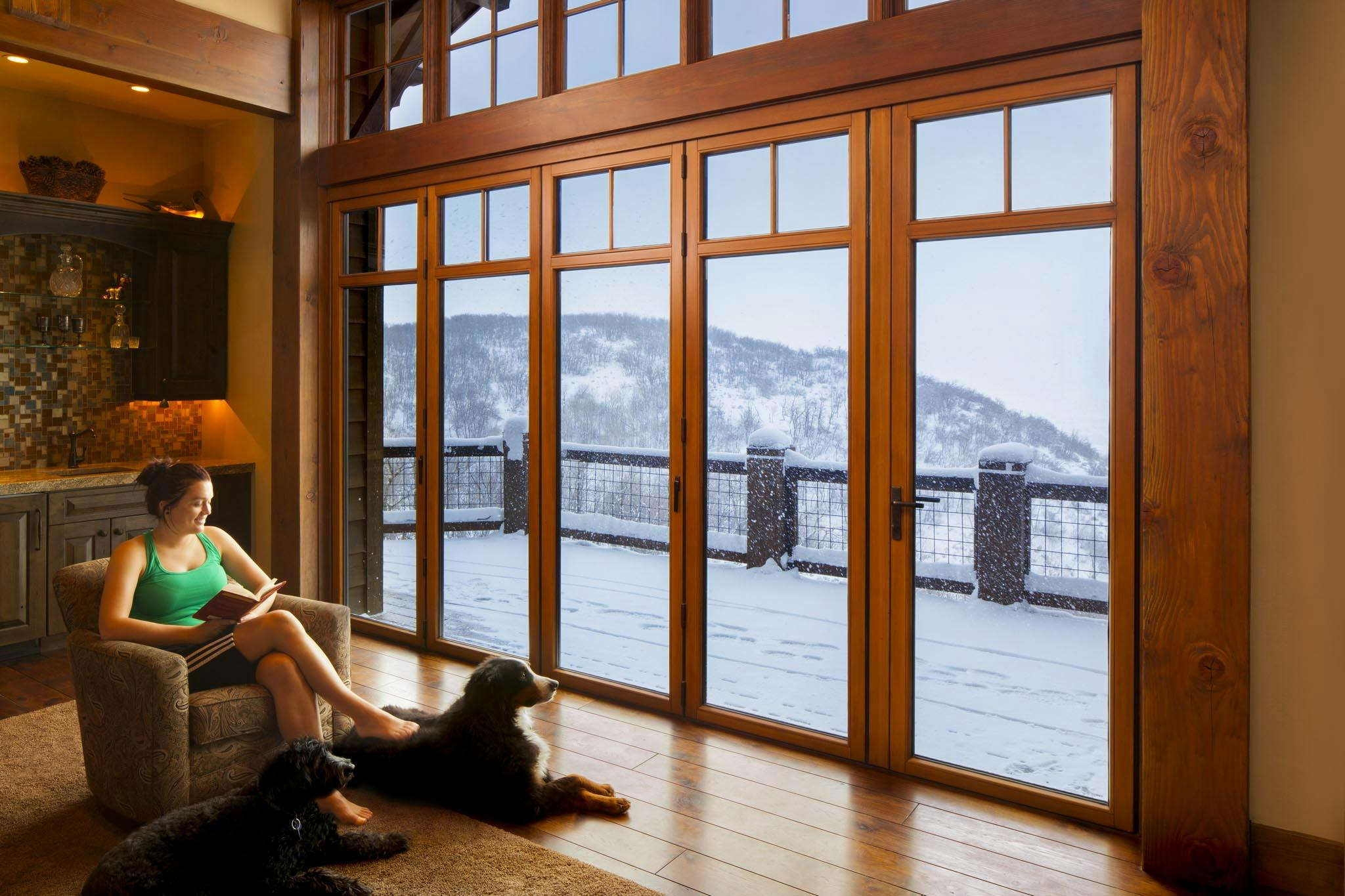 4. Energy Efficiency Sets Modern Cabins Apart
Energy efficiency and sustainability are hot topics in the building world. More and more homeowners want homes that perform well and prove to be wise investments for the long-term. Designing a modern cabin with well-designed, well-engineered products can help homeowners obtain the energy efficiency they desire.
In Park City, Otto/Walker Architects designed the above residence with the WA67 system that combines aluminum and wood for superior cold weather performance. With options for triple-sealed and triple-paned glass walls, the WA67 system is perfect for your cozy cabin nestled in the snow. Additionally, aluminum cladding on the exterior equals durability and minimal maintenance.
The WA67 is NFRC rated and certified for energy efficiency in all climates, meaning that it can help homeowners save money on heating and cooling costs while providing an exceptional thermal break that keeps the cold air out.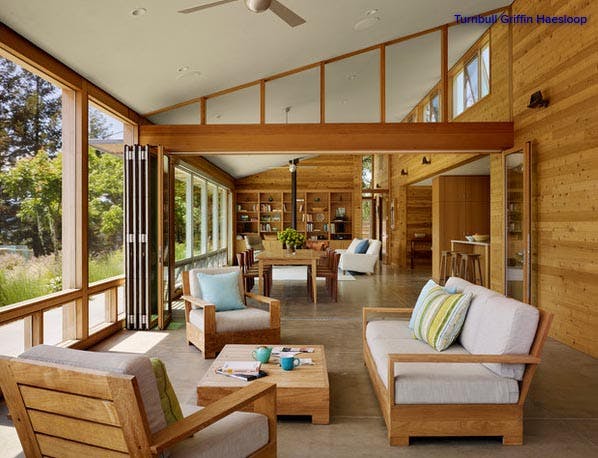 5. Make Use of Space in Your Modern Cabin Design
Cabins aren't always known for their space, but with innovative design, it's easy to make smaller spaces useful, beautiful, and expansive.
In Sonoma County, CA, designers turned an old home into a modern cabin using the NanaWall WD66 system. With the help of this wood framed folding glass wall, designers gave residents the option of one or two rooms, while keeping the airiness of an open space. The WD66 has special seals around the entire frame, between the panels, and between the concealed hinges for exceptional performance in all weather.
The above glass wall partition easily folds away to one side and incorporates a swing door so movement from room-to-room is made simple, even when the wall is closed. Using a versatile glass wall system makes it easy to separate mixed-use spaces when you want, and combine them when you need to.
Whether you're building the log cabin of your dreams, or a clean-lined, modern cabin, you want to make sure you get the full benefit of both your indoor and outdoor space. Using NanaWall folding or sliding glass walls is a great way to take full advantage of everything your space has to offer and to do it with performance and aesthetics in mind.