Promoting Healthy Work Environments with High-Rise Bifold Glass Walls
By NanaWall Systems, May 10, 2023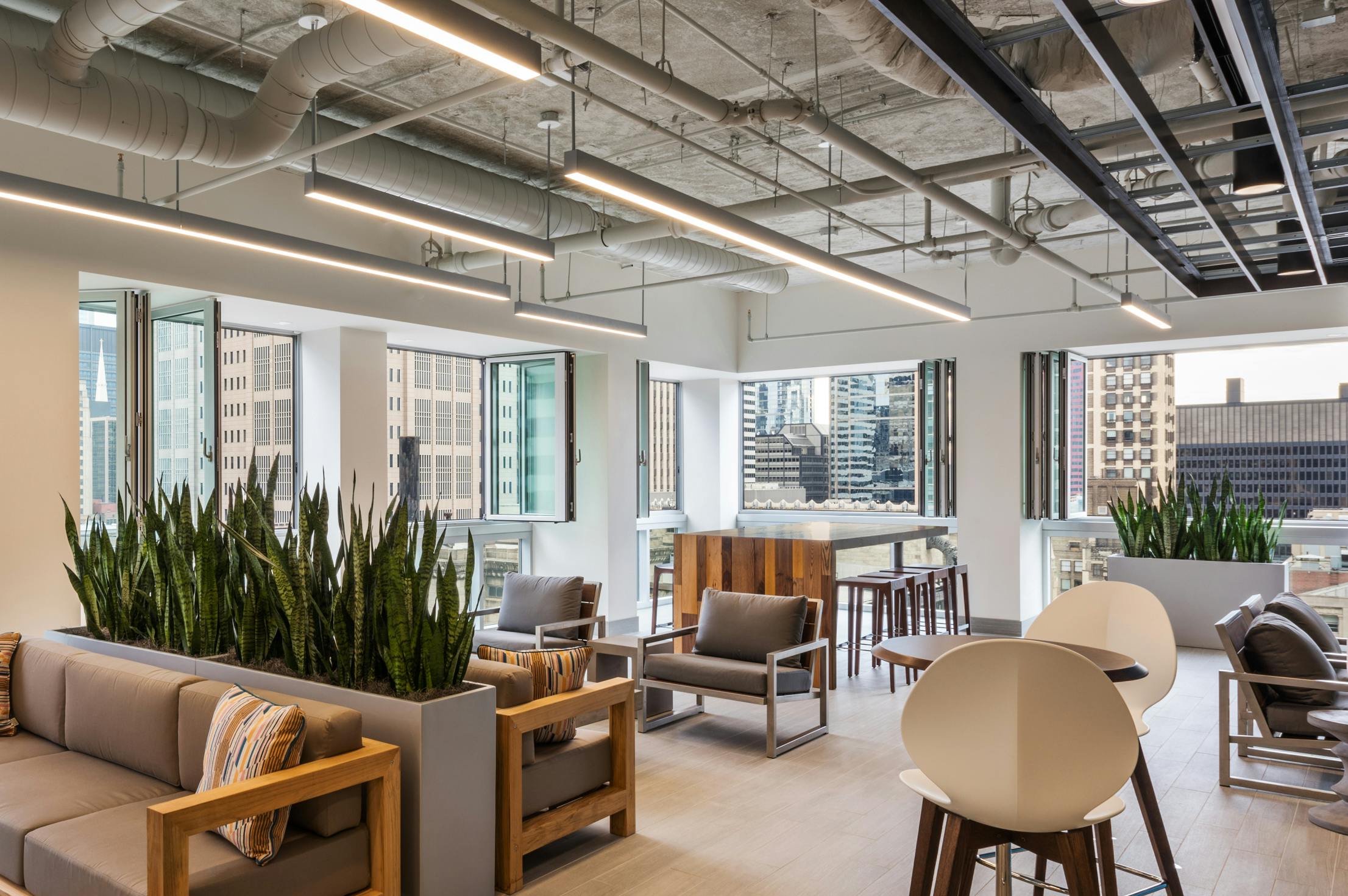 Creating a productive, yet healthy, work environment has become the pioneering approach to attaining and retaining talent. After years of working from home and a newfound appreciation for health and wellness, claustrophobic cubicles and enclosed workspaces are no longer acceptable. How can the modern office adapt? Architectural design approaches are reinventing the traditional office with biophilic design solutions like NanaWall bifold glass walls and dedicated open-air spaces for working and social gatherings. For developers, these "amenities rooms" present an opportunity to increase ROI by attracting tenants and leasing long-term. On many occasions, mid- and high-rise commercial buildings pose technical challenges in delivering these indoor/outdoor spaces. This is where architectural ingenuity and durable, design-forward solutions come into play.
Elevating the Workplace with Design-Forward Bifold Glass Walls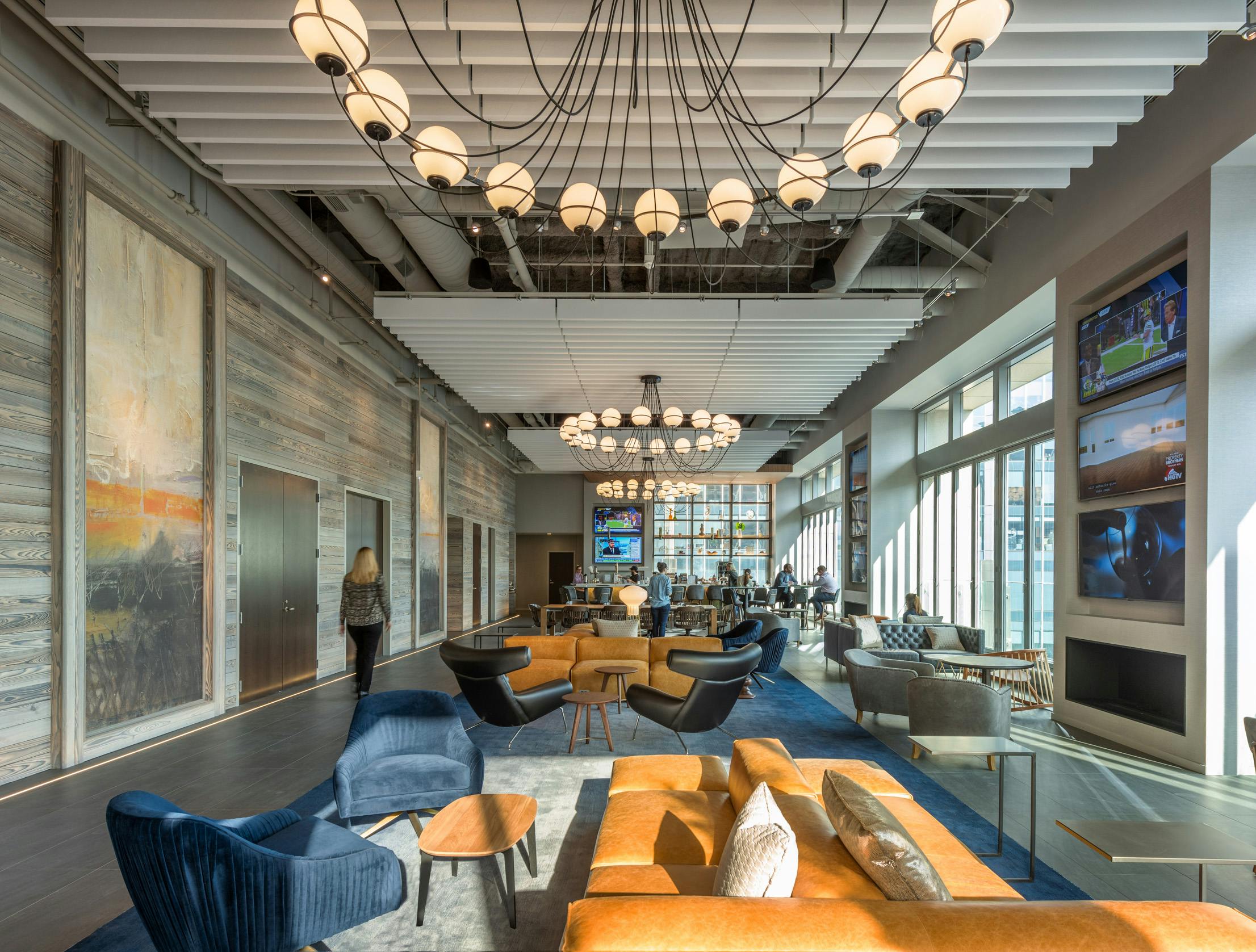 Amenities that Promote Healthy Work Environments
The traditional cafeteria and employee lounge room in office spaces are being reinvented into multipurpose, open-air amenities areas. These indoor/outdoor spaces reap the benefits of mood-boosting sunlight and fresh air ventilation in an otherwise enclosed office space—whether it be through a small operable window or large floor-to-ceiling folding glass wall systems. According to a recent study, exposure to natural light can decrease headaches, eyestrain, and blurred vision. Similarly, air ventilation helps flush out stuffy, stagnant air that may contain harmful toxins. Bright and airy workspaces that promote the well-being of workers will improve productivity and decrease the number of sick days taken in the long run.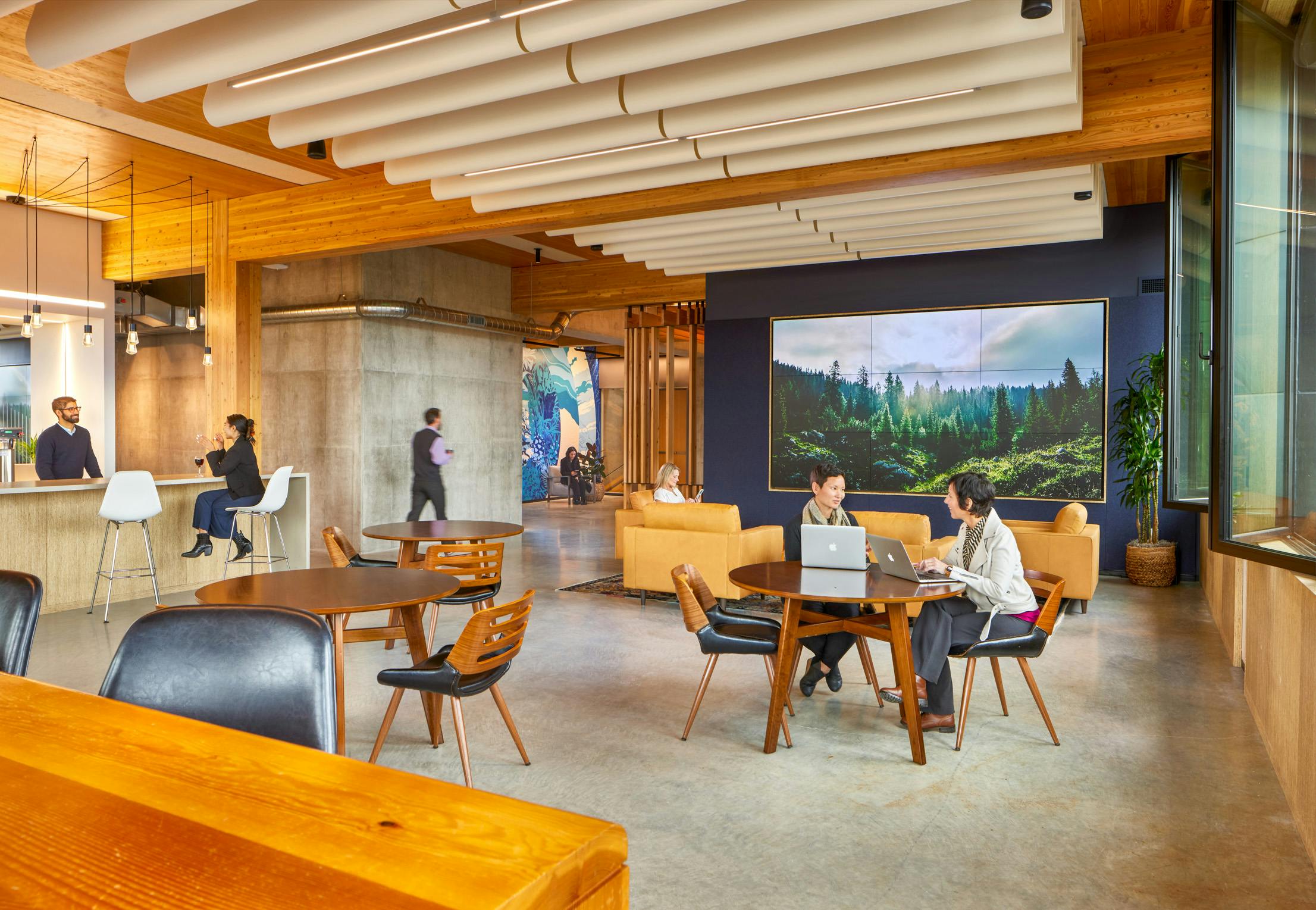 Maximizing ROI with Amenities Floors
After the Covid-19 pandemic, leasing commercial office space became a major challenge for developers as more employees adapted to hybrid schedules and working from home. Commercial buildings with attractive amenities such as indoor/outdoor workspaces and durable architectural solutions like bifold glass walls will attract tenants and ensure long-term leasing for a positive ROI. Utilizing natural light and fresh air ventilation will also decrease reliance on artificial lighting and air conditioning systems, which in return, means lower utility costs and more eco-friendly spaces. In urban areas, mid- and high-rise buildings with open-air amenities tend to lease faster than their traditional counterparts. The key lies in leveraging durable, weather-performing fenestration like NanaWall SL70 folding glass wall systems.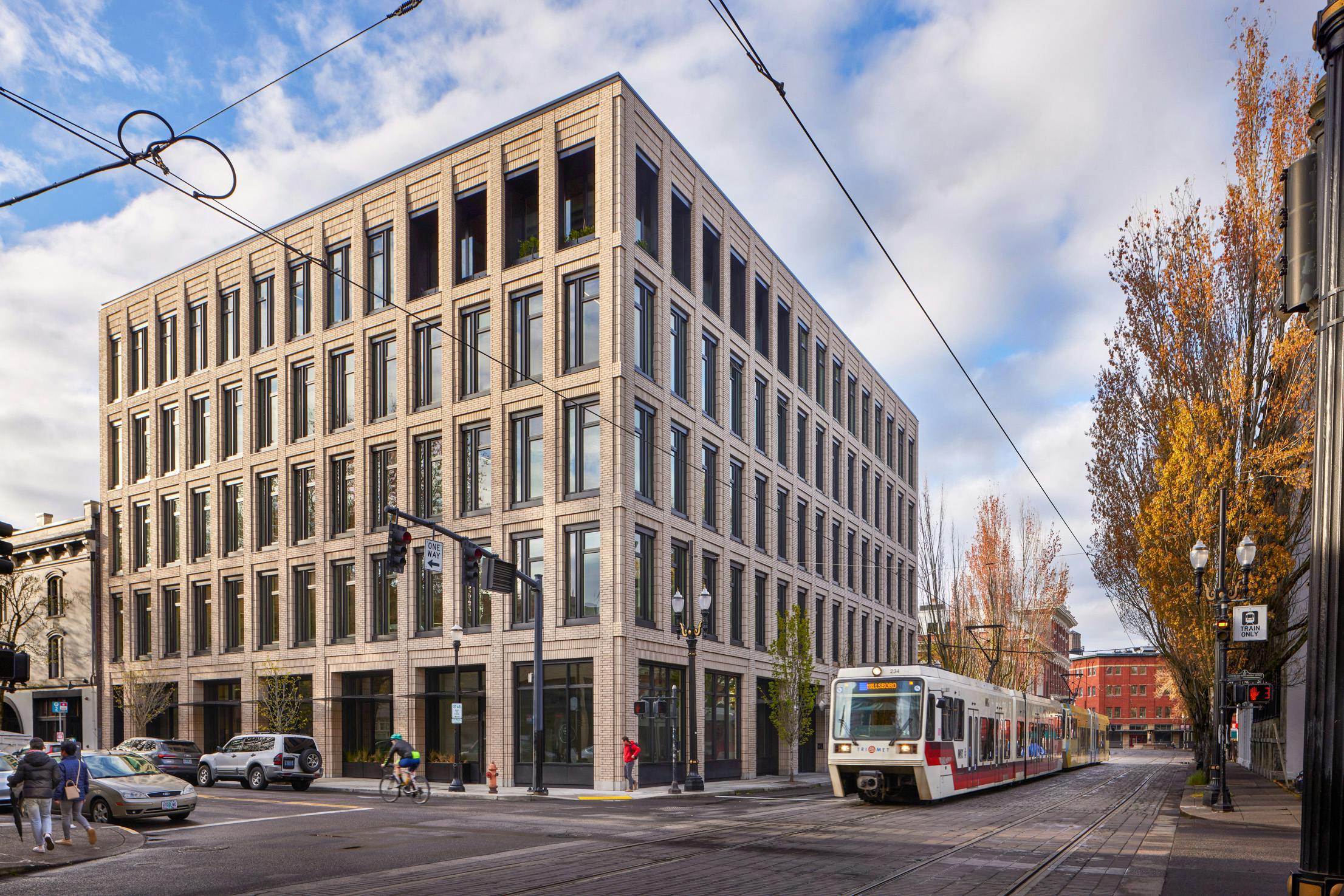 Weather-Performing Bifold Glass Walls Solution for High-Rise Applications
Facilitating indoor/outdoor living spaces several floors off the ground can pose a challenge. Climate extremes like heavy rainfall and strong winds are often factors that prevent the application of operable bifold glass walls in high-rise applications. NanaWall SL70 folding glass wall systems present a long-lasting, thermally broken product for tall buildings that offer strength and durability without sacrificing ease of operation and aesthetics. Additionally, the system incorporates a running post design that provides high structural performance and weather resistance—the only solution suitable for the demands of any high-rise project. These systems have been tested for air, water, structural, forced entry, operation, and sound control with excellent results, offering the preferred operable glass wall solution for mid- and high-rise applications. Let's take a look at the top three workplace amenities designs with NanaWall bifold glass walls.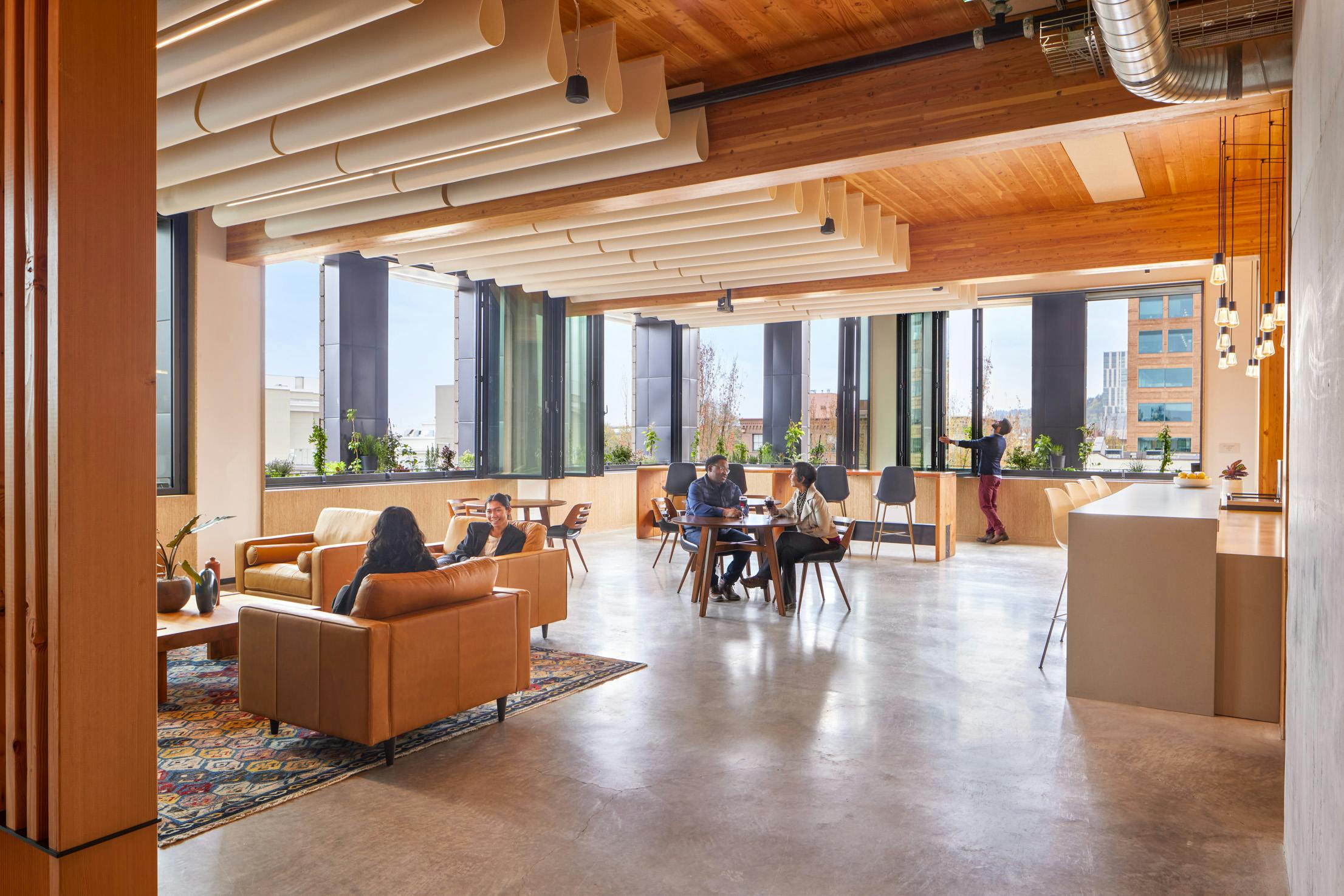 The First Developer-Driven Living Building in the World
Designed around a historic Oregon neighborhood, the PAE living building is the largest commercial development in the world to achieve Living Building Challenge Certification. According to its primary tenants, PAE Engineers, the building is "one of the only office buildings in the world to be powered entirely by the sun and get all of its water from the rain that falls on its roof while simultaneously providing a financial return for its investors." Adding to its innovative design, the office building features an open-air employee amenities area on the fifth floor coined by the design team as "the deckony." Leveraging five NanaWall SL70 bifold glass walls, the amenities floor is flushed with plenty of natural light and fresh air ventilation with a 12.5-foot-wide opening. The only solution for a sustainably ambitious high-rise project.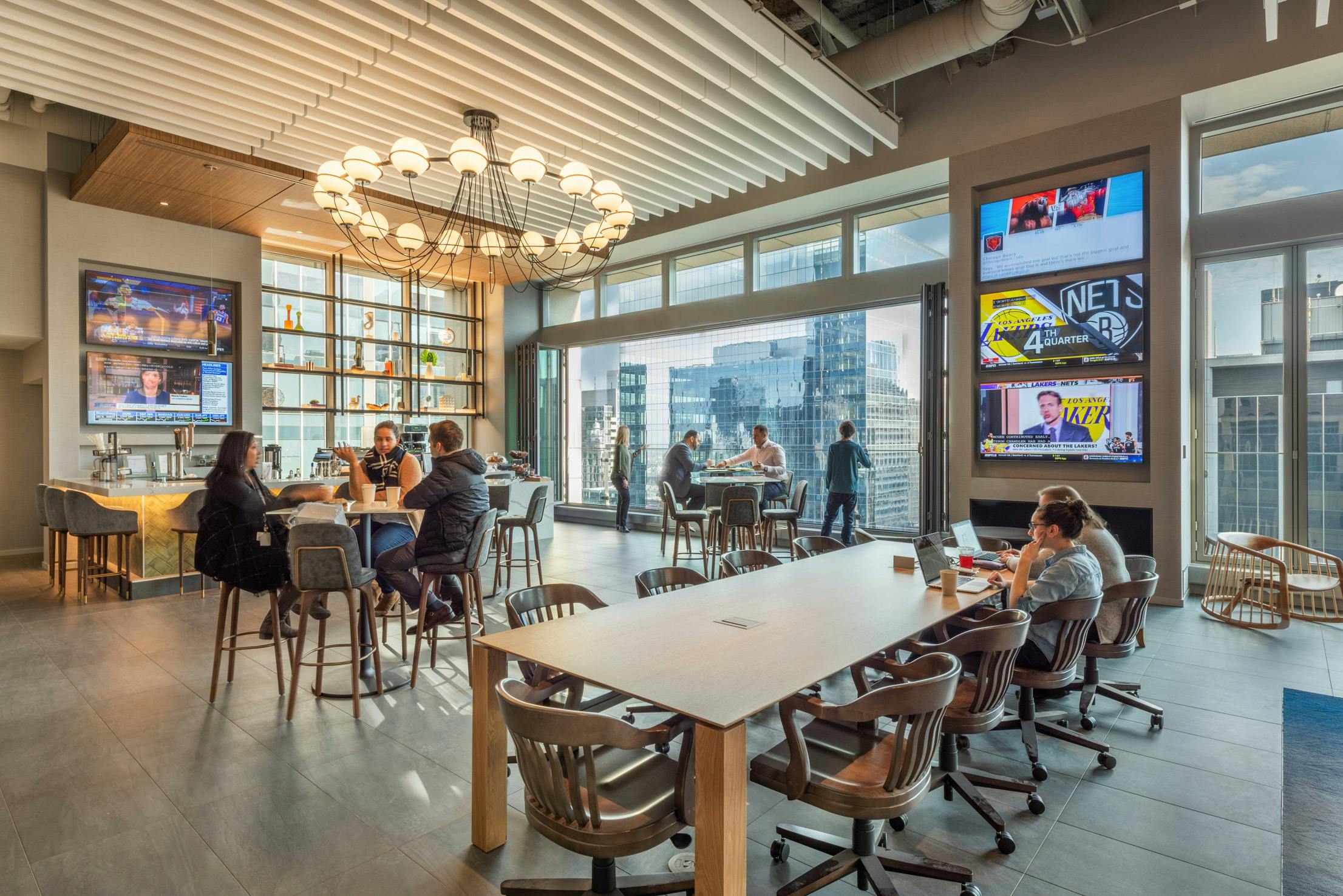 123 N Wacker: Taking the Employee Lounge Room to New Heights
According to the architects at Wright Heerema Architects, the property owners at this Chicago office space on the 30th floor wanted "to cater to the needs of today's office tenants seeking unique workplace experiences for their employees." The result was an indoor/outdoor amenities room featuring biophilic design features like wood paneled walls, stone accents, fireplaces, and a coffee bar with sky-high views of the city skyscrapers. Three 10-foot-tall NanaWall bifold folding glass wall systems fill the east-facing side of the building with Juliet balcony installations, creating a naturally bright and airy space for its occupants. To add additional value to the investment and optimize ROI, the building owners also rent out the welcoming space for private events. A win-win for all.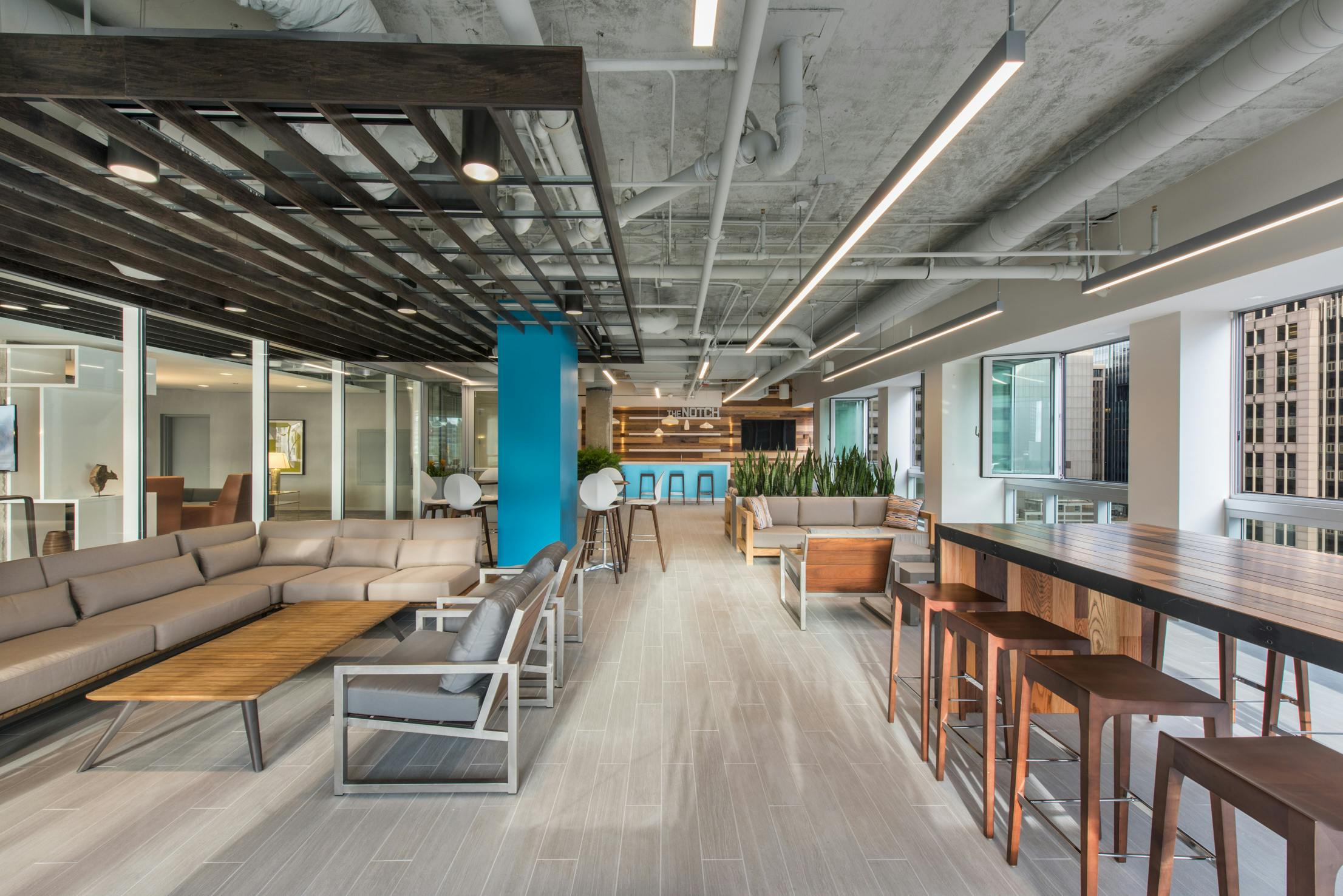 200 West Jackson: The Notch on the 28th Floor
Maximizing employee engagement, productivity, and well-being were the primary goals when designing this amenities room. The immediate area is made up of an interior lounge and an outdoor terrace that boasts the city skyline and the feeling of being outdoors. Eight window-height NanaWall SL70 bifold glass walls open the space on two sides, facilitating natural light, fresh air ventilation, and enough space for planting greenery. The built-in thermal barrier inside the systems provides the strength, sound control, and energy efficiency to deliver a four-season outdoor employee lounge but without the fuzz. Employees have full control of the environment, utilizing the easily operable systems to their advantage.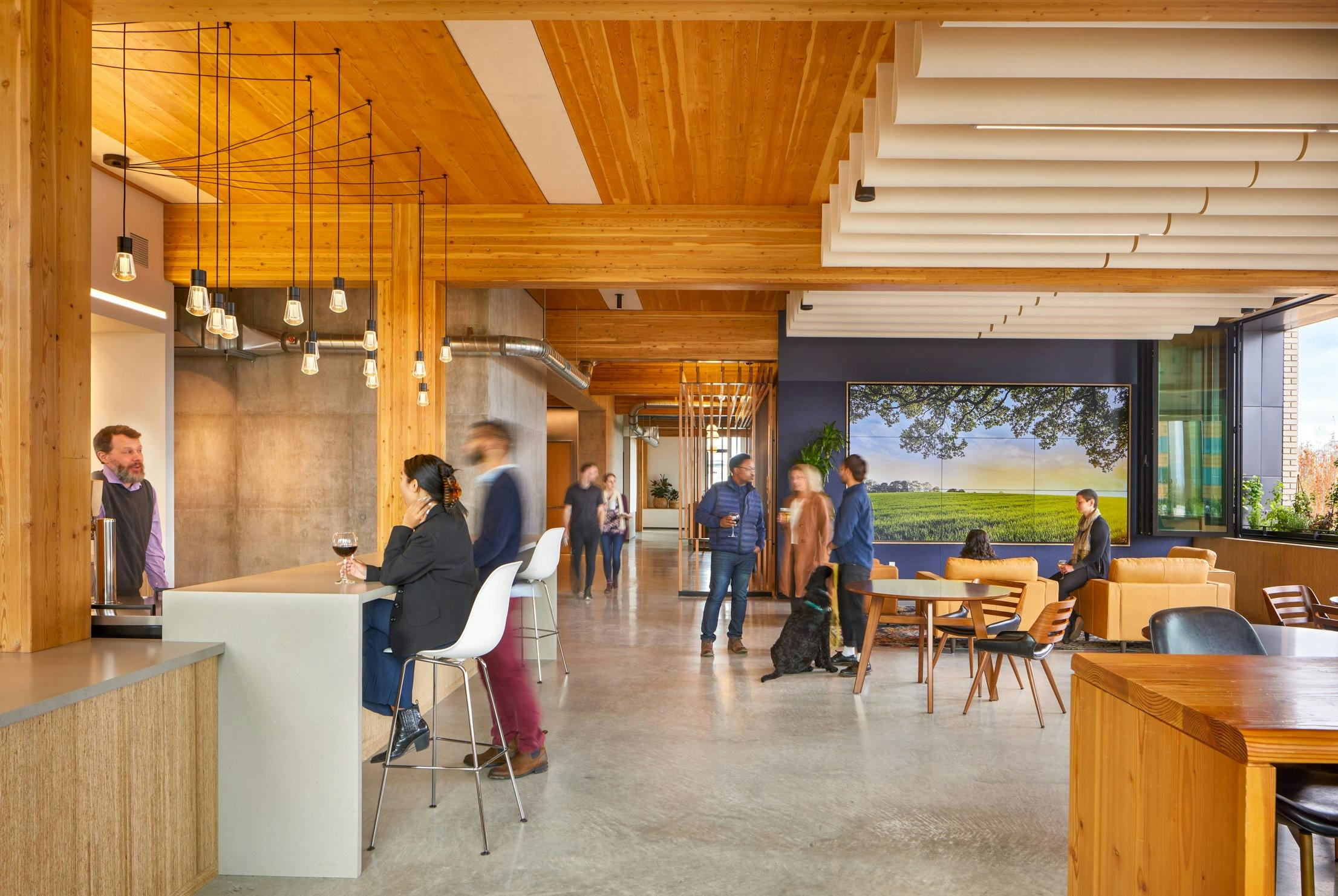 Final Thoughts
What do all these spaces have in common? Design-forward architectural solutions that attract and retain tenants with contemporary, biophilic-designed amenities rooms. In a world where health and wellness are prioritized, workplaces are adapting to these newfound demands to ensure productivity, employee retention, and an overall healthy work environment. However, achieving these indoor/outdoor amenities rooms in mid- to high-rise buildings can be challenging and often require flexible and highly durable solutions like NanaWall bifold glass walls. These folding glass wall systems are not only customizable to the needs of every project parameter and aesthetic, but they also offer the strength and durability to meet the structural, windload, and weather demands of these types of applications. The workplace of the future is promising.
Discover how other workplaces leverage NanaWall bifold glass walls to present indoor/outdoor amenities to improve employee well-being in our extensive office project library!