Why Windload Resistance Is Crucial During Hurricane Season
By NanaWall Systems, June 24, 2020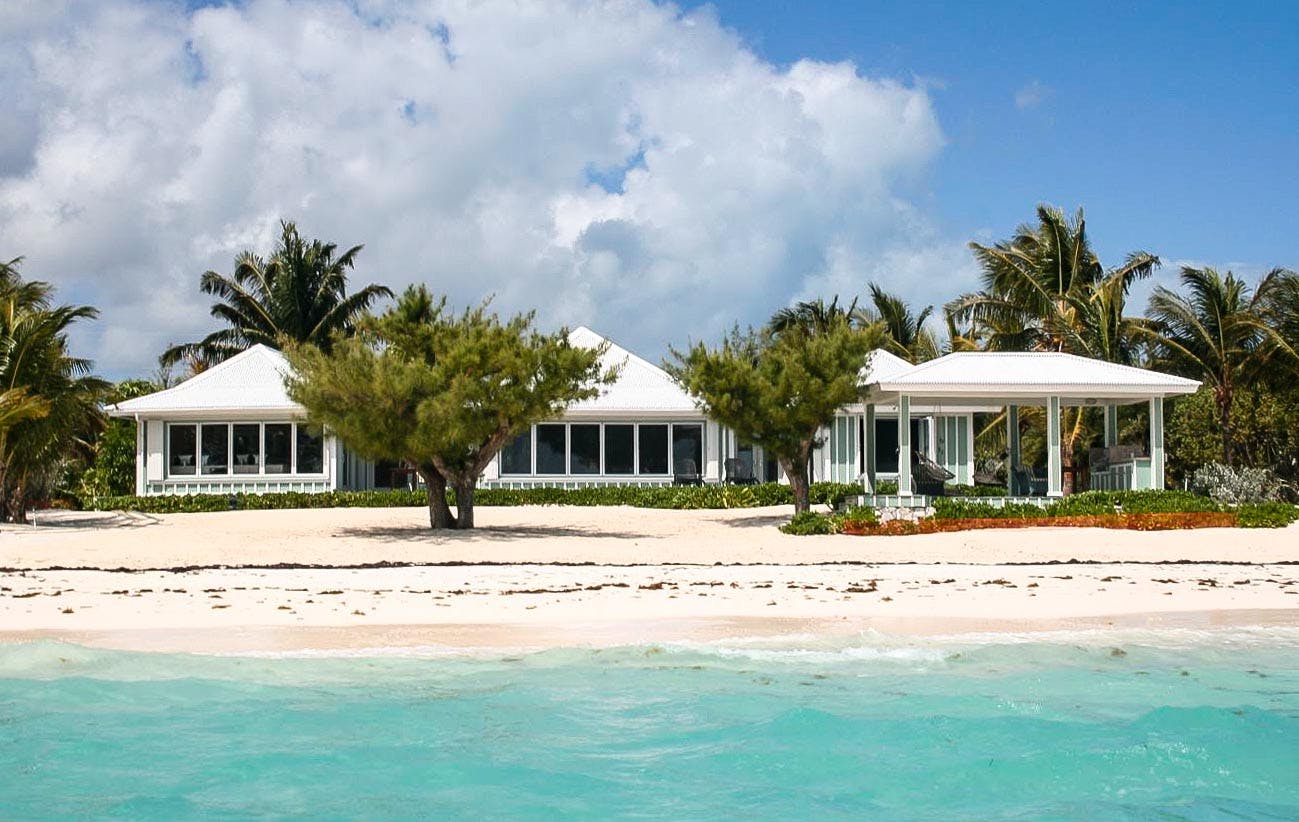 When it comes to hurricane season, windload resistance is necessary to ensure the survival of structures against wind-borne debris and high-impact rain. Windload describes the forces that the wind exerts on a building or structure. Areas prone to extreme weather have strict building codes to ensure the structural integrity of homes as well as the products and materials used to construct them. These strict codes also fall on fenestration since strong enough winds alone can shatter glass windows and doors, leaving a home vulnerable to harsh elements like wind-driven rain and debris. For Windsong residence in Treasure Cay, an unforgiving hurricane season put its three NanaWall SL60 units to the test. Their performance served as the catalyst for developing a complete impact-rated system for hurricane zones—NanaWall SL73.
Windload Resistance in Paradise
Sherry and Jeff Fortune purchased Windsong house in 2005. Their home away from home rests in the Abaco Islands, an area prone to harsh hurricane seasons, with stunning views to the clear waters of the Atlantic Ocean. "The idea was to totally open up the house," says Sherry. "We wanted to let maximum light inside and to really bring the outside inside." Aside from fully taking advantage of waterfront views and fresh breezes, this idea deriving from biophilic design is accompanied by several health benefits like stress reduction and overall mood enhancement.
In order to achieve their goals, the Fortunes installed three SL60 folding glass wall window units, all standing at 5 foot 5 inches and varying in widths. To ensure maximum weather performance, they opted for a higher weather performance raised sill and a floor supported stainless steel track. "Our NanaWall folding glass walls were crucial for achieving the indoor/outdoor experience we looked for, and we have thoroughly enjoyed them for 14 years," says Sherry.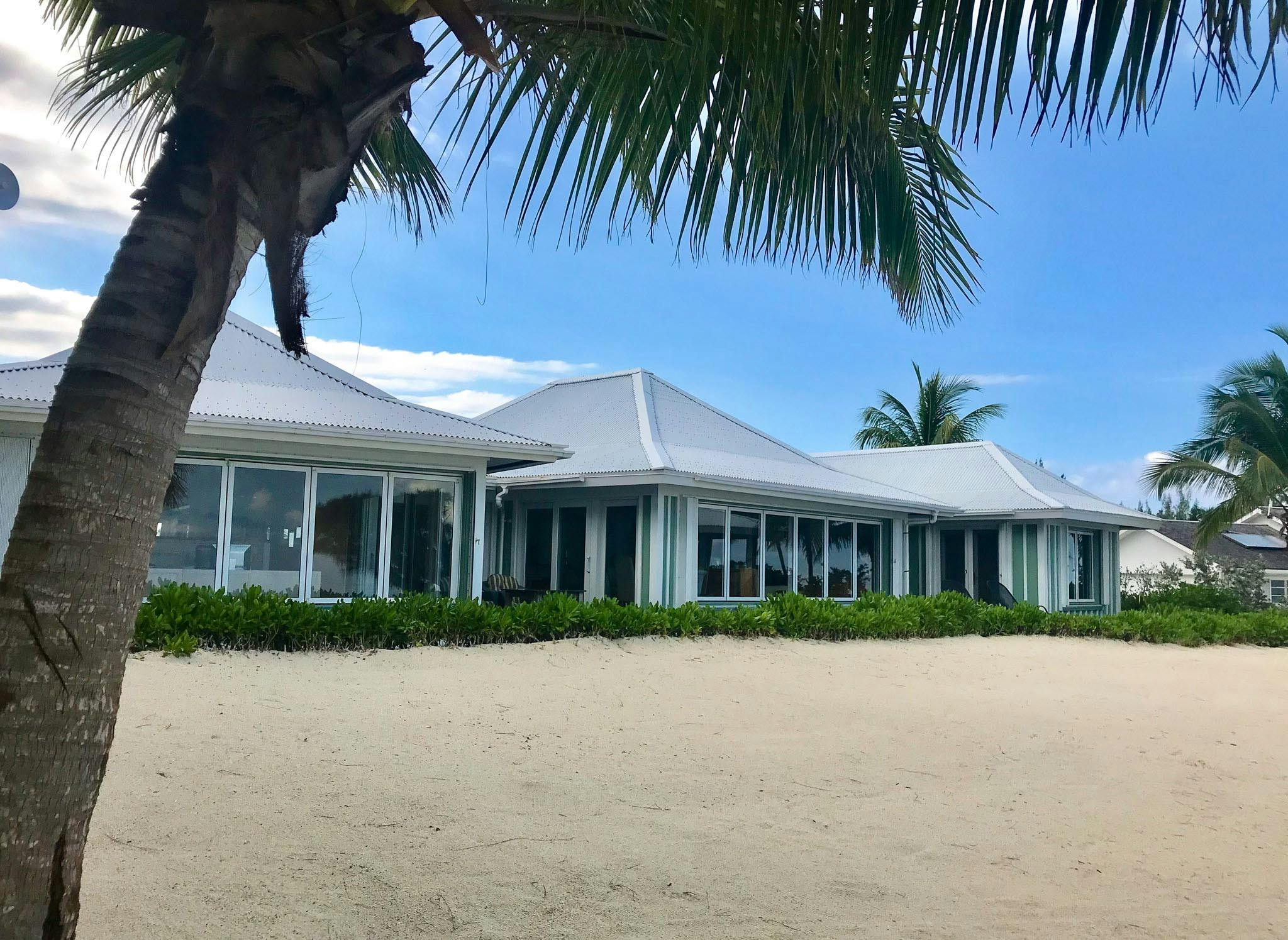 The Devastation of Hurricane Dorian
On September 1, 2019, Hurricane Dorian hit the Abaco Islands with embedded tornadoes and winds up to 185 miles per hour, the highest wind speeds of an Atlantic hurricane ever recorded. The Category 5 storm is regarded as the worst natural disaster in the country's history. "We expected the worst for Windsong," says Sherry. "The storm stalled over the Abacos for 36 long hours maintaining its intensity and leaving catastrophic damage in its wake."
Because of the significance damage to the island infrastructure, the Fortunes were unable to see the damage to their home in person until three months after the storm, and the aftermath was indeed catastrophic. "We lost two thirds of our roof which left the house open to winds, rain and salt filled air," says Sherry. "To our delight, our NanaWall doors were fully intact and working with only a few parts needed to fully restore them."

The Folding Glass Walls Left Standing
As a folding glass wall, the SL60 was designed for energy efficiency and strong weather performance. This movable glass system has been carefully tested for windload pressure and windload resistance and overall structural load deflection. Systems need to test and pass air infiltration, water penetration, as well as structural load tests. Undoubtedly in this instance, the success of the standing SL60 folding glass window walls could also be attributed to the assist of installed hurricane shutters. The development of an impact-rated folding glass wall strong enough to withstand hurricane-like weather and projectiles without the need for shutters was inevitable.

A New Hurricane Zone Approved Product
As leaders in the moveable glass wall industry, NanaWall Systems constantly seeks to improve their products to ensure performance in numerous environments. After analyzing the need for a folding system capable of withstanding hurricane-like weather and wind-borne projectiles all on its own, NanaWall developed its first complete impact-rated system capable of performing in hurricane zones. With how well the SL60 performed, NanaWall envisioned a product that performed without the need for hurricane shutters and in 2010 developed the hurricane impact resistant SL73.
NanaWall's innovative SL73 offers a complete impact-rated system tough enough to face hurricanes. This Miami-Dade approved folding glass wall has passed the most rigorous testing designed for windows and doors to be used in hurricane zones and areas that require protection from water penetration. To achieve Miami-Dade County approval, glass systems must pass the impact TAS 201 test, the cyclic pressure TAS 202 test, as well as the TAS 202 that tests structural pressure, air, water and forced entry resistance.
As a floor supported system, the SL73 glides on a stainless steel track with stainless steel rollers. This prevents corrosion from occurring and ensures smooth operation. This folding glass wall features two sill options that provide security protection from wind driven rain—the higher weather performance sill and the low profile saddle sill.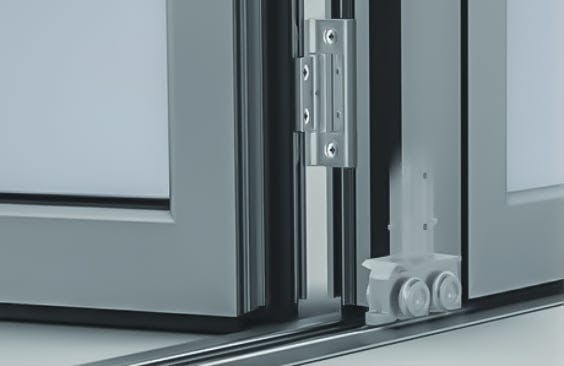 Final Thoughts
Windsong house is a true testament of why windload resistance and endurance is essential in ensuring the structural integrity of homes against harsh weather. The performance of the SL60 units at Windsong during a destructive hurricane season and other installations such as this, inspired the development of the fully impact rated SL73 system capable of facing hurricanes without the need of additional support like shutters. With extensive product testing diligently planned and performed at independent certified and accredited labs, NanaWall Systems ensures their products meet performance expectations in all environments.
Learn more about the weather performance of NanaWall's SL60 and windload resistance with the hurricane impact-rated SL73 at NanaWall.com!