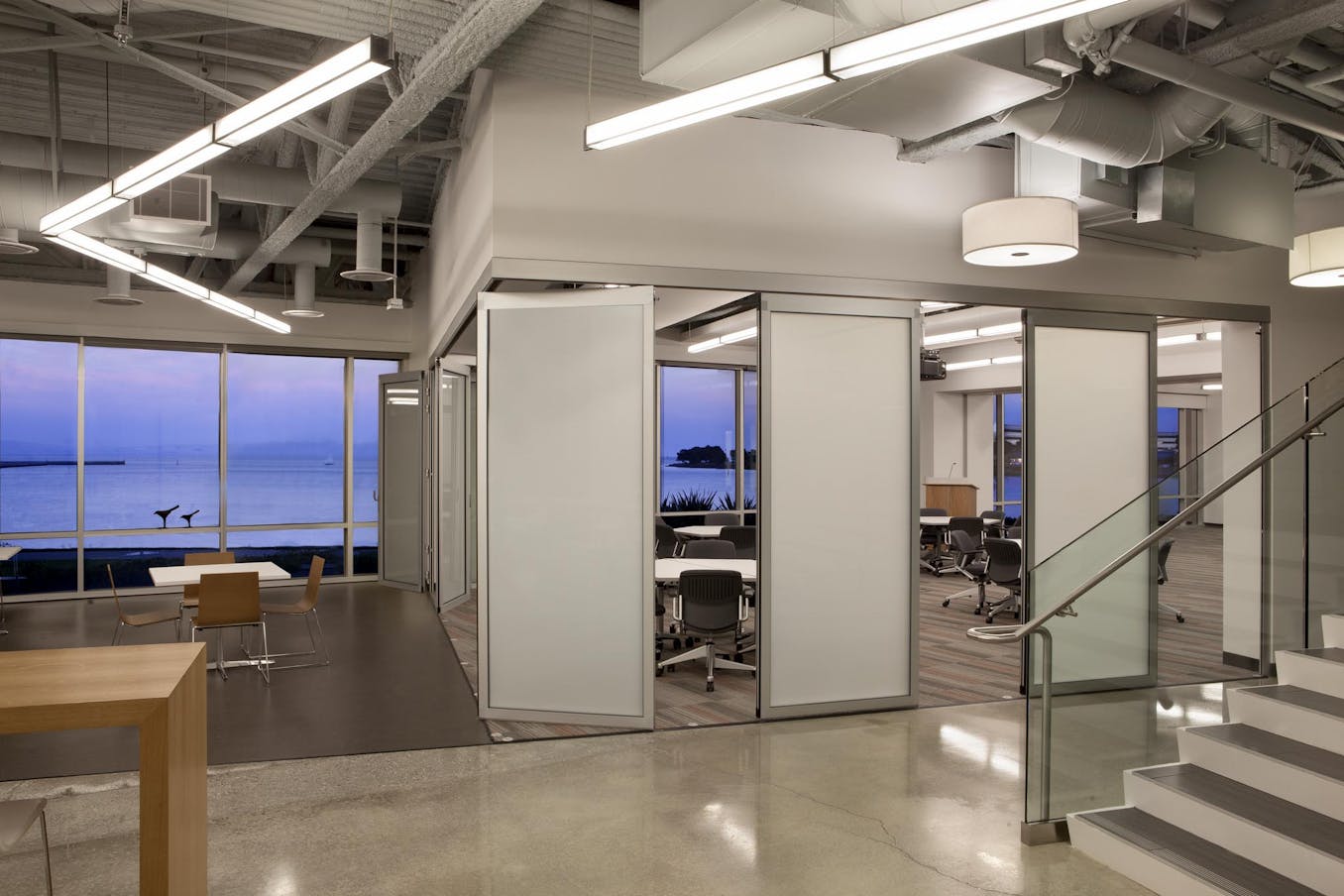 The Swiss company Actelion Pharmaceuticals' location in South San Francisco for its U.S. headquarters brought a variety of design challenges. The 42,000-square-foot space had to reinforce its global branding while also matching the Bay Area lifestyle and culture, helping to compete for the best talent in the aggressive biotech industry. The company also needed private spaces without compromising its magnificent views of San Francisco Bay.
Using a memorable and decidedly modern mix of bold accent colors, textured feature walls and glass partitions, the design firm Rapt Studio created a flexible mix of private and open spaces. Connections between work groups and access to high-value amenities – a fitness center and full-services café, for example – elevate energy and output.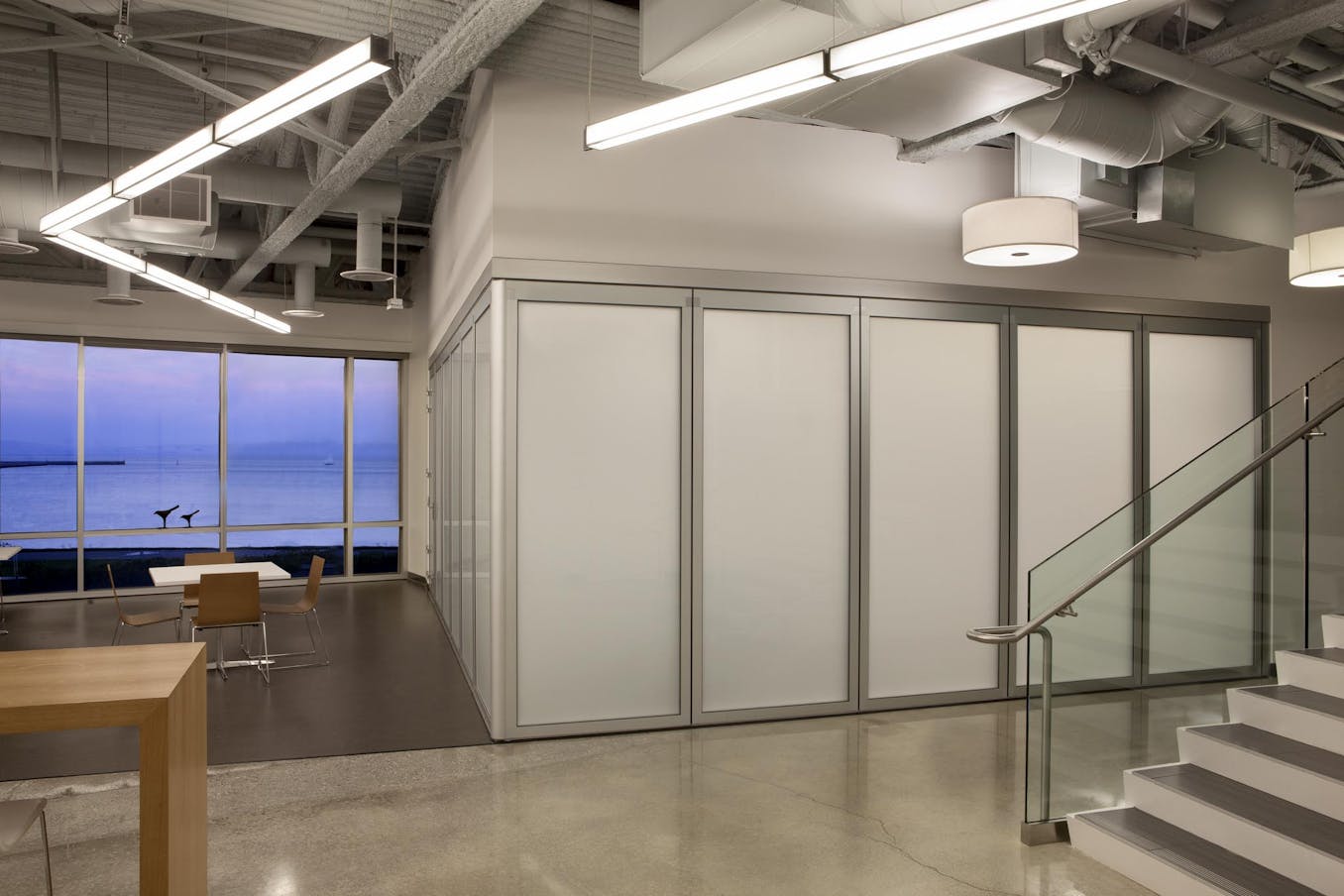 Creating a Flexible Meeting Room
The gorgeous views encouraged Rapt Studio senior associate Hakee Chang to preserve as much openness as possible – even for a flexible meeting room. Using NanaWall's HSW60 – an aluminum-framed, single-track sliding system with open corners – Chang created a space that flips from private to fully open in seconds. The translucent, frosted glass panels match the high-tech interior décor, and let in plenty of daylight even when closed.
"NanaWall also allowed us to have the open corner, and that was critical to the design. Other systems would have required a post," says Chang. "Also the system didn't have a floor track: Everything is top hung, with a small puck at floor level to lock it in place."
Chang notes that the NanaWall HSW60 is used to separate the training area from the café, with the option to open it for all-hands meetings or for café overflow. For a company-wide announcement, the senior managers stand on the steel stair's porcelain tile steps, becoming an impromptu stage.
"Acoustics were also very important, so we used an laminated glass to provide privacy," says Chang. "The whole system is pre-gasketed, so it performs well acoustically." The design firm Rapt Studio, with a specialty in high-tech workplaces, helped turn Actelion's business drivers into focused solutions and memorable design expression. "NanaWall also allowed us to have the open corner, and that was critical to the design."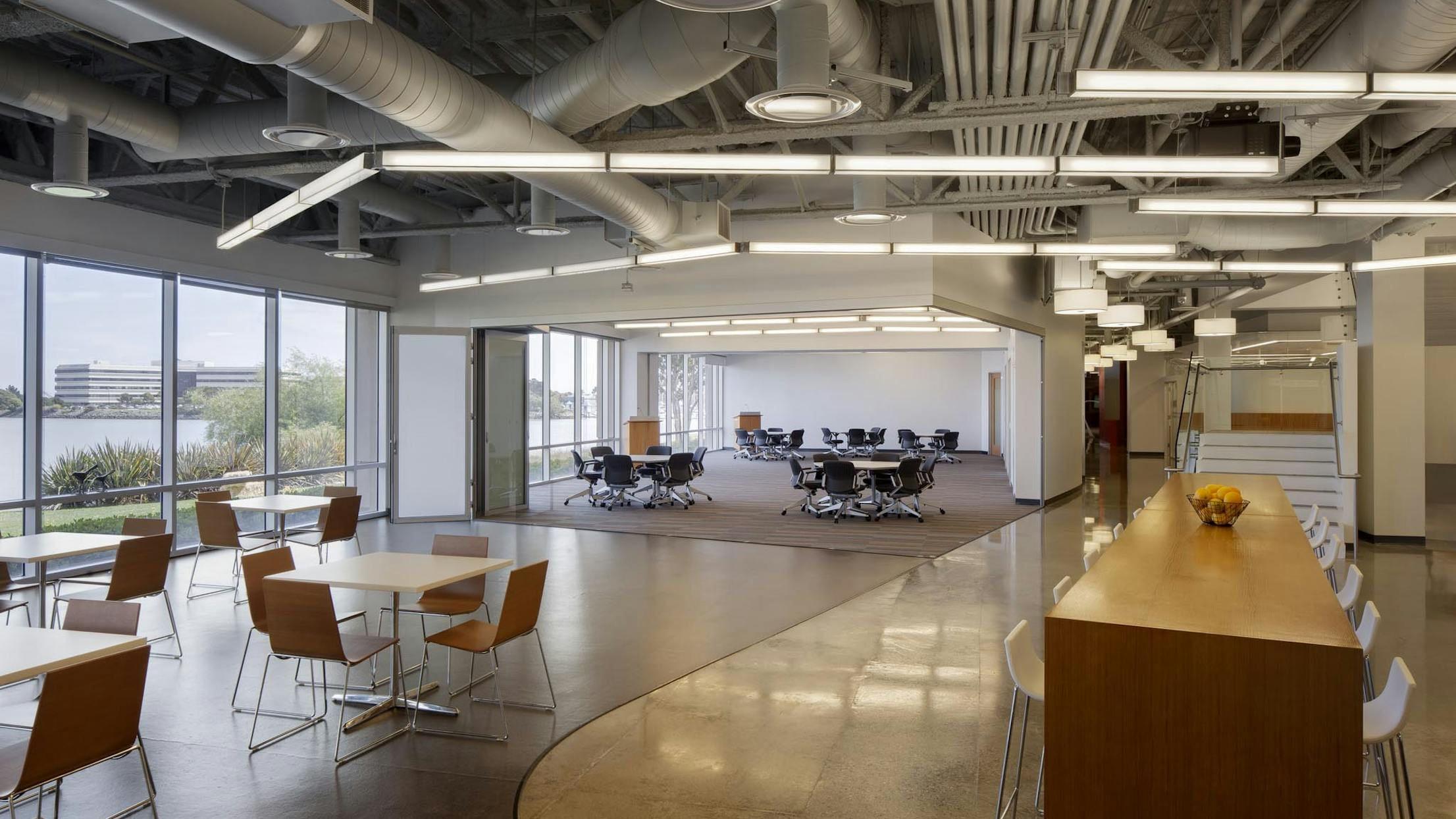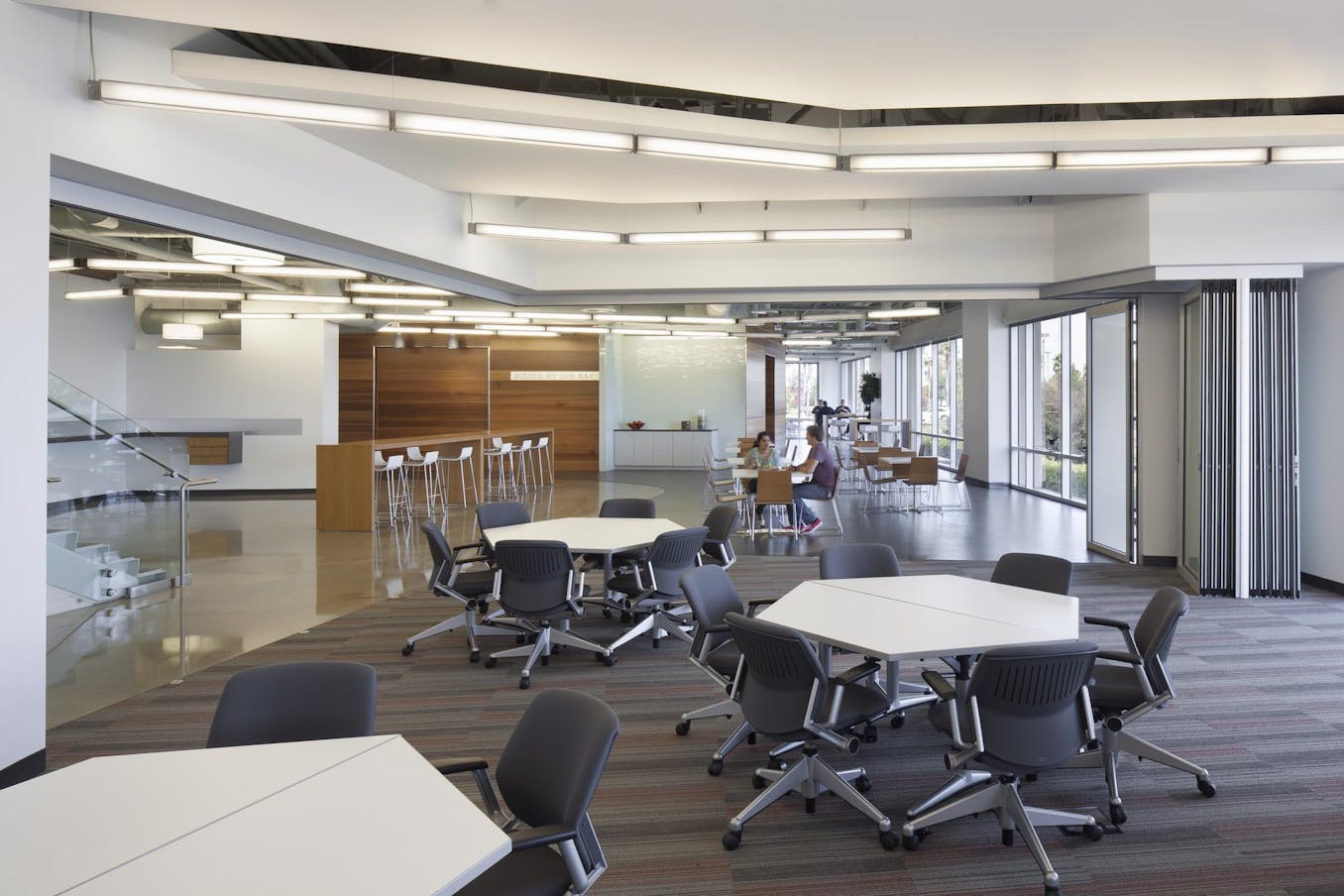 The end-result is both an innovative and comfortable space, offering a mix of collaboration zones and a series of large gathering and amenity spaces. It also "gives back to the staff" a rewarding view – and a feel of being out on the open water. Yet it also provides for a flexible array of presentation and meetings, and – like the rest of the headquarters interior – helps to establish connections between various groups spread out over multiple floors. Many of those teams had become disjointed from recent explosive growth.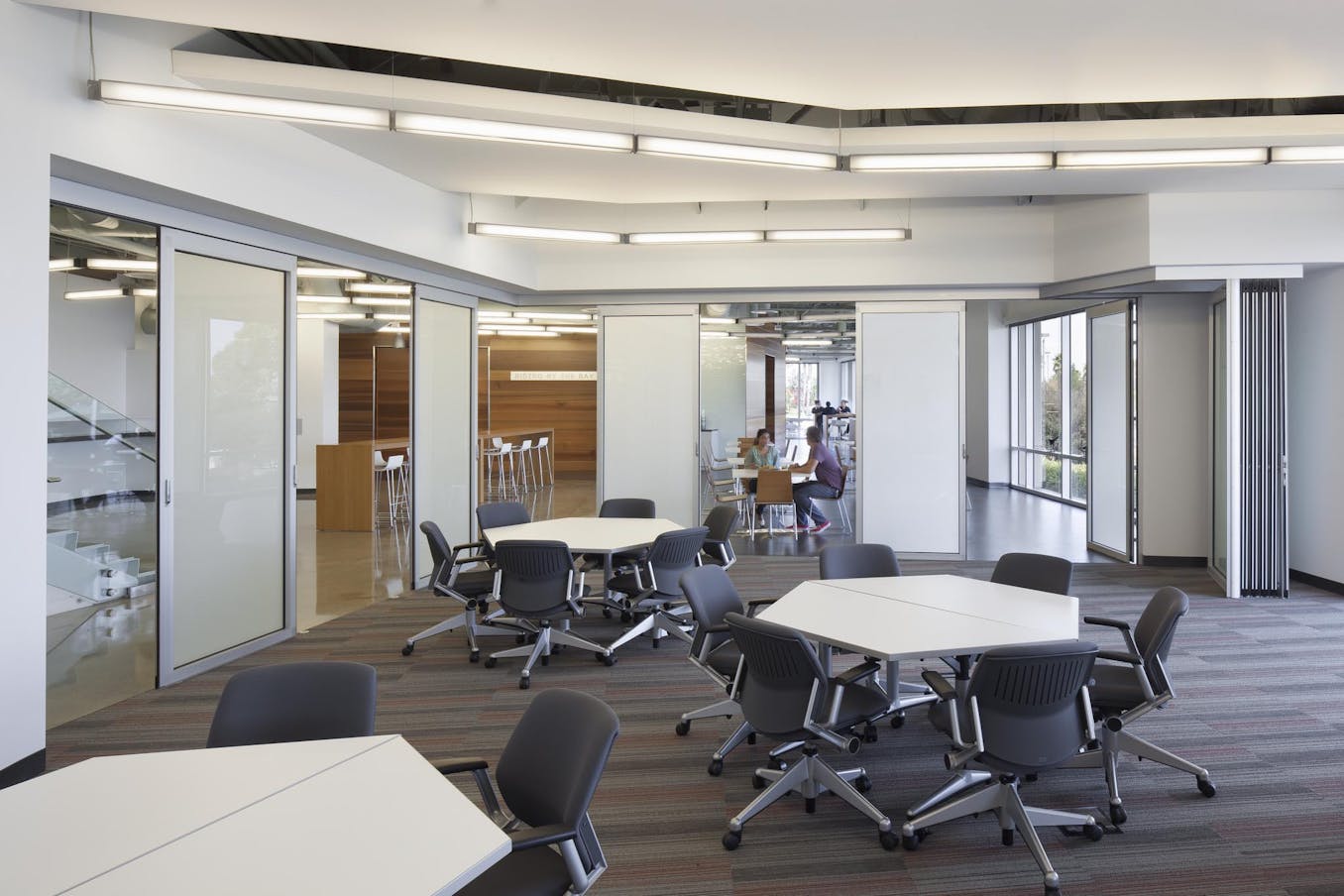 Rapt Studio worked with Actelion's U.S. leadership to identify and define the design solutions specifically for each challenge, yet they were allowed free rein to go beyond the expected. It was also essential to keep an eye on the development of a unique cultural expression, says the firm.
"Actelion is a great client. They really trusted us, and we partnered with us to make the space happen, and provide them with a solution that reflects the local culture and works to retain and attract people," says Chang. "Biotech is an aggressive market, and they asked us to be aggressive and even avant-garde."
What our Customers Have to Say
Burnaby Residence
Embracing the stellar Vancouver views was one main design goal at this contemporary home. This was achieved by installing this edge-to-edge glass operable wall system.
Loblolly House
The project goals included providing savannah-like views of the Chesapeake Bay and opening the interior fully for natural ventilation. The plan also called for thermal insulation when the operable glass walls are closed.
"We chose NanaWall for their strong reputation, large number of available options, ease of operation, and for the beauty of the product. It's wonderful to open them all up, bring the outside in and let the fresh air flow through our home."
— Dave Chapman, Homeowner