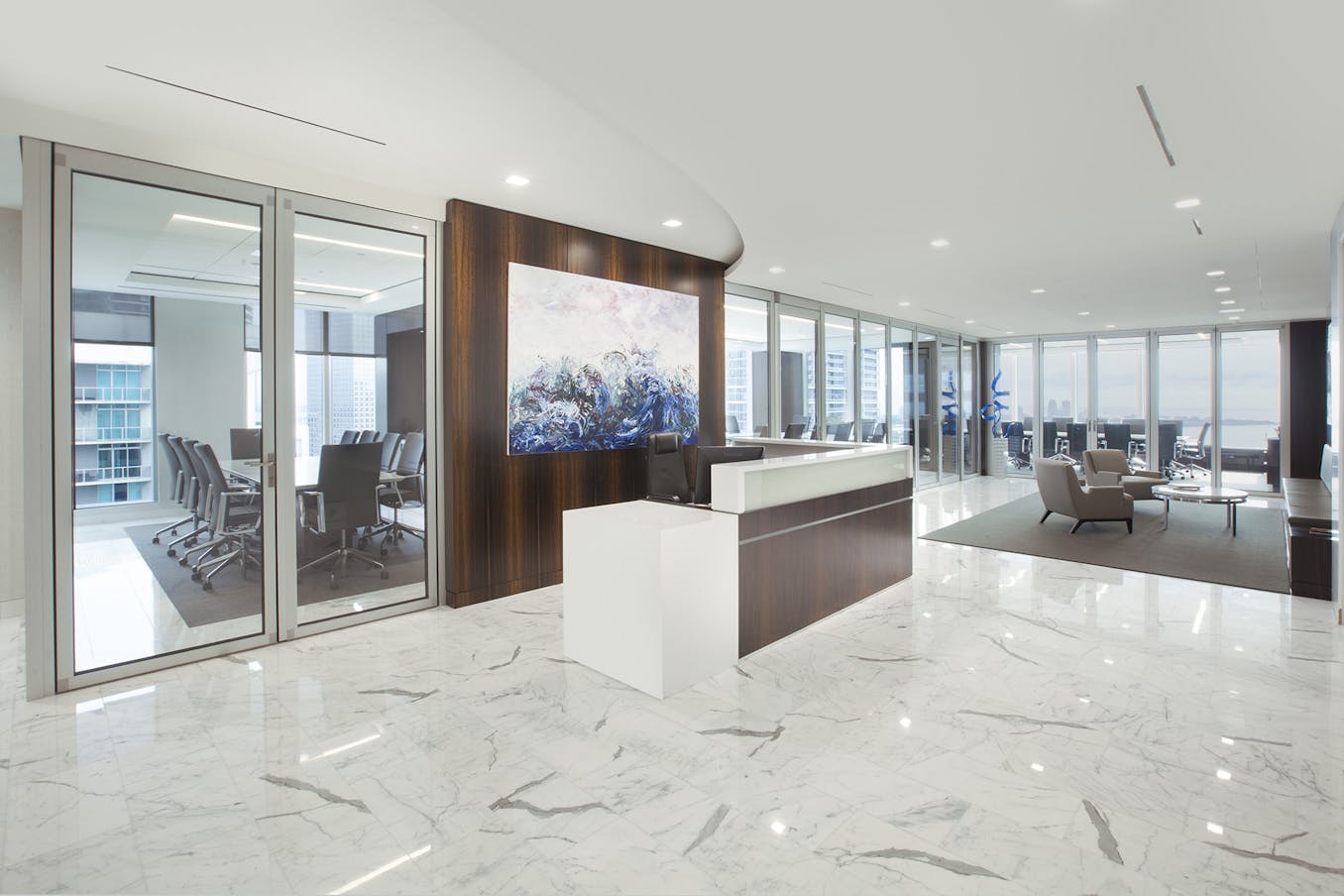 Penetrating Views and Private Spaces
As architectural goals, transparency and confidentiality would seemingly be at odds, but the conflict can be resolved elegantly with high-STC glass walls, including opening glass walls, from NanaWall Systems.
When the Gunster law firm decided to relocate their Miami office, they picked a space with a stunning view of Biscayne Bay. They wanted that sumptuous view in the heart their office—the reception area and large conference rooms—and they wanted that space to serve both private meetings and larger social gatherings.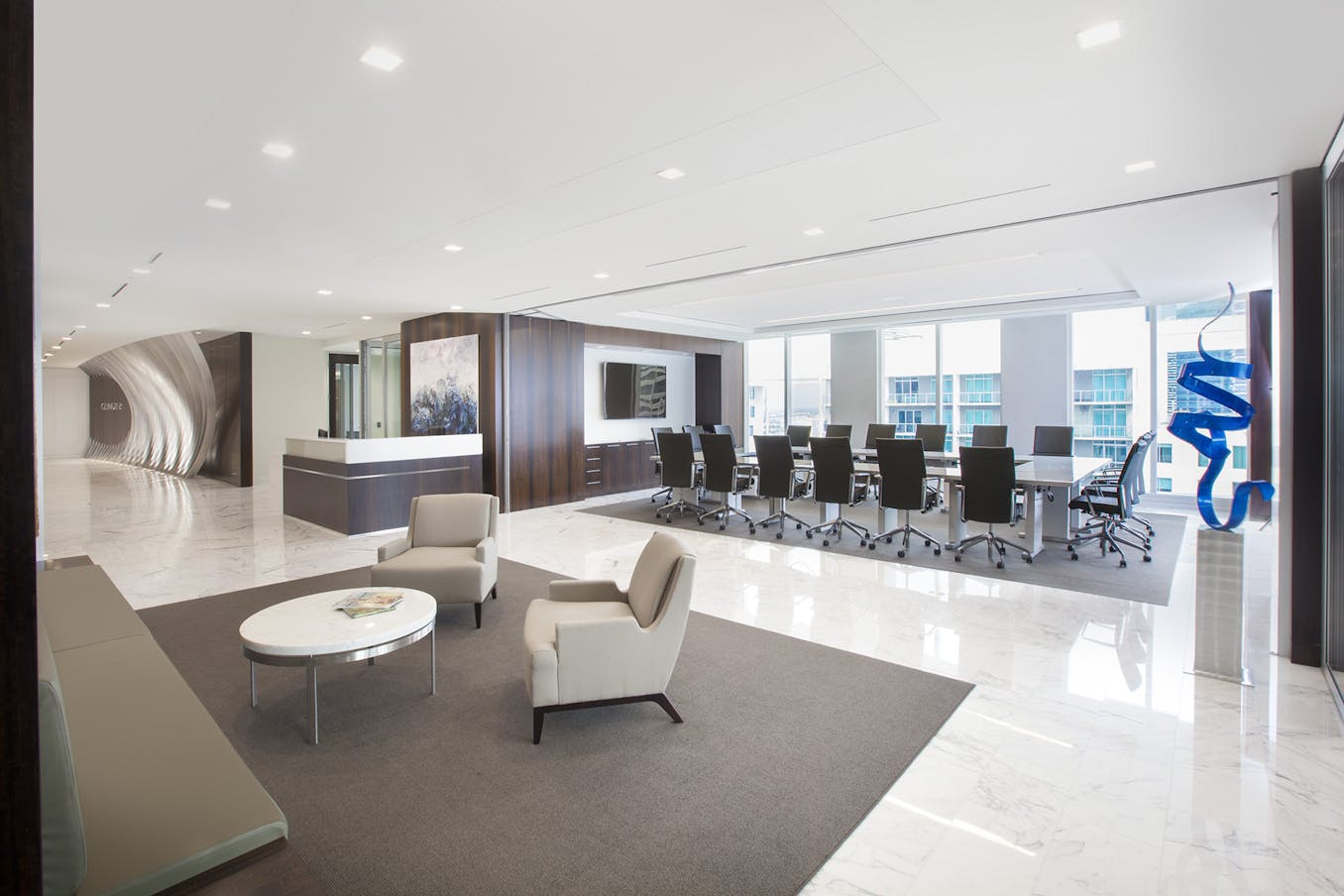 Design firm ASD/SKY met the challenge in a way that integrates the specific physical requirements perfectly into the client's conceptual goals: to project an image of a forward-thinking law firm, create a sense of openness and transparency, yet provide the secure sense of confidentiality that legal clients expect. In addition, ASD/SKY was able to fashion a flexible space that can be used for private, confidential meetings, or easily converted into a much larger room suitable for receptions and social events.
The solution was to employ literal transparency, liberally. Conference rooms line the perimeter ringing the reception area. Full-height exterior glazing is matched by full-height interior glass – movable and fixed wall systems from NanaWall—that bring both light and those stunning views into the interior. The reception area enjoys the same views as the conference rooms that fully surround it.
"How Do We Give Them Transparency but Give Them Privacy as Well? I Think We Could Only Have Gotten to the Level We Need with the NanaWall."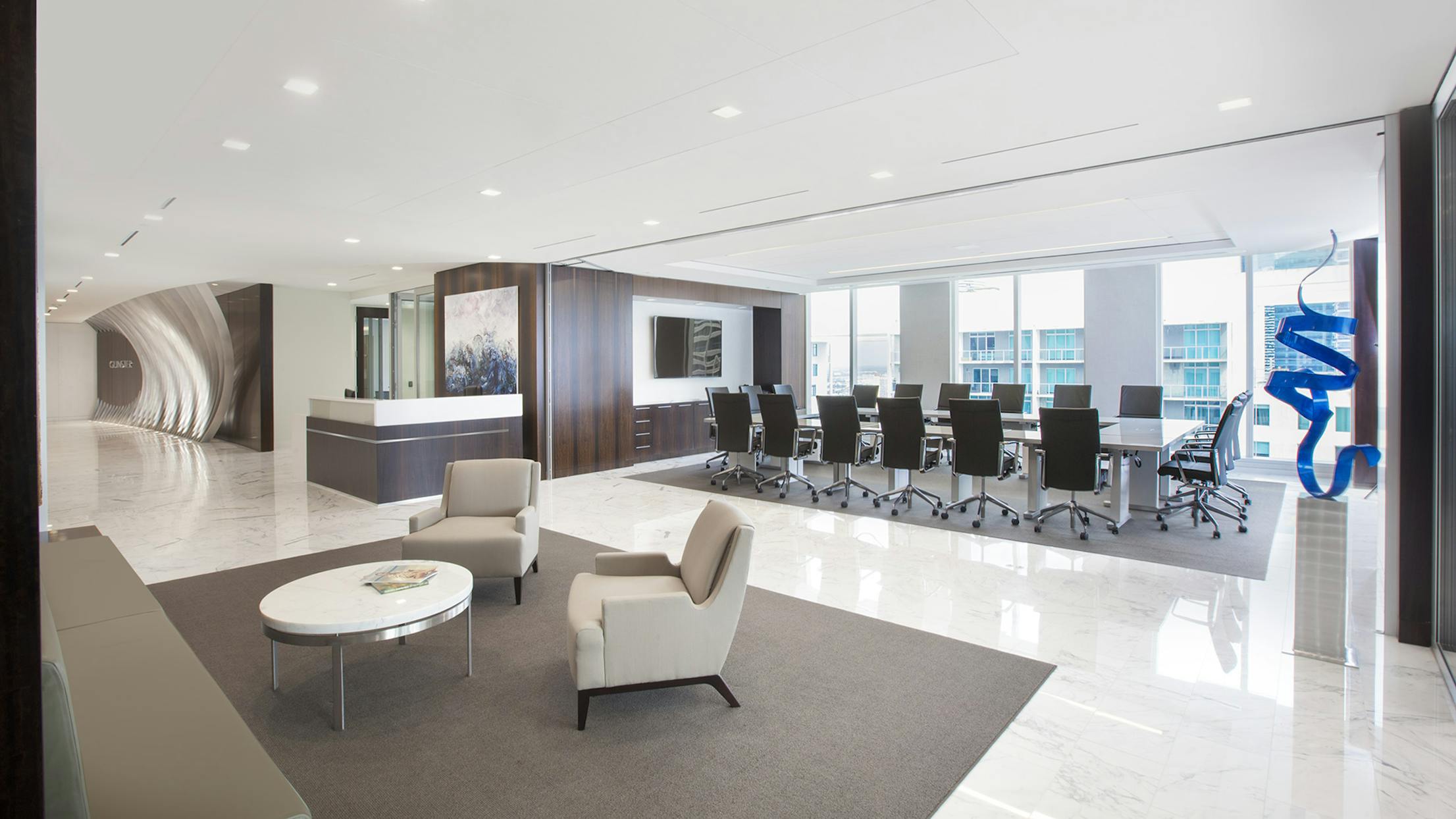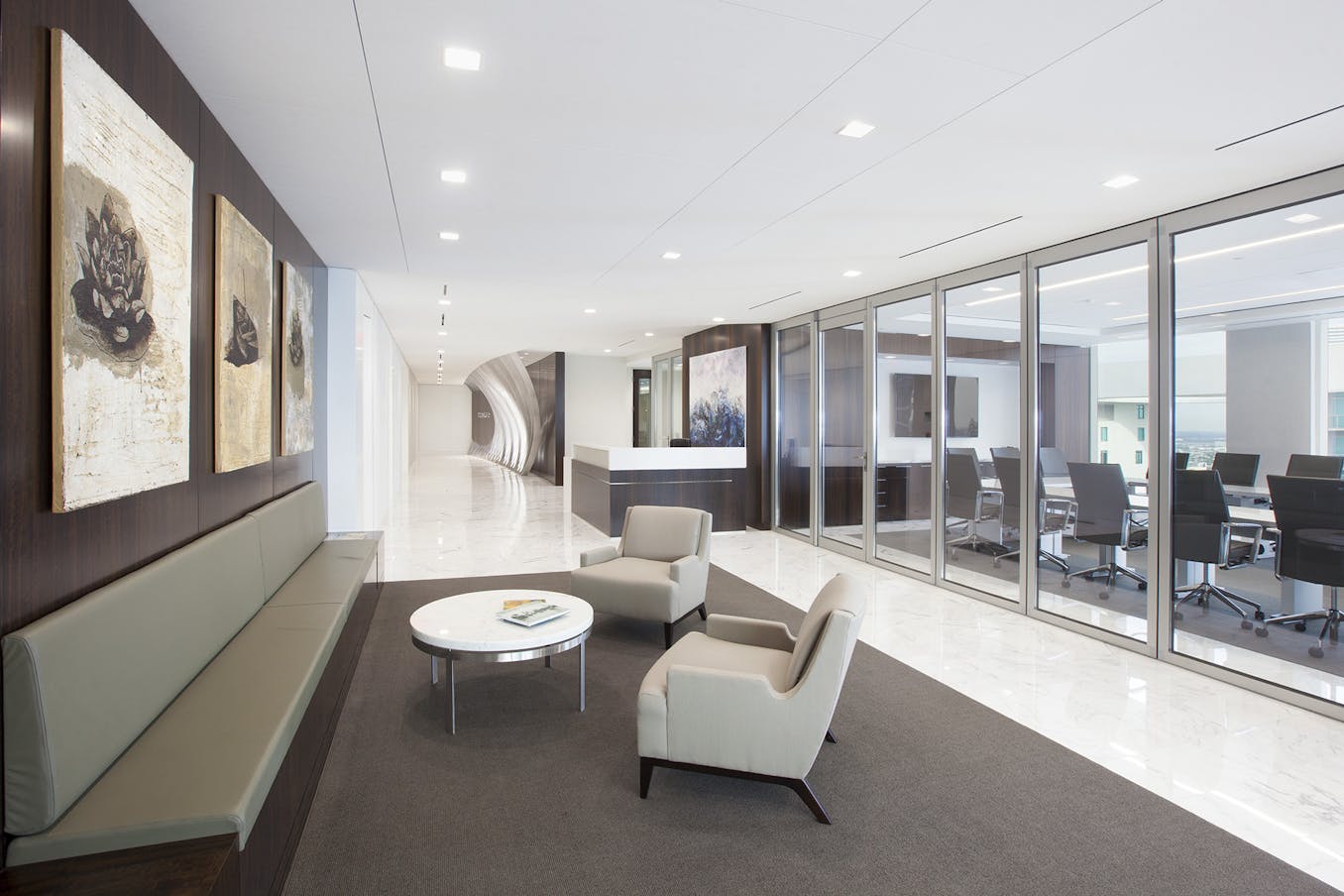 ASD/SKY has designed several locations for this client, each with a distinctive character. This one was intended to project a very contemporary image. According to ASD/SKY designer Millette Schmidt, Gunster's previous Miami office was "Aesthetically, the client wanted a departure from their existing environment that emphasized dark, enclosed offices, heavy wood and traditional stone flooring. By contrast, the new design developed a visual vocabulary to maximize transparency and access to daylight throughout while maintaining acoustical privacy. The design presents a fresh finish palette with visual richness while clearly speaking to the Miami locale of the office by embracing exterior views of the water and city vista."
Part of that contemporary image is flexibility. The wall separating the largest conference room from the reception area is a NanaWall HSW60 opening glass wall. It can be closed, creating a private conference space, or opened to conjoin the conference room and the reception area into a large-group event space. "It's a great way to gain that space without dedicating square footage full time to that function," explains Schmidt.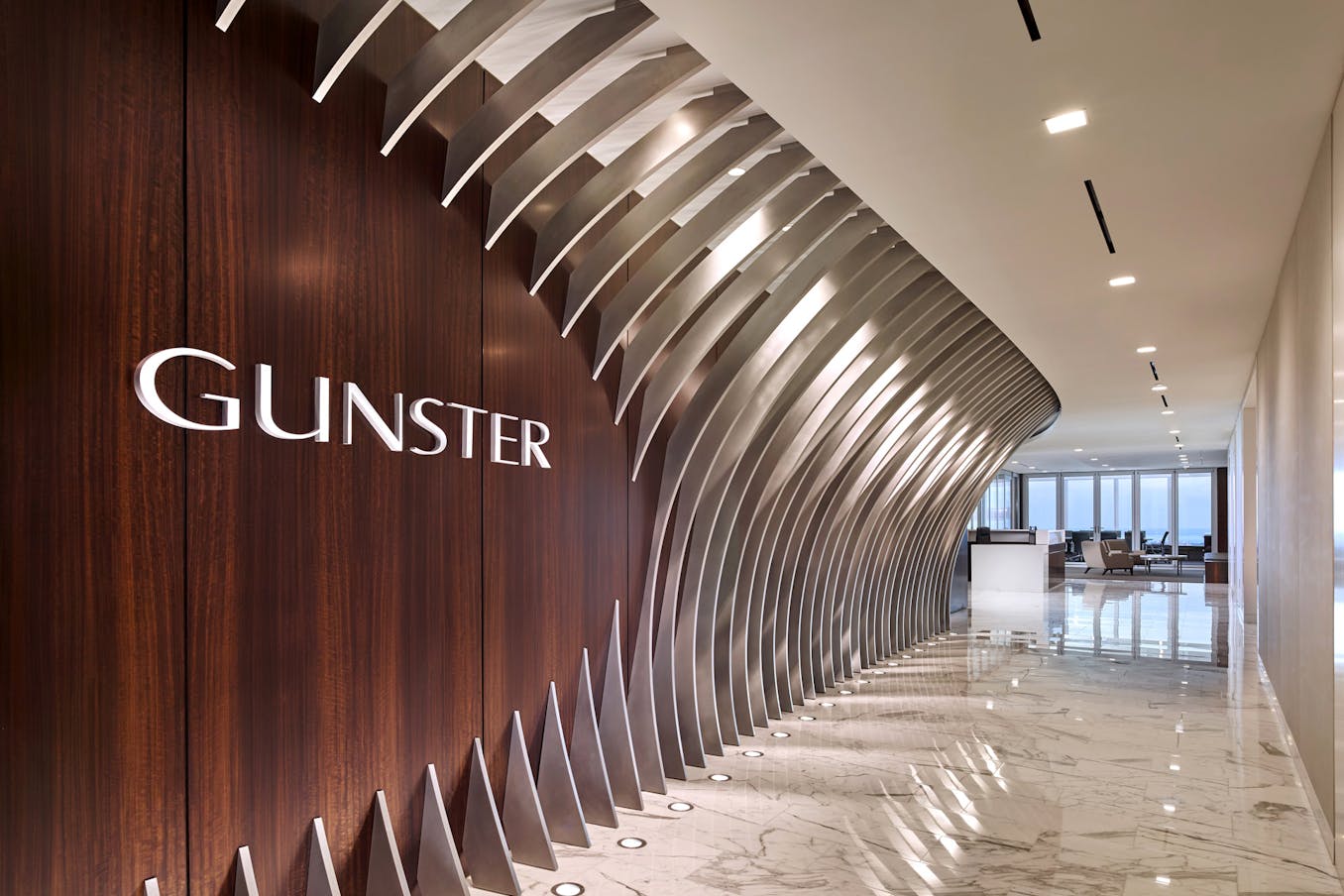 The wall system moves on a single overhead track, and the closed wall is stabilized to the floor only at discreet locking points. When opened, there is no floor track to visually divide the spaces. Glass panels disappear into an enclosure, a piece of custom millwork at one end, so there are no stacked panels visible, either.
Both open and closed configurations are exceptionally clean-looking. "We picked this particular NanaWall system," recalls Millette Schmidt, "because we wanted the most minimal frame profile and still have full height doors."
Because of the sensitive nature of legal conversations, both movable and fixed glass walls feature high-STC glass that provides very effective acoustical privacy. She adds that "this office is the one they always cite as the model of what they want for acoustical performance. It's something that was a concern throughout the office anywhere where we were going to do any glass system. There is no white noise generation or anything like that [to mask sound]; they didn't need anything else."
Schmidt notes that the issues ASD/SKY faced in this project are, in fact, increasingly common in their practice. "Probably every law office we do," she comments, "they want openness and transparency, and they typically have a view they want to showcase, but confidentiality is of high priority. How do we give them transparency but give them privacy as well? In addition, when they want an operable panel, that adds another layer of difficulty. I think we could only have gotten to the level we need with the NanaWall."
What our Customers Have to Say
Burnaby Residence
Embracing the stellar Vancouver views was one main design goal at this contemporary home. This was achieved by installing this edge-to-edge glass operable wall system.
Loblolly House
The project goals included providing savannah-like views of the Chesapeake Bay and opening the interior fully for natural ventilation. The plan also called for thermal insulation when the operable glass walls are closed.
"We chose NanaWall for their strong reputation, large number of available options, ease of operation, and for the beauty of the product. It's wonderful to open them all up, bring the outside in and let the fresh air flow through our home."
— Dave Chapman, Homeowner