Products
Application
Architect
Wolfberg/Alvarez and Partners Inc.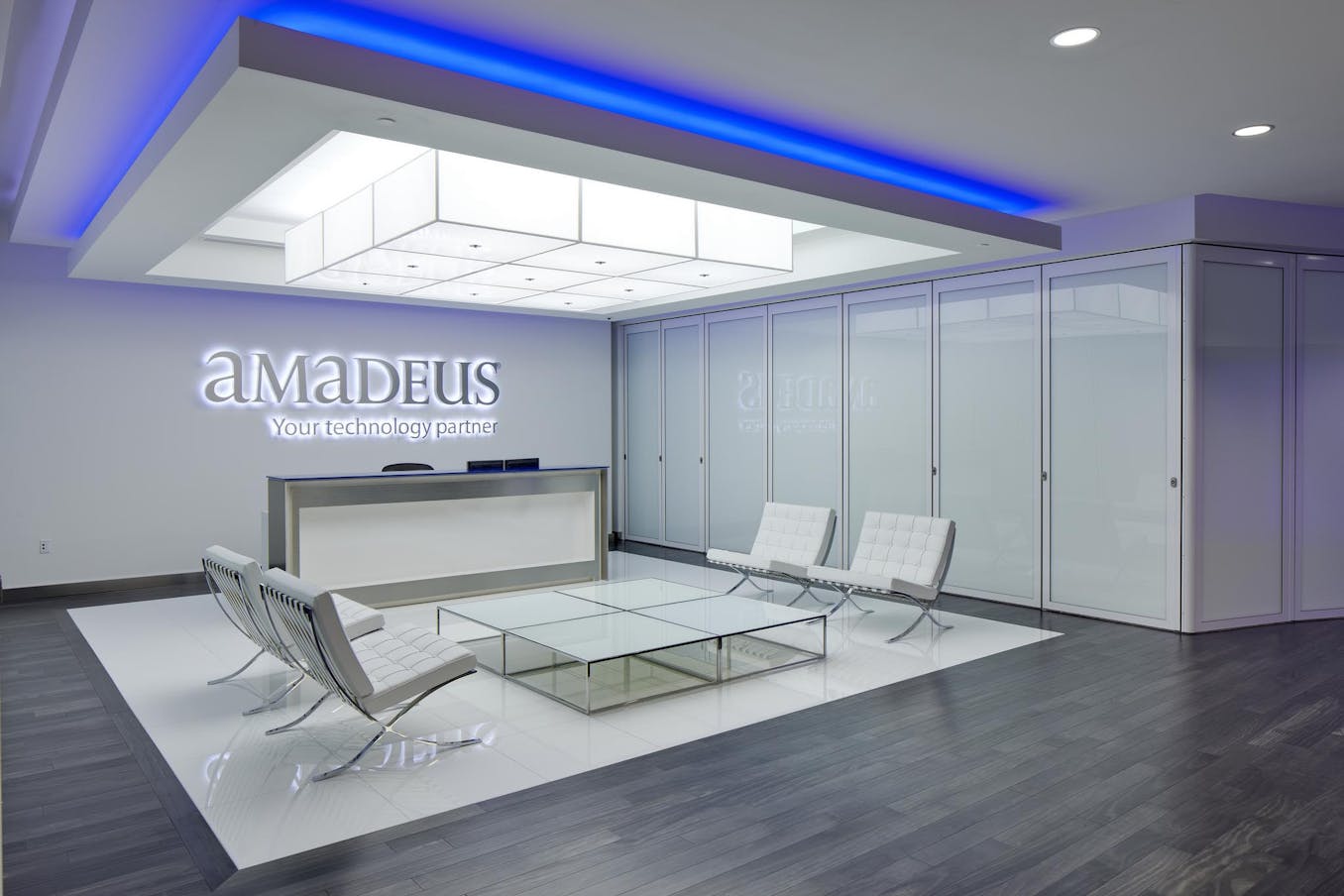 For the corporate headquarters relocation of Amadeus North America, a leading travel technology partner and transaction processor for the global travel and tourism industry, NanaWall played a role in creating "flexspace" for the company's learning center, set amid labs, a call center and offices and meeting areas. Located in One Park Square in Doral, Fla., near Miami, the sleek, $5 million workplace developed by Wolfberg Alvarez Architecture and Engineering and Ponch Herrera of P2 Interiors is marked by white glass floors, custom wood millwork and illuminated, back-painted glass with LED light coves.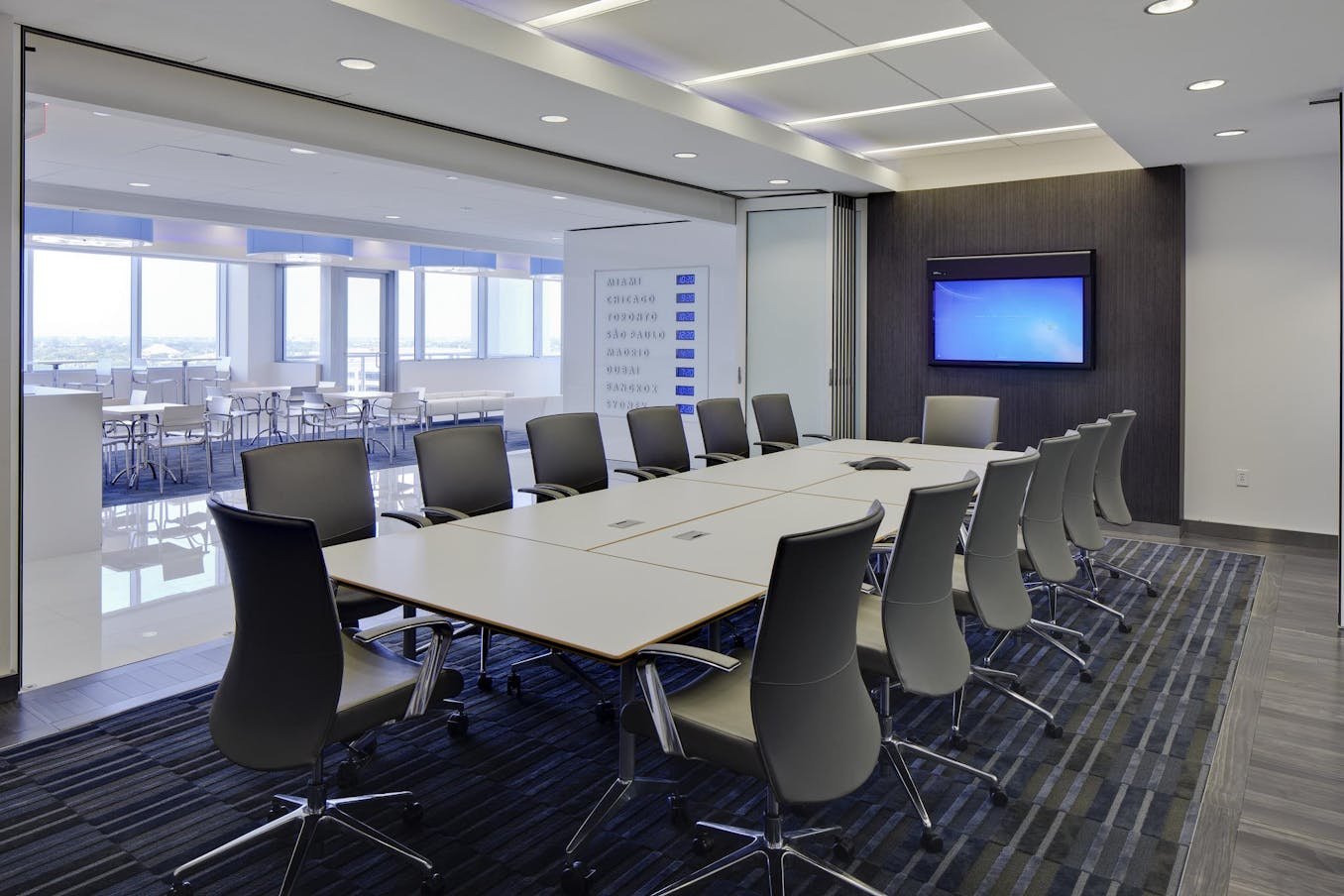 Creating Flexible Interior Space
The flexspace layout is apparent to visitors as soon as they arrive. At the reception area, NanaWall HSW60 operable glass-wall partitions enclose two smaller areas into "boardrooms," according to the Wolfberg Alvarez design team. Designed with white framing and frosted glass to match the nearby Barcelona chairs, they provide good acoustics and visual privacy – yet they can be instantly opened and stacked out of site to create a large meeting or event area.
The solution emerged from the Miami architecture firm's unique client-focused design process. "We listen first, then we dig deep to understand challenges and deliver solutions that fit the way people live, work, play and learn," according to Wolfberg Alvarez, touting the "synergies" of the firm's integrated architecture and engineering disciplines. In this situation, the unique floor plan provides either "an open-concept layout or distinct private workspaces," as needed to suit the fast-moving client training operations at Amadeus.
"The unique floor plan provides either an open-concept layout or distinct private workspaces."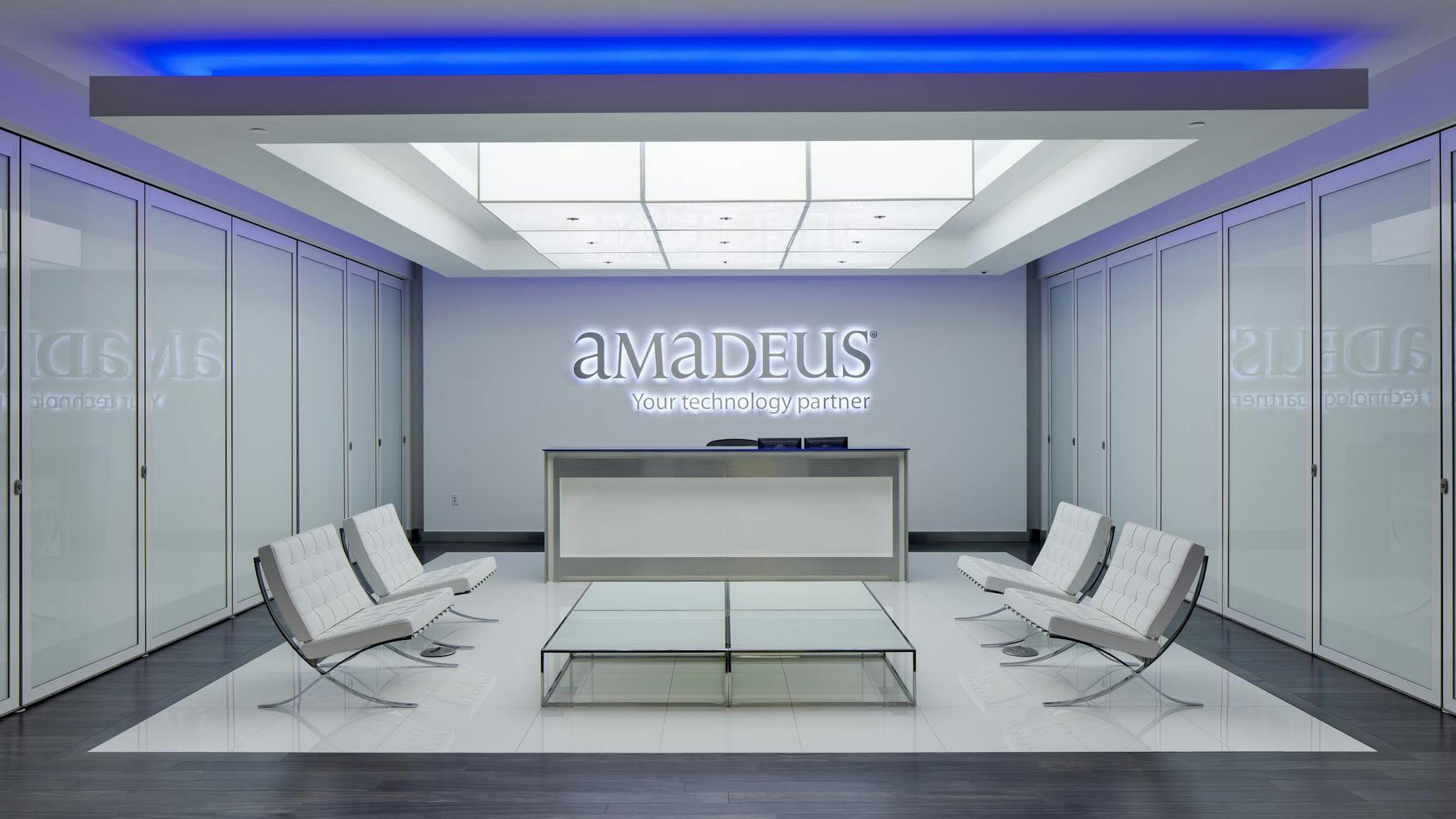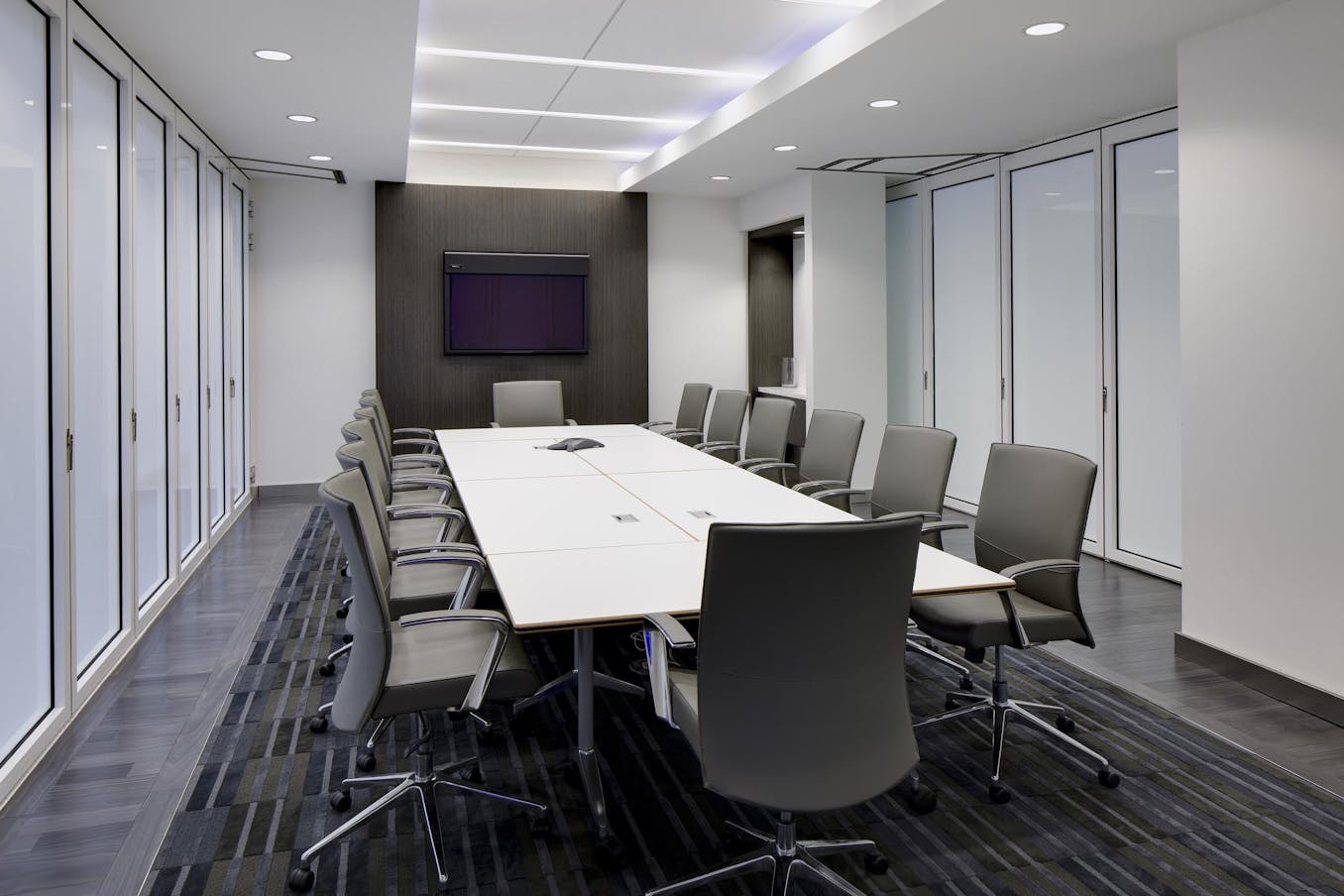 Create Privacy When Needed
With laminated glass and pre-gasketed construction, the project team was confident that the NanaWall system would provide the isolation needed by the client – even without a floor track, which ensured a clean, sleek presentation with no tripping hazard or unsightly floor hardware.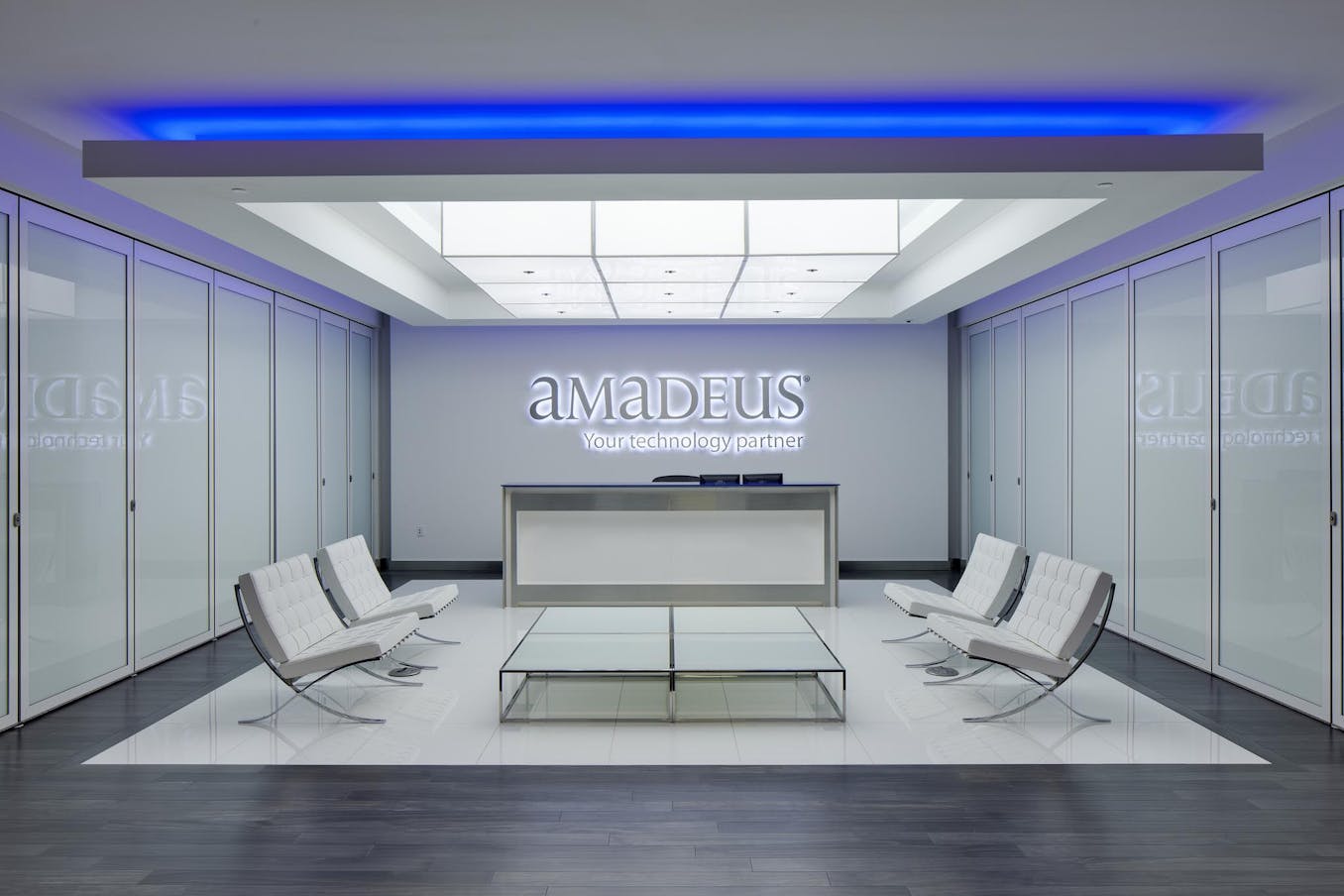 An Efficient and Durable Solution
The Amadeus project, which was completed in late 2011, also focused heavily on durability and resilience – critical for a 24/7 operation, according to Stiles, an investment, construction and management company. The space includes "provisions for emergency operations consisting of back-up power for data, communications and air conditioning," as the South Florida Business Journal reported. Stiles added that the dedicated chiller system along with an energy-efficient flywheel uninterruptible power system, or UPS, will keep the headquarters "fully operational during heavy windstorms and hurricanes."
Inside the elegant, Class A office interiors of reflective white and stainless-steel finishes, those provisions to store and generate power and to keep systems humming remain completely opaque to the customers and employees. Yet as an integrated design shop, Wolfberg Alvarez relished the opportunity to both collaborate with P2 Interiors on the interior design while also conducting "programming and test fit-out plans for two locations to ascertain the most efficient building for the tenant."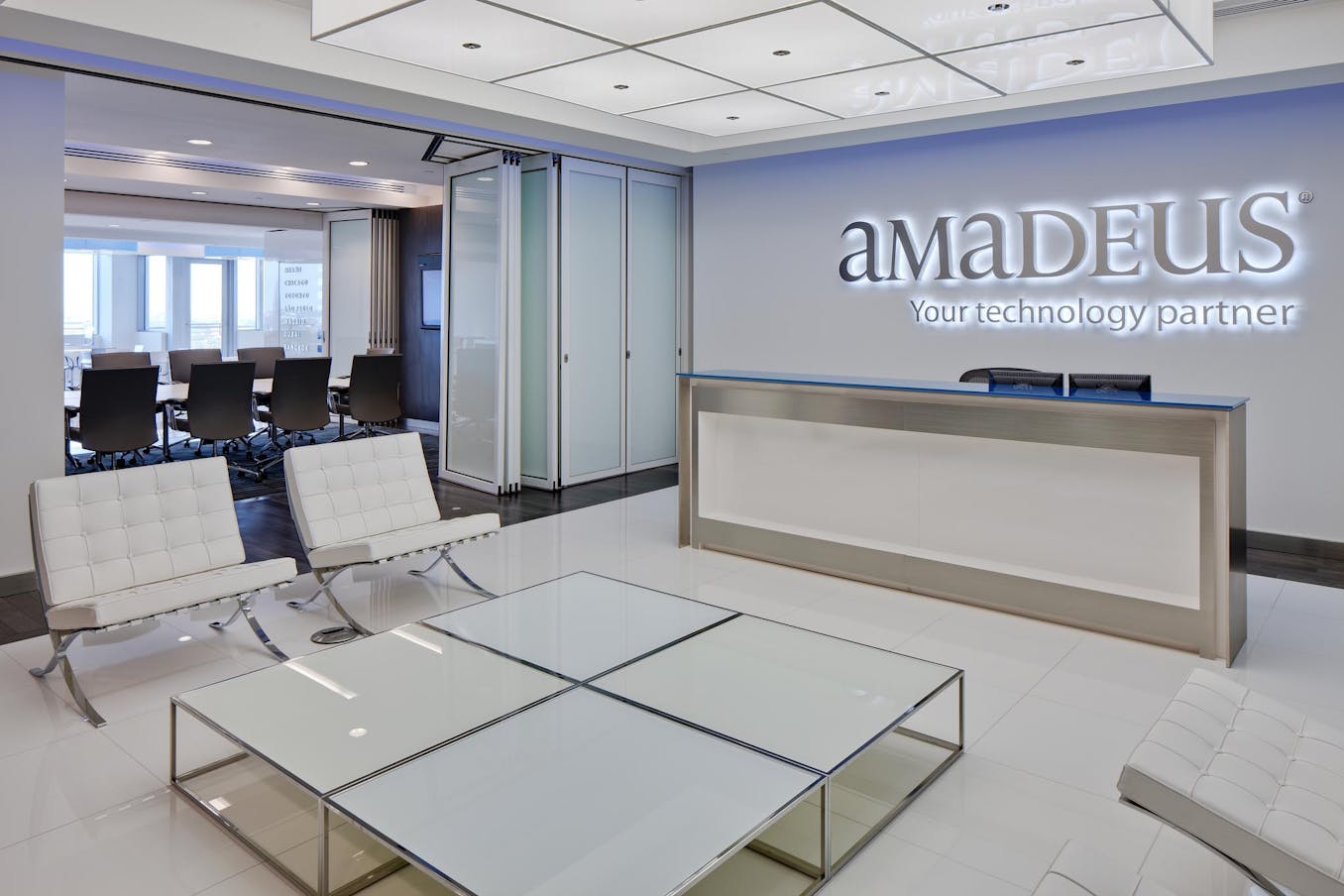 Overall, "It is a well-designed space that fulfills their goals of high-efficiency and protection from South Florida's storm season," said Tim Moore, president of Stiles Construction. The leader of the project for Amadeus was the facilities manager Oscar Rau, who glowed that "the result that truly reflects our brand and corporate objectives."
Collaboration and a focus on high-quality, lasting solutions such as the NanaWall HSW60 were the keys to success. "We're a diverse group of individuals united by a commitment to healthy living, continuous learning and responsible design," Wolfberg Alvarez stated. "We love what we do and it shows in our work every day."
What our Customers Have to Say
Burnaby Residence
Embracing the stellar Vancouver views was one main design goal at this contemporary home. This was achieved by installing this edge-to-edge glass operable wall system.
Loblolly House
The project goals included providing savannah-like views of the Chesapeake Bay and opening the interior fully for natural ventilation. The plan also called for thermal insulation when the operable glass walls are closed.
"We chose NanaWall for their strong reputation, large number of available options, ease of operation, and for the beauty of the product. It's wonderful to open them all up, bring the outside in and let the fresh air flow through our home."
— Dave Chapman, Homeowner