Monsignor Farrel High School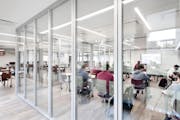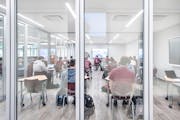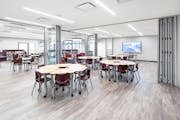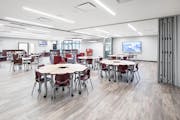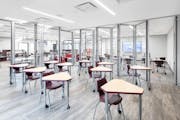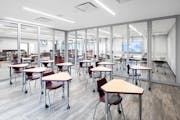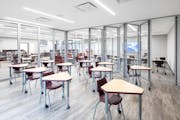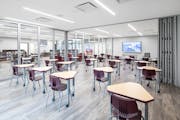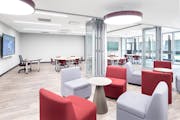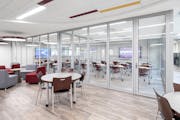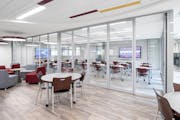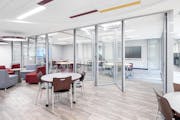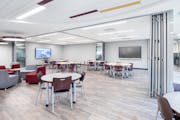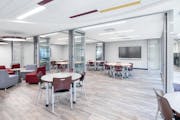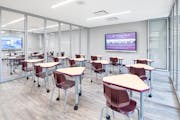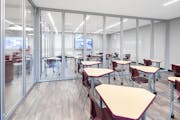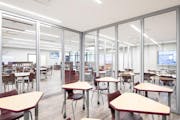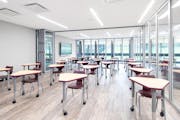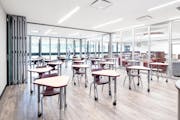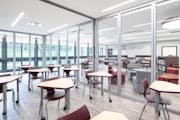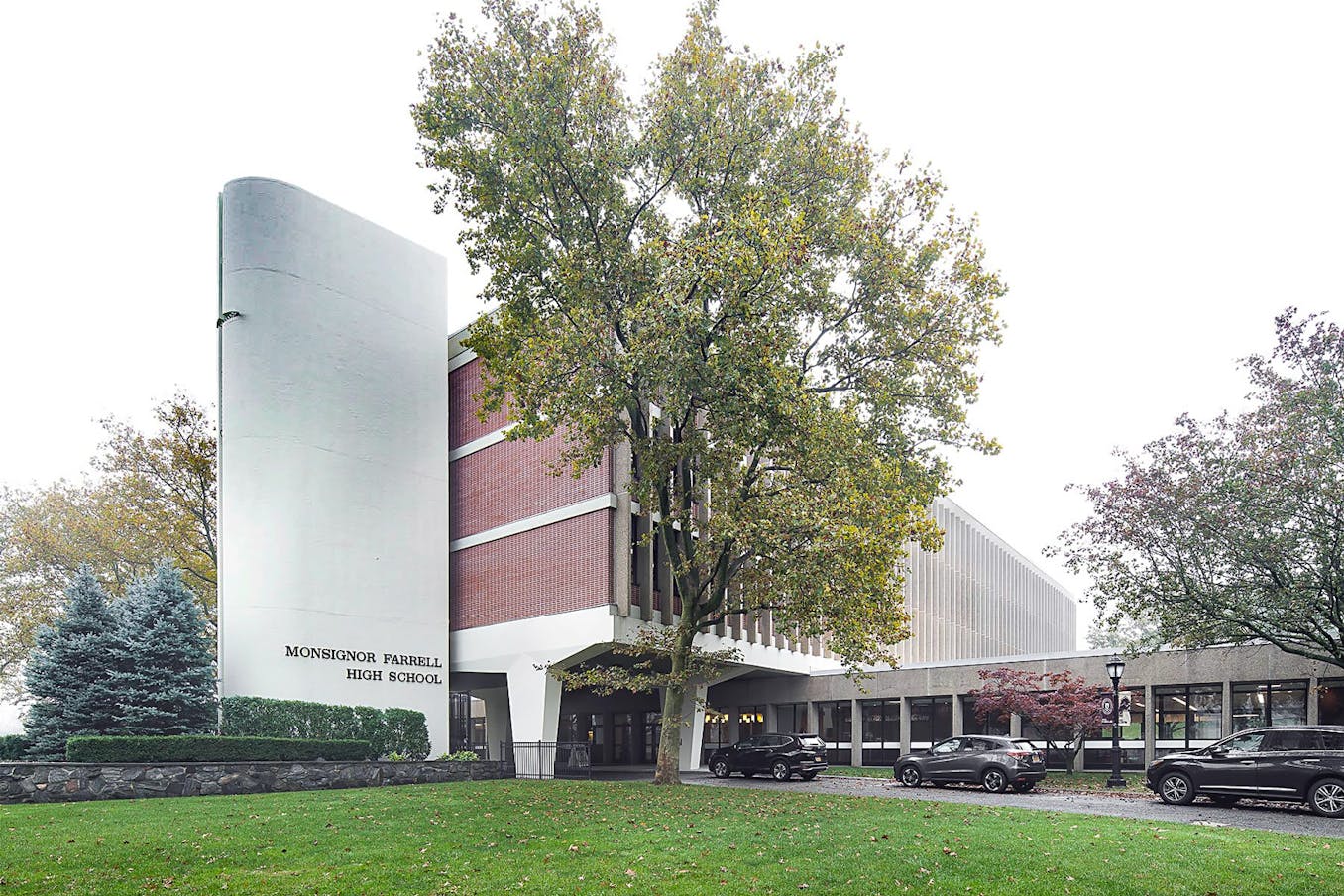 Monsignor Farrell High School, situated in New York City's southernmost borough of Staten Island, is one of the many schools adapting 21st Century learning spaces within their campus with acoustic glass wall systems. Opened in 1961, the all-boys Catholic school's primary mission is to provide quality education for its students while challenging them to develop their talents and ideas. Part of their strategy involved adopting 21st Century school standards with forward-thinking classroom design and sustainable building materials. Their first endeavor—reimagining the library into what is now the Learning Commons, a multi-use, flexible learning area for teachers and students alike.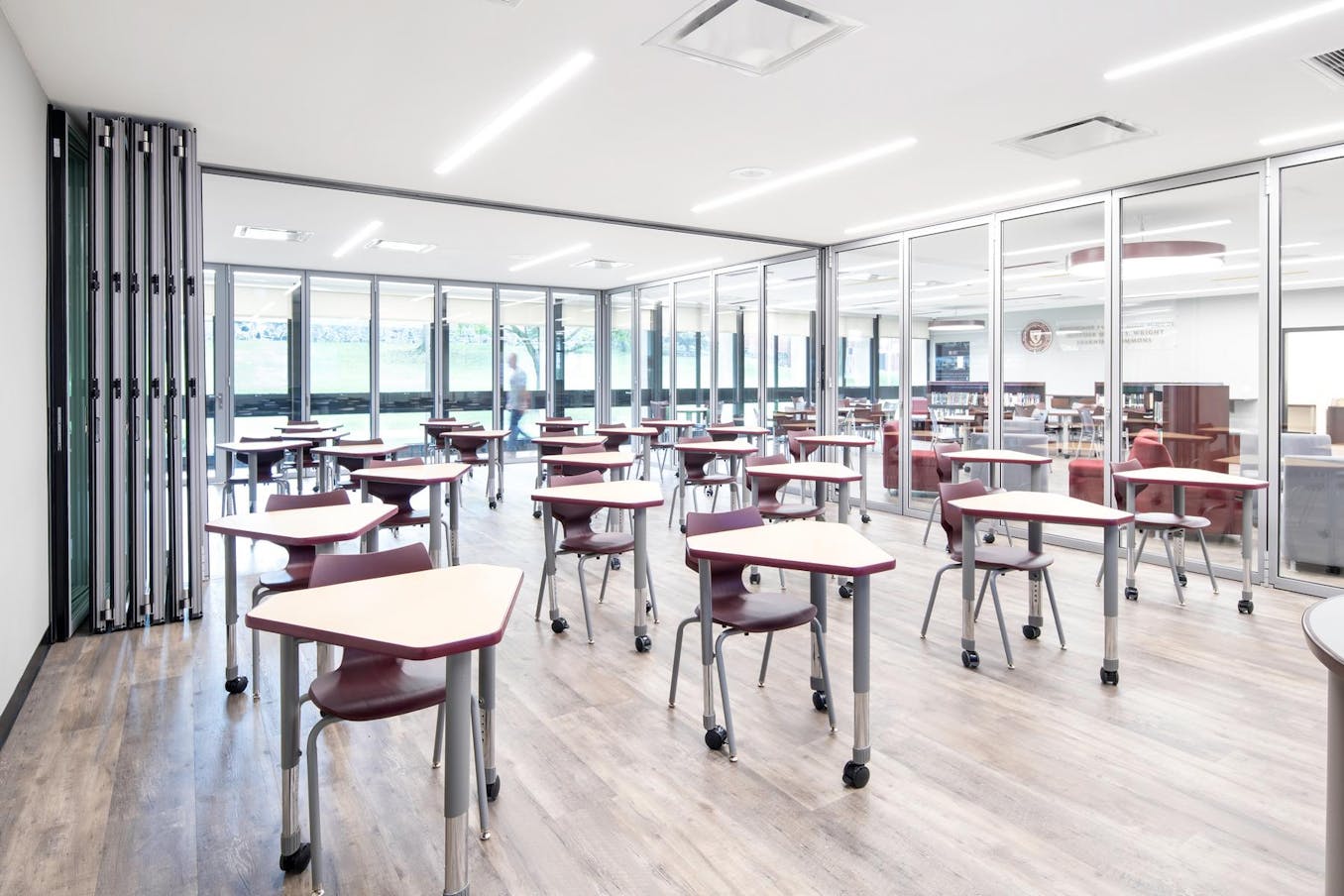 Distinctive T-Shaped Design
In a unique configuration, a 12-panel NanaWall NW Acoustical 645 (formerly known as SL64 Acoustical) folding glass wall system meets at the corner with another 7-panel system, creating a room-within-a-room configuration. The boxed area is then partitioned by a third 7-panel system in a T-intersection layout. This configuration allows for the utmost in flexibility—allowing for up to 4 different arrangements within the Learning Commons. This redesigned space is utilized as additional classroom space to hold lectures and seminars. The dynamic interior acoustic glass wall systems maximize the space to allow for multiple activities to happen at once be it larger classes, administration meetings, video conferences, or alumni events. "The floating panels, which can be moved left or right, allow teachers and administration flexibility on seminar room configuration," explains Bucinelli.
Envisioning Flexibility with Acoustic Glass Wall Systems
"One of the goals of the project was to bring the school into the 21st Century," says Studio 16 Architecture architect and CEO David Businelli. "The Learning Commons was to be not only a fully functional, modern space that would be fully utilized but also an attraction for new students." As an alumnus of the school, Businelli was honored to re-envision the library where he read his first architecture book. Although the school's original vision included fixed metal and glass walls that would form two separate classrooms, the architect proposed a more dynamic design with acoustic glass wall systems to provide maximum flexibility of space while supporting sustainability standards.
"The NanaWall System Provides Superior Acoustic Control," Says Architect David Businelli. "It is an Integral Part of the Sound Attenuation System Along with the LVT Floor and the Ceiling Systems."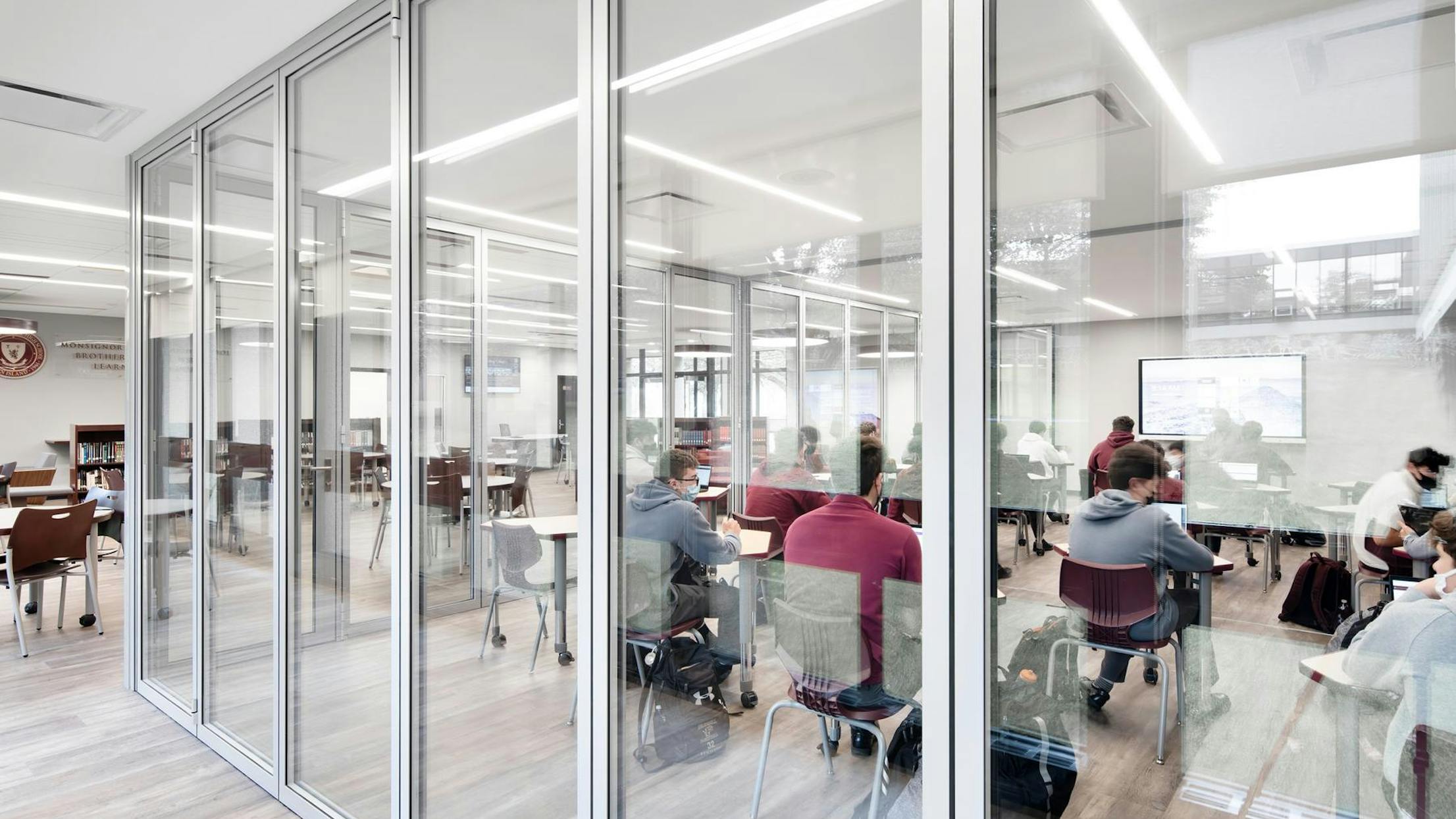 Easily Operable Interior Acoustic Glass Wall Systems
The three sound-rated, aluminum framed folding glass walls encompass a total width of about 80 feet. Each nine-foot-tall system is configured with a swing panel that facilitates ingress and egress when the acoustic glass wall systems are closed.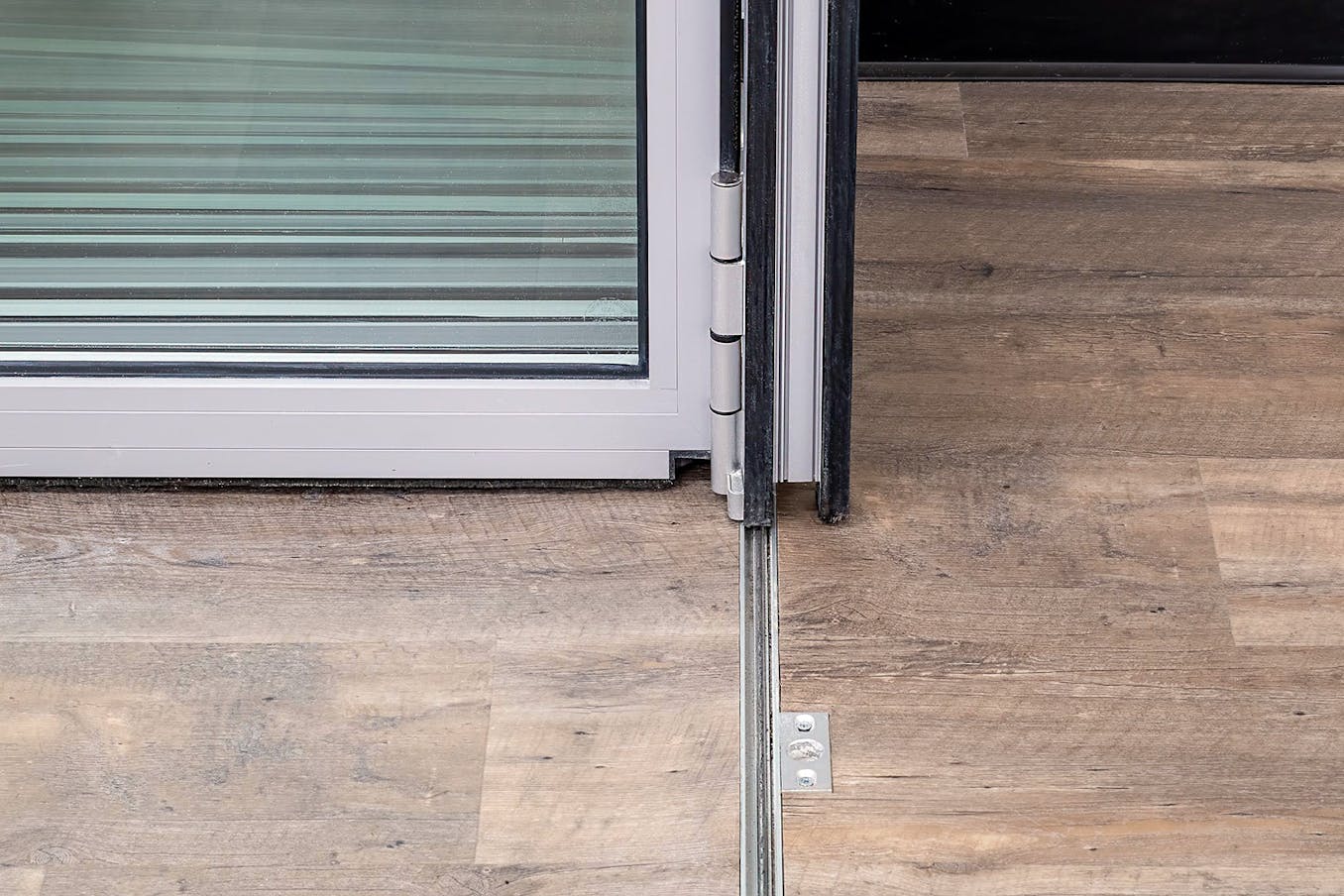 The floor supported NW Aluminum 640 features a running carriage rolls with a Gothic arch stainless steel wheel design—offering easy operation for students and teachers alike. With a two-point contact of each wheel to the stainless steel floor track, the system glides quietly and smoothly with less friction by providing an equal distribution of weight on the track. To ensure unobstructed transitions and achieve ADA compliance, the NW Aluminum 640 is paired with the minimal surface mounted flush sill. When installed with finished flooring, the sill has only a mere 15/16″ (23.5 mm) visible groove. This folding system allows for larger opening sizes and flexible space management with the integration of FourFold or SixFold panel sets that move and stack either to the right, left, or middle within the same track.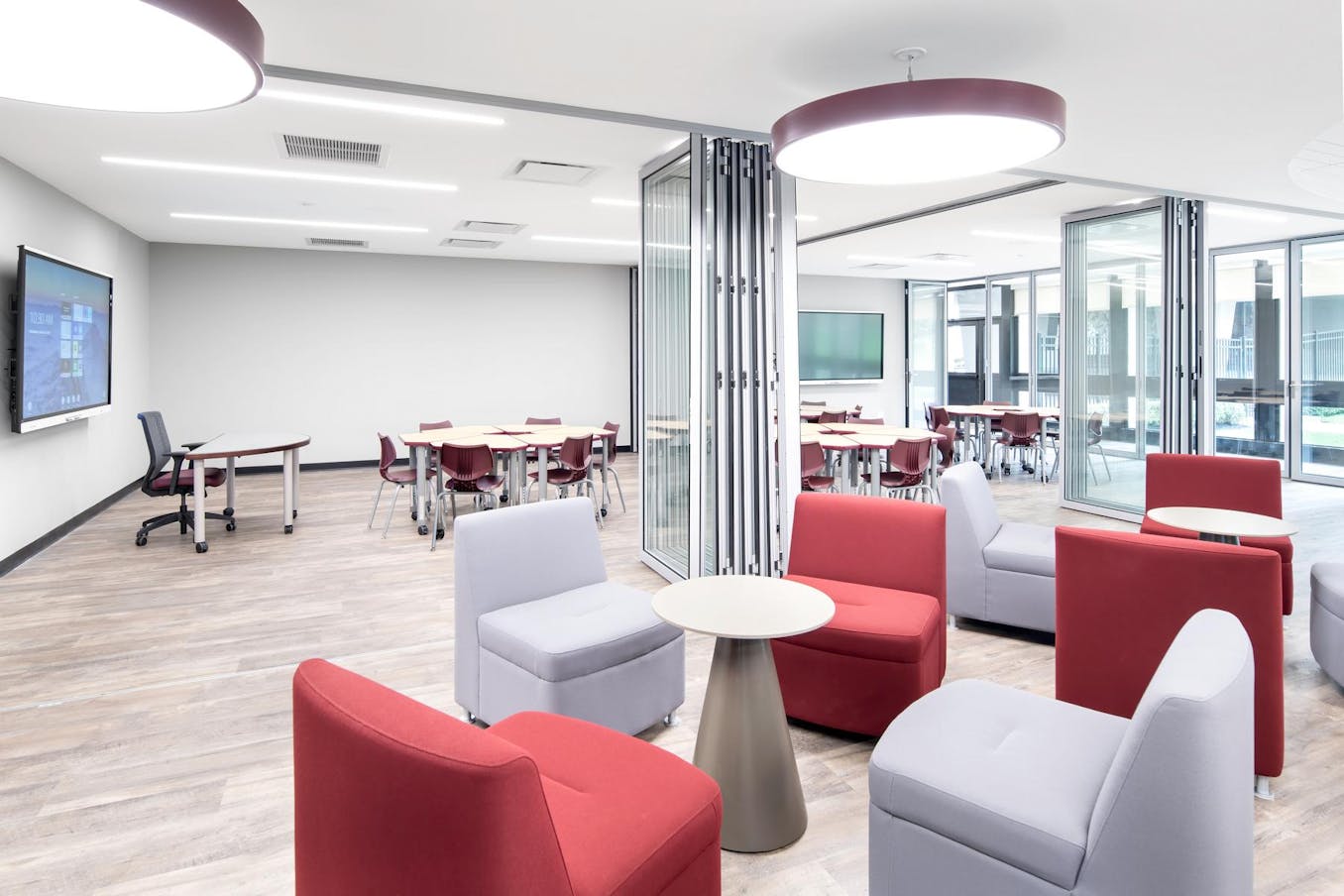 Sound Control Supports Multifunctionality of Space
Sound attenuation is paramount in academic environments, especially in a multifunctional space like the Learning Commons. NW Aluminum 640 is the first floor supported folding glass wall able to achieve sound control ratings up to STC 45. This system combines sleek acoustically separated aluminum framing and specialized gasketing with sound-enhanced glass to achieve optimal performance. When all three systems are closed, the dividing glass wall partition allows for two classes to happen at once with little to no sound being transferred into one another. Outside the seminar rooms, students can read or complete assignments in a quiet, distraction-free environment.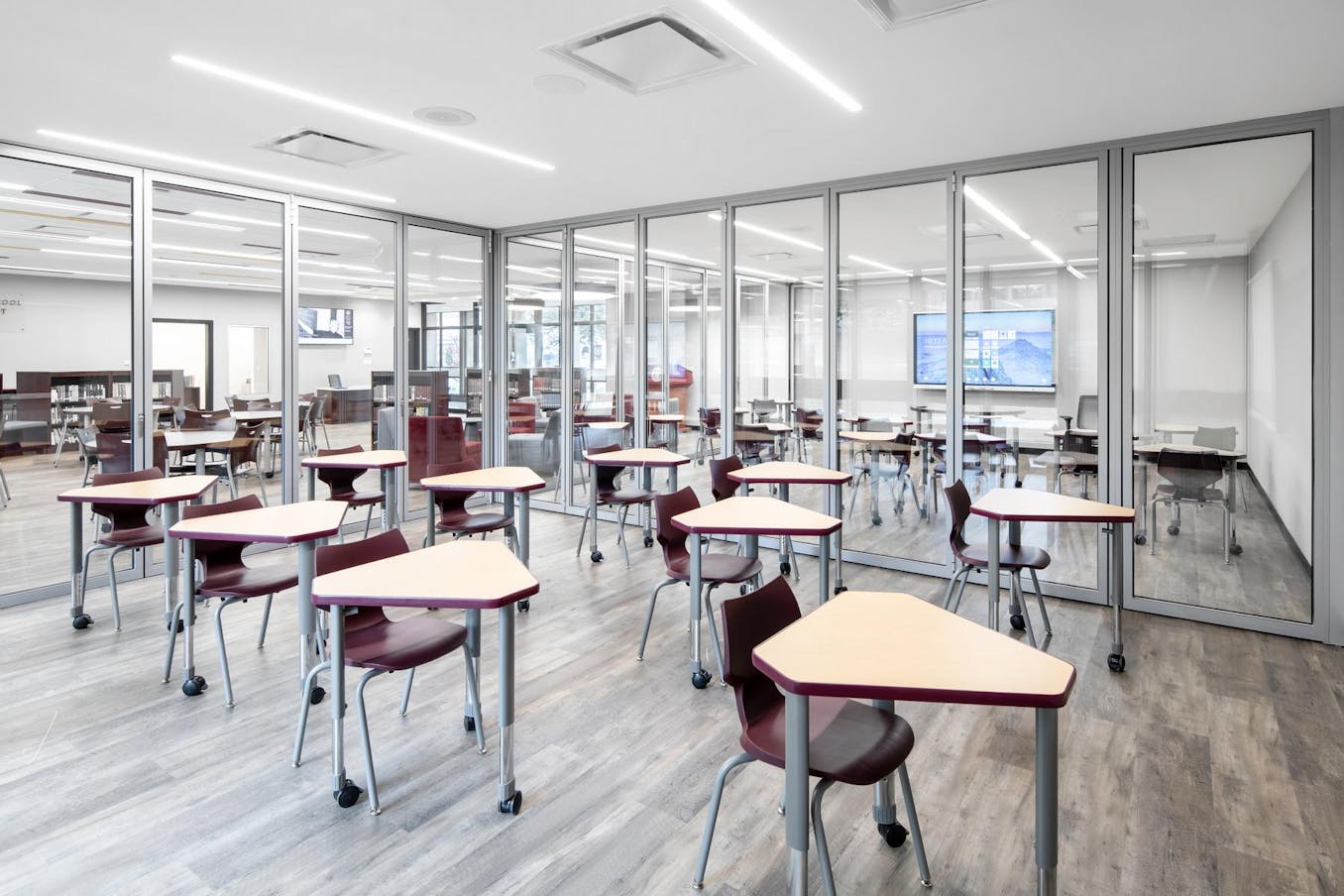 Light and Visibility
Before the renovation, library bookshelves took over the space where the seminar rooms now stand, halting any natural light transmission and diminishing visibility. With the NanaWall systems, the strategy was to allow as much natural light and transparency, both key elements in creating 21st Century learning spaces. "NanaWall systems are part of sustainable design strategies for modern schools by the nature of their fabrication and the transparency," explains the architect. "They allow for greater use of daylight farther into the building." Panel frames are slim and contemporary with a total 3 7/8″ (99 mm) where two adjacent folding panels meet. For staff, this means better visibility and control of space. For students, natural light increases their productivity and overall retention.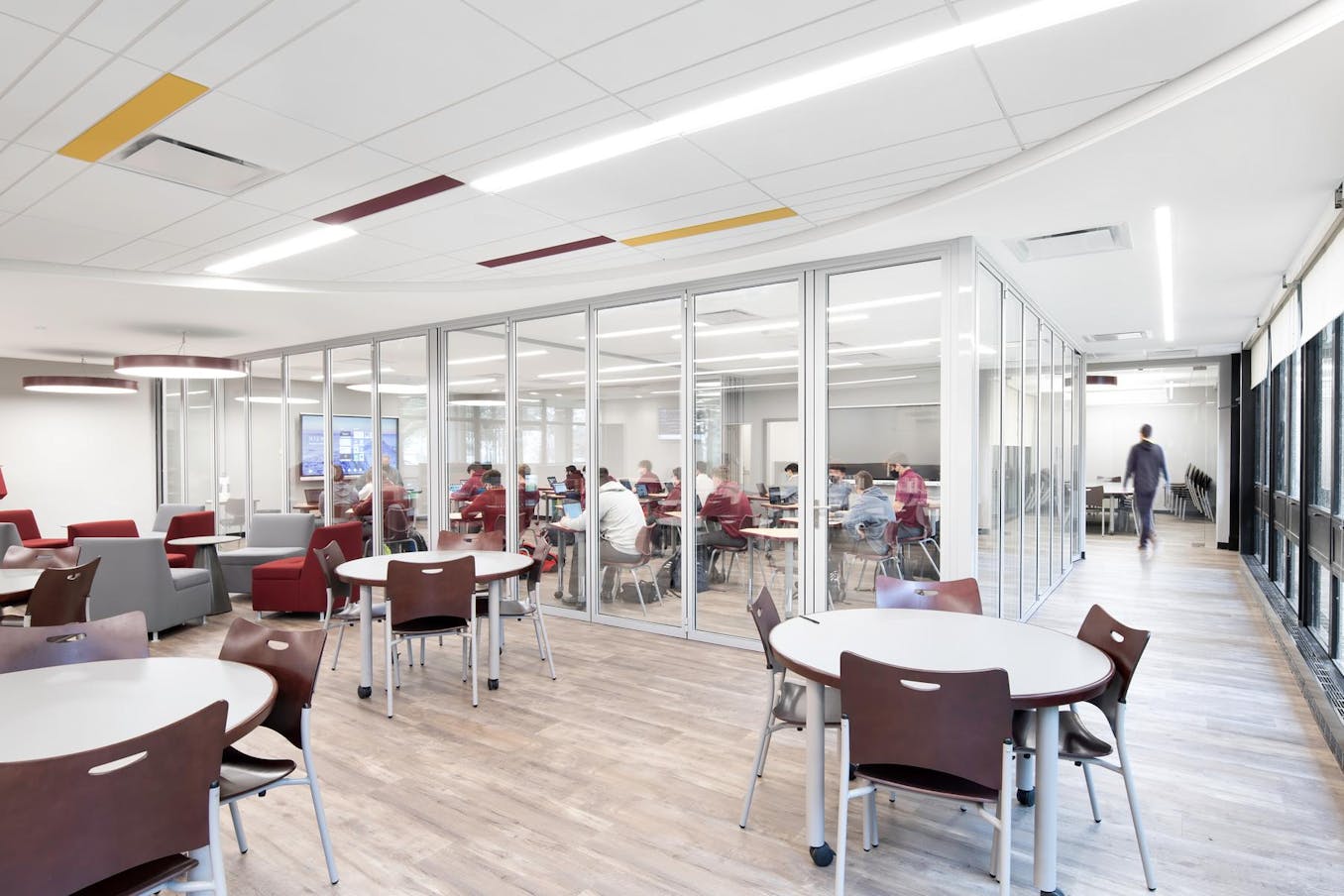 Award-Winning Solution Offers Limitless Possibilities
The movement towards 21st Century learning has shifted classroom design towards more dynamic, collaborative spaces that embrace health, wellness, and sustainability. At Monsignor Farrell High School, this forward-thinking ideology has transformed an underutilized space into a light, bright, and dynamic multifunctional area. The award-winning NW Aluminum 640 represents the best of NanaWall next generation innovations on acoustic glass wall systems. Barely-there panels paired with an array of configuration possibilities create a sound attenuated productive space for students to fully immerse in the curriculum.
What our Customers Have to Say