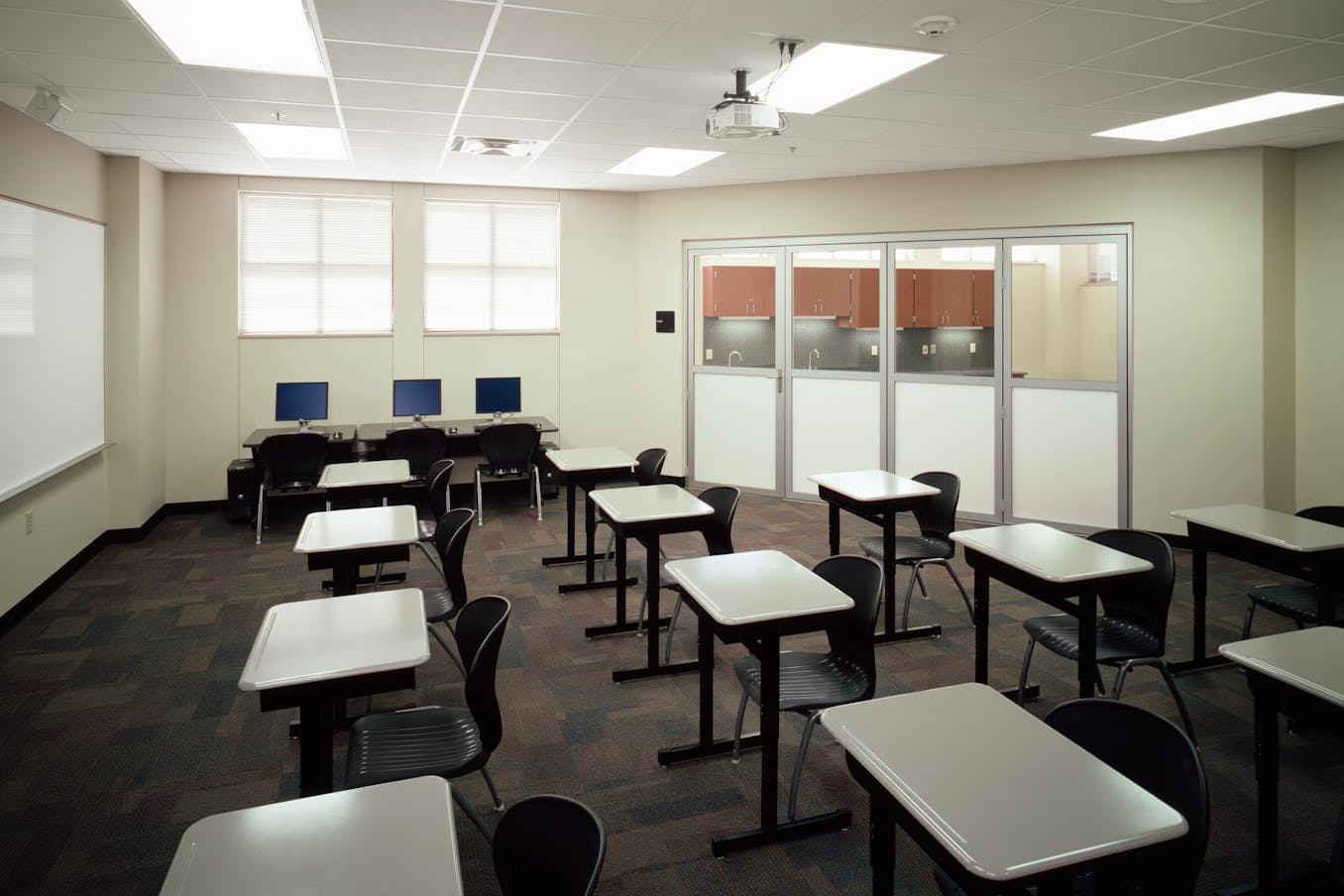 The Texas Association of School Boards (TASB) has two missions: to improve education for all students and to control costs for the taxpayer. Not surprisingly, these agendas often conflict, especially considering salary demands, technological innovations, rising health care costs, and binding state mandates. In 2007, TASB had to mitigate the conflicting agendas when building elementary schools for its independent school districts.
TASB contracted SHW Group from Dallas to design classrooms that would optimize floor space, increase student learning and create a more enjoyable work experience for teachers. A brilliant solution, which can be seen in 30 classrooms of Kay Granger Elementary School, was the installation of NanaWall's folding wall systems.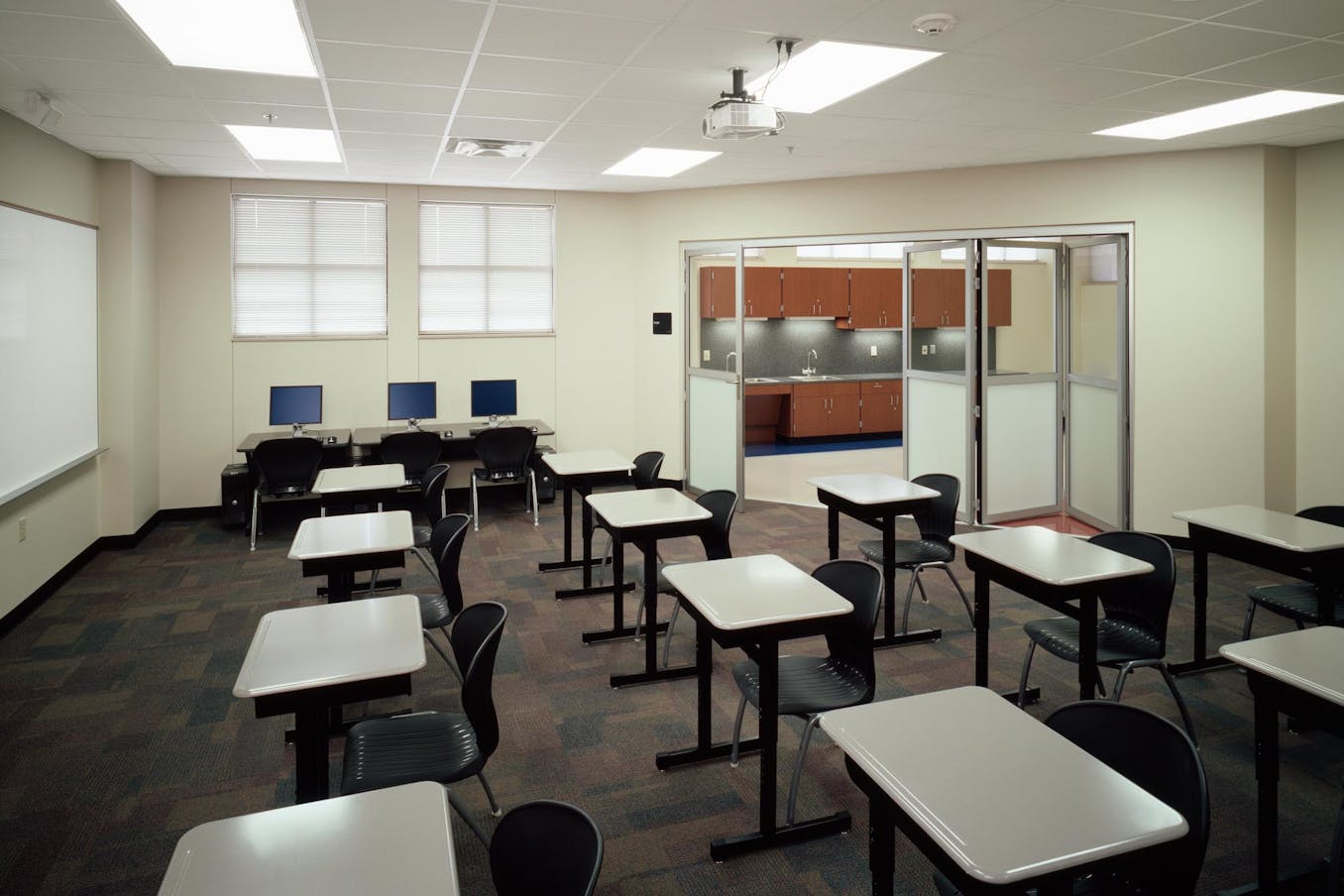 Creating a NanaWall FlexSpace
When SHW Group met with TASB, the board expressed interest in classroom flexibility. At the direction of the Curriculum Director, SHW proposed an effective "flex space" concept that would give them maximum flexibility while reducing lab installation costs. "The multi-use space that we designed to adjoin two classrooms needed great visibility and flexibility, with good acoustic separation," commented Konrad Judd, AIA and Lead Designer of SHW Group. "The NanaWall maximizes the view and flexibility of the space when closed or open. It is also a very elegant and simple system that is safe and easy for teachers and students to use."
Ease of Operation for Faculty and Staff
Kimmie Etherage, Principal at Kay Granger, immediately saw the benefits of using NanaWall instead of some other partition: "Our school is in a fast-growing population with new schools opening every year. In the past they have used garage door-type enclosures for the flex spaces. Kay Granger Elementary was one of the first schools to pilot the NanaWall. They are awesome! Easy to operate and beautiful, with clear vision into the flex space."
"The Multi-use Space That We Designed to Adjoin Two Classrooms Needed Great Visibility and Flexibility, with Good Acoustic Separation."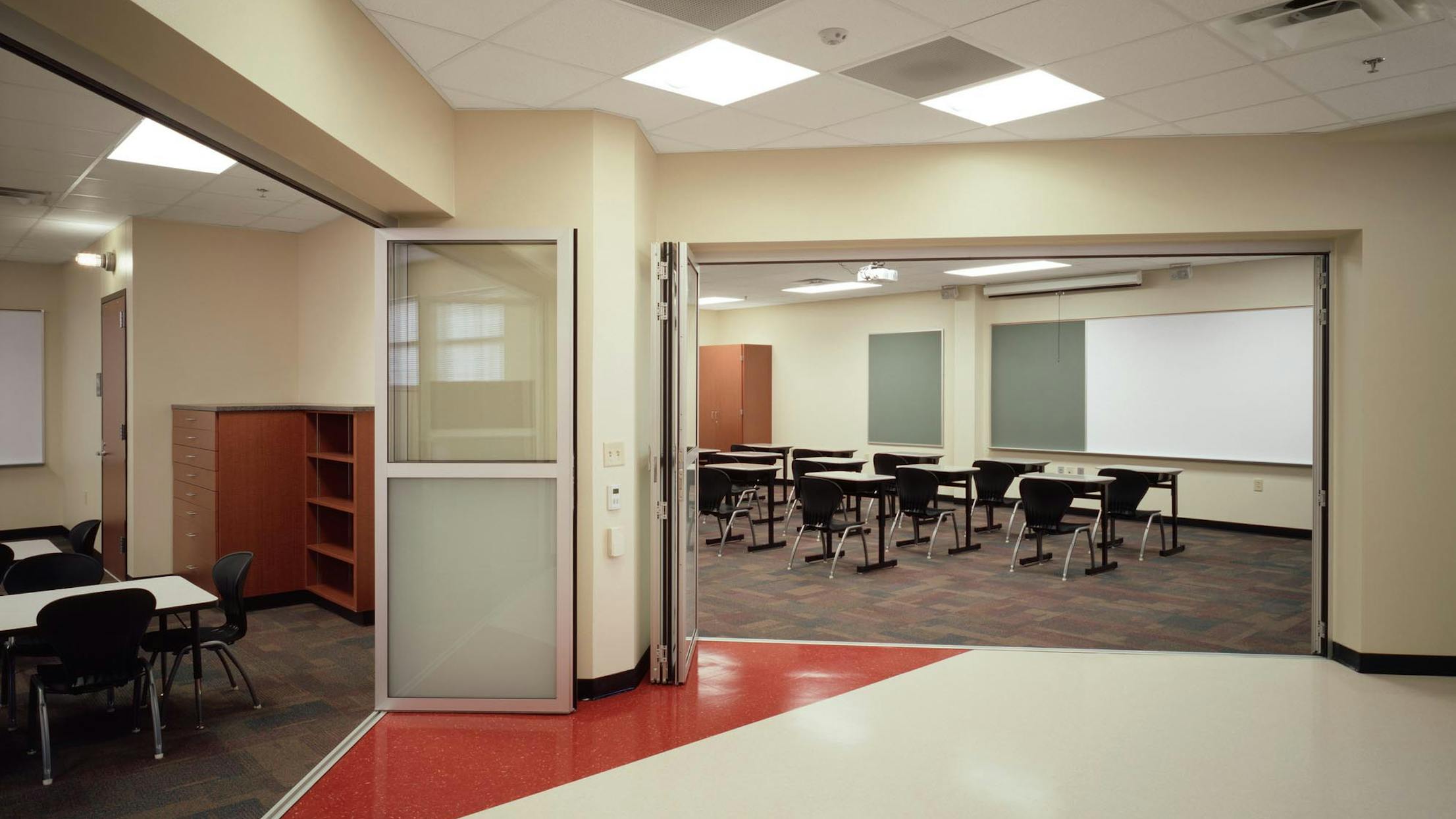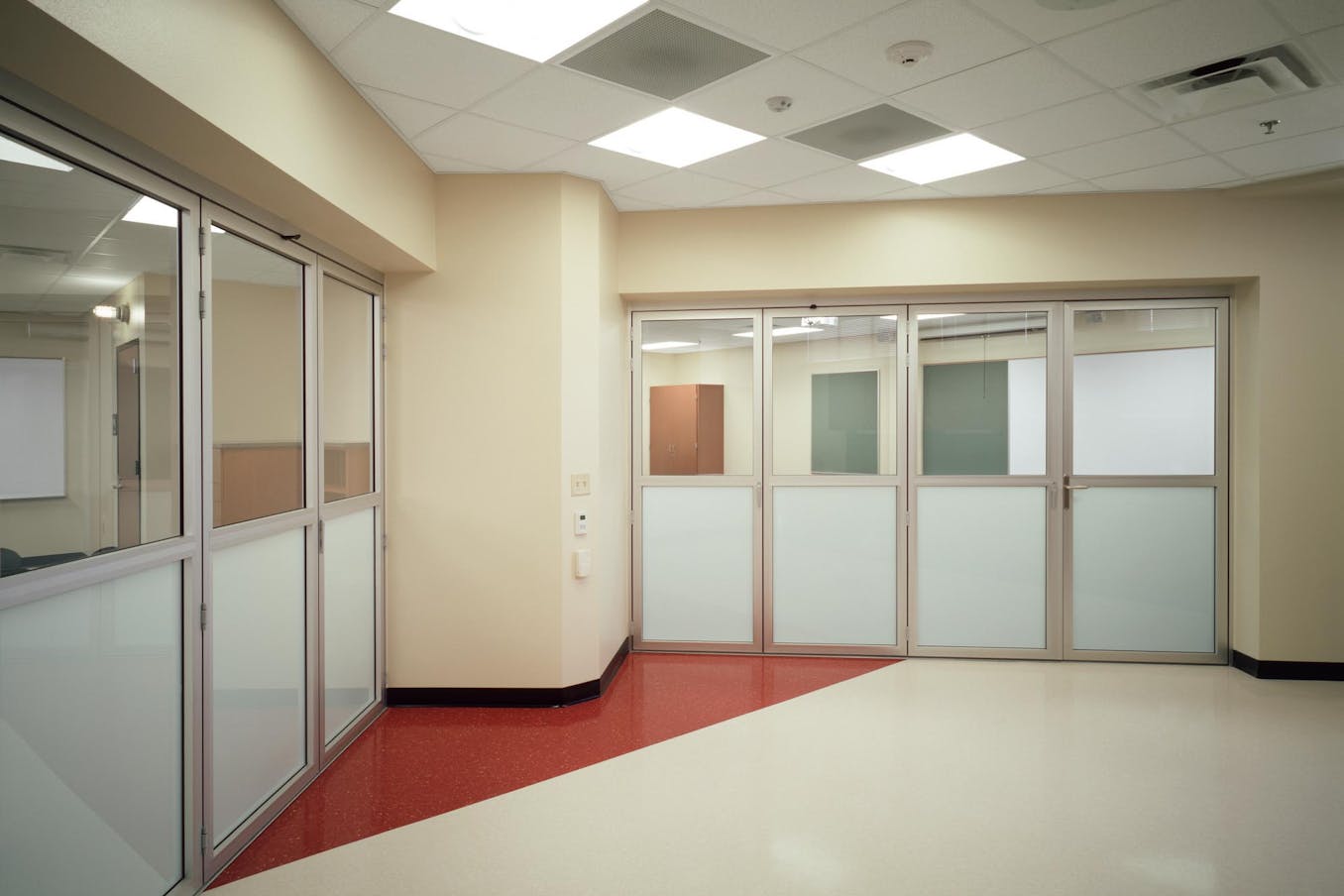 The flex space was created after eliminating the common wall. Two operable 15 foot wide SL45 NanaWalls were installed. They separate the instruction areas from a laboratory that can be part of both classrooms. The teaching staff also uses this flex space for combined classroom activities, storage, group work, emergency drills, makeup exams, and response intervention.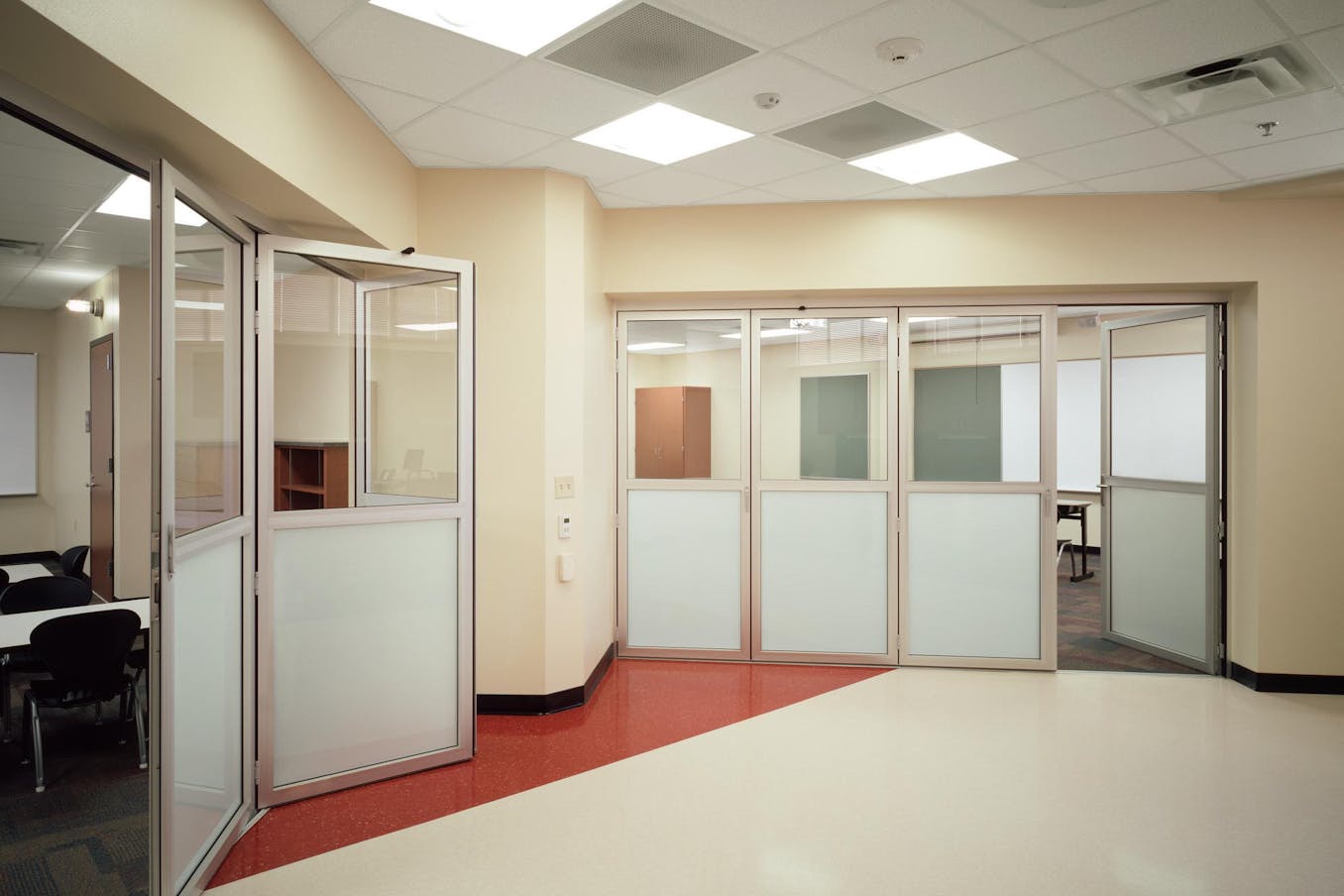 Excellent Sound Attenuation When Privacy is Needed
The NanaWall has a horizontal mullion dividing the clear glass upper portion from the opaque lower panel. Consequently, when students in any of the three spaces are seated or performing experiments, they are not distracted. Privacy is further maintained because each wall has excellent sound attenuation. However, teachers can stand up and see both classrooms at once, always ensuring effective classroom management.
A well-designed space increases student engagement. For example, because the classrooms have interesting geometry, students are no longer mired in a traditional square environment. To mirror the flexibility of the total design, each classroom uses moveable chairs and tables. This allows groups to form easily and further enhances the exciting environment.
A More Flexible Learning Model
Konrad Judd, with SHW Group, defines his experience with the NanaWall flex space as "education delivery into the 21st century with a more flexible learning model." Indeed, architects and designers determined to bring great design to educational projects should explore NanaWall's potential.
Because of the reliability of the product, many schools have used these glass wall systems to create innovative multifunctional spaces. The 20 different systems with their various customizable configurations, materials, glazing and swing door features provide innumerable possibilities.
What our Customers Have to Say
Burnaby Residence
Embracing the stellar Vancouver views was one main design goal at this contemporary home. This was achieved by installing this edge-to-edge glass operable wall system.
Loblolly House
The project goals included providing savannah-like views of the Chesapeake Bay and opening the interior fully for natural ventilation. The plan also called for thermal insulation when the operable glass walls are closed.
"We chose NanaWall for their strong reputation, large number of available options, ease of operation, and for the beauty of the product. It's wonderful to open them all up, bring the outside in and let the fresh air flow through our home."
— Dave Chapman, Homeowner