12 Glass Walls to Inspire your Next Living Room Remodel
By NanaWall Systems, September 23, 2020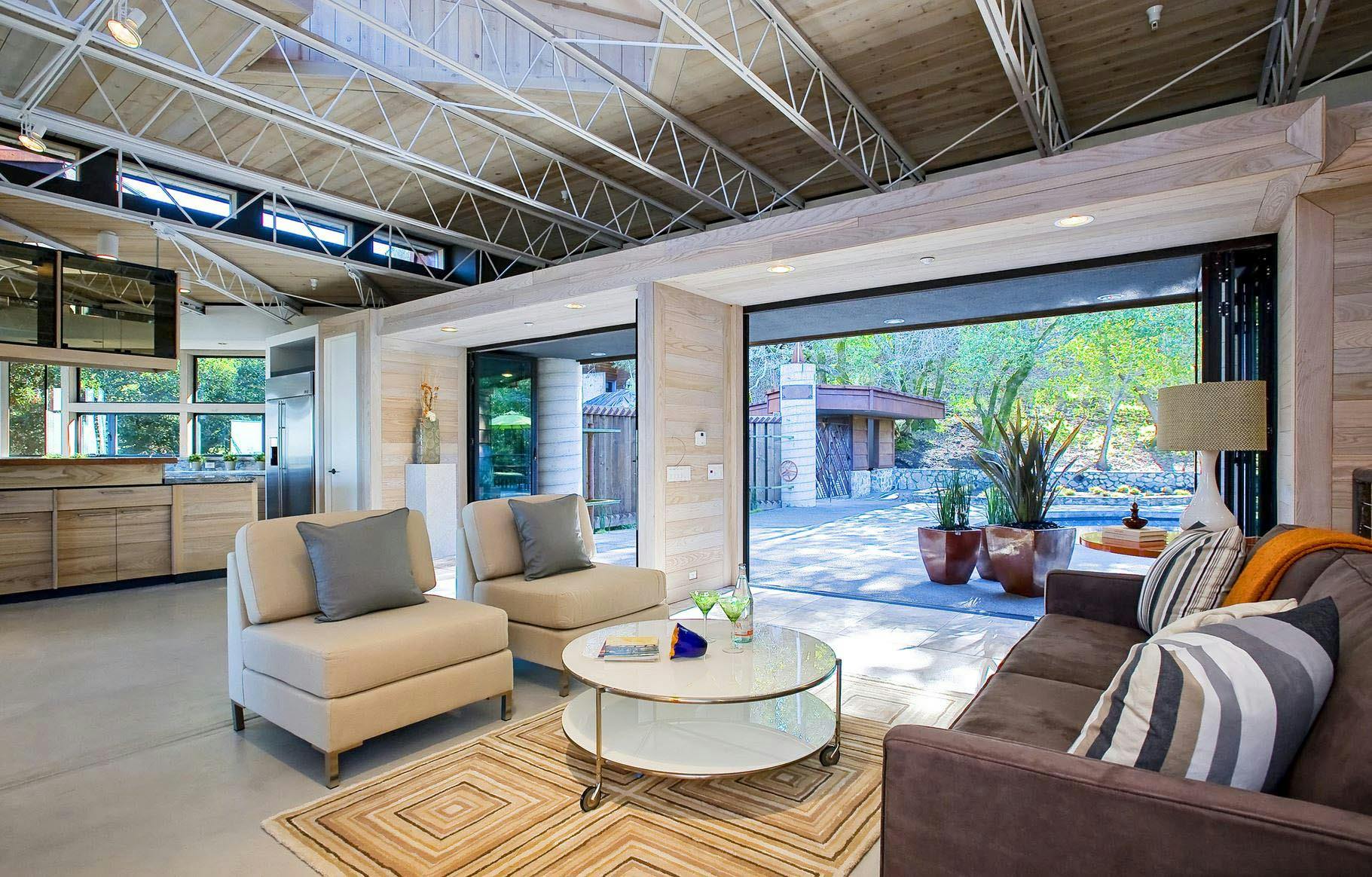 Whether it be a full-on home renovation or a small-scale living room remodel, there are a few questions that may need to be addressed as we think of ways to improve our home. How can I enhance the available living space in my home? How can I successfully achieve an indoor/outdoor lifestyle? What type of products will work best with my renovation? As well-thought-out investments, home renovations seek long-lasting solutions that enhance the overall experience of our homes with the unifying goal of adapting residential spaces to our needs. Whether the overall objective is to increase living space, invite the benefits of the outdoors in, or simply amplify the look of the home, check out how these residences successfully transformed their living spaces with NanaWall opening glass wall solutions.
Weather Performing Living Room Remodel Solutions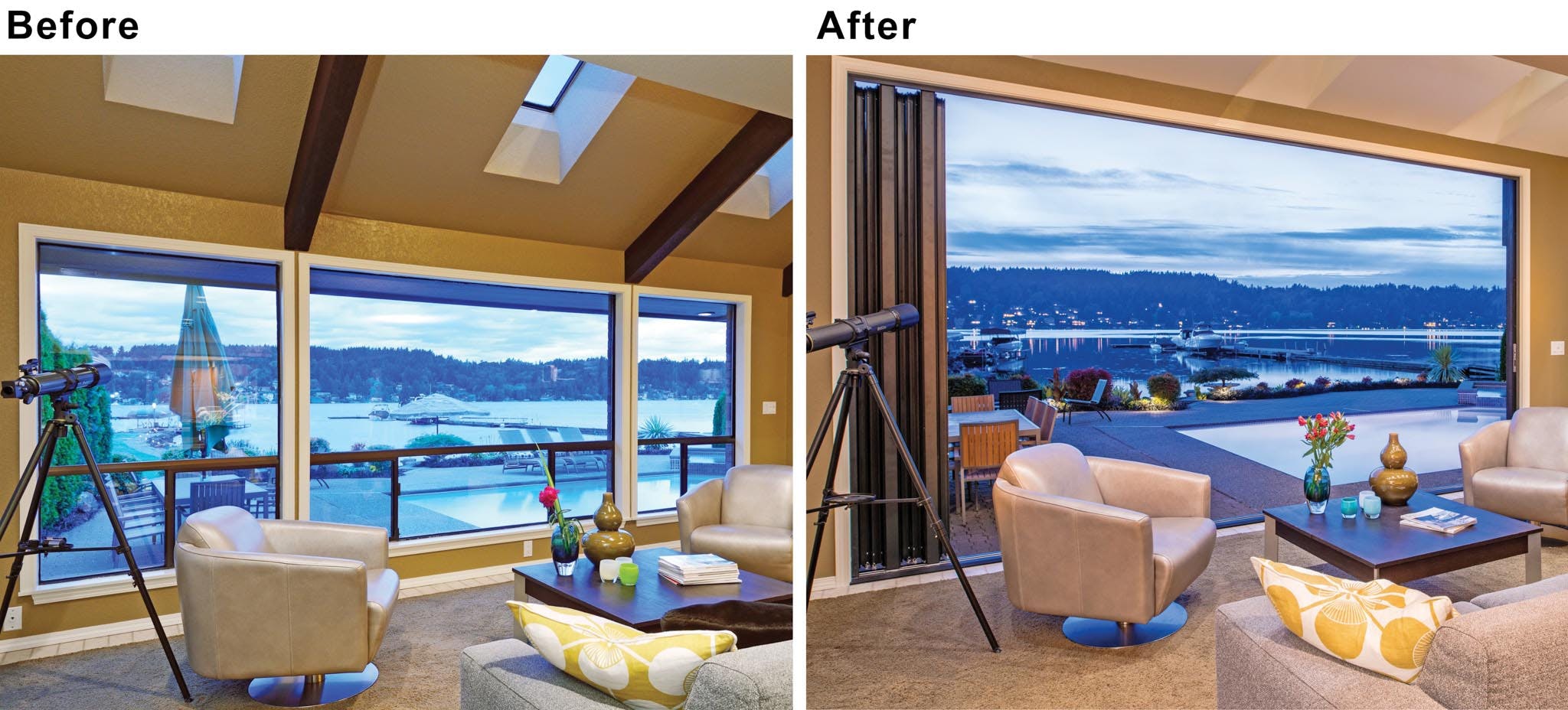 Views to Lake Washington are perfectly framed by a NanaWall SL70 moving door system in this Renton home living room remodel. Compared to the large static windows that previously took over one of the walls of this living room, the opening glass wall offers a barrier-free transition to the backyard. Built with performance in mind and as an NFRC certified product, the NanaWall SL70 offers comfort in cold climates and excels in wind driven rain—virtually suitable for any location.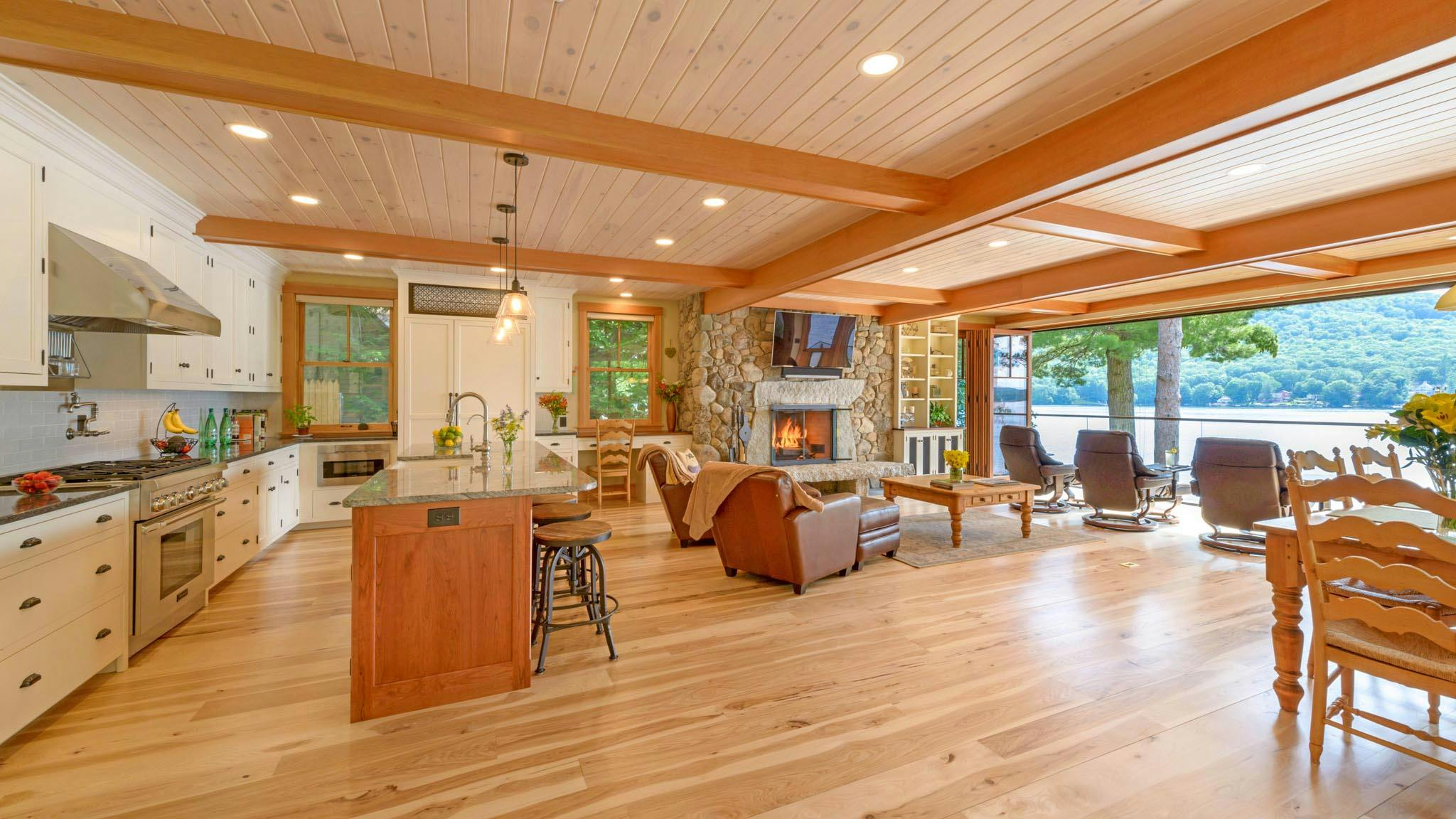 The timeless beauty of wood perfectly blends with the natural surroundings of Pinecliff residence. Boasting immaculate open concept design, a solid wood NanaWall WD66 connects to the wooded interior features of the home while transitioning the space to the outdoor environment with ease. Independently tested for air and water penetration performance, WD66 was the perfect choice for this waterfront application.

Multiple NanaWall SL45 opening glass walls perfectly frame surreal ocean views just passed the infinity edge pool in this Rolling Hills residence. If the homeowner's goal was to take advantage of the home's location and completely open up the space to an outdoor oasis, then the goal was undoubtedly achieved. For enhanced performance, the NanaWall SL45 has been independently tested for air and water penetration resistance, achieving NFRC certification.
Not-so-Wide Opening Glass Walls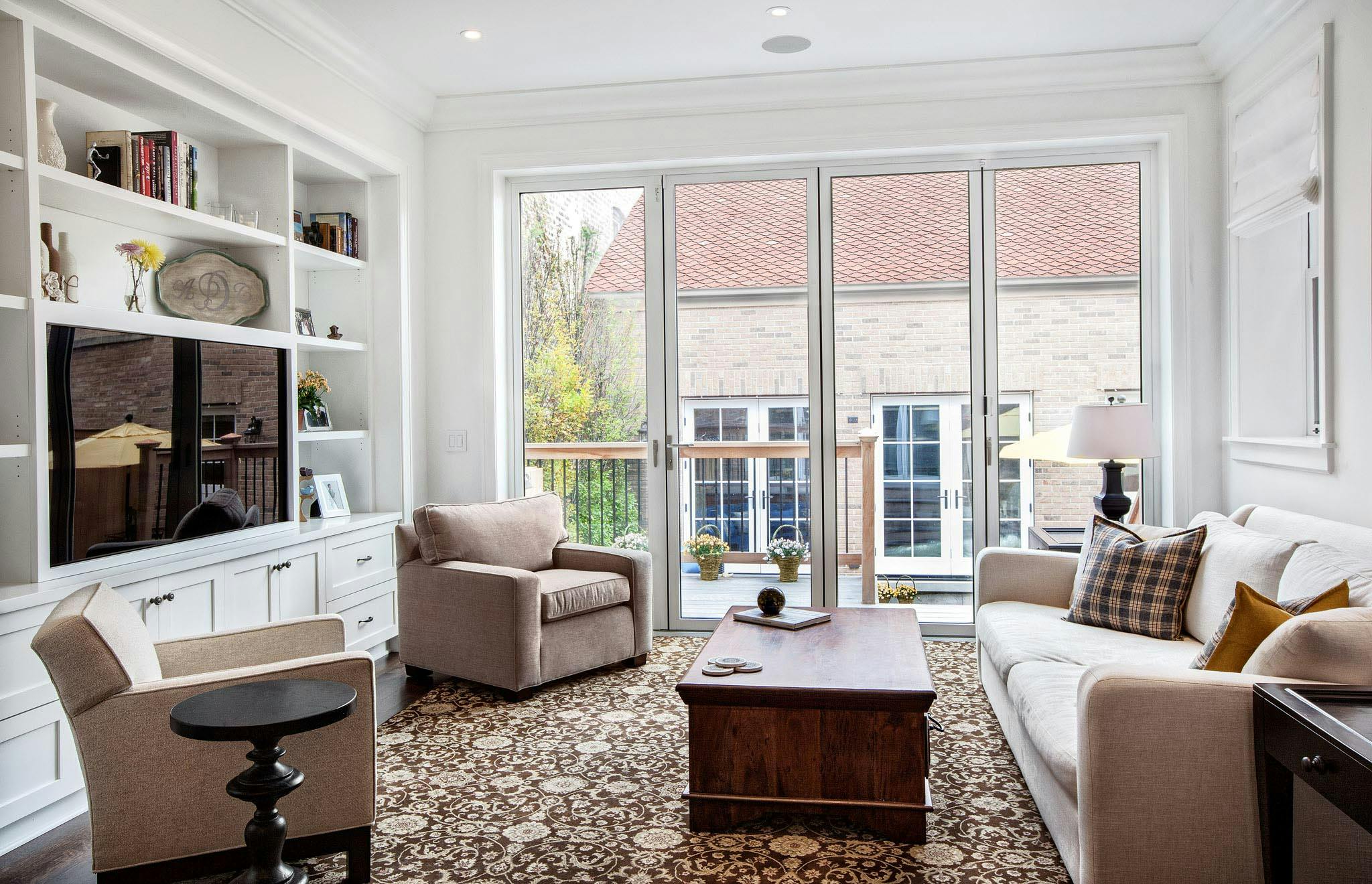 Not-so-wide moving door systems can still significantly transform interior spaces and are perfect for a smaller scaled living room remodel. The traditional design of this Chicago Graystone home is reflected upon the powder coated white frames of the NanaWall SL60, a customizable feature for most NanaWall aluminum framed systems.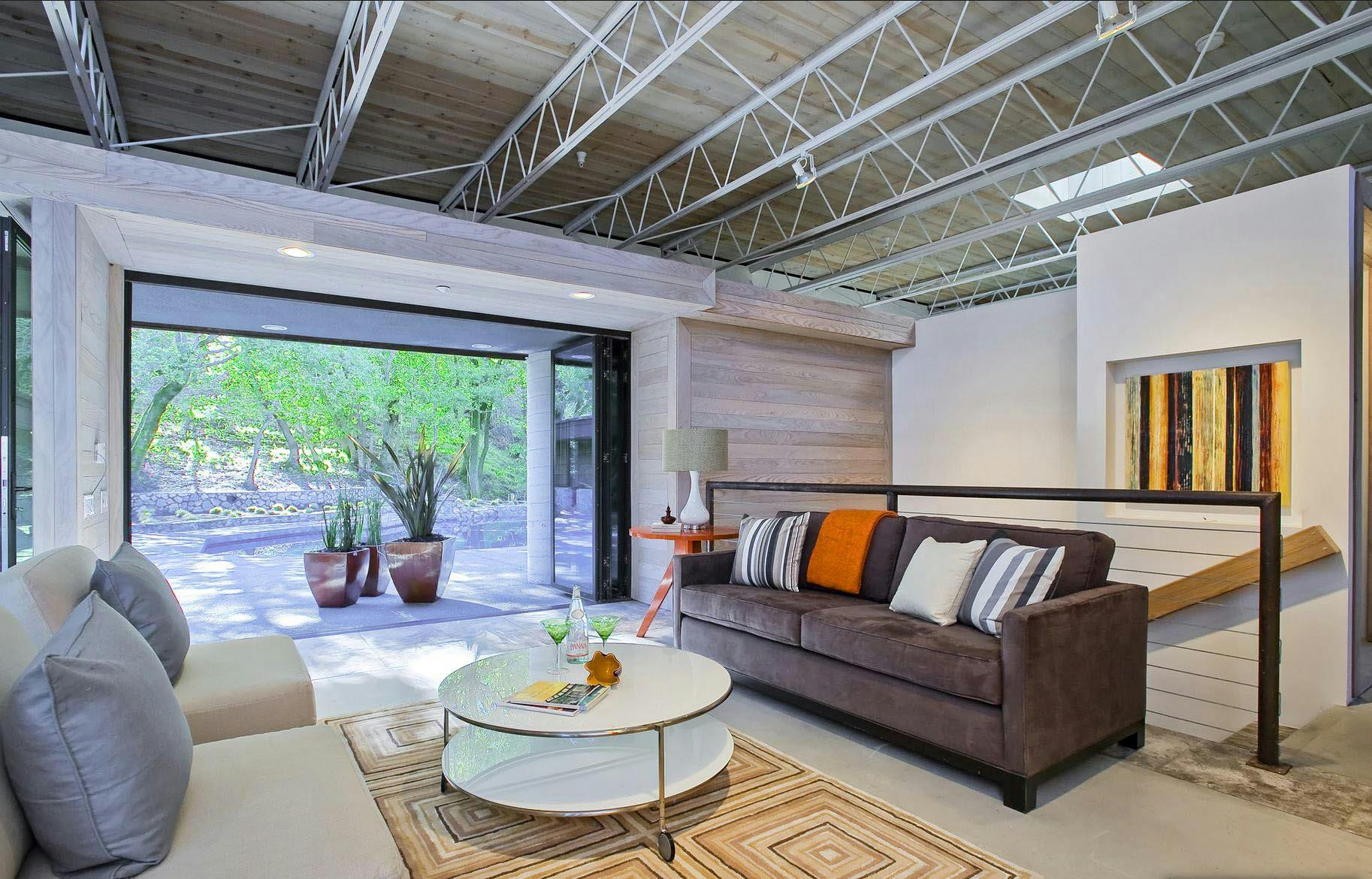 Industrial modern meets contemporary design in this San Rafael residence. The open concept living area further extends to the backyard with two large wall openings outfitted with NanaWall SL45 moving door systems. Offering utmost versatility, this narrow-framed folding glass wall system is capable of unlimited widths and specialty design options such as FoldFlat® technology and open corner configurations without the need of a meeting post.
Divided lites configured into two NanaWall NW Aluminum 840 systems perfectly match the black framed windows of this contemporary home. The two openings offer an unobstructed transition to an outdoor sitting area, perfect for entertaining or tranquil al fresco dining at home. Representing the next generation of innovative design, the NW Aluminum 840 features thinner frames, minimal sightlines and sleek appearance. This floor supported product can reach heights up to 11 feet 6 inches and offers the possibility of even wider opening with L/R FourFold and SixFold panel sets.
Staycation Worthy Homes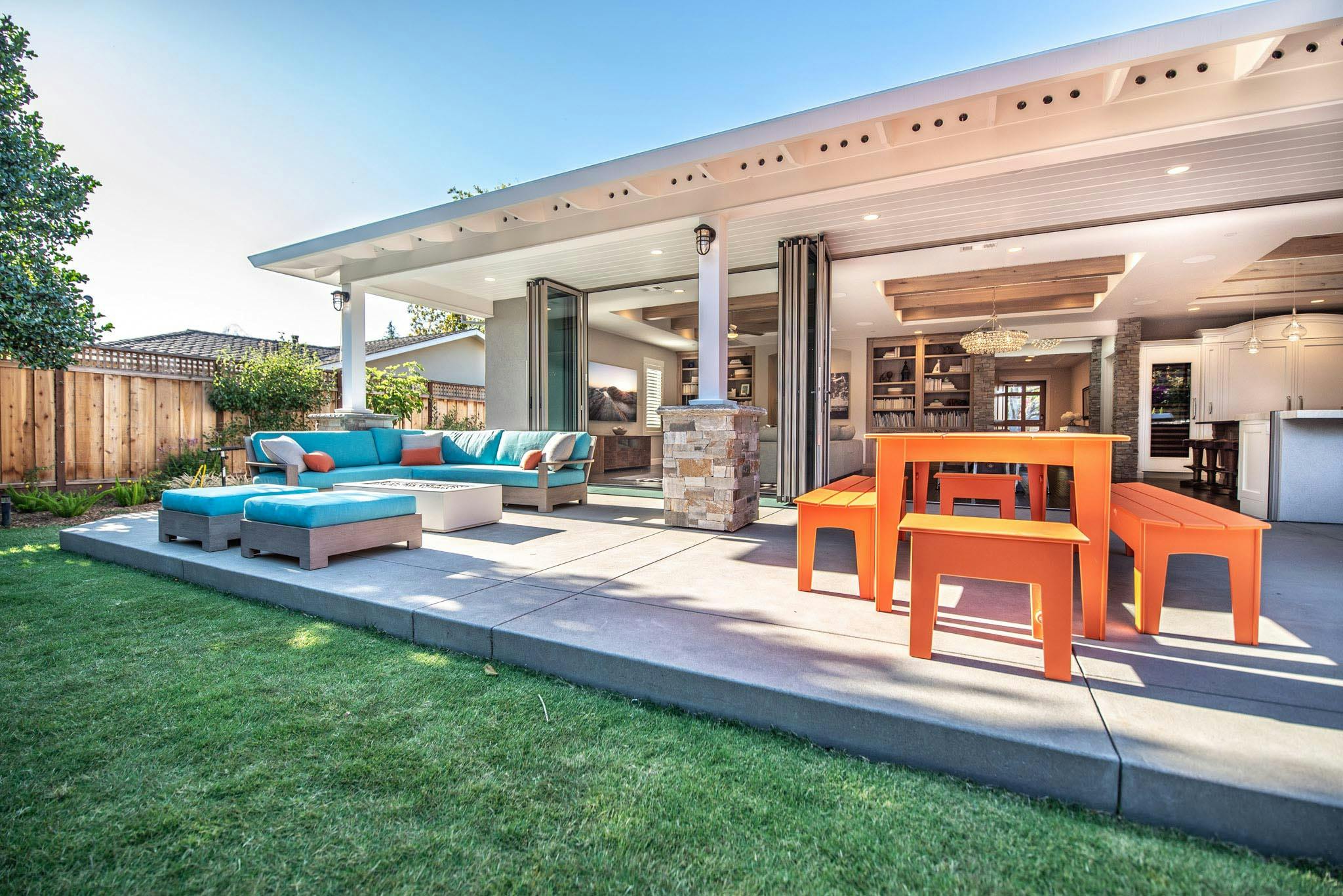 Increased sense of space. Check. Abundant daylight and fresh air. Check. Seamless transition to the backyard. Check. This ranch-style residence employs two NanaWall SL60 systems to achieve the ultimate objectives of every living room remodel by completely removing solid wall barriers from two of their most utilized living spaces—the living room and kitchen. A Kitchen Transition configuration facilitates a seamless transition from the kitchen to the outdoors mimicking an outdoor kitchen atmosphere and facilitating al fresco entertaining.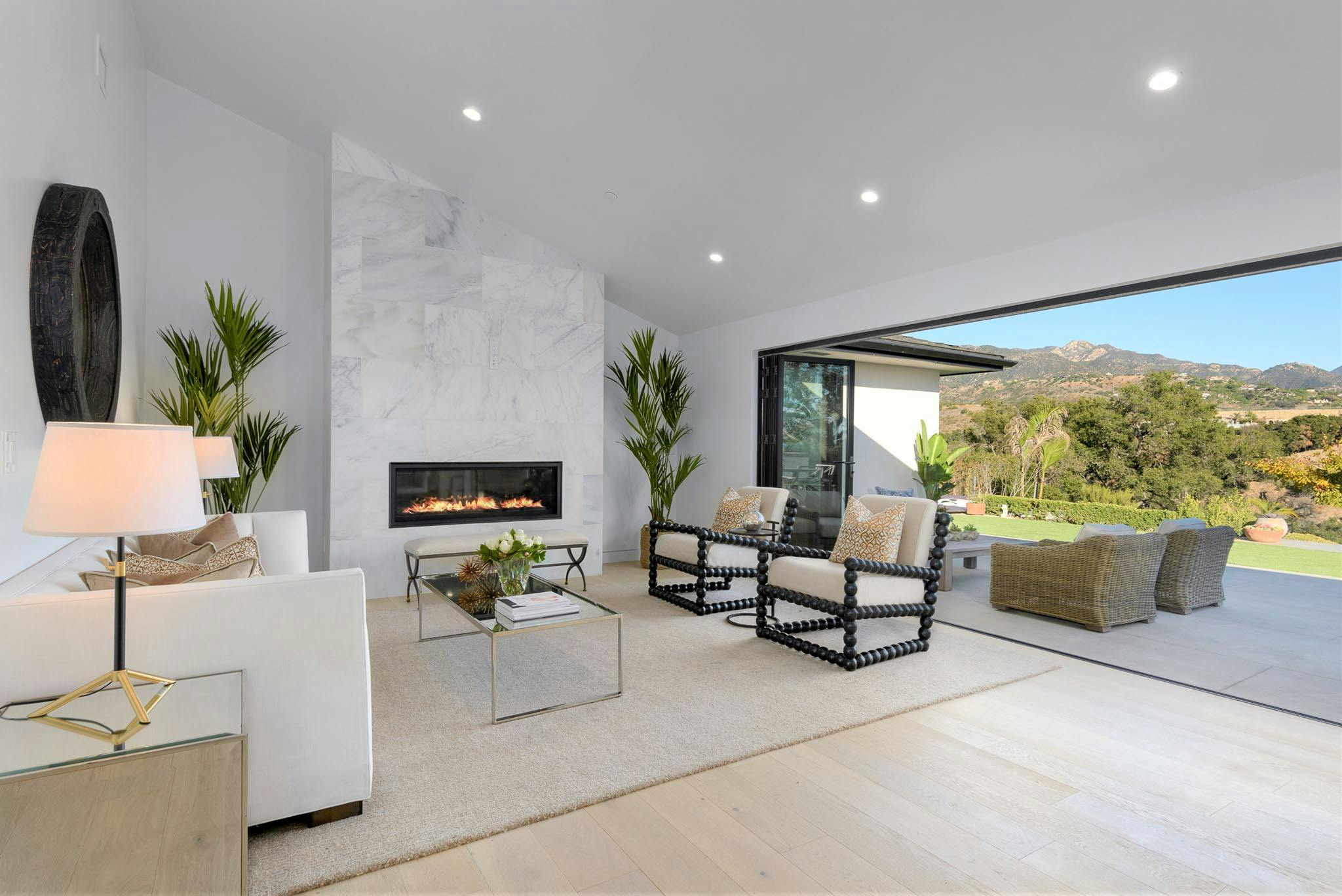 Rivaling a resort-like experience, this Santa Barbara living room boasts multiple glass wall openings that effortlessly transitions interiors to outdoor recreation. The vaulted ceilings and contemporary fireplace deliver modernized design features to this ranch-styled home, but nothing rivals the view provided through the NanaWall SL45. For utmost comfort, SL45 also offers sound control solutions reaching up to STC 35—achieving the ultimate staycation experience could not get easier than this.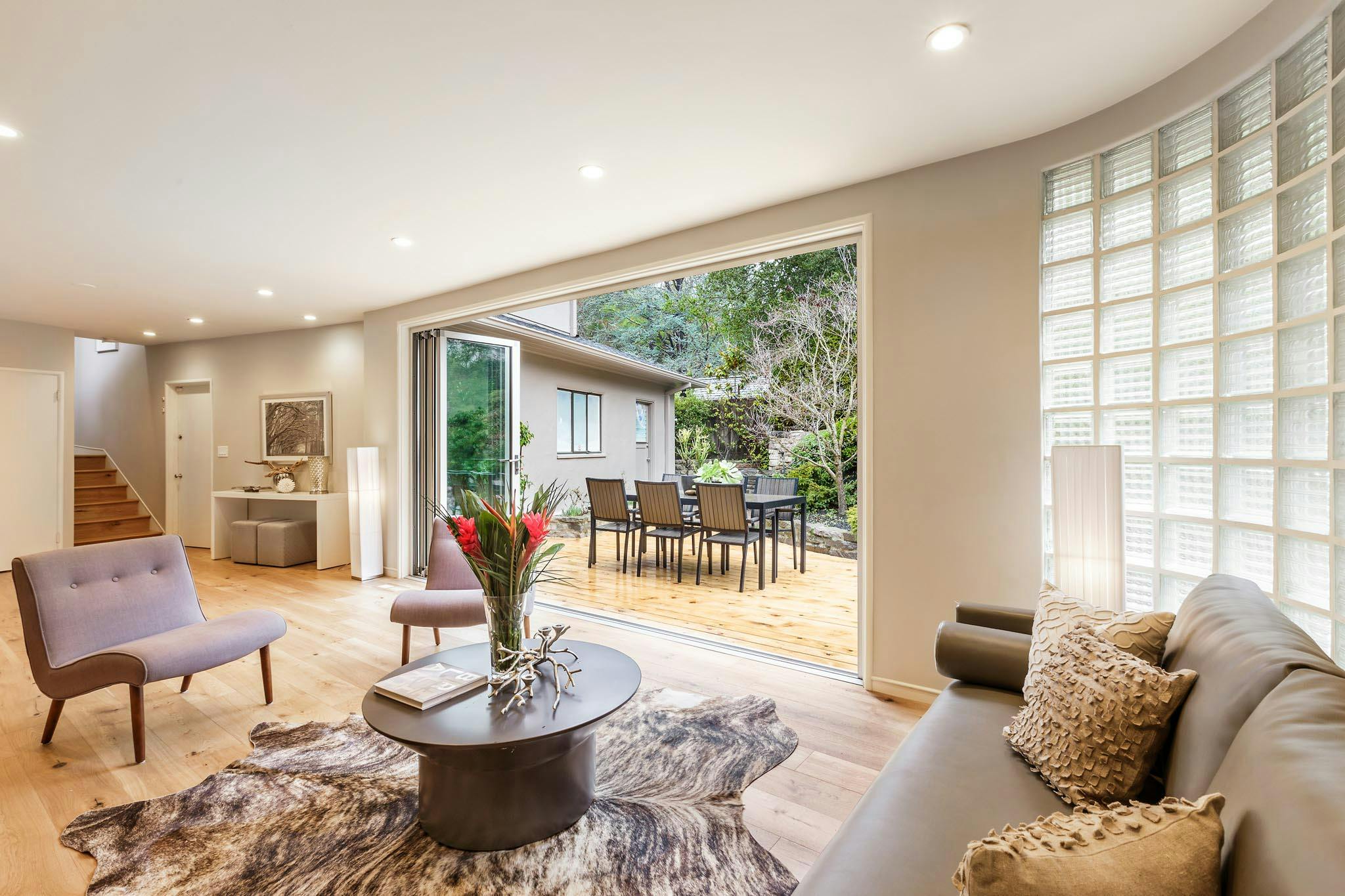 This NanaWall SL60 application facilitates the transition between an interior living area to an exterior one, achieving the ultimate objective of increasing the available residential space of this contemporary home. The room is immediately infused with natural light and fresh air where interior lounging meets exterior relaxation.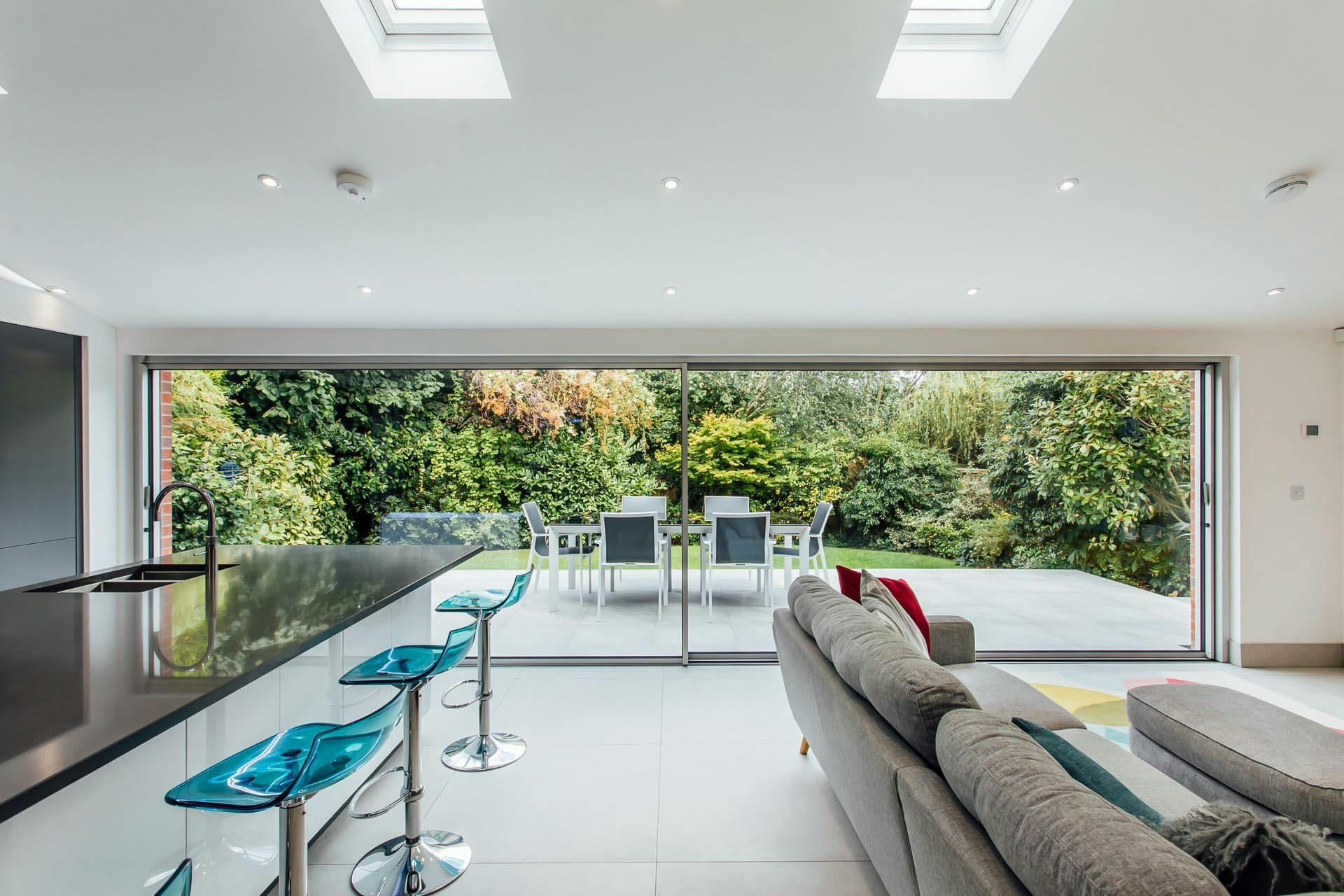 Architectural minimalism at its best. cero® by NanaWall offers minimally framed panels in larger sizes as exhibited by this perfectly illuminated open concept living area. The once traditional home was transformed into a modern haven with a floor-to-ceiling sliding glass wall that seamlessly blends the serene environment of an outdoor seating area with the interior living space—the perfect space to entertain guests or enjoy a quiet afternoon.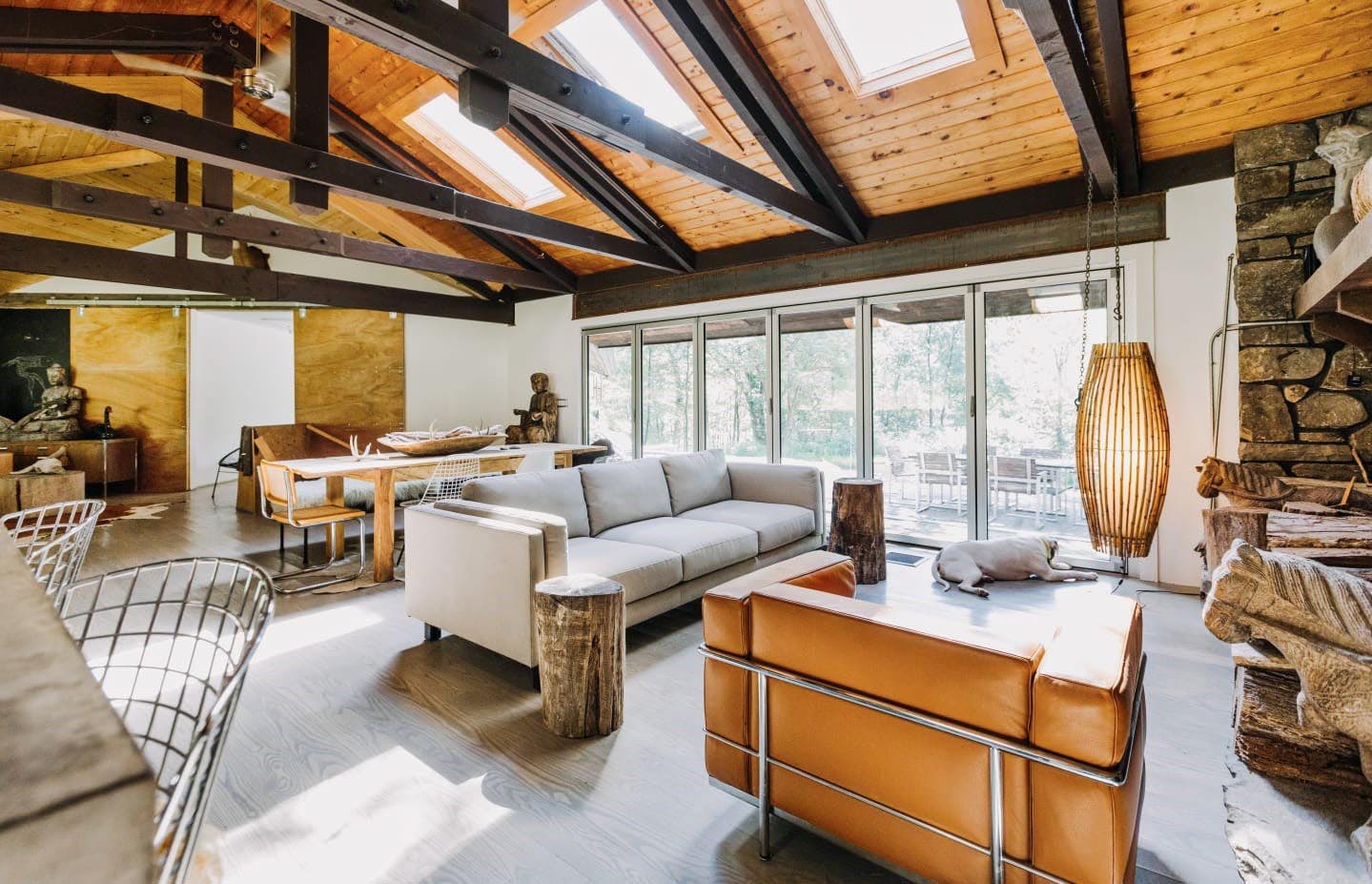 Image credit:Carina Romano/Apartment Therapy
After moving from the urban city of Manhattan to the green mountains of Poconos Pennsylvania, one of the main goals of this homeowner was to bring the outdoors in. Staying true to the mid-century modern design of the home, multiple floor-to-ceiling NanaWall SL60 opening glass walls were installed throughout the residence, facilitating a seamless transition into the outdoors, abundant daylight, and fresh air.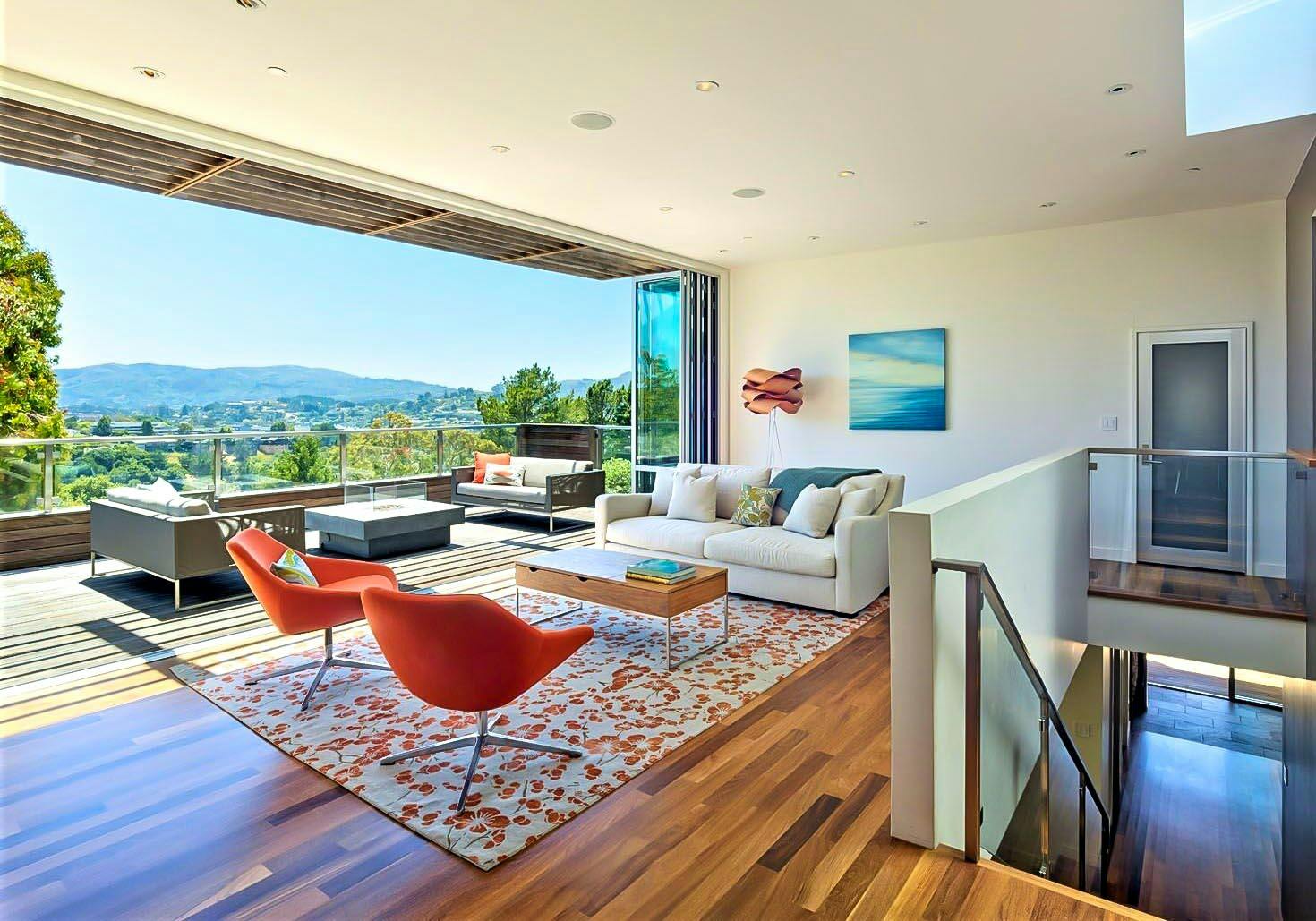 The small traditional French doors that were once utilized to access the deck at Tower Bridge home were replaced with a wide bifold NanaWall SL60 door that completely transforms the room into a view showpiece. This living room remodel seamlessly connects the exterior deck with the interior area, immediately increasing the residential space available to stunning mountain views, whether it be open or closed.
Final Thoughts
Think you've got enough inspiration for your next living room remodel? We certainly do. As renovation projects aim to improve homes in a variety of ways, NanaWall opening glass walls offer long-lasting solutions for homeowners seeking to increase the available space within one of the most utilized spaces in our home—the living room. There is a NanaWall system for every environment, project size, and aesthetic available that offer an array of benefits for residential renovations—not only by increasing space but by inviting the outdoors in alongside its array of health-improving contributions.
For more living room remodel design inspiration visit our extensive gallery of projects here!