Combining Folding and Sliding Glass Walls: 5 Ingenious Project Examples
By NanaWall Systems, June 12, 2023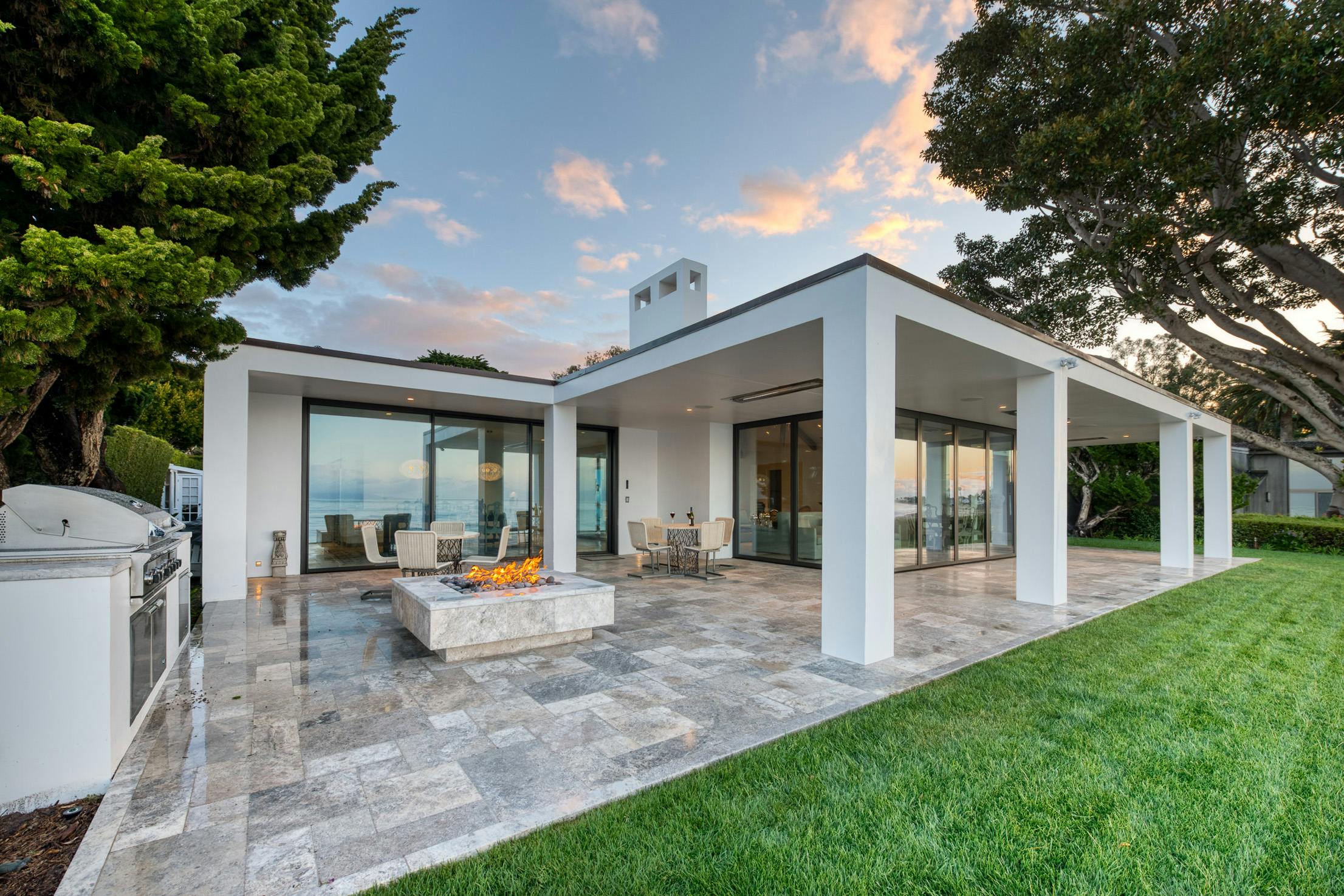 Are you torn between folding and sliding glass walls for your upcoming project? Why limit yourself to one when you can incorporate both opening glass walls? These floor-to-ceiling operable systems are notorious for maximizing the functionality of living spaces. When folding and sliding are combined, the possibilities are endless. It all comes down to your space needs—whereas the kitchen may enjoy the conventionality of folding and sliding glass walls, the living room might benefit from the adaptability of their folding counterparts. Each system can be customized to the same specifications and aesthetics, from thermal efficiency to frame color. So, why not enjoy the best of both worlds? Let's take a closer look at each category.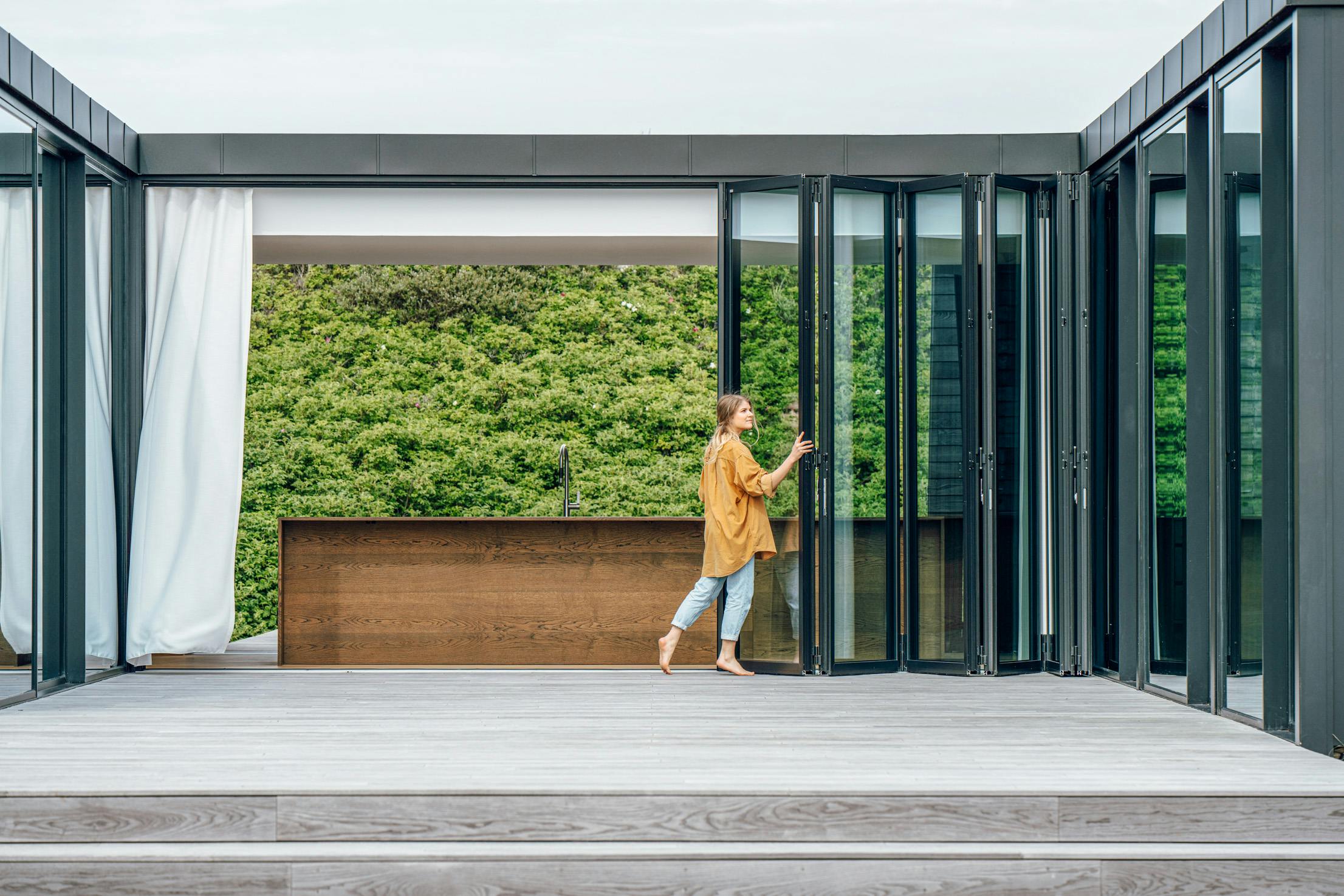 Multifunctional Folding Glass Walls
Throughout the years, the folding glass wall category has been perfected by NanaWall innovation after innovation. Designed with optimal functionality in mind, these systems are capable of inswing or outswing configuration depending on space availability and they can be customized with swing doors for quick indoor/outdoor transitions. More recently, NanaWall has re-imagined the category once again with Generation 4 Folding Glass Walls. This design-forward product family features the thinnest frames and smoothest operation available. In addition, FourFold and SixFold panel sets allow panels to stack to the left, right, or center of the opening for enhanced space control and operation. Not to mention each NanaWall system has been independently tested for air, water, structural, forced entry, and sound control with excellent results—including sliding glass systems.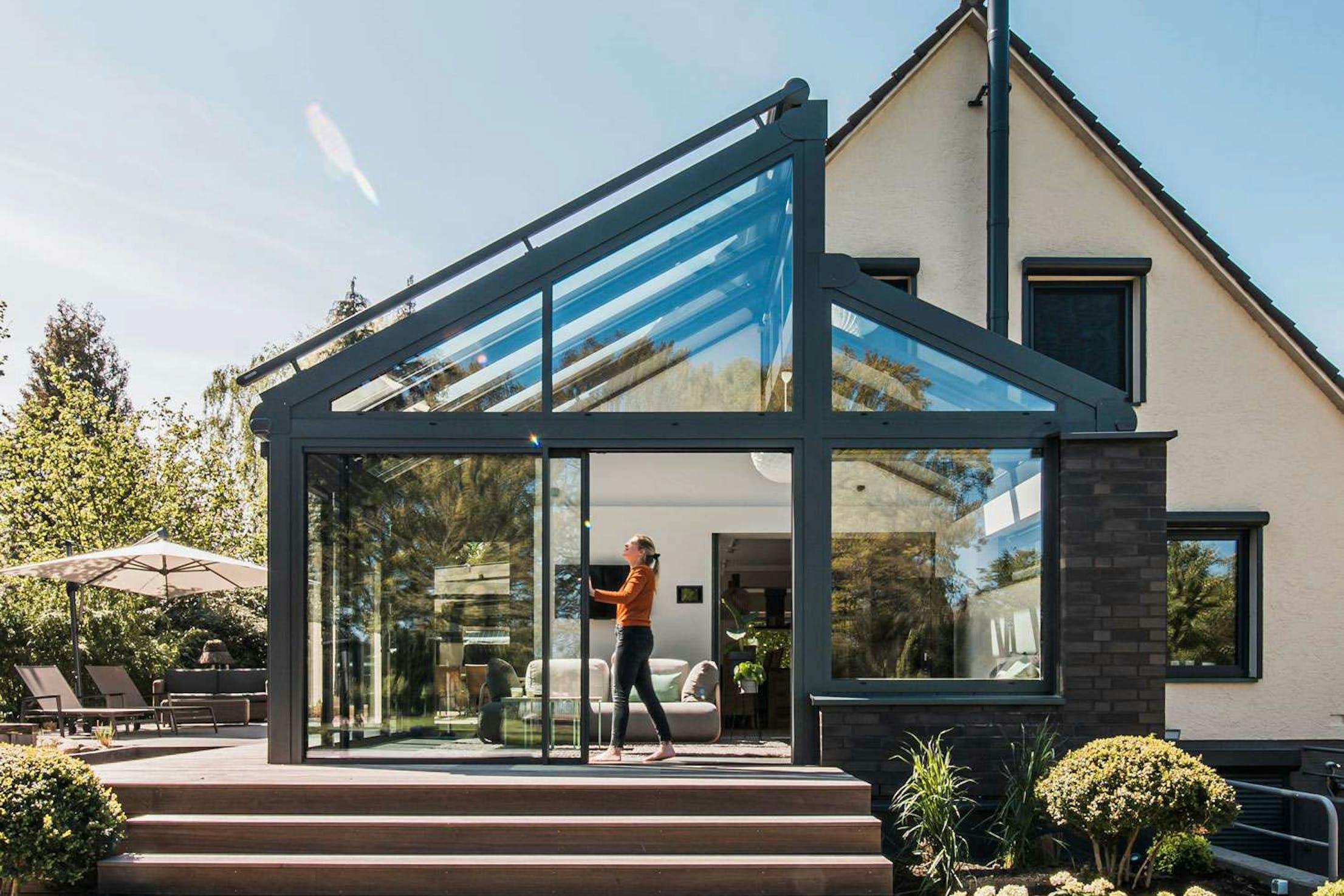 Design-Forward Sliding Glass Walls
As an ideal alternative to the traditional patio door, NanaWall opening glass walls enhance living spaces with contemporary design elements and space functionality. Much like their folding counterparts, these systems can be customized with aluminum, wood frames, and frameless depending on aesthetics. Innovative panels can be individually moved, even around corners and curved tracks, into specified stacks with ease. In addition to single track sliding systems, NanaWall also offers the largest glass panels available with cero®, a floor-to-ceiling glass wall that conveys the best of minimalist design. Despite their large size, these minimal sliding glass walls glide with ease with an innovative stainless steel roller system. Talk about the next-level patio door alternative.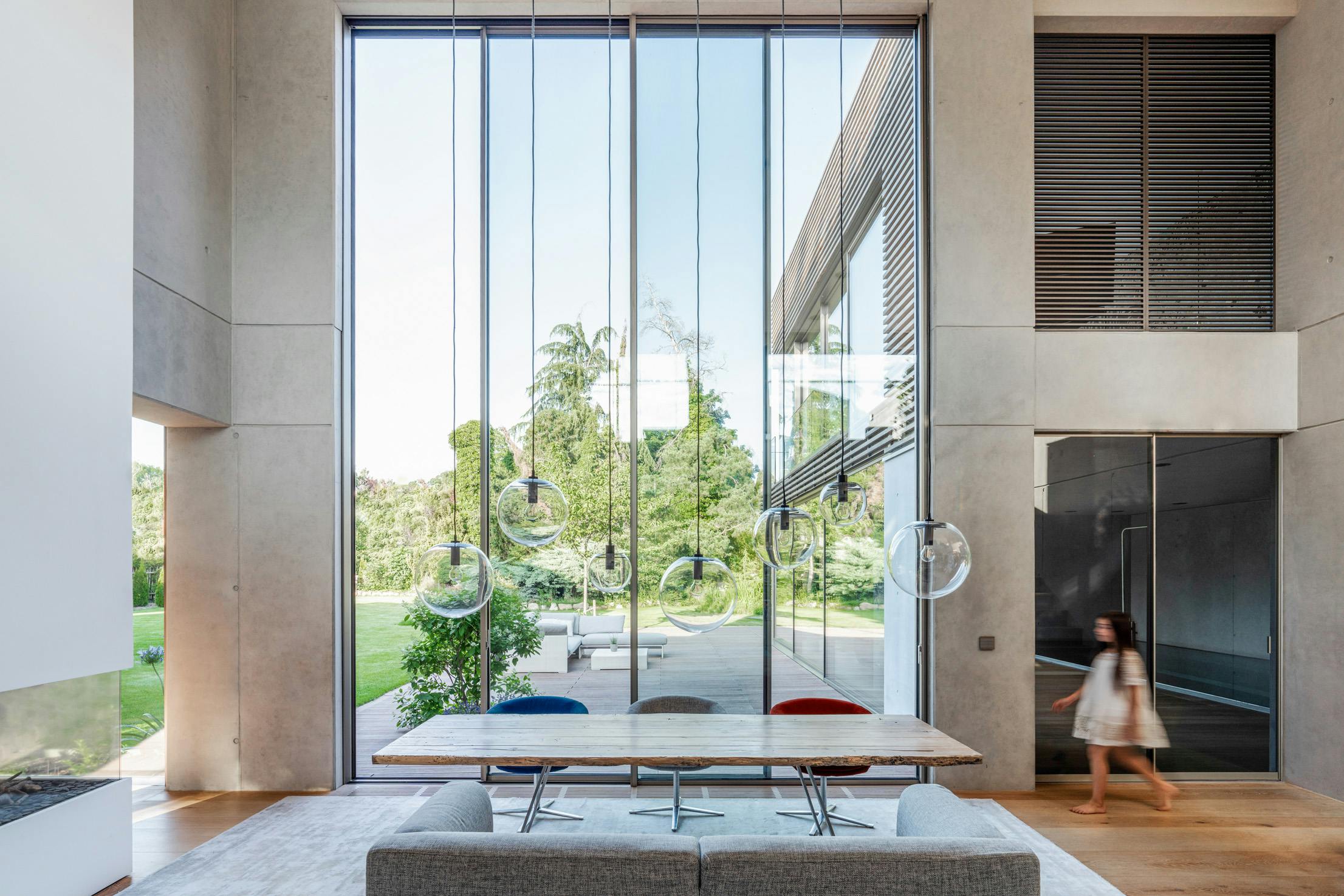 The Benefit of Folding and Sliding Glass Walls in Contemporary Design
Embracing our connection to the natural environment has become so mainstream that nearly every 21st century design seeks to implement the coveted indoor/outdoor experience. However, besides optimizing landscape views, daylight, and fresh air ventilation, these systems also maximize space and overall functionality. Depending on the system, panels can be fully or partially opened at any time of day with ease of operation. Compared to traditional doors, NanaWall opening glass walls are engineered with long-lasting durability and performance, but without sacrificing sleek aesthetics and smooth operability. These five projects will show you how.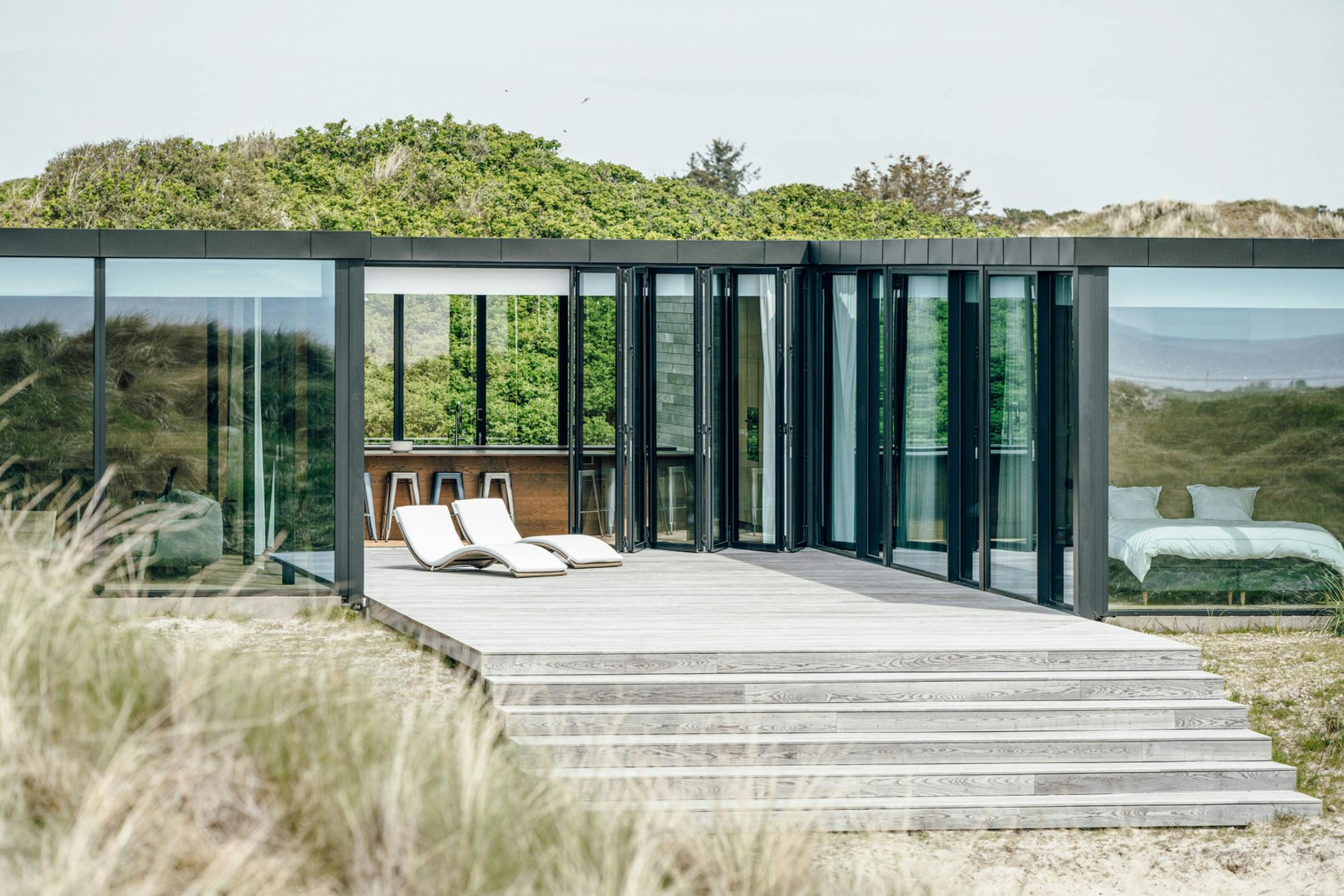 1. A Peaceful Retreat by the Sea
This serene vacation getaway is nestled within coastal flora and sand dunes, perfectly embodying an immersive, all-glass exterior. Designed with large family gatherings in mind, the home employs a minimalist and open design to optimize views and square footage. All primary living spaces seamlessly connect to an expansive wooden deck through the strategic utilization of a combination of Generation 4 NW Aluminum 840 folding glass walls and cero minimal sliding glass walls. Generation 4 offers effortless operation and withstands the harshest of coastal conditions. In contrast, cero's minimal sliding glass wall system exemplifies architectural minimalism, with ultra-thin lines and maximum light-filled spaces. Together, these systems offer a dynamic, weather-resistant solution, complementing the home's modern aesthetics.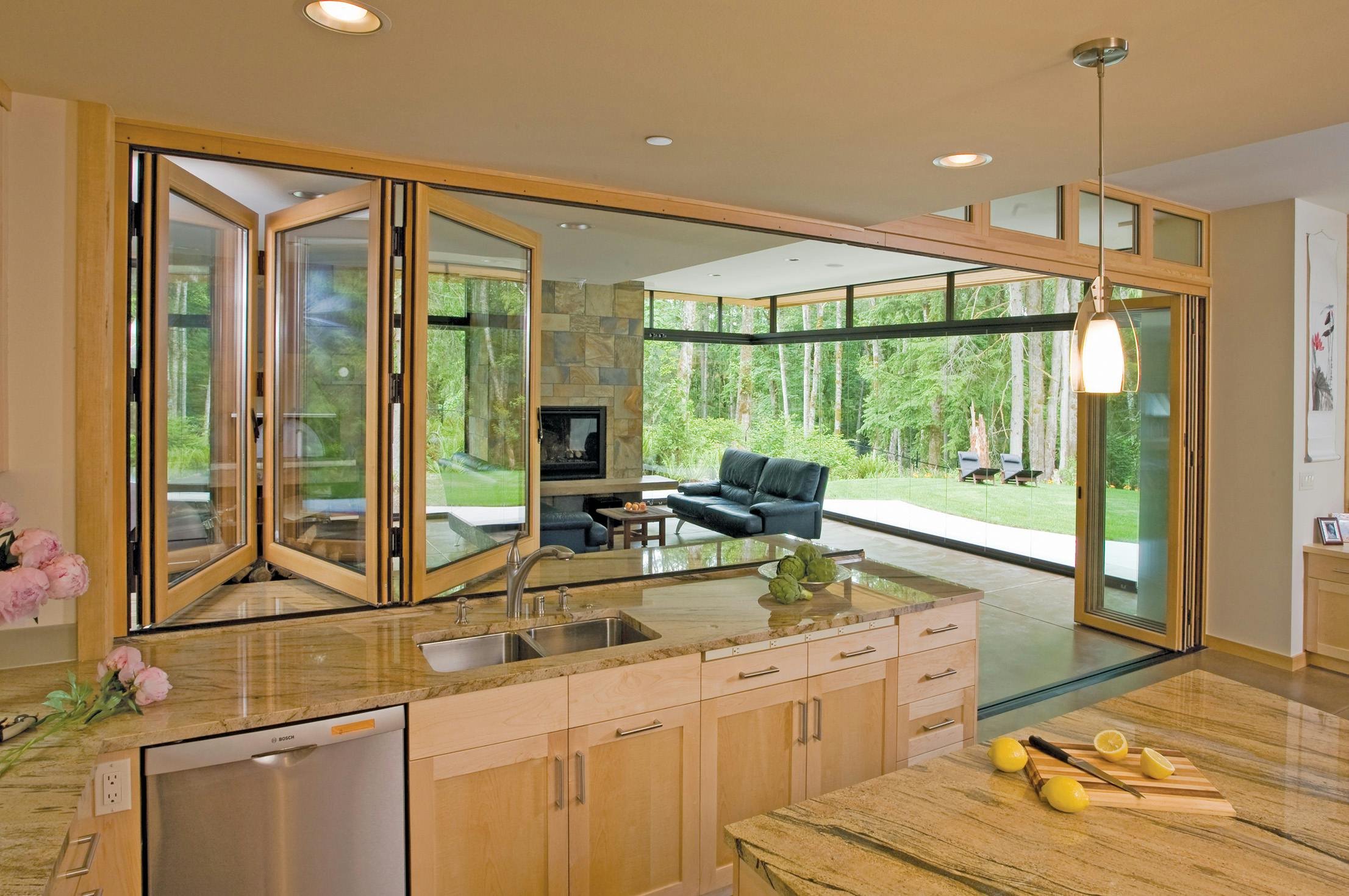 2. Aluminum and Wood Profiles for Contrasting Aesthetics
Talk about leveraging the best of both worlds. At this contemporary home surrounded by luscious woodland, the homeowners' architect specified a wood framed window door combination folding glass wall in the kitchen and a Frameless Glass Wall in the family room. The WD65 offers flexibility with its capability of inward and outward opening panels, enhancing the indoor/outdoor connection. The Frameless Glass Wall, on the other hand, contributes to a visual glass box effect in the family room, ensuring uninterrupted views and maximum natural light. These opening glass walls together create a seamless flow from the kitchen to the outdoors, eliminating any unwanted cooking odors and filling the space with fresh air ventilation. No unwanted cooking odors here!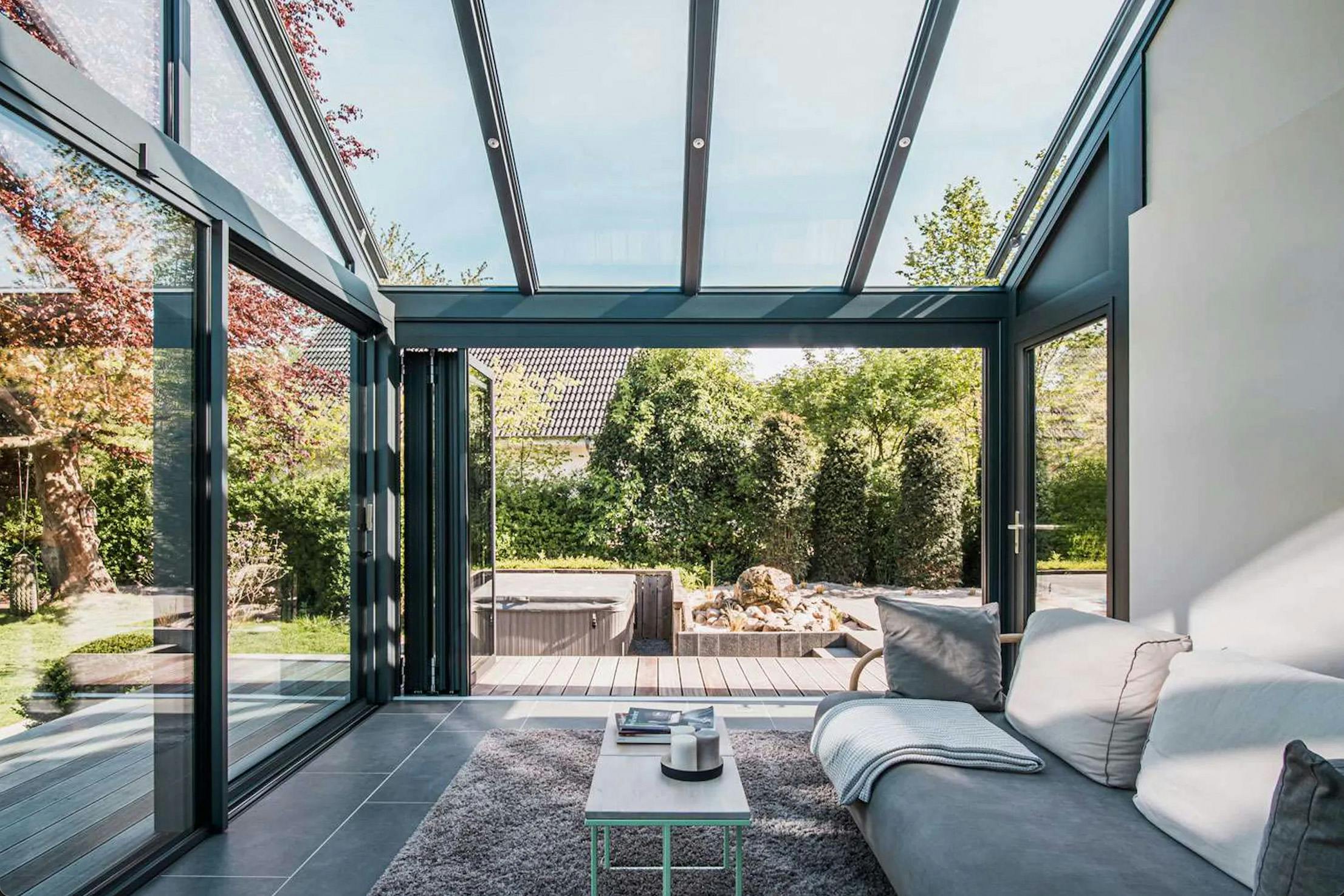 3. Year-Round Sunroom for Outdoor Living
What better way to enjoy the changing seasons than from the comfort of a cozy sunroom. This beautifully designed "glass room" doubles as a multifunctional living space throughout the year thanks to the specified use of Generation 4 Folding Glass Walls and cero Minimal Sliding Glass Walls. Known for their field-tested durability and sleek aesthetics, these folding and sliding glass walls offer effortless operation and maximized light-filled spaces. All systems give access to an expansive wrap-around deck, seamlessly expanding the available square footage. Energy-efficient glass ensures the interior remains comfortable even in the worst weather extremes, creating four-season functionality. The sunroom can double as a work-from-home office, yoga room, and even dining room. What would you use it for?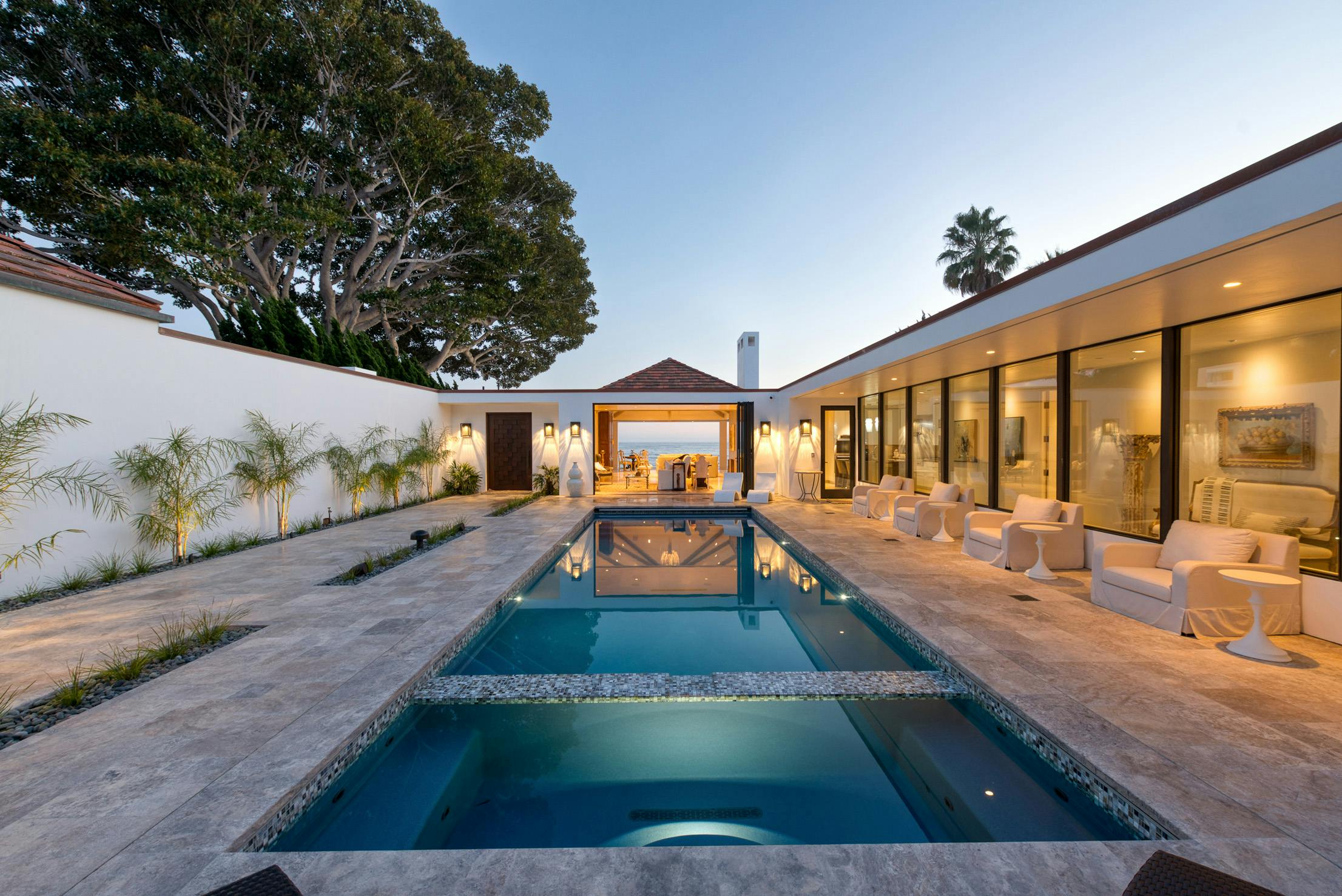 4. Santa Barbara Oceanside Getaway
This formerly outdated beachfront home has been transformed into the ultimate luxury getaway, thanks to the strategic use of all-season folding and sliding glass walls. The U-shaped residence wraps around a central courtyard, highlighted by an Olympic-sized pool. These floor-to-ceiling cero minimal sliding glass walls enhance the poolside view, showcasing architectural minimalism with clean, uniform lines for light-filled spaces. In the ocean-facing living areas, the folding glass wall extends panoramas and amplifies the immersive seaside experience. Adding to its charm is the versatility of the HSW60 system, an advanced single track system, which allows unlimited door panels for design flexibility. No wonder this awe-striking residence won the NanaAward in 2021 for Best Residential Project. One can't help but admire the breathtaking ocean view from the pool when the folding and sliding glass walls are open!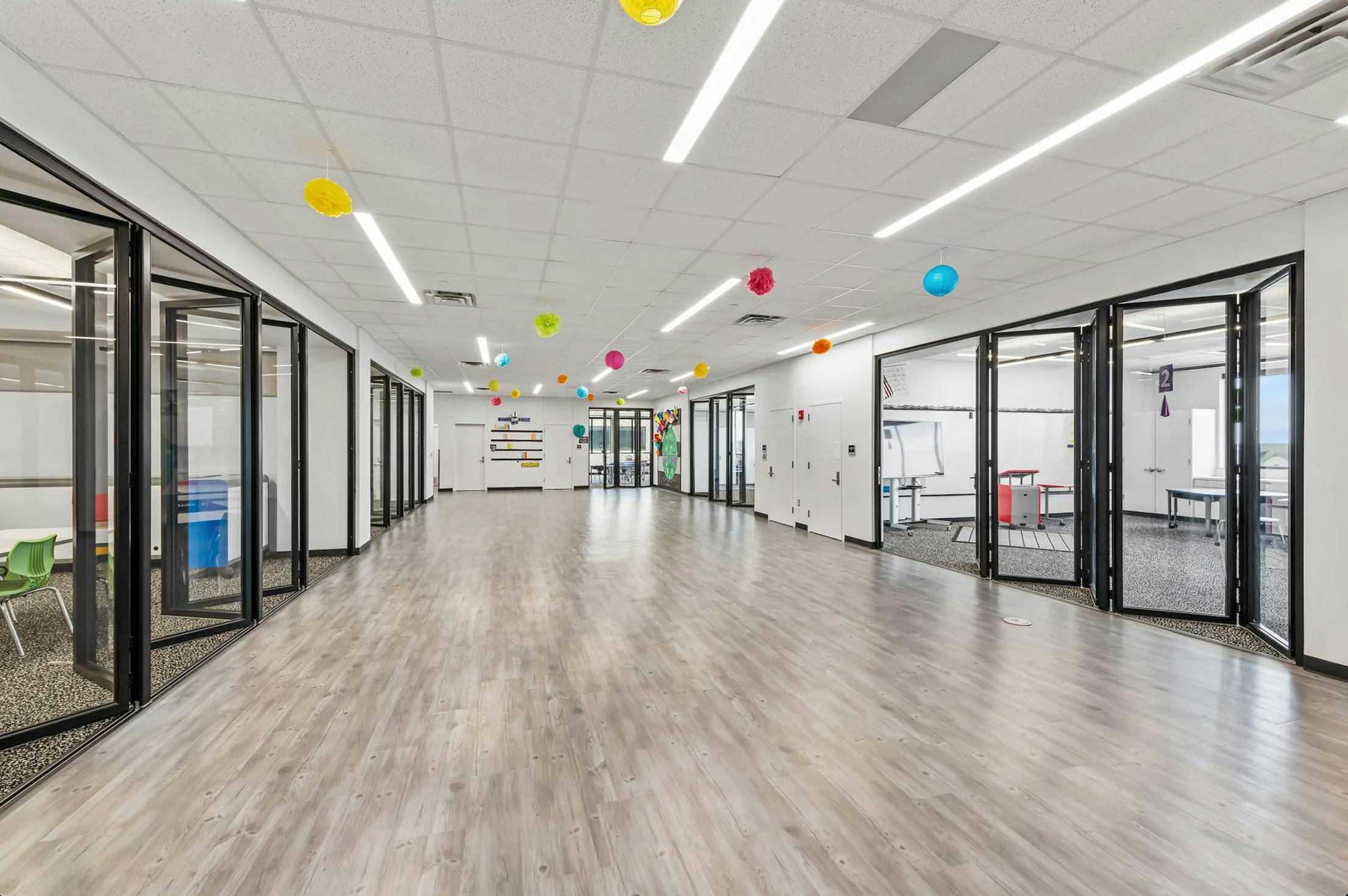 5. Bonus Project Mention: Lubbock Elementary School District
The art of combining folding and sliding glass walls can also be applied in commercial and educational spaces. The Lubbock Cooper Independent School District in Texas provides an excellent demonstration of how folding and sliding glass walls can revolutionize educational spaces. The SL70, aluminum framed folding glass walls designed specifically to meet architectural challenges, ae incorporated throughout the campuses. The SL70's floor supported, tall panel system excels in high traffic interior areas, making it ideal for dynamic learning spaces. Its design, including a vertical running post, ensures easy operation and long-term commercial use. At the Pre-K building, a unique four-corner sliding glass wall design, and advanced single track system, creates a central unifying learning "hub." The HSW60, featuring unlimited door panels and commercially rated swing doors, offers design flexibility, a critical factor in creating adaptable learning environments in the elementary school and high school. These systems are acoustically rated up to a unit STC of 42 to create the optimum educational environment. They are easy to operate and feature ADA-compliant sills, promoting safe and seamless transitions in and out of classrooms—a practical solution for teachers and students alike.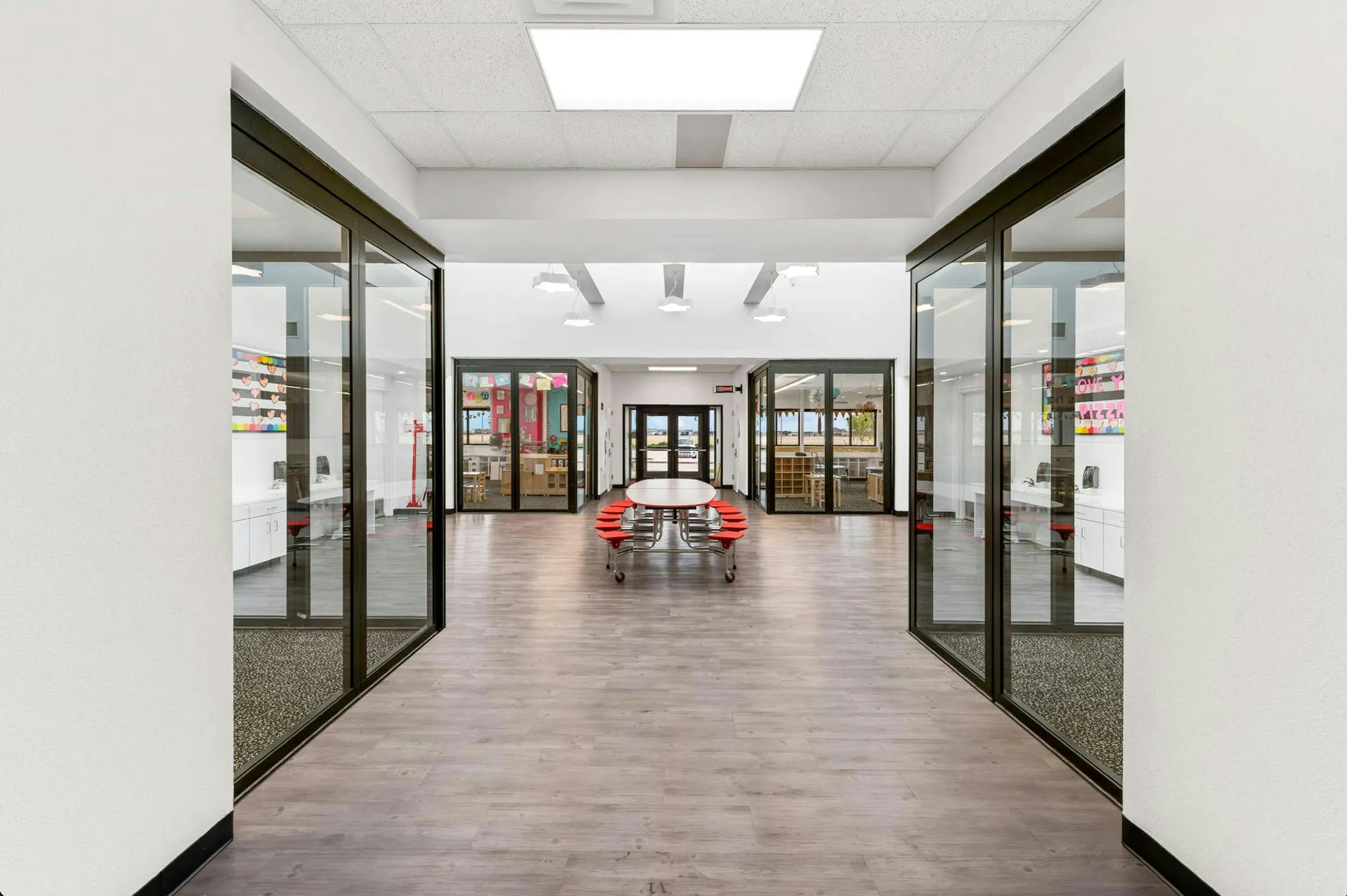 Final Thoughts
Take your renovation or new build project to the next level of functionality with an ideal combination of folding and sliding glass walls. These systems are fully configurable and can even be specified as interior door dividers for optimal, dynamic floorplans wherever needed. Built with durability and ease of operation in mind, these systems offer long-lasting performance in every environment. Customizable to the needs of every project, each system is tailor-made to match existing aesthetics and lifestyles. So, what room will you be renovating next?
Discover how other spaces leverage both folding and sliding glass walls in our extensive photo inspiration gallery!