Elevate Residential Rooftop Living with Innovative Folding and Sliding Glass Walls
By NanaWall Systems, October 4, 2023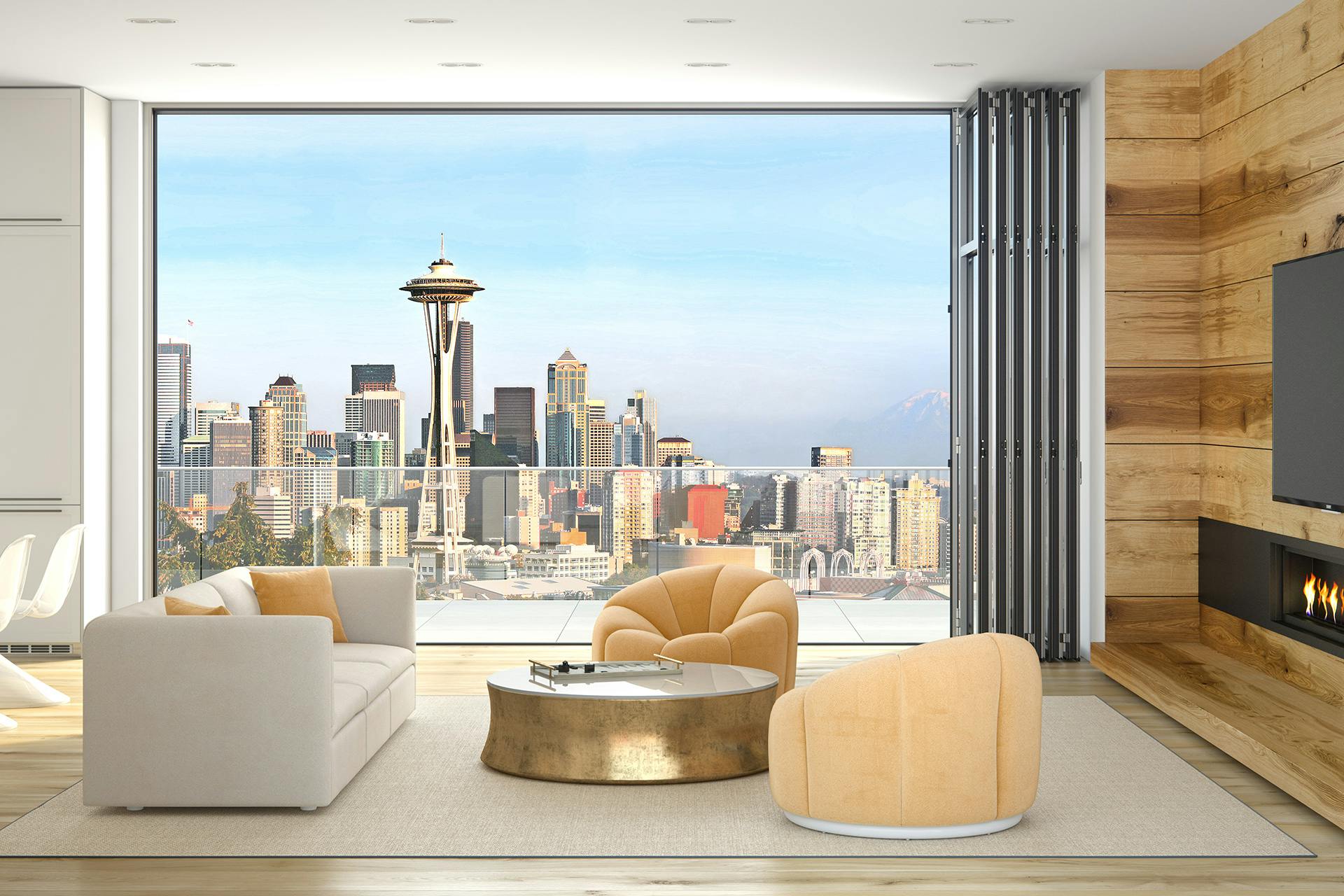 Discover how NanaWall systems are revolutionizing urban rooftop design, offering homeowners and residents unparalleled living experiences. With distinctive NanaWall products like Generation 4 systems and cero sliding walls, you're not just designing a rooftop—but rather crafting an elevated lifestyle. Here's how folding and sliding glass walls, specifically tailored for high-rise and multifamily rooftop designs, blend opulence with functionality. Whether you're an architect, a developer, or a homeowner, these advanced systems provide a transformative rooftop experience that redefines urban living. Residents can now enjoy the high-level performance and expansive vistas typically reserved for commercial rooftop spaces, thanks to innovative folding and sliding glass wall systems—equally suited for transforming residential rooftops and buildings.
Revolutionize Rooftop Design with Folding and Sliding Glass Walls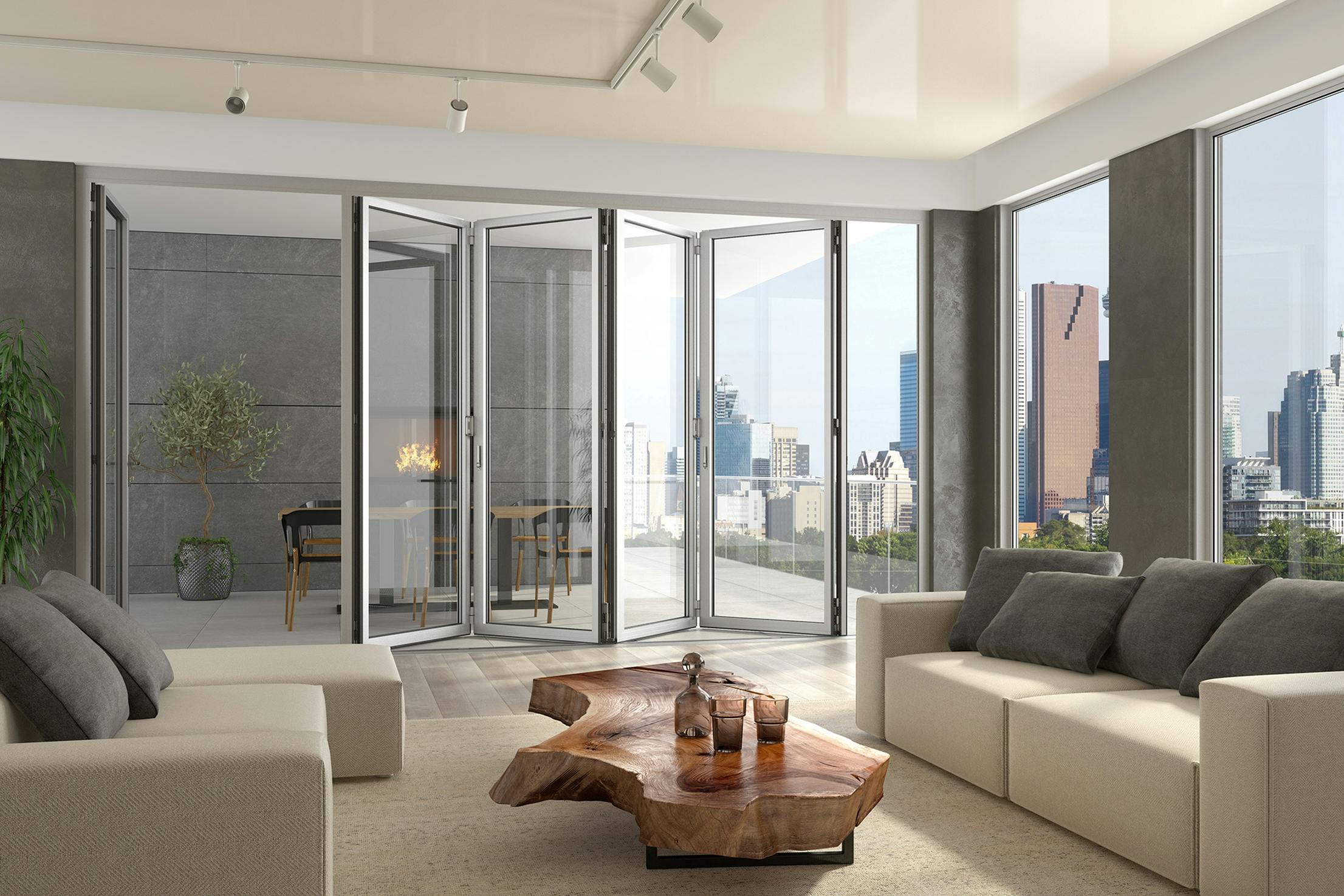 The Apex of Midrise, High-Rise, & Multifamily Design: Generation 4
Tailored for urban structures—be it multifamily, midrise, or high-rise— Generation 4 systems, are the very essence of modern spatial design. With features like a floating FourFold and SixFold panel set, the industry's trimmest frames, and both inswing or outswing configurations, these systems combine architectural genius with pragmatic space solutions. Beyond their remarkable adaptability to either stack left or right, these systems open up to 90% of usable space in any opening, offering maximum spatial efficiency and unlimited widths.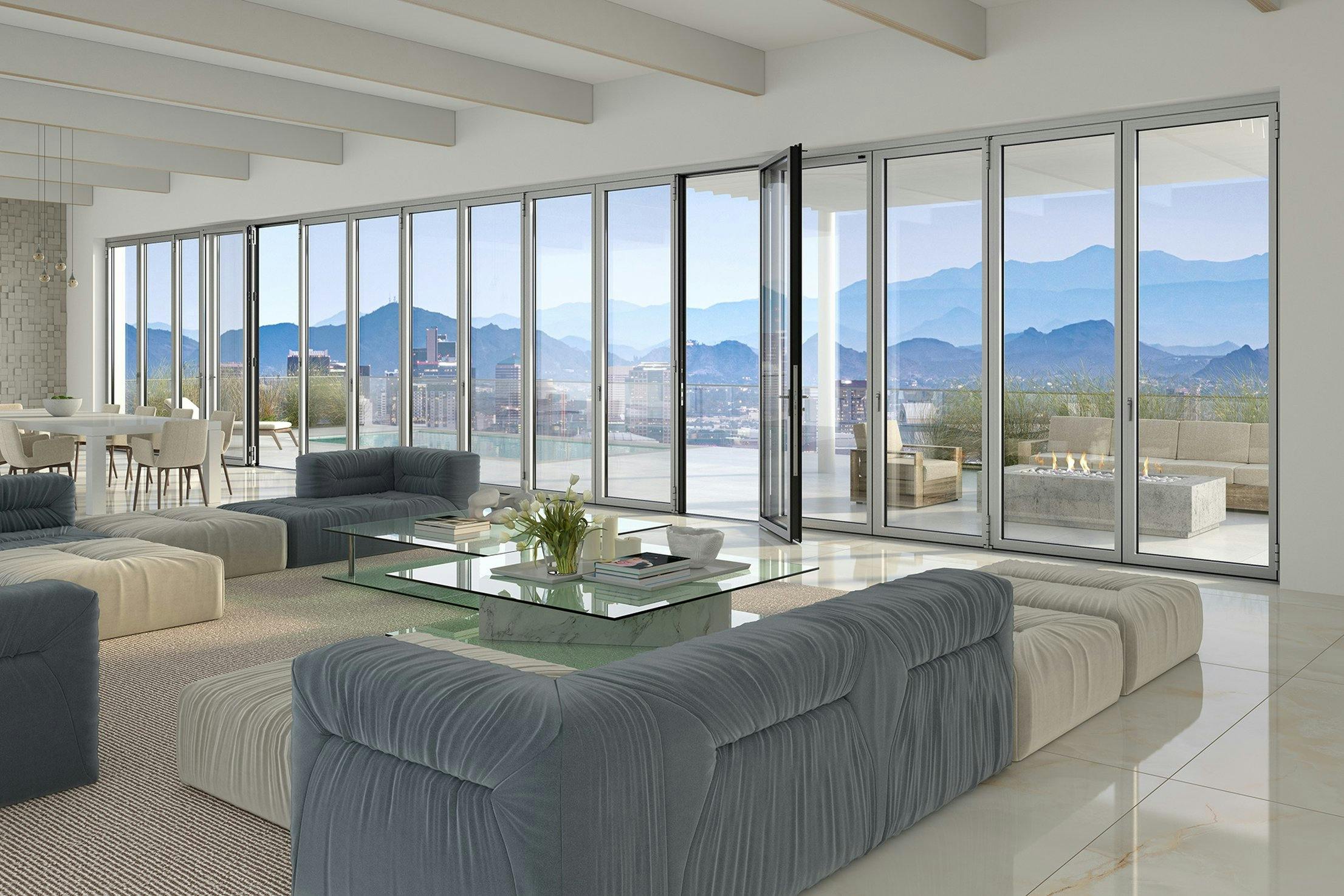 Reinforced Generation 4: Vertical Living with Peace of Mind
Distinctively, the NW Reinforced 647 and 847 stand out in their class, tailored for taller structures that demand higher windload resistance requirements and deflection limits—expanding possibilities for vertical living. For towering structures, these systems ensure durability, even amidst the most challenging urban conditions. Systems are independently and rigorously tested for air infiltration, water penetration, and structural load assuring they meet and exceed the demands even in the harshest urban environments.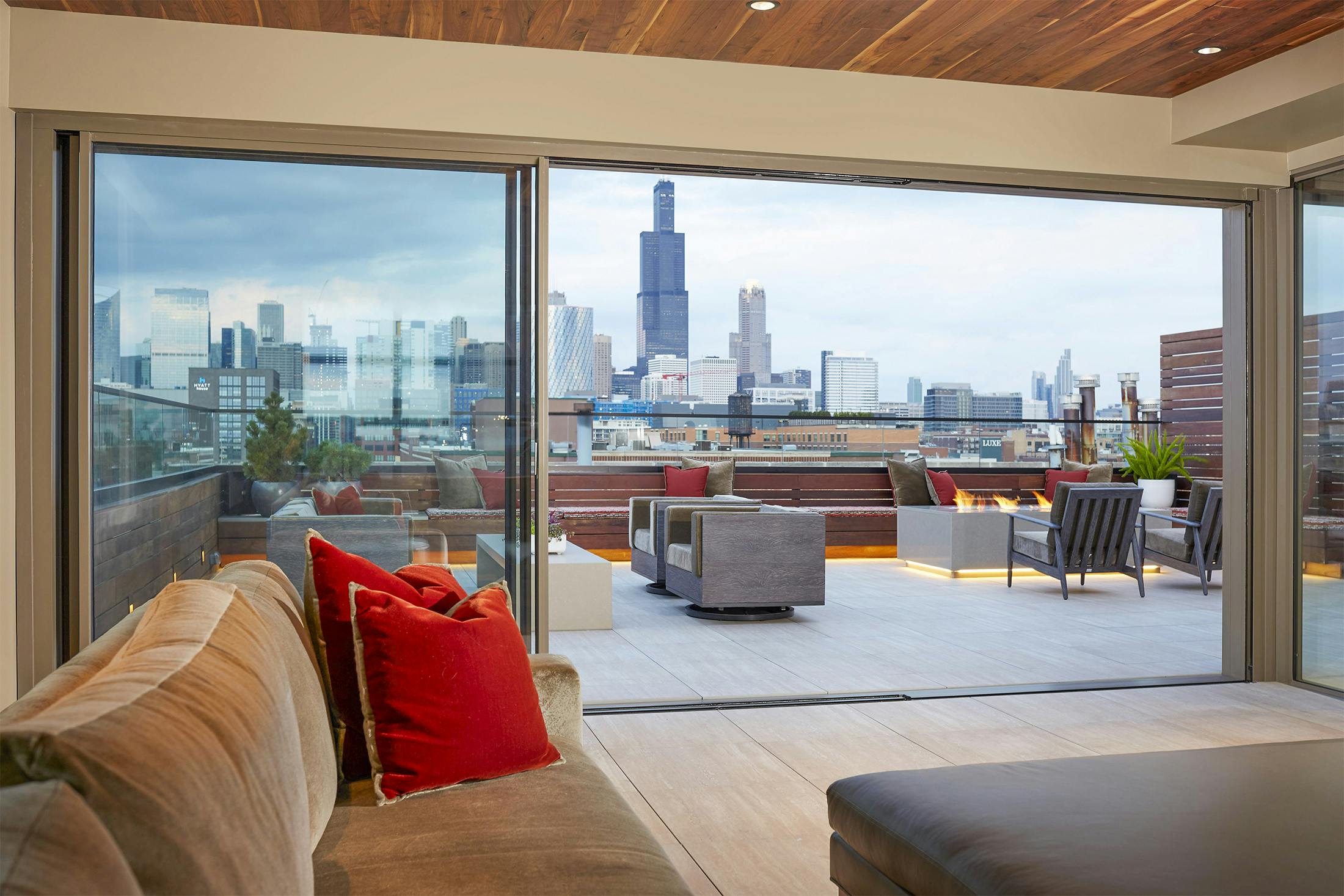 cero: The Pinnacle of Minimalist Luxury
With its slim, picture frame lines, large panel sizes, and minimal framing, cero minimal sliding walls redefine panoramic living. Cero minimal framed glass walls provide boundless vistas framed by ultra-thin lines and expansive glass panels—like this rooftop sanctuary in the heart of Chicago. With cero, you're not just adding a wall; you're expanding your horizons to create a natural light-filled haven that seamlessly connects you to sweeping urban landscapes and the sky beyond. Dissolve the barriers between indoor and outdoor, filling your space with abundant natural light and sweeping views.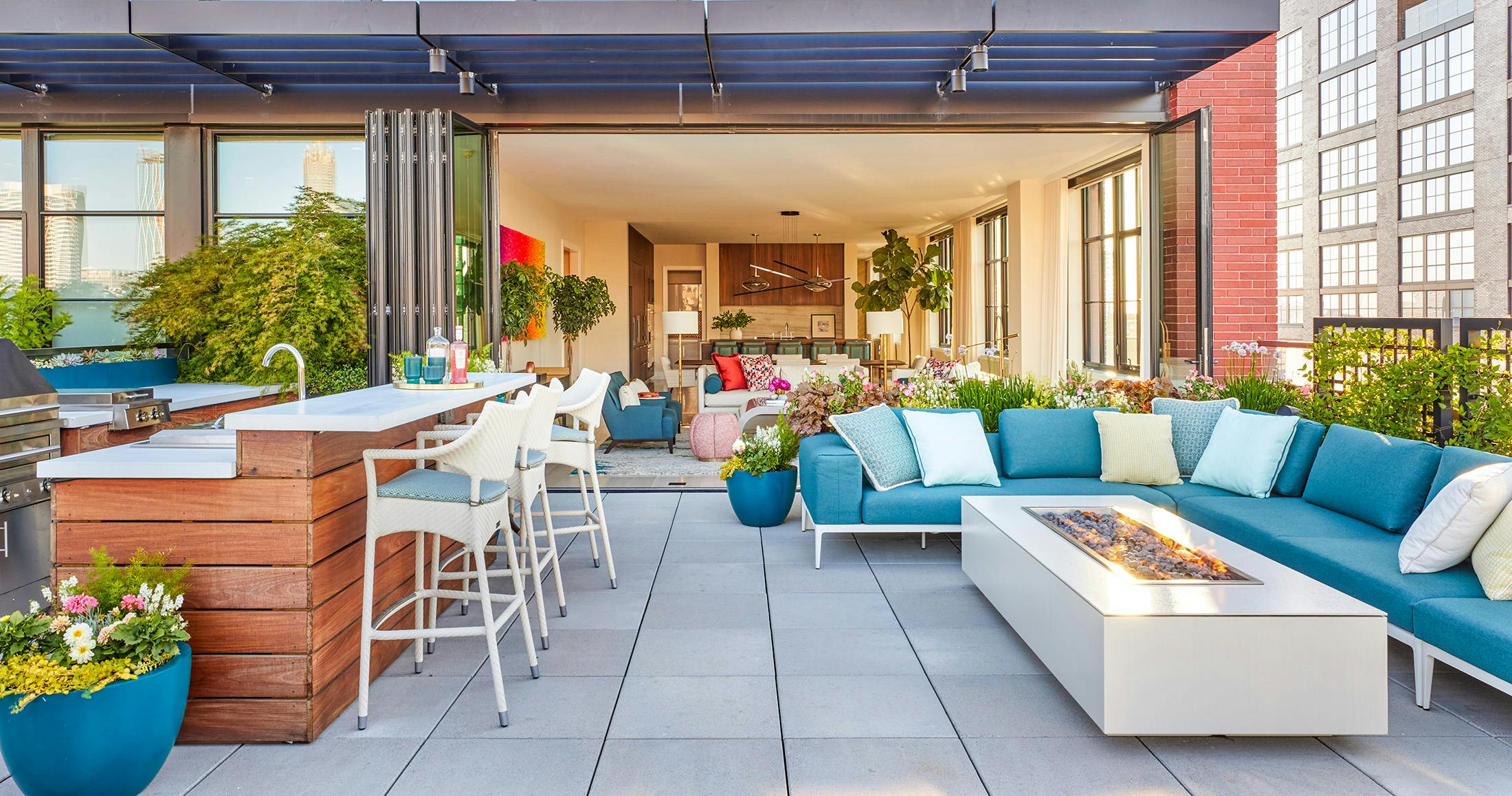 Maximizing Midrise & Multifamily Rooftop Potential
When it comes to opulent living in midrise, high-rise, and multifamily buildings, nothing amplifies the allure like folding and sliding glass walls. With Generation 4, imagine a seamless transition between the cozy indoors and the magnificent outdoors, available in both inswing and outswing configurations, for optimal space planning. Advanced systems surpass traditional balcony sliders, offering more than just aesthetic charm; they pack in unmatched thermal performance and energy efficiency in the most demanding urban environments. They ensure smooth transitions between spaces, regardless of weather, proving ideal for both midrise and high-rise and multifamily structures like the Hayden West Loop pictured. These systems are perfect for energy-conscious structures that need to stand out in competitive urban markets.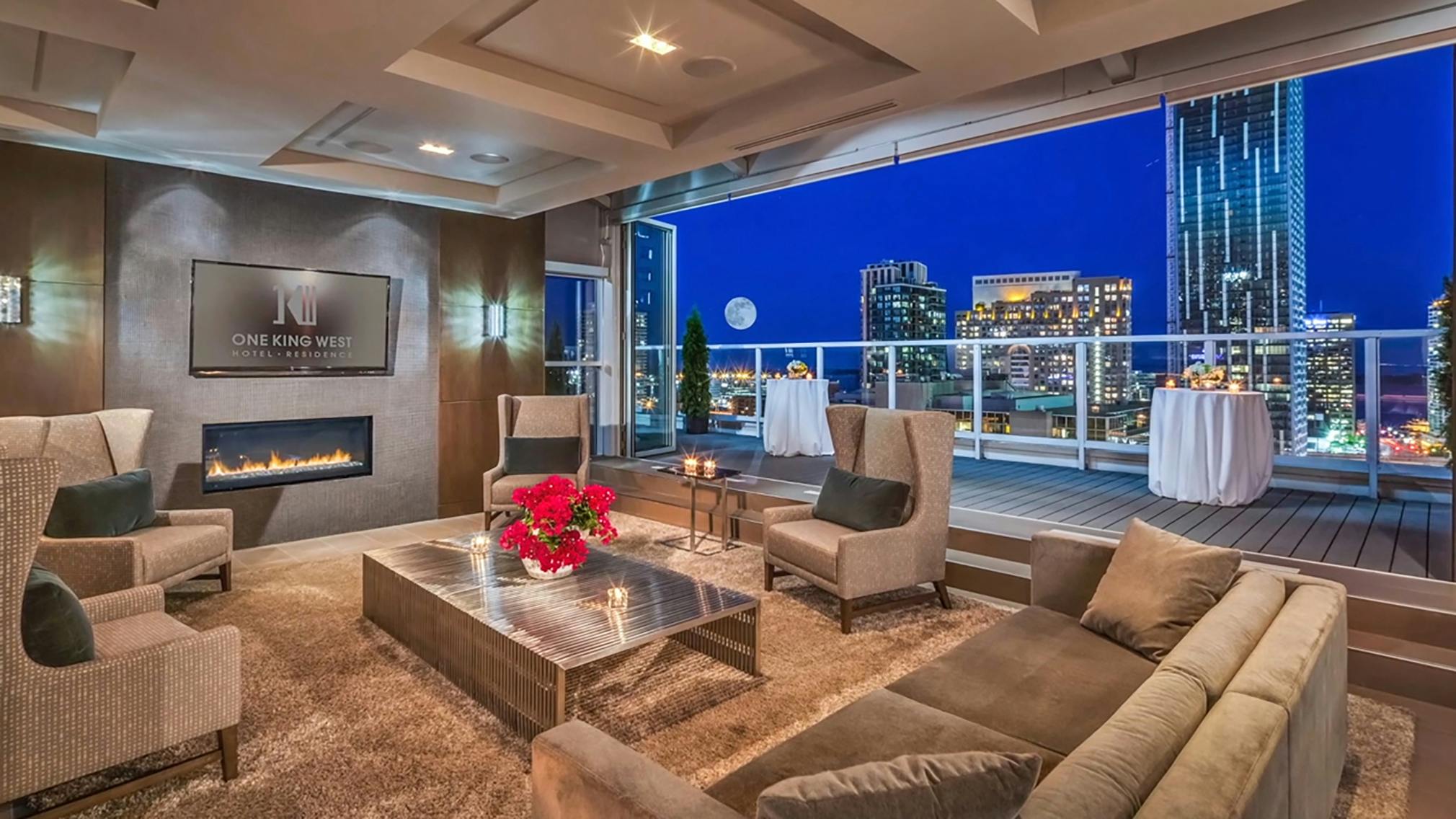 Skyline Penthouse Living
Elevate penthouse luxury and high-rise dwellings to new heights with folding and sliding systems framing your expansive views, and open-air skyline. Transform any penthouse like this one at One King West, into a panoramic perch, offering 360-degree city views effortlessly merged with your interior design. Folding and sliding glass walls are not just merely stylish but also energy-efficient, making them a top pick for discerning urban properties. Opening systems outperform traditional sliders, allowing occupants to optimize every inch of their space. Beyond elevating design aesthetics, these systems champion eco-friendliness and energy conservation, even in this chilly Toronto environment.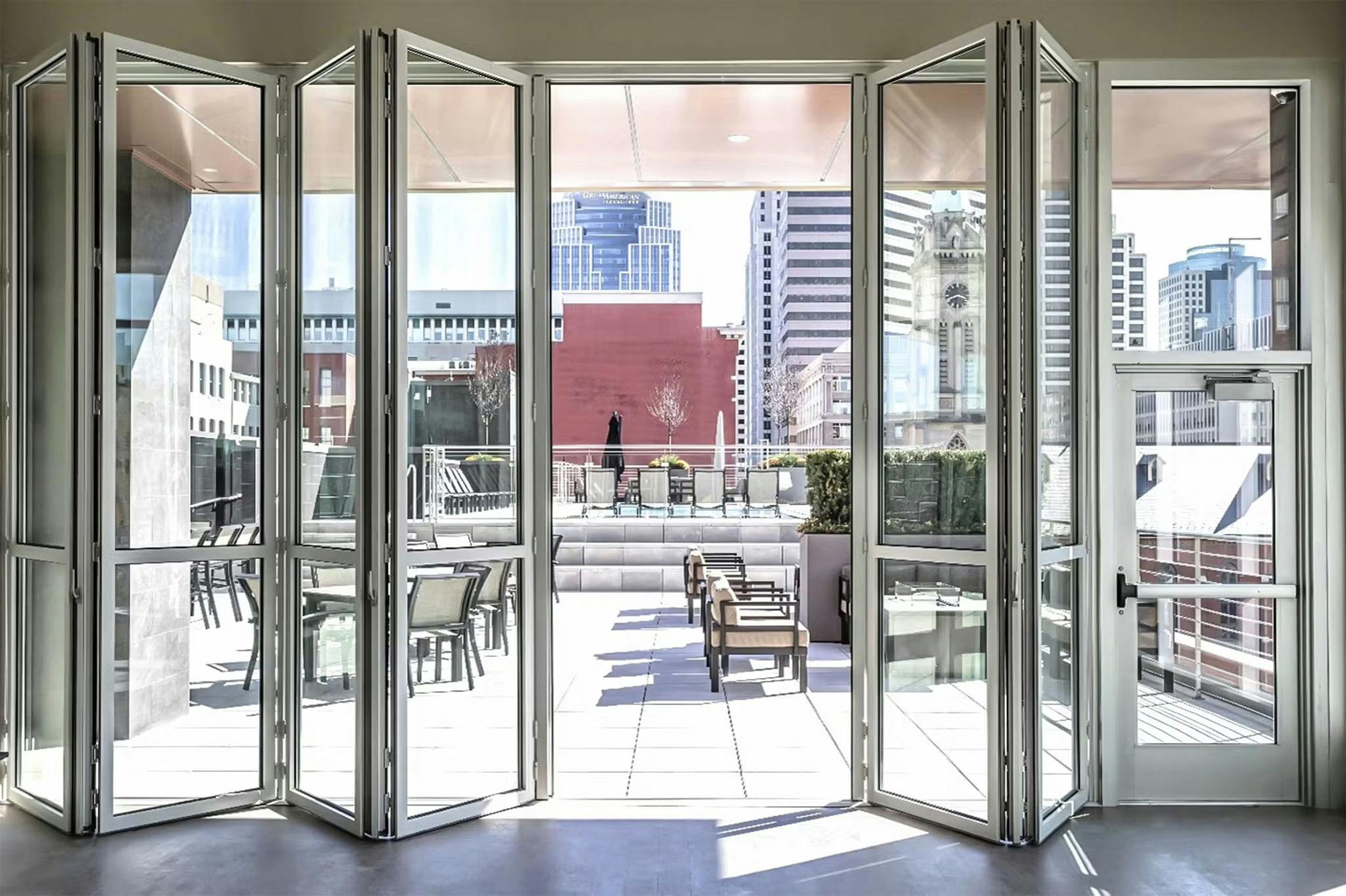 Transforming Rooftop Amenities & Pools: The Sky is the Limit
Imagine taking a plunge into crystal-clear waters, surrounded by unobstructed views of the sprawling city below. Innovative folding glass walls elegantly encapsulate any rooftop pool, turning it into more than just a leisure space—it becomes an elevated and versatile aquatic sanctuary. Marrying sleek aesthetics with exceptional functionality, these innovative opening glass systems allow you to experience the pinnacle of design luxury, a refreshing escape, right on your home's rooftop. The systems are easy to operate and can feature ADA-compliant sills, promoting safe and seamless transitions in and out of the pool and amenity areas.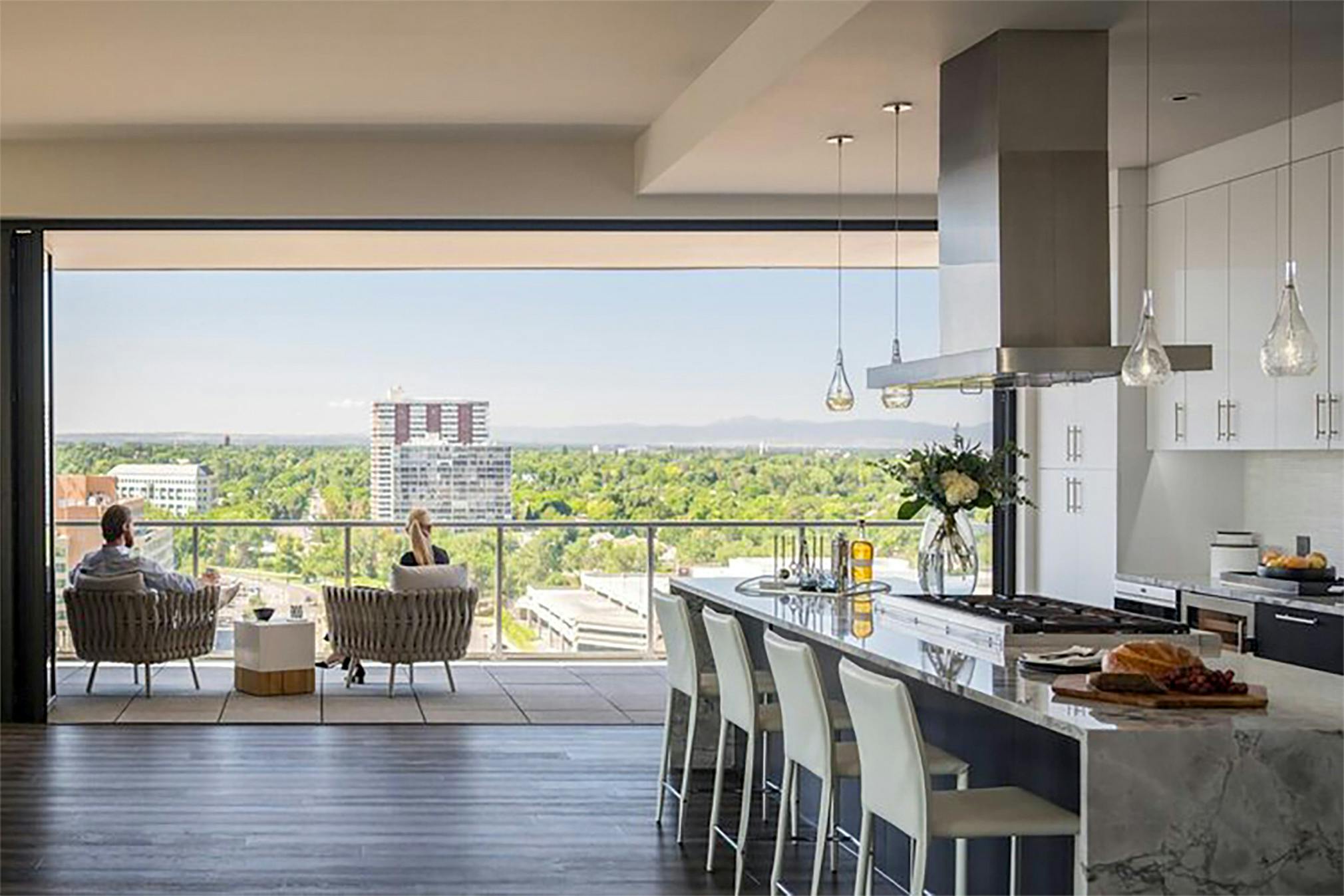 Design for Biophilic Benefits: Green & Gorgeous Indoor-Outdoor Rooftops
Today's rooftop designs are more than just luxury—they're eco-conscious masterpieces. Incorporating folding and sliding glass walls ensure that while you bask in aesthetic pleasure, you also enjoy improved air quality and energy efficiency. Biophilic design is much more than a popular trend; it's a sustainable architectural approach that utilizes natural materials, patterns, and phenomena to forge a meaningful connection between indoor and outdoor environments. This design methodology transforms rooftops from simple luxury features into wellness sanctuaries, offering a myriad of tangible benefits like improved psychological well-being, increased cognitive function, reduced stress levels, and enhanced physical health. By integrating folding and sliding glass walls, rooftops reconnect occupants with nature and improve holistic well-being. Beyond their sleek aesthetics and functional superiority, these glass walls are meticulously crafted to serve as an energy-efficient bridge between the human-made and natural worlds.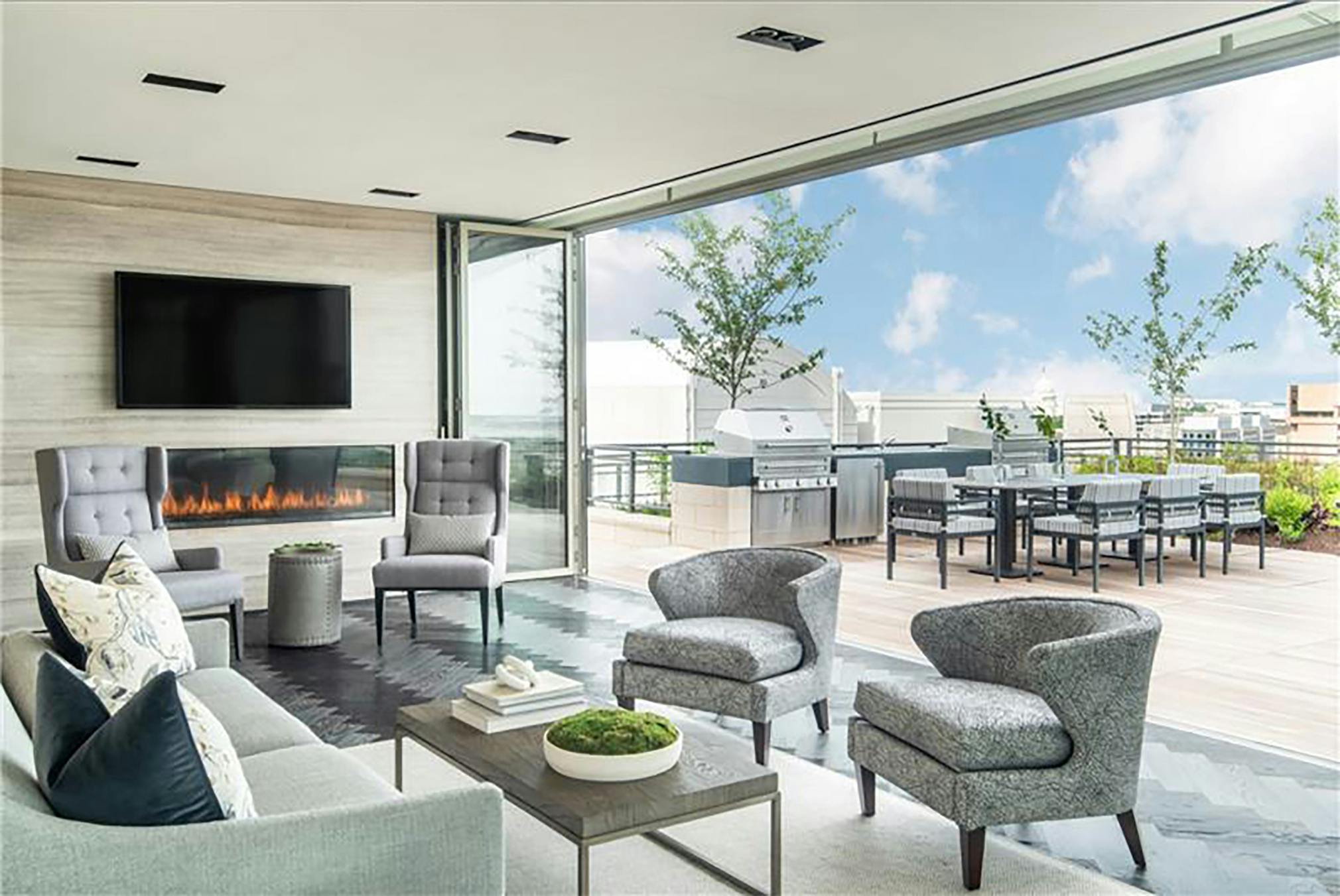 Sustainable and Energy-Efficient Design
Today's architectural advances are not just about aesthetics but also about eco-conscious living. Maximizing the energy efficiency of buildings and their rooftops can transform them into powerhouses of sustainability, enhancing a building's self-reliance, air quality, and energy efficiency. Folding and sliding glass walls play an instrumental role in this transformation, meticulously engineered with thermal efficiency, bridging year-round indoor comfort with outdoor expansiveness, and making outdoor dreams tangible. Architects worldwide are leaning toward sustainable and energy-efficient rooftop design with opening glass walls.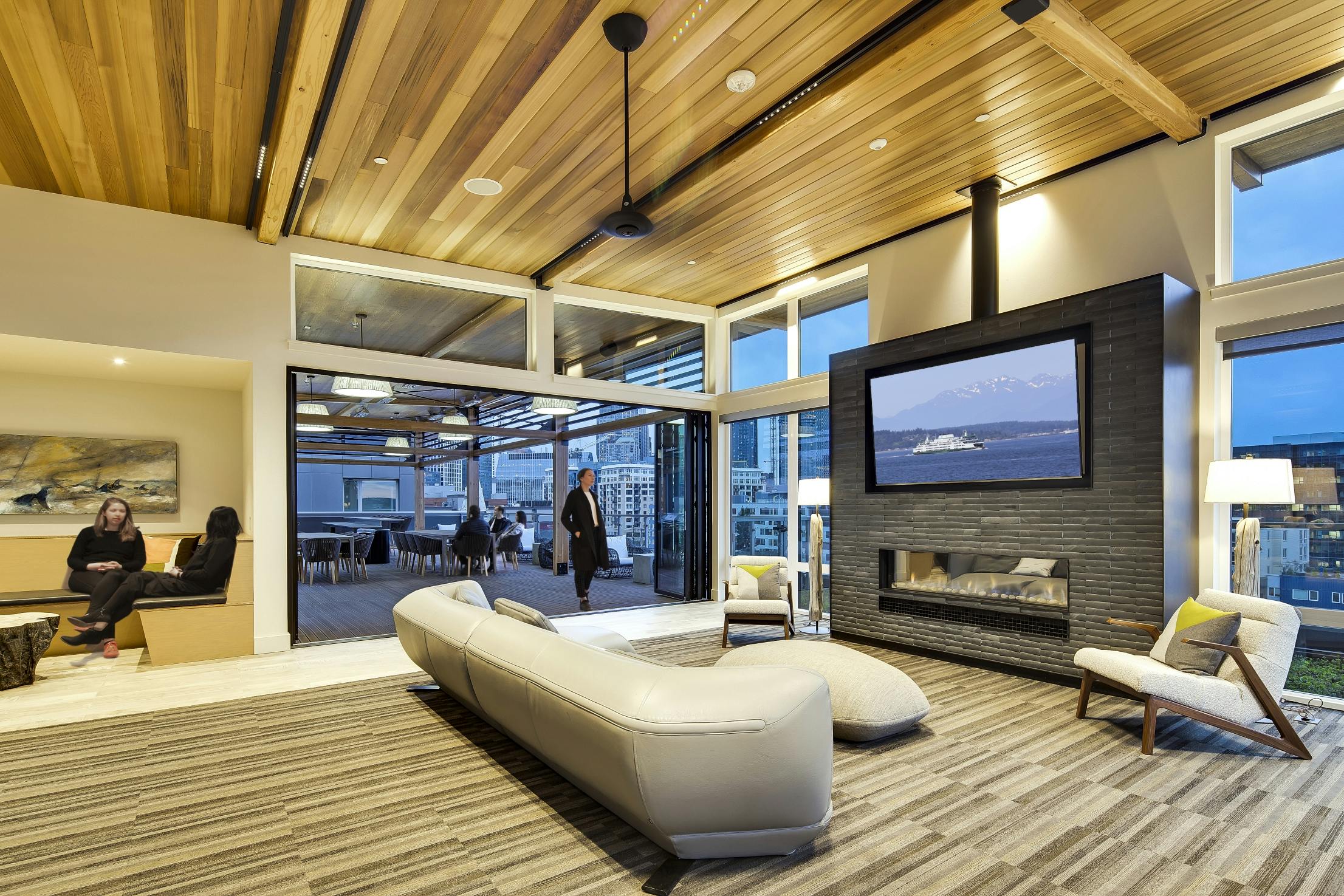 Customize and Configure to Complement Any Style
It's essential to choose a design and configuration that resonates with your overarching vision. NanaWall systems are fully customizable and configurable, presenting unlimited design possibilities. With a vast range of over 50 standard shades and the option of 200 unique powder coats, the artistic horizon is boundless. From simulated divided lites to custom finishes and barefoot-friendly sills, there's a design curated for you. These systems are more than just aesthetically pleasing; they're built for resilience. Systems can also accommodate custom panic hardware, kickplates, and door closers, among additional options.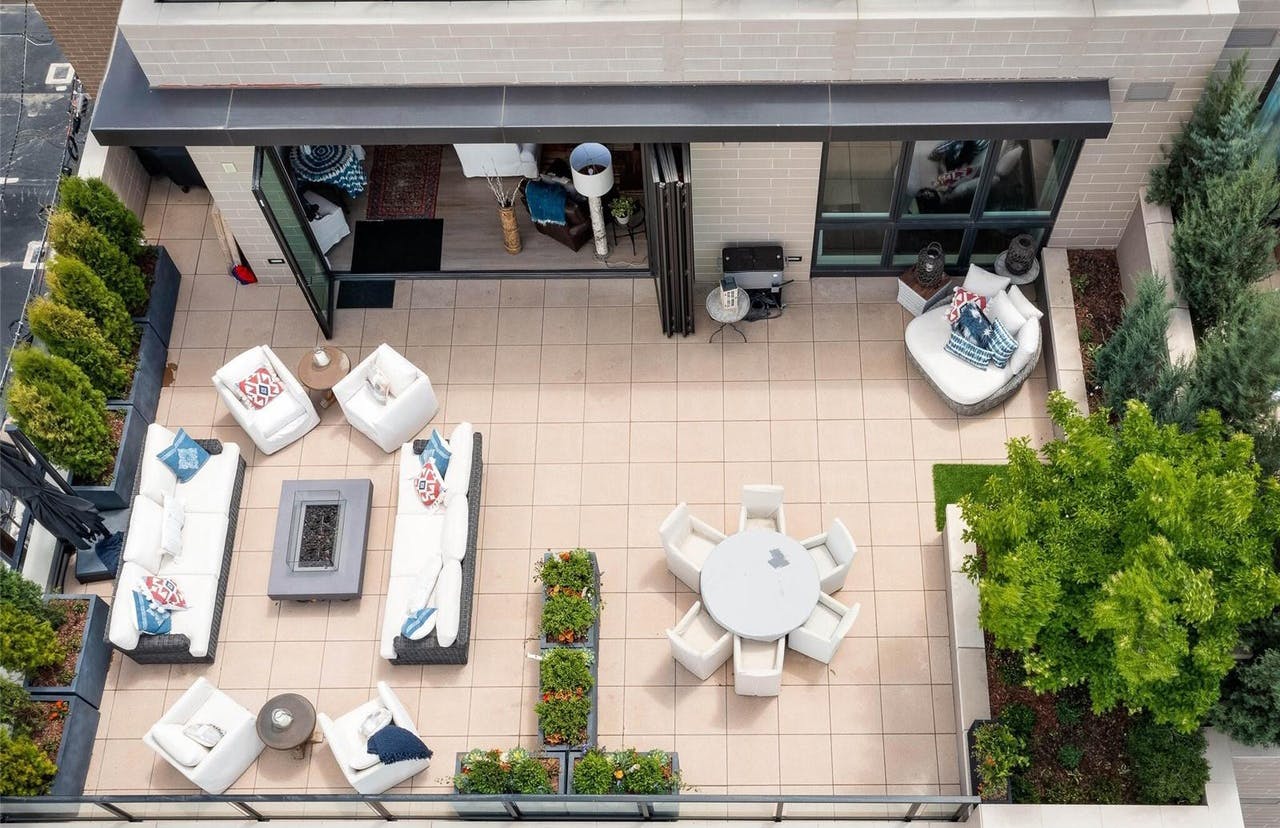 Final Thoughts
Rooftops, especially in bustling urban settings, are more than just spaces—they're experiences. NanaWall blends luxury, functionality, and eco-friendliness. Innovatively designed rooftops can distinguish a property, blending luxury, utility, and sustainability. With folding and sliding glass walls, spaces transform seamlessly, embracing the outdoors and amplifying skyline vistas. Rooftop lounges, bars, and event and amenity spaces particularly in urban settings, offer a fresh oasis, with opening glass walls enhancing the building's allure. These incredible rooftop living spaces, designed for diverse climates, prioritize both the elevated living experience and resilience.
Have questions or want design advice? Speak with experts to get a tailored solution today! Visit our inspiration gallery for more design ideas! Connect with NanaWall and let us help you create the perfect indoor/outdoor residential rooftop space.