Transforming Underutilized Rooftops: Luxury and Innovation with Opening Glass Walls
By NanaWall Systems, September 28, 2023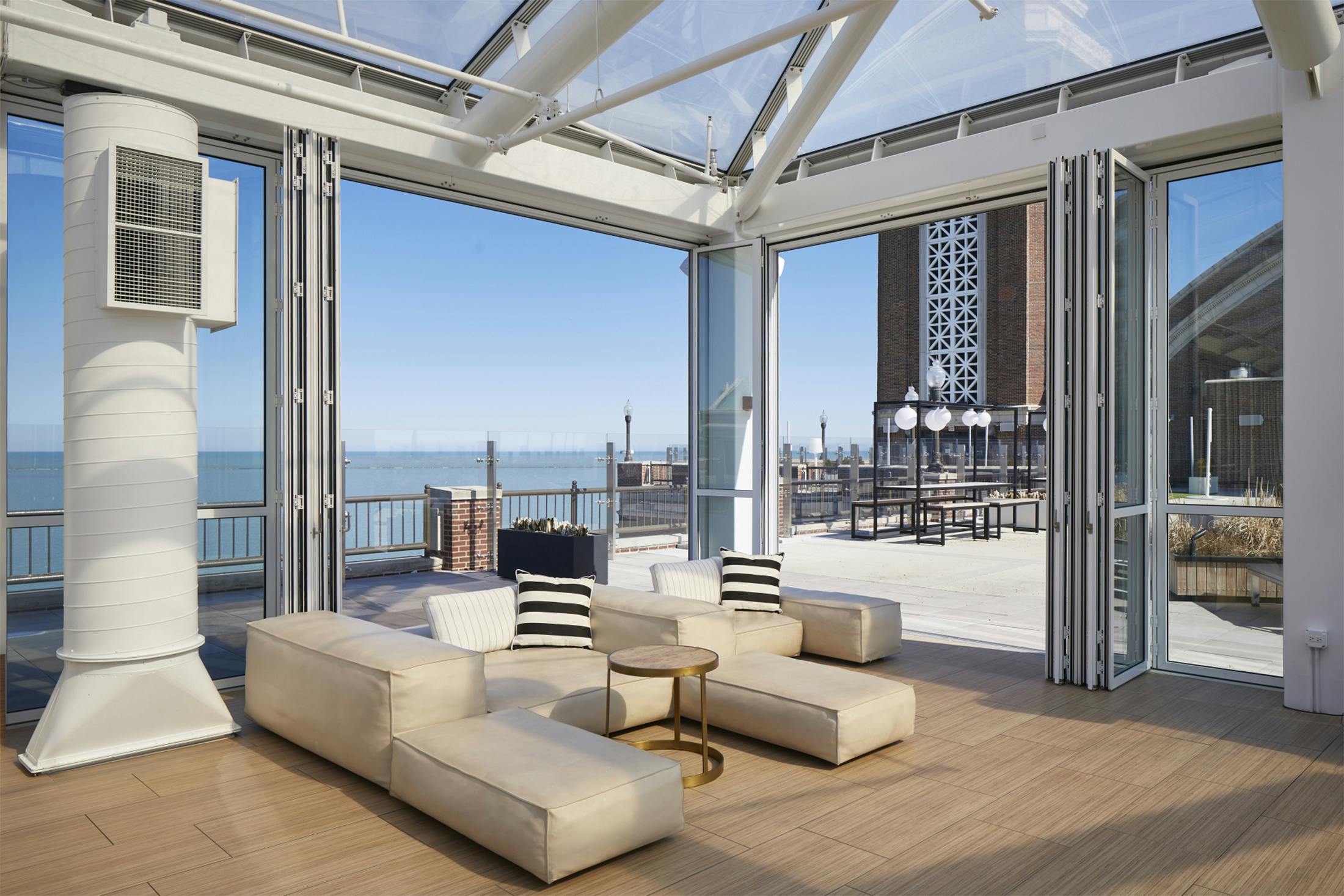 Commercial rooftops, once mere underappreciated afterthoughts, are blossoming into prime real estate assets. At the heart of this transformation are advanced NanaWall engineering and opening glass walls, renowned for durability and rigorous independent and certified testing. Imagine a rooftop that doubles as a luxurious retreat and functional space for dining, events, relaxation, amenities, from sports to pool lounging, and more—a true urban all-season oasis. Let's delve into the wonders of opening glass systems and their role in the rooftop design revolution.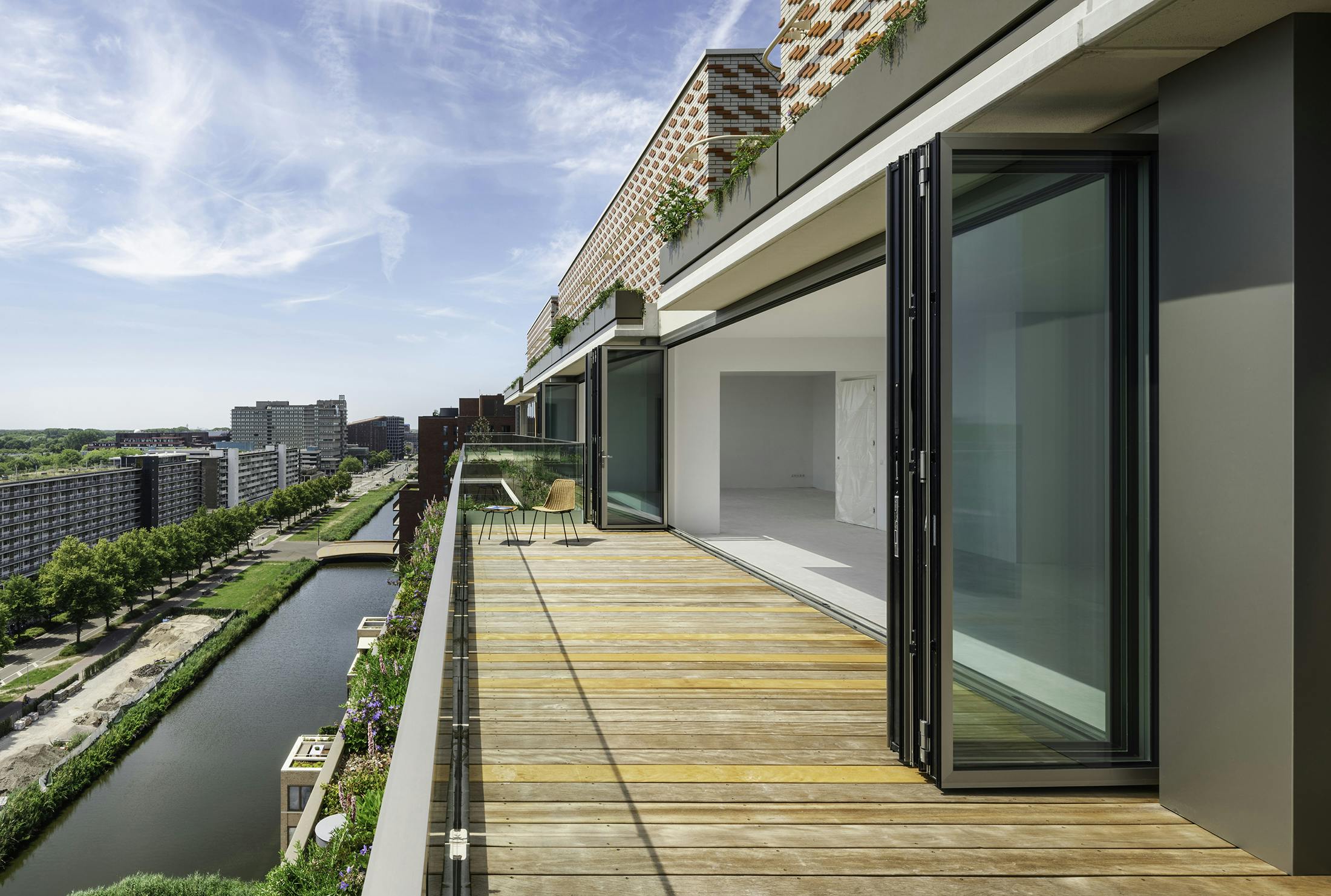 The Apex of Urban High-Rise Design: Generation 4
Innovative Generation 4 systems, crafted for mid-rise and high-rise urban structures, embody modern design flexibility. These systems, capable of unlocking up to 90% of terrace spaces, elevate design efficiency and panoramic views. With the industry-leading floating FourFold and SixFold panel features and unrivaled slim frames, they cater to expansive openings and ensure optimal space utilization and planning for rooftop design. They not only cater to larger openings but also allow panels to align on the same side as the swing panel. Notably, the NW Reinforced 847, designed for high-rise applications, offers unparalleled wind-load resistance. These systems have been rigorously tested for weather, design wind loads, thermal performance, and forced entry, assuring their resilience even in the harshest urban environments.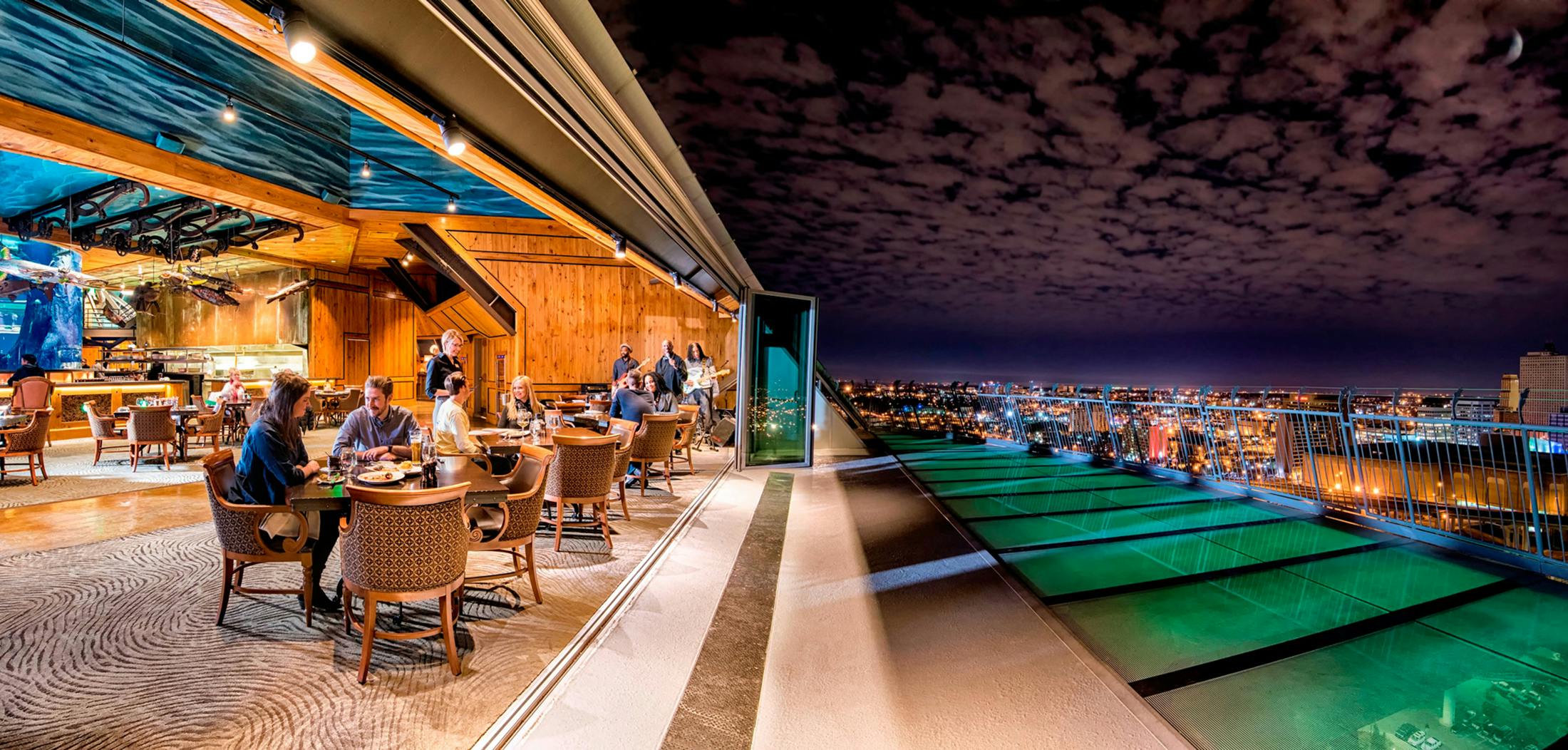 Designing the Ultimate Rooftop Experience
Every rooftop holds a story waiting to be told. From prioritizing natural views to ensuring resilience against the elements, effective rooftop design considers both aesthetics and functionality. It is essential to decide its primary purpose—be it a peaceful escape or a lively gathering spot—to ensure safety standards, and above all, integrate advanced opening glass walls for a seamless indoor-outdoor experience. Maintaining a balance between scenic views and privacy, and ensuring year-round functionality is essential. Key features like commercial swing doors, optimal railing height, and ADA-compliant sills are indispensable. Pictured is the rooftop of the Lookout at Memphis Pyramid Hotel featuring an SL70 system.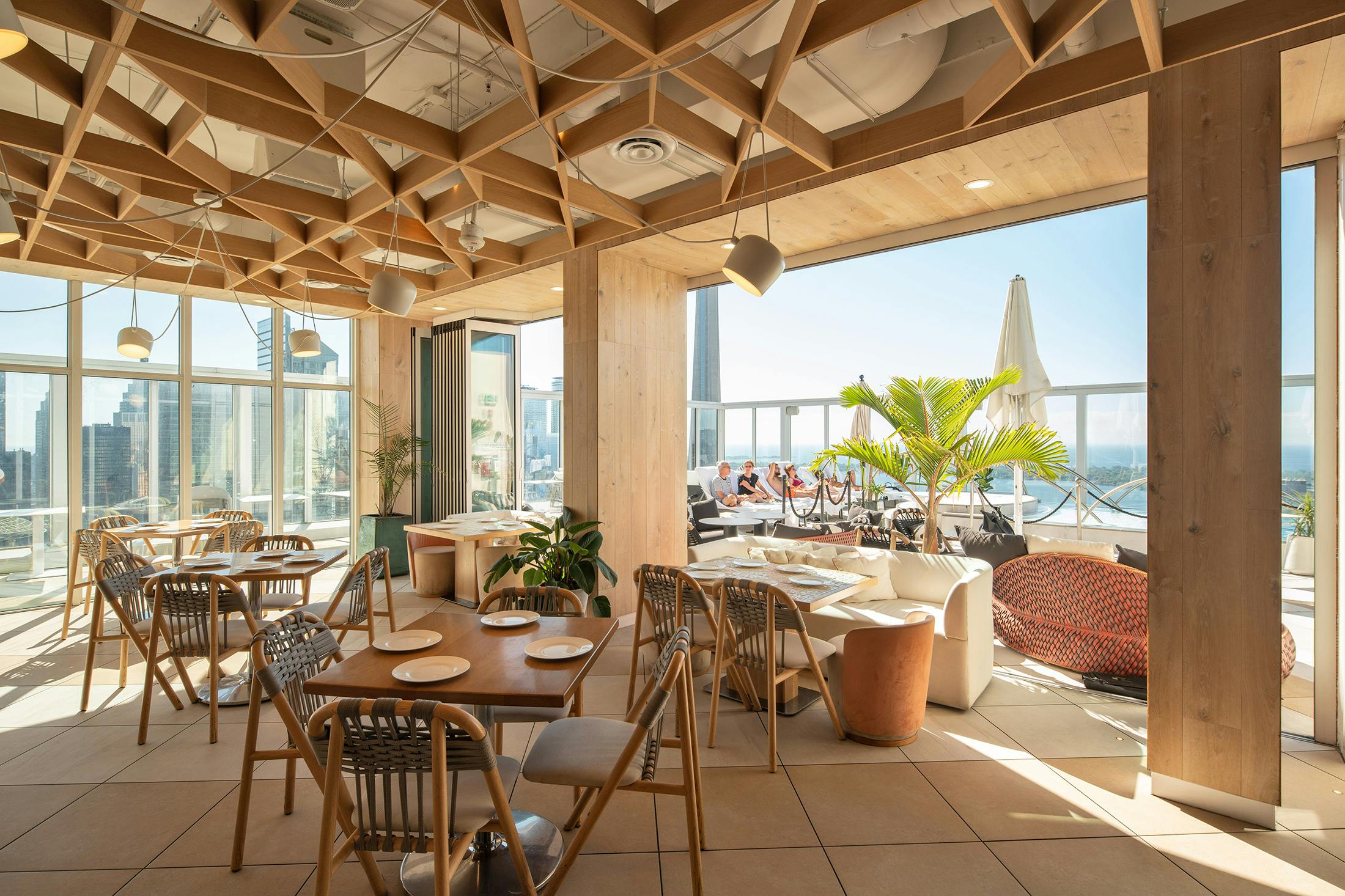 How to Reimagine Rooftops: Where Luxury Meets Utility
Modern rooftop design balances aesthetics with functionality. Hotels are transforming their rooftops into iconic destinations, not only catering to tourists but also enhancing building value. Such designs are captivating yet practical, catering to a variety of needs. Ranging from amenity spaces in offices to hotspot rooftop bars in hotels, these locales enhance building allure and functionality. Products like the HSW 60 system at Kost Restaurant are known for unique shapes, and otherwise, potential obstacles become design opportunities. The uninterrupted views and single-track sliding make the product perfect for maximizing vistas.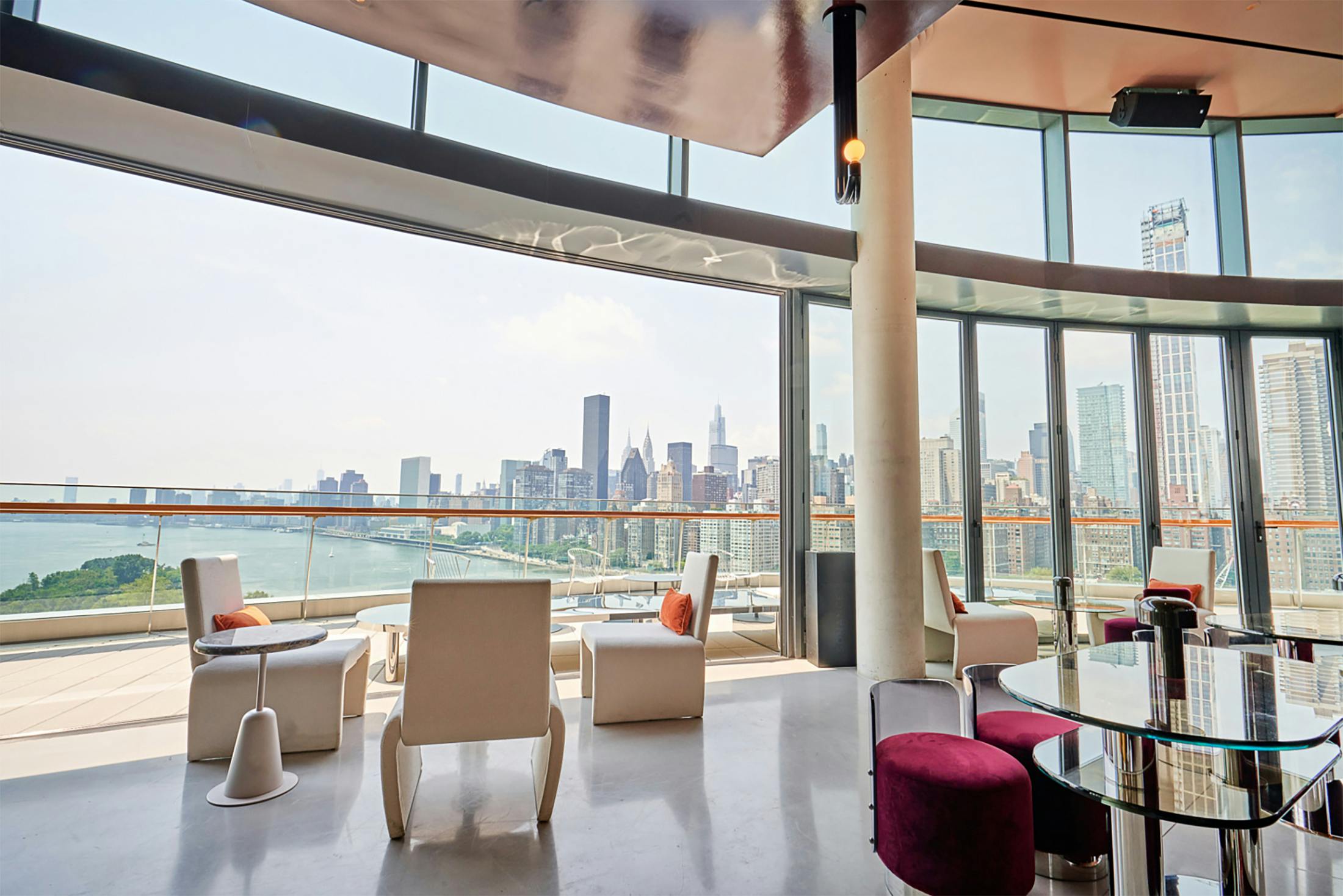 Dining in the Sky: Elevate Rooftop Dining & Bars
The allure of rooftop dining is undeniable. Rooftops are now the epicenters of gourmet food, inventive cocktails, and panoramic city views. Be it dining beneath the stars, sipping evening cocktails, or a vibrant nightlife venue, these spots offer an escape from urban frenzy. By incorporating opening glass walls, these spaces provide an immersive experience, becoming strategic assets for both developers and businesses to boost their ROI. Pictured is the Panorama Room Restaurant featuring SL70 systems.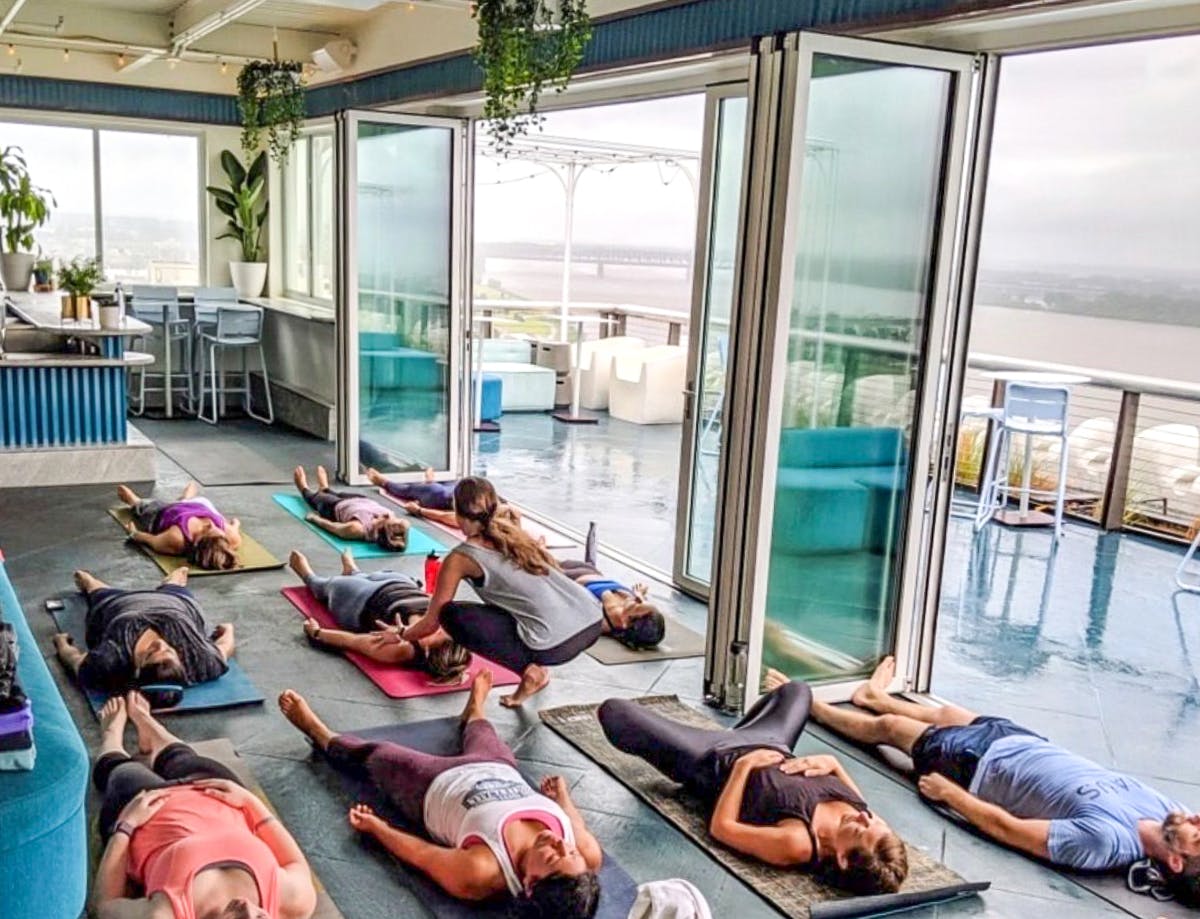 Rooftop Wellness: Beyond Fitness
Rooftops offer the perfect setting for open-air wellness spaces, where natural light and refreshing breezes elevate daily routines. These multifunctional spaces cater to diverse needs, from yoga sessions amidst nature to community game nights, fostering a sense of unity and well-being. From tranquil yoga nooks to vibrant community gatherings, rooftops can help visitors find balance at any time of day. Pictured is the Hu Hotel featuring NanaWall folding glass walls.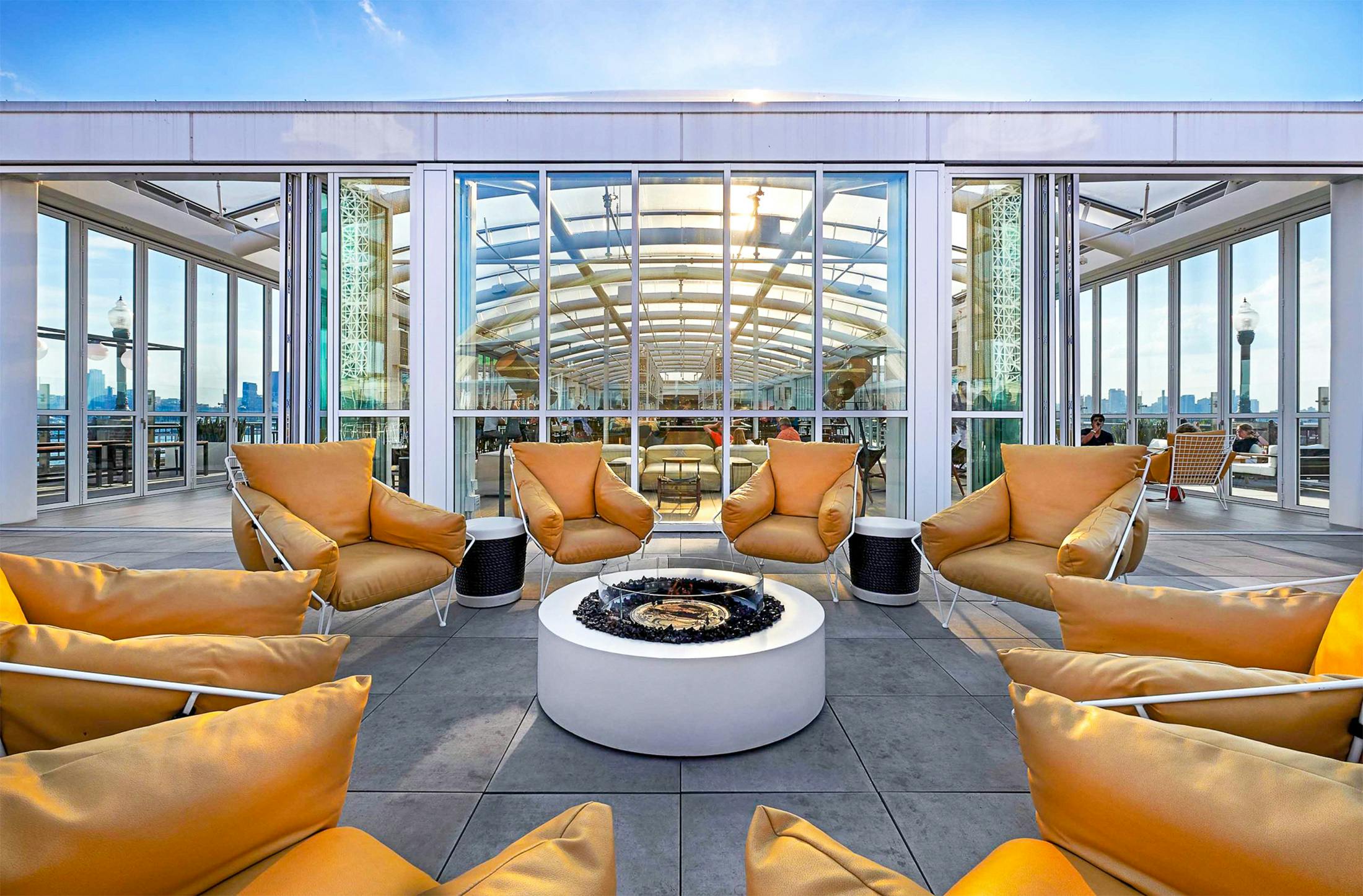 Craft Luxurious Rooftop Lounges
Rooftop lounges serve multiple purposes, from social events to tranquil retreats. The inclusion of opening glass walls ensures no compromise on design adaptability or durability. Here, individuals can seamlessly transition between spaces, from socializing and hosting guests to indulging in peaceful, solitary evenings, all while enveloped in panoramic vistas and the ambiance of the skies above. The Offshore Navy Pier is pictured featuring SL70 systems.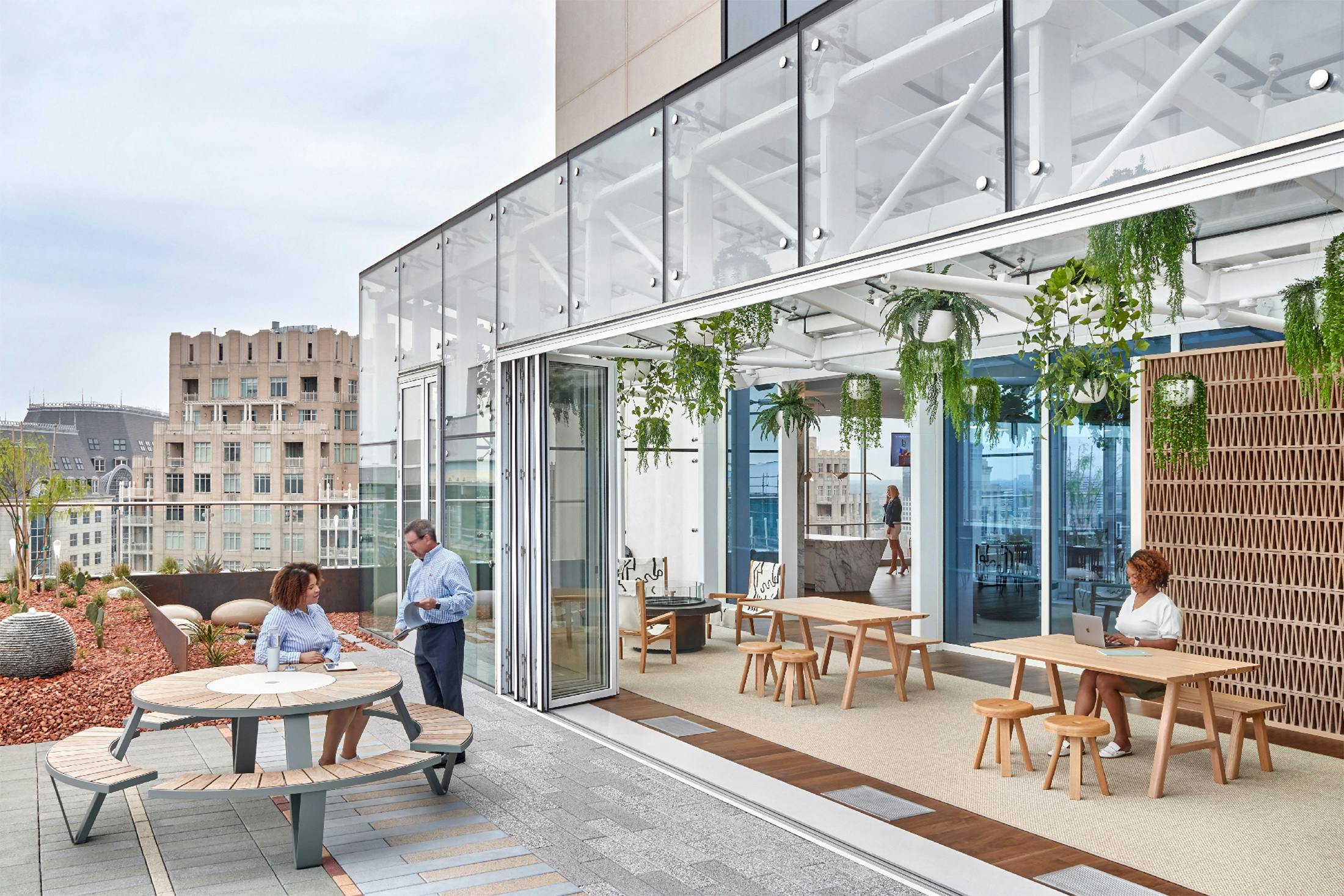 Elevate Amenities with Rooftop Design
Unleashing the potential of neglected rooftops leads to unique amenity spaces. From nighttime venues to utility areas and offices, intelligent design facilitates communal activities and bonding. By diversifying rooftop uses using opening glass walls, not only can you outshine competitors and boost ROI, but also enhance the well-being of visitors and social interaction. Skillfully designed rooftops, laden with varied amenities, naturally draw occupants and visitors. Image via Pacific Builders, Inc. featuring an SL70 system.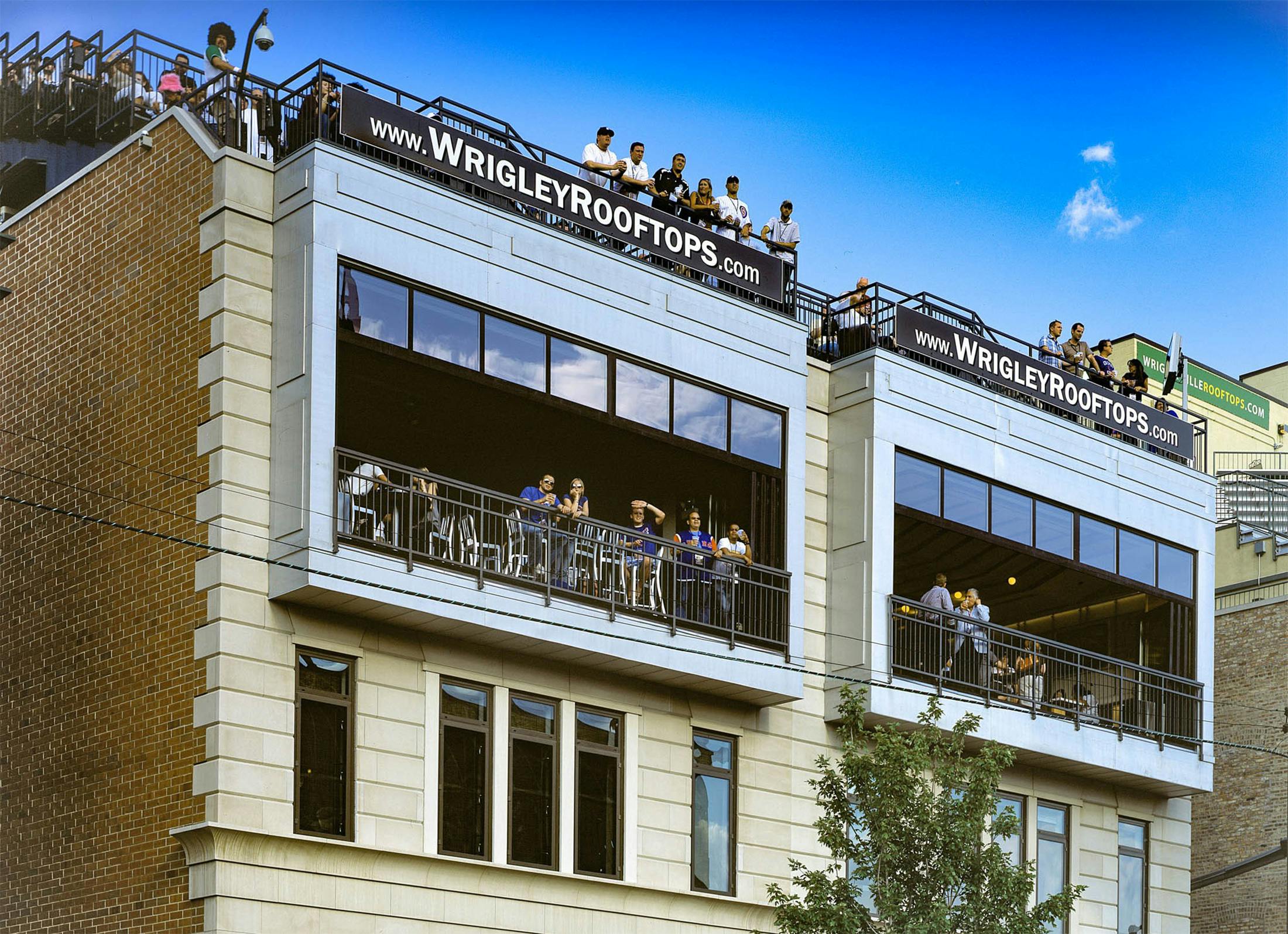 Event Spaces and Rooftop Venues
Rooftop spaces can offer breathtaking backdrops for diverse events, from corporate functions to sporting events and intimate celebrations. A stellar rooftop design using opening glass walls will fully charge any occasion and provide an unmatched experience. Beyond private functions, these elevated spaces can also serve as vibrant centers for community events, fostering a shared sense of unity among visitors, fans, and members. The Wrigley Rooftop is pictured featuring SL70 systems.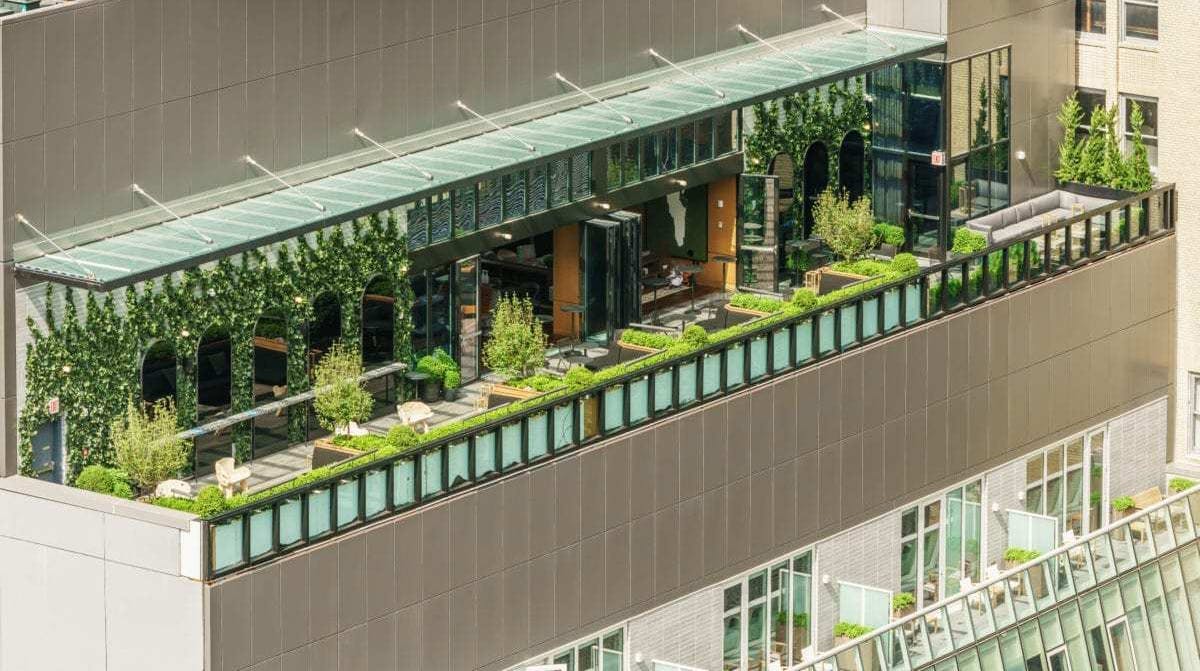 Sustainability and Biophilia: The Heart of Modern Rooftop Design
Contemporary rooftops champion sustainability. Through biophilic design, rooftops are evolving into green sanctuaries, fostering a bond with nature within a built environment. Incorporating opening glass walls in rooftop design not only elevates aesthetics but provides biophilic benefits like improved air quality, natural light, better ventilation, increased energy efficiency, enhanced health benefits, aesthetic advantages, and even urban biodiversity. This design's emphasis on natural elements, materials, and patterns, ensures these rooftops are eco-friendly, functional, and go-to destinations.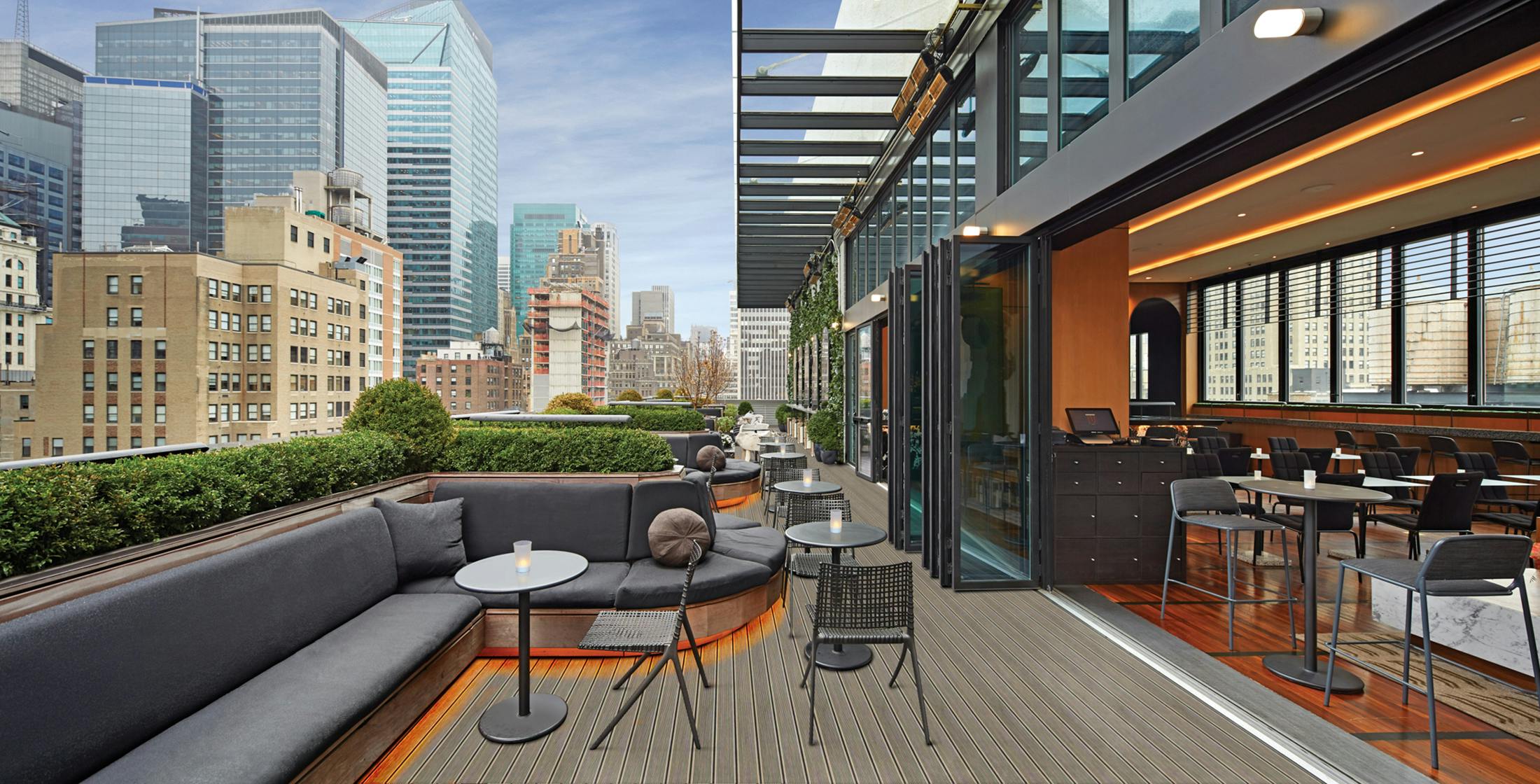 Optimizing Rooftop ROI through Green Solutions
Smartly optimized rooftops not only increase property value but also lead to energy savings. Advanced, all-season, thermally efficient opening glass walls, combined with green rooftops, are redefining urban building and sustainability. Revamping rooftops can significantly boost ROI. By adopting energy-efficient designs, buildings can become beacons of sustainability. Incorporating "green roofs" optimizes HVAC efficiency and temperature regulation. By converting these spaces into recreational or utility areas, especially in commercial settings like hotels and offices, businesses can increase their real estate value, attract clientele, and save money via energy efficiency. Castell Rooftop Lounge pictured featuring SL70 systems.
Customize Designs for Unlimited Possibilities with Opening Glass Walls
Folding glass walls can transform fixed walls into flexible openings and are perfect for large openings even with angle changes. Single track sliding glass walls are made of individual panels with narrow framing and maximum design flexibility. They can be used to create virtually any shape with angle changes and even around corners. Choose from a vast palette of over 50 standard colors and 200 unique powder coats, ensuring the design possibilities are limitless. Opening glass walls are fully customizable and configurable, presenting unlimited design possibilities at your fingertips. With a plethora of options including materials, hardware options, and elements like divided lites, creating a space that aligns with your vision has never been easier. Tailor any design, systems are curated for you right down to custom ADA-compliant, high heel-resistant sills and swing doors for traffic control. Much more than just aesthetically pleasing; they're built for resilience. Systems can also accommodate custom panic hardware, kickplates, door closers, push/pull handles, among additional options. The Bourbon Skybar and Lounge is pictured at the Nashville JW Marriott featuring an HSW60 system.
Final Thoughts
Skillfully designed rooftops, integrating luxury, functionality, and eco-friendliness, distinguish commercial properties. From rooftop lounges to wellness centers, opening glass walls take architecture to the next level and connect to a refreshing escape of skyline vistas in urban landscapes. Transform spaces in urban locales into breathtaking vistas with opening glass walls. From top-tier amenities to street-level spaces, NanaWall products ensure these areas radiate elegance, functionality, and commercial durability designed for diverse climates.
Have questions or want design advice? Speak with experts to get a tailored solution today! Visit our inspiration gallery for more design ideas! Connect with NanaWall today and let us help you create the perfect indoor/outdoor living space.