New Year, New Kitchen: Upgrade with Attractive Bifold Glass Doors
By NanaWall Systems, January 19, 2023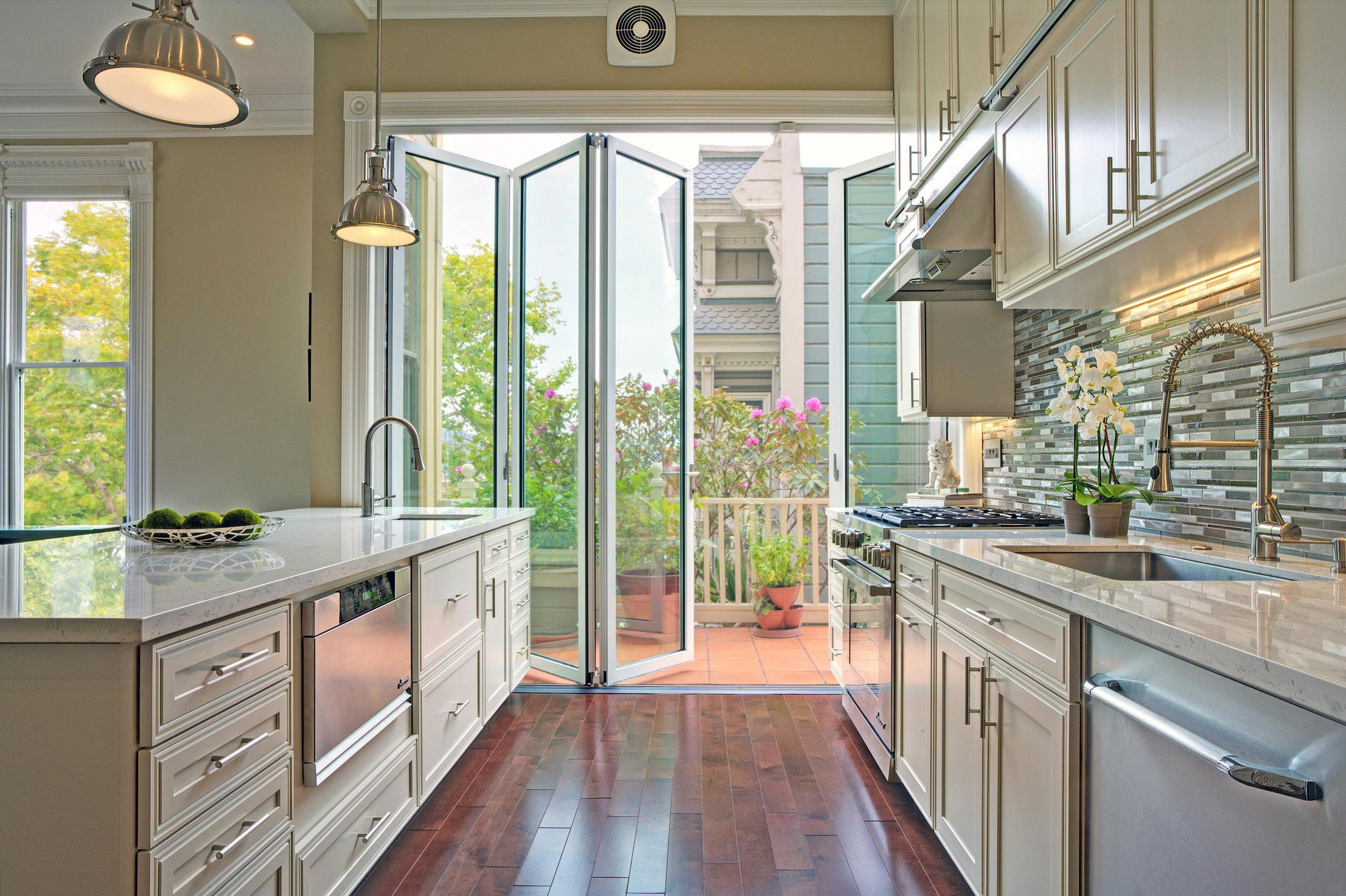 New year, new you, new kitchen? Aside from prioritizing self-reformation resolutions this year, consider improving your lifestyle, and your home, with an ideal indoor/outdoor kitchen space. Bifold glass doors in primary living areas like the kitchen not only enhance square footage and functionality but also improve our at-home experience and aesthetics. Our homes play an important role in our everyday lives and ensuring that your spaces work for you in the best possible way will make your at-home experience a lot more efficient and enjoyable. Let's take a look at how you transform your kitchen for the year ahead with NanaWall opening glass wall systems!
Renovating with Bifold Glass Doors
Opening glass wall systems are ideal for renovations big and small. Whether it be a large opening or a simple over-the-kitchen-sink folding window, you can customize the size of your system to best fit your space restrictions. Floor supported systems, for example, are the ideal choice for renovations where the load-bearing capability of the header is of concern. In the case of these bifold glass doors, the weight of the unit is carried by stainless steel wheels that glide on a stainless-steel track, eliminating the need for costly header pre-cambering. Made with durability and weather performance in mind, NanaWall bifold glass doors also eliminate the need for overhangs for additional protection in harsh climates.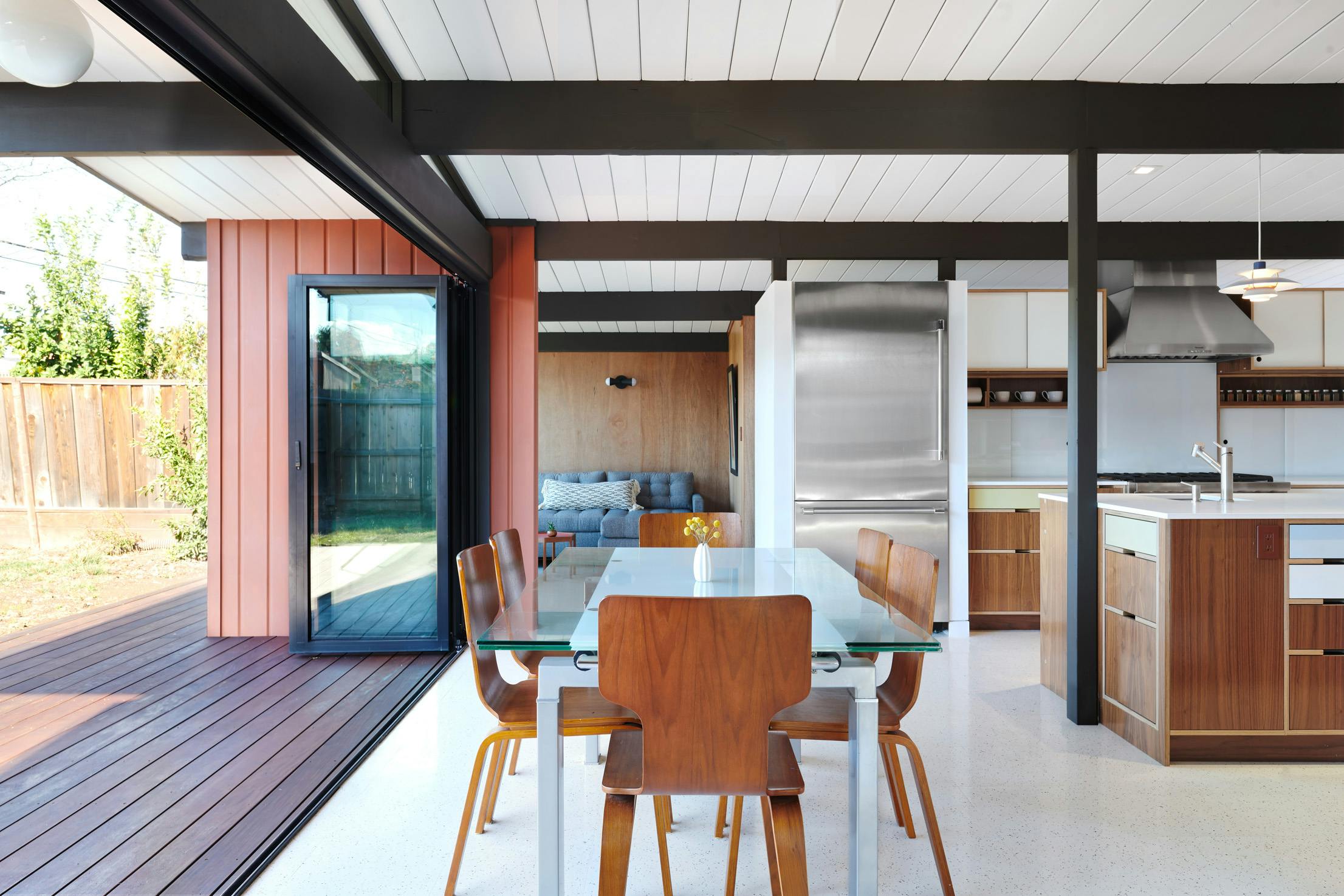 Embrace the Outdoors with the Indoor/Outdoor Experience
One of the many benefits of opening glass wall systems is their effortless ability to invite the outdoors in, even when closed. Floor-to-ceiling glass panels offer plenty of transparency to frame natural landscapes in a dynamic portrait-like effect. All this while maximizing mood-boosting daylight to brighten interiors. When open, homeowners can create a truly inversive experience complete with the organic sounds of birdsong and rustling leaves as well as plenty of natural fresh air ventilation. For the kitchen, this means getting rid of lingering cooking odors much faster and elevating your cooking experience for both you and your family. Talk about taking entertaining to the next level!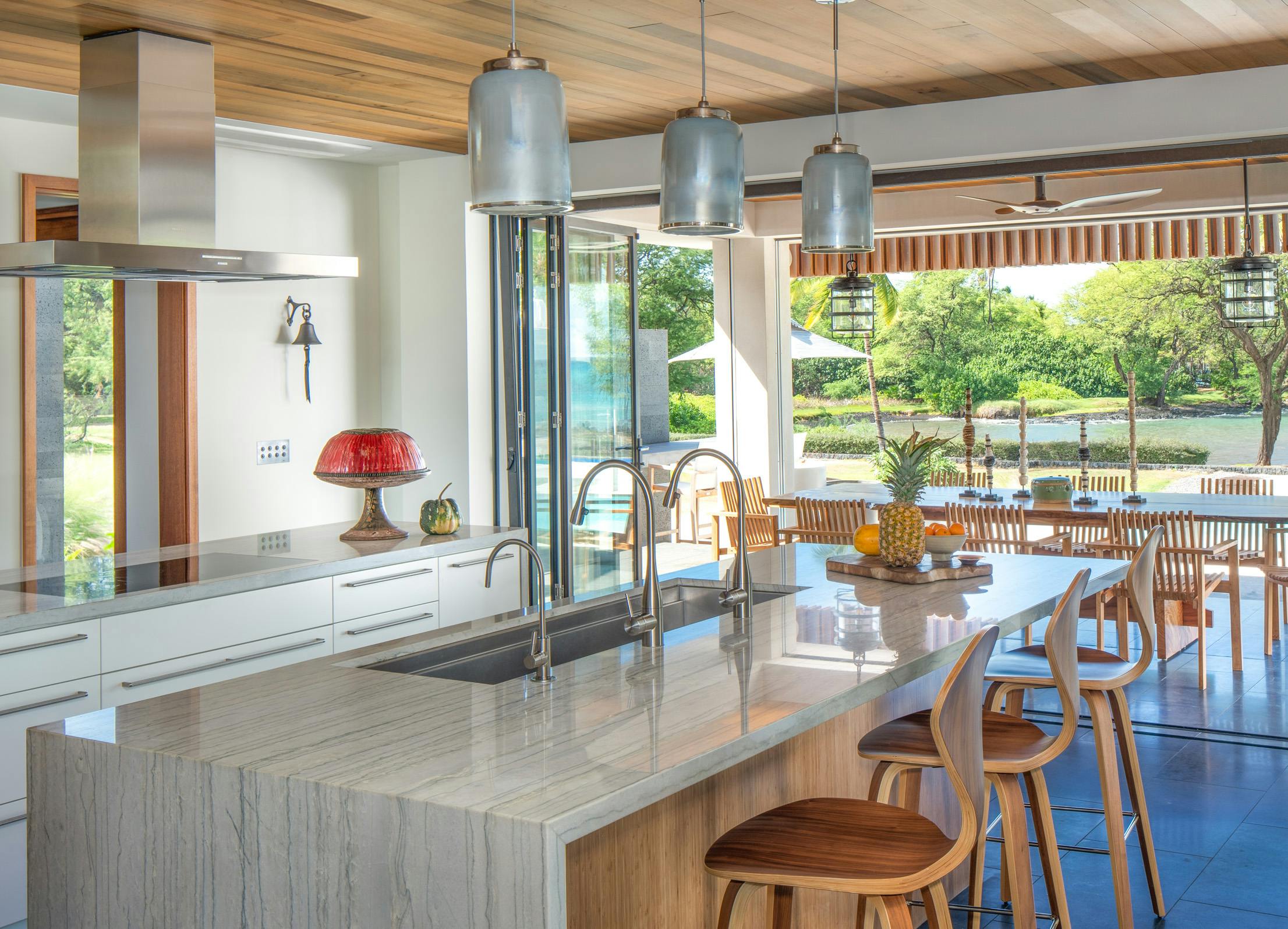 Optimize Space for Hosting and Entertaining
If you are the go-to entertainer among your friends and family groups, then having a multifunctional, indoor/outdoor kitchen is a must. Aside from elevating kitchen interiors with awestriking landscapes, daylight, and fresh air ventilation, bifold glass doors also extend the available square footage to the outdoors. Barely-there floor tracks create barefoot-friendly transitions to outdoor living spaces, almost as if there was no threshold there at all. Transform ordinary patios into optimal outdoor living spaces with an outdoor dining table and comfortable lounge areas for a truly enjoyable entertainment experience. With the flexible nature of opening glass wall systems, you can create a flexible entertaining space where guests can easily socialize around the kitchen counter as you prepare meals and mingle outdoors with friends interchangeably.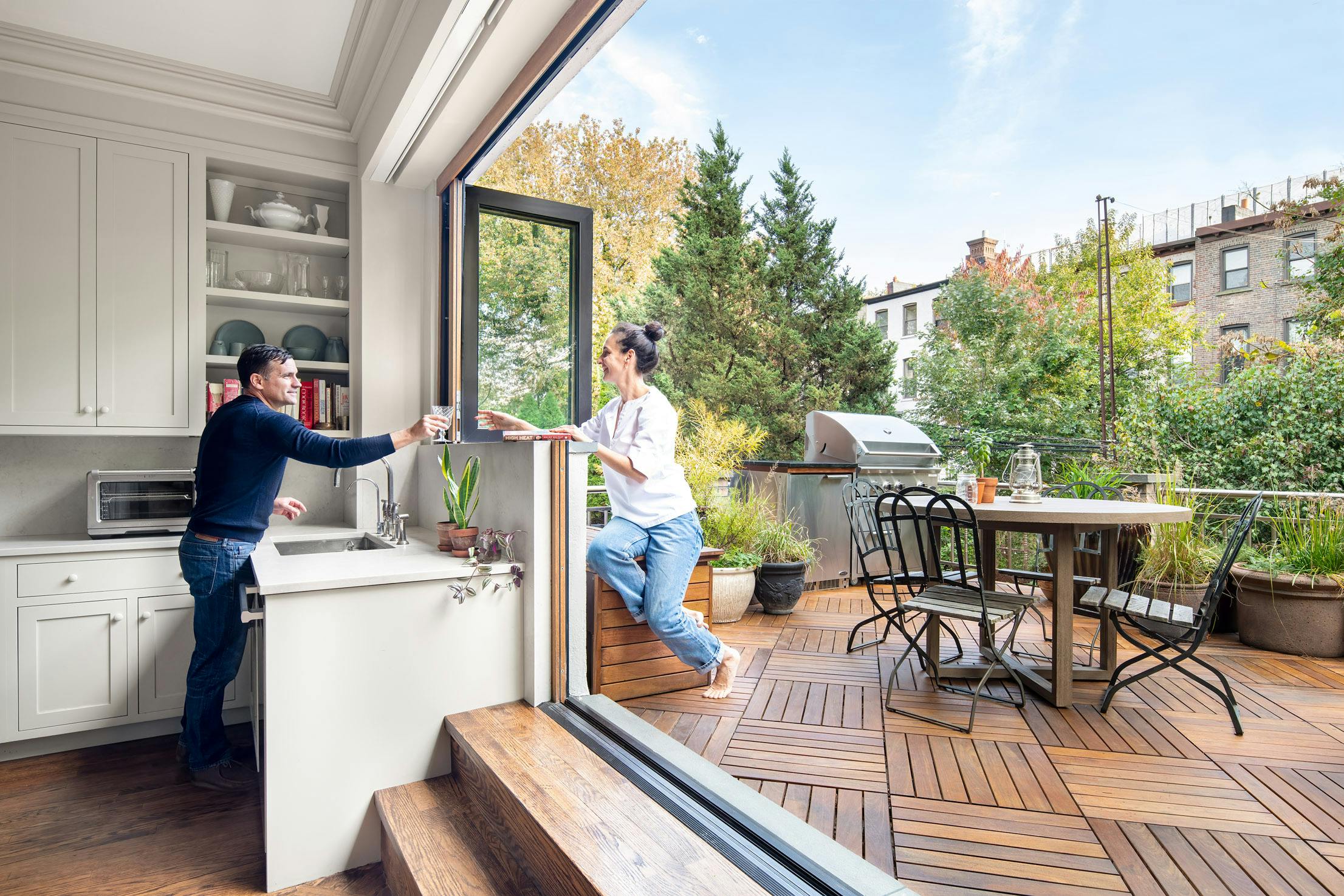 Create the Ideal Indoor/Outdoor Bar
Imagine having the ability to cook in the open air and dine al fresco right from the comfort of your kitchen. Sounds amazing, right? A Kitchen Transition specification leverages the benefits of having floor-to-ceiling bifold glass doors and window-sized systems all in one, optimizing your kitchen's functionality and giving you full control of the opening. Open the full-size system for flushing out cooking odors or its window-sized companion to create an indoor/outdoor bar on the fly. Better yet, open both systems to open up the entire space for hosting large crowds or to simply immerse in the full benefits of the open air. Think about having an authentic restaurant experience from the comfort of your kitchen. Yes, please!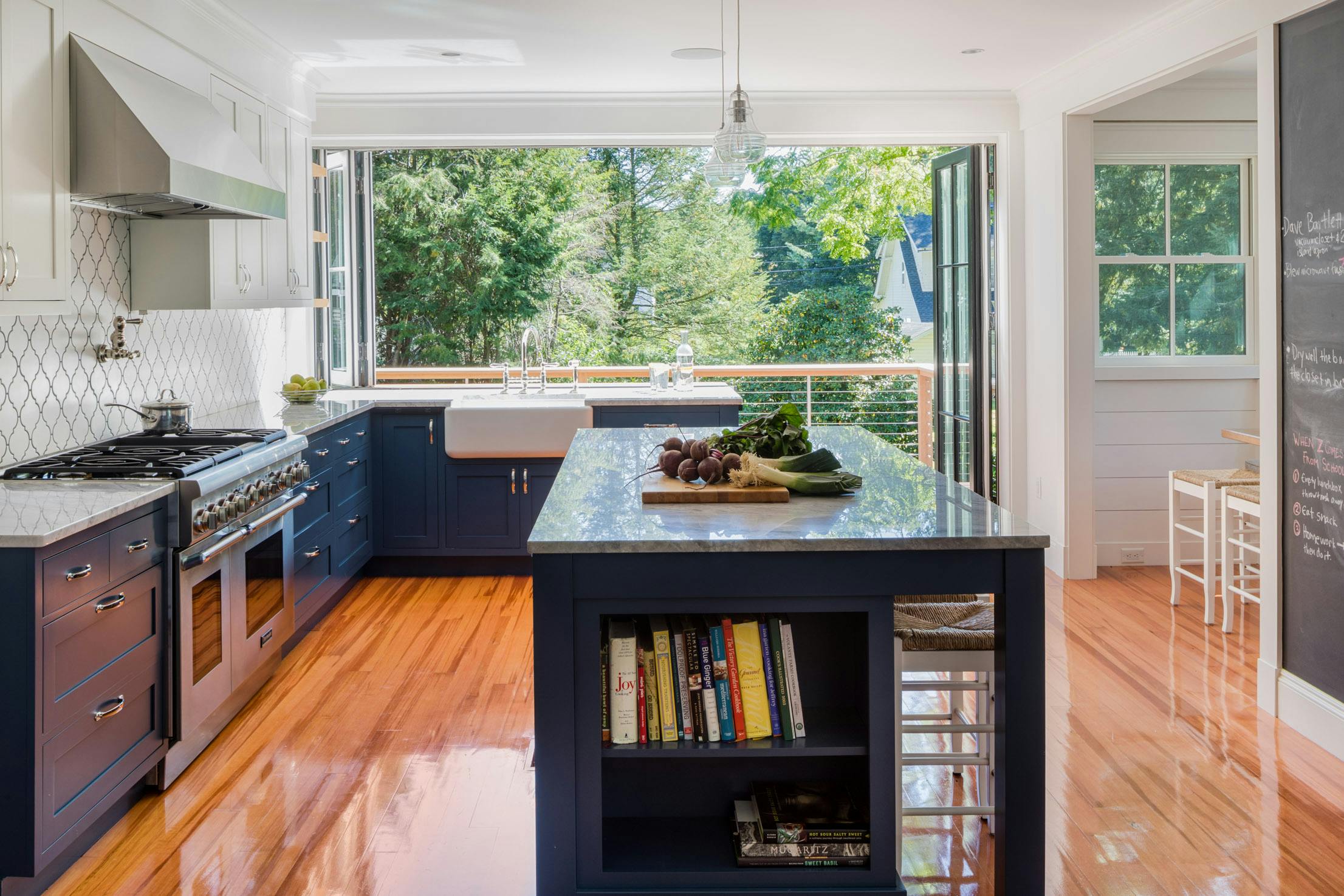 Replace Old Patio Doors for a Durable Alternative
Traditional patio doors although functional tend to break down and become drafty over time. French doors often lack the durability and weather performance needed to sustain constant use and their doors can often take up too much space. On the other hand, conventional sliders get stuck easily and restrict homeowners to only one side of the opening. NanaWall bifold glass doors address these inconveniences with a more flexible, long-lasting alternative. Folding systems open wide and opening size is not restricted to a mere 50% as it is with a traditional slider. Opening glass patio doors in kitchen spaces offer durable, easy-to-operate systems without the need for constant maintenance. Similarly, NanaWall single track sliding glass walls offer moveable individual panels that stack remotely for full use of the opening. There is a system for every preference.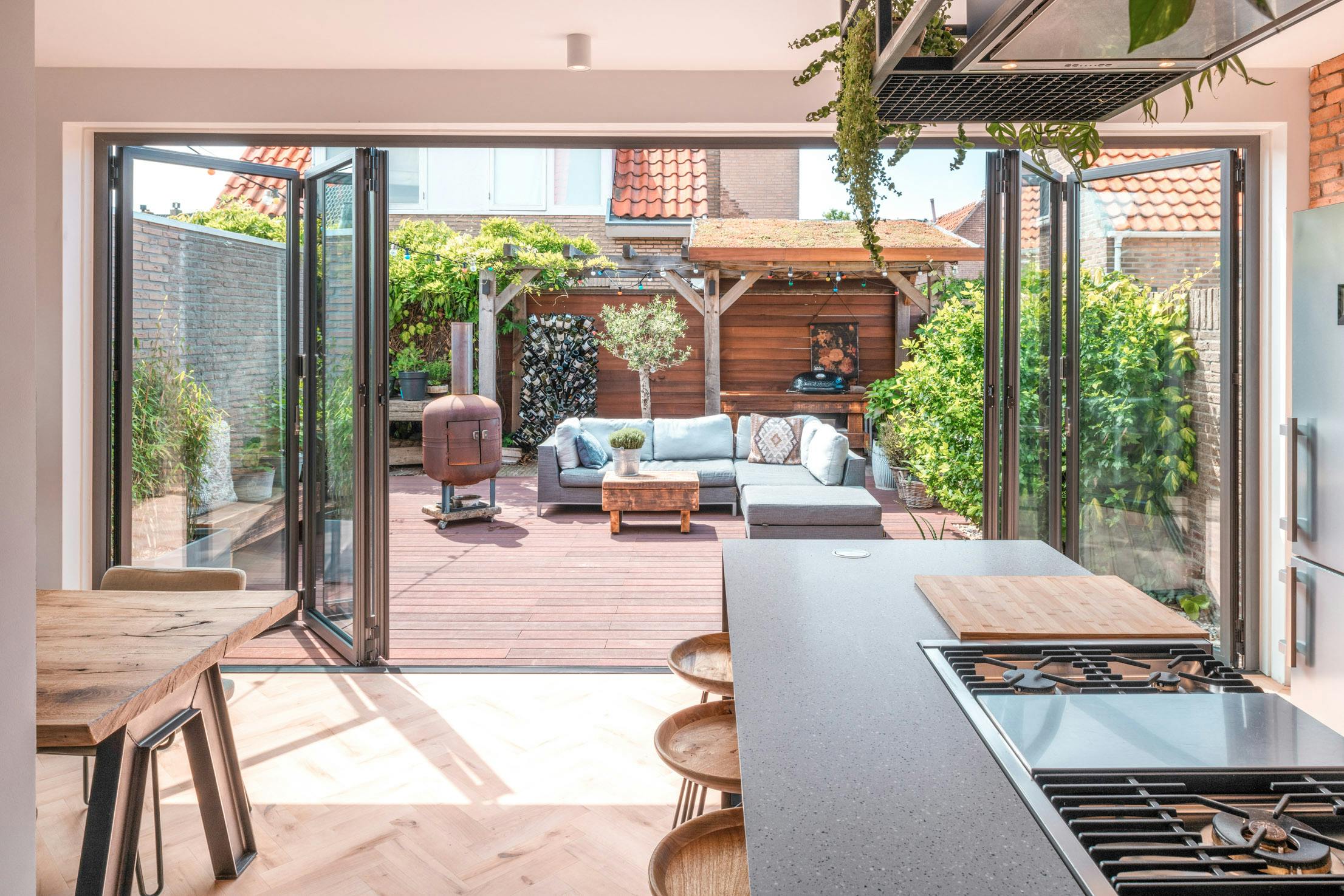 Add Customizable Features for Enhanced Aesthetics
NanaWall bifold glass doors are customizable to every lifestyle and home aesthetic. Choose between folding, sliding, or minimal opening glass wall systems that stack either inside or outside of the opening depending on your needs. Aluminum, wood, and clad frames are available with over 200 powder coating options based on preferred aesthetics—not to mention a variety of ethically sourced wood species. Additionally, you can now achieve wider openings with FourFold and SixFold panel sets introduced by the latest Generation 4 Folding Glass Wall product family. These panel sets can stack to the left, right, or center of the opening, giving homeowners maximum control of the opening. Did we mention you can also specify swing doors for quick indoor/outdoor transitions? The possibilities are truly endless.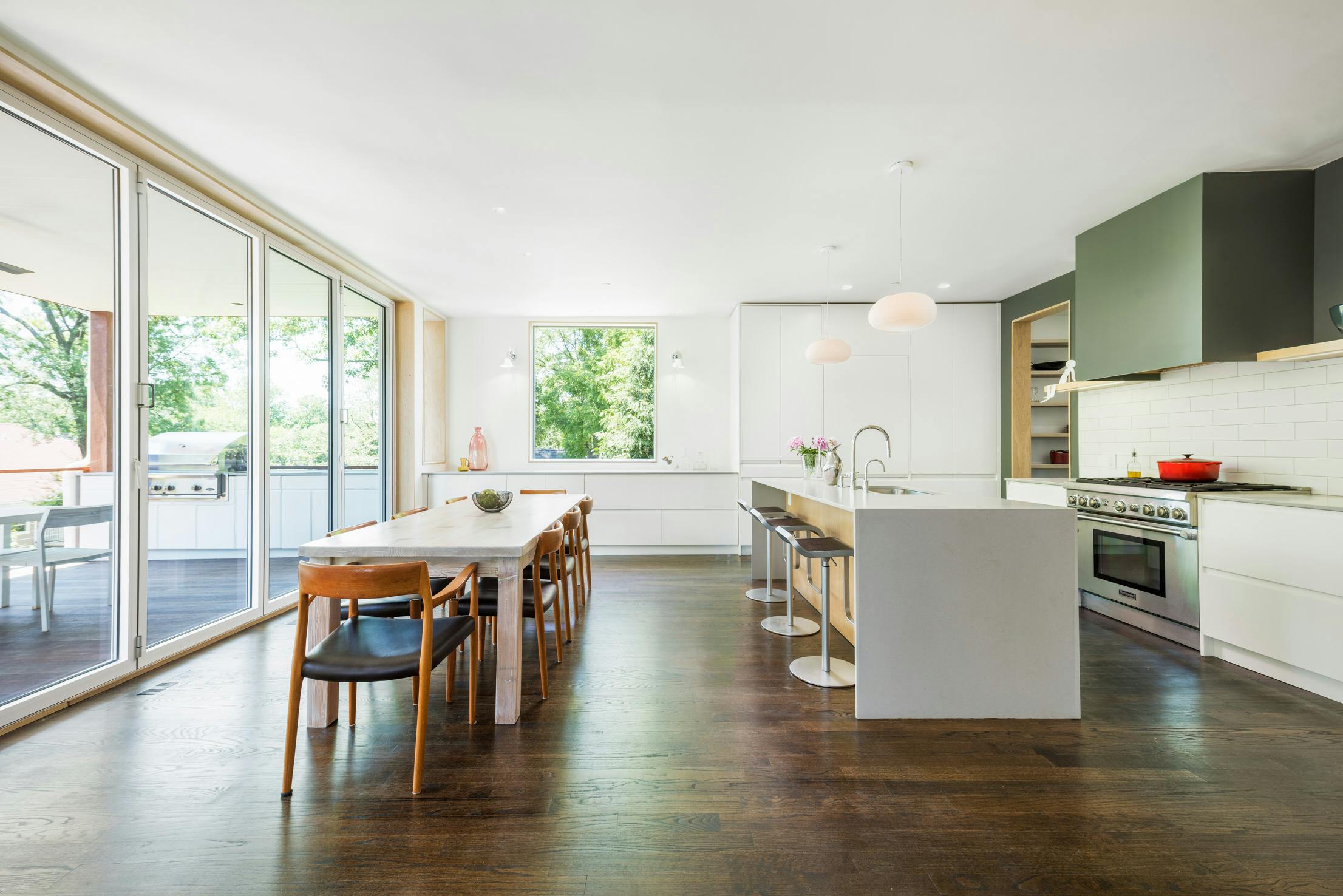 Final Thoughts
Ready to take your kitchen to the next level this year? Consider tearing down those obstructive, fixed walls for a more functional alternative. Bifold glass doors create bright and airy spaces that reap the benefits of indoor/outdoor living and enhanced aesthetics but without sacrificing performance or energy efficiency. NanaWall opening glass wall systems are independently tested for air, water, structural, forced entry, operation, and sound control with excellent results. So, whether you choose folding or sliding systems, get ready to upgrade your at-home experience with the ultimate indoor/outdoor kitchen space for the year ahead.

Discover how other kitchens leverage NanaWall bifold glass doors in our expansive project inspiration gallery!