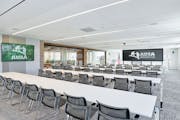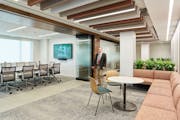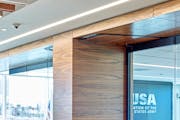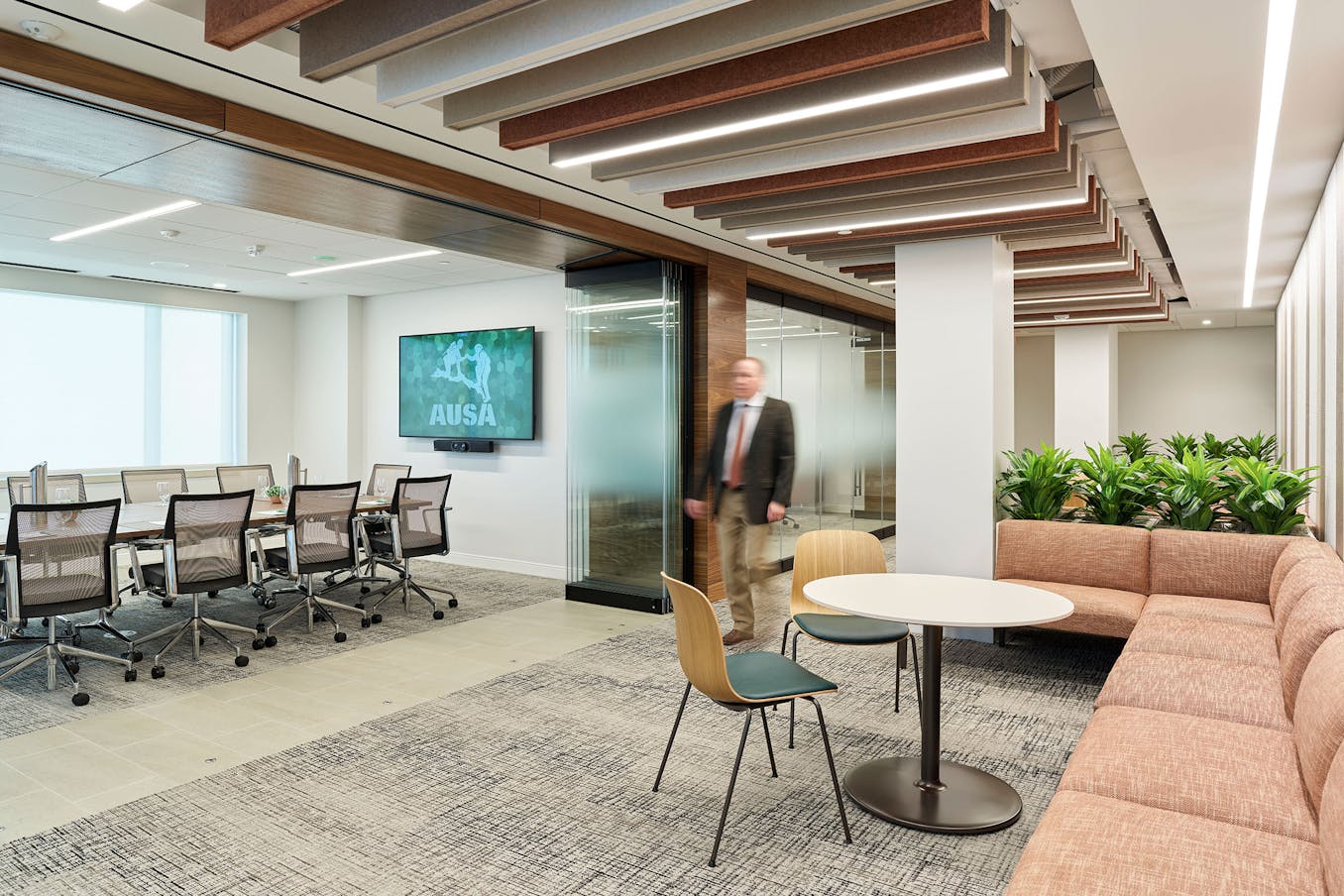 Achieving Acoustically Rated Flexibility with Frameless Glass Walls
When faced with the complex challenge of delineating the Association of the United States Army's (AUSA) sizable training area adjacent to a shared amenities space, architect and design firm, Interplan skillfully managed to meet the intricate demands of a client seeking a fusion of visual sophistication and acoustic precision. The task at hand was clearly defined: to establish a setting that seamlessly transitions between spaces while meeting the stringent acoustic isolation required for an establishment housing AUSA's Office in Arlington, VA.
Transparent Acoustical Properties
The client's specific directive called for visually frameless glass walls, steering the design team away from conventional systems that contain vertical framing and towards NanaWall's innovative solution. Renata Gorman NCIDQ, Interplan's Senior Interior Designer, had recently encountered NanaWall Systems during a Continued Education Unit (CEU) session, serving as a catalyst for a promising resolution that offered both frameless design and superior acoustical properties.
"Our client sought a way to maintain maximum transparency without compromising sound isolation, and NanaWall solved that problem years ago with their robust line of acoustically rated products."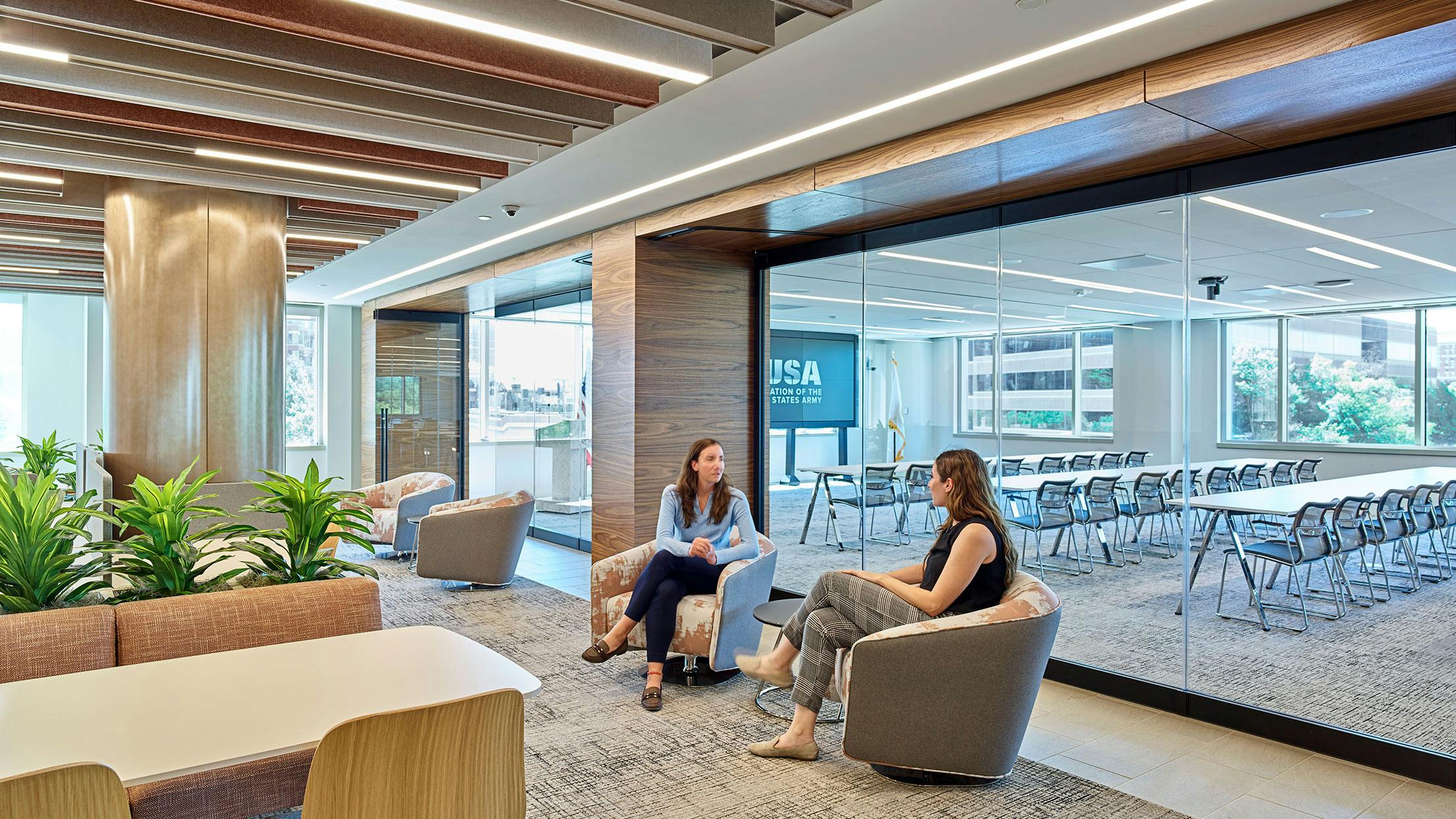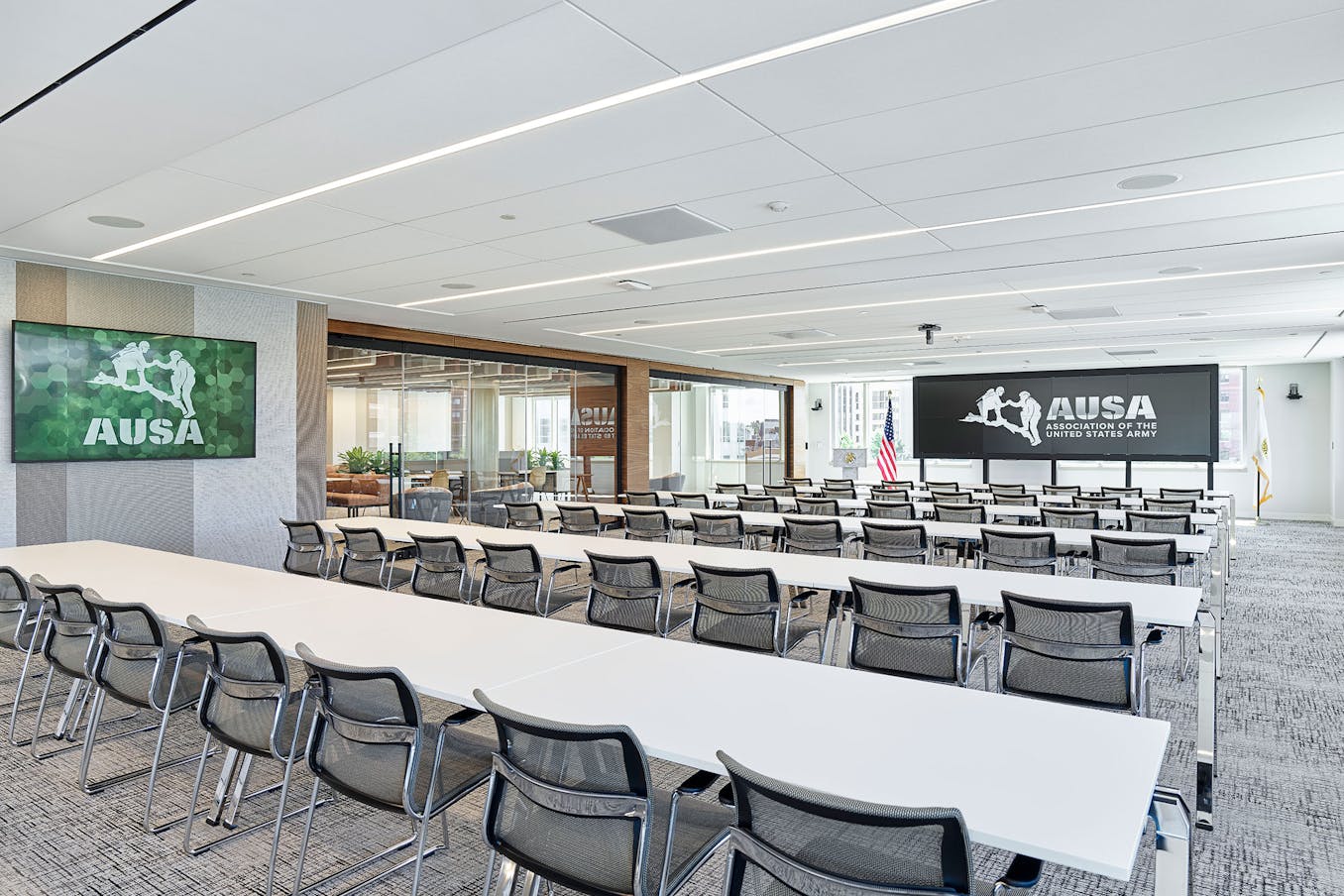 Functional Partition with Frameless Glass Walls
NanaWall emerged as the optimal solution for Interplan's vision. Principal architect Robert Jacobsen AIA affirmed, "Our client sought a way to maintain maximum transparency without compromising sound isolation, and NanaWall solved that problem years ago with their robust line of acoustically rated products." The frameless glass walls, comprised of individual panels on a single track, not only met aesthetic criteria but also facilitated a visibly unobstructed transition between spaces. The patented PrivaSEE system highlighted an unparalleled Sound Transmission Class rating of Unit STC 36, underscoring NanaWall's dedication to acoustic excellence.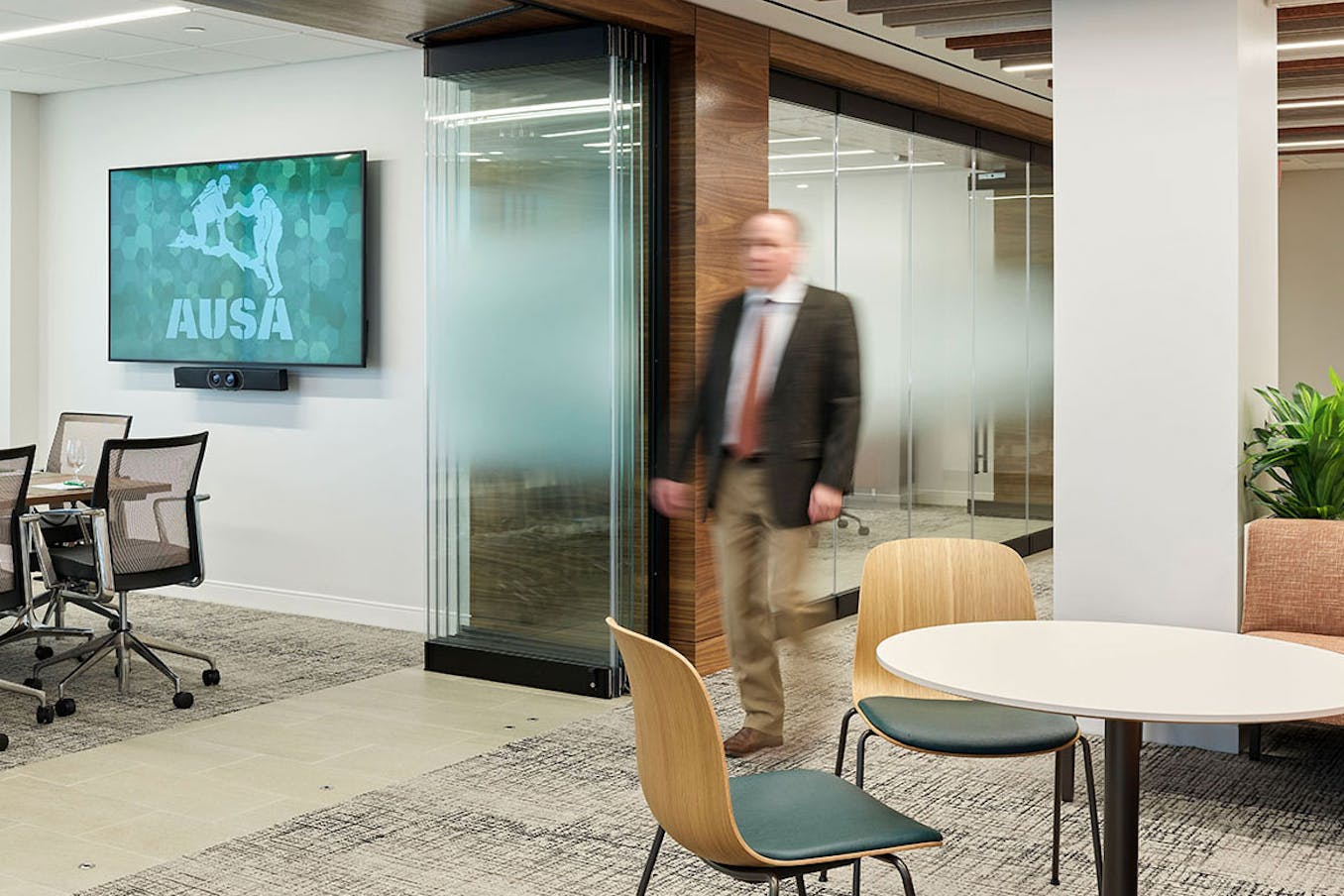 The frameless glass walls were strategically incorporated on two sides of the floor plan. The western PrivaSEE installation serves as a dynamic boundary from the shared amenities area that is adjacent to the large conference room. It utilizes two systems of 6 panels that stand at 8'2" tall and 18' wide. Two separate systems, each made of 5 panels, enclose two smaller conference rooms located on the eastern side and feature an application of Cloud Narrow film by 3M for added visual privacy.
To ensure smooth egress and ingress, swing panels were specified in each system throughout the building. PrivaSEE's distinctive floor sockets eliminate the need for a floor track, providing a clean aesthetic that is also ADA-compliant. The system's flexibility enabled seamless adaptation to the multifaceted requirements of the AUSA, particularly in hosting dynamic events.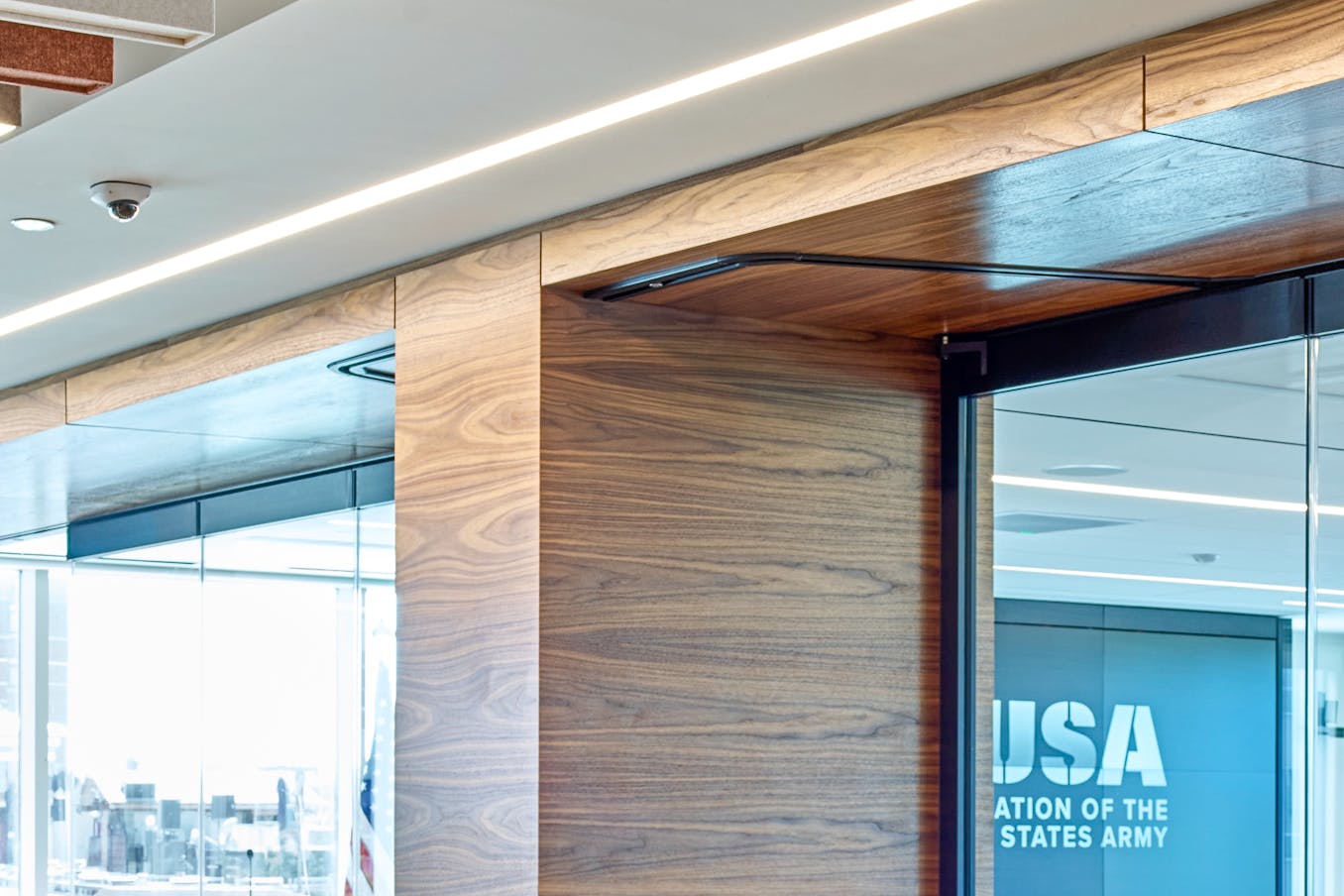 Frameless Glass Walls' Biophilic Benefits
Interplan prioritized biophilic design, maximizing abundant natural daylight to flood the interiors, and incorporating warm woods and natural greenery. Gorman explained, "When designing the space, I aimed to draw from the biophilic aspects associated with the army, incorporating greens and camels, fatigue-type colors, and integrating wood and plant elements." This emphasis was crucial in implementing a recessed head track, minimizing the distinction between the track and the beautifully wrapped wood veneer, notably highlighted in the parking bay located strategically against a structural support column. This choice was made to conveniently stack the panels out of the way during large events when the system is open.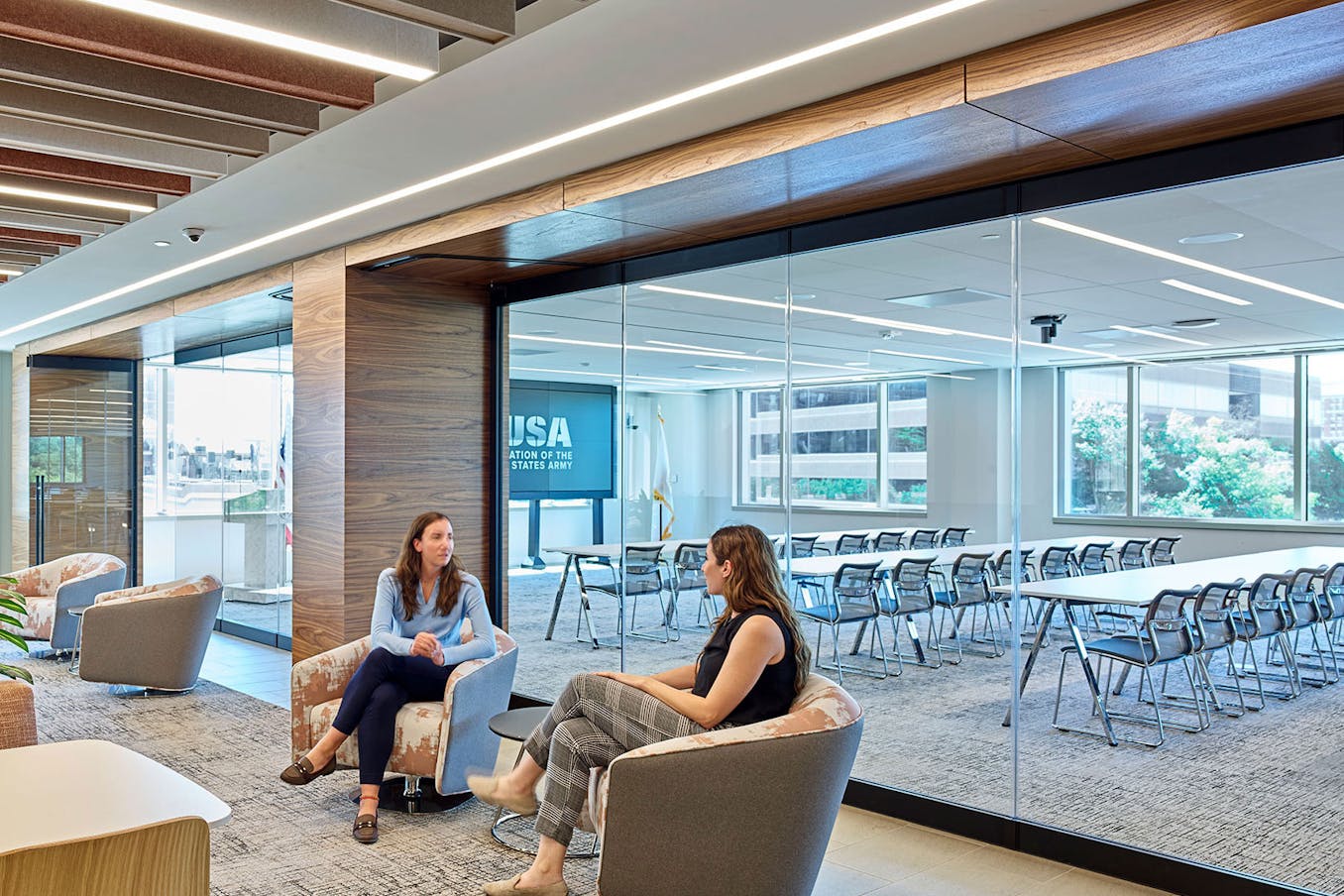 Trusted Acoustic Glass Wall Provider
Client feedback praised the PrivaSEE frameless glass walls' flexibility and acoustical efficiency since its completion in August 2023, prompting Interplan to select NanaWall PrivaSEE for a second use in an upcoming renovation within the same building, set to be completed by September of 2024.
The success of the Association of the United States Army projects stands as a testament to PrivaSEE's transformative capabilities, transcending spatial design boundaries. It offers a nuanced experience where architectural elegance seamlessly aligns with acoustic precision.
What our Customers Have to Say