Application
Architect
Johannas Design Group
Photographer
Stephen Elliot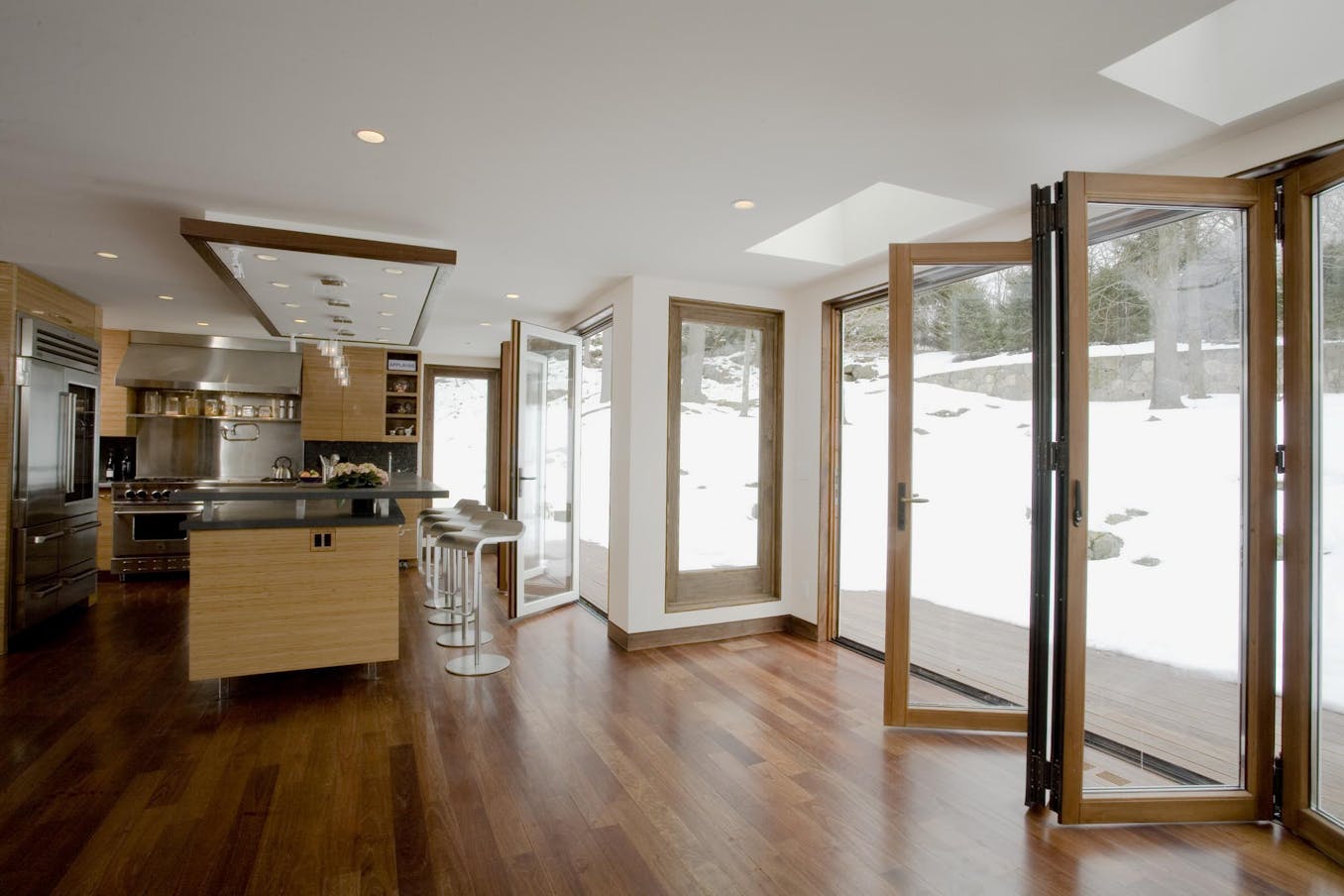 Lots of people like to entertain in the kitchen, but few like Marissa Hardie. The celebrity chef based in Chappaqua, N.Y. – not far from a former U.S. President and Secretary of State – is renowned for the culinary classes and "at home" cooking demonstrations she hosts in her big, beautiful kitchen. The spacious kitchen includes all the appliances and utensils one would expect for a professional kitchen, as well as spare lines, ultra-modern finishes and an ample, two-tiered island.
It also includes two NanaWall WA67 wood framed (with exterior clip on aluminum extrusions) folding systems with NanaScreens, opening the kitchen and an adjacent great room area to the long, open Ipe wood deck outside. The rocky, natural landscape beyond almost becomes a feature of the sleek, haute-tech kitchen.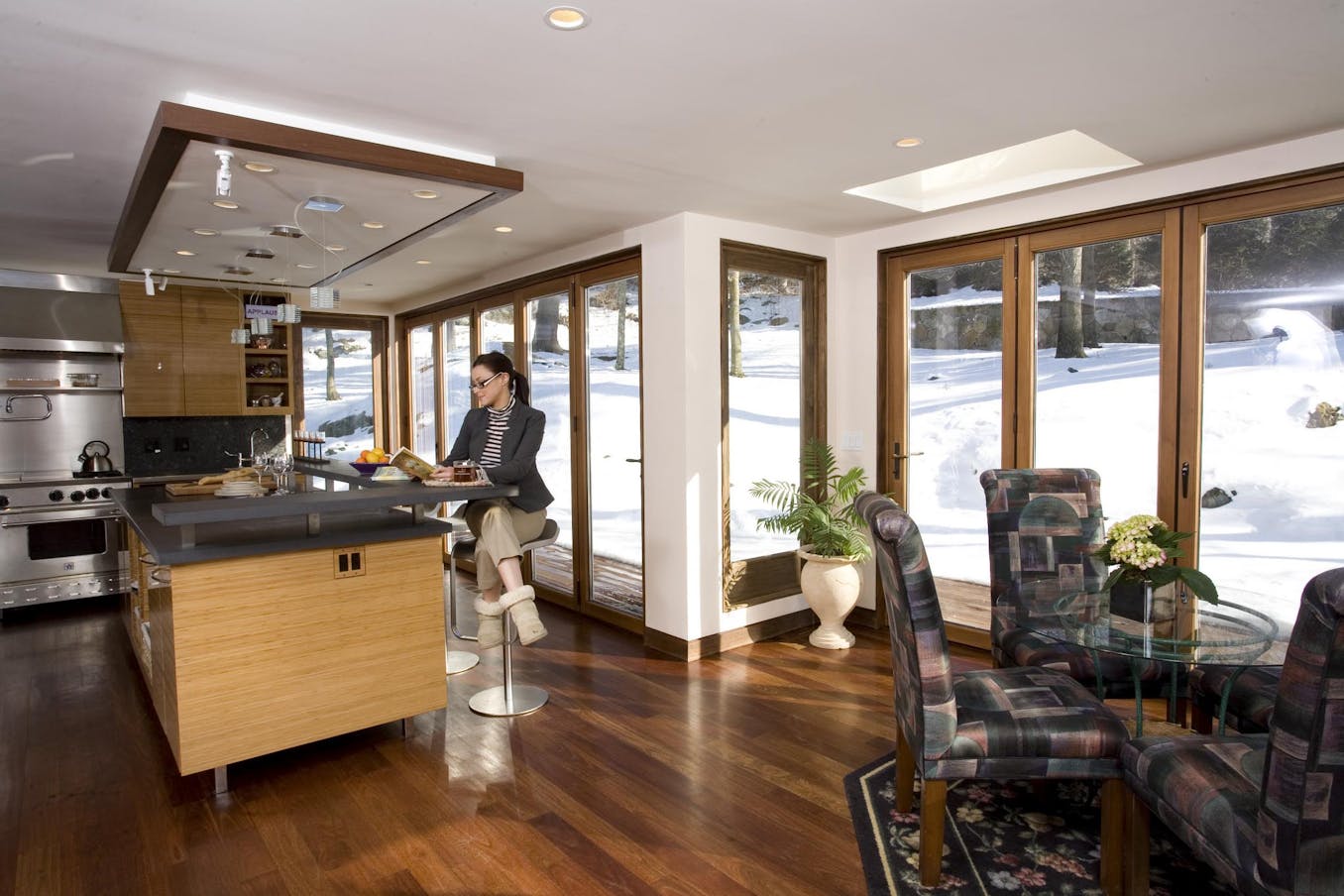 Creating a Flexible Design for a Hard-Working Kitchen
The project was ideal for architects Mark R. LePage, AIA, LEED AP, and Annmarie McCarthy, AIA, NCARB, a married couple that leads Fivecat Studio – a leading residential practice also known as McCarthy LePage Architects, PC – in nearby Pleasantville, N.Y. "We have also designed restaurants, so we have worked with chefs before," says LePage. "Marissa does a lot of everything as a professional chef, so we designed her personal kitchen so it could be as flexible as she needs it to be."
The NanaWall is a significant benefit for Hardie's events, demos and parties, LePage adds. "We had double French doors in the layout earlier on, but to make it more flexible we chose the two big opening panel units, which open up the whole side of the house," he says. "Now our client enjoys it on a daily basis, and when she has a bunch of people over for a class or party, she can overflow onto the deck."
With NanaWall, this accomplished design firm rose to Hardie's unique challenge. "First, we could not change the footprint of the house, period," she says. "Then, I had a list of must-have's, and a list of wants, and the must-have's drove the design."
"Two walls of windows open onto a deck built into rock outcroppings, and the space is as peaceful as it is hardworking."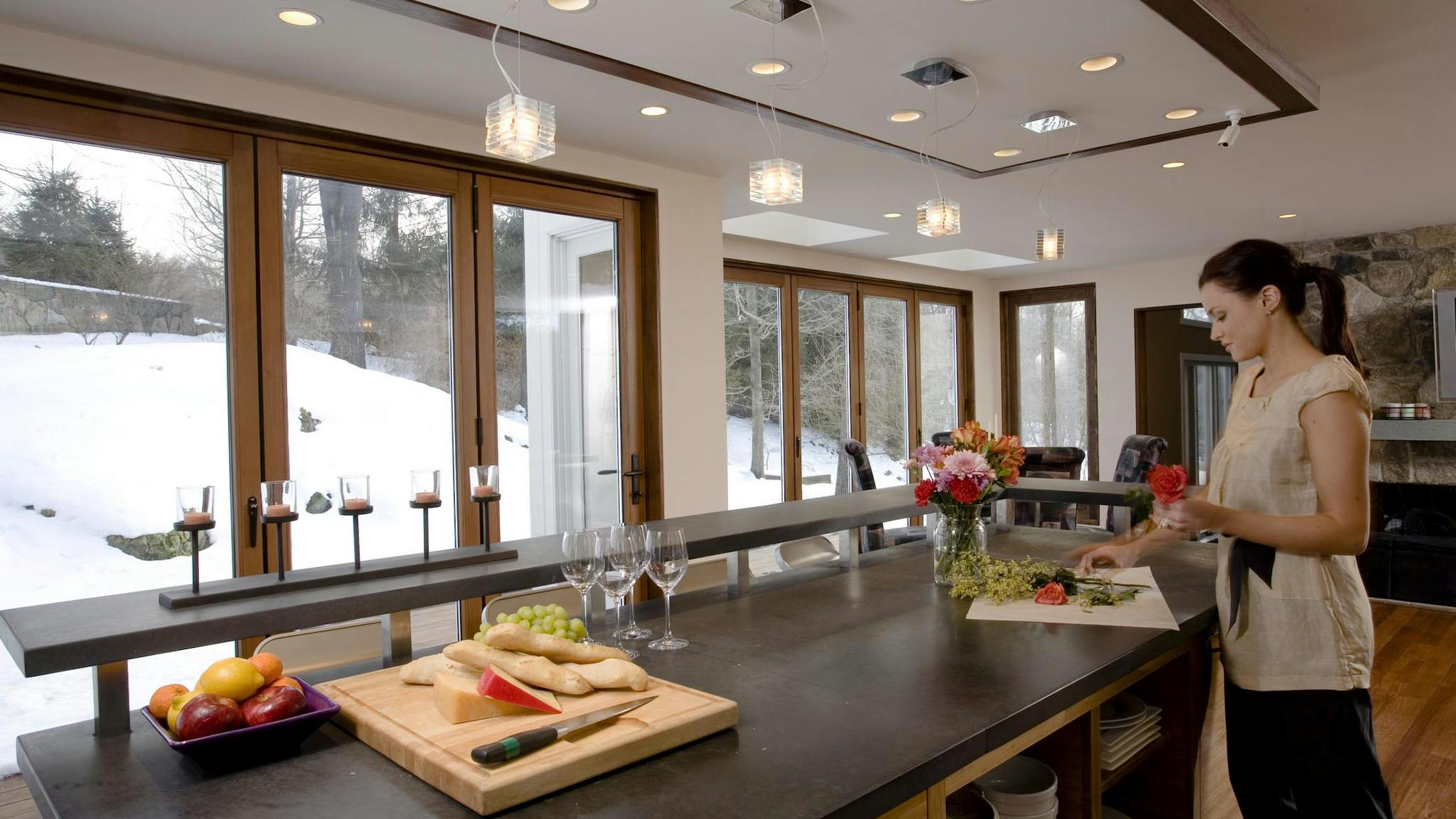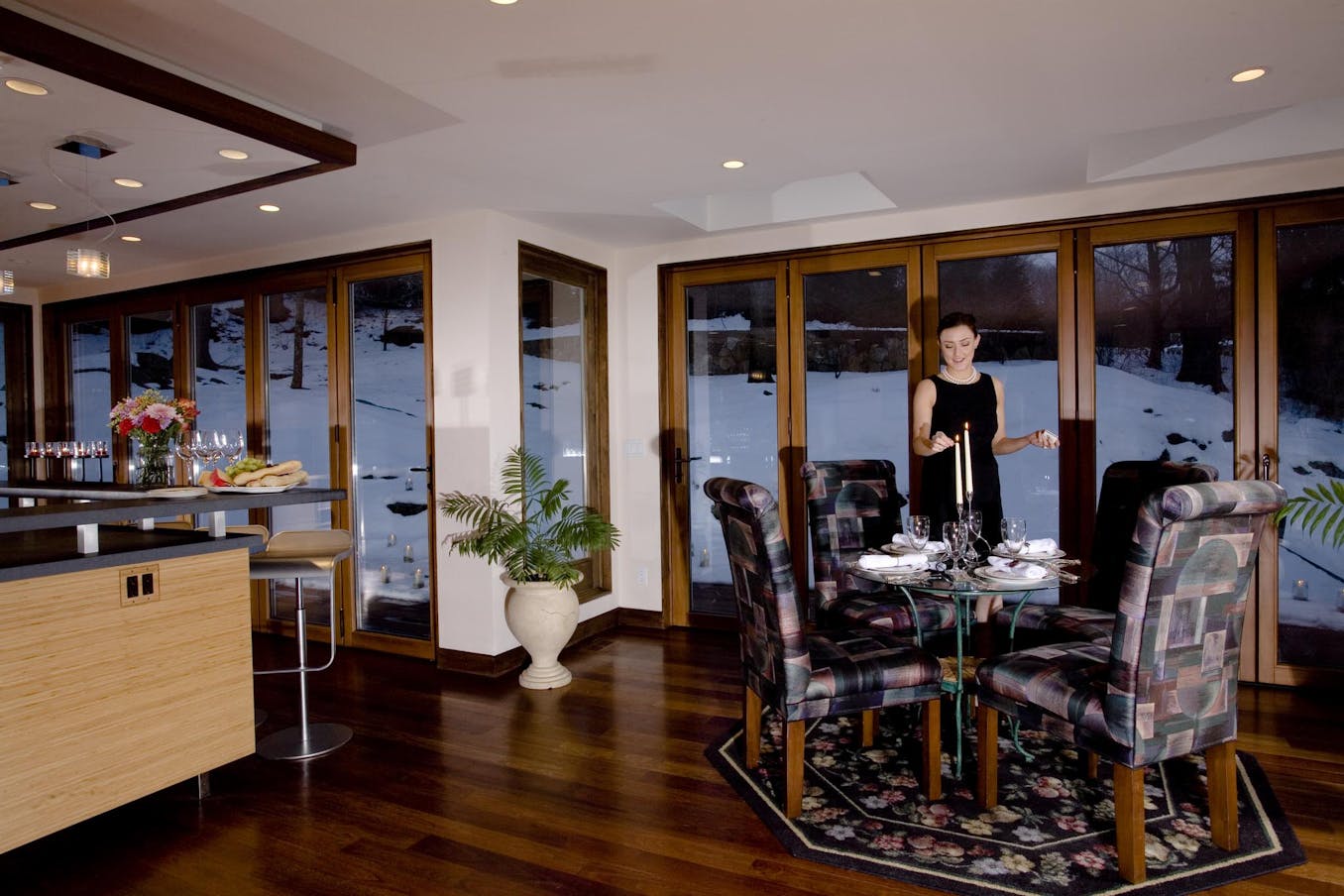 Year-round Enjoyment
The kitchen, ideal for family meals, could instantly transition to accommodate the large gatherings for the homeowner's cooking school, Marissa's Kitchen, in what Hardie affectionately calls her "kitchen stadium."
As Hardie says, "We use the outdoors year-round, thanks to the built-in hot tub. We've opened up the NanaWalls during parties, when it's been chilly or cold. Even snowy, once. Honestly, having basset hounds that bolted as soon as they saw an opening kept us from opening the doors more."
She adds that the Kitchen Stadium has professional appliances, custom lighting and bamboo cabinetry, and loads of work space and storage. "Closed-circuit cameras project from the workspaces to a flat screen television in the room," she says.
Regarding the NanaWall WA67, she adds, "Two walls of windows open onto a deck built into rock outcroppings, and the space is as peaceful as it is hardworking."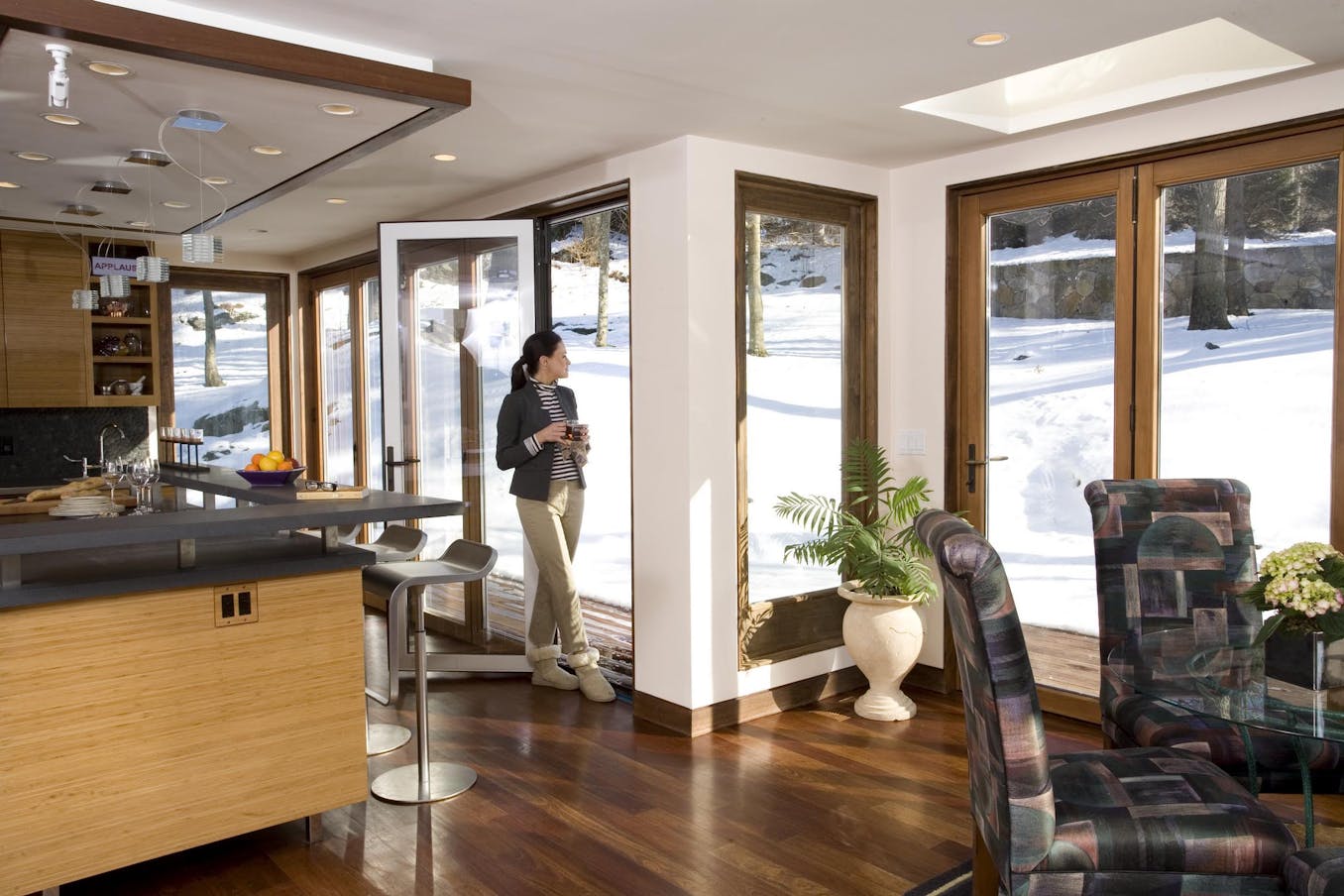 While double French doors would certainly work stylistically among Westchester County's colonial homes, they would not offer near the openness or the crisp, modern edges that reflect Hardie's cutting-edge kitchen design.
NanaWall is also a natural complement to the success of LePage and McCarthy's design practice, which launched in 1999. "We both worked for other architects and we had experience with high-end expensive homes," says LePage. "I had also worked as a project manager on K-12 schools and other projects," which can be much more complex and logistically demanding.
"What separates us from other firms is the experience we provide," he adds. "Construction is not just drawings and a building but the experience. A lot of homeowners are unprepared for what they are about to embark on, and unlike many architects we see our role as holding a client's hand from the beginning, helping them manage their expectations – and being there to answer questions."
For Hardie, who recently taught savory, pastry and children's classes at the famous Sur La Table at Ridge Hill, the support helped make her kitchen the most that it could be.
What our Customers Have to Say
Whistler Residence
To highlight the mountain views at this Whistler BC location, a NanaWall Wood Framed Aluminum Clad WA67 was specified in six panels with a pair of swing panels at the center to function similarly to French doors when the system is closed.
Park City Residence
The preexisting French doors and large windows were not maximizing on the stunning panoramic views at this Hollywood CA residence. During a renovation project, the space was transformed with jaw dropping results.
"We needed a quality aluminum/glass wall to create two distinct worship areas. Usually the NanaWall remains closed, but at busy times of the year, the wall can be opened to combine the nave and chapel into one large space." 
— James Clearkin, Contractor