Hyatt Regency Waikiki
Honolulu, HI
Products
Application
Architect
Group 70 International Ltd Honolulu, HI
Photographer
Lawrence Anderson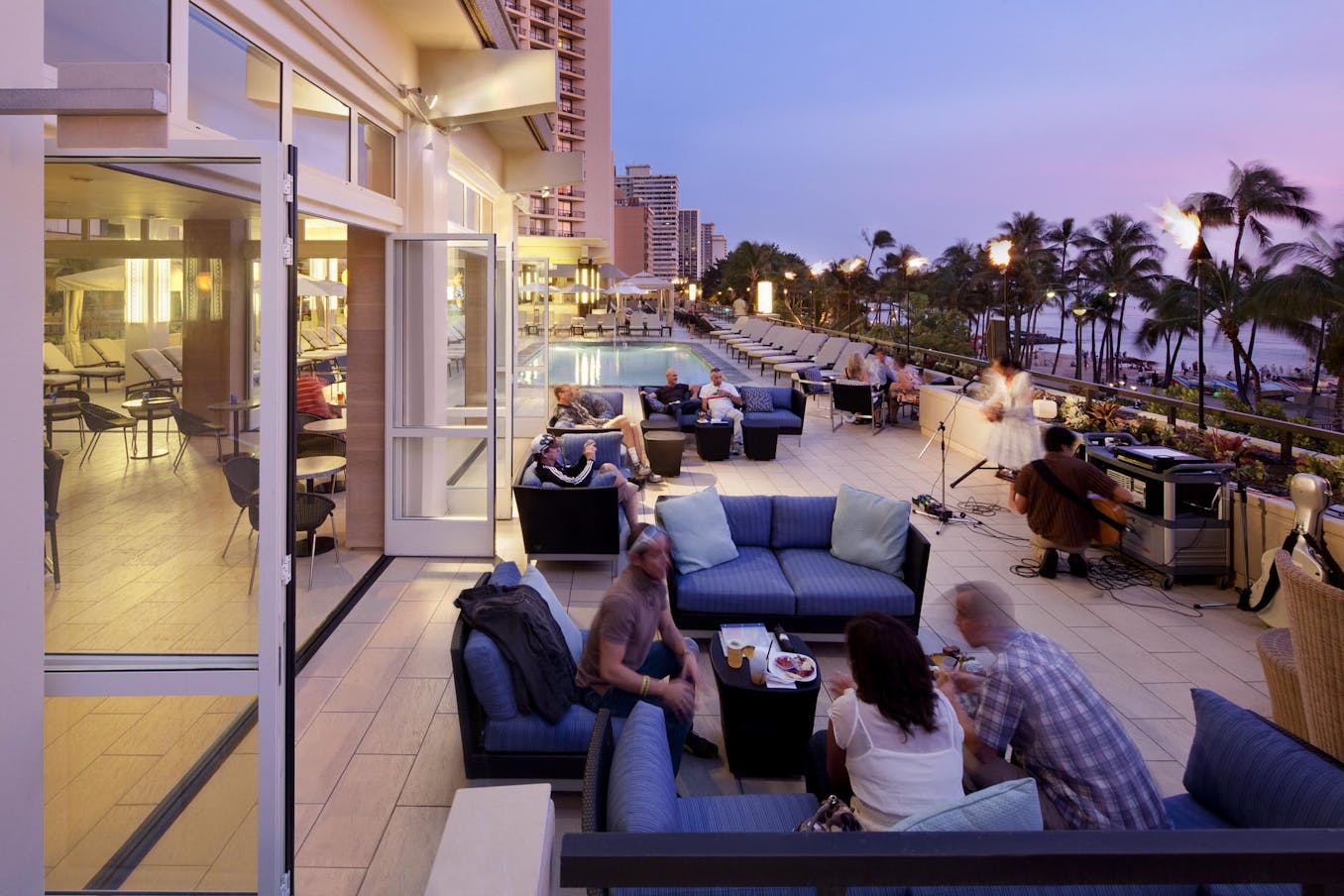 Looking for a way to highlight the tropical outdoors while providing a unique beachfront hospitality experience at Honolulu's Hyatt Regency Waikiki Beach Resort and Spa, the design team at Group 70 International found a way to do just that—with stunning results.
Project architect and principal Tom Young MBA, AIA, noted that there were two areas that the client wanted to focus on when updating the property: the lobby and select timeshare apartments. To this end, Young and his team specified NanaWall's SL45 folding glass wall system to create the elegant and breezy, bring-the-outdoors-in atmosphere the client desired.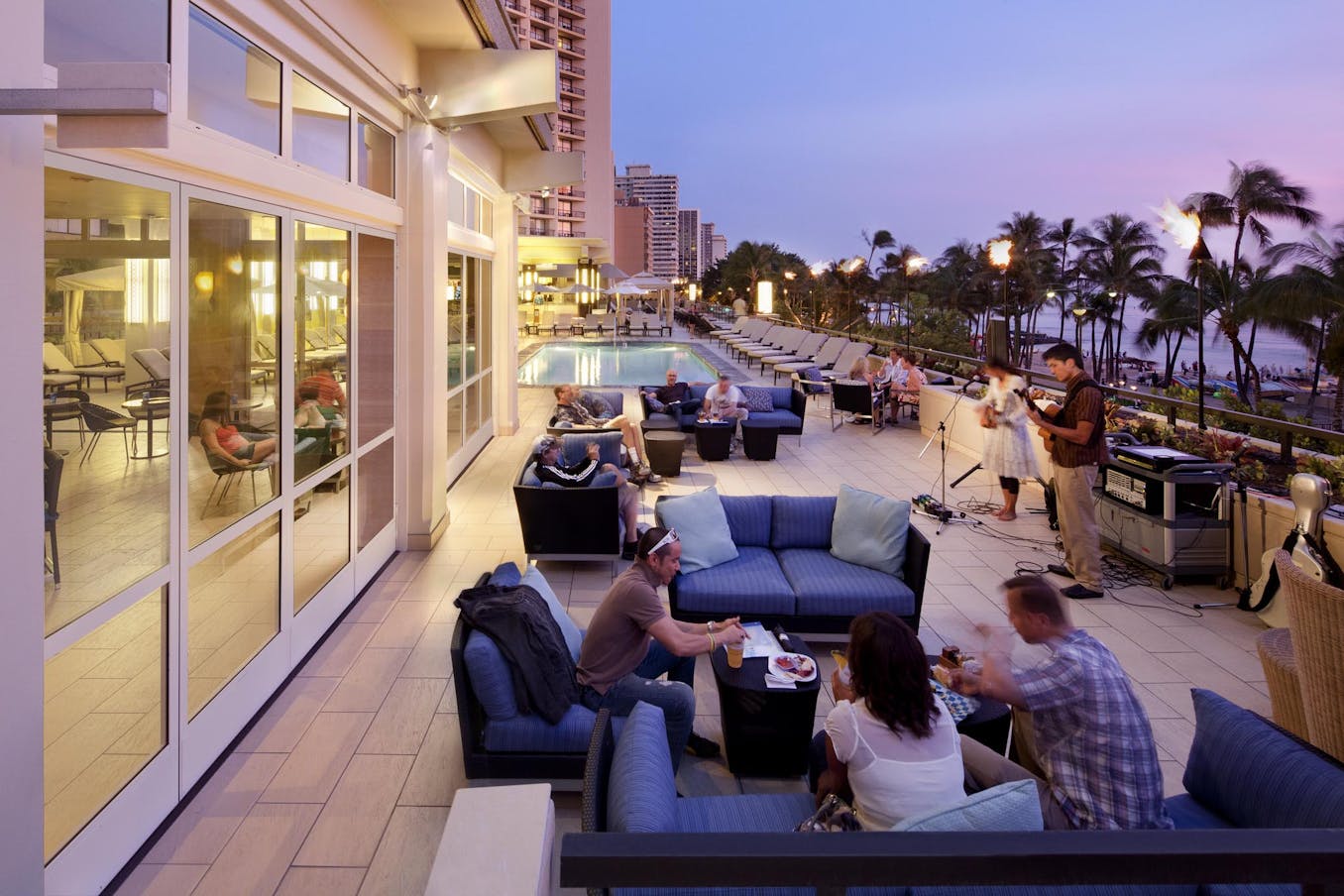 Bringing the Outdoors In
For the apartments, the idea was to create a flexible space configuration, allowing guests to enjoy their space to the fullest. "We wanted the opening at the lanai to be as wide as possible, and the NanaWall system worked with our design concept," says Young. "We wanted to extend the guests' living experience outside as far as we could, so they can even sleep outside if they choose to."
In the lobby area the charge was similar: Create a space that makes the guests feel instantly connected to the surrounding beauty of the islands.
The Flexible Solution
The SL45—a top-hung folding door system—allows the select spaces to serve as a completely enclosed and private spaces benefitting from NanaWall's robust sound attenuation properties. Quickly, however, the SL45 opens for access to exterior areas.
This flexibility could not be achieved with conventional sliding glass doors and partitions, notes Young. "Before we chose NanaWall we looked at some similar systems from manufacturers in Canada and Australia. While the systems were similar, we decided to go with the NanaWall based on features and cost. In a recent façade test, the NanaWall System performed quite well," he adds.
"We wanted the opening at the lanai to be as wide as possible, and the NanaWall system worked with our design concept."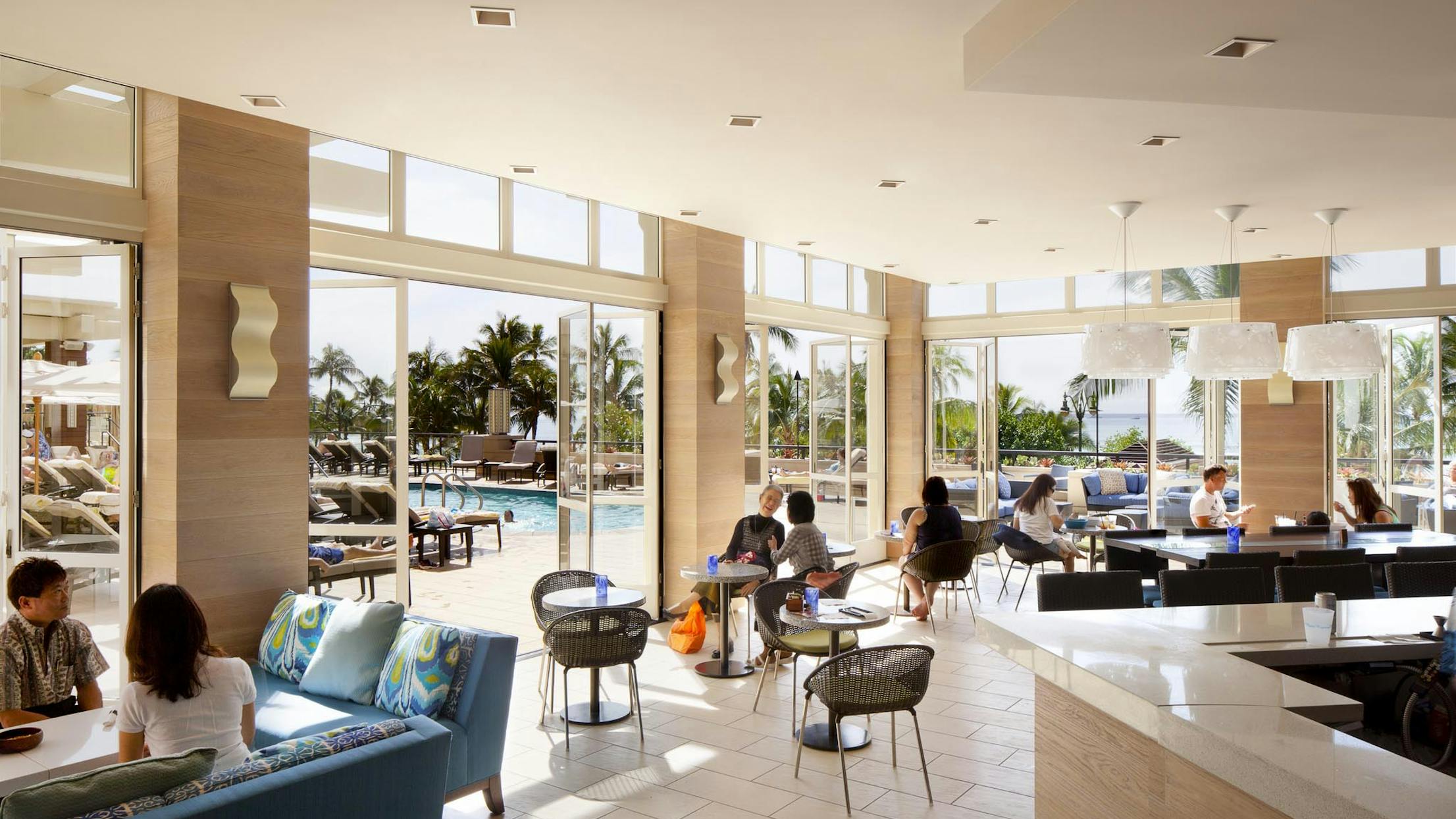 Paired Panels
The myriad features and performance-related attributes of the NanaWall's SL45 Aluminum-Framed Monumental Folding/Paired Panel System made it ideal for the Hyatt Waikiki.
As a folding system, the NanaWall SL45 is designed to provide an opening glass wall up to 43 feet wide. With additional paired panels, the width can be virtually unlimited, making the system ideal for an extra wide opening specification – ideal for ocean breezes to fill the lobby and guest apartments, according to the architects.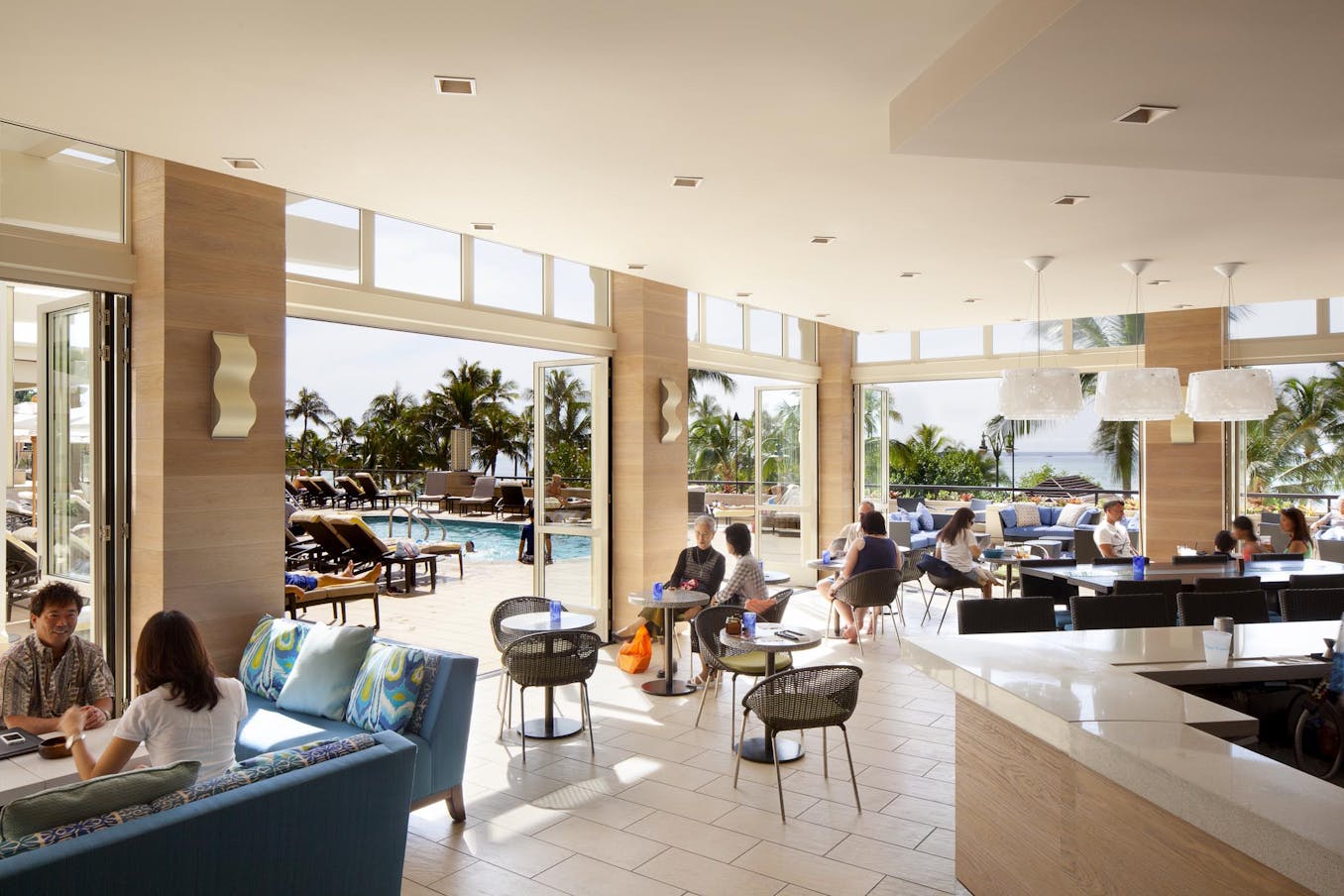 Design Options
Options exist for a variety of wall configurations, too: All inward-opening panels, all outward-opening panels, some panels opening in and some panels opening out, or center-pivoted panels. Unhinged paired panel options give maximum stacking flexibility. Further, angled units of 90-degree and 135-degree or segmented units allow designers to create large bay or "curved" openings.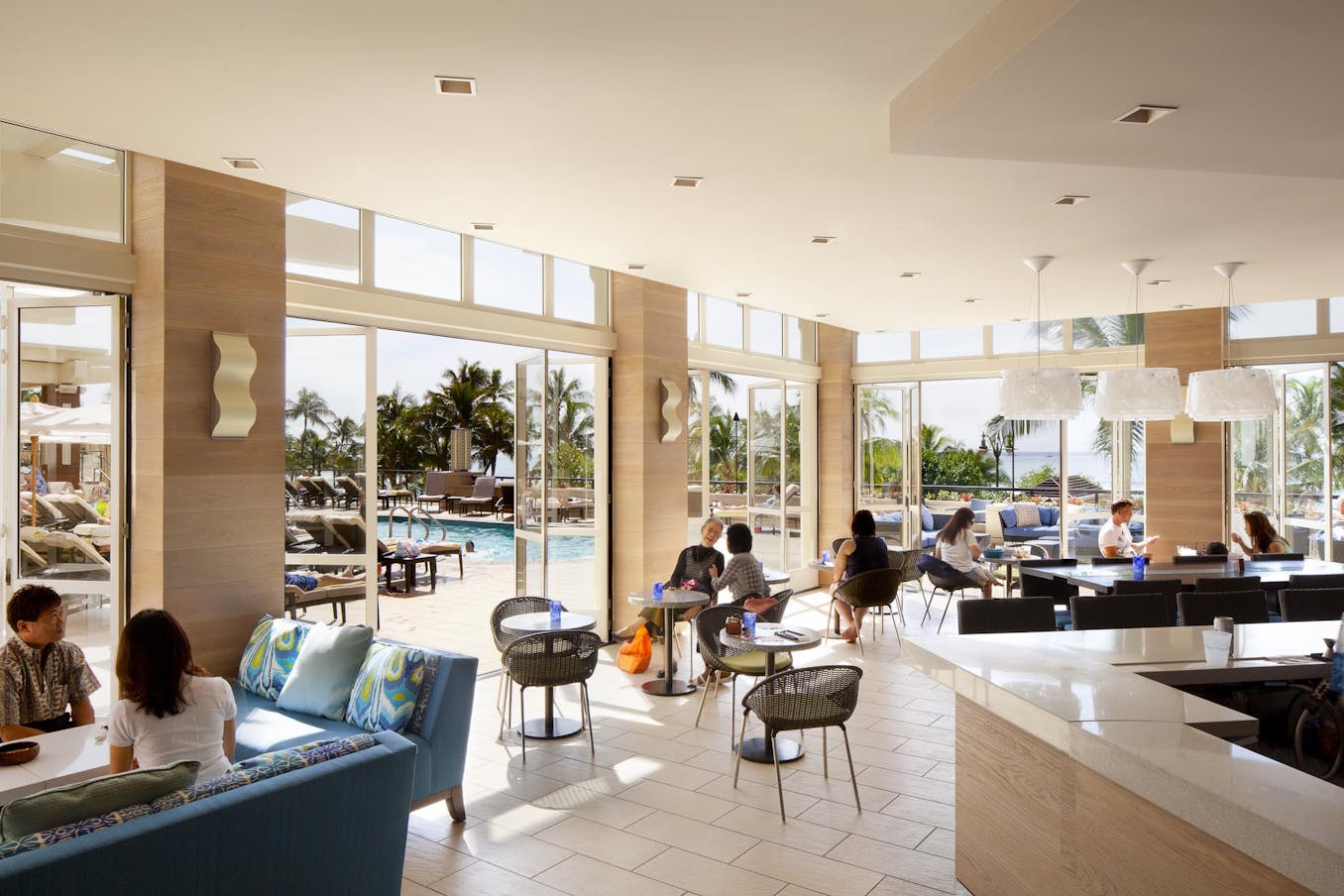 Glazing options were appealing to the design team, too, with the units available either glazed with 1/4-inch tempered or laminated glass or 3/4-inch clear insulating tempered or insulating low-E tempered glass or other high-performing safety glass such as Heat Mirror, special tint, and many others.
For each pair of folding panels a patented, load-bearing upper-running carriage is attached to the upper corner of the panel. Attached to the lower corner is a lower-running carriage as a guide. Panels are pre-assembled and all pins and screws needed to assemble frames are provided, making the SL45 a complete and hassle-free system in install.
What our Customers Have to Say
Saint Mary's Student Chapel
Saint Mary's  new chapel offers its students an ideal space for worship and meditation with meticulous design that takes full advantage of the natural surroundings.
LIFT Bar Grill View
At LIFT Bar Grill View, it makes no difference which area of the restaurant the guests are seated in; Lift offers operable "glass walls with jaw-dropping views".
"NanaWall allowed us to open it up and extend the room, make the space feel larger. The system opened up the building to make great connections to the park and to the historic buildings downtown."
— Ted Touloukian, Architect