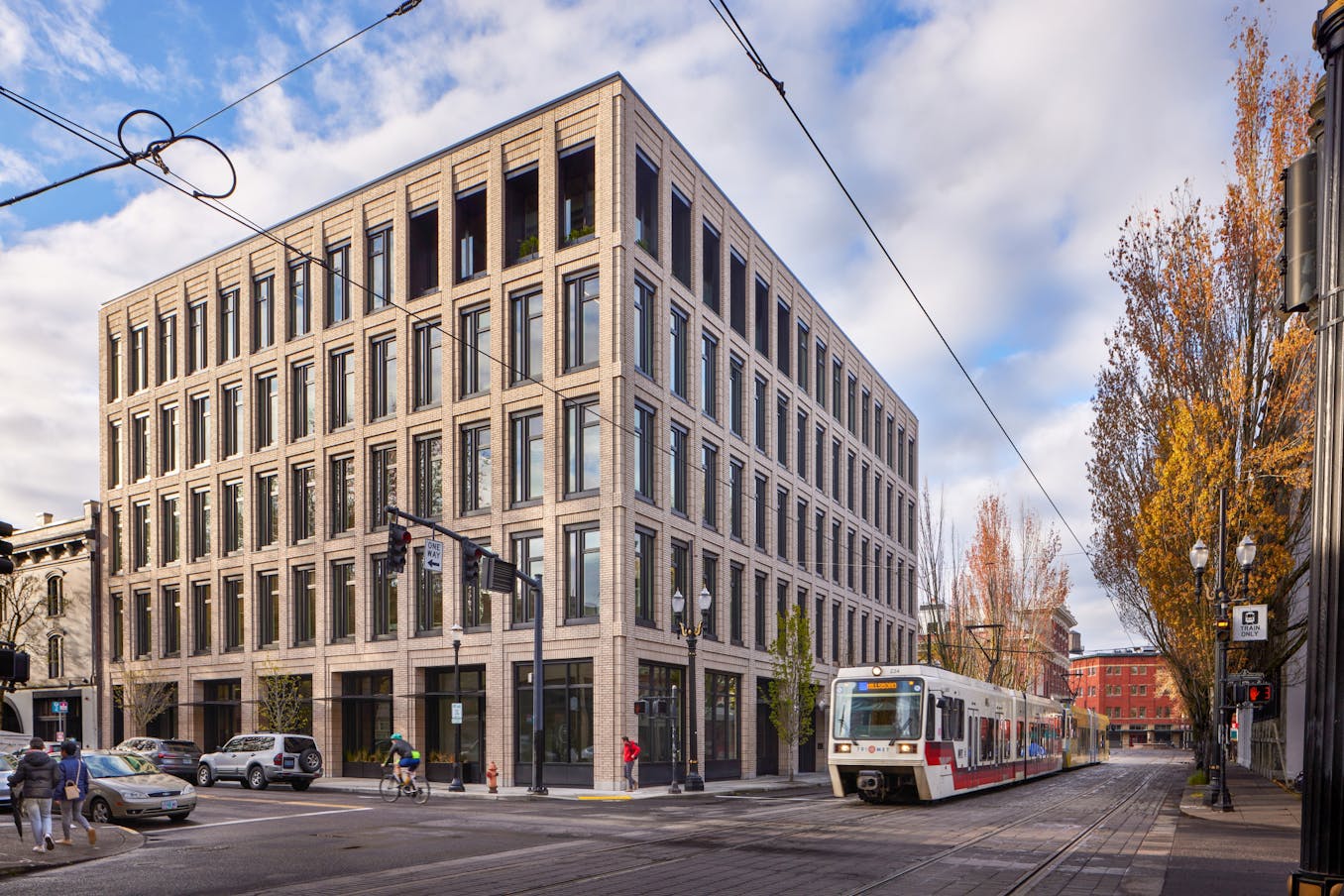 The First Developer-Driven Living Building with Innovative Opening Glass Walls
At first sight, the contemporary brick and glass façade of this Portland office building doesn't seem too out of the ordinary. Built within Portland's Skidmore Old Town Historic District, the structure evokes the historic charm of the local architecture and is soon to be a landmark of design-forward, sustainable buildings. PAE Living Building, named after one of its primary occupants, is one of 30 international structures, certified as fully "living" buildings by the International Living Future Institute. Leveraging innovative design, technology, sustainable practices, and flexible design solutions like NanaWall opening glass walls, PAE Living Building is also the largest commercial development in the world to achieve Living Building Challenge (LBC) certification.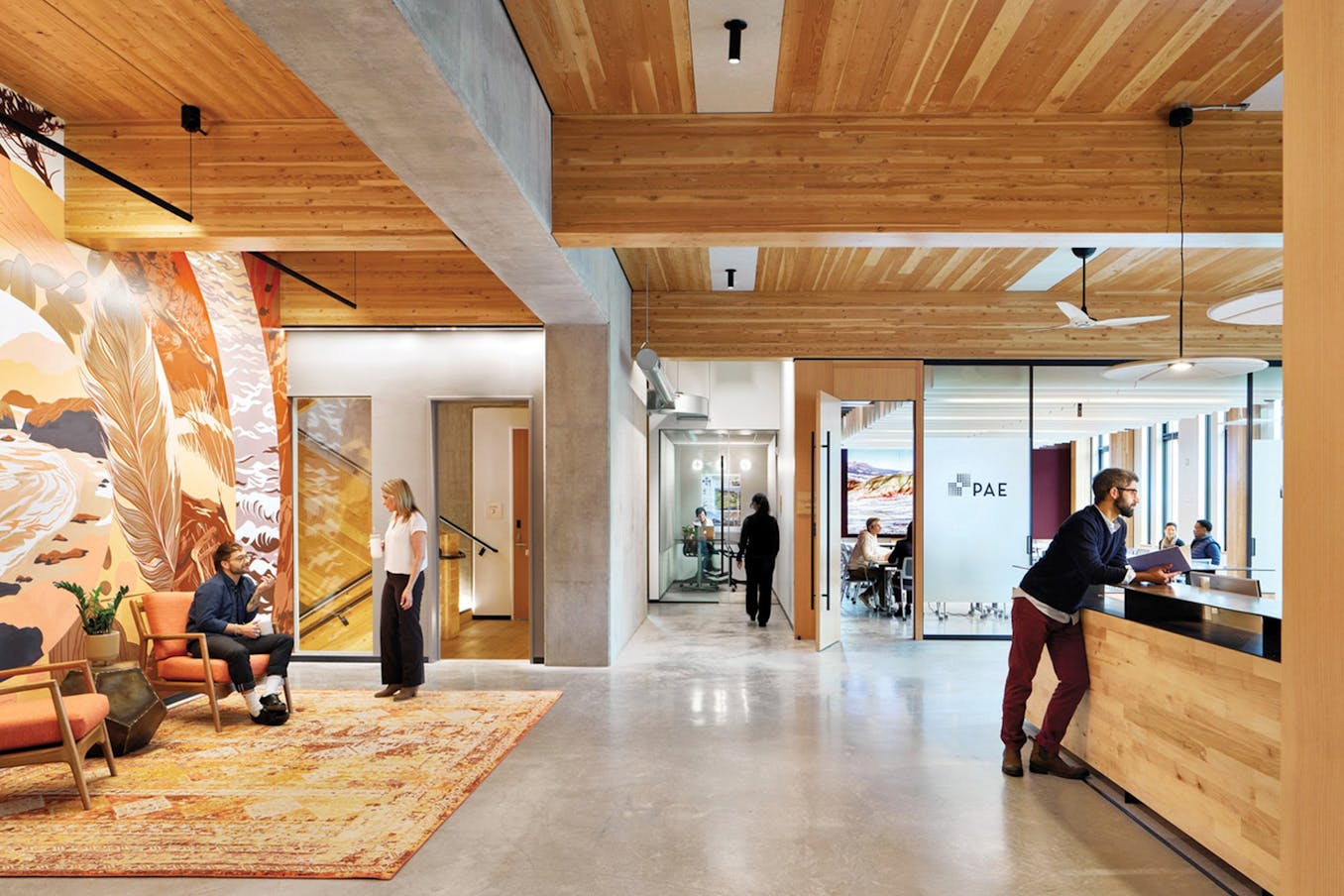 A Vision of the Future in the Workplace
According to the International Living Future Institute, a living building produces more energy than it needs, captures and treats all its water on site, and uses eco-friendly materials. There are seven performance areas, or petals, required to achieve LBC certification: Place, Water, Energy, Health and Happiness, Materials, Equity, and Beauty. PAE, an engineering firm specializing in sustainable buildings, partnered with local ZGF Architects to advance the ambitious project while overseeing the mechanical, electrical, and plumbing systems of the building. The goal was to design an office space that embodied the values of PAE while offering employees a healthy and highly productive work environment.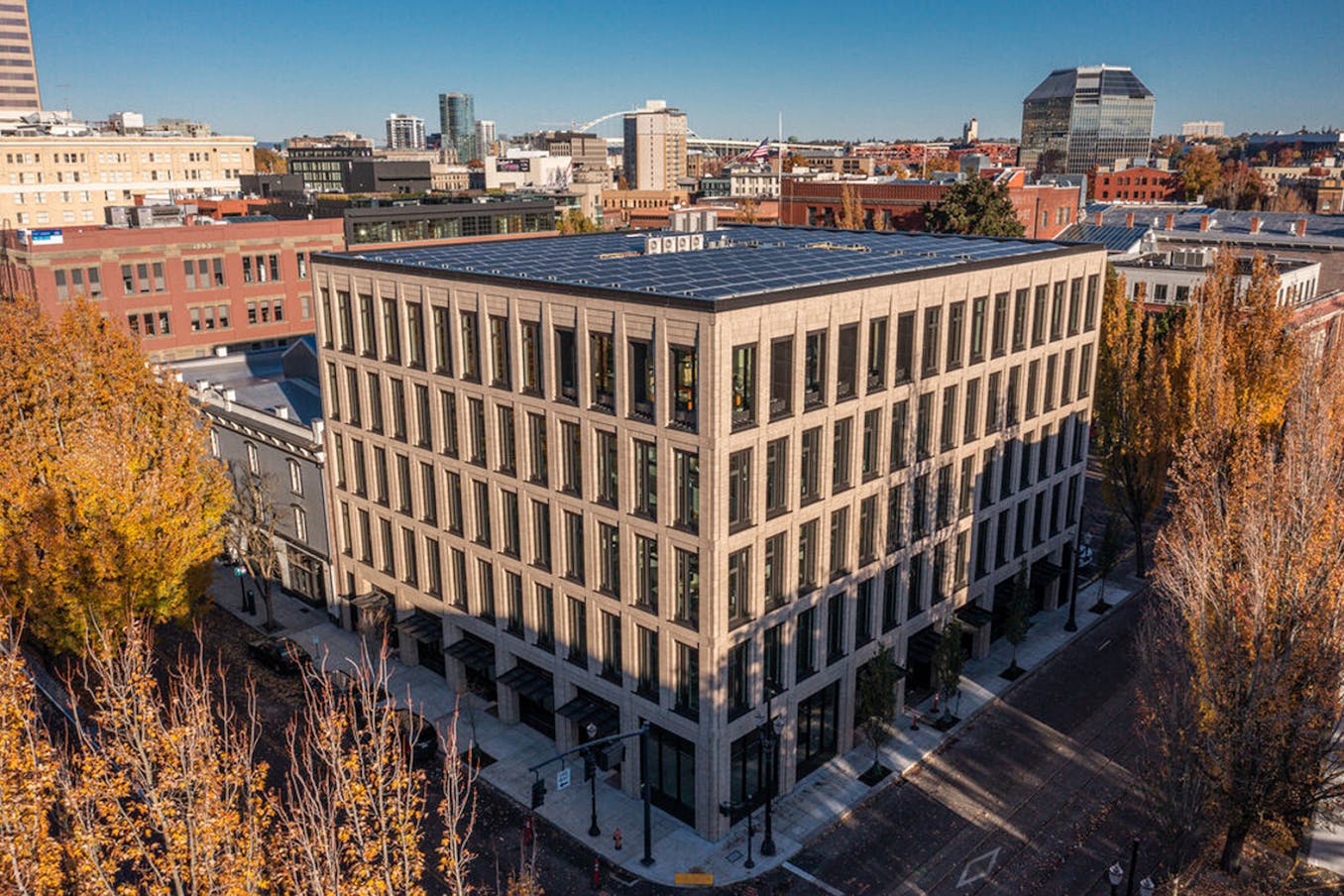 Achieving LBC One Petal at a Time
The PAE Living Building's rooftop collects rainwater which is then stored in a 71,000-gallon cistern before being processed through a greywater treatment system—making it fully independent from the city's water service. In addition, multi-story vacuum flush toilets reduce water use and transform waste into a rich nutrient source in the form of fertilizer and agriculture-grade compost. In exchange, this offers an additional income source for the property owners. The building is "one of the only office buildings in the world to be powered entirely by the sun and get all of its water from the rain that falls on its roof while simultaneously providing a financial return for its investors," says PAE president Paul Schwar.
Building a Sense of Community with Energy-Efficient Solutions
In addition to collecting its own water, the PAE Living Building produces 110% of its energy needs on-site. The roof holds a 133-kw solar panel array that connects to a photovoltaic-powered battery storage system in downtown Portland. According to ZGF Architects, the structure is "one of the first buildings in Portland to install a PV-powered battery storage system, allowing two-way power connection to the city's electric grid." Due to the local district guidelines that prohibit solar panel visibility, an offsite array was funded on a multifamily housing project nearby. This partnership saved the Renaissance Commons affordable housing project about $200,000 per year in donated electricity.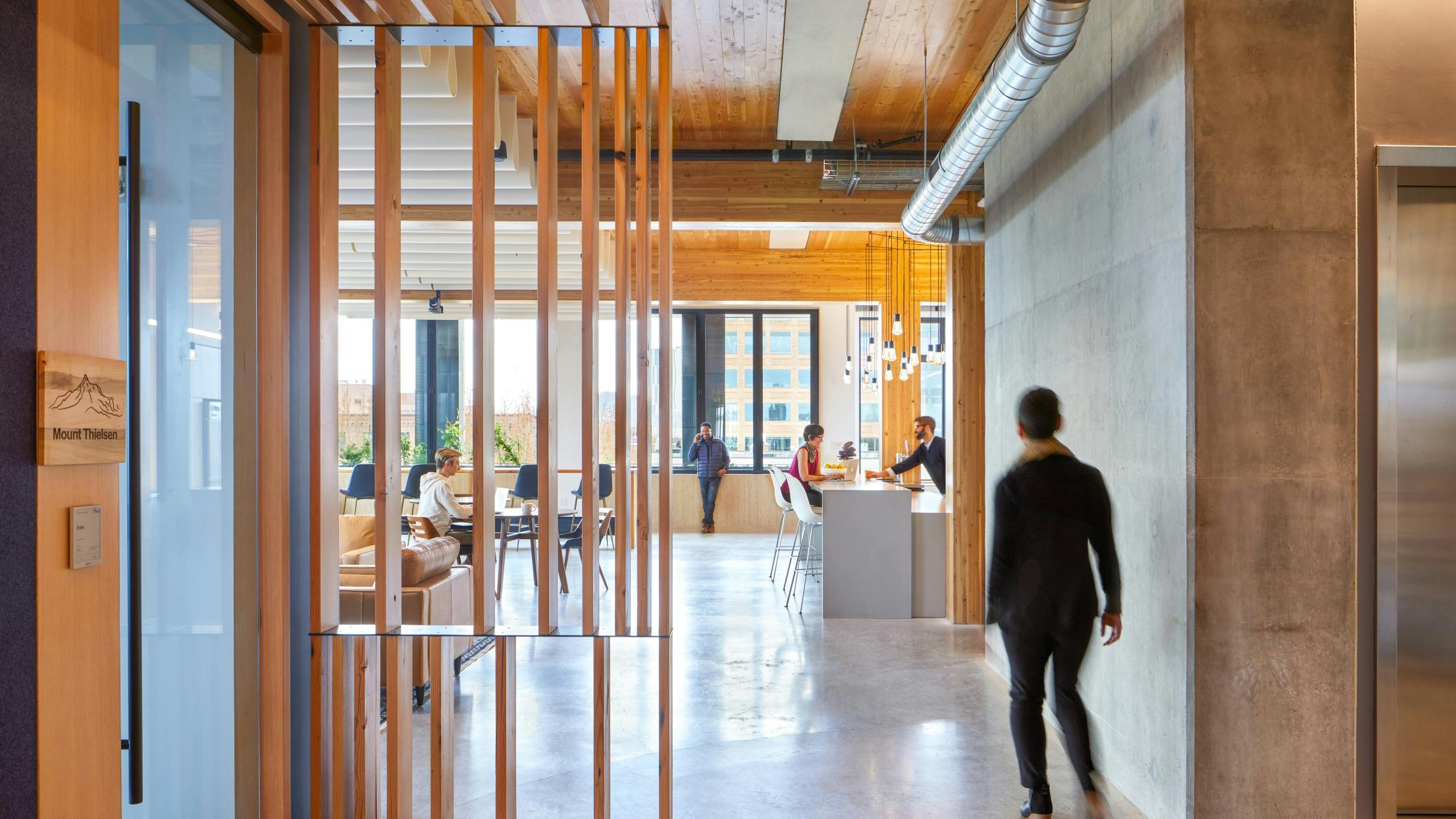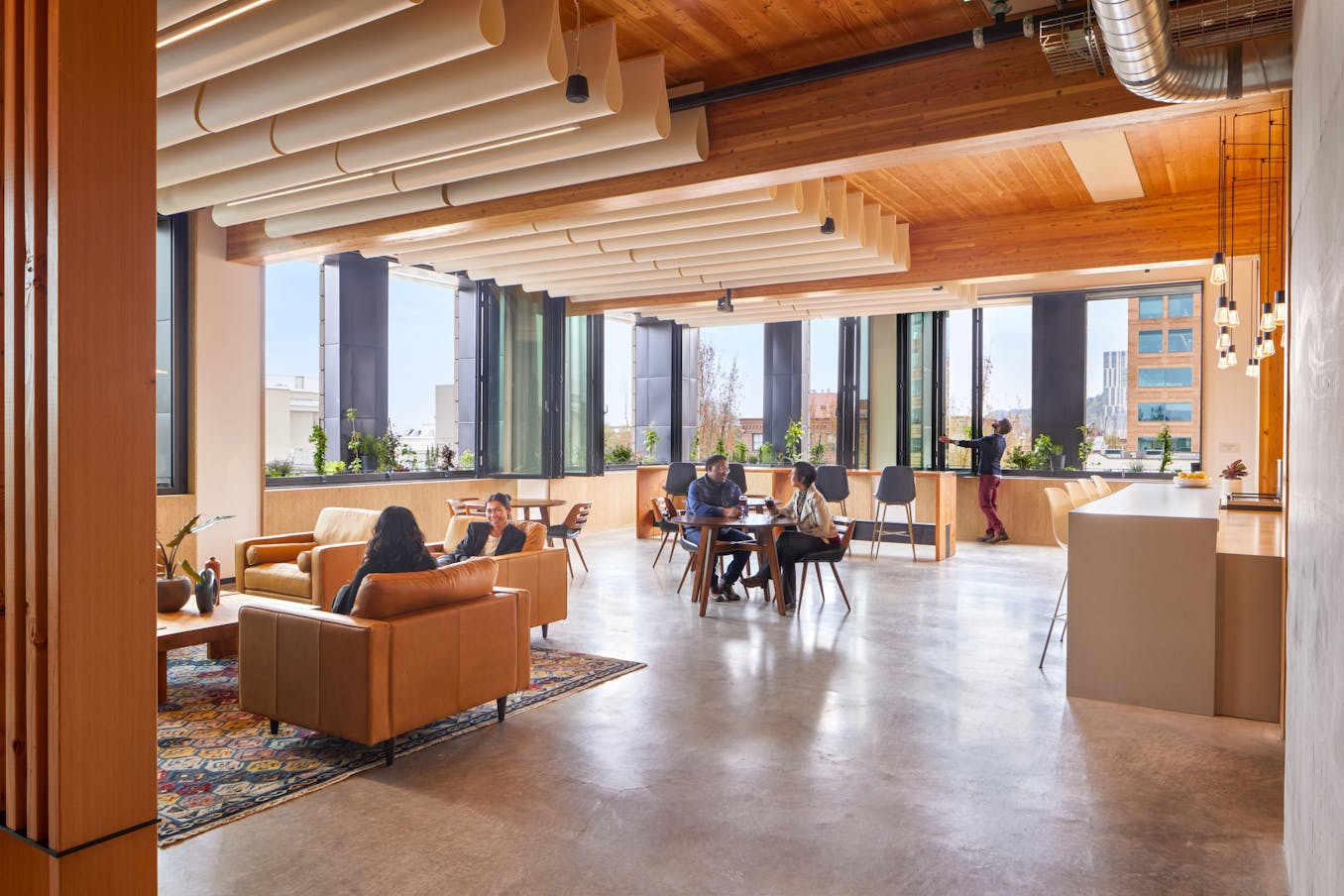 Taking the Employee Lounge to New Heights
Occupants' health and well-being is another key petal from the LBC needed to meet their building change. Every floor in the PAE Living Building features expansive fenestration that maximizes mood-boosting daylight and nature views. Coined by the design team as "the deckony," a 1,500 square feet employee lounge on the fifth floor, offers year-round access to the open-air via multiple NanaWall opening glass walls. According to ZGF Architects principal Justin Brooks, the employee gathering space "becomes like an outdoor space once you open all of the windows." Access to open-air spaces like "the deckony" in the workplace has shown to improve employee well-being and productivity by offering outdoor-like areas in otherwise traditionally urban buildings.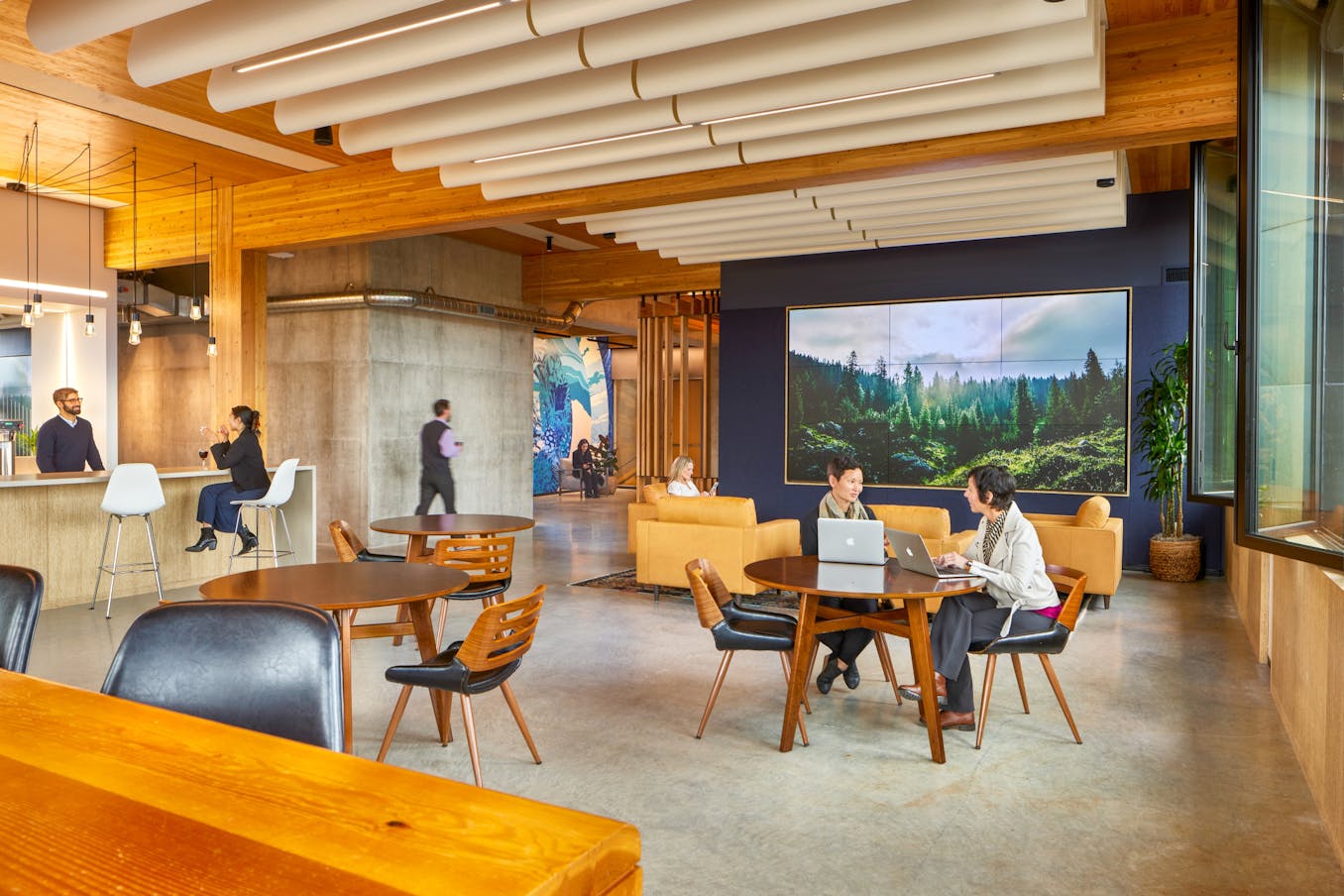 Opening Glass Walls Support Sustainability Goals
Five 9-feet tall NanaWall SL70 folding glass walls on the fifth floor create a 12.5-foot wide opening and perfectly blend in with the rest of the building's fenestration—these systems were customized with a dark anodized bronze powder coat to match the existing window frames. The opening glass walls, and the remaining windows throughout, offer plenty of natural air ventilation to diminish the building's reliance on air conditioning systems. According to PAE engineers, "the [NanaWall systems] provide 70% of the fifth floor's ventilation and cooling and enough photovoltaic array to produce 368,000 kwh hours of energy per year." In return, this delivers 80% energy savings over a typical existing office building.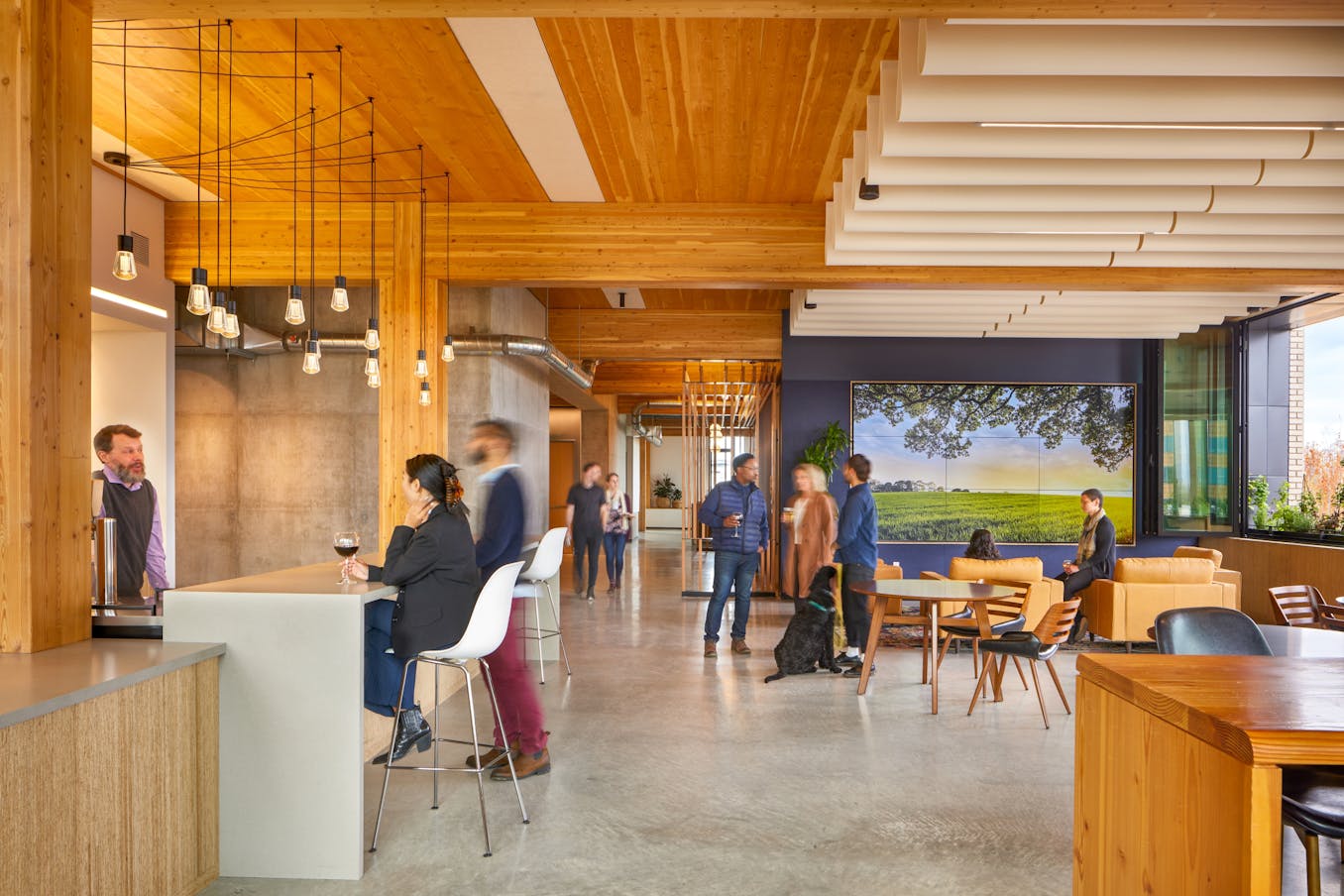 Flexible Mid- and High-Rise Solutions for All Seasons
Engineered with weather performance and durability in mind, the SL70 folding glass walls met the severe demands of mid- to high-rise applications without sacrificing ease of operation and aesthetics. These systems have been independently tested for air, water, windload, operation, and sound control with excellent results. Customizable to the needs of every project parameter, these folding glass walls were specified with inswing panels to meet safety requirements and with the Higher Weather Performance Sill to enhance weather performance. The four-panel systems can be partially open to create a windbreak on those extra windy days while still flushing interiors with fresh air ventilation. The stepped-back framing design offers enough space for window garden boxes to enhance the natural indoor/outdoor feel with greenery—even five stories up.
Iconic Design Built to Last
The PAE Living Building was strategically engineered to last for more than 500 years with an advanced seismic design and a choice of durable, clean, and low-carbon materials. The entire structure meets International Building Code Risk Category IV structural seismic standards, matching safety levels parallel to those required for hospitals and fire stations. Per the LBC challenge petals, the entire structure was built avoiding Red List materials that have proven to be harmful to occupants' health and unsustainable. In many ways, it sets the standard for how buildings can address climate change and adapt modern architectural solutions—from building standards like the LBC and durable products like the four-season opening glass walls.
An Investment Model of Sustainable Design for All
The PAE Living Building proves how investing in sustainable, design-forward solutions delivers a positive ROI for both the planet and developers. According to ZGF architects, the building is expected to provide a 10% internal rate of return over a 10-year hold and a 10% rent premium. The key lies in attracting tenants with a range of amenities like the open-air lounge and utilities savings. "The PAE Living Building demonstrates how the built environment can achieve the deep and immediate carbon emission reductions required to mitigate the most severe impacts of climate change," says ZGF Architects. "It shows the world what a regenerative future can look like while providing the roadmap for how to get there."
What our Customers Have to Say
Ferrari Maserati of Vancouver
To solve the design challenges within this beautiful three-story building, Vancouver based Cheng Architects turned to a NanaWall solution for this dealership's inventory rotation.
Hotel Indigo
To create a unique and memorable guest experience, Hotel Indigo opens its roof deck to outstanding views at this San Diego CA location with a NanaWall SL70 system.
"We chose NanaWall for their strong reputation, large number of available options, ease of operation, and for the beauty of the product. It's wonderful to open them all up, bring the outside in and let the fresh air flow through our home."
— Dave Chapman, Homeowner