T Mobile
Santa Monica, CA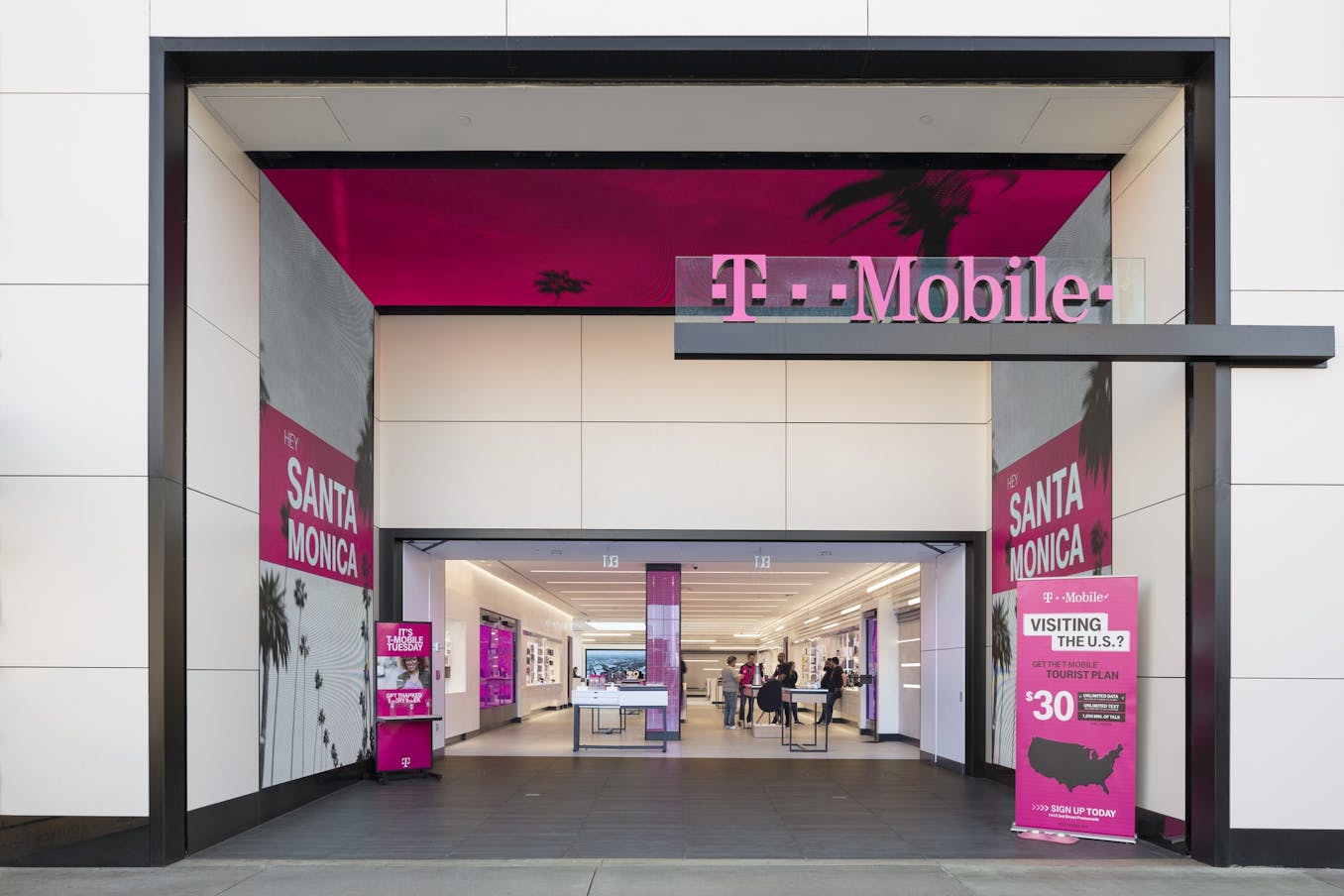 Located in Santa Monica California, this T-Mobile store takes advantage of its prime location. The grand entry is framed by a design element within the building which gives a picture-like effect to the entrance. Passerby are lured in by eye catching pink signage and a large inviting transparent opening that allows for a peek inside the mobile retailer.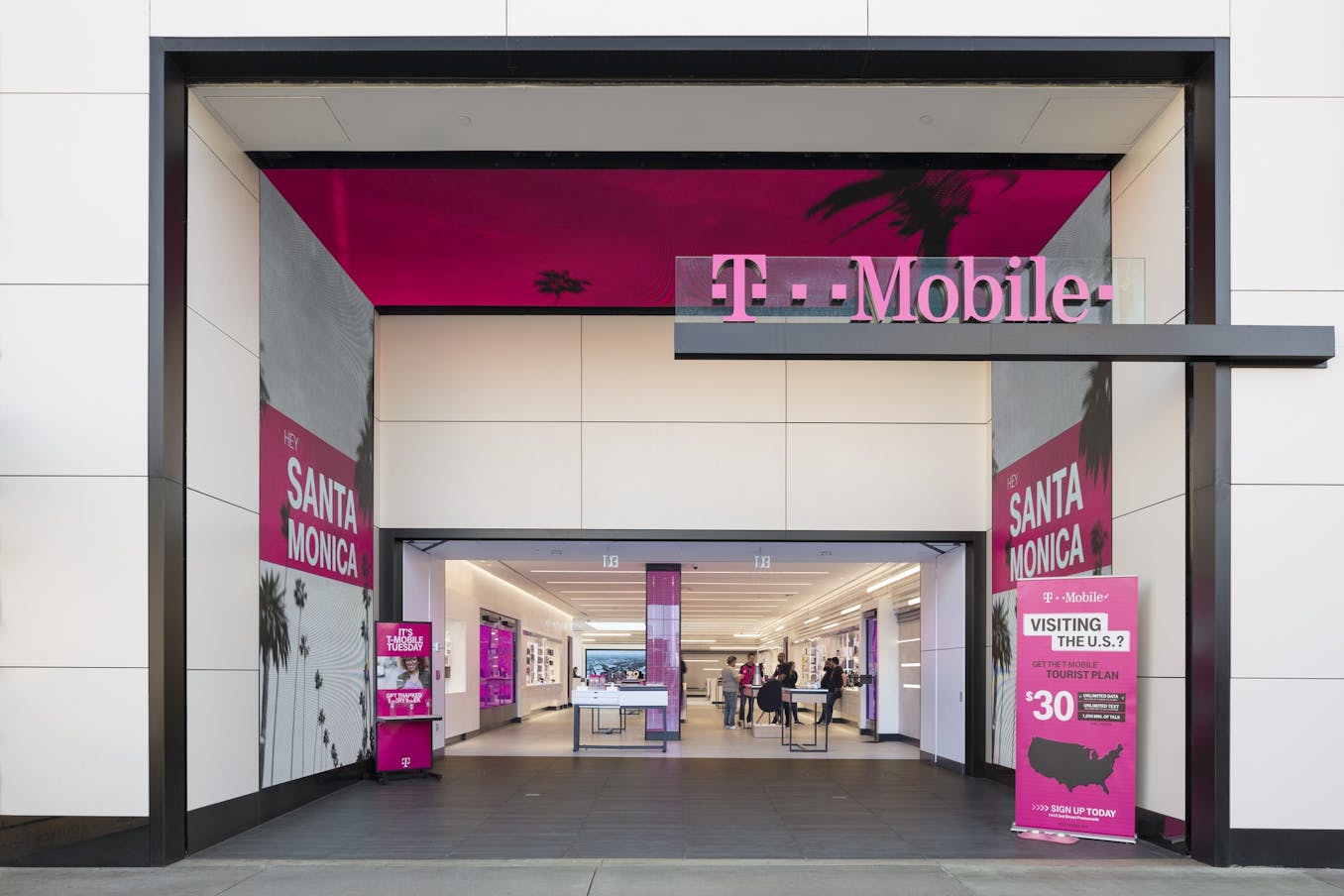 Eliminating Fixed Wall Barriers
In order to take full advantage of the architectural design of its façade, this T-Mobile location eliminated the traditional fixed glazed wall with basic entry door and instead opted for a NanaWall HSW60 single track sliding glass wall system. The 10-feet-tall unit features seven individual sliding panels that stack out of the way into two standard parking bays on each side of the opening—hidden and out of the way.
With a width of about 24 feet, the aluminum framed sliding system completely opens the entrance in a welcoming act that not only attracts passersby but also copious amounts of natural light and fresh air.
"The NanaWall opening brings in fresh ocean air, keeping the atmosphere within the store fresh and clean, which keeps the customers comfortable," says the General Manager.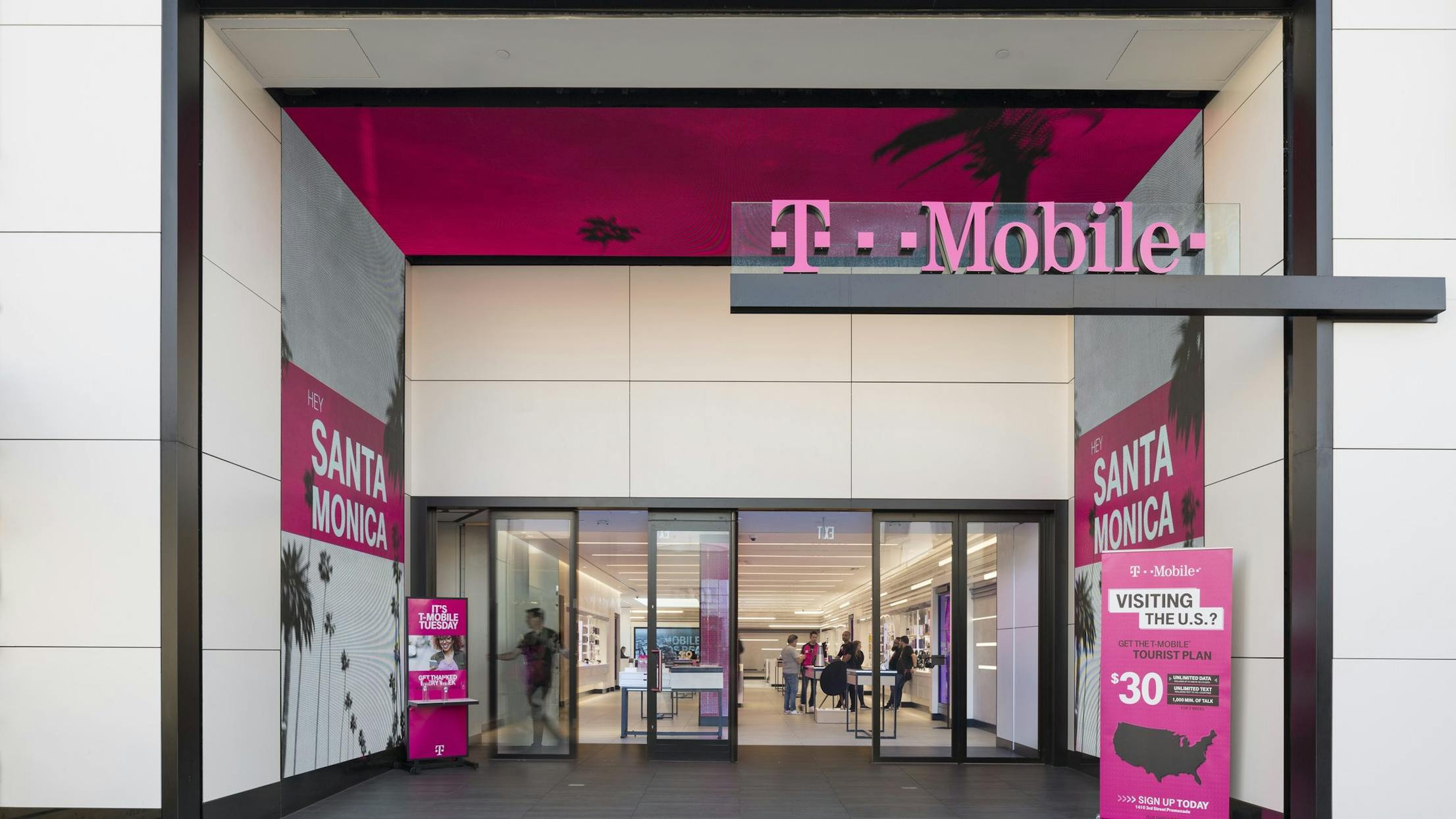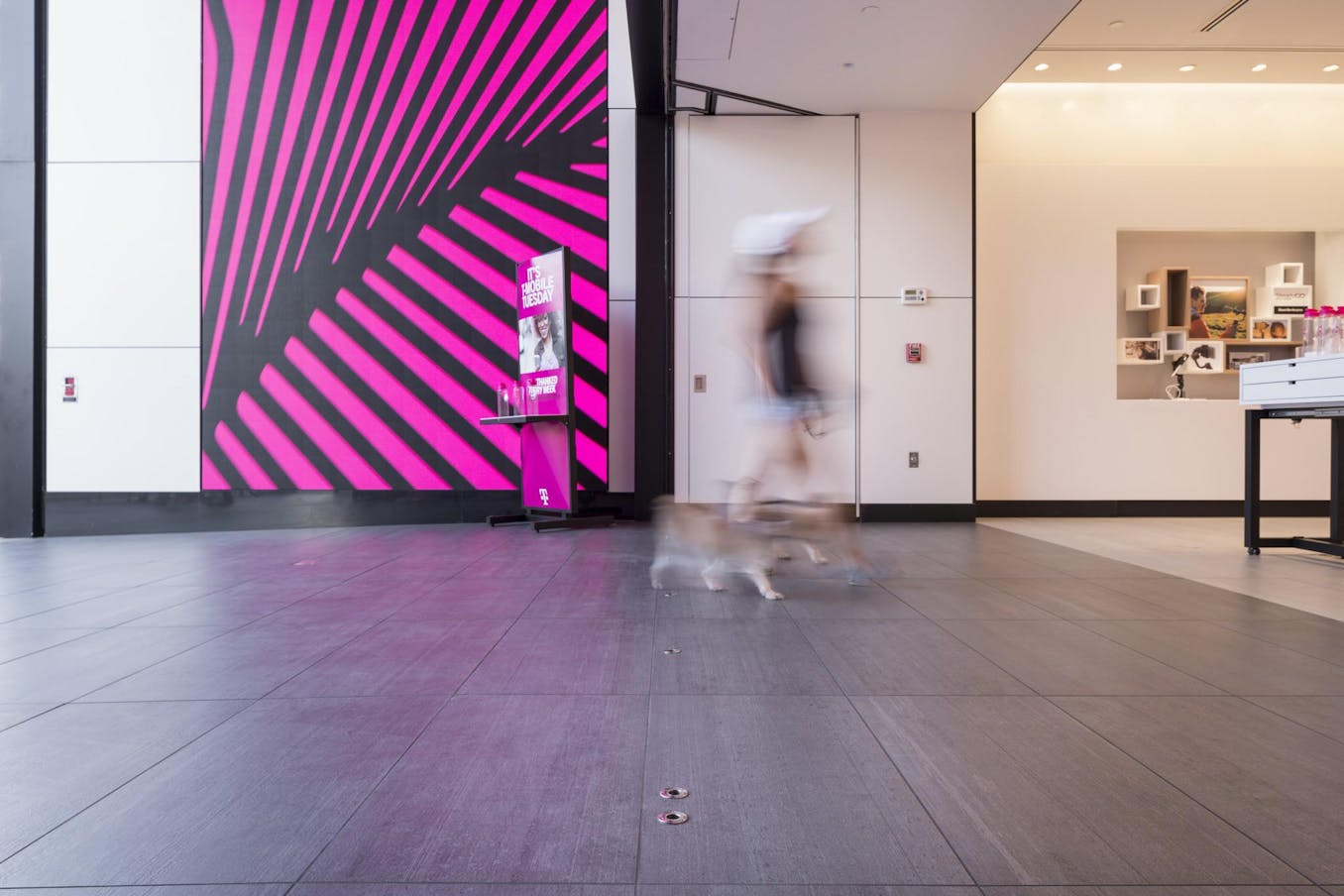 No Floor Track Required
This HSW60 system fully eliminates barriers and achieves ADA compliance with its lack of floor track. With the option of no floor track with this single track sliding system, each individual panel locks securely into recessed floor sockets within the finished flooring. When closed, two incorporated swing doors outfitted with kickplates provide easy ingress and egress and can convert back into sliding panels to be stored away when needed. Transparent glass offers clean unobstructed views to the inside as if no walls existed at all. The minimal black finished frames further enhance the aesthetic to match the framed edges of the overall façade.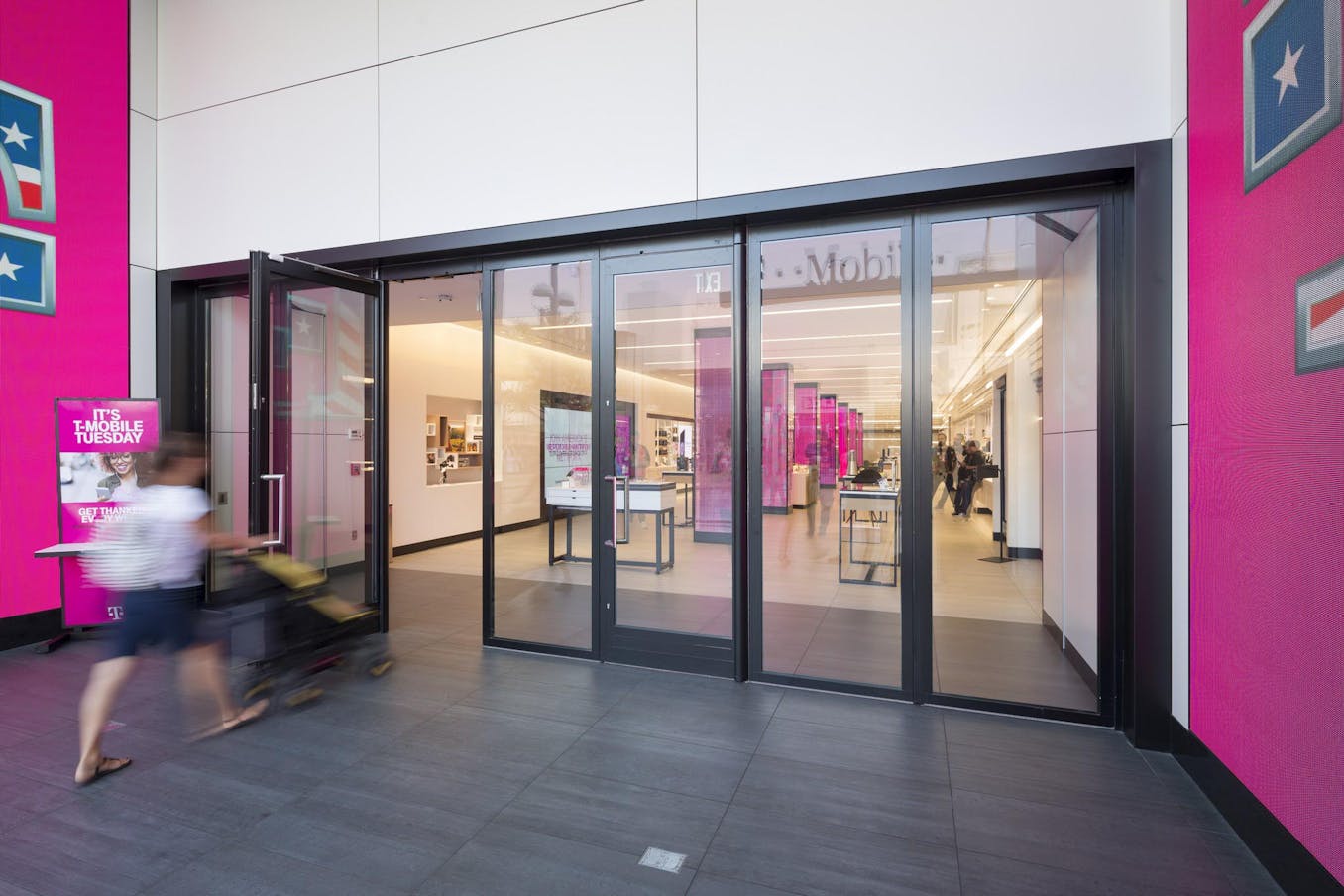 Ease of Use and Traffic Control
NanaWall HSW60's multiple configuration options offered this T-Mobile retailer the ability to incorporate swing panels where needed within the system. The ability to design the location of the swing panels where needed aids in the control of traffic when entering and exiting the store. "The opening allows our salespeople to move out into the promenade and directly engage customers beyond the entrance of the store," says T-Mobile General Manager. "This facilitates them to hand off the customer to an associate inside the store." The storefront design uses two swing doors positioned with a sliding panel in between them to keep patrons from coming into close contact with each other and maintain social distancing. The design smartly allows for one door to primarily serve as entry and the other as exit. The HSW system is a top-hung system that features an enhanced intelligent horizontal roller and guide track technology—allowing each individual panel to move effortlessly around corners and posts if necessary.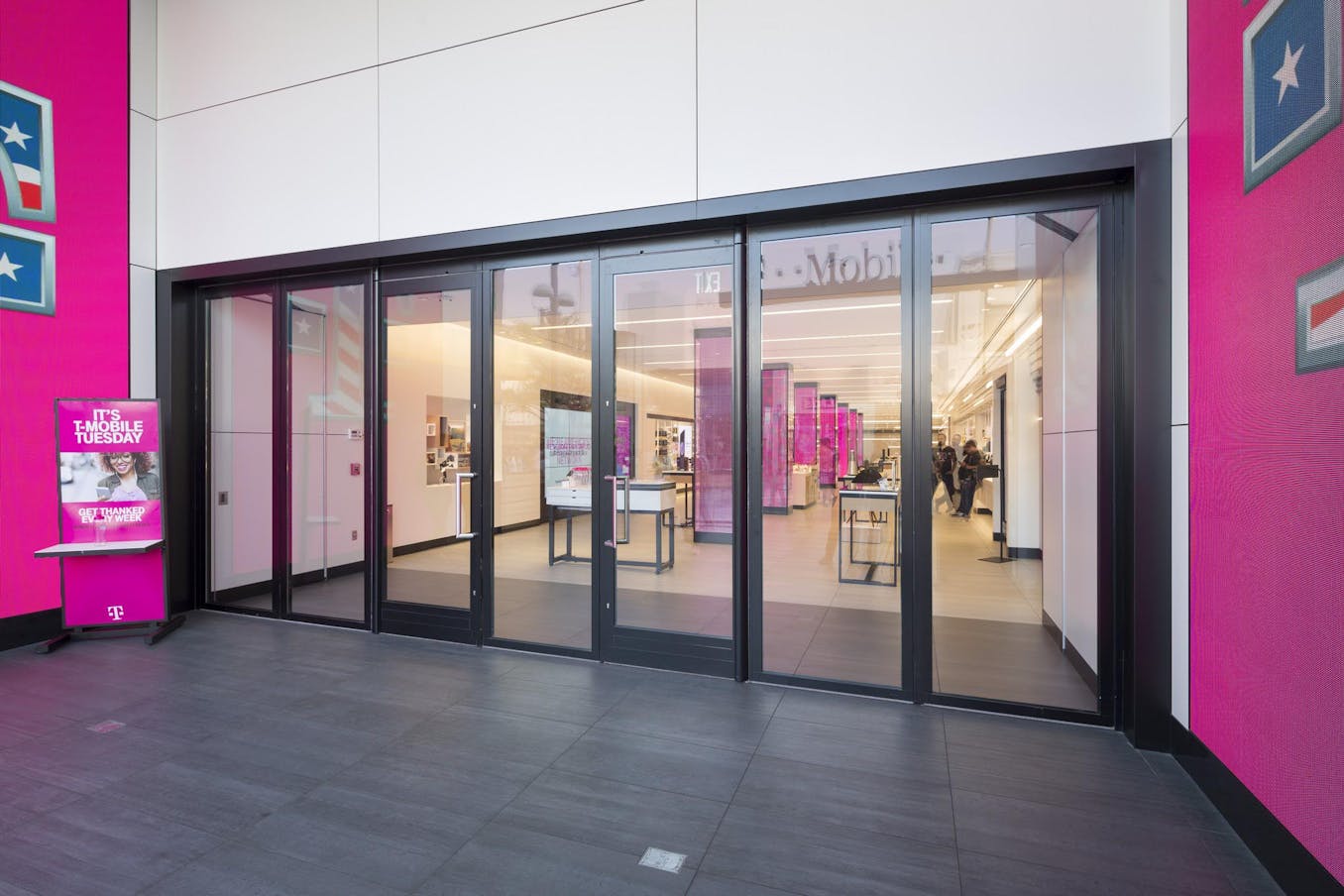 Commercially Rated Storefront Solution
HSW60 entrance doors are commercially rated and have been tested to 500,000 opening and closing cycles at certified independent testing labs. When locking the panels together, a multipoint mechanism engages to create a strong seal between panels as well as the floor, providing enhanced performance in commercial settings. Completely tested for air, water and structural performance, this sliding glass wall system can be used in almost any environment as it is also labeled to NFRC standards for thermal performance—the perfect system for commercial storefront across North America.
What our Customers Have to Say
Saint Mary's Student Chapel
Saint Mary's  new chapel offers its students an ideal space for worship and meditation with meticulous design that takes full advantage of the natural surroundings.
LIFT Bar Grill View
At LIFT Bar Grill View, it makes no difference which area of the restaurant the guests are seated in; Lift offers operable "glass walls with jaw-dropping views".
"NanaWall allowed us to open it up and extend the room, make the space feel larger. The system opened up the building to make great connections to the park and to the historic buildings downtown."
— Ted Touloukian, Architect