Whistler Residence
Whistler, BC
Products
Application
Architect
Rommel Design Ltd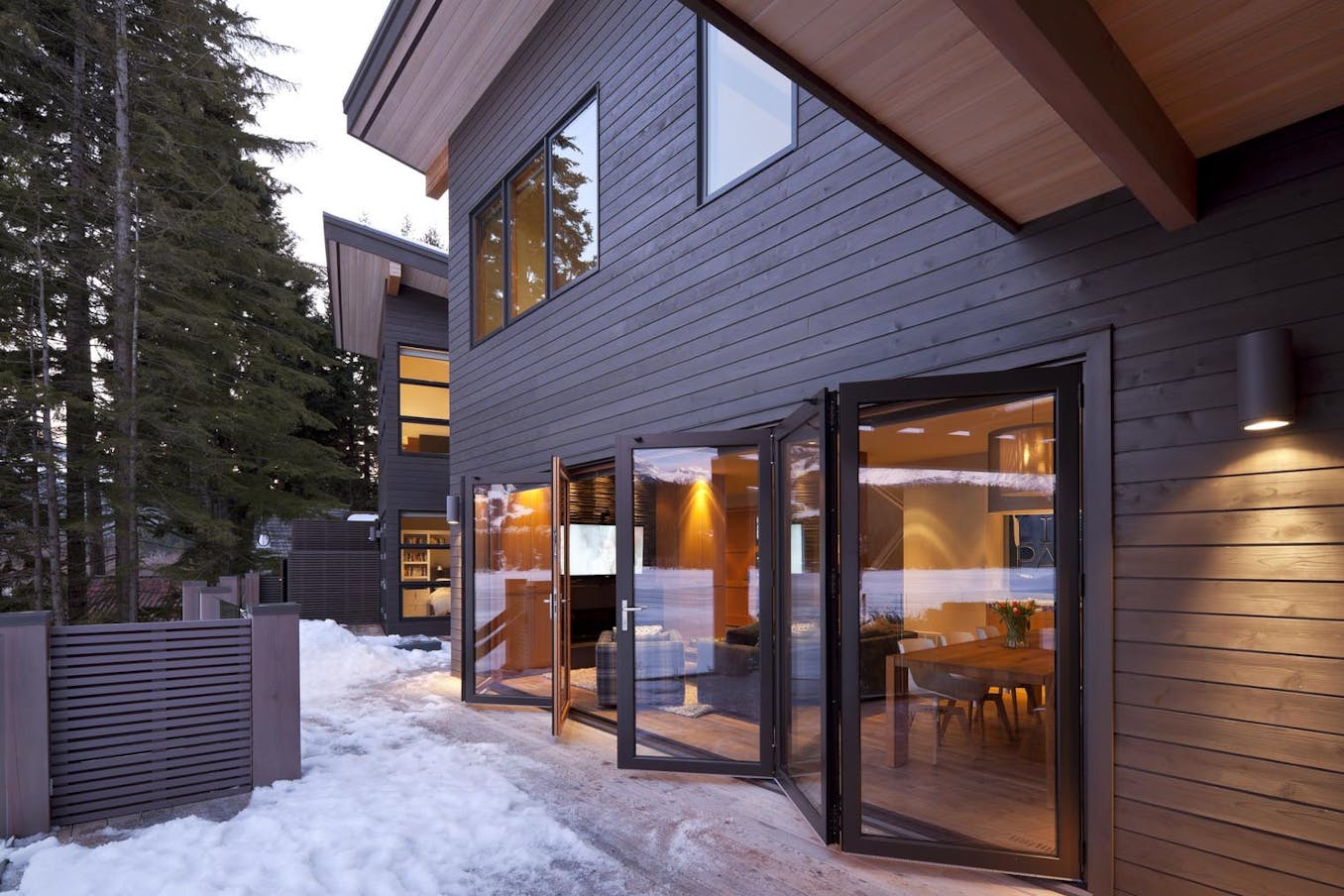 "We do this a lot in our projects," says Joe Rommel, the architect whose name is virtually synonymous with gorgeous custom homes, duplexes and renovations on Vancouver's North Shore and the Sea to Sky corridor.
The namesake of Rommel Design Ltd. is referring to the design philosophy of using indoor-outdoor spaces to enhance life at home – and his two decades worth of residential projects back up his comment.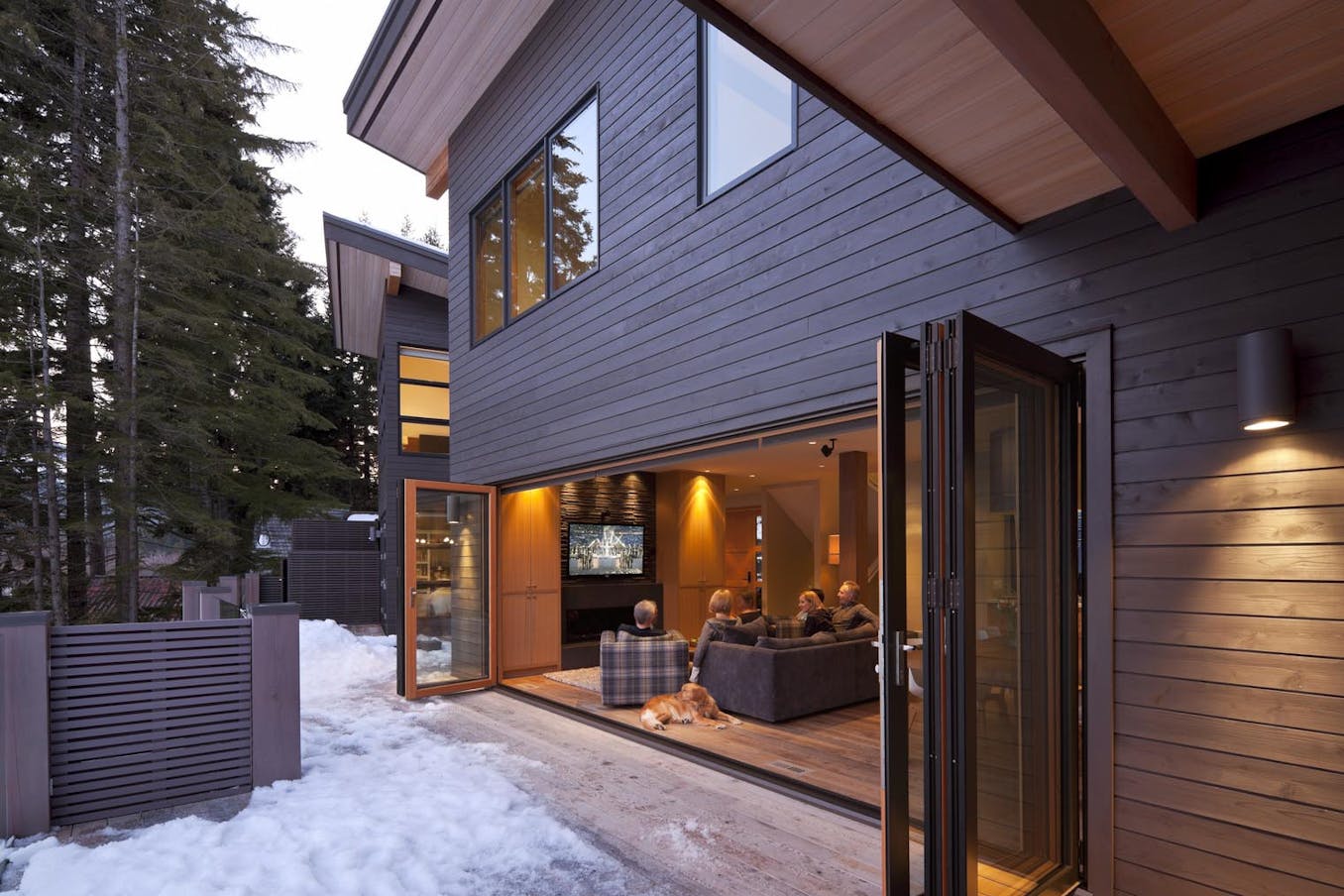 One of the most impressive is a rather grand lakefront chalet in the scenic resort town of Whistler, B.C., where a NanaWall WA67 installation spans almost 20 feet across the living and dining areas, opening up to impressive views of the southern Pacific Ranges of the Coast Mountains. It's a contemporary gesture for a decidedly modern, stunning residence.
When the architecture firm was approached to design the "cottage" for the client, David Chapman, "I knew immediately that it was to become more than that," says the architect.
The client expressed his intent to utilize the NanaWall system throughout to bring the outdoors in. "Initially, I thought this to be somewhat of a challenge, especially in Whistler where winter does dominate. However, it seemed to work well," says Rommel.
One application employs a NanaWall Wood Framed Aluminum Clad Folding System WA67 specified as a six-panel arrangement to open up as symmetrical three-panel retracting sections or as a pair of normal doors, like French doors, using the two middle panels. In this way, family and friends can enjoy a little bit of Whistler's outdoor ambience–or lots of it.
According to Chapman, the choice of NanaWall hinged on the company's strong reputation, the breadth of options and configurations, and also the ease of operation. The "beauty of the product" appealed to both client and designer, he adds.
"The Choice of NanaWall Hinged on the Company's Strong Reputation, the Breadth of Options and Configurations, and Also the Ease of Operation."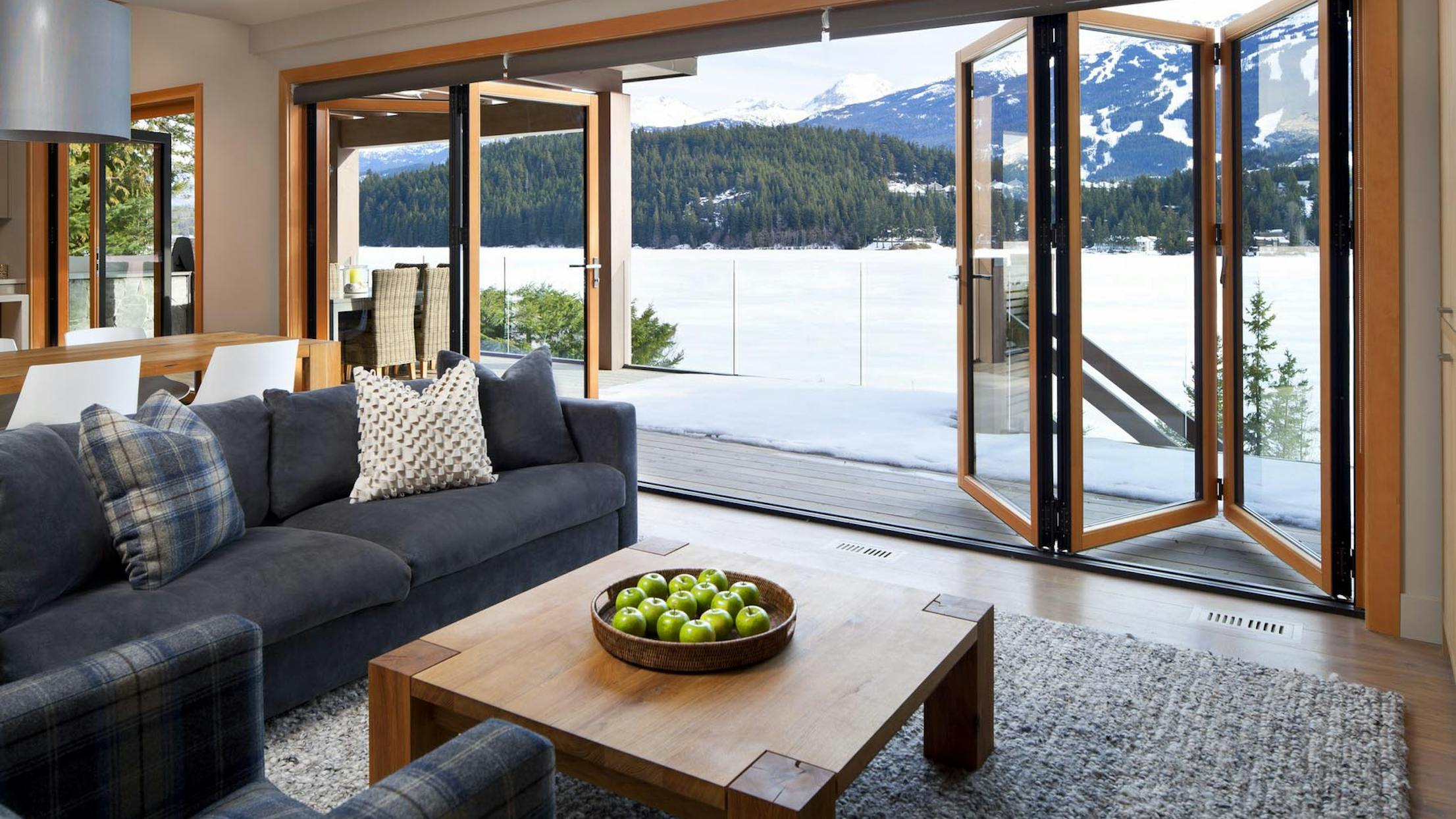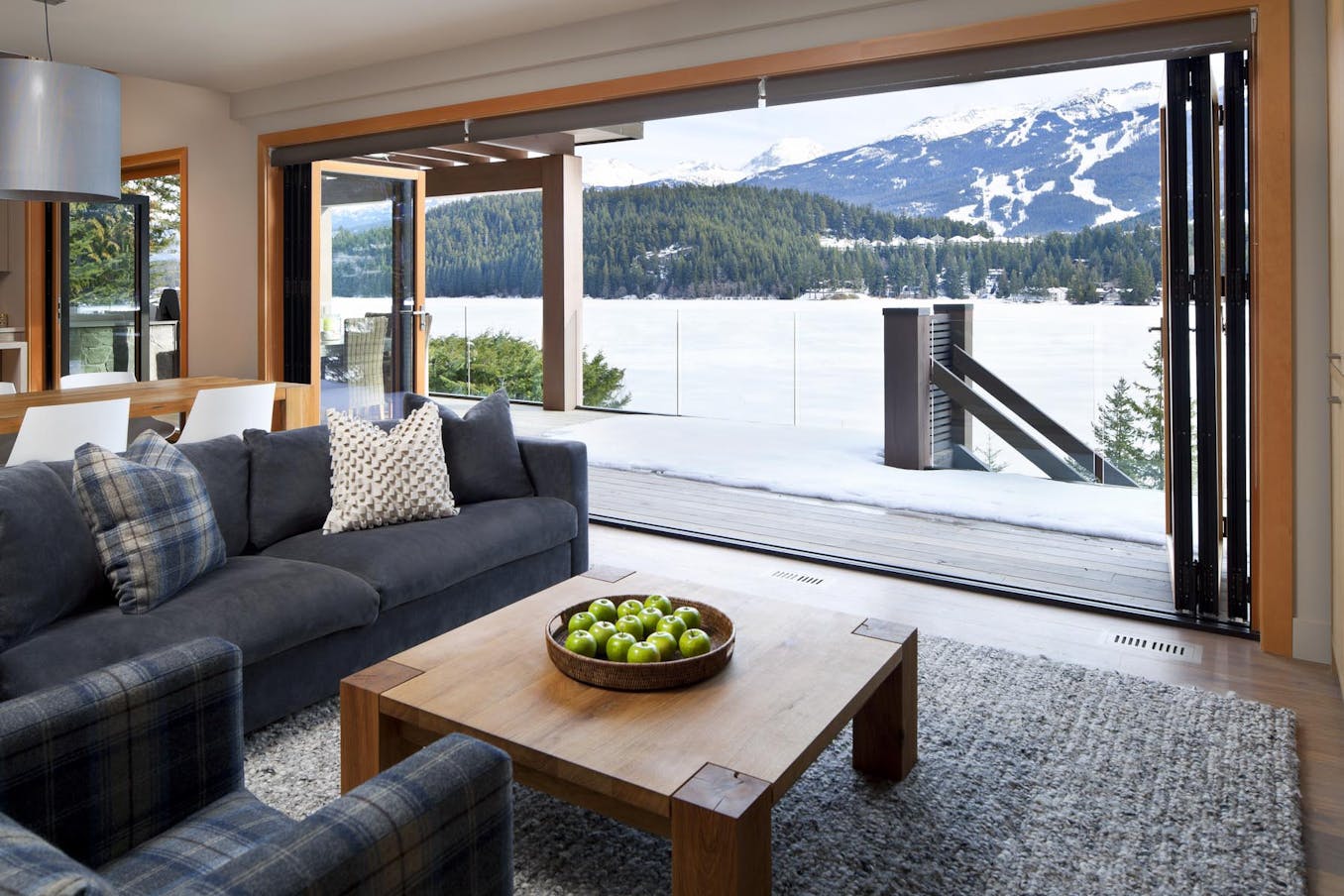 "We installed two large NanaWall systems," according to Chapman. "They are a fantastic addition as they highlight the lake and mountain views from our living room, dining room and kitchen. It's wonderful to open them all up, bring the outside in and let the fresh air flow through our home."
In fact, the dwelling's layout lines up the NanaWall openings along the mountain-facing façade, creating a single exposure that is open to the elements. This helps ensure that the folding glass walls can be open throughout much of the year without draining heat or conditioned air from other areas of the house.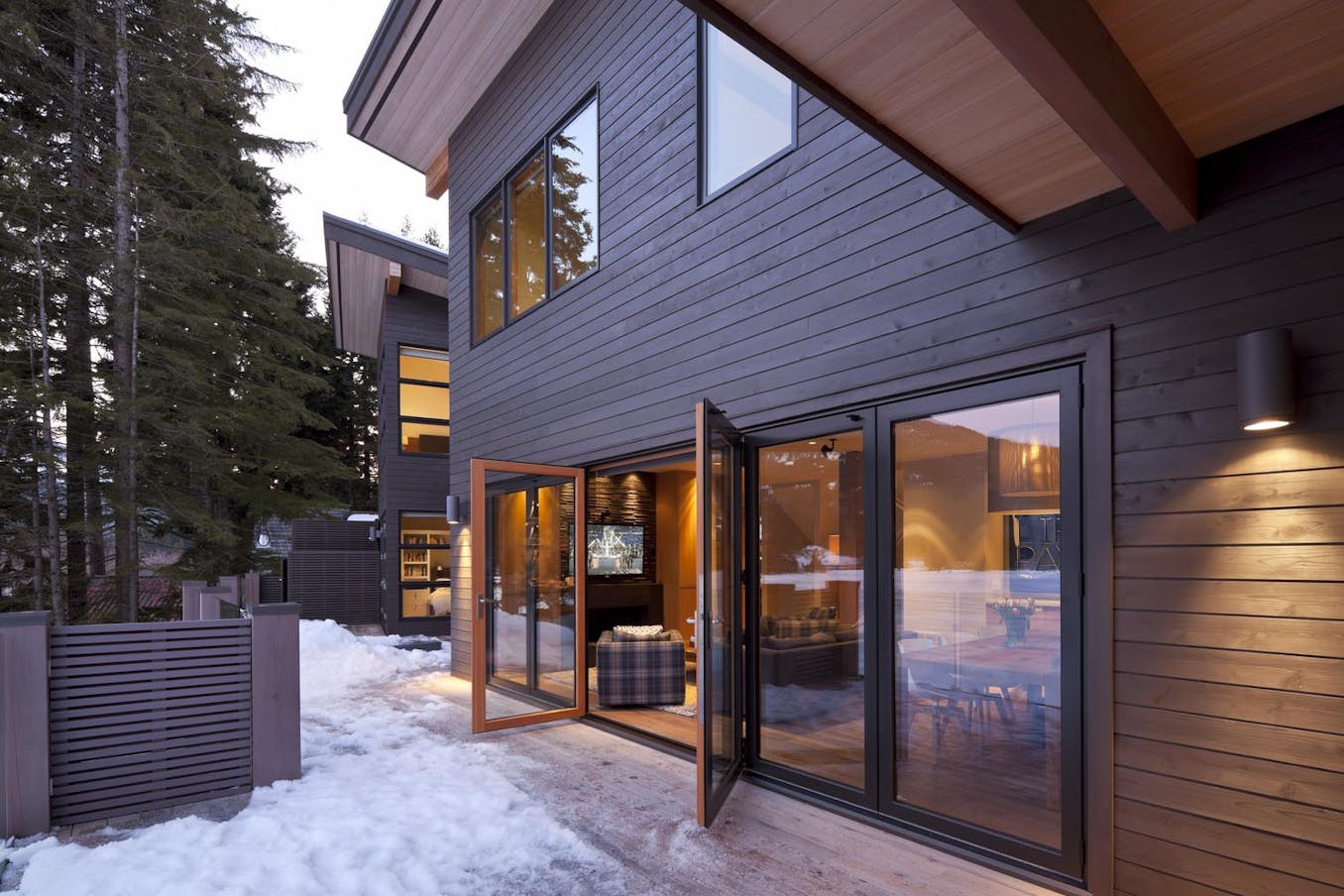 Thermal Performance and Passive House Standards
The WA67 system is ideal for homes where quality and durability are the focus. It is engineered and independently tested for air- and water-penetration resistance, structural deflection, thermal performance and even forced entry. The systems also carry a thermal performance rating from the National Fenestration Rating Council – an important feature in energy-conscious Canada.
Behind its attractive trims of coated aluminum is a foam layer and triple glazing, so the WA67 can even meet rigorous Passive House Standards. With selected glazing it can also meet Energy Star values.
It all adds up to a good value, according to the project participants. "We have been very happy with our NanaWall systems and would highly recommend them to our closest friends," says Chapman.
For Rommel Design, the key is to have fun with their projects and to "allocate your budget to where you can see, feel, and live it!" As the architect has added about the NanaWall use in the Whistler home, "It seems to work well. Look for yourself!"
What our Customers Have to Say
Bachelor Gulch Residence
Lifestyle arts and green building are on display in VAg's recent house in Bachelor Gulch, a stone-and-wood composition which features plank flooring, a memorable slab fireplace surround and wide open space.
Margarido House
This Bay Area project uses a passive-energy approach to design by incorporating a NanaWall system to provide natural daylighting and passive ventilation along with its durable nontoxic materials.
"The NanaWall system takes advantage of a fine climate much of the year and accommodates groups of 100 or more children for popular story hours. The south orientation is dealt with by the use of low-e glass."
— Cathleen Malmstrom, Architectural Resources Group, Architect