10 Truly Celebrated Retractable Glass Wall Projects from 2022
By NanaWall Systems, January 3, 2023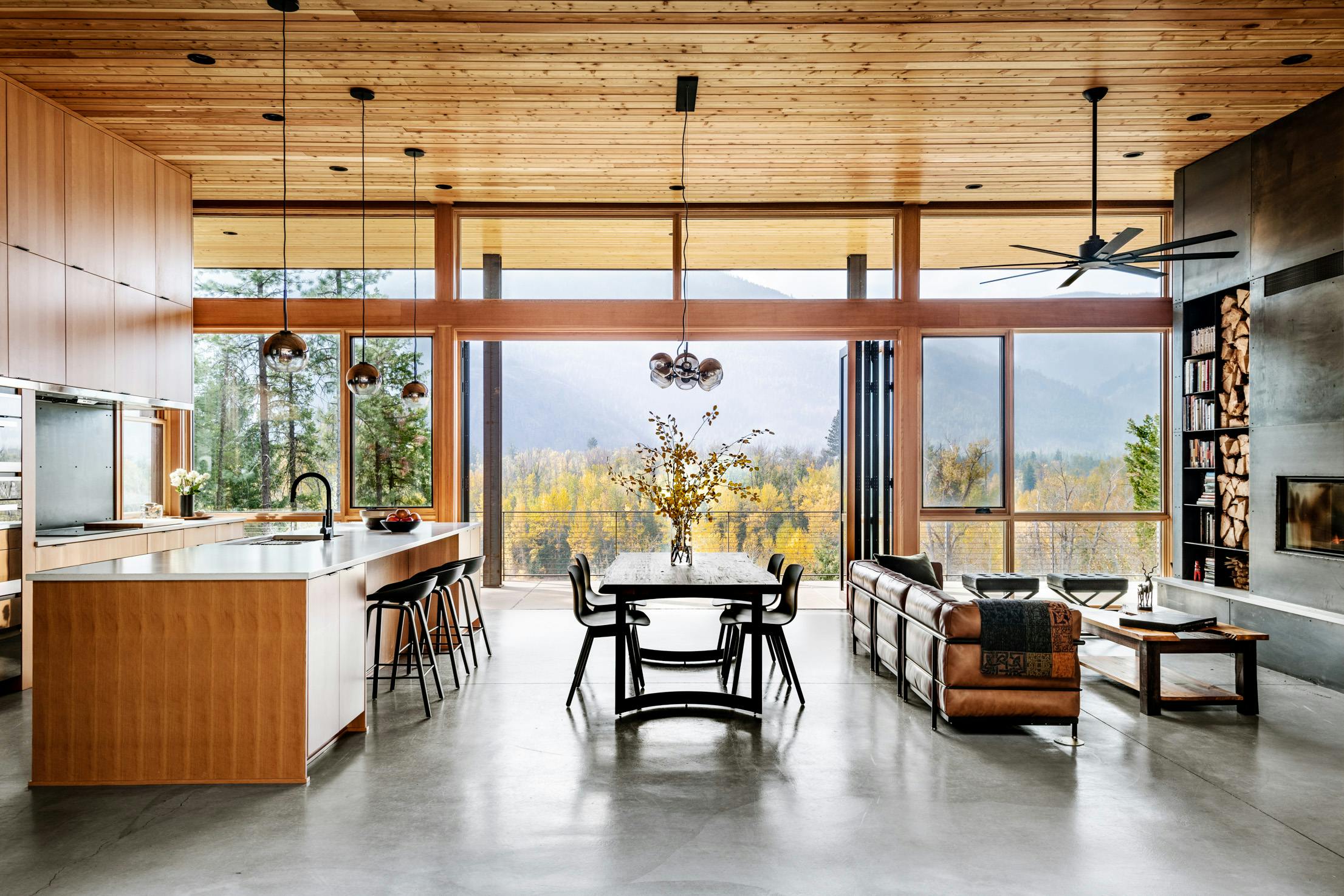 Another year for the books! From awestriking residential projects to multifunctional commercial installations, NanaWall retractable glass walls took part in a number of truly remarkable applications. The versatility and durability of NanaWall moveable glass walls allow systems to perform in nearly every climate and meet even the most challenging specifications. The launch of Generation 4 Folding Glass Walls this past year paved the way for the thinnest frames in the industry and wider openings with FourFold and SixFold panel sets—as well as an array of other patented features. As we celebrate the beginning of a new year, let's take a look at ten of the most memorable NanaWall projects of 2022.
10 Celebrated Projects of 2022 with Retractable Glass Walls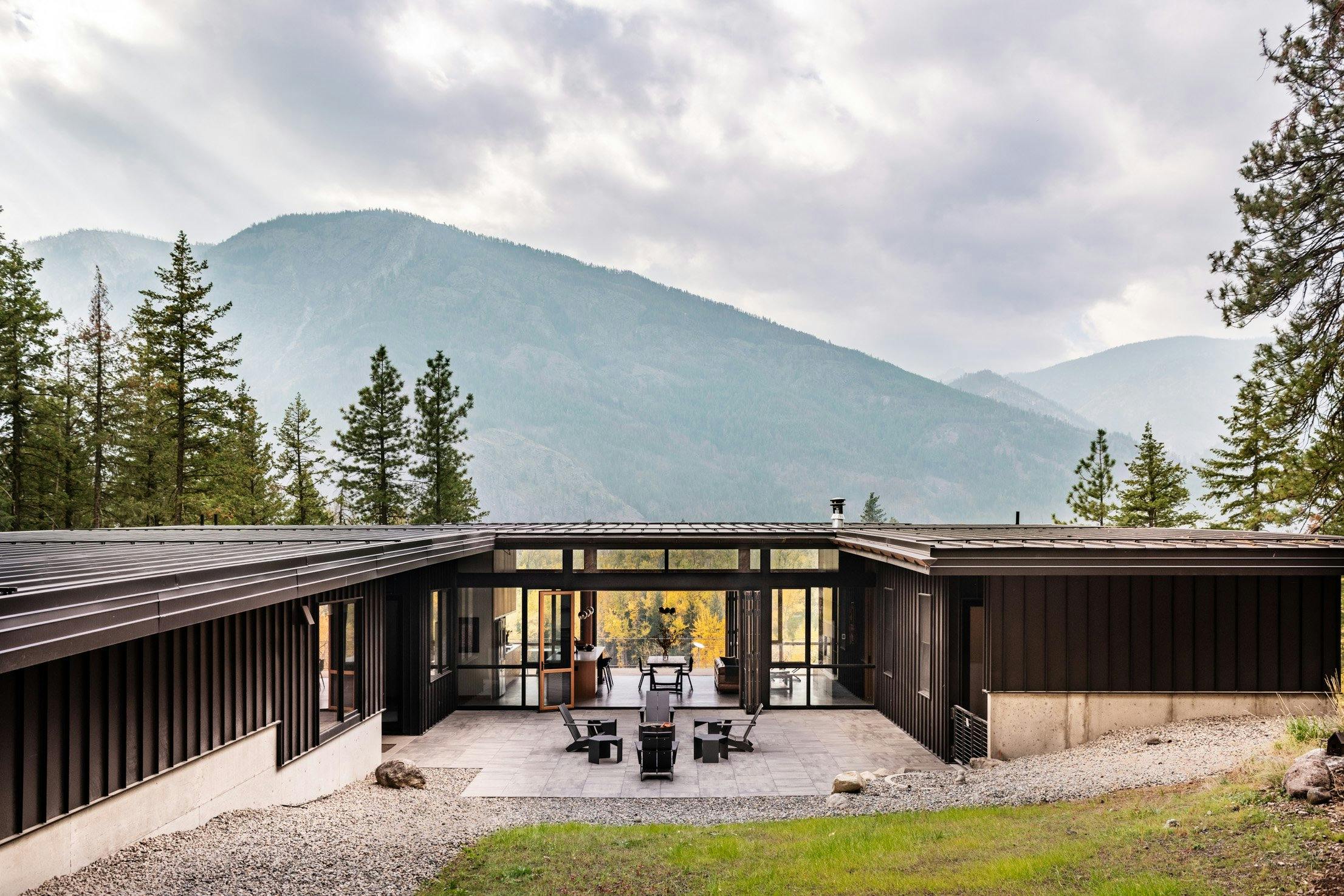 1. Edelweiss Residence Glows Amidst Mountain Landscape
Talk about a peaceful retreat in the woods. Blending cabin-like elements with contemporary design, this Washington residence seems to blend within the landscape. Overlooking an extensive valley of changing tree canopies and flower-filled meadows, the home utilizes floor-to-ceiling fenestration to prioritize views. Connecting the main living area to the outdoor living spaces, a pair of clad moveable glass walls create a breezeway for seamless indoor/outdoor living. Leveraging the weather performance and aesthetically pleasing elements of both wood and aluminum frames, the durable system protects interiors from harsh winters and strong winds. An authentic four-season getaway.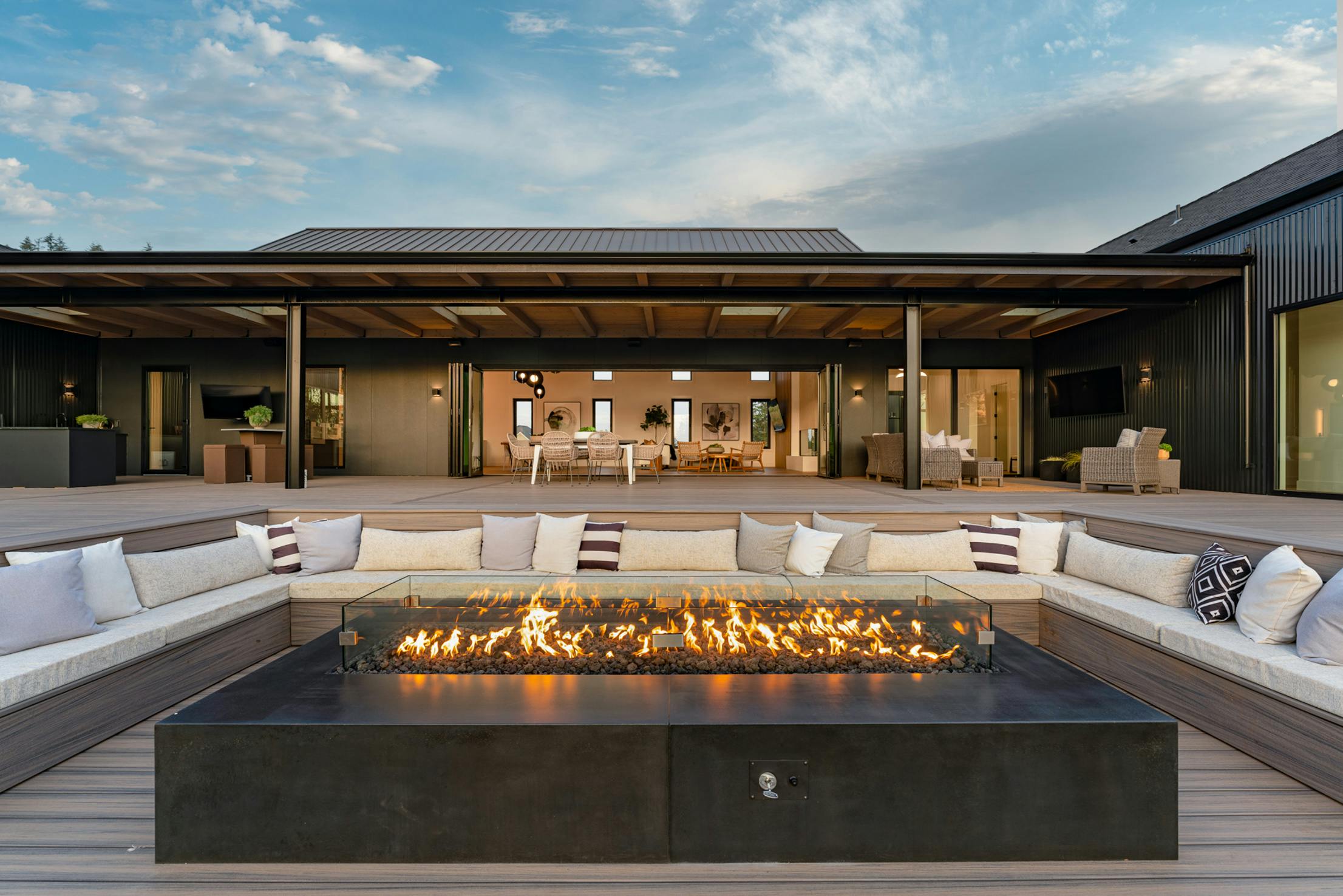 2. Street of Dreams in Willamette Valley
The concept of this luxurious Oregon residence was centered around Scandinavian-inspired design. Perfectly situated within an expansive vineyard with alluring mountain views, the home capitalizes on simple lines and light spaces with easily accessible outdoor living areas. Inside, the home features a functional open-concept floorplan with floor-to-ceiling fixed windows and retractable glass walls that take in the landscape. The eight-panel NanaWall SL60 opens and stacks on both sides of the large opening and is configured with two swing doors to facilitate transitions when closed. Thin jet-black frames complement the stark design elements of the home without sacrificing views or durability. We can only imagine the fun nights of entertaining!
3. A Floor-to-Ceiling Portal to the Ocean
This Cape Cod style gem leverages minimal sliding glass walls to optimize the property's seaside location while preserving the conventional home aesthetics of its Chatham, MA historic neighborhood. The roughly 3,100 square foot home was adorned with minimal landscaping to allow the native coastal environment to take center stage. Inside, the open concept kitchen and living room are elevated with front-row views of the ocean and are naturally illuminated by sunlight. Cero moveable glass walls offered the low-maintenance and durability needed in a coastal environment accustomed to harsh weather and salt air. The result is a peaceful seaside dwelling for relaxing and entertaining to the sound of ocean waves and fresh ocean breeze.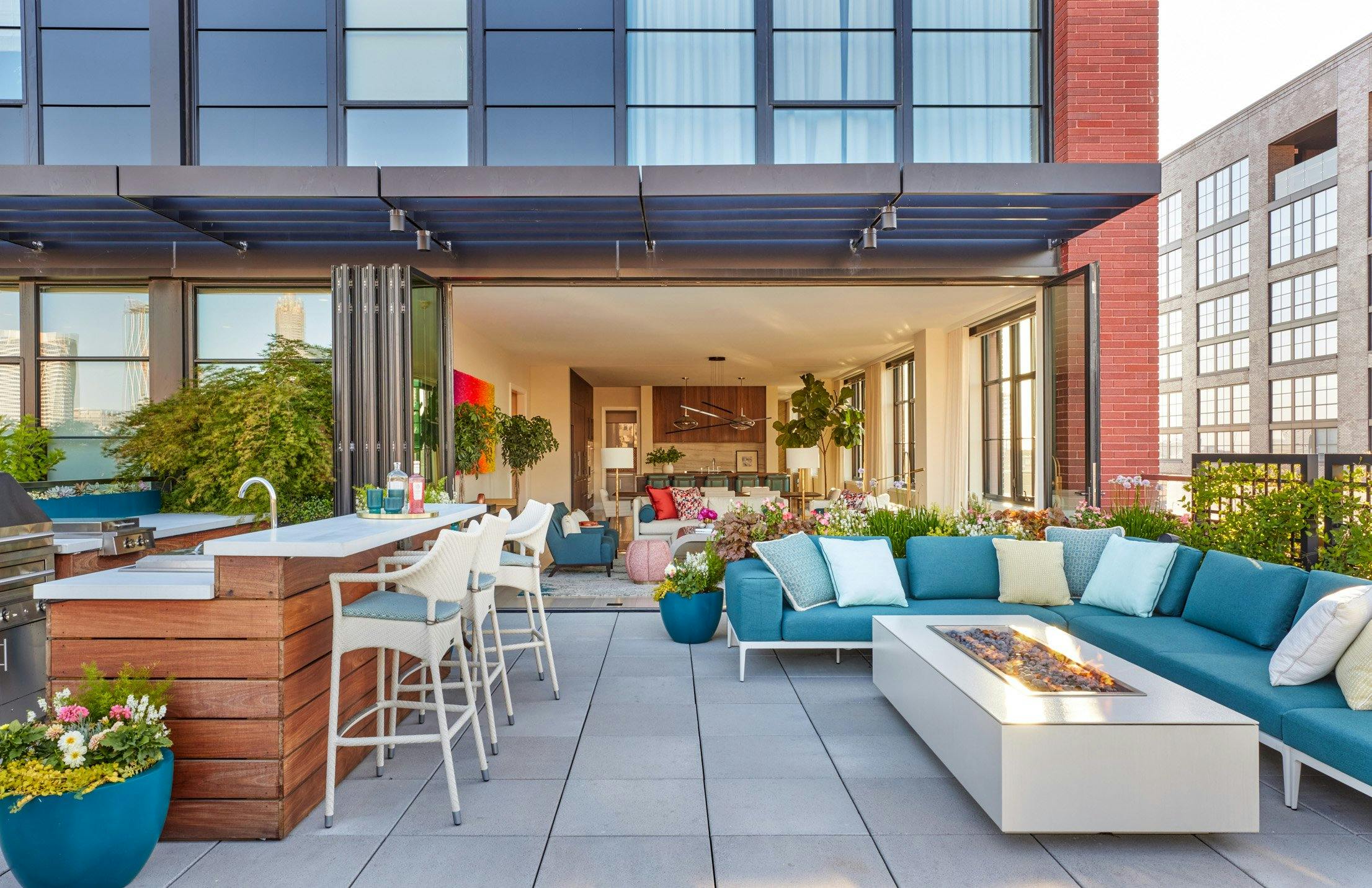 4. Luxurious Penthouse Gives New Meaning to Multifamily Living
Outdoor living spaces in multifamily complexes are often hard to come by—but not at this Chicago penthouse. Every unit in the building was designed with tall windows to capitalize on the sky-high views of the city and to maximize the amount of natural light flushing interiors. The expansive rooftop terrace, roughly the size of a small apartment, connects to the main living areas via 10-foot-tall retractable glass walls. The available square footage is immediately extended to the outdoor living areas—complete with a firepit, outdoor kitchen, and bar perfect for entertaining or al fresco dining. How convenient!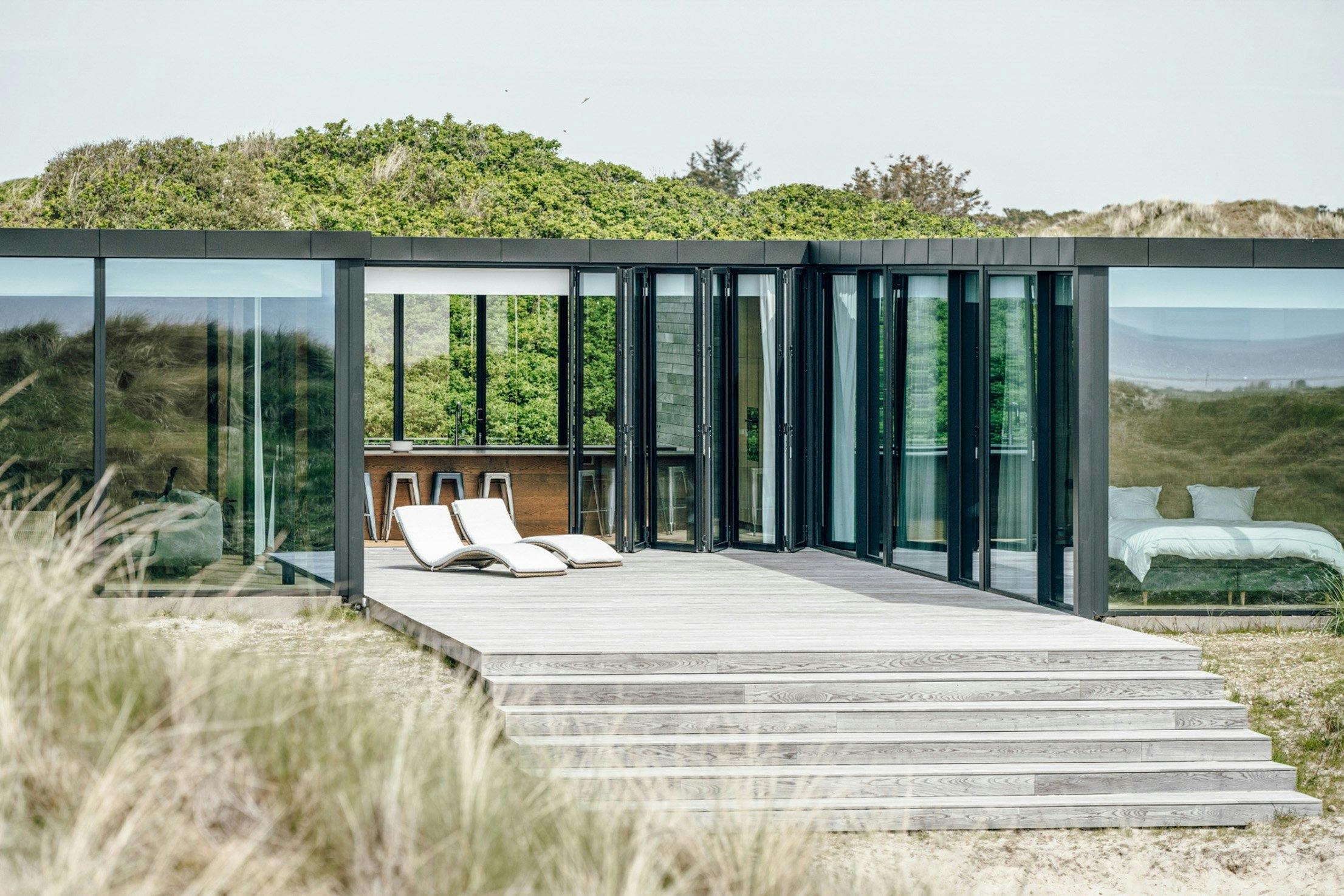 5. Serene Seaside Retreat Blends with Coastal Environment
This modern home, nestled within sand dunes and coastal grasses, is the epitome of serenity. Prioritizing a connection to the outdoors as well as a functional gathering space, the homeowners opted for a nearly all-glass façade leveraging the functionality of both folding and minimal sliding glass walls. The considerations that came with building a home next to the ocean, like harsh weather and salt air, called for weather-performing and durable fenestration—but without sacrificing ease of operation and low maintenance. Most impressive of all are the two NW Aluminum 840 moveable glass walls that completely open the kitchen to the elements. Almost as if there were no walls at all.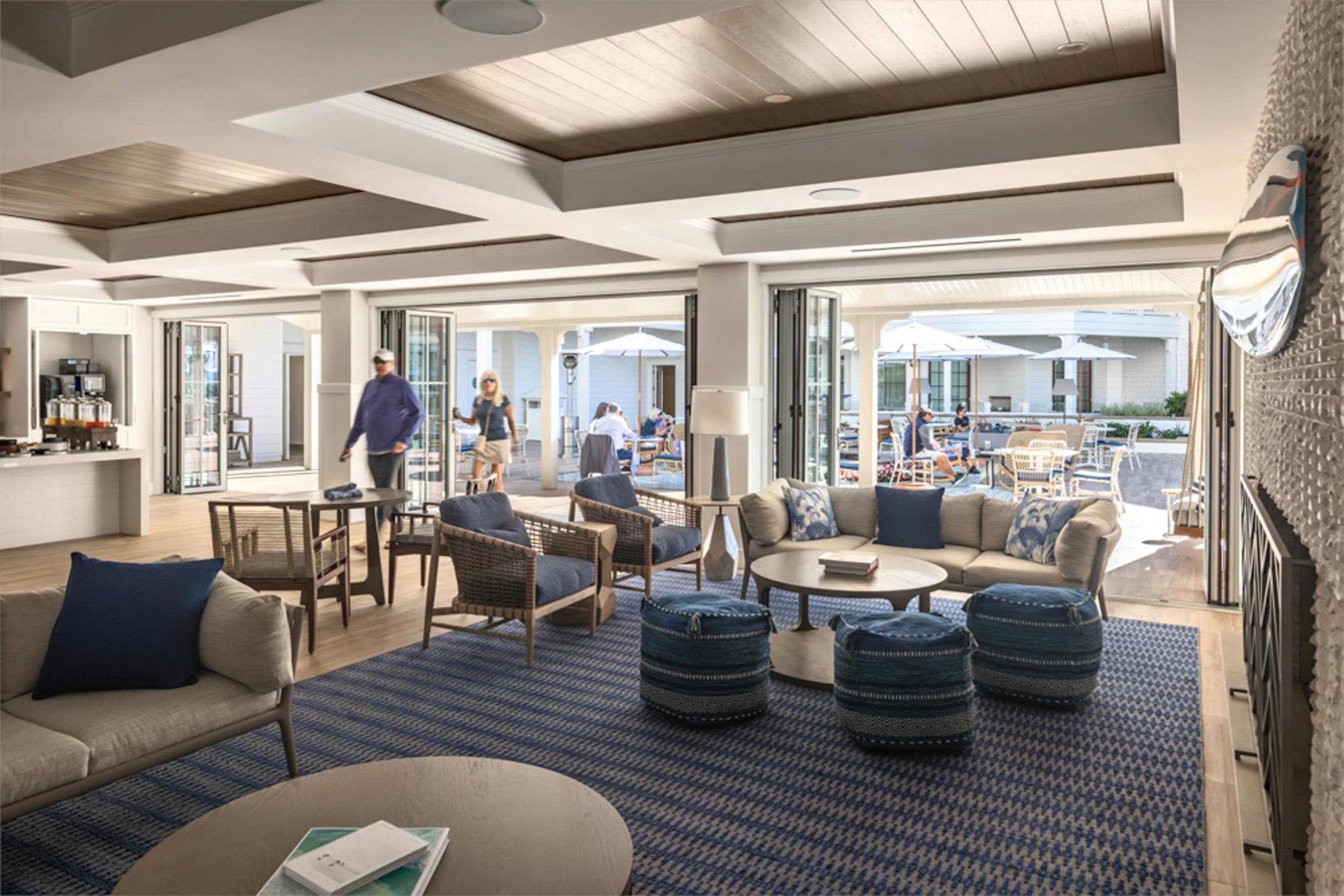 6. Oceanside Hotel Offers Memorable Stay
Who doesn't love a hotel with a plethora of amenities? From the Olympic size pool to the fully decked-out spa, Del Coronado has been serving its guests for over 130 years. Established in 1888, this historic hotel has hosted an array of celebrities, US presidents, and even royalty drawn to its beachside location and excellent service. NanaWall NW Aluminum 840 retractable glass walls in the reception and event areas further elevate the immersive indoor/outdoor experience while facilitating the flow of traffic into and out of the areas. We'll take the next reservation, please!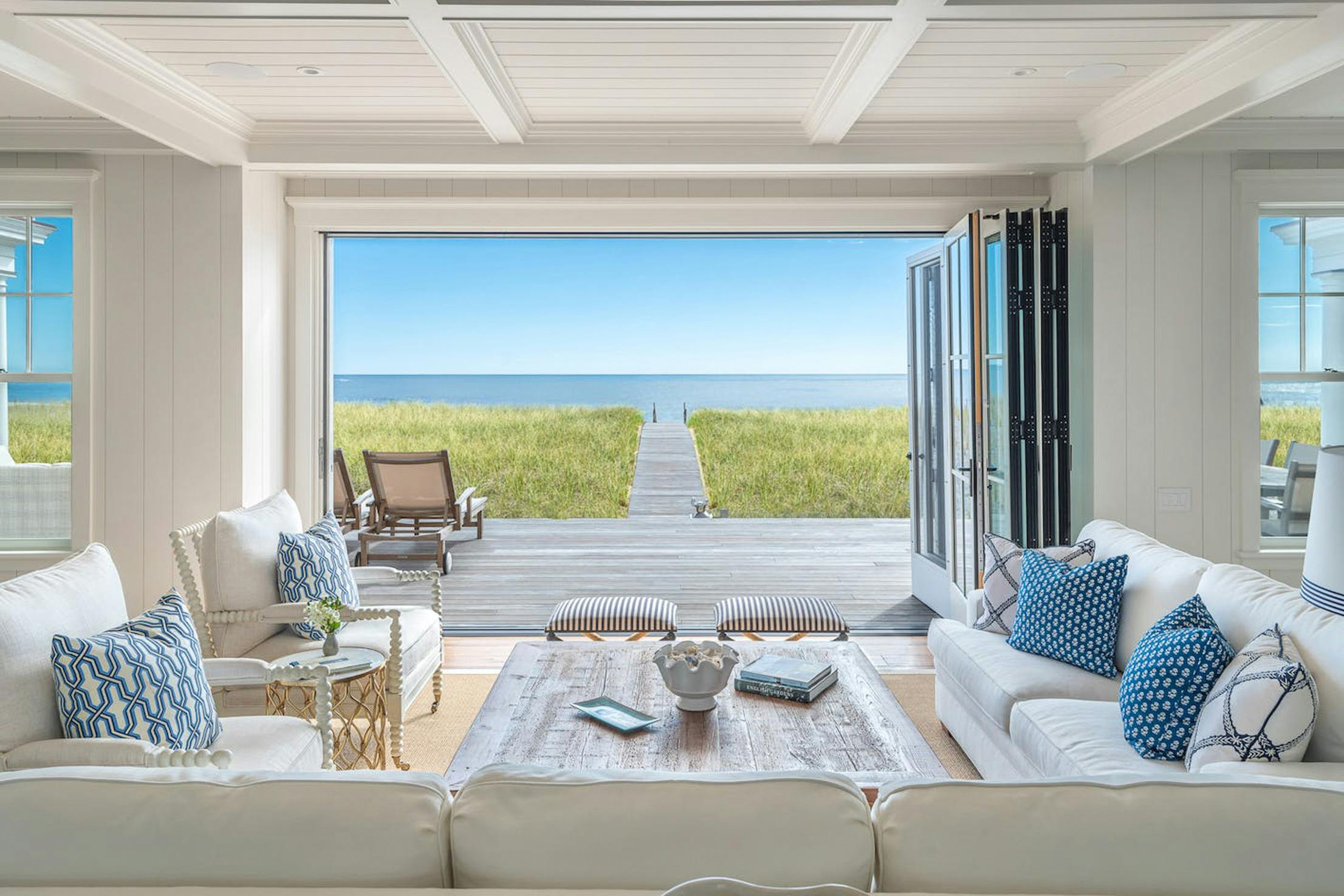 7. This Maine Residence Offers the Ultimate Seaside Getaway
"We wanted to add to the shoreline and have our house fit in—not just with Prouts Neck history, but with the history of Maine architecture," said the homeowner of this sprawling Scarborough estate. The residence boasts the charm of New England architecture as well as contemporary design features like aluminum clad moveable glass walls. These systems perfectly frame the ocean waters as soon as guests walk in, creating an authentic oceanside experience. Similarly, the pool house leverages a folding glass wall system to create seamless transitions into and out of the pool while making the amenities easily accessible. Talk about year-round recreation for the entire family!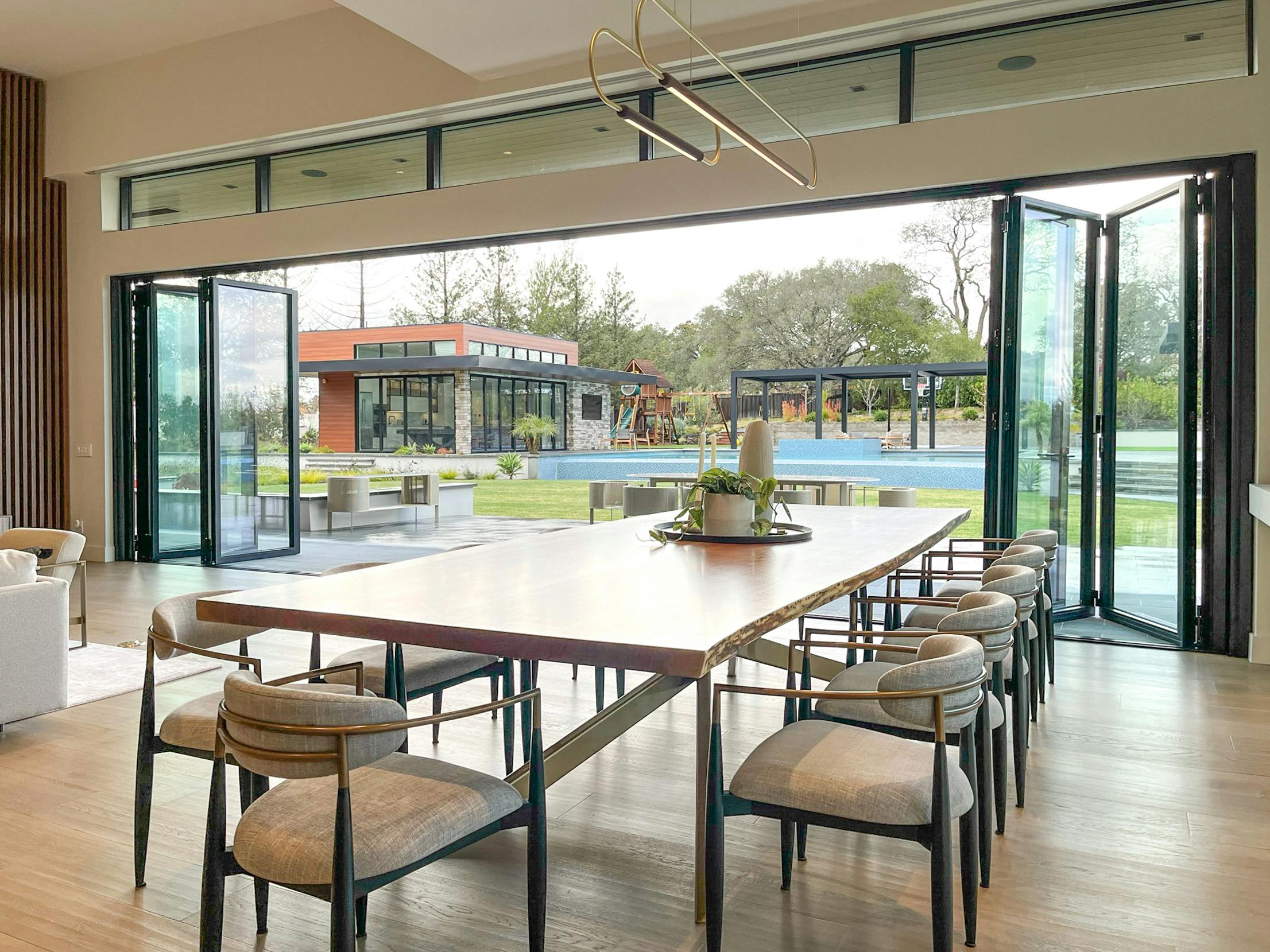 8. Saratoga Residence Knows True Indoor/Outdoor Living
Biophilic design is taken to another level at this Saratoga, CA residence. The main living area boasts a ten-panel folding glass wall that opens to the outdoor living spaces and amenities. In addition, the master bedroom also leverages a system to maximize the indoor/outdoor experience and flush interiors with plenty of light and fresh air ventilation. Outside, a multifunctional ADU doubles as a pool house and cabana with the help of two floor-to-ceiling retractable glass walls. The space can be opened in seconds, allowing quick access to the array of benefits inside and lounging poolside.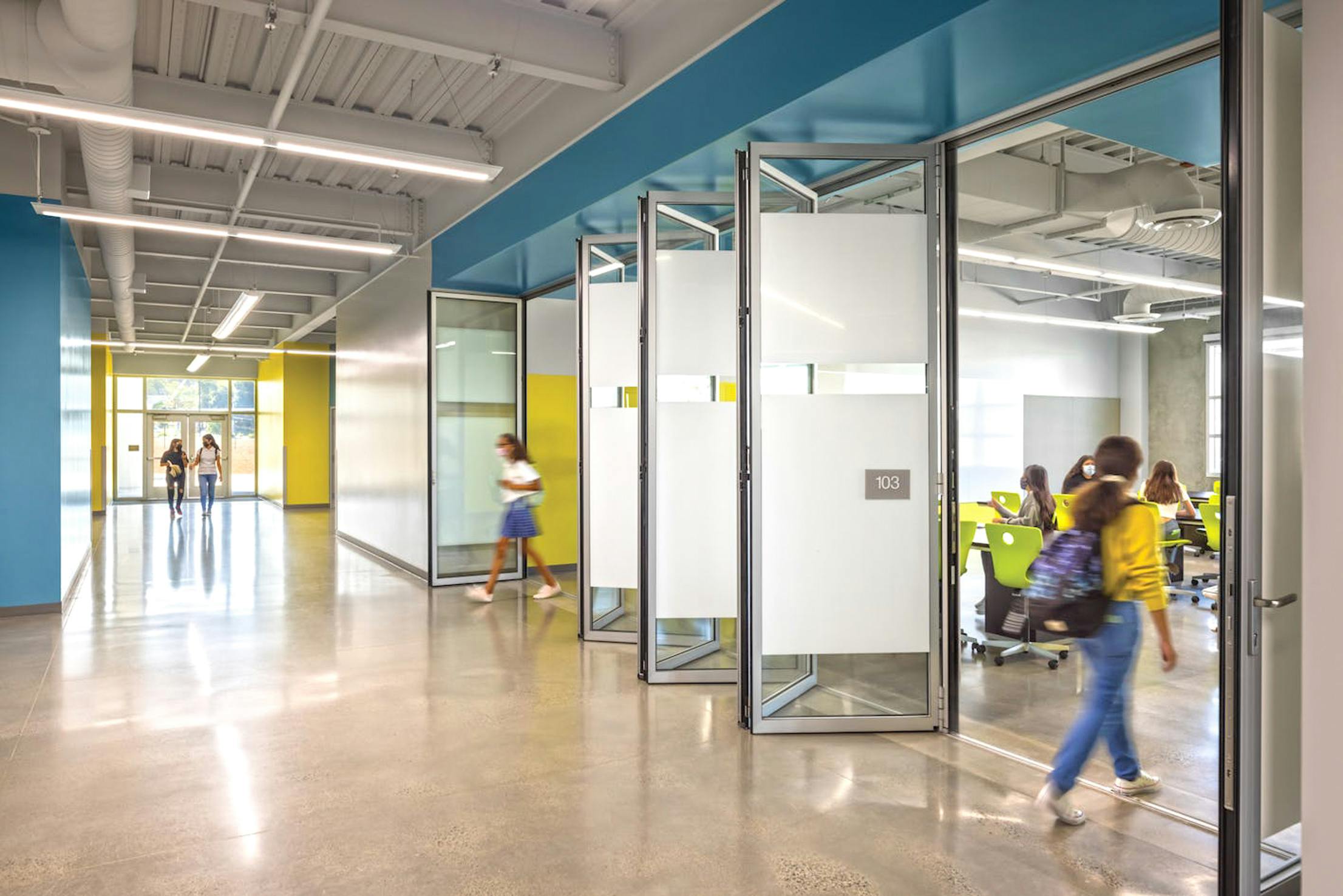 9. Del Dios Academy Encourages 21st Century Learning
Key to 21st Century learning is dynamic spaces that can accommodate a variety of learning styles in the curriculum. With a focus on STEM education, Del Dios Academy of Arts and Science in San Diego was in need of a new dedicated space to meet the needs of the curriculum. A new two-story, 26,000-square-foot STEM building was built with a collaborative corridor that extends down both floors of the building "to promote cross-disciplinary interactions." Multiple NanaWall acoustic moveable glass walls were incorporated to facilitate dynamic classrooms and maximize space. The flexibility of these systems also promotes higher engagement and collaboration for improved material retention.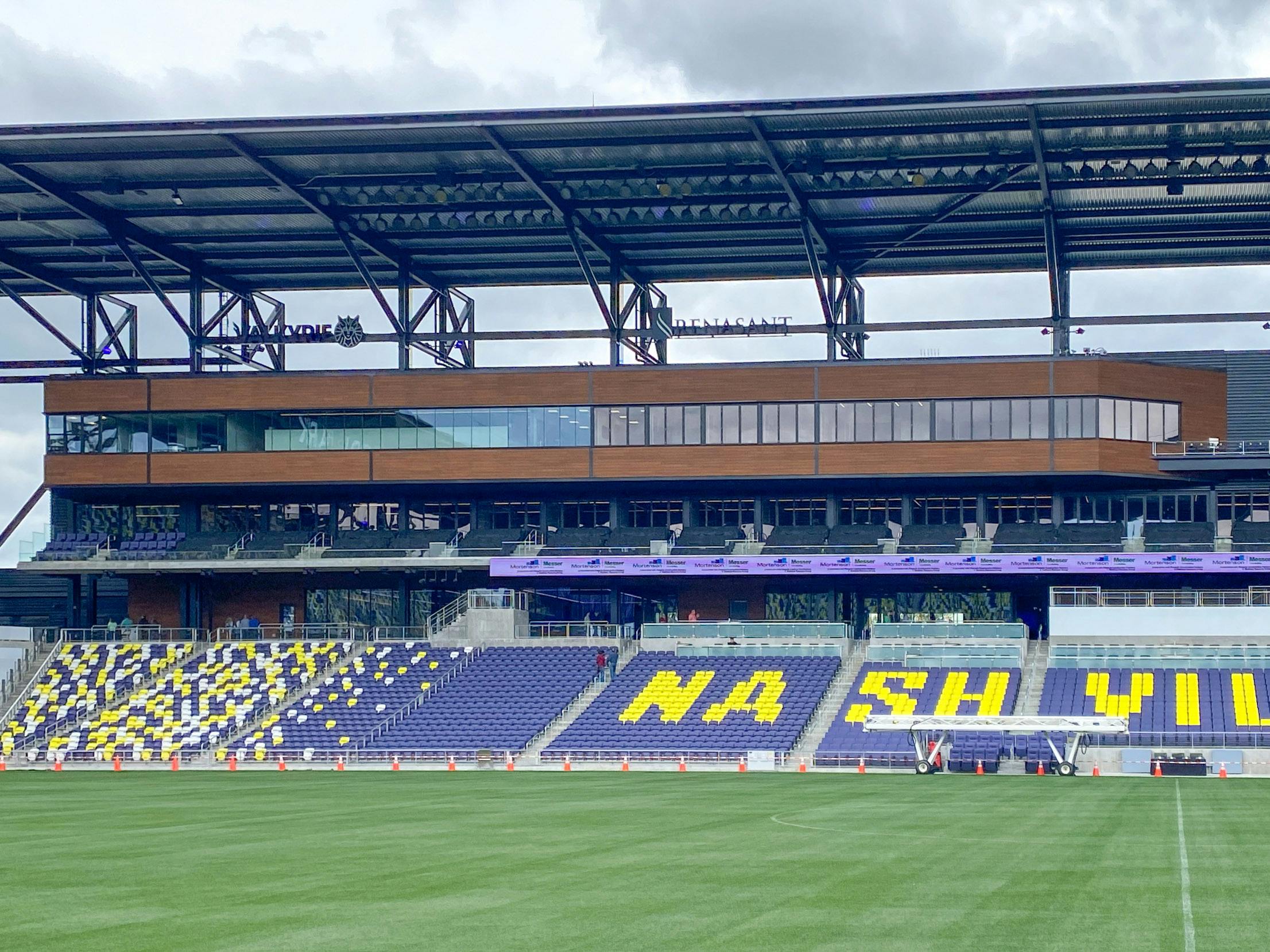 10. The Largest Soccer-Specific Stadium
Geodis Park in Tennessee is home to the Nashville SC Major League soccer club. The 30,000-seat stadium is the largest soccer-specific stadium in the United States and Canada and sits within the historic Nashville Fairgrounds. The stadium features six lounge boxes, two dozen box suites, and a dedicated entry gate for the supporters' group. Over 32 NanaWall retractable glass walls are specified in the press boxes and suites, including a sliding glass system in the Owners' Suite. The system's minimal profiles allow for maximum transparency for optimal views of the game while protecting from harsh weather if needed. Game on!
Discover other amazing projects completed in 2022 with NanaWall retractable glass walls and beyond in our extensive photo inspiration gallery!