Real-Life Home Transformations Inspired by Retractable Patio Doors
By NanaWall Systems, August 23, 2023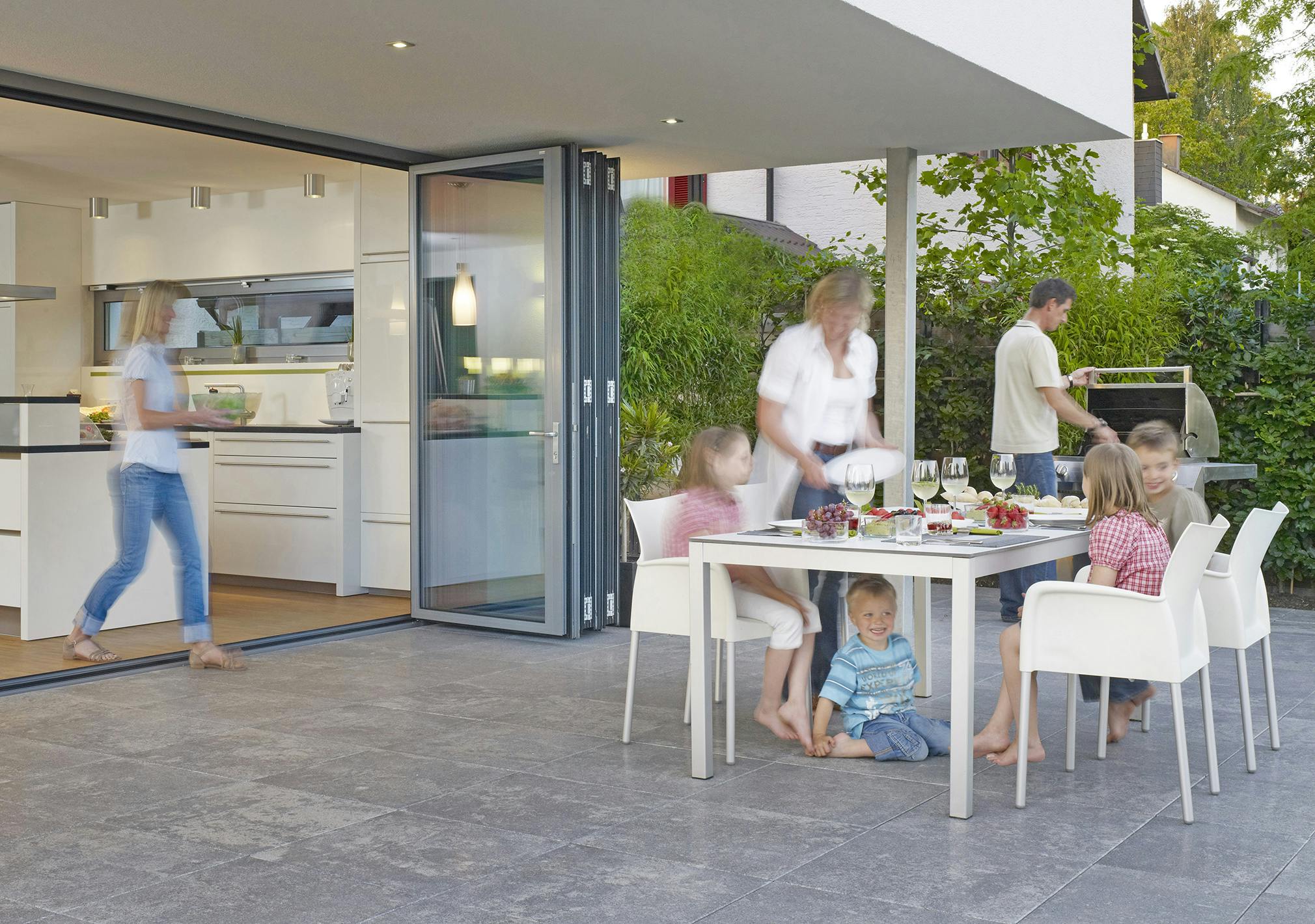 There is nothing like the allure of indoor-outdoor living, with a dining room or kitchen that leads straight to the patio. With sleek retractable patio doors that can be customized to fit any space, create your own patio transformation, and extend indoor living space to enjoy the outdoors year-round. These systems are not just a home upgrade—they are a lifestyle game-changer. You can create the ultimate serene retreat, even with limited space. Unify with nature, enhance your living space, and enjoy nature year-round from the comfort of home—all with a single design solution. Homeowners love using these systems to create inviting outdoor spaces, perfect for summer gatherings, entertainment, and dining.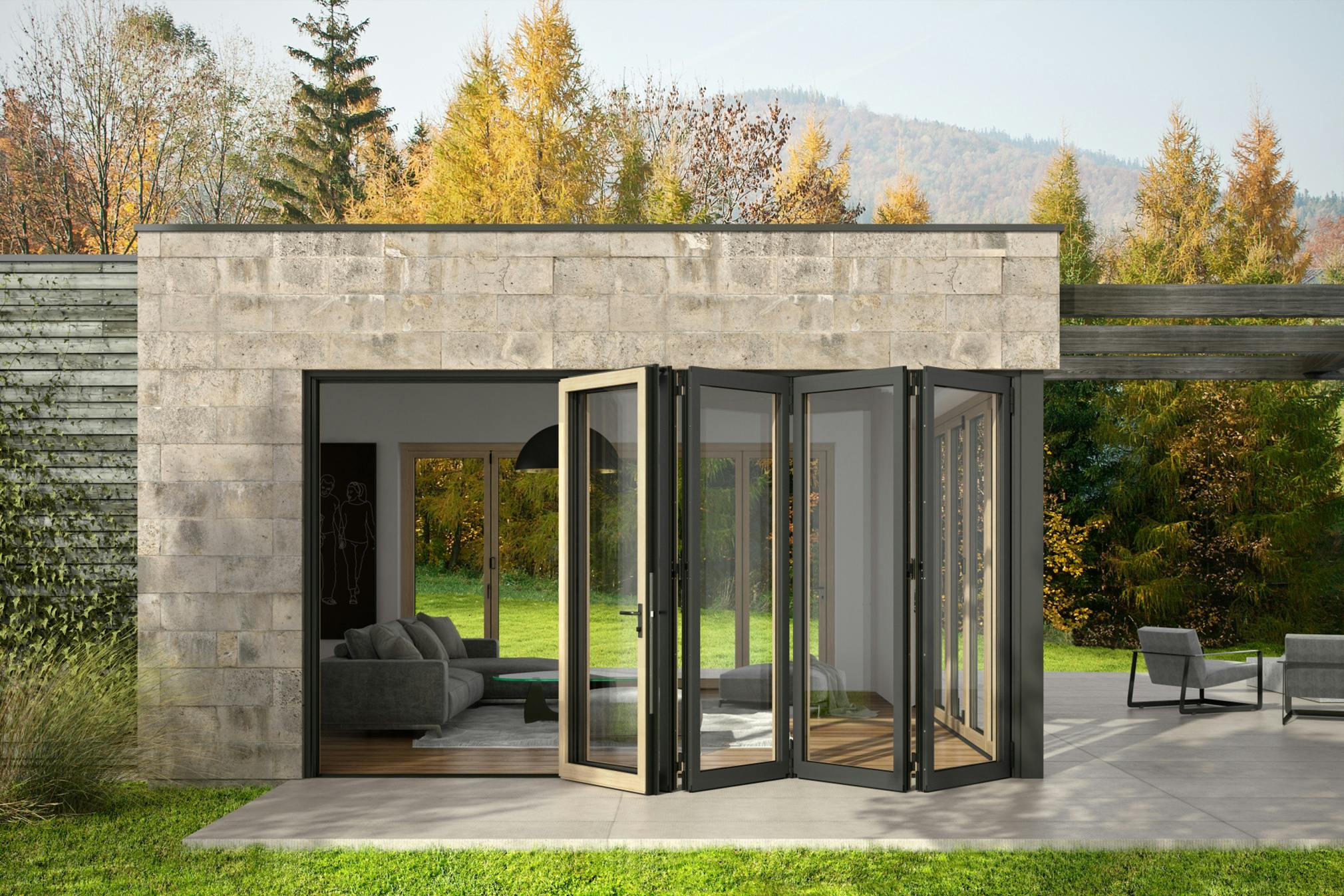 Glass Walls Maximize Space, Adaptability, and Accessibility
All-season retractable patio doors and windows bring minimalist elegance and full adaptability to any patio transformation. Generation 4 systems are meticulously crafted for optimal space planning with inswing and outswing configurations. These systems are redefining space and functionality, allowing homeowners to enjoy unrivaled performance, flexibility, unlimited widths, and seamless aesthetics. Independently tested, and certified, no other folding product provides floor supported, convenient FourFold and SixFold panel sets that can move and stack to the left, right, or center of the opening. With the slimmest profiles available in the industry, these systems provide maximum convenience, transparency, and unobstructed views.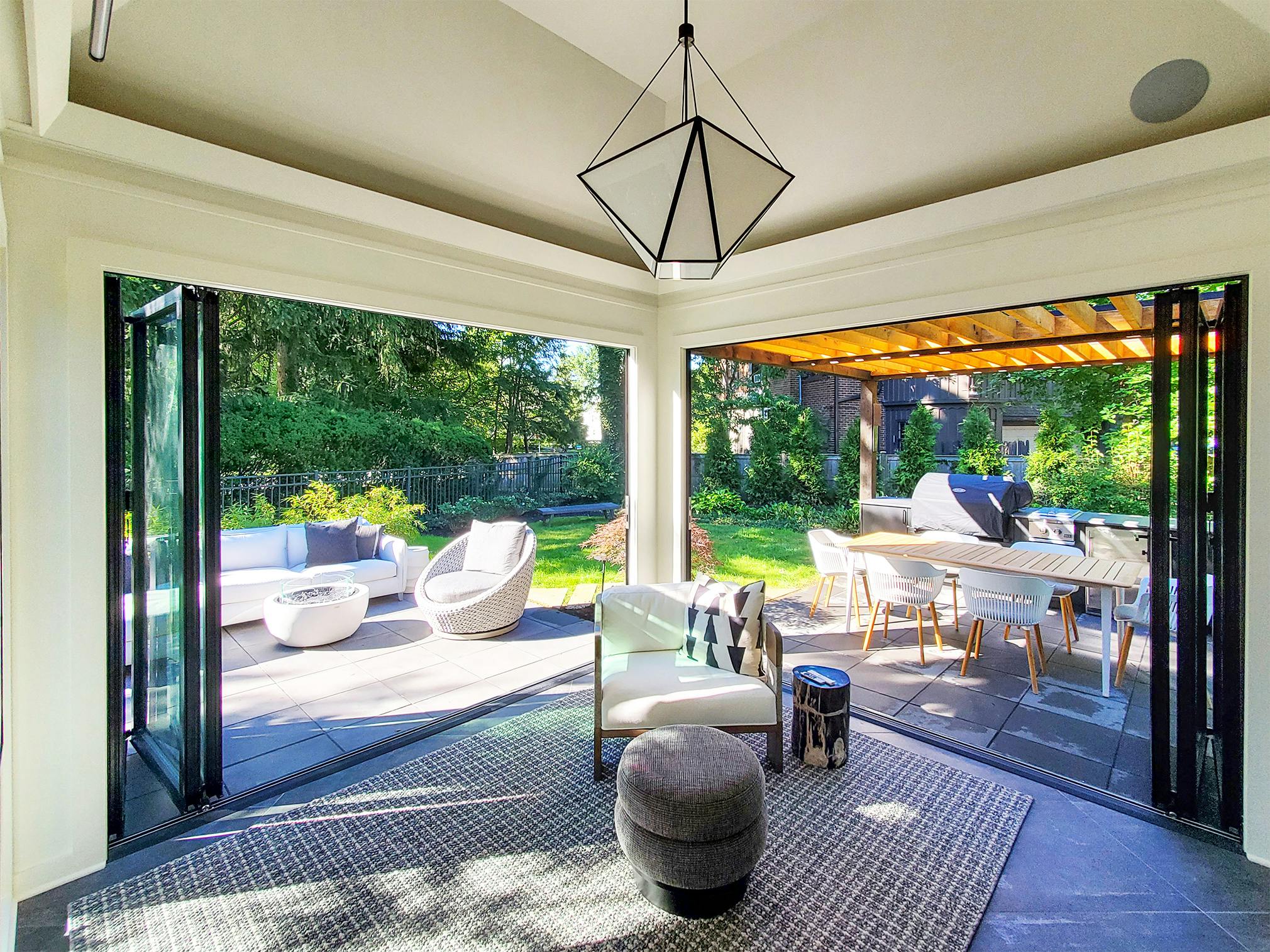 Real-Life Patio Transformation Inspiration
Seeking patio transformation inspiration? These real-life indoor-outdoor home examples accomplished incredible designs using performance all-season retractable patio doors. From the Butterfly House's enchantment in Carmel, CA to the chic Burnaby Residence in Burnaby, BC, and the contemporary California poolside cabana, these projects showcase the potential of indoor-outdoor spaces. See how folding glass systems can dramatically extend space and reshape your home design dynamics.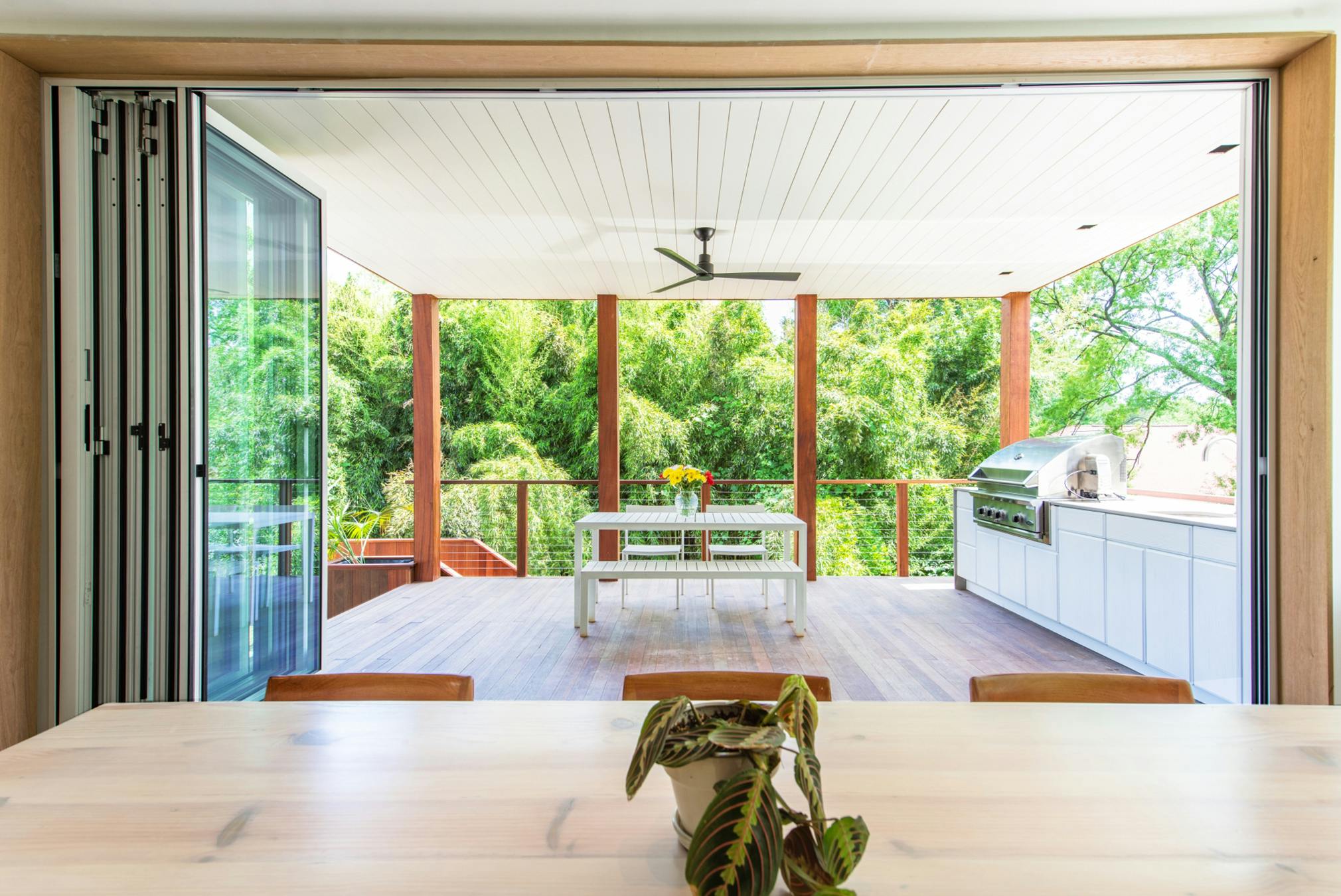 Simple Kitchen Transformation
At the heart of every home lies the kitchen—a space teeming with memories. Yet, when confined or dated, its potential can feel stifled. At the Bethesda residence, that has all changed with a single innovative design solution—the Generation 4 folding system which is manufactured in Richmond, California. A once single, restrictive exit morphed into an expansive gateway, seamlessly blending the indoors with the outdoor patio and redefining the space. Meticulously crafted for optimal space planning, this FourFold system allows the panels to stack on top of the handy daily swing door attached to the side jamb. Even the simplest kitchen evolves into a realm of endless possibilities with retractable patio doors. They embody versatility, combined with unparalleled performance and aesthetics.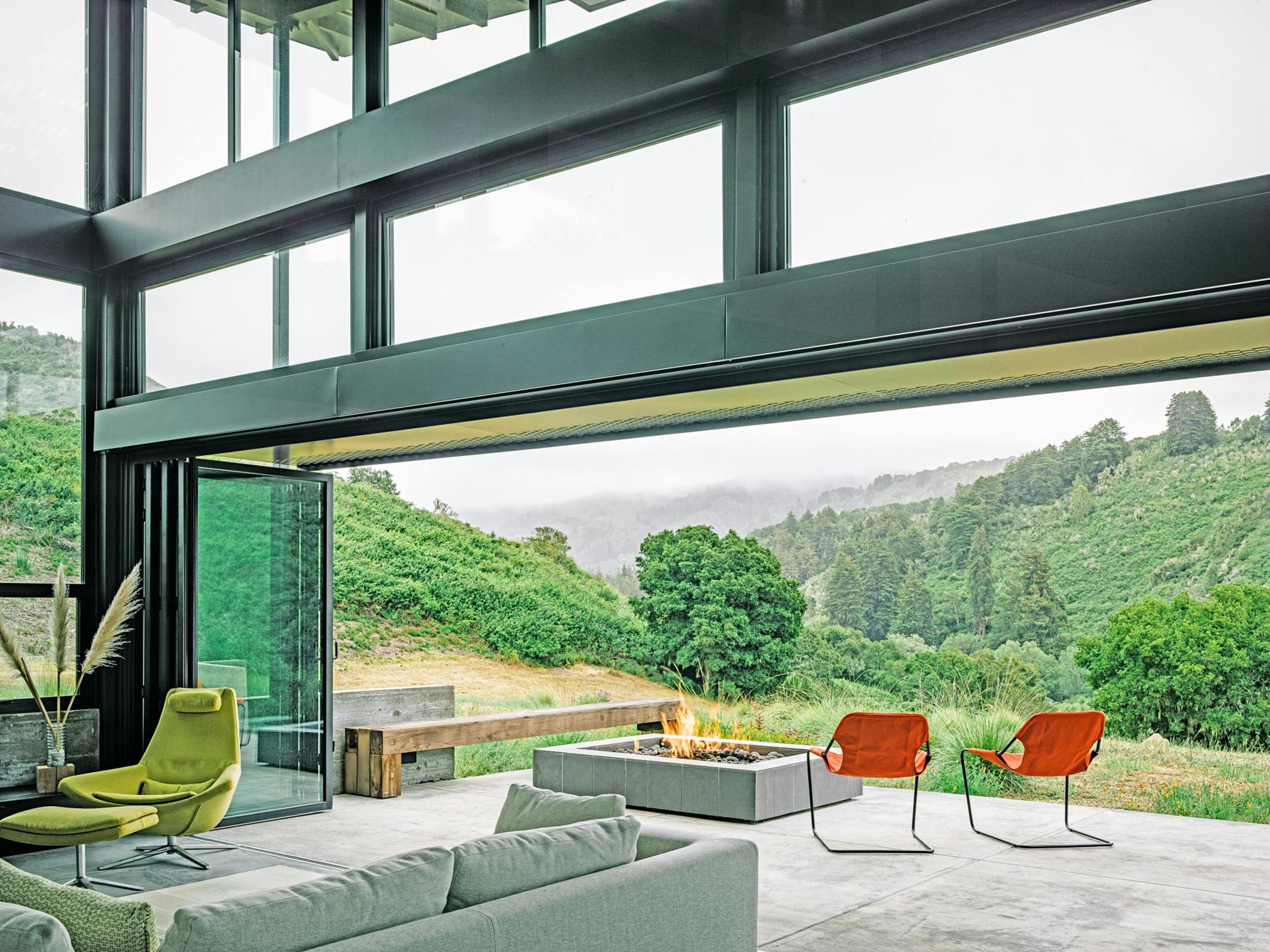 The Magic of Seamless Transition with Retractable Patio Doors
The Butterfly House in Carmel, CA, exemplifies indoor-outdoor living, basking in natural light by way of expansive retractable patio doors. The sweeping views of the surrounding landscape elevate the home's ambiance and functionality, creating a true patio transformation. The durable SL70 system was the perfect design solution for this home. By dissolving solid barriers, systems incorporate a patio into the home's heart. This patio door is floor supported allowing the architect to design for maximum transparency since the main weight of the panel is on the floor. The broad, unobstructed openings add a sophisticated aesthetic while significantly enhancing any living space.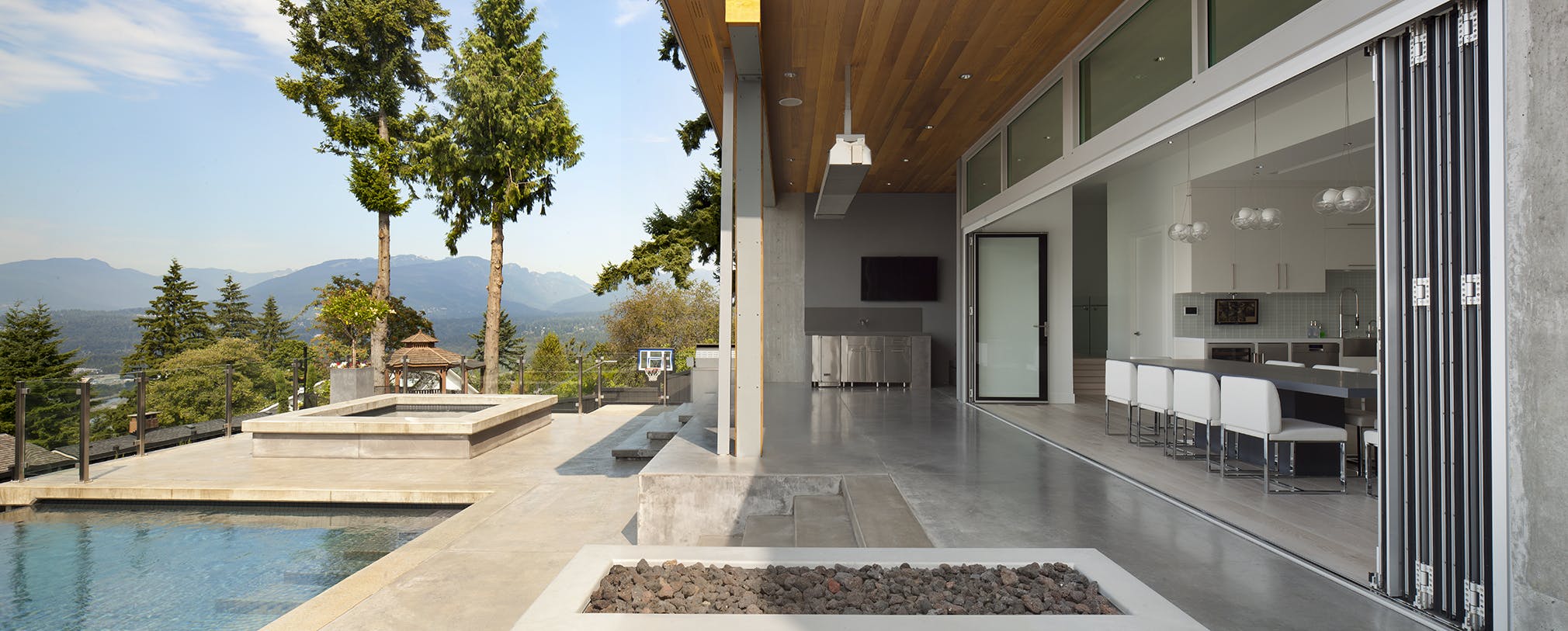 Embrace the Outdoors, Effortlessly
Get inspired by this patio transformation at the Burnaby Residence in Burnaby, BC, where retractable patio doors effortlessly integrate the home with nature. These systems blur the boundaries between indoor comfort and outdoor serenity, perfect for relaxation and entertainment. The indoor-outdoor design offers a memorable culinary experience amid nature's beauty. An excellent example of how to merge your dining room and patio into a harmonious flow. Transition smoothly between indoor comfort and the tranquil outdoors, creating a breathable, dynamic space.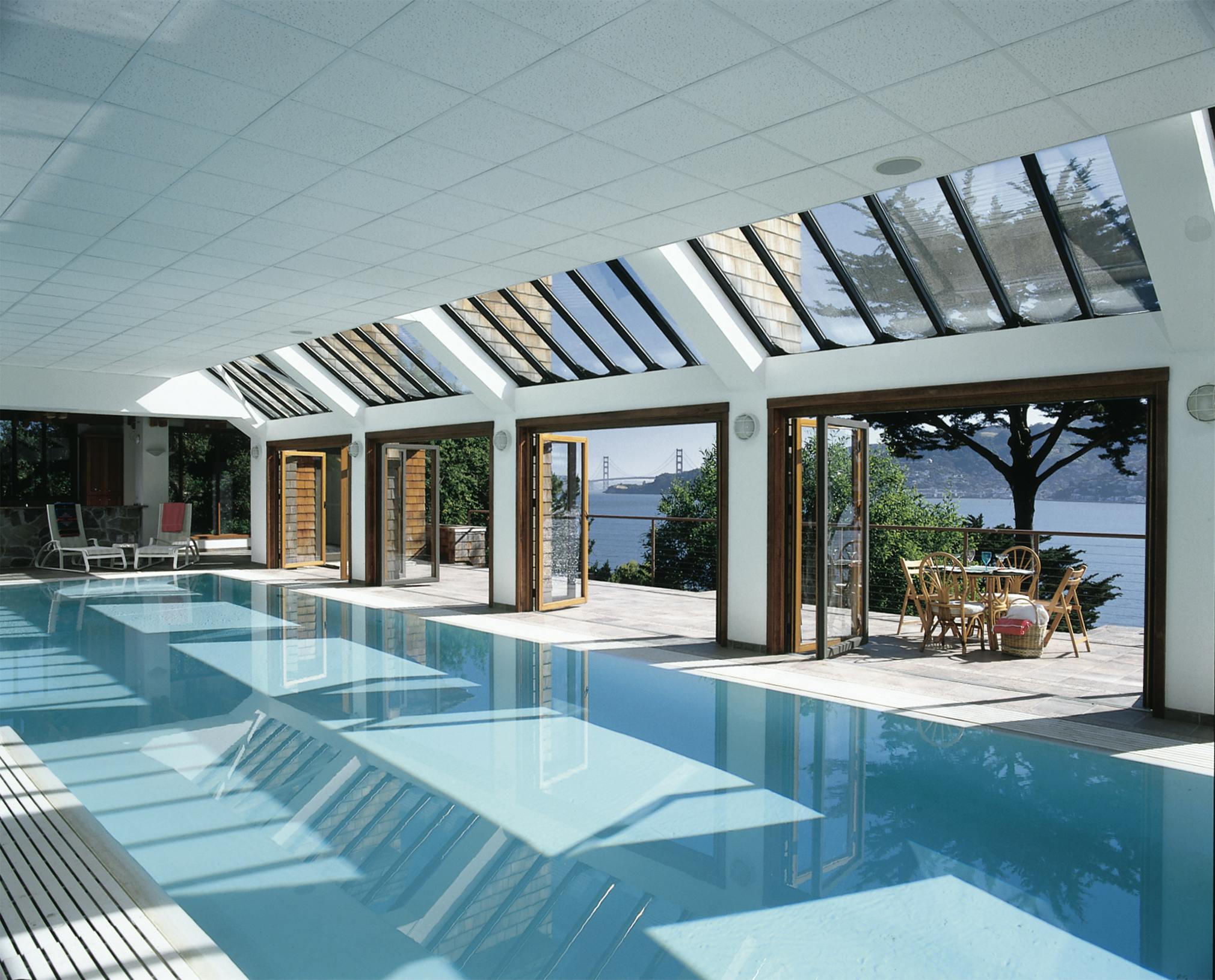 Crafting the Ultimate Poolside and Patio Retreat
The Belvedere Pool House in Belvedere, CA, brings another intriguing patio transformation tale. The use of a wood framed folding WD65 folding system has reinvented this pool house into a vibrant entertaining space, seamlessly merging with the outdoors and panoramic views. It also complements the unique shingle aesthetic of the home. Enhance any cabana, pool house, or patio space into a versatile, year-round retreat. Systems provide optimum thermal insulation and can be opened across huge areas, so you can get the most out of your pool whatever the weather and enjoy a seamless expansion of your space. Even when closed, the wood system allows natural light to flood the space, enhancing the serene and relaxing ambiance of the pool all year-round. With sustainable harvest premium wood choices and energy-saving options, these patio door design solutions match any eco-friendly building project.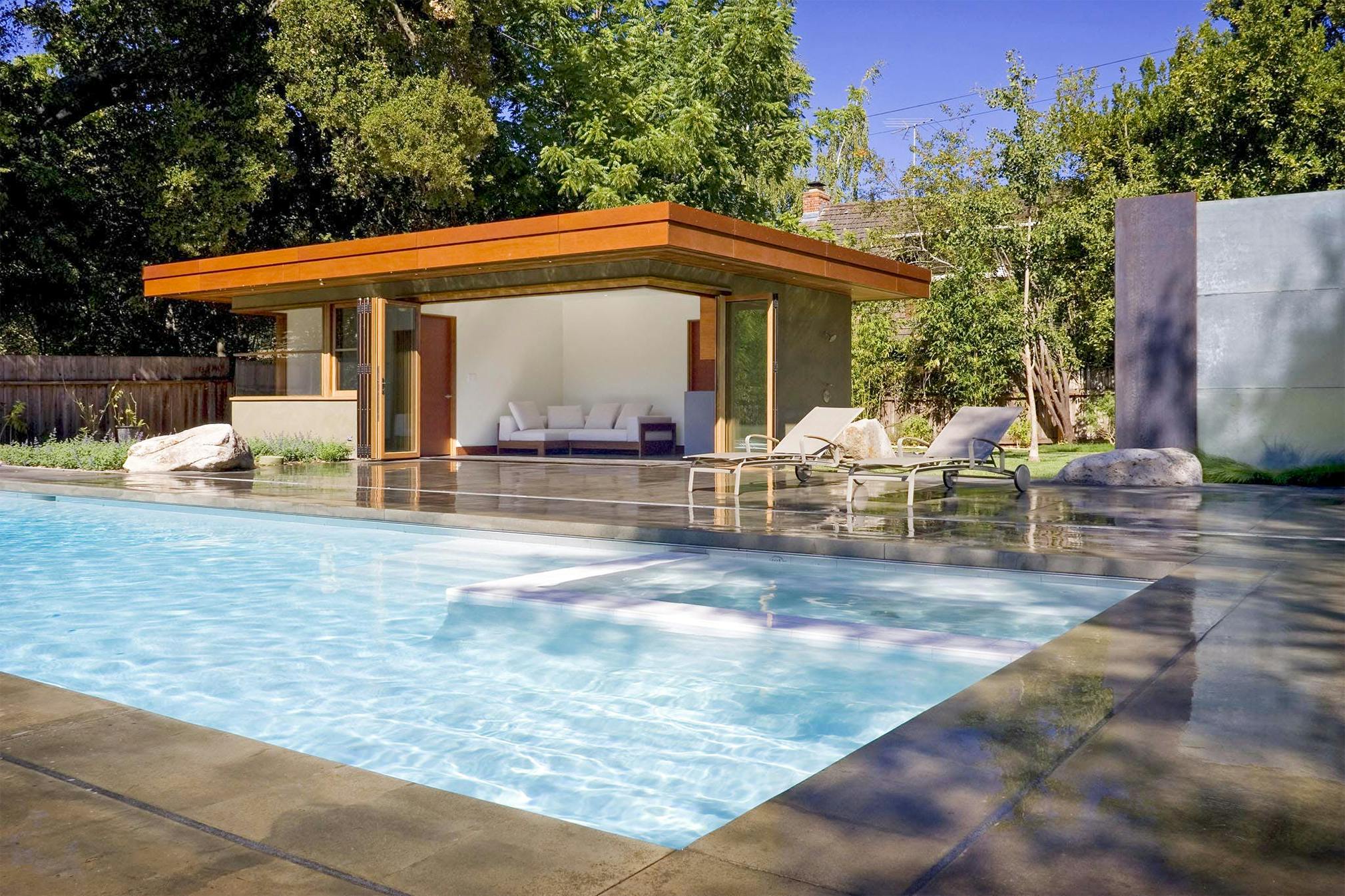 Small Patio Transformation and Summer Cabana Sanctuary
In Napa Valley, CA, a secluded cabana and patio underwent a remarkable patio transformation using retractable patio doors. These compact systems eliminated the division between the indoor living space and the lush outdoor landscape, creating an enchanting open corner continuity. Homeowners and their guests now can delight in a serene indoor-outdoor poolside experience. The potential of a small patio is often underestimated. Folding glass systems invite natural light, promote fresh air circulation, and enhance the charm of any patio space. This small-scale transformation produced grand results, transforming underused space to create a significant impact even with a small opening. By simply opening to the outdoors, a previously underutilized patio has been converted into the ultimate summer sanctuary.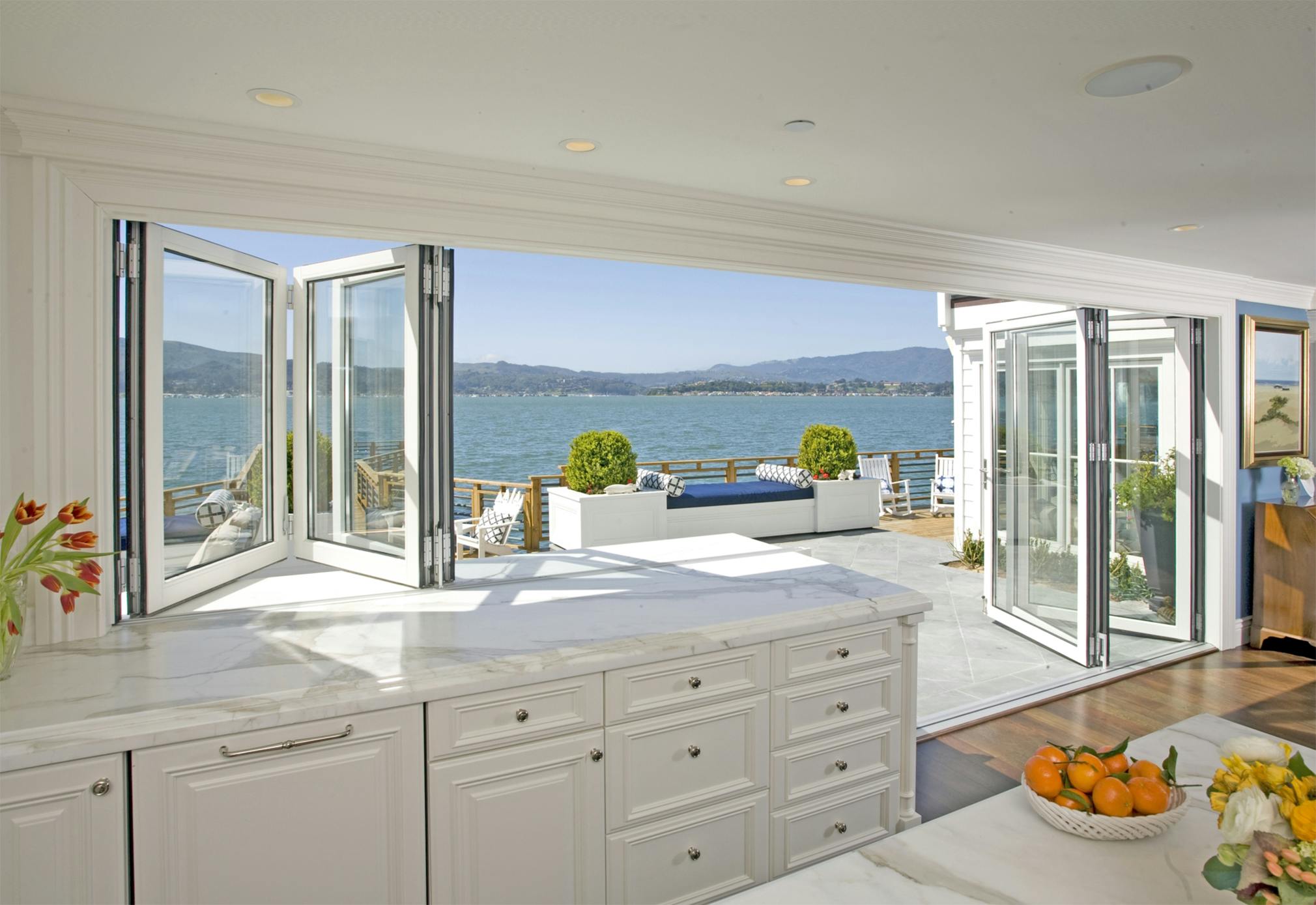 The Magic of Combining Folding Glass Windows & Doors
Blend folding glass doors and window systems to create what feels like magic with a seamless, visually appealing extension of your living and kitchen space. Transcend typical layouts, welcoming stunning views, natural light, and fresh air into any home. Gone are the days of being limited to choosing between doors or windows; it's about blending the best of both worlds. A wood framed folding window and wall combination system in an off-white finish gave this Belvedere kitchen the indoor-outdoor flexibility homeowners desired. This design achieves a kitchen that serves both the chef and the outdoor guest. Replace traditional windows over a kitchen countertop, and floor-to-ceiling retractable patio doors, can replace a fixed wall or a typical sliding-glass door. The two meet seamlessly, creating a functional high-style look, enhancing, and expanding living space.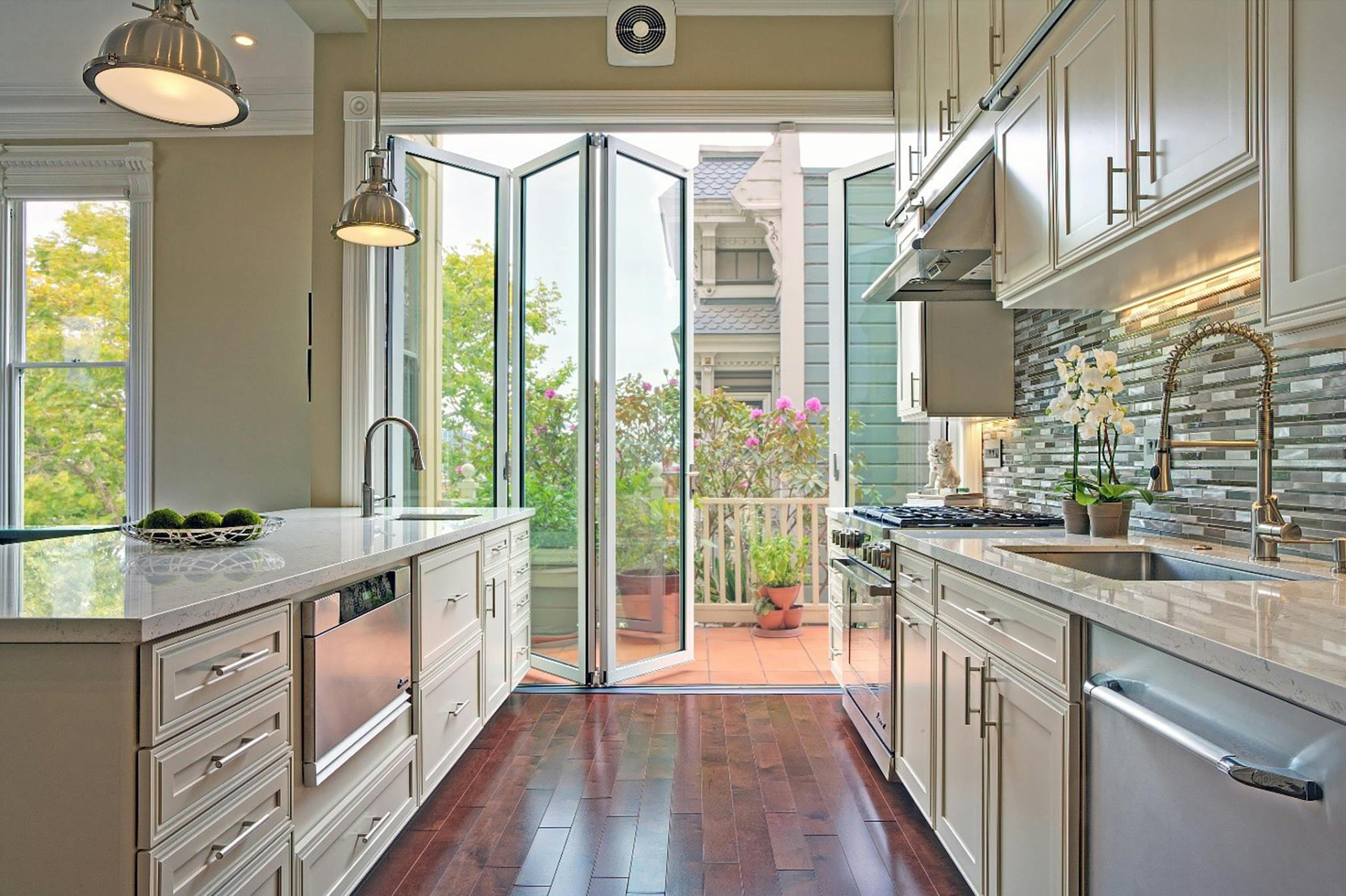 Flexible Home Renovation: Replace Failing Sliders & Doors
Stepping into a home, one often finds the traditional, clunky, fixed sliders or a single kitchen door that are an inefficient use of available space. They've served us well in the past, but it's a new era of unlimited design possibilities and unhindered transitions with folding systems. These are the perfect versatile solution for renovations of all scales. Consider a compact kitchen; retractable patio doors open the space, enhance natural light and ventilation, boost the overall ambiance, and flush kitchens with fresh air while cooking. Replace traditional sliders or fixed walls with folding systems for fluid indoor-outdoor transitions and added functionality.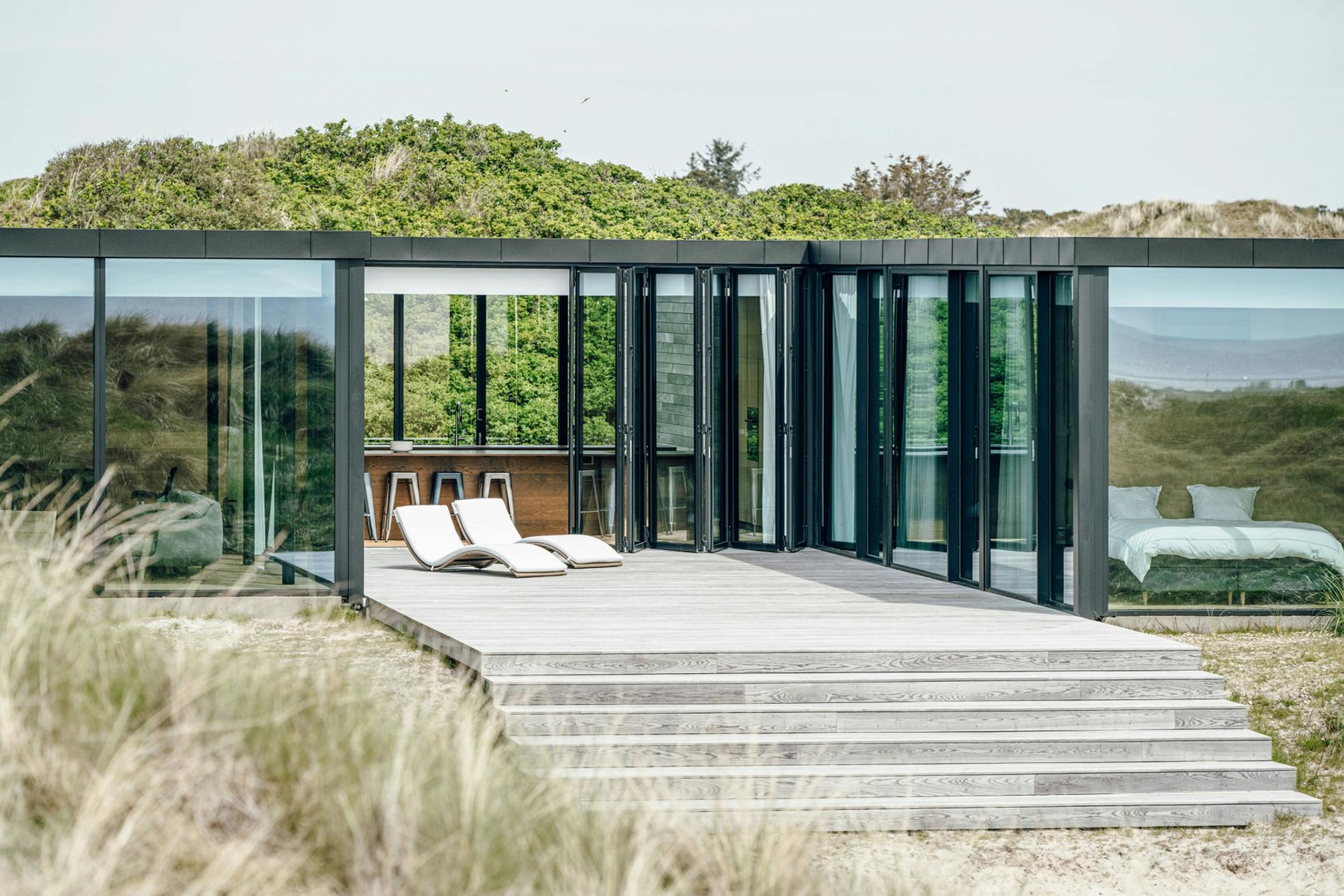 Tailor-Made Elegance: Folding Doors Customized for Any Space
These design solutions are fully customizable and configurable, tailored to meet any of your home design needs. Choose from over 50 standard colors and 200 powder coats, privacy options. Systems are rated and tested for harsh climates no matter your location. Customize any system to fit your design style – choose from inswing or outswing and an array of frame materials including aluminum, wood, or clad framed, as well as custom sill and finish options. With a wide range of color and finish customization options, we can tailor most any of our glass wall systems to create the ideal visual impact for your space. NanaWall systems also offer an array of glazings, tints, and acoustical options, custom-built to perform and transform your space.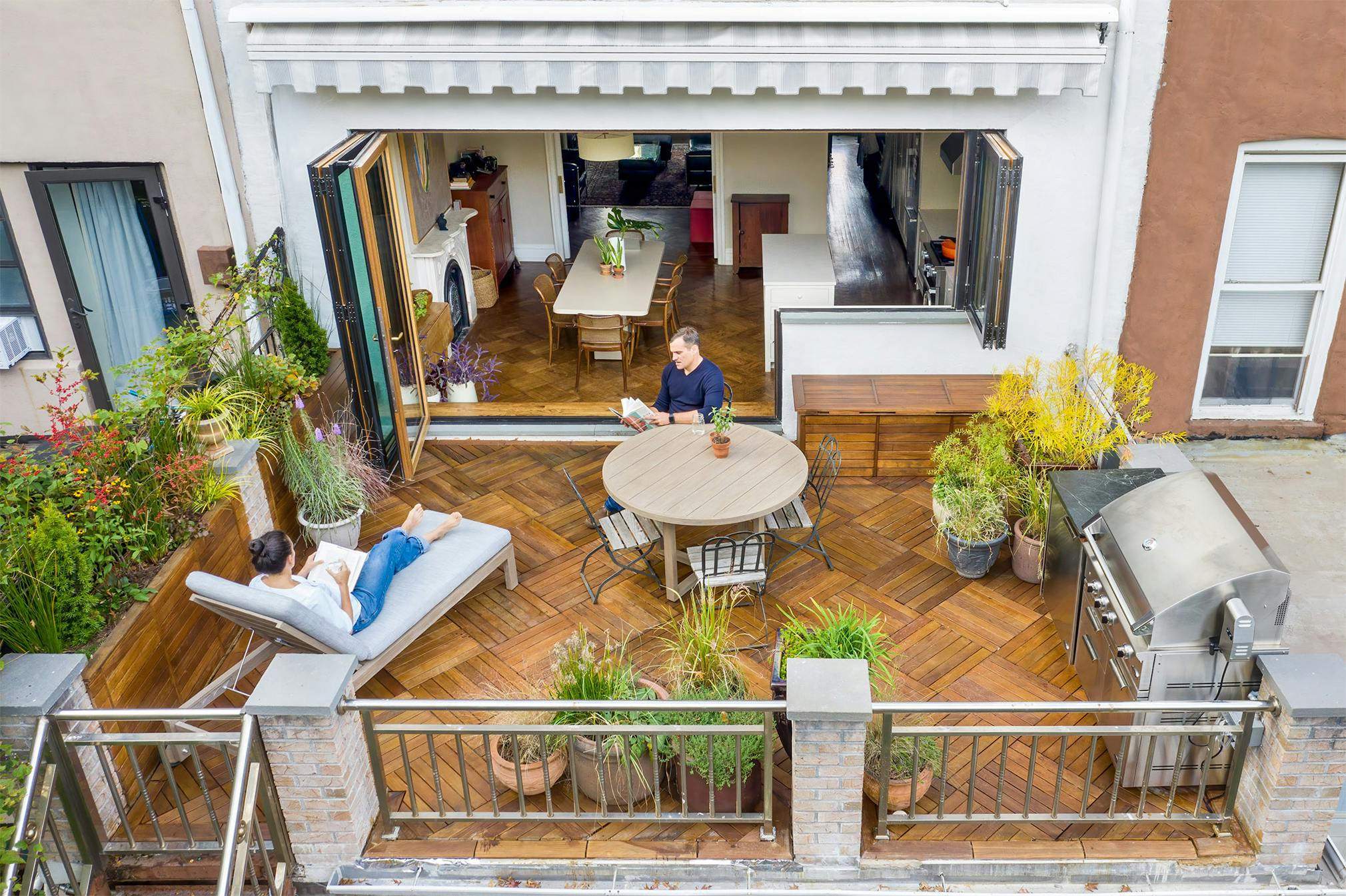 Final Thoughts
There's never been a more opportune time to make the most of your patio and backyard space. You can create a seamless transition between your indoor and outdoor living areas, enhancing the usability and aesthetic appeal of your home. Whether you're looking to make the ultimate patio transformation, entertain guests, enjoy alfresco dining, or create a relaxing outdoor retreat, performance retractable patio doors are the design solution for you.
It's time to maximize your summer enjoyment with a transformed patio space! Visit our inspiration gallery for more design ideas. Connect with NanaWall today and let us help you create the perfect indoor-outdoor living space.